NCF Nation:

Keith Gilmore
February, 5, 2013
2/05/13
3:00
PM ET
Keith Gilmore, who spent the past four seasons at Illinois, has been hired as North Carolina's defensive line coach, the school announced Tuesday.
Gilmore has ties with current UNC defensive coaches Vic Koenning and Dan Disch. Gilmore and Koenning worked together during Koenning's two seasons as the Illini defensive coordinator in 2010-11. Gilmore and Disch were on the Illinois defensive staff in 2009 and 2010.
"Keith is a knowledgeable defensive line coach who brings a wealth of experience at the collegiate level to Chapel Hill," coach Larry Fedora said in a prepared statement. "He has previous experience with our defensive coaches and I believe he is a great fit for us. He does an exceptional job of building relationships and getting the most out of his players."
You can
read the full release here
.
January, 27, 2013
1/27/13
8:00
AM ET
Illinois is losing one of the Big Ten's top assistants in defensive-line coach Keith Gilmore.
Rivals.com and others reported Saturday that Gilmore is leaving Illinois
to join North Carolina's staff in the same capacity. He'll be reunited with North Carolina defensive coordinator Vic Koenning, with whom he worked at Illinois from 2009-2011. Gilmore was the only assistant Illini head coach Tim Beckman had retained from the previous staff -- and for good reason.
He mentored two NFL first-round draft picks in defensive tackle
Corey Liuget
and defensive end
Whitney Mercilus
. Two of his linemen, tackle
Akeem Spence
and end
Michael Buchanan
, are expected to be drafted in April. Although Illinois certainly has had its issues the past two seasons, defensive line hasn't been one of them. Gilmore is a significant loss for Beckman's staff.
It's hard to blame Gilmore for leaving as Beckman faces potentially a make-or-break season in 2013. Things are much more stable at UNC, and Gilmore's familiarity with Koenning makes him a good fit in Chapel Hill.
Illinois will have at least three new assistants in 2013 after bringing in new offensive coordinator Bill Cubit and new offensive-line coach Jim Bridge.
Defensive line has been the Big Ten's strongest position in recent years. The league has lost two respected D-line coaches this weekend after Michigan State announced Friday that it's
cutting ties with Ted Gill
.
June, 4, 2012
6/04/12
11:00
AM ET
Assistant coach salaries are on the rise throughout college football, and the Big Ten is no exception. If you're interested in how much coin Big Ten assistants are making, be sure and
bookmark this excellent list
put together by Joe Rexrode of the Lansing State Journal. Rexrode compiled assistant salary information from 10 of the league's 12 programs (Northwestern and Penn State don't disclose assistant coach salaries).

Most of this information has been publicized in team-by-team form, but it's interesting to examine from a league-wide perspective. Ohio State defensive coordinator Luke Fickell and Michigan defensive coordinator Greg Mattison are the league's highest-paid assistants, both earning $750,000. Michigan offensive coordinator Al Borges ($550,000) is next, followed by Michigan State defensive coordinator Pat Narduzzi ($500,000), who recently received a raise that more than doubled his previous salary ($233,000).
Several of the Big Ten's highest-paid assistants from 2011 -- Wisconsin offensive coordinator Paul Chryst, Illinois offensive coordinator Paul Petrino, Illinois defensive coordinator Vic Koenning -- since have left the league for other jobs.
Here are the totals paid for assistants among the 10 schools reporting salaries:
1.
Ohio State -- $3.22 million
2.
Michigan -- $2.755 million
3.
Illinois -- $2.314 million
4.
Michigan State -- $2.18 million
5.
Iowa -- $2.16 million
6.
Nebraska -- $2.13 million
7.
Wisconsin -- $1.973 million
8.
Indiana -- $1.96 million
9.
Minnesota -- $1.745 million
10.
Purdue -- $1.61 million
When factoring in the head coach salaries, the rankings look like this:
1.
Ohio State -- $7.22 million
2.
Iowa -- $6.035 million
3.
Michigan -- $6.009 million
4.
Nebraska -- $4.905 million
5.
Wisconsin -- $4.571 million
6.
Michigan State -- $4.098 million
7.
Illinois -- $3.914 million
8.
Minnesota -- $3.445 million
9.
Indiana -- $3.22 million
10.
Purdue -- $2.535 million
The Big Ten had 40 overall coaching changes during the past offseason (head coach and assistant). Here are the highest-paid new assistants among the programs reporting salaries (not including assistants promoted internally).
1.
Ohio State co-defensive coordinator Everett Withers -- $450,000
2.
Ohio State offensive coordinator Tom Herman -- $420,000
T-3.
Illinois defensive coordinator Tim Banks -- $400,000
T-3.
Illinois co-offensive coordinator Billy Gonzales -- $400,000
T-3.
Illinois co-offensive coordinator Chris Beatty -- $400,000
6.
Ohio State co-offensive coordinator/offensive line coach Ed Warinner -- $350,000
7.
Iowa offensive coordinator Greg Davis -- $300,000
8.
Wisconsin offensive coordinator Matt Canada -- $265,000
T-9.
Purdue defensive coordinator Tim Tibesar -- $250,000
T-9.
Indiana offensive coordinator Seth Littrell -- $250,000
Some thoughts:
It's no surprise Ohio State paid top dollar for head coach Urban Meyer, but the school also has increased its commitment for assistant coaches. Former coach Jim Tressel had a fairly anonymous staff for a big-time program, and while there were good coaches on it, you knew the overall financial commitment would need to be increased. The Buckeyes have three assistants making more than $400,000. Interestingly enough, Illinois is the only other Big Ten squad listed here with three aides at the $400,000 mark.
As Rexrode points out in his post, Michigan State's staff was a major bargain before the recent raise. The Spartans paid approximately $1.6 million for a staff that helped them to 21 wins in the past two seasons. The pay increases put Michigan State fourth in the Big Ten in assistant coach pay, which sounds about right.
Illinois' athletic director transition from Ron Guenther to Mike Thomas didn't change the school's approach toward rewarding assistants. Guenther allowed former coach Ron Zook to open the coffers after a disappointing 2009 season and land high-priced coordinators (Petrino and Koenning). While new Illini head coach Tim Beckman ranks eighth in the league in salary, he was allowed to spend a lot for his staff, which includes just one holdover (D-line coach Keith Gilmore, who earns $200,000). It's why Illinois ranks third in the league in assistant coach pay.
Wisconsin's staff turnover after the Rose Bowl resulted in lower overall compensation, which isn't a huge shock because of Chryst's departure. It's a bit surprising that Badgers coordinators Chris Ash (holdover from staff) and Matt Canada (new addition) are near the bottom of the league in coordinator pay. Wisconsin did spent a good amount for new offensive line coach Mike Markuson ($255,000).
Some Nebraska fans I've heard from complain that Bo Pelini's staff lacks prestige, given the program's tradition and resources. The Huskers have a mostly young staff that ranks in the middle of the league in compensation. Pelini lured new secondary coach Terry Joseph for $230,000, while new defensive line coach Rick Kaczenski made the move from Iowa and will earn $195,000. Kaczenski is a bargain in my view.
Anyone else find it odd that Iowa defensive coordinator Phil Parker, promoted during the winter from secondary coach, makes $1,000 more than new offensive coordinator Greg Davis? While it's nice for Iowa to reward Parker's loyalty as a position coach, the $1,000 difference seems a little trivial, especially since Davis has been a coordinator for decades.
Purdue pays less for assistant coaches than the nine other Big Ten schools reporting information here. Penn State obviously doesn't rank at the bottom in paying assistants, and I've been told Northwestern doesn't, either. Factoring in head coach Danny Hope's salary, and Purdue's overall coach compensation is significantly lower than others, including its arch-rival Indiana. Boilers fans, how do you feel about this?
May, 2, 2012
5/02/12
9:00
AM ET
CHAMPAIGN, Ill. -- As Illinois' starting center for the past few seasons,
Graham Pocic
has mashed limbs with some of the nation's best defensive tackles.
Penn State's Devon Still, Purdue's
Kawann Short
, Michigan State's Jerel Worthy and Michigan's Mike Martin are among those who have lined up across from Pocic. But Pocic's toughest opponent is a man he never faces on Saturdays.
[+] Enlarge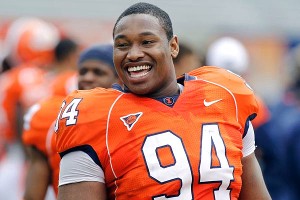 Michael Heinz/US PresswireAkeem Spence is following in the footsteps of several Illini turned NFL defensive linemen before him.
"I get to go against the best D-tackle in the conference every day [in practice]," Pocic said. "It's awesome."
Pocic is biased, but don't be surprised if his teammate,
Akeem Spence
, earns the same label from the NFL talent evaluators a year from now. Spence has been on the NFL radar for the past two seasons, earning a starting job as a redshirt freshman and starting all 26 games he has played at Illinois.
The 6-foot-1, 305-pound Spence built on his freshman-year numbers (45 tackles, 4 TFLs, 1 sack, 1 fumble recovery) by finishing fourth on the squad in tackles (69) last fall. He had 5.5 tackles for loss, 1.5 sacks, a forced fumble and a fumble recovery for an Illinois defense that finished seventh nationally in yards allowed and 15th in points allowed.
"His explosiveness off the ball, his strength, he's pretty athletic for his size," Pocic said. "He's just a powerful dude. If you're not ready when you go against him, he's going to get under you and make some plays in the backfield."
The Illini have had defensive linemen selected in the first round of the past two NFL drafts: tackle Corey Liuget in 2011 (No. 18 overall pick) and end Whitney Mercilus last week (No. 26 overall pick). Spence is already being mentioned as
a top candidate to enter the NFL draft after his junior season
this fall.
Asked last month how motivated he is to be Illinois' next elite next-level prospect, Spence's face lit up.
"I'm real motivated," he said. "I'm just working real hard, doing everything that they did, do everything right. When it's time to step up, I want to be that guy making a big sack, making a big tackle for loss, making a big turnover. That's what I'm working toward."
Spence remains in touch with Liuget, who he started alongside in 2010. Although they've had similar career arcs at the same position -- Spence actually has played more than Liuget did in his first two years -- they're different players.
"He's a lot taller than I am," Spence said.
Only two inches to be exact, but it makes a difference in the trenches.
"Corey was a little more agile and faster," Pocic said, "but Corey doesn't have the strength that Akeem has. Corey's probably a little more explosive, but Akeem's just so strong and physical inside. It's tough to deal with."
Like several other veteran defenders, Spence had concerns about the unit's direction after head coach Ron Zook's firing coordinator Vic Koenning's departure for North Carolina. He was
relieved to learn
the new scheme under coordinator Tim Banks closely resembles its predecessor. Illinois also retained defensive line coach Keith Gilmore, the lone holdover from the previous staff.
Spence will play mostly the 3-technique and 1-technique in Banks' scheme with some spot work out wide at the 5-technique.
"You're creating a culture of great defensive line play," Banks said. "Those kids want to uphold that standard. You talk about those guys [Liuget and Mercilus], they were just here. It's not like 10 years ago. Our guys know who they are. They say, 'If he can do it, I can do it.' There's been greatness in that room."
Spence wants to continue that legacy before he walks out the door.
April, 3, 2012
4/03/12
9:00
AM ET
Tim Beckman's first pivotal recruiting venture at Illinois didn't take place in a living room or at a camp for prep players.
It happened at a California hotel in late December. His targets already wore the Orange and Blue. The group gathered before the Kraft Fight Hunger Bowl to meet with a man who, at that point, was their head coach only by title.
"They didn't know me, and I didn't know them very well," said Beckman, hired Dec. 9 as Illinois' coach. "I had met with them because I met with everybody on the football team. I had watched practices. But it wasn't my job to interfere with them for their bowl game.
"It was kind of a scary situation because I wanted all of them to stay."
[+] Enlarge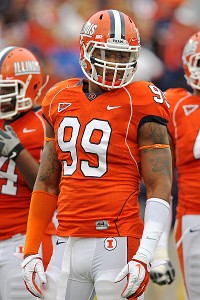 Jonathan Daniel/Getty ImagesIllinois will look to senior Michael Buchanan to be a leader on defense.
They were Illinois juniors who had the potential to enter the NFL draft after the bowl game. The group included defensive end
Michael Buchanan
, cornerback
Terry Hawthorne
, defensive tackle
Akeem Spence
and center
Graham Pocic
. Buchanan earned second-team All-Big Ten honors in 2011, while Hawthorne earned honorable mention honors and Spence displayed next-level ability.
All-America defensive end
Whitney Mercilus
, pegged as a potential first-round pick, also met with Beckman.
The meeting was part information session, part recruiting session. Beckman wanted to give each player an idea of his draft prospects. He fast-tracked the paperwork to the NFL draft advisory board and received the evaluations as soon as he could. Beckman leaned on his father, Dave, who had worked in the front office with the Cleveland Browns and San Diego Chargers, and other contacts to speed up the process.
"I tried to formulate as much information as I possibly could so they could make an educated decision, from Whitney to all of them," Beckman said. "I wanted all of them to stay. I wanted all of them to be able to say they played their senior year at the University of Illinois and had the opportunity to be a champion."
Despite that desire, Beckman didn't come on too strong.
"Not as much as you'd expect a coach to," Pocic said. "He showed us what kind of person he was and just talked about the opportunity we had if we came back."
Mercilus entered the draft after the bowl game, surprising no one, but the other four players opted to stay. They're now building blocks for Illinois as Beckman and his staff hope to make a transition without losing any ground.
What did Illinois retain?
Spence has started every game the past two seasons, while Buchanan has started 20 of 26 contests. Although Mercilus made the big splash in 2011 with insane numbers, Buchanan quietly racked up 7.5 sacks and 13.5 tackles for loss. Spence recorded 69 tackles and a forced fumble and clogged the interior for the nation's No. 7 defense.

Hawthorne has made starts in each of the past three seasons, including 11 last fall. He led the team in both interceptions (three) and passes defended (11) in 2011, and finished sixth in tackles (60). On a team that has some issues at safety, Hawthorne's presence as a potential shutdown corner looms large.

Pocic has started Illinois' past 24 games at center and provides leadership for a youngish line that loses mainstay Jeff Allen at left tackle. Having a veteran center to help make line calls during the transition to a new offense is a luxury for the Illini.
After Beckman told the players of their NFL grades, he gave them the floor.
"It was funny," Spence said of the December meeting with Beckman. "Me, Terry, Mike and Graham, we were sitting there scared to ask the first question. But we had to because this is our future. I was trying to find out what the deal was going to be, what type of defense, his plans for us and the team."
Spence eventually asked Beckman if the team's defense would suit his game like the previous scheme had. Although Beckman hadn't hired his defensive coordinator, he had announced that defensive line coach Keith Gilmore would be retained.
After the meeting, Spence remembers talking with Buchanan and Hawthorne about their decisions.
"We all wanted to come back and be leaders," Buchanan said.
Beckman doesn't downplay the significance of their decisions.
"It's huge," he said. "To look out there and see No. 1 [Hawthorne] running around, and 99 [Buchanan] and 94 [Spence] and 76 [Pocic], those are guys who have played, who have been involved in two bowl games and understands a little bit of what it takes to be successful."
February, 17, 2012
2/17/12
10:00
AM ET
After taking a look at the Legends Division outlook for spring practice, it's time to turn the focus to the Leaders Division.
Away we go ...

ILLINOIS
Start of spring practice:
March 7
Spring game:
April 14
What to watch:
New faces in new roles: Tim Beckman and his assistants get their first chance to work with the players on the field. Beckman retained only one assistant (defensive line coach Keith Gilmore) from the previous staff, so it'll be important for the players and coaches to get acclimated. It's also a big spring for co-offensive coordinators Billy Gonzales and Chris Beatty, both of whom will be primary playcallers for the first time at this level.
The quarterbacks: Nathan Scheelhaase is a two-year starter, but he'll have to re-establish himself as the team's top option at quarterback. Reilly O'Toole received a decent amount of field time last season, and Illinois should have a competition under center in spring practice. Both men will have to learn a new offense and show good decision-making skills after combining to throw 12 interceptions last fall.
No Merci: All-American defensive end Whitney Mercilus is gone, and Illinois will be looking for his replacement this spring. The defensive line could once again be a strength for the Illini, especially with Gilmore back and an aggressive defensive coordinator in Tim Banks. It'll be interesting to see how the coaches use Michael Buchanan and Justin Staples, who played the "bandit" position in the previous scheme and boast speed but don't have typical defensive end size.

INDIANA
Start of spring practice:
March 3
Spring game:
April 14
What to watch:
Juco fever: Indiana needs a quick fix on defense, and it hopes an influx of junior college players can provide one. Six juco players already are enrolled and will participate in spring practice, including five on the defensive side. It will be interesting to see how players such as defensive back Tregg Waters and linebackers Justin Rayside and Jacarri Alexander perform this spring as they compete to play right away.
New direction on offense: Coach Kevin Wilson wants to be more productive in the passing game, and he hired an offensive coordinator in Seth Littrell who can help in that area. Littrell guided an Arizona offense that last season ranked third nationally in passing (370.8 ypg) and 27th in pass efficiency (145.2). He'll try to help Tre Roberson, who Wilson said he thinks can elevate his game significantly as a passer despite throwing twice as many interceptions (six) as touchdowns (three) as a freshman.
Who has grown up: Indiana played 32 freshmen (16 true, 16 redshirt) in 2011, the most in the FBS. The early experience should pay off for several players, and Indiana needs them to grow up quickly during the spring. Roberson showed a lot of promise at quarterback, and safety Mark Murphy finished second on the team with 76 tackles. Keep an eye on players such as defensive end Bobby Richardson and receiver/returner Shane Wynn.

OHIO STATE
Start of spring practice:
March 28
Spring game:
April 21
What to watch:
Urban renewal: The mood has improved around Ohio State's program from the moment Urban Meyer stepped to the podium Nov. 28. After putting together his staff, signing an elite recruiting class and ticking off some of his Big Ten coaching colleagues, Meyer finally gets a chance to work with the players on the practice field. After a lackluster final season at Florida in 2010, Meyer says he's refreshed and recharged, and it'll be interesting to see how he attacks practices.
The new offense: Ohio State fans can't wait for a new offense after suffering through a 2011 season that featured some extremely questionable play-calling. Meyer's offensive system is well-known throughout college football, but the interesting thing this spring will be how Meyer and offensive coordinator Tom Herman blend their ideas. Herman is a dynamic young coach who impressed a lot of folks at Iowa State. But Ohio State is a different animal, and expectations will be high for quarterback Braxton Miller and the unit.
Fickell back on defense: After spending last season as Ohio State's head coach, Luke Fickell returns to an assistant role on the defensive side. And for the first time, Fickell will be the Buckeyes' primary defensive playcaller. Ohio State's defense took a step back last season and will be looking to regain its traditional form. Fickell will work alongside co-defensive coordinator Everett Withers and look to identify some leaders to complement defensive lineman John Simon.

PENN STATE
Start of spring practice:
March 26
Spring game:
April 21
What to watch:
O'Brien's time: Much will be made of Penn State opening spring ball without Joe Paterno, but the real story is how critical these practices will be for new coach Bill O'Brien and his team. Penn State will be acclimating to new systems on both sides of the ball and a new coaching style from O'Brien and his assistant coaches, all but two of whom are from the outside. The learning curve will be accelerated for all involved, as Penn State needs to get a lot done in 15 workouts.
The quarterbacks: It's good that O'Brien has extensive experience coaching quarterbacks because no position needs a bigger upgrade at Penn State. The Lions struggled mightily under center last season and need a major boost beginning this spring. Can O'Brien get more out of Matthew McGloin and Rob Bolden, both of whom have seen extensive time in the Big Ten? How does Paul Jones factor into the mix? It'll be interesting to see how the signal-callers perform this spring.
Filling gaps on defense: Penn State should have one of the nation's best linebacker groups this season, but the Lions need to fill some holes on the line and in the secondary. Big Ten Defensive Player of the Year Devon Still departs, and Penn State will be leaning on Jordan Hill and others to step up. A bigger concern is the secondary, which loses two multiyear starters at safety (Drew Astorino and Nick Sukay). Penn State also has a new defensive coordinator in Ted Roof, who will be looking for better results than he had at Auburn.

PURDUE
Start of spring practice:
March 7
Spring game:
April 14
What to watch:
Another quarterback competition: Boilers coach Danny Hope loves having options at quarterback, and he'll once again get his wish during spring practice. Caleb TerBush, Robert Marve,Rob Henry and Sean Robinson all boast starting experience and will vie for the No. 1 job when workouts resume. Henry, who sizzled last spring and would have started the season if not for a torn ACL, has been cleared to participate in noncontact drills. Marve received an extra year of eligibility and will be in the mix. TerBush started every game last season.
Tisebar takes over: Purdue has a new defensive coordinator for the third consecutive season, as Tim Tisebar takes over this spring. Tisebar returns to college football after spending the past three seasons with the Canadian Football League's Montreal Alouettes. Hope hired Tisebar to help Purdue improve against the spread offense and the zone-read game. It will be interesting to see what spin Tisebar puts on the defense as the Boilers enter a pivotal season.
Offensive line depth: One of Purdue's strengths last season is a bit light on bodies following several departures. The Boilers need a left tackle to replace Dennis Kelly, and they also must increase depth on the interior line. Purdue already has moved tight end Robert Kugler to center, and Hope said earlier this month that several other tight ends could practice at offensive tackle during the spring.

WISCONSIN
Start of spring practice:
March 17
Spring game:
April 28
What to watch:
A revamped staff: Bret Bielema hired six new assistant coaches during the winter months, including offensive coordinator Matt Canada. The new coaches will have their first opportunity to work with players on the field this spring. It's important for both sides to acclimate, mainly because Wisconsin has had tremendous success the past two seasons and doesn't want the staff shakeup to throw things off course. Quarterback Russell Wilson made a seamless transition to the program last summer. Let's see if the new assistants can do the same in spring ball.
The quarterbacks: Speaking of Wilson, he departs Madison, leaving a major void under center. Jon Budmayr and Curt Phillips are coming off of major injuries, and while they're both making progress it could be tough to get a gauge on them this spring. Canada will spend much of his time working with Joel Stave and Joe Brennan, who need to get comfortable with Canada's adjustments to the offense and start establishing themselves as potential team leaders.
Reloading up front: Wisconsin will have to replace two All-American offensive linemen for the second consecutive year, and the Badgers lose three All-Big Ten selections up front (Peter Konz, Kevin Zeitler and Josh Oglesby). While the Badgers are built to reload, offensive line coach Mike Markuson has a lot of evaluating to do this spring. On the defensive line, Wisconsin loses two starters (Patrick Butrym and Louis Nzegwu) and will be looking for some difference-makers. End David Gilbert returns to the mix after missing most of last season with a broken foot.
January, 19, 2012
1/19/12
5:00
PM ET
The Big Ten had three head-coaching changes in recent weeks, and new leading men have stepped in at Ohio State, Illinois and Penn State. We will be sharing our thoughts on the three new coaching staffs as they become complete. First up is Illinois, as head coach Tim Beckman finalized his staff earlier this week with the
hiring of Tim Banks as defensive coordinator
.
Here's the new Illinois staff:
[+] Enlarge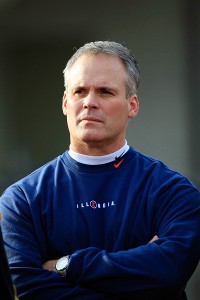 AP Photo/Marcio Jose SanchezNew Illinois coach Tim Beckman has high expectations for his team as it begins spring practices.
Tim Beckman -- head coach
Tim Banks -- defensive coordinator/safeties
Billy Gonzales -- co-offensive coordinator/receivers
Chris Beatty -- co-offensive coordinator/quarterbacks
Luke Butkus -- offensive line
Steve Clinkscale -- cornerbacks
Keith Gilmore -- defensive line
Alex Golesh -- tight ends/specialists/recruiting coordinator
Tim Salem -- running backs/special teams coordinator
Mike Ward -- linebackers
So
Today's Take Two topic is:
How did Beckman fare in putting together his staff at Illinois?
Take 1: Adam Rittenberg
There were a few bumps along the way, namely Jon Tenuta's hiring as defensive coordinator and subsequent change of heart, but Beckman eventually got his staff in place. The youth of the staff certainly stands out, as six of the nine assistants are 40 years old or younger. This certainly could help Illinois on the recruiting trail, and by all accounts Beckman has added some strong recruiters to the mix. He made a good move in retaining Gilmore, who helped defensive linemen Corey Liuget and Whitney Mercilus become stars the past two seasons. Banks also comes in with a strong background, especially after helping the Cincinnati defense lead the nation in tackles for loss and rank second in sacks during the 2011 season. Although Mercilus departs, Banks inherits talented defenders like linebacker Jonathan Brown who can pressure the quarterback. This isn't the most experienced offensive staff, and it will be interesting to see how Gonzales and Beatty fare as co-coordinators. Illinois' offense fell apart late in the 2011 season, and the coaches need to get quarterback Nathan Scheelhaase and others back on track. Butkus is a former Illinois player with a famous name, but he'll be taking on a key position group by himself for the first time in his career. Salem is certainly the veteran on the offensive side, and he looks like a strong addition to help the running backs and also Illinois' special teams, which really struggled in 2011. I felt defensive coordinator would be Beckman's most important hire after Illinois lost Vic Koenning to North Carolina. Banks looks like be a strong addition. I'm really interested to see if the offensive staff can prove itself in Year 1.
Take 2: Brian Bennett
Youth is definitely the buzzword on this staff. Banks and Beatty are in their late 30s, Gonzales is 40
,
Butkus is 32 and Golesh graduated from Ohio State less than six years ago.
They should be able to relate to the Illinois players and fare well on the recruiting trail. They should also bring a lot of energy, something that will be needed to keep up with the naturally caffeinated Beckman. While many of the assistants are young, they have some intriguing résumés. Gonzales worked for Urban Meyer at Florida and was part of two national title teams and nearly won another one this year at LSU. I know Beatty from my old beat on the Big East, and West Virginia people thought he was a promising up-and-coming young coach. Neither has called plays at the FBS level and will be asked to run Beckman's spread offense; even though Beckman has a defensive background, I'd expect him to be highly involved in the offense. Banks was a nice hire after turning around Cincinnati's defense in 2011. A lot of these assistants will have to prove themselves in some ways, whether it's in a new role or against tougher competition. Few seem to have strong connections or history in recruiting the state of Illinois, which will be a key for the program's long-term success. Beckman might not have brought in a lot of high-profile names, but a young, hungry staff might be just the thing to help him move the Illini forward.
January, 3, 2012
1/03/12
12:41
PM ET
In a move that was widely expected, Illinois junior defensive end Whitney Mercilus announced Tuesday that he'll skip his senior year and
enter the 2012 NFL draft
.
Mercilus came from way under the radar to post an outstanding year. He led the nation with 16 sacks, tying Simeon Rice's single-season school record, and forced a Big Ten record nine fumbles, second-most in NCAA history. His 22.5 tackles for loss also led the Big Ten. Mercilus won the Hendricks Award as the nation's top defensive end and was a consensus first-team All-American.
He capped his season with a solid performance in the Kraft Fight Hunger Bowl win against UCLA, recording 1.5 sacks. Mercilus's high motor and instincts for the ball turned him into a star.
Mercilus issued this statement:
"First, I want to congratulate my teammates and coaches for a great win against UCLA in the Fight Hunger Bowl — it was a great feeling to get back to winning, especially with a defensive performance like we had. With that said, after a lot of prayer and discussion with my family, I have decided the time is right for me to forgo my senior year and enter the 2012 NFL draft.

I want to thank coach [Ron] Zook, coach [Vic] Koenning, coach [Keith] Gilmore and the entire Illini staff for helping me get to this point. To the entire Illinois community — students, professors, athletic department and fans — thank you for all of your support during my time here in Champaign; these have been some of the best times of my life and I will never forget all that this university means to me. Finally, thank you to my teammates — without you guys, I would not be in the position to make this decision. I have faith that Illinois will rise to the top and I will be there to support you."
Mercilus is the seventh Illini player in the last five years to enter the draft early. The previous six all were taken in the first three rounds, including three first-rounders. The latest was defensive tackle Corey Liuget, who was selected by the San Diego Chargers in 2011.
Defensive line coach Keith Gilmore had this statement:
"I'm very proud of Whitney for the amount of work he put in to be in this position. He really matured during the season and became a terrific leader not only for the defensive line, but for the entire defense. Whitney had an incredibly productive season and is a great role model for our other players in doing things the right way and putting in the extra effort. The entire Fighting Illini family wishes him nothing but the best as he moves on to the NFL."
Even though he had only one standout college season, Mercilus' stock was never going to be higher. Leaving for the NFL is the right move, especially as the Illini go through a coaching transition that will include a new defensive coordinator. New head coach Tim Beckman will not only have to right an offense that struggled over the final seven games, he'll have to try and keep the defense at a high level with new assistants. And without the team's biggest defensive star.
December, 30, 2011
12/30/11
11:45
PM ET
I have a contract with ESPN.com. It has a start date and an end date. It has a predetermined salary structure. It includes job expectations, company policies and, like any contract, a lot of legalese. But the important things are spelled out clearly.
Before agreeing to the terms, ESPN's legal department sends me the contract to review. I read it over. Usually several times. And then I sign it and send it in.
It's all right there in print -- no gray area.
[+] Enlarge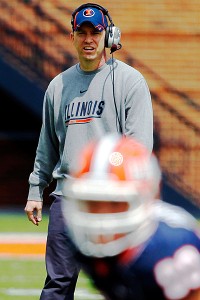 Michael Heinz/US PresswireJeff Brohm is among the Illinois assistant coaches who will fulfill their duties during Friday's bowl despite a contract dispute.
Four Illinois assistant coaches are steamed because they put pen to paper before fully studying what was written on the paper. They thought they had two-year rollover contracts and were surprised to learn recently that their deals had been reworked in the summer of 2010 and as a result, they no longer would be paid after Feb. 28. Illinois fired head coach Ron Zook on Nov. 27, and only one assistant (defensive line coach Keith Gilmore) is remaining on staff with new boss Tim Beckman.
The assistants were irate and lashed out. Offensive line coach Joe Gilbert called the situation "very unprofessional." They even threatened to boycott Saturday's Kraft Fight Hunger Bowl against UCLA, adding even more controversy to a game filled with it.
But the Bizzaro Bowl Boycott won't be taking place.
Zook told ESPN colleague Gene Wojciechowski on Friday night that
his former aides will show up Saturday at AT&T Park
.
"They're going to coach," said Zook, when contacted by ESPN.com Friday evening. "They're [the assistants] frustrated. But they're going to coach. They know it's about the kids. But they were trying to make a point. They've got careers, family, all of those things. They're class guys. And it's important that everyone knows they're really good people."
More from the story:
The dispute centers around a contract promise that Zook said was made to several of his assistant coaches by him and former Illinois athletic director Ron Guenther. According to Zook, the assistants -- Jeff Brohm, Ron West and Chip Long -- were told they would receive two-year deals which would run through the 2012 regular season. Assistant Joe Gilbert has told SI.com that he also was promised a multiyear contract.
"Somewhere -- I'm not sure how -- a couple of the contracts got changed," said Zook. "I truly believed they had two-year contracts. ... I'm not exactly sure how things got changed. I feel awful about it. They're great people and they did a great job. I don't know where it went wrong. I was under the understanding that they had two-year contracts."
I feel for the Illinois assistants. It's a bad deal for them, but it's because they signed bad deals. As athletic director
Mike Thomas told SI.com
, "We have a contract that's pretty clear, and we intend to honor that contract. We assume they'll honor it as well."
Boycotting would have been worse for the coaches and for the Illini players than it would have for the administration. If you want to stick it to your bosses, boycotting the Kraft Fight Hunger Bowl probably isn't the best move. If you want to stick it to your players, boycotting is the way to go.
Plus, these assistants are looking for jobs. They have good credentials. But no employer wants to see "quitter" on a résumé.
Who knows what to expect Saturday afternoon in San Francisco? But at least the Illini assistants with be with the players they've coached all season.
September, 20, 2011
9/20/11
11:27
AM ET
Last Sunday, Illinois defensive coordinator Vic Koenning and his staff brainstormed a unique game plan for a dangerous opponent.
They mixed up fronts, disguised blitzes, constantly moved players around and let creativity trump conservatism in mapping out ways to pressure Arizona State quarterback
Brock Osweiler
. With the blueprint finalized, the coaches prepared to head home.
"We kind of looked at each other and said, 'This is crazy,'" Koenning said.
The plan placed a burden on Illinois' defensive front seven, a group many outsiders questioned heading into the season, and for good reason.
Illinois had to replace three players selected in April's NFL draft: defensive tackle Corey Liuget, a first-round pick; linebacker Martez Wilson, a third-round pick; and linebacker Nate Bussey, a seventh-round pick. Both Liuget and Wilson opted to forgo their final year of eligibility, seemingly leaving the Illini in a bit of a pinch.
[+] Enlarge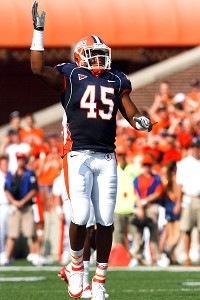 Damen Jackson/Icon SMIJonathan Brown's performance against Arizona State earned him player of the week honors.
But what the Illini defense lost in star power, it gained in a group with greater knowledge of the system. And, in the process, new stars are being born.
"They were great players, they brought a lot to the team," senior linebacker Ian Thomas said of Liuget, Wilson and Bussey, "but this year, we feel like we're a little more comfortable with the defense. We've got the defense down a little more, so it makes up for those guys that we lost."
The Illini made Koenning's crazy plan look genius Saturday night in a 17-14 win against Arizona State, which came to Champaign averaging 42.5 points and 504.5 offensive yards.
Illinois recorded six sacks, all by the front seven, and 12 tackles for loss.
Sophomore linebacker Jonathan Brown had a breakout performance with an interception, 3.5 tackles for loss and 1.5 sacks, earning Big Ten Defensive Player of the Week honors. Others stood out like end Whitney Mercilus (5 tackles, 2 sacks, forced fumble), bandit Michael Buchanan (1.5 sacks) and tackle Glenn Foster (interception, 1 tackle for loss).
Although Illinois starts only two seniors in the front seven -- Thomas and Trulon Henry, who moved from safety to linebacker to address depth there -- the group is displaying greater maturity in Year 2 under Koenning.
"We're a lot further along than we were last year," defensive line coach Keith Gilmore said, "just knowing the little nuances of the defense. Heck, I was still learning as well. I think I'm a better coach and a better teacher at this point in knowing the scheme, and know the kids are better players because of it."
Gilmore admits the coaches were "a little uptight" when first implementing the Arizona State game plan. But by the middle of the practice week, it began to click with the players.
Could Illinois have executed the same type of plan last year?
"We were still learning a lot of the base stuff," Gilmore said. "We came up with some different plans as well last year, but being a year into it, it's easier to make sideline adjustments and game adjustments as you go along because the kids have a better feel for the defense."
Brown was all over the field Saturday night, factoring into two of Illinois' three takeaways. He hit Osweiler on a blitz, forcing a throw that caromed off of an Arizona State lineman to Foster for an interception.
In the third quarter, he recorded a pick of his own following a deflected pass.
"We showed what we've been thinking all summer," Brown said, "that we can play with anybody in the country, and that we have the best defense in the country. Coming into the season, they had us ranked dead last as a linebacker corps. One of our goals was to go out and prove people wrong."
Although Illinois lost two linebackers to the NFL, its biggest concern was replacing Liuget, the Big Ten's most dominant interior lineman in 2011. The defensive line's performance against Arizona State bodes well for Big Ten play.
"We talk about 'next man in' all the time, whether it be to an injury or graduation or an NFL departure," Gilmore said. "They all have talent. It's a matter of who gets an opportunity to showcase that talent."
Thomas, the graybeard of the defense, is seeing his teammates grasp the opportunities presented to them.
"I'm real confident in those guys," he said. "I know I can depend on them to be where they need to be."
February, 18, 2011
2/18/11
9:22
AM ET
Spring practice is creeping closer, and Purdue will hit the field in less than two weeks (March 1 to be exact) for the first of its 15 workouts.
Here's a snapshot of what to expect in the Leaders Division this spring.
ILLINOIS

Spring practice starts:
March 29
Spring game:
April 23
What to watch:
New look at linebacker: Illinois loses first-team All-Big Ten selection Martez Wilson as well as playmaker Nate Bussey. They combined for 195 tackles, 20 tackles for loss, two interceptions and four fumble recoveries. The Illini need a middle linebacker and could turn to productive senior Ian Thomas or promising sophomore Jonathan Brown. Illinois also is replacing linebackers coach Dan Disch.
Ford tough: All-American running back Mikel Leshoure departs, turning the spotlight to Jason Ford. At 235 pounds, Ford is a true power back who will give the Illinois offense a slightly different look in 2011. The Illini also want to build depth at running back with players like Troy Pollard.
Replacing Liuget: Illinois begins the difficult task of replacing the Big Ten's most disruptive interior defensive lineman in Corey Liuget, a likely first-round draft pick in April. Akeem Spence had a very solid redshirt freshman season and will take on a larger role, but Illinois must build around him with Glenn Foster and others. This is a major priority for defensive coordinator Vic Koenning and line coach Keith Gilmore this spring.
INDIANA
Start of spring practice:
March 8
Spring game:
April 16

End of spring practice:
April 19
What to watch:
Culture change: Kevin Wilson has talked extensively about changing the culture around the Indiana program, and the process begins in full force this spring. Players will have to adjust to the demands of Wilson and his staff, which still isn't in place but soon will be. There will be plenty of teaching and learning, as players must absorb Wilson's offense and a 4-3 defensive scheme (IU operated out of the 3-4 for part of last season).
Quarterback competition: Three-year starter Ben Chappell departs, and there's no clear-cut successor entering spring practice. Both Dusty Kiel and Edward Wright-Baker played sparingly in five games last season, and they bring different skills to the table. It'll be interesting to see who emerges under center this spring before acclaimed recruit Tre Roberson arrives for fall camp.
Identify defensive contributors: Indiana can't expect to get over the hump until it upgrades the defense, and co-coordinators Mike Ekeler and Doug Mallory begin a crucial evaluation process this spring. The Hoosiers need to build depth and identify Big Ten-ready players throughout the defense, particularly in the back seven after losing standout linebacker Tyler Replogle and others.
OHIO STATE
Start of spring practice:
March 31

Spring game:
April 23
Suspension preparation: Ohio State knows it will be without four offensive starters and a key defensive reserve for the first chunk of the 2011 season. This spring, the Buckeyes start the process of evaluating who will step in, especially at the quarterback spot for Terrelle Pryor. Joe Bauserman holds an edge in experience (though little has come in games), and he'll compete with Kenny Guiton and heralded incoming freshman Braxton Miller.
Receiving orders for Drayton: Stan Drayton left Florida for Ohio State primarily to expand his coaching repertoire and oversee a new position group. The career running backs coach will work with a mostly unproven group of Ohio State wide receivers this spring. Ohio State must replace All-Big Ten standout Dane Sanzenbacher, and DeVier Posey is among those suspended for the first part of the season. Says Drayton of his receivers, "Personnel wise, they're in competition with the whole offensive unit."
Up-the-middle defensive replacements: Excuse the baseball reference, but Ohio State loses several standout players in the core of its defense: linemen Cameron Heyward and Dexter Larimore, linebackers Brian Rolle and Ross Homan, and safety Jermale Hines. Although the Buckeyes always find ways to reload on defense, it will be interesting to see who emerges this spring, especially at linebacker.
PENN STATE
Start of spring practice:
March 18

Spring game:
April 16
What to watch:
The quarterbacks, especially Rob Bolden: Penn State's quarterback competition should be wide open this spring, and it might be the most fascinating race in the Big Ten. You've got sophomore Rob Bolden, who asked for his release after the Gator Bowl but didn't get it from Joe Paterno, and has returned to compete for a job he thought he never should have lost. Junior Matt McGloin tries to redeem himself after the bowl disaster, and Paul Jones and Kevin Newsome also are in the mix.
Line play on both sides: The Lions boast enough at the skill positions on both sides of the ball to be a much improved team in 2011. But they have to get better and more consistent on both lines. The offensive line must replace standout Stefen Wisniewski and find the form it displayed in 2008. The defensive line tries to regain its swagger after backsliding in 2010, and identify a pass-rushing threat or two.
Kicking it: Collin Wagner was Penn State's top offensive weapon for much of the 2010 season, but the standout kicker departs the program, leaving a void. Punter Anthony Fera likely will handle the bulk of the kicking duties this spring until incoming freshman Sam Ficken arrives.
PURDUE
Start of spring practice:
March 2

Spring game:
April 9
What to watch:
Replacing Superman: Purdue returns nine defensive starters, but the Boilers lose Big Ten Defensive Player of the Year Ryan Kerrigan. The Boilers were the league's top pass-rushing team in 2010, but Kerrigan's production and presence played huge roles in the overall sacks and tackles for loss totals. The entire defensive line took a step forward last fall, and will need to do so again without No. 94.
The quarterbacks: Robert Marve is still recovering from his second ACL tear, so Rob Henry, Caleb TerBush and Sean Robinson will be in the spotlight this spring. Henry showed promise when healthy in 2010, and TerBush had a strong spring a year ago before being ruled academically ineligible for the season. The quarterback race won't be decided until the summer, but all the candidates can help themselves in spring ball.
The offensive identity: A wave of injuries forced Purdue to overhaul its plan on offense in 2010. Although several key players will be out or limited this spring, the Boilers can start to reshape their plan on offense. Coach Danny Hope is optimistic Marve and the others return at full strength, but he doesn't want to take anything for granted. This is a huge spring for players a notch or two down the depth chart to get noticed.
WISCONSIN
Start of spring practice:
March 22

Spring game:
April 23
What to watch:
Finding Tolzien's successor: After a one-year respite, Wisconsin's annual spring quarterback competition resumes. Sort of. Jon Budmayr will have every opportunity to establish himself as the Badgers' top option before Curt Phillips (knee) returns to full strength. Budmayr turned heads with his performance two springs ago, but played sparingly last season behind Scott Tolzien.
New leadership on defense: Charlie Partridge and Chris Ash are familiar faces who step into new roles this spring. Partridge and Ash were promoted to co-defensive coordinators following Dave Doeren's departure, and they'll get their first opportunity to shape the defensive vision this spring.
Reloading on the lines: Wisconsin loses three All-American linemen from 2010: Gabe Carimi and John Moffitt on the offensive side, and J.J. Watt at defensive end. Although the Badgers must replace more bodies on the offensive front, they boast excellent depth there and should be able to fill the gaps. Watt leaves a bigger void, and Wisconsin needs strong springs from players like Louis Nzegwu and David Gilbert.
October, 20, 2010
10/20/10
4:54
PM ET
Corey Liuget faced a major dilemma after the 2009 season.
The Illinois defensive lineman missed the comforts of his Miami home, and the snow and cold enveloping Champaign, Ill., didn't help matters.
"It was just me missing home, family and the Miami lifestyle," Liuget said. "I'm so used to the sun out every day and being able to go to the beach, kick my feet up on the sand and do whatever.
[+] Enlarge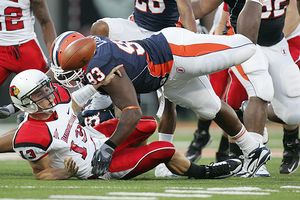 Mark Cowan/Icon SMICorey Liuget is in the midst of a breakout season, notching six tackles for loss, two sacks and four quarterback hurries.
"There's no sand around here."
But when Liuget called his mom to tell her he wanted to come home, Lorene Liuget responded to her son like a Big Ten running back would.
With a stiff arm.
"My mom was like, 'You're not welcome back home,'" Liuget said. "I was like, 'Well, I could live with this person or that person.' And she was like, 'Don't even think about living with them. It's not going to happen. We expect a lot more out of you.'"
Liuget was homesick but couldn't go home. Quite a dilemma, indeed.
"I had to think, 'Either stay here and get an education and play football, or go home and be a nobody,'" Liuget said. "I would have to find my own place to live. It was going to be tough for me.
"So I decided to stay."
The decision is paying off for both Liuget and the Fighting Illini. Liuget is blossoming for a much-improved Illinois defense, recording 29 tackles, a team-high six tackles for loss, two sacks, a team-high four quarterback hurries and two pass breakups this year.
The 6-foot-3, 285-pound Liuget recorded a career-high 11 tackles, including a tackle for loss and two quarterback hurries, last week at No. 7 Michigan State. His tackles total marked the most by an Illinois defensive lineman since Mike O'Brien had 12 against Missouri in 2002.
"Corey Liuget is legit," said Northwestern coach Pat Fitzgerald, who watched Liuget (pronounced Legit) while scouting the Illinois-Michigan State game.
Liuget came to Illinois as a decorated recruit in 2008 and started two games at defensive tackle as a true freshman, recording a forced fumble, two fumble recoveries and five tackles for loss. He made four starts last season, racking up eight tackles for loss, 2.5 sacks and 36 total tackles.
Not bad numbers, but not what Liuget had envisioned.
"Even though I was playing and making plays," he said, "it wasn't like what Adrian Clayborn was doing at Iowa, or Brandon Graham at Michigan. Those guys were already set in the Big Ten."
It didn't help that Illinois went 5-7 and 3-9 in Liuget's first two seasons, and made a change at defensive coordinator following the 2009 campaign.
Liuget thought about transferring to a school in Florida; mom quickly shot down the idea.
"She told me if I would transfer anywhere, I wouldn't be welcome at home at all," he said. "Me being the first male out of my family to actually go to college was pretty exciting for everybody. That played a role in why my mom was like, 'Everybody wants to see you succeed and be the first one to get a college degree.'"
After making the decision to stay and putting his mind at ease, Liuget set out to improve his body. He played last season well north of 300 p0unds but trimmed 30 pounds off his frame to get down to a lean 285.
Liuget initially had "a fishy feeling" about new Illini defensive coordinator Vic Koenning but bought in during spring ball when he witnessed Koenning's high-energy style.
"I was like, 'Wow, this guy's crazy. He's going to get me to where I need to be,'" he said.
Liuget credits Koenning, defensive line coach Keith Gilmore and others for helping him along. He's one of several former big-time recruits -- linebacker Martez Wilson is another -- to emerge this fall for the Illini defense.
"Not only is he stepping up his game on the football field, but he's stepping up his leadership in practice," Illinois head coach Ron Zook said. "That has a lot to do with how our defense has improved. ... Corey's becoming more of a vocal leader than he has in the past, and he's been improving every week, every game."
Illinois sits at 3-3 but has gone through by far the toughest part of its schedule. If things go right in the second half, the Illini will go bowling.
Three of the Big Ten's tie-in bowls -- Capital One, Outback and Gator -- happen to take place in Florida.
Lorene Liuget wouldn't mind welcoming home her son in January.
"She showed me some tough love right there and then," Liuget said. "But hey, it made me a better person."
January, 27, 2009
1/27/09
9:49
AM ET
Posted by ESPN.com's Adam Rittenberg
Purdue's hiring of defensive coordinator Donn Landholm on Monday likely marks the end to the major coaching moves in the Big Ten this year.
There have been no head-coaching changes -- Danny Hope was named Purdue's head coach-in-waiting last year -- and unless Iowa's Kirk Ferentz bolts for the Kansas City Chiefs, which isn't likely, all 11 teams will have continuity on top. But there were several key changes among coordinators and key position coaches.
Here's a summary.

ILLINOIS
Offensive coordinator: Mike Locksley left to become New Mexico's head coach. Illinois hired TCU offensive coordinator Mike Schultz as his replacement.
Defensive line: Ron Zook fired Tom Sims and hired Cincinnati's Keith Gilmore.
Offensive line: Eric Wolford left for the same post at South Carolina, and Zook hired Houston's Joe Gilbert as his replacement.
Notes: Arguably Illinois' biggest coaching move was one that didn't happen. Zook offered Penn State defensive line coach Larry Johnson the chance to be Illinois' defensive coordinator, but the ace recruiter opted to stay at State College.

INDIANA
No changes.
Notes: Despite a 3-9 season that saw regression on both sides of the ball, head coach Bill Lynch said he didn't expect to make any staff changes for 2009.

IOWA
No changes.
Notes: Ferentz is being mentioned as a candidate for the Chiefs' head-coaching vacancy because of his ties to new general manager Scott Pioli, but it appears likely he will remain at Iowa for an 11th season. He will hold a signing day news conference scheduled for Feb. 4 and has talked with athletic director Gary Barta about a contract extension.

MICHIGAN
Defensive coordinator: Scott Shafer resigned and later took the same job at Syracuse. Michigan hired former Syracuse head coach Greg Robinson as Shafer's replacement.
Notes: Head coach Rich Rodriguez took his time with the search, and Robinson actually reached out to him about the defensive coordinator vacancy.

MICHIGAN STATE
No changes.
Notes: Offensive coordinator Don Treadwell was in the mix for several head-coaching spots (Miami University, Boston College) but will stay put for 2009.

MINNESOTA
Offensive coordinator: Mike Dunbar resigned Jan. 6 to pursue other professional opportunities. Minnesota hired former Denver Broncos wide receivers coach Jedd Fisch as Dunbar's replacement.
Defensive coordinator: Ted Roof resigned Jan. 6 to take the same post at Auburn. Gophers head coach Tim Brewster hired former Nebraska and Wisconsin defensive coordinator Kevin Cosgrove, who will share coordinator duties with defensive backs coach Ron Lee.
Notes: Fisch will call the offensive plays, but he must collaborate with Tim Davis, the team's new offensive line coach and run game coordinator. Davis, who replaces Phil Meyer, was hired in late November to transform Minnesota's run game and return the team to its roots as a dominant rushing attack.

NORTHWESTERN
Offensive line: Bret Ingalls left for the New Orleans Saints. Head coach Pat Fitzgerald told me he's not concerned about naming a replacement until after signing day, but indications are Adam Cushing, the H-backs coach and recruiting coordinator, will be promoted to line coach.
Notes: Athletic director Jim Phillips wants to work out a contract extension for Fitzgerald and likely will announce one in the coming weeks or months.

OHIO STATE
No changes.
Notes: Some expected offensive coordinator/offensive line coach Jim Bollman to get the axe, and while it still could happen, head coach Jim Tressel is the primary playcaller and responsible for the unit's success. Co-defensive coordinator and linebackers coach Luke Fickell was mentioned as a candidate for the head-coaching vacancy at Bowling Green.

PENN STATE
No changes.
Notes: Penn State retained Larry Johnson despite Illinois offering more money and a coordinator position. Longtime defensive coordinator Tom Bradley also remains despite some rumors that he was a candidate for the top job at Syracuse.

PURDUE
Offensive coordinator: Ed Zaunbrecher was fired and replaced by Florida Atlantic offensive coordinator Gary Nord.
Defensive coordinator: Longtime Boilers defensive coordinator Brock Spack left to become Illinois State's head coach. Hope hired his former Eastern Kentucky staffer Landholm as Spack's replacement.
Running backs: Joel Thomas left for the same job at Washington, and Hope hired former Kansas State assistant Cornell Jackson as his replacement.
Offensive line: Hope handled the line in 2008 and hired his former Eastern Kentucky staffer Shawn Clark to replace him.
Special teams: Hope moved Mark Hagen from special teams to linebackers and promoted graduate assistant J.B. Gibboney to this post.
Notes: Tight ends coach John McDonnell was not retained for 2009, and a replacement hasn't been named. Terrell Williams will once again coach the entire defensive line this fall after working strictly with the ends in 2008.

WISCONSIN
No changes.
Notes: After firing veteran defensive coordinator Mike Hankwitz and seeing offensive line coach Bob Palcic leave for UCLA last year, head coach Bret Bielema is keeping his staff in place despite a very disappointing 2008 season.