NCF Nation:

Keith Heyward
September, 2, 2014
Sep 2
11:00
PM ET
The Early Offer is RecruitingNation's regular feature, giving you a daily dose of recruiting news across the country.
Today's offerings: Four-star receiver Trent Irwin's offer list isn't going to blow you away like some other elite receivers, but his ability to flat-out catch the football has him in the middle of one of the most intense recruiting battles in the Pac-12. Plus, has Oklahoma made up ground in the battle to land in-state four-star offensive guard
Joshua Wariboko
? And we continue our tour of the top recruiting happenings on social media.
May, 15, 2013
5/15/13
5:30
PM ET
Unlike last year, there aren't nearly as many questions surrounding the Washington defense as the Huskies head into the final stretch before fall camp.
Last year a new scheme and new coaches were being installed, headlined by new defensive coordinator Justin Wilcox. The Huskies' defense was abysmal in 2011 -- so head coach Steve Sarkisian blew it up and started from scratch.
Now the Huskies are looking to build off of the momentum they gained in 2012 when they made huge strides in one year under Wilcox & Co.
"The numbers don't lie," Sarkisian said.
They certainly don't.
The biggest advances were in the secondary, where the Huskies jumped from 87th to 27th in pass efficiency defense, 106th to 31st in total defense, 108th to 39th in scoring defense and 116th to 23rd in pass defense. They had 17 interceptions last year compared to 10 the year before.
"Our secondary really had a very good season for us last year," Sarkisian said. "I thought Justin Wilcox, Keith Heyward, our secondary coach, really came in and did a great job. ... You look at the increase in play we had in the secondary -- our pass defense numbers, our ability to create turnovers -- I think really speaks volumes to their coaching and their ability to develop our players."
That's what Sarkisian is banking on in 2013 -- player development. More specifically, at the cornerback spot where they have to replace first-round draft pick Desmond Trufant. Sarkisian called the competition "healthy" this spring, but isn't anywhere closer to declaring anyone as the leader in the clubhouse for that starting spot. And it might end up being by-committee or which player has the hot hand that week. A few defensive backs have switched positions or spent time at safety and corner in an effort to make the defensive backfield deeper and more versatile.
With
Marcus Peters
, who started the final eight games opposite Trufant last season, back on one side, the competition heated up over spring between
Travell Dixon
and
Greg Ducre
. Sarkisian said that redshirt freshman
Cleveland Wallace
has
also made a big push
. Dixon is a JC transfer (once committed to Alabama) and Ducre had 15 tackles while appearing in 13 games last season.
"Desmond Trufant was a great player for us," Sarkisian said. "Anytime you have a first-round draft pick at corner it tells you the quality of player you have. But I think we've got some really capable guys that are stepping in."
If the Huskies can shore up that spot, expect the secondary to make even bigger strides in 2013.
Sean Parker
, who started all 13 games at safety, returns as the unquestioned leader of the secondary.
Will Shamburger
, who started two games last year, will see a larger role. But there's some good competition there as well.
Tre Watson
(who can pitch in either at corner or safety) is in the mix, and early enrollee
Trevor Walker
had a strong first spring.
Brandon Beaver
, who converted from corner to safety late last season but was limited in the spring, is also going to press for playing time.
Lots of names. But that also means lots of depth.
"We've got a good amount of talent back there," Sarkisian said. "It's about finding the right combination of those guys. For some of those guys who were redshirt players for us last year, Travell, Brandon, Cleveland, fall camp is going to be big for them. This spring was good to get the terminology and fundamentals and techniques after spending all year on the service team last year. There is a healthy competition going on back there and the end result is we're fortunate to have good depth and good coaches and we feel good about our pass defense when the fall rolls around."
February, 6, 2012
2/06/12
9:00
AM ET
We like doing Power Rankings at ESPN.com. These are the post-signing day Power Rankings.
If you want to see where your team stood on Jan. 10,
go here
.
The schedule does not factor into these. This is a projected pecking order based on where a team stands right now.

And if you don't like where your team is in the post-signing day Power Rankings, then I'd suggest whining about it until your team plays better.
1.
USC
: The Trojans ranked 13th in the final recruiting rankings with just 12 signees. They will be ranked in the preseason top five, perhaps even No. 1. If things go according to plan, USC will blow a big raspberry at Paul Dee next January.
2.
Oregon
: The Ducks surprisingly lost QB Darron Thomas to the NFL, but the far more important news is not losing coach Chip Kelly to the Tampa Bay Buccaneers. A strong recruiting class and another likely top-five preseason ranking sets the Ducks up nicely to enter the national title chase.
3.
Stanford
: Stanford signed the best recruiting class in the Pac-12. It was ranked 12th by ESPN Recruiting and much higher by just about every other recruiting service. While the Cardinal have big holes to fill -- most notably behind center -- a glance through the roster suggests those rooting for the program to topple after a grand rise will be disappointed.
4.
Washington
: Much of the recruiting season had been disappointing for the Huskies, particularly losing almost all of the top in-state prospects, including a pair of A-list linemen who would have addressed major needs. But Steve Sarkisian made a series of aggressive moves rebuilding his coaching staff, most notably with the hiring of defensive coordinator Justin Wilcox and ace recruiter Tosh Lupoi. That supplies much of the positive momentum here.
5.
Utah
: The Utes signed a strong recruiting class and welcome back a wealth of starters from a team that won eight games without much production at QB. The promotion of 24-year-old Brian Johnson to offensive coordinator was a surprising move, particularly with fans rooting for a "celebrity" hire. It could prove to be a stroke of genius, but the onus is now on Johnson to make it become so.
6.
UCLA
: The Bruins are the big climbers from our Jan. 10 power rankings -- moving up from No. 10 -- but that's what happens when new coach Jim Mora punches back at skepticism with an outstanding recruiting class. A team that looked like a "meh" is moving closer to a "maybe."
7.
California:
Despite all the hand-wringing over the loss of Lupoi and receivers coach Eric Kiesau to Washington, the Bears still signed a top-25 recruiting class that addresses needs. Still, perception matters, and at present, Bears fans seem more worried than optimistic. Nothing, of course, that a few wins in a shiny remodeled stadium can't change.
8.
Arizona
: Rich Rodriguez's recruiting class finished at or near the bottom of the Pac-12, according to most rankings. That said, Rodriguez got his man at defensive coordinator, Jeff Casteel, which is significant because most trace the problems at Michigan to his failure to do so for the Wolverines.
9.
Washington State
: The Cougars didn't soar in the recruiting rankings just because of the hiring of coach Mike Leach. Still, that doesn't appear to be dampening the enthusiasm in Pullman.
10.
Arizona State
: New coach Todd Graham did a solid job salvaging the Sun Devils' recruiting class. But the loss of QB Brock Osweiler to the NFL and the NCAA's rejection of receiver T.J. Simpson's bid for a sixth year of eligibility leave the program with plenty of questions on offense. And just as many on defense.
11.
Oregon State
: The Beavers were victimized by a handful of late recruiting flips that put dents in what was shaping up to be a strong class. And the loss of secondary coach Keith Heyward to Washington also was a blow. On the plus side, the Beavers will see 17 returning starters during spring practices.
12.
Colorado
: The Buffaloes remain at the bottom because the bottom line is this: They welcome back 13 starters from a team that went 3-10 and ranked last in both scoring offense and scoring defense. Still, coach Jon Embree put together a solid recruiting class, one that could become the foundation of his substantial rebuilding project.
March, 24, 2011
3/24/11
6:54
PM ET
How galling was Oregon State's first losing season since 2005 for coach Mike Riley? Well, Riley underwent surgical procedures to remove gallstones and then his gallbladder March 12 and 13, so apparently pretty galling.
Snare roll, cymbal crash! (But seriously, folks, I just flew in from Scottsdale and, boy, my arms sure are tired!).
While Riley is the sort who can remain good-natured through most things (even a horrific pun), losing is not really one of them. His seriousness about reversing the Beavers 2010 downturn was perhaps best manifested by a surprising staff change: the dispatch of long-time linebackers coach Greg Newhouse.
The Beavers head into spring practices, which begin Monday, with plenty of questions, but it stands to reason the veteran players are motivated by a disappointing 5-7 finish that was further aggravated by watching state rival Oregon play for the national championship.
[+] Enlarge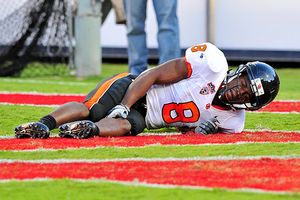 Chris Morrison/US PresswireJames Rodgers is still recovering from an injury to his knee.
"You certainly hope it does," Riley said. "You'd like to think it's made everybody take it up a notch."
The biggest questions surround the Rodgers brothers. How will Oregon replace running back
Jacquizz Rodgers
and how healthy will receiver
James Rodgers
be after two knee surgeries?
The competition at running back includes senior
Ryan McCants
, junior
Jordan Jenkins
, sophomore
Jovan Stevenson
, redshirt freshman Malcolm Marabel and greyshirt freshman Terron Ward. Riley said he'd like to establish a pecking order as soon as possible and then figure out a rotation based on what skills each offer to the offense.
"It's probably very important to distinguish between No. 1 and No. 2 [this spring]," Riley said.
As for James Rodgers, things are fluid. He was granted a medical hardship year, but there have been complications with his recovery -- starting with the need for a second procedure -- and it's unclear if he'll be ready for preseason practices, or how long it will take him to get back to full-speed.
"We'll just have to see where that goes," Riley said.
Receiver is an interesting position for the Beavers. With Rodgers, it looks like a definite strength. Rodgers at flanker and junior
Markus Wheaton
at split end, with
Jordan Bishop
,
Geno Munoz
and
Darrell Catchings
providing depth, not to mention intriguing big target
Obum Gwacham
and H-back
Joe Halahuni
; that's a strong lineup of targets for QB
Ryan Katz
.
But Rodgers is a question, and the inconsistent Bishop is sitting out spring with a foot injury. Catchings and Gwacham aren't sure things, either.
And in terms of delivering the ball, Katz is coming back from a wrist injury, and Riley likely will be cautious with overworking him. That means more opportunities for
Cody Vaz
,
Sean Mannion
and
Jack Lomax
to compete for the backup job.
Some further notes:
Injuries and departures
: Rodgers, Bishop, DT Castro Masaniai (shoulder) are sitting out. Fullback
Will Darkins
opted not to return for his senior year.
Additions and changes
: Five greyshirts have been added to the roster. K Trevor Romaine, LB Will Storey, DT Fred Thompson, RB Terron Ward and LB D.J. Welch, as well as a true-freshmen in offensive lineman Darryl Jackson. Two JC transfer defensive ends will participate in spring practices: Rusty Fernando and Blake Harrah. Munoz has switched from split end to slot receiver. Tyler Anderson has moved from cornerback to fulback. Expected starting CB Jordan Poyer will practice football on Mondays and Wednesdays and play baseball on Fridays.
Coaching changes
: Brent Brennan is the new receivers coach and Chris Brasfield will coach running backs. With the departure of Newhouse, defensive coordinator Mark Banker will coach linebackers. Banker oversaw safeties last season. Keith Heyward is now in charge of the entire secondary.
Offensive line reshuffle
: The Beavers offensive line was a disappointment in 2010, so it's probably not a surprise that there are some changes, even with four starters returning. Sophomore Josh Andrews has been moved from center, where he was expected to replace Alex Linnenkohl, to left guard. Grant Johnson has moved from LG to C. Michael Philipp is the RT and Mike Remmers is the LT. Last fall, they were reversed. Remmers is a better pass blocker, which means he's better suited to protect Katz's blindside.
Filling in on
D
: The Beavers must replace six defensive starters, including a DE, a DT, two OLBs and a CB and a S. Poyer and Anthony Watkins are expected to fill the secondary voids, while Taylor Henry, Andrew Seumalo, John Braun and Fernando and Harrah are competing for the end spot opposite Dominic Glover. With Masaniai out, Kevin Frahm, Mana Tuivailala and Ben Motter are the top tackles, though Thompson is an intriguing talent. Cameron Collins and Michael Doctor are the top two candidates at OLB, though Riley is high on Shaydon Akuna and Michael Bibbee, a pair of redshirt freshmen.
Spread
? Katz is a good all-around athlete, so Riley said there will be some experiments with the spread-option this spring. "We are going to mess with the zone read like we did with the fly sweep," he said.
April, 29, 2009
4/29/09
2:30
PM ET
Posted by ESPN.com's Ted Miller
Weaseling out of things is important to learn. It's what separates us from the animals ... except the weasel.