NCF Nation:

Kellen Williams
December, 17, 2013
12/17/13
9:00
AM ET
TUSCALOOSA, Ala. -- It's time to put Saban-to-Texas to bed and get back to the matter of playing football.
No. 3-ranked Alabama's season isn't over yet. Practices and a bowl date with No. 11 Oklahoma in New Orleans remain.
For Nick Saban, who after weeks of speculation and a new contract gets to focus solely on his Crimson Tide again, the next few weeks will be valuable. Not only does finishing the season well matter, but gathering momentum into next year is important as well.
With that in mind, here are five key areas Alabama must improve upon between now and the Allstate Sugar Bowl on Jan. 2.
[+] Enlarge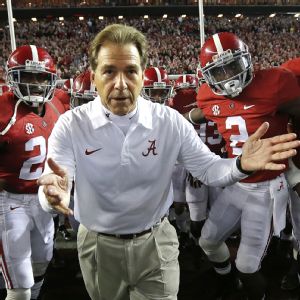 AP Photo/Dave MartinNick Saban and Alabama still have plenty to sort out in preparation for the Allstate Sugar Bowl.
Put all the talk to rest:
Think
AJ McCarron
got tired of answering all the questions about his coach leaving for Texas? What about the rest of his teammates, who had to wonder at some point whether all the rumors could turn out to be true? The brief offseason between the Auburn game and the start of bowl practice was more eventful than Alabama and Saban would have liked. In fact, Saban loathes these things. Off-the-field distractions are the bane of his coaching existence. Being on the road recruiting, he didn't have time to address his team. But on Tuesday, he will. Putting the talk to rest and focusing on the task at hand -- Oklahoma, remember? -- will be vital in how the next few weeks play out.
Find motivation:
The Iron Bowl loss has to linger. McCarron can say all he wants that he'll root for Auburn now, but in his heart of hearts he has to be jealous. He and his teammates have to be mad. This Alabama team that was
supposed
to be preparing for a trip to the VIZIO BCS National Championship Game in Pasadena, Calif. Instead, it's forced to muster the energy to travel to New Orleans for a BCS bowl no one in Tuscaloosa wanted. Finishing the season off right should be motivation enough, but that's not always been the case. Alabama fans will remember the last Sugar Bowl. It didn't end so well, with Utah upsetting the heavily favored Tide. In their last non-championship bowl, however, Alabama throttled Michigan State at the Capital One Bowl in Orlando, Fla., 49-7, on Jan, 1, 2011.
Replace Anthony Steen:
Who will it be? The options to replace Steen as the right guard are numerous.
Alphonse Taylor
is listed as his backup, but
Kellen Williams
wound up starting in Steen's absence earlier in the season. Then there's
Chad Lindsay
, who has started three games at center and could slide over to guard. But if Alabama is truly looking ahead, it might turn to
Grant Hill
, who has played tackle primarily in his freshman season but came to Tuscaloosa as the top-rated offensive guard out of high school. Right tackle
Austin Shepherd
will return next season and there's a chance top-ranked offensive tackle
Cam Robinson
could step in at left tackle immediately, should
Cyrus Kouandjio
enter the draft. If the staff is serious about Hill playing as a sophomore, he might be better off beginning the process at guard now.
Stop the running game:
It wasn't as if Alabama wasn't ready for Auburn's running game. Gus Malzahn's Tigers made no secret of their desire to move the ball on the ground against the Tide. And still, Saban and Co. couldn't stop it.
Tre Mason
and
Nick Marshall
helped Auburn to 296 yards rushing, the most allowed by Alabama since it faced Georgia Southern in 2011. In fact, Marshall's 99 rushing yards were the most by a quarterback in the Saban era at Alabama. Now, Oklahoma is not the same type of dynamic running team as Auburn, but it's not as far off as you might expect. The Sooners have demonstrated an ability to run the ball this season, averaging 235.8 yards on the ground per game, good enough for 18th in the country. For the sake of the bowl game and for the many Iron Bowls that lie ahead, Alabama has to figure out how to stop the run.
Find a quarterback:
It would be unreasonable to assume that Alabama hasn't already begun looking for McCarron's replacement at quarterback. But the process that began long ago should begin in earnest during bowl practice. McCarron will continue taking reps, but at this point in his career, he doesn't need every snap to be prepared. Why not stick another quarterback in with the first team and see what they can do? Whether it's
Blake Sims
,
Alec Morris
,
Cooper Bateman
,
Parker McLeod
or
Luke Del Rio
-- and, yes, the list of candidates is that long -- someone needs to emerge before the start of spring practice. By getting a jump start now, Alabama can go into the offseason with a plan in place.
September, 22, 2013
9/22/13
12:00
AM ET
TUSCALOOSA, Ala. --
AJ McCarron
didn't bother to watch
Kenyan Drake
cross the plane of the end zone. Alabama's veteran quarterback instead turned toward the sideline and threw his hands up in disgust. On fourth-and-inches from the Colorado State 3-yard line, McCarron went to hand the ball off, only to see his sophomore running back had gone left, not right like the play had called for. It worked and Drake scored, but it wasn't perfect.
Beside himself, McCarron fumed as he waited for the touchdown celebration to end.
On the way back to the sideline, McCarron saddled up to Drake and let him have it. Face mask to face mask, he shouted and wagged his finger like a disappointed father. Alabama had taken the lead, but by mistake. Against a better team, a defender might have broken into the backfield and jarred the ball loose. Who knows? The execution wasn't perfect and that's all that mattered to McCarron, who is a perfectionist to the core.
[+] Enlarge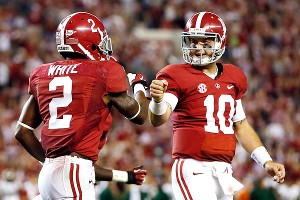 Kevin C. Cox/Getty ImagesAJ McCarron might have celebrated a little in Alabama's 31-6 win, but he was far from happy with the Tide's performance.
It went on like that for a while. There were few smiles to be had inside Bryant-Denny Stadium on Saturday night, especially on the home sideline. No. 1 Alabama remained undefeated despite a sloppy, disorganized performance against Colorado State. The 31-6 final score wasn't the least bit appeasing for UA head coach Nick Saban, who is nothing if not critical. It can be argued that McCarron got his sense of perfectionism from him.
"We want to be able to go dictate with our intensity, sense of urgency, preparation, everything that we have to do so we can be more dominant and more consistent in the game," Saban said. "And I don't think we did that tonight."
Saban was measured in his postgame comments, clearly frustrated by his team's performance but resolved to correct any and all mistakes. McCarron, by comparison, was mute. Every one-word answer or curt response revealed a deeper and deeper sense of irritation. He said the poor execution came down to poor communication, simple as that. When he was asked to elaborate, he wouldn't budge.
"We just didn't communicate," he said, repeating the same answer regardless of the question. "Communication, we didn't do it."
McCarron said more in his 30-second tirade to Drake in the first quarter than he did in five minutes with the media after the game. When asked what he said on their walk back to the sideline, he again declined to comment, saying, "Nothing. That's between me and him."
Alabama didn't have much in the way of answers Saturday night, either during or after the game. The Crimson Tide struggled against a CSU team it normally would have put away by halftime. The defense missed assignments left and right, allowing prolonged drives to pass the 50-yard line into Alabama territory. McCarron and the offense, meanwhile, couldn't finish them off either, failing to convert on a third-down attempt until the fourth quarter.
The same team that went blow-for-blow with Texas A&M in an instant classic a week ago looked out of breath and hung over against an opponent Alabama had to pay more $1 million just to show up.
"Any time you play in a big game and you come out, you want to respect your opponent and I don't think we did that tonight," right guard
Kellen Williams
said. "It was just a difficult thing to come off an emotional win and play again. We're kind of young and we have a lot of fundamentals and emotional things to work on."
Williams, who started his first career game Saturday, described the mood of the huddle during the game as "somber."
"I guess toward the end of the game we felt like we left a lot out on the field. Even though it's a win, in our minds we just didn't perform the way we're capable of performing."
"It was a win and you have to give the other team a lot of credit," Saban said. "Their players played with a lot of heart. But I'm not satisfied with where we are as a team. We need to focus on improving and we're going to need to do a lot better job as a football team if we're going to be the kind of team we're capable of being.
C.J. Mosley
, Alabama's leader on defense at middle linebacker, echoed his coach's statement, emphasizing the quick turnaround needed to prepare for a tough Ole Miss team that gave UA all it could handle a season ago. The same quick screens and short passes that gave the defense trouble against Colorado State could prove doubly fatal next weekend against an Ole Miss offense that entered Saturday averaging 490 yards per game.
"We knew what they were doing, we game-planned the right way and made all the right adjustments. We just had to execute," Mosley said. "A lot of their plays came from us not getting in the right gaps or not fitting the pulls the right way. It's little things that get you beat."
Mosley added later: "Some of those little things will get us beat next week."
Mosley, Williams and nearly every other player who spoke with the media expressed some optimism about the team's ability to regroup and improve. Everybody but McCarron, who left the room quickly after a tense turn in front of the cameras.
It was a concerning sight for an Alabama team expected to compete for a national championship: Its unquestioned leader showing poor body language while saying next to nothing about an obviously poor performance -- no talk of hope, no talk of working to get better, no nothing. Just the same line about communication.
If communication really is the answer, then he didn't do a good job of communicating that fact. It was, after all, a conflicting statement when put into context. If McCarron was willing to shout at his own teammates during the game, then why couldn't bear to do the same afterward?
And that, no matter how you slice it, isn't what you want to hear.