NCF Nation:

Kelvin Sheppard
September, 1, 2011
9/01/11
3:30
PM ET
Well, Chris, we meet again. The SEC and Pac-12 can't seem to quit each other, eh?
You actually were a good sport about not gloating too hard over your correct prediction that Auburn would outlast Oregon and win the SEC's fifth consecutive national championship. My prediction? I can't recall, but I'll admit a vague recollection of wrongness.


But here we go again: No. 3 Oregon versus No. 4 LSU in Cowboys Stadium. As good a season-opening matchup as we've had in decades. Kudos to both programs for having the courage to give college football fans something to look forward to during this dreary, controversy-laden offseason, from which these teams are not exempt by any means. Lots of intrigue in this one -- on and off the field.
But let's start with the football part of football. Tell me about LSU: What are the Tigers' strengths and what are their question marks?
Chris Low
: Honestly, Ted, the SEC has won so many national championships in a row now that it's not as much fun to talk smack. I guess we're sort of used to it here in SEC land. We do rings and NCAA investigations in these parts.
As for the game Saturday night in Arlington, Texas, I can't wait to see the collection of talent and speed on that field. This LSU defense should be the fastest John Chavis has had, and he's always put a premium on speed dating back to his days as Tennessee's defensive coordinator. Not only are the Tigers fast on defense, but they're deep. They have defensive ends, Barkevious Mingo and Sam Montgomery, who run like safeties, and Chavis loves to use multiple defensive backs. Just about everybody in LSU's secondary is a former cornerback. The best of the bunch is Morris Claiborne, who can fly. The Tigers are going to play Tyrann Mathieu at nickel and let him roam, which is what he does best. They'll bring him on the blitz one play and drop him into coverage on the next. He had 8.5 tackles for loss as a freshman and forced five turnovers.
[+] Enlarge
Tim Heitman/US PresswireThe Tigers are expected to lean heavily on Spencer Ware and the running game.
While defense will clearly be LSU's strength, the Tigers still have their share of guys on offense capable of making big plays even with quarterback
Jordan Jefferson
and receiver
Russell Shepard
sitting this one out. Sophomore running back
Spencer Ware
is poised to be one of the SEC's top breakout players this season. A former quarterback in high school, he weighs 225 pounds, has great moves and accelerates with the best of them. Senior guard Josh Dworaczyk will miss this game with a knee injury, and that's a blow. He's one of LSU's top offensive linemen. The one thing you don't know about this team is how equipped it would be to have to play from behind.
Jarrett Lee
is a senior and threw the ball well when he was called upon last season, but it's his show now with Jefferson sidelined. Lee's going to have to be more than just a situational player. I think you'll also see junior college newcomer
Zach Mettenberger
in this game. He has one of the strongest arms in the SEC, but he hasn't played at this level in a game. The Tigers will certainly have to throw it some to win this game. What I don't think they want to happen is to be in a position where they're having to throw it.
Ted Miller
: Everyone is pretty focused on the matchup of the LSU defense and the Oregon offense, which makes sense. Most everyone knows the SEC plays defense at a different level than the rest of the country, though some snarky sorts out West wonder if that's because those defenses play against SEC offenses. We'll get to that. I'm just as curious about the Ducks' defense against the LSU offense, even more so with Jefferson out. The Ducks' defense was underrated last year. While it ranked only 34th in the nation in total defense, it gave up just 4.67 yards per play and ranked 20th in third-down defense. For comparison, LSU yielded 4.86 yards per play and ranked 16th in third-down defense.
But that is last year. Oregon is replacing five starters from its front seven. While the defense has been stout during preseason camp -- the feeling is it's less experienced but bigger and more physically talented than last year -- we really don't know what it will do against Ware and a run-first attack. As for defending the pass, the Ducks felt like they'd have one of the best secondaries in the country -- not unlike LSU -- heading into the season, but that included All-America cornerback Cliff Harris. Harris, you might have heard, is suspended because he was in a 118 mph hurry to get back to Eugene one offseason night.
But back to that Ducks offense versus LSU's defense matchup. The Ducks' up-tempo, spread-option has been stymied in big games of late when opposing defenses had extra time to prepare and loads of NFL talent in their front seven.
What have you heard about the Tigers' preparation and how does their front-seven personnel compare to Auburn's in 2010?
Chris Low
: The best news for the Ducks is that Nick Fairley won't be suiting up for LSU on Saturday. He was the difference out in Glendale, Ariz., back in January, and my contention is that interior line play defensively has been what's set the SEC apart from everybody else the past several years. LSU is extremely talented up front with terrific athletes at the end positions and some promising young talent at tackle. They call true freshman tackle Anthony Johnson "Freak" for a reason. He's big, bad and usually bearing down on whoever has the ball. LSU doesn't have a proven difference-maker up front the caliber of Fairley, but LSU is deeper in the defensive line than Auburn was last season. At linebacker, Ryan Brown is an All-SEC caliber player on the weak side, but the Tigers will sorely miss Kelvin Sheppard in the middle. It looks like converted safety Karnell Hatcher is going to play a bunch in the middle.
Not to take anything away from Auburn's performance last season in the BCS National Championship Game, but LSU is a more talented defense across the board, particularly in the secondary, than the Auburn defense Oregon faced last season.
This also isn't John Chavis' first rodeo. His defenses were the backbone of some of Tennessee's best teams in the late 1990s, and with this being his third season in Baton Rouge, look for the Tigers to play even faster and more instinctively in that system this season. They've been working overtime to make sure they're getting the calls in quick enough, but I'd say you're going to see at least five defensive backs on the field for much of the game.
[+] Enlarge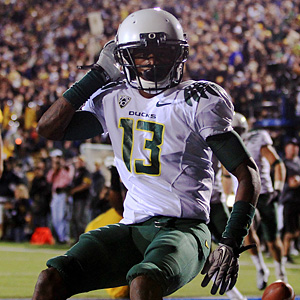 Ezra Shaw/Getty ImagesThe Ducks will be without standout corner/returner Cliff Harris, who's suspended from the team indefinitely.
Ted Miller
: All right, so we've talked about who will be there. The elephant in the room is who won't be. The Ducks have two suspended players in cornerback Cliff Harris and middle linebacker Kiko Alonso. (We're guessing with Alonso; Chip Kelly won't say for sure.) More than a few folks saw the suspension of Shepard making the loss of Harris a push -- two all-conference types who also are special-teams stars. Alonso is the Ducks' most physical linebacker, so his loss is significant. Dewitt Stuckey has seen action, but his backup is a walk-on. The Ducks seem fairly healthy heading into the game, though there are questions about receiver
Josh Huff
, who had been walking around in a boot until recently.
Still, all of this seems less important than the loss of Jordan Jefferson. First, what does losing Jefferson mean to LSU, both as a player and leader? Second, tell us a bit about Lee.
Chris Low
: The Tigers will miss Jefferson's ability to scramble and extend the play. He didn't throw it very well last season, but he made several big plays with his legs. In Lee, you get a pure pocket passer who's not going to move around much and look to run.
Lee's story is a good one. He had a brutal redshirt freshman season in which he threw 16 interceptions, including seven that were returned for touchdowns. But he persevered and hung around, and here he is with a chance to lead LSU to a special season as a senior. Lee came off the bench several times last season to save the Tigers, and I don't think there's any question that there's a renewed sense of confidence in him among his teammates.
Shepard is another playmaker you take out of the equation for LSU and a guy who can turn missed tackles into touchdowns, and the other key piece on offense the Tigers will be missing is senior guard Josh Dworaczyk, who's out with an injured knee. He was one of the anchors of that offensive line, so that's three key players missing on offense.
If the Tigers are going to win this one, they have to keep the Ducks from dialing up a bunch of big plays.
Enough talking, though. Let's play. How do you see this one shaking out, Ted?
Ted Miller
: Chris, after watching Oregon lose games like this to Boise State, Ohio State and Auburn, I've got to admit I see a pattern. Further, I think LSU's front seven is at least as good as Auburn's was
and
the LSU secondary is much better. I think the Ducks' defense will hold down the LSU offense fairly well, but I also think it will feel like a road game for Oregon because of a two-to-one Tigers advantage in the stands. I see a good game, but one in which the Tigers prevail 24-21.
Chris Low
: I'm picking the Tigers, too. Imagine that. I tried to convince you to pick Auburn out in Arizona back in January, but you were blinded by those Oregon uniforms. The Ducks play fast, but so does the LSU defense. I also think the Tigers will be able to run the ball well enough to keep that Oregon offense off the field. Get ready for Spencer Ware to formally introduce himself to the college football world in a 28-24 LSU win that soothes a few wounds on the Bayou.
December, 10, 2010
12/10/10
4:02
PM ET
As we wind down the season and point toward the bowl games, I wanted to pay homage to the seniors in this league.
Yes, there are a ton of talented underclassmen in the SEC, many of whom are destined to leave early for the NFL.
But seniors are important in every program, and senior leadership is critical.
Here's my tribute to the 12 seniors on each team in the league who rose above and beyond this season in terms of on-the-field performance, leadership and sacrificing for the good of the team.
We'll call it our SEC's Super Seniors, and it's something we hope to do every season:
[+] Enlarge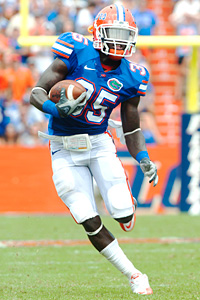 AP Photo/Phil SandlinFlorida safety Ahmad Black led all defensive backs for most tackles in the SEC.
Ahmad Black, S, Florida:
Not even Urban Meyer was sure Black was going to make it at Florida when he first arrived. He wasn't very big, nor exceptionally fast. But he's proven to be a staple in the Gators' secondary for the last three seasons. Black led Florida with 102 tackles this season, leading all SEC defensive backs. He was third on the team with 10 tackles for loss and also had three interceptions and three forced fumbles.
Josh Bynes, LB, Auburn:
You talk about instant energy. Bynes was Mr. Pick Me Up all season for the Tigers, who fed off his intensity and his passion. He was the guy who rallied the defense all those times when Auburn fell behind by big margins, and he was an invaluable presence in the locker room. A three-year starter, Bynes led Auburn this season with 71 total tackles and also had three interceptions, including two big ones in the Arkansas game.
Jonathan Cornell, LB, Ole Miss:
He's not real loud. In fact, he's pretty quiet. But Cornell did his talking with his play this season, putting up All-SEC numbers and winning the respect of everybody on his team by the way he went about his business each day. Ole Miss coach Houston Nutt called him the "backbone," and Cornell was indeed a steadying presence in what was a tough season for the Rebels. He led the team with 80 total tackles and was fifth in the league with 14 tackles for loss.
Akeem Dent, LB, Georgia:
Without a doubt, Dent was one of the more underrated players in the SEC this season. He was second in the league with 122 total tackles. First-year defensive coordinator Todd Grantham will tell you that Dent was invaluable to that defense this season from his middle linebacker position. He called all the signals, made the checks and made one key stop after another for the Bulldogs.
Mike Hartline, QB, Kentucky:
Despite his arrest early Friday morning, Hartline came through with the most productive season of his career and was a rock for the Wildcats both on and off the field. The first part of his career had been marred by injuries and inconsistency, but Hartline stayed the course and put up huge numbers this season. He was second only to
Ryan Mallett
in the SEC with 3,178 passing yards and also threw 23 touchdown passes and nine interceptions.
Spencer Lanning, PK/P, South Carolina:
Lanning was more than just a kicker for the Gamecocks. He was a strong voice in the locker room and demonstrated the kind of work ethic that was infectious. As a kicker, he was one of the best dual-threats in the country. He was 16-of-23 on field goals, ranking him fourth in the league, and was fifth in punting with a 44.2-yard average. Not bad for a guy who started his career without a scholarship and wound up becoming a captain.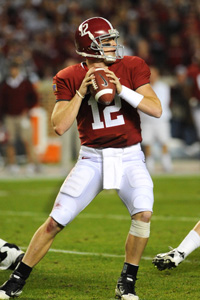 Al Messerschmidt/Getty ImagesAlabama quarterback Greg McElroy had the most productive season of his career.
Greg McElroy, QB, Alabama:
One of the smartest guys you're ever going to meet on a football field, McElroy had his most productive season of his career. His 19 passing touchdowns broke Alabama's single-season record, and with 2,767 passing yards, he has a chance in the bowl game to break the single-season record for passing yards. McElroy has been a leader ever since he stepped into the starting quarterback role last season, compiling a 23-3 record as a starter.
Nick Reveiz, LB, Tennessee:
Here's another guy who started his career without a scholarship. But he quickly went from playing on the scout team to leading the Vols in tackles. A true inspiration with how he fought back from a serious knee injury last season, Reveiz piled up 94 total tackles this season and was the defensive quarterback on the field. He made big plays, got teammates in position to make plays and made a profound impact on everyone around him with the way he competed on every down.
Kelvin Sheppard, LB, LSU:
The Tigers had a few veteran players to build around on defense, but they were also very young in a lot of spots. Sheppard was the centerpiece of the defense in every way. A fiery leader, he brought out the best in all of his teammates and wasn't afraid to get in guys' faces when it was warranted. His 108 total tackles ranked him third in the SEC. Included were 11 tackles for loss.
Derek Sherrod, OT, Mississippi State:
The names have changed in Mississippi State's backfield the last two seasons, but the Bulldogs' productivity in the running game just keeps churning along. Sherrod has been a big reason why. One of the best left tackles in college football, he was a multiple winner of SEC Offensive Lineman of the Week honors this season and is one of those guys everybody on the team looks up to for guidance.
John Stokes, LB, Vanderbilt:
Headed to medical school, Stokes has been the quintessential student-athlete during his career at Vanderbilt. He also had the best season of his career on the football field. Injuries had plagued him in previous seasons, but he came fighting back to finish third on the team with 78 total tackles. With Vanderbilt being such a young team, Stokes was there every step of the way providing his senior leadership.
D.J. Williams, TE, Arkansas:
The recipient of the Disney Spirit Award as college football's most inspirational player, Williams had a dream senior season. The Hogs are going to the Sugar Bowl, and he also won the Mackey Award as the top tight end in the country. He leads the team with 49 catches and has become a much more complete tight end over the last couple of seasons. Moreover, he's been the consummate team guy and is a big reason Arkansas' team chemistry has been so good.
December, 8, 2010
12/08/10
10:30
AM ET
Everybody puts out an All-SEC team -- the media, coaches, different publications.
Well, we like to consider the ESPN.com All-SEC team the people's team.
It's not a popularity contest or a list of the top NFL prospects. We're not into career achievement awards and don't leave off deserving players just to include somebody from all 12 teams.
Our goal in picking this team is to honor the best players in the SEC
this season
with a heavy emphasis placed on how they fared against league competition.
There were a lot of tough choices. Picking just two receivers was impossible. Thank goodness we had an all-purpose player -- the perfect spot for
Randall Cobb
. But leaving off guys like
A.J. Green
,
Joe Adams
,
Darvin Adams
,
Denarius Moore
and
Chris Matthews
was difficult to do.
The same goes for linebacker, where the league's leading tackler, Kentucky's Danny Trevathan, didn't make it. The secondary was equally hard to pick. Florida cornerback Janoris Jenkins deserves to be there, but there were only so many spots.
There are only two repeat selections from last year's ESPN.com All-SEC team -- LSU cornerback Patrick Peterson and Cobb.
Here's a look at the entire 2010 team:
OFFENSE
QB –
Cam Newton
, Jr., Auburn
RB –
Marcus Lattimore
, Fr., South Carolina
RB –
Knile Davis
, So., Arkansas
AP – Randall Cobb, Jr., Kentucky
WR –
Alshon Jeffery
, So., South Carolina
WR –
Julio Jones
, Jr., Alabama
TE –
D.J. Williams
, Sr., Arkansas
OL – Derek Sherrod, Sr., Mississippi State
OL – Lee Ziemba, Sr., Auburn
OL – DeMarcus Love, Sr. Arkansas
OL – Barrett Jones, So., Alabama
C – Ryan Pugh, Sr., Auburn
DEFENSE
DE – Devin Taylor, So., South Carolina
DE – Marcell Dareus, Jr., Alabama
DT – Nick Fairley, Jr., Auburn
DT – Drake Nevis, Sr., LSU
LB – Justin Houston, Jr., Georgia
LB – Kelvin Sheppard, Sr., LSU
LB – Chris White, Sr., Mississippi State
DB – Patrick Peterson, Jr., LSU
DB – Casey Hayward, Jr., Vanderbilt
DB – Ahmad Black, Sr., Florida
DB – Mark Barron, Jr., Alabama
SPECIAL TEAMS
PK – Josh Jasper, Sr., LSU
P – Chas Henry, Sr., Florida
KR –
Andre Debose
, Fr., Florida
PR – Patrick Peterson, Jr., LSU
October, 20, 2010
10/20/10
11:15
AM ET
Our weekly look at the offensive player of the year, defensive player of the year and coach of the year races in the SEC:
Offensive Player of the Year
1. Auburn quarterback Cam Newton:
He stepped up his Heisman Trophy campaign with four more touchdowns (three rushing and one passing) last week in the 65-43 win over Arkansas. He's less than 150 yards away from becoming the second quarterback in SEC history to rush for 1,000 yards in a season.
[+] Enlarge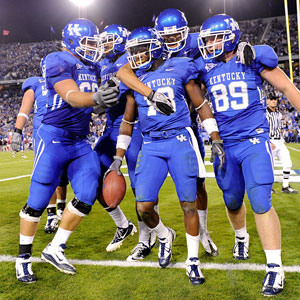 Jim Rinaldi/Icon SMIRandall Cobb (18) has a rushing or receiving TD in five of the Wildcats' six games this season.
2. Kentucky receiver Randall Cobb
: He had the game-winning 24-yard touchdown catch in the 31-28 win over South Carolina and also scored the ensuing two-point conversion. When Cobb's in the lineup, you can count on at least one touchdown from him in some capacity.
3. South Carolina receiver Alshon Jeffery:
He leads the SEC with 40 catches for 690 yards and also has five touchdown catches. Nobody in the league is close to his receiving average of 115 yards per game.
4. Arkansas quarterback Ryan Mallett:
The good news for the Hogs is that Mallett returned to practice Tuesday and expects to play this weekend against Ole Miss after suffering a concussion last week. He still leads the SEC in passing yards (1,844) and touchdown passes (14).
5. South Carolina running back Marcus Lattimore:
Who knows what Lattimore's numbers would have been had he not been injured in the first half last week? He's tied for the SEC lead with 12 touchdowns.
Defensive Player of the Year
1. LSU defensive tackle Drake Nevis:
It continues to be a close race for the top spot. Nevis stays on top again this week. He leads all SEC interior linemen with 38 total tackles.
2. Auburn defensive tackle Nick Fairley:
He's the SEC's leader with 13.5 tackles for loss and is tied for second in sacks with five. He and Nevis have both been forces in the middle this season.
3. Georgia outside linebacker Justin Houston:
The Bulldogs' defense is starting to come around, and Houston now leads the SEC with 6.5 sacks.
4. Mississippi State linebacker Chris White:
Watch out for this guy. He erupted with 4.5 tackles for loss last week in the win over Florida and is now second in the SEC with 12 tackles for loss.
5. LSU linebacker Kelvin Sheppard:
Nobody in the SEC is playing better defense than LSU, and Sheppard has been a rock in the middle for the Tigers. He's second in the league with 66 total tackles.
Coach of the Year
1. Auburn's Gene Chizik:
We know this about Chizik: His teams finish. The Tigers have owned the fourth quarter this season, which is why they're still unbeaten.
2. Mississippi State's Dan Mullen:
He has the Bulldogs playing their best football in some time. They've won four in a row, including last week's 10-7 win at Florida, and are getting better every game.
3. LSU's Les Miles:
The Mad Hatter gets his share of abuse, but maybe he's mad like a fox. If you're truly judged as a coach on how much you win, then Miles has to be right up there this season.
4. South Carolina's Steve Spurrier:
Some of the luster wore off last week with that 31-28 loss at Kentucky, but the Head Ball Coach still has the Gamecocks in great position to win the East.
5. Kentucky's Joker Phillips:
Kudos to Phillips for keeping his team together and making sure they kept the faith after some tough losses. Don't count the Wildcats out of the East race, either.
October, 3, 2010
10/03/10
2:57
AM ET
It was a late night in the SEC thanks to the Alabama-Florida game.
But before we close up shop for the night, let's hand out the helmet stickers for Week 5:

Mississippi State receiver Chad Bumphis:
Dan Mullen felt like the Bulldogs weren't getting the ball to Bumphis enough, so they gave him a shot in the Wildcat formation in the
49-16 win
over Alcorn State. Bumphis carried four times for 38 yards and also caught a career-high nine passes for 133 yards and two touchdowns.
Ole Miss quarterback Jeremiah Masoli:
Even though he didn't have big yardage numbers, Masoli passed for three touchdowns and ran for another to lead Ole Miss to a
42-35 win
over Kentucky. The Rebels are having to outscore people, and Masoli is making a habit of coming up with big plays. He has five touchdown passes in his past two games.
Auburn quarterback Cameron Newton:
We might as well reserve a helmet sticker every Saturday night for Newton, who had three more touchdown passes in Auburn's
52-3 win
over Louisiana-Monroe. Newton was 14-of-19 for 245 yards, including a 94-yard touchdown pass to
Emory Blake
. Newton now leads the SEC with 12 touchdown passes.
LSU linebacker Kelvin Sheppard:
The defense saved LSU (again) in a
16-14 win
over Tennessee. Sheppard had a team-high 10 tackles, including a sack, and also broke up a pass, as the Tigers held the Vols to 217 total yards and sacked quarterback
Matt Simms
five times.
Alabama linebacker Courtney Upshaw:
Playing his best game of the season, Upshaw spearheaded the Alabama defensive effort in the
31-6 win
over Florida with four tackles for loss, one fumble recovery and two pass breakups. Upshaw was also playing on a sore ankle, but gutted it out against the Gators.
September, 23, 2010
9/23/10
11:20
AM ET
LSU defensive coordinator John Chavis knew he had some pillars to build around on defense this season.
He also knew he was going to be frighteningly young in spots.
"We have a chance. It all depends on some of these young guys and how they develop," Chavis said just prior to the start of the season when assessing his second defense at LSU.
Well, the young guys have come around just fine in the first three games, and a lot of them are still coming.
[+] Enlarge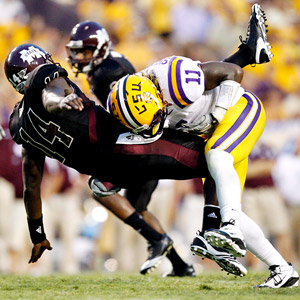 Derick E. Hingle/US PresswireLinebacker Kelvin Sheppard is tied for third in the SEC in tackles with 27.
And the older guys?
It's difficult to find a tackle-linebacker-cornerback combo anywhere in the country that's playing better right now than Drake Nevis, Kelvin Sheppard and Patrick Peterson.
Granted, the fourth quarter against North Carolina in the season opener was shaky. But if you take that one away, the Tigers have played 11 quarters of suffocating defense so far heading into what should be their stiffest test of the season Saturday night against
Noel Devine
and that West Virginia offense.
"If our defense continues to play like we have and we continue to get turnovers, our football team will have the kind of year we all look forward to," LSU coach Les Miles said. "Defensively, I think there are a lot of young guys playing. You look at freshmen. You see the script and you want to go look at (jersey) numbers in the program to see who it is because they are making a quality play.
"That is the way it is supposed to be, and we are enjoying the fact that young players are playing and they are making special plays."
Some of those young players on defense include ends Sam Montgomery and Barkevious Mingo, linebackers Lamin Barrow and Kevin Minter, tackle Michael Brockers and safety Craig Loston – all redshirt freshmen.
A pair of true freshmen – cornerback Tyrann Mathieu and safety Eric Reid -- have made big impacts in the secondary along with sophomore cornerback Morris Claiborne.
And even though starting linebackers Ryan Baker and Stefoin Francois are both juniors, neither had started a game prior to this season.
The bottom line is that the Tigers are getting production from a lot of different players, and that's the way Chavis likes it.
But when you have a core on defense as rock solid as Nevis, Sheppard and Peterson, it makes everybody better. Among the three, they already have nine tackles for loss and three interceptions. Sheppard's 27 total tackles tie him for third in the SEC. He's also the Tigers' quarterback out there on defense and has helped them avoid a bad play more than once by picking up on things and making sure everybody's lined up correctly.
"I can't tell you what he's meant to us, just his leadership, when you look at all the young guys we have playing," Chavis said. "He's been invaluable."
The Tigers were stingy when it came to keeping teams out of the end zone last season. They only gave up 19 touchdowns. Alabama and Florida each allowed 18. But where LSU has been even better this season on defense is getting to the quarterback and forcing turnovers.
The Tigers are tied for second in the SEC with 11 sacks after recording 21 all of last season. They've also forced nine turnovers in three games. That's after forcing only 18 in 13 games a year ago.
Any defense will tell you, though, that you're only as good as your last performance.
And as Peterson noted this week, Devine has made a lot of defenses look bad.
"We're going to have our work cut out for us come Saturday, but I have faith in this defense to slow him down," Peterson said.
July, 27, 2010
7/27/10
9:00
AM ET
Who in the SEC can claim the Linebacker U. moniker this season?
Here's a rundown:
[+] Enlarge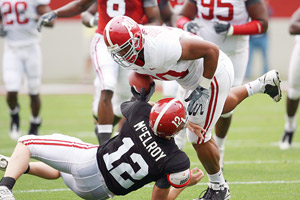 Marvin Gentry/US PresswireExpectations are high for Alabama's Dont'a Hightower.
1. Alabama:
How many teams lose a player the caliber of Rolando McClain in the middle and replace him with somebody just as talented? Dont'a Hightower made an amazing recovery from a serious knee injury and was going through contact in the spring. He'll play in the middle of the Crimson Tide's base defense and will rush the passer from the "jack" linebacker position on passing downs. Courtney Upshaw, Jerrell Harris, Chris Jordan and Nico Johnson are also back, and all four have star potential.
2. Georgia:
With the Bulldogs going to a 3-4 scheme this season, that means junior pass-rushing specialist Justin Houston now falls into the linebacker category. Houston had 7.5 sacks last season from his end position. Sophomore Cornelius Washington also shifts from end to outside linebacker after collecting four sacks a year ago. The Bulldogs have moved senior starter Darryl Gamble from inside to outside linebacker, while senior Akeem Dent and junior Marcus Dowtin are also back. Dent and Dowtin were part-time starters last season.
3. Ole Miss:
Two of the more underrated linebackers in the SEC are Ole Miss seniors Jonathan Cornell and Allen Walker. Cornell started all 13 games in the middle last season and was third on the team with 79 tackles, including eight for loss. Walker started 11 games last season at strongside linebacker. Ole Miss defensive coordinator Tyrone Nix also likes his younger talent, including D.T. Shackelford, Joel Kight and Mike Marry. Shackelford, in particular, could be poised for a breakout season. This is a productive and versatile group.
4. Auburn:
The Tigers will line up with a pair of senior All-SEC candidates in Josh Bynes and Craig Stevens. They both finished among the top 10 tacklers in the league last season, combining for 199 total tackles. The only problem was that they had to play just about every meaningful snap. The Tigers hope to have more depth this season. They didn't have any last season and are moving Daren Bates from safety to a hybrid outside linebacker position. Bates led all SEC freshmen a year ago with 70 tackles. He wasn't able to go through spring, though, because he was recovering from shoulder surgery.
5. Florida:
Brandon Spikes and Ryan Stamper were major cogs in the Gators' linebacker corps a year ago and made a ton of plays. Life without them will be different, but not impossible. That's what happens when you recruit talented players like Jelani Jenkins and Jon Bostic, both of whom had big springs. There's also some experience returning. Senior A.J. Jones has 30 career starts and started the first 11 games a year ago at outside linebacker before injuring his knee. Senior Brandon Hicks has also been a part-time starter each of the past two seasons. There's a lot of speed in this group.
6. South Carolina:
The Gamecocks might have a little more depth than they had a year ago at linebacker, but what they don't have is that proven playmaker on the outside. Eric Norwood filled that role as well as anybody the past two seasons, but now he's gone. Junior Shaq Wilson was the team's leading tackler last season, and he's moving to one of the outside spots from middle linebacker. Senior Rodney Paulk returns in the middle after suffering through season-ending knee injuries each of the past two seasons. Senior Josh Dickerson is another guy who can move around and play different spots.
7. Tennessee:
One of the most experienced positions on Tennessee's team is at linebacker. The Vols had several players playing at a high level there last season only to be injured. They're all back, including senior Nick Reveiz in the middle. Tennessee's defense was never the same after he left the lineup with a knee injury. Senior LaMarcus Thompson is also back after battling through injuries a year ago, and the same goes for senior Savion Frazier. Sophomore linebacker Greg King is currently suspended, but he also showed promise last season as a freshman.
8. LSU:
Senior Kelvin Sheppard returns as one of the top middle linebackers in the SEC. He's a tackling machine who was fourth in the league in tackles a year ago with 110. He's one of those defenders who's a factor on every play. The key for the Tigers will be how quickly the players around him grow up now that veterans Jacob Cutrera, Harry Coleman and Perry Riley have all moved on. Sheppard thinks junior Ryan Baker is ready to shine at weakside linebacker after being a force on special teams the past two seasons. Junior Stefoin Francois is the top candidate to step in on the strong side after starting his career as a safety.
9. Vanderbilt:
Linebacker has been one of the Commodores' strong suits for several years now, and that shouldn't change this season with junior Chris Marve manning the middle. A first-team preseason All-SEC selection, Marve has racked up more than 100 tackles in each of his first two seasons. Senior John Stokes, who's already been accepted into Vanderbilt's medical school, returns at one of the outside linebacker spots. The Commodores could use a healthy Tristan Strong, who tore his ACL last season as a redshirt freshman.
10. Mississippi State:
Gone is hard-hitting Jamar Chaney, who came back from an injury last season and helped anchor the Bulldogs' defense. Senior Chris White will move over to play in the middle after starting all 12 games and recording 75 tackles last season. Senior K.J. Wright returns as one of the best big-play defenders on the team after finishing with 6.5 tackles for loss and forcing two fumbles last season. After White and Wright, the Bulldogs will be counting on several younger players at linebacker.
11. Arkansas:
The Hogs need to improve across the board on defense, and linebacker is no exception. Junior Jerry Franklin has started since he was a freshman and finished with 94 tackles last season. He's capable of playing in the middle, but Arkansas coach Bobby Petrino wants to leave him at weakside linebacker and give him a chance to make more plays against both the run and pass. The Hogs still need to settle on a middle linebacker. Senior Jermaine Love and sophomore Terrell Williams were battling it out in the spring.
12. Kentucky:
Junior Danny Trevathan returns at weakside linebacker. He's the Wildcats' leading returning tackler. But after Trevathan, there's not much game experience at linebacker. Redshirt freshman Qua Huzzie made a big impression on the coaches last preseason before hurting his shoulder. Sophomore Ridge Wilson is another younger player who needs to come through for the Wildcats at linebacker.
July, 23, 2010
7/23/10
8:08
AM ET
HOOVER, Ala. -- The SEC media days wrap up today with Auburn, Tennessee, LSU and Ole Miss taking center stage.
Here's the complete lineup:
From 9:30 a.m. to 12:10 p.m. ET:
Auburn and Tennessee
The players attending for Auburn are offensive tackle Lee Ziemba, linebacker Josh Bynes and safety Aairon Savage.
The players attending for Tennessee are tight end
Luke Stocker
, defensive end Chris Walker and linebacker Nick Reveiz.
From 11:50 p.m. to 2:30 p.m. ET:
LSU and Ole Miss
The players attending for LSU are quarterback
Jordan Jefferson
, linebacker Kelvin Sheppard and cornerback Patrick Peterson.
The players attending for Ole Miss are offensive tackle Bradley Sowell, defensive tackle Jerrell Powe and defensive end Kentrell Lockett.
May, 18, 2010
5/18/10
4:21
PM ET
A rock-solid middle linebacker is a good place to start when you're building a defense.
And while it won't be a total rebuilding job next season for LSU defensive coordinator John Chavis, the Tigers do have to replace seven starters. What's more, nine of the players LSU lost on defense are scheduled to be in NFL camps this summer.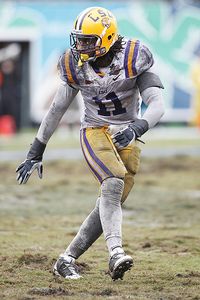 Joe Robbins/Getty ImagesLSU's Kelvin Sheppard is one of the top returning linebackers in the SEC.
So to say that Kelvin Sheppard will be an integral part of LSU's defense in 2010 is one of those Tiger Stadium-sized understatements.
In a lot of ways, the Tigers will go on defense next season as Sheppard goes, and he's more than ready to take on that responsibility.
The 6-3, 239-pound senior returns as one of the top linebackers in the league after ranking third in the SEC a year ago with 103 tackles.
If anything, he's been underrated -- and with the likes of Rolando McClain, Brandon Spikes, Eric Norwood and Rennie Curran all moving on to the NFL -- Sheppard may finally get his due.
But even if he doesn't, he has more pressing concerns.
"I look at it more as me trying to help out the young guys on my team, being a leader any way I can for my team," said Sheppard, who recorded at least seven tackles in all but two games last season.
"If I'm out there contributing to my team as much as I can, all that other stuff will fall into place just like it did for McClain and Spikes."
Sheppard was the emotional leader of LSU's defense last season and made plays time and time again that changed the complexion of games for the Tigers.
He had 13 tackles in three straight games against Florida, Auburn and Tulane. His interception in the Alabama game snuffed out a drive deep in LSU territory just before halftime. He forced a key fumble against Ole Miss.
But as Sheppard himself will tell you, the only one of those SEC games the Tigers won last season was against Auburn.
"Especially with some new guys stepping in on defense, it's on the older guys to set the tone, guys like me and Patrick (Peterson) and Drake (Nevis), and make sure we're doing the things it takes to get off the field on third down and the little things that make the difference in those close games," Sheppard said. "This will be our second year in coach Chavis' system. It's going to be a lot more second nature to us.
"I think you're going to see everybody moving and playing a lot faster next year."
Sheppard is one of the few players still around who actually played on LSU's 2007 national championship team. He knows what it takes to get back there.
"We talk about that every day," he said. "I'm ready to taste it again. I can taste it again. Looking at that schedule, we go against some very good teams this season. There are no off weeks or weeks where we can be down and expect to win. It starts the very first game against North Carolina, and I know we'll be ready."
March, 26, 2010
3/26/10
11:44
AM ET
BATON ROUGE, La. -- For a guy who's won a national championship, four bowl games and 51 games total in his first five seasons at LSU, Les Miles can be a bit of a polarizing figure depending on who you talk to these days on the Bayou.
It's not that he's not a nice guy, because he is.
It's not because he hasn't won a lot of football games, because he has. In fact, his 51 wins are the most during a five-year stretch of any LSU coach in history.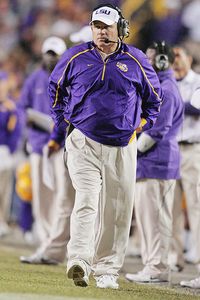 Derick E. Hingle-US PRESSWIRECoach Les Miles knows that winning is everything at LSU.
It's not because he hasn't committed himself to LSU, because he has. He and his family are entrenched in the Baton Rouge community, and there's nowhere else he would rather be coaching football.
What's happened to Miles these last couple of years is that he simply hasn't won
enough
.
And in the realm of SEC football, those cycles are as sure to come as death and taxes.
"It doesn't take much (to fall off in the SEC)," Miles said. "You have to hit on all cylinders and continue to hit on all cylinders in this league."
The Tigers won 34 games in Miles' first three seasons, including the national championship in 2007. With the head job at his alma mater, Michigan, hovering out there, Miles received a huge raise that took him to $3.751 million annually, making him one of the three highest-paid coaches in college football at the time.
But in the last two seasons, the Tigers have taken a dip in the West, which has coincided with Alabama's ascent to the top of the division.
And, yes, it makes it even worse in these parts that Nick Saban is running the show at Alabama.
The fact that the Tigers have lost nine games over the last two seasons is one thing. But even more damaging is the fact that they've lost most of the games that "count."
LSU is just 1-8 the last two years against teams that finished the season nationally ranked in the final polls. That includes an 0-6 drought against Alabama, Florida and Ole Miss.
The meltdown on the sideline at the end of the Ole Miss game last season only intensified the fans' disenchantment, many of them worrying this downward blip in the program was fast becoming a trend with no end in sight.
Miles' message to the LSU fans is simple: He's not happy, either, with what's transpired the last two seasons and he's committed to righting the ship.
It's the reason he's overhauled both his offensive and defensive staff the last two years. It's the reason he's tweaked some things about this spring practice, in particular how competitive it's been at every position. The Tigers close the spring Saturday with their annual spring game (ESPN2/ESPN 360, 4 p.m. ET).
At the same time, Miles doesn't believe the Tigers are that far away from winning another SEC title.
"I think we're in step," Miles said. "There's a want to re-focus and be excellent. I think it's in the coaching staff and the players, certainly. I think we should compete for the title, but I always think we should compete for the title."
He understands the restlessness of the fans. It's the nature of the job. But he also chooses not to immerse himself in it.
"I stay pretty insulated from it, to be honest with you," Miles said. "I'm not a guy who gets on the Internet, nor am I a guy who entertains Internet chatter. I judge what's going on in this program by what's going on inside this building. Understanding that makes me have more of a comfort about the direction we're headed.
"I think the perimeter in every program – the Floridas, the Oklahomas, the Alabamas, wherever the perimeter is -- doesn't really have accountability. I promise you this: There's nobody more critical of this program than myself.
"I like where we're going."
Mike Serio is one of those fans who is genuinely concerned, but he's also not one of those fans who's ready to push Miles out the door and start over.
Serio, who owns a popular po-boy and deli restaurant in New Orleans, is about as loyal as it gets. He's been to 320 straight LSU football games (home and away) and hasn't missed one since the 1983 season.
"I'm not one of those fans who's going to knock down the team and get on the radio and run them down," Serio said. "I don't believe in that. I supported Les when he came in here, when he won the national championship, and I still support him. But deep down, I'm disappointed in what's happened to the program the last couple of years. It hurts me to say it, but we just haven't looked like a very well coached team at times."
Serio said there are some fans who will never give Miles the credit he deserves for winning the national championship and are hung up on the fact that he won primarily with players recruited by Saban.
"I think he did a good job coaching those teams, especially all he had to deal with his first year with the hurricanes," Serio said. "He also did some things Nick never did here, like having two good seasons in a row. It was a little more up and down when Nick was here."
While Miles might be hesitant to classify this as a crossroads season for the program, many of the fans aren't.
"I can tell you one thing that won't happen with LSU football is that it will be allowed to hit rock bottom before a change is made. Those days are over," Serio said. "Les just needs to regain his focus. The program needs to regain its focus. In a lot of ways, I think they got fat and happy after that championship.
"I'm still behind them, but this is an important year."
The LSU players insist they feel more excitement than pressure, many of them pointing out that they were two or three plays away last season from being an 11-win team.
"A lot of people are sleeping on Coach Miles. A lot of people are sleeping on us," LSU running back
Stevan Ridley
said. "We've had the athletes here the last couple of years. We just haven't been able to put it together. We lost a quarterback [
Ryan Perrilloux
] we thought we were going to have and a freshman had to come in and play for us. That set us back a little bit.
"But we have the players here. There's no doubt about that. The games we lost last year were close games. We're right there. I know we lost a lot of players, but I honestly think we're going to be a better team. Nobody's spot is guaranteed, and we're hungry to get back to where LSU is supposed to be."
Senior middle linebacker Kelvin Sheppard was around to taste the national title in 2007. He's determined to taste it again.
"We're very close, as in tomorrow close," Sheppard said. "It's just a matter of us putting all the pieces together, because we've got them. I can't wait for this upcoming season."
March, 24, 2010
3/24/10
1:01
PM ET
BATON ROUGE, La. -- One of the best acquisitions LSU coach Les Miles made this past offseason was holding onto defensive coordinator John Chavis.
Georgia coach Mark Richt made a serious run at Chavis, and the Bulldogs were prepared to pay him a lot of money to be their defensive coordinator after only one season with the Tigers.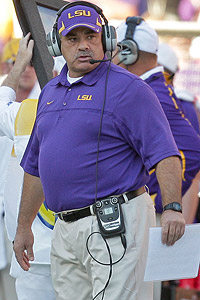 Derick E. Hingle/US PresswireUnder John Chavis, LSU finished 11th nationally in scoring defense last season.
Now, the first thing to know about Chavis -- aka "Chief" to those who know him best -- is that he enjoys talking about himself the way most taxpayers look forward to a visit from the IRS.
The second thing to know about him is that he has a stubborn streak that's legendary.
And thirdly, he's as loyal as the day is long.
The Georgia job was tempting. Both of his sons still live in Knoxville, Tenn., and it would have been a chance to get back closer to them.
But in the end, Chavis simply isn't one to leave what he started.
"Les has been great to work for," Chavis said. "He's a good man, and this place has everything you're looking for. There was no reason to leave. They brought me here to do a job, and I plan on finishing that job. It's as simple as that."
Chavis, who was the defensive coordinator for 14 years at Tennessee before landing at LSU, is the essence of old school. In this era of coaches hopping around from one job to the next, he's that guy who still believes you owe something to that coach or university that hired you in the first place.
Over and over again at Tennessee, he turned down overtures to go to the NFL. He did the same when then-South Carolina coach Lou Holtz tried to lure him back to his home state. Chavis grew up in Dillon, S.C.
"It's never been about me," Chavis said. "It's about the players, and I've been blessed to have so many good ones. That's what this business is about."
Speaking of business, Chavis made out pretty well on that side, too. Miles was determined not to lose Chavis, and the LSU brass immediately stepped up to the plate.
The Tigers regained their defensive edge last season under Chavis and finished 11
th
nationally in scoring defense.
Chavis, who was scheduled to make $475,000 this coming season, signed a new three-year deal that will pay him an average of $700,000 annually. He's one of six defensive coordinators in the SEC now making $500,000 or more per year.
Miles said he's worth every penny of it.
"Don't underestimate the significance of the second year in his system, and we're going to be able to put the kind of speed on the field we haven't had," Miles said.
Senior linebacker Kelvin Sheppard said the players love playing for Chavis so much because of how genuine he is with them, both on and off the field.
"He's just like a father figure," Sheppard said. "You never have to guess where you stand with him, because he's going to let you know. That's what makes him such a good coach."
Just don't ask Chavis to mug for the cameras.