NCF Nation:

Kendal Thompson
August, 18, 2014
Aug 18
12:55
PM ET
In a move that has been assumed for a long time,
Utah
officially named junior quarterback
Travis Wilson
as the team's starting quarterback. Wilson beat out Oklahoma-transfer Kendal Thompson for the job.

Wilson
Over the past two seasons, Wilson started 16 games for the Utes including nine last season before a concussion ended his season prematurely. During the diagnosis for the concussion, the team's medical staff discovered a pre-existing head trauma condition that, at the time, was considered career-threatening.
In February, Wilson announced he would return for the 2014 season, but was limited to non-contact activities during spring practice while doctors continued to monitor his condition. In June, he received full medical clearance and resumed all football-related activities.
Throughout fall camp, Utah coach Kyle Whittingham has been adamant it was an open competition between Wilson and Thompson, although few actually believed Thompson would win the job. Thompson, who was immediately eligible after graduating from Oklahoma in the spring, made the decision to transfer while Wilson's status was still in limbo.
In two seasons with the Utes, Wilson has passed for 3,138 yards and 23 touchdowns. He led the team to a 4-2 start last season, including a win against then undefeated and No. 5-ranked Stanford.
Utah also announced there are three starting jobs on defense that are still up for grabs: defensive end (
Jason Fanaika
and
Hunter Dimick
), nose tackle (
Sese Ianu
,
Clint Shepard
and
Lowell Lotulelei
) and linebacker (
Uaea Masina
and
Pita Taumoepenu
).
June, 24, 2014
Jun 24
7:15
PM ET
There was a general feeling of cautious optimism when Utah quarterback
Travis Wilson
was cleared for non-contact participation this past spring. Pretty obvious reason for that. Just a few months before, the general feeling was his career was over because of a pre-existing medical condition that was discovered only after he suffered a concussion against Arizona State.
That pre-existing condition diagnosed in November was termed an injury to an intracranial artery. While the Pac-12 blog isn't a doctor, I think we can all agree that just sounds bad. When team physician David Petron felt he needed to tell Utes fans at the time, "We do not believe it is life-threatening," well, it was fairly obvious the issue was different than a torn something or other.
[+] Enlarge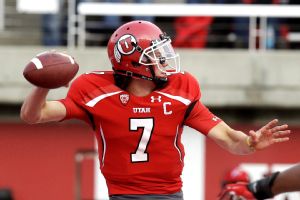 AP Photo/Rick BowmerTravis Wilson helped lead the Utes to an upset win against Stanford last season.
So it rates as more than just your run of the mill positive team news that Wilson
has been fully cleared by doctors to rejoin the Utes
. Whether you root for Utah or not, you have to feel good that a young man will get to resume playing a game he loves. Not too far in the background is the revelation that said intracranial artery has remained stable, which has to be reassuring for Wilson and his family, whatever happened with football.
Yet after we raise our glass to what is important in the grand scheme, we then can get reductive again: Football. What does this mean for the Utes?
For one, it means the Utah offense gets a two-year starter back, a guy who at his best looks like a legitimate Pac-12 quarterback. Recall that last season, after a dreadful game against UCLA, Wilson helped lead the Utes to an upset win against Stanford. At that point in mid-October, Utah was 4-2, those two losses coming in overtime to Oregon State and, despite six interceptions, by seven points to the Bruins, the eventual South Division champion. Though six interceptions put a dent in Wilson's overall numbers, it is notable that his efficiency rating at the time was just four points lower than Arizona State's
Taylor Kelly
, who ended up second-team All-Pac-12.
When healthy, Wilson has looked like a guy who can make the Utes a legitimate threat in the South Division.
Of course, our using the word "healthy" to describe a Utah quarterback has sent Utes fans scrambling to knock on wood, rub their rabbit's feet or burn incense in front of their Jobu shrine. The last time a Utah quarterback made it through a season without injury was in 2008.
So ... what happened in 2008?
Anyone recall
? Utah fans might want to remind dismissive Pac-12 fans about that.
Our feeling is that if Wilson is healthy for 12 regular-season games, Utah will return to the postseason this fall.
Wilson's return, however, is not without intrigue. Just a few paragraphs down in the news release from the school announcing Wilson's clean bill of health, it said, Wilson "will enter fall camp No. 1 on the depth chart, although he must beat out five other scholarship QBs to regain his starting job."
Hmm.
It is also curious that those five quarterbacks were listed in a news release about Wilson's medical clearance:
Battling Wilson for the starting job when fall camp opens on Aug. 4 will be Oklahoma transfer Kendal Thompson, redshirt freshman Conner Manning and junior Adam Schulz, along with redshirt freshman Brandon Cox and true freshman Donovan Isom.
Here is a guess that Thompson is the chief reason Utah is conspicuously writing Wilson's name in pencil as the No. 1 quarterback. Though Thompson is mostly an idea -- he did very little for the Sooners -- new offensive coordinator Dave Christensen clearly thinks Thompson has a shot to unseat Wilson. The institutional position -- via news release, no less -- is that this is an earnest competition, and Wilson's present lead is mostly about seniority. With pressure increasing on coach Kyle Whittingham to get Utah back to its winning ways, seniority only means you get the first piece of pizza on Day 1 of preseason camp. Little else.
If Thompson comes in and is decisively better than Wilson, then fine, that is how competitive sports work. You compete and sometimes you lose a competition and get relegated to second string. If Thompson beats out Wilson, then Utes fans should assume before the opener that he is pretty good. In that scenario, they also should feel pretty good about finally having a backup quarterback -- Wilson -- who inspires confidence.
But if the competition is close, things could be testy. There is the whole New Guy vs. Veteran deal, for one. More than a few players probably will feel loyal to Wilson. That could divide the locker room. And what if Thompson wins the job but struggles early in the season? How long before Christensen and Whittingham give him the hook, creating a quarterback controversy?
The same, by the way, could be written about Wilson starting slowly.
I know: We are negatively speculating on a day when the news is supposed to be good. Yes, we are Debbie Downers. But Utah's news release brought this up first, not the pure-as-the-driven-snow Pac-12 blog.
This, of course, is ultimately not a day for Utah hand-wringing. It is a day of good news for the quarterback position, and those have hardly been plentiful since the Utes joined the Pac-12.
The love of competition, after all, is probably why Wilson started playing football. Being medically cleared means he can resume that bit of grittiness that makes sports rewarding.
February, 28, 2014
Feb 28
9:00
AM ET
On Thursday,
we looked at the Pac-12 North Division
. Today, we turn to the South:
ARIZONA

Spring start:
March 3
Spring game:
April 20
What to watch:
QB competition: Coach Rich Rodriguez has used first-year starters in his first two seasons at Arizona and will make it three-for-three in 2014. For the most part, things worked with both Matt Scott and more recently B.J. Denker, which should make Wildcats fans optimistic about what should be a wide-open competition.
Replacing Carey: As intriguing as the quarterback competition will be, the battle to replace all-time great Ka'Deem Carey at running back could be more important. None of the returning running backs had a carry last year, which led to this comment from Rodriguez: "Now it's a mystery. That's going to be one of the positions, like quarterback, that will be kind of open to see if we can get guys to get better."
Keep Austin healthy: After tearing his ACL last spring following a breakout season in which he caught 81 passes for 1,364 yards and 11 touchdowns, receiver Austin Hill has been given a clean bill of health. Said Rodriguez: "He is still wearing the knee brace but I think it is a little bit more precautionary. He is 100 percent doing everything. He's even a bit bigger and stronger so he should have a big spring. I know he's hungry to get out there, too."
ARIZONA STATE

Spring start:
March 18
Spring game:
April 19
What to watch:
OL changes: Auburn transfer Christian Westerman, a prototypical guard, could be the Sun Devils' best offensive lineman, which makes things interesting considering both starting guards -- Jamil Douglas and Vi Teofilo -- will be back next year. Douglas, a second-team All-Pac-12 selection, has worked at tackle in the past and could shift outside to replace first-team All-Pac-12 left tackle Evan Finkenberg.
Getting defensive: Coach Todd Graham's college roommate, Keith Patterson, has arrived as the defensive coordinator, but Graham will remain the play-caller and Chris Ball's title will still read co-defensive coordinator. Got all that? New coaching dynamics get sorted out in the spring, too.
Looking for replacements: On defense, ASU needs to replace seven starters, highlighted by DT Will Sutton, LB Carl Bradford and CBs Robert Nelson and Alden Darby. If ASU is to build off its impressive 2013 season, those holes need to be filled quickly. They'll benefit from a schedule that starts with Weber State, New Mexico, Colorado and a bye, but after that the Sun Devils have UCLA, USC and Stanford in a span of four weeks.
COLORADO

Spring start:
March 3
Spring game:
April 26
What to watch:
QB development: Sefo Liufau's development will be interesting if for nothing else than because the jump from Year 1 starter to Year 2 starter is always intriguing with quarterbacks. It's tempting to assume a big statistical jump is coming, but it's not always that simple (see: Hogan, Kevin; Mannion, Sean; Hundley, Brett). Liufau will need to get on the same page with his receivers as they combine to …
… Replace Paul Richardson: Look for Nelson Spruce, D.D Goodson and Tyler McCulloch to lead what will be a much more balanced receiving corps following Richardson's early departure for the NFL. Spruce was the Buffs' second-leading receiver last year, but Goodson, going into his second season at receiver, figures to make the biggest jump.
Rising expectations: It took MacIntyre three years to turn San Jose State into a winner, but there was a four-win improvement in the second year. He won't match that with the Buffs, but a two-win improvement gets Colorado bowl eligible. Colorado has a chance to match last year's win total (4) in the first five games next year: vs. Colorado State, at Massachusetts, Arizona State, Hawaii, at Cal. In fact, it's probably the internal expectation.
UCLA

Spring start:
April 1
Spring game:
April 26
What to watch:
Manage expectations: The Bruins are in new territory this offseason with expectations through the roof. They'll likely be a preseason top-10 team, which will drum up chatter about a potential national championship run. Likely message from coach Jim Mora: "Tune out the noise."
The #Hundley4Heisman campaign: It's a real thing and Mora threw his weight behind it when he tweeted the hashtag on Jan. 26 with a picture of the Heisman Trophy. Get used to reading "Heisman candidate" next to "Brett Hundley" a lot between now and September. At times, it might feel unavoidable.
Leading rusher? They're set at quarterback and bring a lot of talent back at both receiver and on the offensive line, but the running back situation isn't as clear. Hundley was the team's leading rusher in 2013, but someone needs to step up to take pressure off him and LB/RB Myles Jack. It's an important spring for both Jordan James and Paul Perkins, who had varying degrees of success last year.
USC

Spring start:
March 11
Spring game:
April 19
What to watch:
Under center? Cody Kessler is back, but coach Steve Sarkisian immediately made it known there would be an open competition for the quarterback job. Max Wittek is no longer around, but Kessler should get a serious challenge from redshirt freshman Max Browne. With a new offense to learn, spring will essentially serve as preparation period for the real competition during fall camp.
Catch your breath: The most noticeable change in USC during the first game will be how much faster it's playing offensively. Sarkisian installed a high-tempo offense at Washington last year and, pleased with the results, will continue to press the tempo with the Trojans. Goodbye, huddles.
Change it up: As is the case when new coaching staffs arrive, there will likely be a higher percentage of position changes than usual and a more fluid depth chart. It's hard to peg exactly where that'll occur with USC, but it'll be worth monitoring throughout the spring.
UTAH

Spring start:
March 18
Spring game:
April 26
What to watch:
Wilson's road back: Travis Wilson is expected to be the Utes' starting quarterback next season, but he'll be limited to non-contact drills during the spring. That's about the best news Wilson could have received following an early November discovery that he had an undiagnosed injury to an intracranial artery -- a condition that threatened his career. Oklahoma transfer Kendal Thompson will not join the team until after he graduates in May, but he'll be immediately eligible to play.
Revolving OC door: Dave Christensen moves in, Dennis Erickson moves over and Brian Johnson moves out. Kyle Whittingham introduced the Utes' seventh offensive coordinator is seven years in early January. Christensen believes in similar philosophies to what the Utes had under Erickson/Johnson, but the terminology will change and the tempo will increase.
Pressure building? Utah was used to winning big before it got to the Pac-12 in 2011. Whittingham lost just 20 games in his six full seasons as the school's head coach while a member of the Mountain West Conference. In the three years since, Utah's dropped 19 and qualified for just one bowl. No one should doubt Whittingham's ability as a coach -- he's a good one -- but the jump in competition has been difficult.
December, 30, 2013
12/30/13
1:00
PM ET
When
Kendal Thompson
was offered a scholarship by the University of Oklahoma, his father was left feeling a little uneasy.
Charles Thompson knows what it's like to be the quarterback at OU. Thompson experienced the mountains as a star quarterback for the Sooners during his freshman and sophomore seasons and experienced the valleys, as his off-the-field troubles made national headlines and sparked a premature end to his Sooners' career. He knew the legacy he left in Norman, Okla., would be placed on his son's shoulders if Kendal decided Oklahoma Memorial Stadium would be his home field during his college career.
Yet that's not what made Charles Thompson uneasy.
[+] Enlarge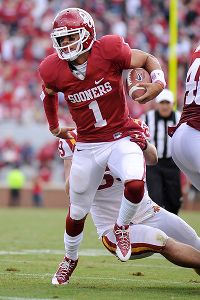 Mark D. Smith/USA TODAY SportsKendal Thompson got a chance to show his stuff late in the season and could be in play for Oklahoma's starting QB job in 2014.
"I was kind of torn," Thompson said. "We really liked Florida, he was high on Oregon, those were the offenses we felt suited him. At the time OU had Landry [Jones], they had Sam [Bradford], so the notion was OU wasn't an offense that fit him, so I was a little hesitant and concerned from that aspect. I wasn't sure OU would allow him to be a quarterback."
A three-star prospect out of Southmoore High School in Moore, Okla., Kendal Thompson isn't like his father, who starred as a run-first quarterback during his time in crimson and cream but steered his son away from his own playing style.
"There's always been this opinion across the board, although it's changed throughout the years, that the black quarterback is an athlete and not a surgeon in terms of reading the defense and throwing the ball across the field," Thompson said. "From 7 years old, I built him to be the opposite of those stereotypes. The Charlie Wards were starting coming out -- guys who could seriously throw the football -- who were not just the typical option quarterbacks who were run-first guys. I wanted Kendal to have that opportunity. As long as he was under my tutelage he was going to learn the game as a passer first."
Charles Thompson's plan resulted in the Sooners offering Kendal a scholarship to play quarterback, and his passing prowess was readily apparent to ESPN recruiting analysts. The ESPN scouting report about the younger Thompson refers to him as a multi-talented quarterback prospect, stating: "Make no mistake, he's a passer first, runner second and a very dangerous athlete under center. He is the perfect spread-offense quarterback for these reasons."
Thompson was alongside
Trevor Knight
and
Blake Bell
in the battle to replace Landry Jones last offseason. A preseason foot injury knocked him out of the race and the sophomore didn't resurface until a superb showing while leading OU to a touchdown in his lone series during a 48-10 win over Iowa State. Against Oklahoma State, Thompson saw the most action of his young career, finishing 2-of-9 for 17 yards and one interception after replacing Knight, who was knocked out of the game at the end of the first half.
"We stayed with Kendal to start the second half because for two weeks a big part of our game plan was obviously the zone read and option, and we felt like Kendal would operate in it a little better than Blake would," OU coach Bob Stoops said at the time.
Although a similar game plan makes sense against the Crimson Tide, the younger Thompson may or may not get an opportunity to play against Alabama in the Sugar Bowl. But with nobody cementing themselves as the Sooners' quarterback of the future, Thompson could be in the middle of the competition to start at quarterback in 2014, as a transfer by the sophomore seems unlikely.
"In life, you take things as they come," Charles Thompson said of the prospect of his son leaving the program. "He's excited about being an Oklahoma Sooner."
OU has transformed to an offense that features more zone read plays and quarterback run options this season, meaning Thompson could be a quality option for the future.
"I think the coaches feel like all three guys are viable options to lead this team," Thompson said. "Let's say all three were healthy, I think he would have been giving the opportunity to play much earlier than he did. I think he can show he's every bit as good as the other two if given the opportunity."
December, 11, 2013
12/11/13
11:40
AM ET
There's one thing the Allstate Sugar Bowl has in spades: tradition.
Alabama and Oklahoma are members of college football's aristocracy with a history of winning that goes back decades. From Paul Bryant to Bud Wilkinson, dusty images come to mind with these two schools. And it's only fitting that they'll meet in New Orleans, which holds its own storied place in history.
But what about the game itself? It's still a few weeks away, but let's break down some of the aspects that might make Tide-Sooners an interesting event to watch on Jan. 2.
Key storylines
[+] Enlarge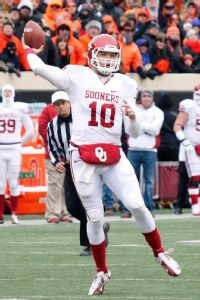 J.P. Wilson/Icon SMIAfter leading Oklahoma to a Bedlam win, will Blake Bell get the call against Alabama?
Letdown factor:
Both Alabama and Oklahoma came into this season with eyes on Pasadena, Calif., and the VIZIO BCS National Championship Game, but neither wound up in a position to make the long trip to the West Coast. How will that play a factor when the two teams meet in New Orleans? Is there any kind of unfinished business both programs feel? For Alabama, at least there's the idea that coming out and winning big might show the country that despite a last-second loss to Auburn, the Tide is the better team. A convincing win won't vault it to No. 1 in the rankings again, but a No. 2 finish could be cause enough to show up in New Orleans ready to compete.
Who starts at QB?:
Oklahoma will begin bowl practice soon, but who starts under center is still a significant question mark. As Sooners offensive coordinator Josh Heupel explained, he'll go with, "Whoever it takes." Redshirt freshman
Trevor Knight
is nursing an injured non-throwing arm, though it's unclear the severity of the injury. Meanwhile, junior
Blake Bell
, who came on in relief of Knight against Oklahoma State and led the Sooners on a game-winning drive in the fourth quarter, seems like the hot hand. But he entered the game third on the depth chart behind
Kendal Thompson
so making any assumptions here seems futile.
Stoops vs. the SEC:
Some folks just don't like to dredge up the past. But after what Oklahoma coach Bob Stoops has said about the SEC in the past year or so, it's hard to forget. Stoops has called the league with seven straight BCS champions overrated, top-heavy and overstated in terms of its defensive prowess. It's all propaganda, he claims. A veteran of the Big 12, he's been mostly alone in his criticism of the SEC, which has made him a favorite target of college football fans in the South who like to chide other conferences already. But Stoops will have his chance to answer their criticism and state the case for his own. A win over the Tide might spell vindication.
Players to watch
Oklahoma DB Aaron Colvin:
He's a big, physical corner who might be able to give
Amari Cooper
trouble. At 6-foot and 192 pounds, he's an aggressive type that doesn't intercept the ball a lot -- he has just one this season -- but does draw his fair share of flags. He's fifth on the team in tackles (49) and tied for sixth in passes defended (4).
Alabama LB Adrian Hubbard:
We saw it play out last season where Hubbard came from nowhere to close the season strong (three sacks in the final games) and flirt with the NFL as a redshirt sophomore. He ultimately stayed for his junior season, but we could see a repeat of last year as Hubbard has racked up three sacks and 11 tackles in the Tide's past four games.
Oklahoma DL Charles Tapper:
The Sooners have struggled some on offense this season, but their youth on defense is cause for hope. Trapper, a big 6-foot-4, 261-pound defensive end, is one of those bright spots. As a sophomore, he leads the team with nine tackles for loss and 5.5 sacks.
Alabama QB AJ McCarron:
It's ironic to consider that McCarron's final game at UA will come against a team he nearly signed with as a player coming out of high school. The night before he was set to decide, he said he was thinking he'd go with Oklahoma. Why? He liked their program and Sam Bradford. But as he said, when you're a teenager, "Your mind changes about 20 times a day." In the end, it's safe to say McCarron made the right decision as a win over Oklahoma would be the cherry on top of a career that's seen him win two national championships as a starter and earned him a trip to New York for the Heisman Trophy ceremony.
Stats to keep an eye on
2:
Oklahoma has a history of being a talent-rich program on offense, but this season's been different as the Sooners placed just two such players on the first- and second-team AP All-Big 12 Team. And those two selections -- center
Gabe Ikard
and kicker
Mike Hunnicutt
-- aren't what you'd call impact players.
18:
The Sooners have flipped the script after being known as a passing team under former quarterbacks Sam Bradford and Landry Jones. This season Oklahoma's relied heavily on the run, ranking 18th in the country with 235.8 rushing yards per game.
20:
Alabama's still shaking off the reputation of a slow and plodding offense. And while it may be true the Tide doesn't huddle, it does get big plays. In fact, UA ranks 28th in the country with 68 plays of 20 or more yards. Meanwhile, Oklahoma ranks 86th with only 48 such plays.
December, 7, 2013
12/07/13
7:24
PM ET
STILLWATER, Okla. -- The ground rumbled and the frozen earth quaked.
And even though the ending was seismic, the result was not.
[+] Enlarge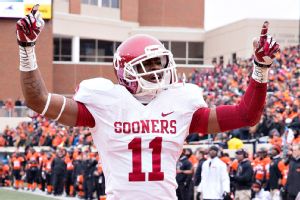 Richard Rowe/USA TODAY SportsOklahoma State again had to watch the Sooners celebrate a Bedlam win.
Yet again, Oklahoma ripped the heart out of its in-state rival.
Another phenomenal Bedlam victory for the Sooners. Another catastrophic Bedlam loss for the Cowboys.
Despite shuffling through three quarterbacks and not scoring an offensive touchdown until the final 19 seconds, Oklahoma ruined Oklahoma State's Big 12 title and BCS-bowl hopes with a
33-24
victory Saturday.
"The feeling in the locker room is a bad feeling right now," Oklahoma State running back
Desmond Roland
said. "We had it right on the line, and we couldn't finish it."
This one, however, was most disastrous in a long line of Bedlam disappointments for the Cowboys.
Oklahoma State had everything on the line this time.
A chance for its second Big 12 title in three years.
A chance at a top-five finish and a Fiesta Bowl berth.
And, perhaps most important, as a double-digit Bedlam favorite for the first time since Vegas began keeping track, the most golden of opportunities at home to send a message that Oklahoma State was finally on equal ground with the Sooners.
Instead, Oklahoma downed the Cowboys in the final seconds for the third time in the past four years.
"A tough one to swallow," Oklahoma State linebacker
Caleb Lavey
said.
Maybe the fact a magnitude-4.5 earthquake struck Boone Pickens Stadium just as the Cowboys were attempting a second-quarter field goal should have been a sign.
Ben Grogan
made the kick. But fate, yet again in this rivalry, would not be wearing orange.
With starting quarterback
Trevor Knight
out and backup
Kendal Thompson
erratic,
Blake Bell
returned from his sarcophagus to lead the Sooners on a game-winning touchdown drive in the final two minutes, capped by a 7-yard scoring strike to
Jalen Saunders
in the corner of the end zone with 19 seconds remaining.
It was Oklahoma's first offensive touchdown of the game.
And it was the only one the Sooners would need, as linebacker
Eric Striker
delivered the exclamation point by scooping up a fumble and returning it for a touchdown as time expired.
"We like to have the pressure on us, the defense," Lavey said. "That's something you wish you could have back. But that's not gonna happen."
The Cowboys would like to have several plays back.
On their first from scrimmage, Roland broke free around the edge for an apparent 75-yard touchdown. But wideout
Charlie Moore
was flagged for holding, and the play was called back.
"We didn't look like the normal Oklahoma State offense," Roland said. "We moved the ball the whole game, but we couldn't capitalize. I feel like we could have put up more points than we did."
The Cowboys entered Bedlam red-hot offensively, especially quarterback
Clint Chelf
, who had the highest QBR of any signal-caller in the nation in the month of November. But in sub-10-degree temperatures, Chelf lost his rhythm. And he completed just 2 of 10 passes on third down without a conversion against Oklahoma, causing several promising drives to stall out.
"Our mental focus just wasn't there," Roland said.
[+] Enlarge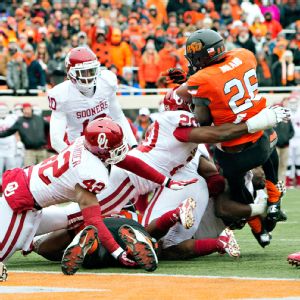 Richard Rowe/USA TODAY SportsThe Sooners' defense and special teams kept Oklahoma in the game.
Eventually, the Sooners took advantage.
Later in the first quarter, with Oklahoma State up 7-0 and seemingly in control, Saunders, who sparked Oklahoma's fourth-quarter comeback last season with a punt-return touchdown, weaved through defenders before dashing right for a 64-yard punt-return score.
In the third quarter, Oklahoma State regained control. With Knight out with a separated non-throwing shoulder, the Sooners failed to get a first down their first four drives of the half. And when Chelf hit a wide-open Roland for a 15-yard wheel-route touchdown, it looked as if the Cowboys would finally put the game away.
Instead, the Sooners answered again with a 37-yard reverse from Saunders, who took the ball to the Oklahoma State 7. After the drive stalled, Bob Stoops called his first successful fake field goal in 11 years, and holder
Grant Bothun
flicked the ball on the run to place-kicker
Michael Hunnicutt
for a touchdown to again tie the game.
"Did Bob make some great calls? You bet," Oklahoma State coach Mike Gundy said of his counterpart. "We lost the kicking game. When you do that, it's always tough to win."
The Cowboys, as they have five other times in Bedlam since 2000, lost the final two minutes, too. Ultimately dooming them again.
After going up 24-20 on Roland's 1-yard touchdown plunge with 1:46 remaining, all the Big 12's best defense had to do was keep Oklahoma's third-string quarterback out of the end zone.
Instead, Bell came alive. He found
Sterling Shepard
for two big pass plays, then forced a defensive pass interference.
For a moment, it looked as if Oklahoma State had made the winning play that had eluded the program in Bedlam for so many years.
Justin Gilbert
appeared to come down with an interception, but the ball popped out at the last moment, and Gundy didn't challenge the incompletion.
Five plays later, Oklahoma did what it's usually done to the Cowboys.
"It hurts," said Oklahoma State cornerback
Kevin Peterson
, who originally committed to the Sooners coming out of high school.
"Feels like a missed opportunity."
Oklahoma State's biggest Bedlam miss yet.
November, 21, 2013
11/21/13
10:15
AM ET
Four Big 12 teams are on byes this weekend, but there is no shortage of storylines in Week 13:
1. Who's the king of the conference?
The Big 12 title race won't officially be over after this weekend's big showdown, but by the end of Saturday we should know whether Baylor or Oklahoma State is the conference's top team. If the Bears win, they're one big step closer to being No. 3 in the polls and fighting for a spot in the national title game. Oklahoma State sets up a three-way tie at the top of the Big 12 standings with a home victory, and then things get messy and crazy. But the Cowboys would assert themselves as the best of the bunch with that upset.
[+] Enlarge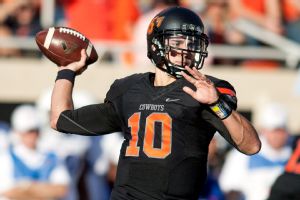 William Purnell/Icon SMIClint Chelf and No. 10 Oklahoma State are out to prove that they are the Big 12's best team when they host No. 4 Baylor on Saturday night.
2. Can OSU go four quarters?
Of all the nine teams the Bears have defeated this season, only Kansas State has taken them deep into the fourth quarter. That was a 35-25 game on the road. Baylor's average margin of victory in its eight other games has been 48 points. The Cowboys have enough talent in all three phases to challenge Baylor, but can they keep this game close entering the fourth and survive late?
3. Winning the battle of the injury report
: Baylor doesn't know if running backs
Lache Seastrunk
and
Glasco Martin
will be available to play Oklahoma State. Top Bears linebacker
Bryce Hager
could be out, too. And the Cowboys need top playmaker
Josh Stewart
back on the field after he missed the win over Texas. Cornerback
Justin Gilbert
got banged up against Texas but has said he won't miss Baylor. Don't expect Mike Gundy or Art Briles to tip their hands until kickoff.
4. Baylor tries to break Stillwater curse
: The last time Baylor defeated Oklahoma State in Stillwater was 1939. Since 1994, the Cowboys are 9-0 at home against Baylor and 6-3 in Waco. There's no obvious reason for the Bears' longtime futility at Boone Pickens Stadium other than, you know, that BU used to be the cellar dweller of the Big 12. But they have a chance to end that slump on Saturday.
5. Kansas State: Big 12's fourth-best team?
The Wildcats are on quite a hot streak after starting 2-4 on the year. K-State has won four in a row, clinched bowl eligibility last weekend with a win over TCU and has a chance to land a signature win in the home finale against No. 20 Oklahoma. Beat the Sooners head-to-head and KSU can finish 6-3 in league play and as high as fourth place in the Big 12.
6. Trevor Knight time
: Or maybe
Blake Bell
will start. Or it could be
Kendal Thompson
, which evidently would make a lot of Sooners fans happy. If the Iowa State game is any indication, we could see two or all three make appearances against Kansas State. No matter what, OU needs to find a solution to its QB carousel before the team travels to Oklahoma State on Dec. 7. This is the last chance for an in-game audition.
7. Jayhawks going for two
: Kansas went more than 1,100 days between Big 12 victories. Might this program have to wait only seven days for its next one? KU knocked off West Virginia with a heavy commitment to the
James Sims
-powered run game and has been playing foes much closer than Iowa State has in Big 12 play. This is a big chance for the Jayhawks to notch their first road win since 2009.
8. Iowa State just wants a W
: Iowa State remains winless in Big 12 play, and since knocking off Baylor 35-21 last October, ISU has won two of its last 15 games. Cyclones fans are ready for this brutal 1-9 season to end. The home finale against Kansas is as good a chance as any to at least get one win and send the program's seniors off on a good note.
November, 14, 2013
11/14/13
9:00
AM ET
How close I was last weekend. Close to perfection.
After starting out 4-for-4 in the picks, I had the Mountaineers in the nightcap edging out Texas in an upset special.
But at the end, neither I nor West Virginia could stop Case Magic.
Instead, it was Claire Hashtag who went undefeated with the picks, handing me a second consecutive loss to the guest picker. Suddenly, I have losing streak rivaling that of the
Kansas Jayhawks
.
But this week, I vow to get back on track against Charlie "Bear" Boyd, a Big 12 fan who's been fighting the good fight in the Florida panhandle:
I have been battling hard in the trenches for the Big 12 deep in SEC/ACC territory. On my daily drive to and from work I face a barrage of Alabama bumper stickers with quips of the impending "Roll Tide Dynasty" apocalypse. I dastardly maneuver my way through neighborhoods riddled with land mines in the form of Florida State and Florida flags (along with a vast and clever assortment of other lawn décor paraphernalia). Daily, I undergo intense psychological torment from my "friends," all trying to convince me of the superiority of their conferences to the Big 12, and the error of my ways. Somehow, in spite of seemingly insurmountable odds, I stand strong. A lone beacon of Big 12 pride. My Baylor flag waving proudly in the smoke of warfare. A steadfast reminder to all who gaze upon it that though we may be shaken, the Big 12 will never fall.
Good luck with the picks, Charlie. Just don't give me another loss. I'm not sure I can handle it.
To be next week's guest picker,
contact me here
and sell me on why you deserve a shot. And, as always, creativity counts.
To the Week 12 picks:
SEASON RECORD
Trotter last week:
4-1 (.800)
Guest picker (Claire Hashtag) last week:
5-0 (1.000)
Trotter overall:
47-15 (.758)
Guest picker overall:
34-11 (.756)
Saturday


Oklahoma 29, Iowa State 7:
The Sooners go into this game with major uncertainty at quarterback. Coach Bob Stoops said this week
Blake Bell
would remain his starter, but the clamor for OU to try out
Trevor Knight
or
Kendal Thompson
has reached piercing levels in Norman. The truth is, it won't matter who the quarterback is this week. Iowa State continues to play hard but, once again, fails to generate enough offense.
Charlie's pick:
While I would love to make a crack at OU here, I just can't bring myself to do it. I have too much respect for their program and their players. Iowa State has seen signs of life as of lately -- mostly of special teams -- and they come out looking hungry to prove they have not slipped into Big 12 irrelevance. But finding a road win proves too big a task. OU, 34-17.


Kansas 20, West Virginia 17:
It will be interesting to see how the Mountaineers respond after the deflating overtime loss to Texas. They still have plenty to play for, needing to win these last two games to qualify for a bowl. And they have plenty to build from off last week's offensive outbreak. Then again, this is a prime spot for a West Virginia letdown. Led by linebacker
Ben Heeney
, the Jayhawks continue to play solid defense, and they have seemingly uncovered something at quarterback in true freshman
Montell Cozart
. Kansas played OU tough at home last month and trailed Texas only 14-6 deep into the third quarter two weeks ago. The 27-game conference losing streak has to end at some point. The combination of a West Virginia hangover and Cozart at quarterback finally ends it.
Charlie's pick:
West Virginia comes out flat, but quickly finds pace and clinches a key road win in their quest for bowl eligibility. West Virginia, 33-17.


Kansas State 55, TCU 21:
If the season started over today, where would you pick the Wildcats to finish in the conference? Second? Third? No worse than fourth. Outside Baylor, K-State is playing as well as anyone in the league and has the look of a team poised to close out the regular season with a six-game winning streak. TCU had a nice reprieve from a miserable year with a gutty fourth-quarter victory at Iowa State last week. But the hobbled Horned Frogs are headed straight into a Bill Snyder buzz saw.
Charlie's pick:
Snyder is a miracle worker. A turnaround specialist extraordinaire. A wizard. He continues to inspire his players, and they put another solid win in the books. K-State, 48-20.


Oklahoma State 31, Texas 27:
The Cowboys and Longhorns have faced each other four times as BCS-ranked teams. And the Longhorns have all won all four. But never in those games have the Cowboys held the advantage defensively. Texas will be without its best offensive player, injured tailback
Johnathan Gray
, too. QB
Case McCoy
has been clutch for the Longhorns. But without Gray, against what might be the Big 12's best defense, that isn't quite enough this time.
Charlie's pick:
This pick had me spinning circles. Both great teams. Both playing their best ball at this point in the season. I think this game ends up being more of a defensive battle than people expect. This one to go into overtime, but this time Texas loses by a field goal. I will be glued to this one. OSU, 34-31.


Baylor 49, Texas Tech 31:
A month ago, this game looked like it might be for the Big 12 title. Now, Baylor is a four-touchdown favorite. The Red Raiders have fallen apart defensively due in part to injuries, while their true freshman quarterbacks have been turning the ball over in droves. Baylor, however, has bigger games looming, and could get caught looking ahead. The Bears will also be adjusting to the absence of star wideout
Tevin Reese
, as well as a banged up backfield. The Red Raiders come out fired up to halt their late-season slide, and with receivers
Eric Ward
and
Jakeem Grant
delivering big plays in the passing game, Tech hangs tough for three quarters. Baylor's talent, however, is too much in the fourth.
Charlie's pick:
Tech's air-raid offense finds limited success against Baylor's hyped-up defense, but ultimately their struggling run game limits their offensive output. Baylor puts this game away early in the fourth quarter. Baylor, 55-30.
November, 11, 2013
11/11/13
9:00
AM ET
And then there were three:

1. Baylor (8-0, 5-0 Big 12, last week 1):
We're 11 weeks into the season, and Baylor still leads the Big 12 in total defense, scoring defense and red zone defense. Those numbers aren't a fluke, as Oklahoma found out the hard way.
Ahmad Dixon
is one of the best safeties in the conference;
Eddie Lackey
and
Bryce Hager
are a stout one-two punch at linebacker; and the defensive line has size and speed. The Sooners might not be very good offensively this year. But Baylor made them look downright ridiculous. This is a complete team.
2. Oklahoma State (8-1, 5-1, LW 2):
This will be just the fifth time Oklahoma State has played Texas when both teams have been ranked in the BCS. The Longhorns have won all four such previous meetings. As a program still aspiring to greater heights, this is the kind of game the Cowboys need to win. Texas is banged up. Oklahoma State has the better defense. And as a result of both, the Cowboys are favored in Austin. Some of the more haunting moments in Oklahoma State history have occurred at the hands of the Longhorns. This is a prime opportunity for the Pokes to produce a memorable one.
3. Texas (7-2, 6-0, LW 3):
The Longhorns have depth at running back and defensive tackle. But they no longer have all-conference players at those positions. That's what tailback
Johnathan Gray
and defensive tackle
Chris Whaley
are. Can Texas overcome these additional hits against one of the hotter teams in the Big 12 in Oklahoma State this weekend? If the Horns do, Mack Brown should get votes for Big 12 Coach of the Year.
4. Kansas State (5-4, 3-3, LW 6):
More and more, K-State is beginning to resemble the Baylor of last year. Maybe not in style, but most certainly in efficiency. The Wildcats scored touchdowns on their first five possessions to basically put then-No. 25 Texas Tech away on its home field by the second quarter. Think about this: From the third quarter of the West Virginia game three weeks ago to halftime at Texas Tech, K-State has scored touchdowns on 14 of 22 possessions (not counting kneel downs). That level of touchdown efficiency would even impress Baylor coach Art Briles. Like the Bears last year, K-State could finish this season with a flourish to set up a run back at the Big 12 title in 2014.
5. Oklahoma (7-2, 4-2, LW 4):
The Sooners' quarterback situations have been the envy of the Big 12 dating back to the advent of the Bob Stoops era. No more. OU has major problems at the position, not only for the rest of this season, but beyond. It's difficult to see the Sooners winning a Big 12 championship with
Blake Bell
at quarterback next season. But the fact the Sooners won't let
Trevor Knight
attempt a pass or
Kendal Thompson
step on the field raises red flags, too. OU had no shot of coming back on Baylor with Bell behind center, yet the Sooners still refused to give either one of the other quarterbacks a chance. Stoops is not one to make drastic changes. But if the Sooners don't shake things up offensively, they could easily finish this regular season a disappointing 8-4.
6. Texas Tech (7-3, 4-3, LW 5):
After three straight losses, the unranked Red Raiders find themselves four-touchdown underdogs to Baylor at a neutral site. A month ago, this game looked like it might be for the Big 12 crown. Instead, Tech will be playing to avoid going 1-11 in the month of November over the past three years.
7. West Virginia (4-6, 2-5, LW 7):
The Mountaineers just missed out on landing another marquee home win, falling 47-40 to Texas in overtime. They have to put that behind them. By snagging these next two winnable games against Kansas and Iowa State, West Virginia will go to a bowl. Considering all the pieces the Mountaineers had to replace from last year, that would constitute a solid season for a team in rebuilding mode.
8. TCU (4-6, 2-5, LW 8):
Credit TCU for not throwing in the towel after dropping three straight for the first time in the Gary Patterson era. The Horned Frogs continued to struggle offensively. But despite missing several key players, they gutted out a game-winning, fourth-quarter touchdown drive at Iowa State to keep their slim bowl hopes alive.
9. Iowa State (1-8, 0-6, LW 9):
The Cyclones had yet to win a Big 12 game and were facing an opponent riding a three-game losing streak in a late-morning kickoff. And yet, Jack Trice Stadium was just about full. Cyclone Nation brought it this weekend, even if their team came up another goal-line stand short.
Tweeted
Iowa State defensive back
Deon Broomfield
: "Best fans in nation. Even through a season like this we have a packed stadium. Sorry for the letdown." It's been a rough year to be an Iowa State fan. You can bet the players will fight to reward that loyalty in the form of a Big 12 win before the end of the season.
10. Kansas (2-7, 0-6, LW 10):
The Jayhawks are 118th in scoring offense, 119th in total offense and 120th in 10-plus-yard plays. Kansas' offense is going nowhere as it's currently constructed. It's time for coach Charlie Weis to give freshman quarterback
Montell Cozart
the keys to the offense. Even though the Jayhawks failed to reach the end zone at Oklahoma State, Cozart flashed promise, leading Kansas to 202 yards on the ground and 13 of its 15 first downs.
October, 17, 2013
10/17/13
10:00
AM ET
NORMAN, Okla. -- Unpleasant would be a great word to describe Oklahoma's ride home after Texas hammered the Sooners 36-20 in the Red River Rivalry in Dallas last Saturday.
"Silence," cornerback
Zack Sanchez
said of the 193-mile trip from the Cotton Bowl to Norman. "Guys were in their own zone, thinking about plays we could have made, should have made."
[+] Enlarge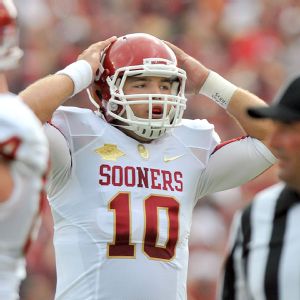 Jackson Laizure/Getty ImagesThe ineffectiveness of the Oklahoma passing game has Blake Bell's status as starting quarterback under scrutiny.
It's not the first time the Sooners have been in this situation. At this time a year ago, the Sooners had already suffered a loss to Kansas State in Big 12 Conference play, yet they took the field in the regular season finale at TCU with the chance to win the conference outright if Kansas State were to lose to Texas. The Wildcats defeated the Longhorns the night after the Sooners' win over TCU, thus OU shared the conference title with KSU.
There's no reason to think the Sooners can't accomplish a similar result in 2013.
"The Big 12 is a great conference and you never know," defensive end
Geneo Grissom
said. "We definitely think we are still in the running."
But Oklahoma has work to do and it'll need help to make its goal of another Big 12 title a reality. Basically, its loss to Texas means its destiny is no longer in their hands.
"It was a reality check for everybody," guard
Adam Shead
said. "The Big 12 is a pretty tough conference this year. You don't have the big offenses anymore, the defenses are stepping up."
All other conference results aside, if they have any hope of winning the Big 12 title, the Sooners' offense must put fear in Big 12 defenses again. The lackluster production of TCU's offense has been a topic of conversation in Big 12 circles but the Sooners are averaging 0.7 more points per game in conference play than TCU (18.7 to 18.0). It's a far cry from last season's squad which led the league with 41.9 points per game in conference play.
Even though OU spent the offseason disappointed with its ability to run the ball in key moments, the Sooners' running game isn't the problem, as OU ranks second in the Big 12 with 216.33 rushing yards per game, averaging 5.07 yards per carry.
Its horrible passing game deserves the majority of the blame. OU has passed for 160 yards or less in conference play just 14 times since 2004 yet hasn't been able to surpass 160 passing yards in any of its Big 12 games this season.
The Sooners' offensive coaches insist they are close to having a breakout game through the air and are hopeful it starts this week against Kansas. Co-offensive coordinator Jay Norvell believes quarterback
Blake Bell
and the receivers just need to find the in-game chemistry that results in big plays instead of narrow misses.
"That kind of chemistry comes from playing in games and making big plays," Norvell said. "When guys make big plays in a game, they gain confidence in each other and that's when it grows. That just doesn't happen overnight, it happens from playing and throwing balls and making big plays on third down and having a guy you can trust. We're building that."
Make no mistake, Bell is under fire as the starting quarterback. Some people think
Trevor Knight
, who was originally named the starter, should get another chance while others think
Kendal Thompson
, the only one of the three quarterbacks who has not taken a snap this season, should get a shot.
The Sooners' quarterback position is in flux, as OU coach Bob Stoops hinted this week that a change could be made if Bell's play doesn't improve -- and the junior knows it.
"All I can do is get in the film room, learn from my mistakes and get better," Bell said.
If he does, OU will have the chance to get back into the Big 12 title race. If he doesn't, the Sooners will have to turn to Knight or Thompson because, no matter what, OU will not compete for a Big 12 title without a improved passing game.
"In this league, you better be able to throw the ball and be balanced," Norvell said. "We've got to do a good job at both [running and passing] to have the success we want to have going down the stretch."
April, 18, 2013
4/18/13
9:00
AM ET
Turnover at the quarterback position is the story of the Big 12 this spring, but some schools have made decisions, some are close, and some haven't gotten far in replacing their passers. Here's an update on where each race sits.
Note: Because they have clear, incumbent starters, Iowa State and Texas have been omitted from this update.
[+] Enlarge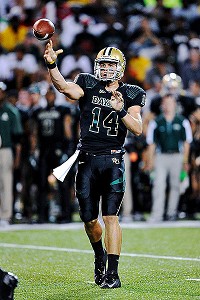 Jerome Miron/USA TODAY SportsAs expected, Bryce Petty has locked down Baylor's starting QB job.
Baylor:
Bryce Petty
entered the spring as the likely successor to
Nick Florence
and cemented his status as the starter with a strong 15 practices. Petty was officially designated as the starting quarterback on
Baylor's post-spring depth chart
, besting
Seth Russell
.
Kansas:
Jake Heaps
transferred from BYU and looks to have easily surpassed
Michael Cummings
, as expected, with a strong spring, working mostly with the first team. Kansas held its spring game on Saturday and Heaps far outperformed Cummings, tossing four touchdown passes and completing 20 of 28 passes for 257 yards. Not much competition here.
Kansas State:
K-State is about halfway through spring, but
there's been almost no development
(publicly, at least) in the quarterback race. Last year's backup, the speedy
Daniel Sams
, is helping juco transfer Jake Waters get acquainted, but they're still splitting reps with the first team and I'd be surprised if we see an announcement until fall.
Oklahoma:
Bob Stoops doesn't care about establishing a starter heading into summer 7-on-7 drills, but
Blake Bell
might have taken that out of his hands with a strong performance in the spring game. An endorsement from
Landry Jones
can't hurt. Bell showed this spring he's more than a BellDozer and made plays with his arm on Saturday, completing 14 of 23 passes for 214 yards and two scores. Stoops hasn't made an official designation, but Bell looks like he's distanced himself from his competition in
Trevor Knight
and
Kendal Thompson
.
Oklahoma State:
You can find folks anywhere making a case for
Clint Chelf
,
J.W. Walsh
or
Wes Lunt
, but Mike Gundy's opinion is the only one that matters. He says Oklahoma State's starter is Chelf, and Chelf is receiving most of the first-team reps this spring. It's not hard to see that changing, but for now, the job is Chelf's. The rising senior may have to do something to lose it.
TCU:
Most assumed
Casey Pachall
's return to the team meant he'd step back in and reclaim his job. This spring, it hasn't been that easy. He may do exactly that this fall, but Gary Patterson says he's looked rusty after not throwing or lifting from October to January while receiving in-patient treatment for drug and alcohol addiction. Meanwhile, sophomore
Trevone Boykin
has looked much improved. Patterson
says it's still an open competition
, the duo is splitting first-team reps and there may not be a decision until fall.
Texas Tech:
It doesn't seem like
Michael Brewer
has a ton of competition on the roster, but Kliff Kingsbury turned some heads when he trotted out Davis Webb to start a recent scrimmage. Brewer still has to earn the job and it's hard to see that not being the case, but for now, this job is still up for grabs.
West Virginia:
This one's still wide open. Texas natives
Paul Millard
and
Ford Childress
are still splitting first-team reps and there doesn't appear to be much separation just yet. Expect this competition to heat up in the fall. The coaching staff has already said they don't expect to name a starter by the end of spring or even by the beginning of fall camp.
April, 13, 2013
4/13/13
8:42
PM ET
NORMAN, Okla. -- With nothing open from his initial reads, quarterback
Blake Bell
abandoned the pocket. But instead of attempting to truck his way into the end zone, the artist formerly known as the "Belldozer" rolled right.
Near the sidelines, he waited, and waited. And then when he couldn't wait any longer, Bell stuck a pass into the chest of receiver
Durron Neal
for a three-yard touchdown.
[+] Enlarge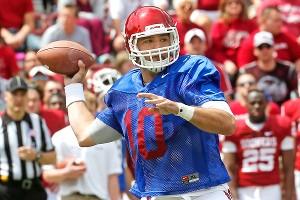 AP Photo/Sue OgrockiJunior Blake Bell, considered the front-runner to start for the Sooners before the spring, had the best day of all the QBs in OU's spring game.
Bell said after Oklahoma's Red-White spring game that he wanted to show he could "sling it around a little bit, too."
And sling it he did, demonstrating that the power running that made him a fan-favorite the past two seasons is just one facet of his arsenal.
Bell completed 14 of 23 passes for 213 yards and two touchdowns -- with no turnovers -- Saturday. He also showed the most poise and precision among the quarterbacks to seize momentum in the QB competition heading into the summer.
"I missed a couple throws," Bell said, "But overall, I thought I made some good plays, and was pretty accurate with the ball."
Bell displayed that accuracy from the opening possession, quickly moving the offense down the field with three completions to
Jalen Saunders
. The drive ultimately ended in a touchdown, when wide receiver
Lacoltan Bester
scooped up a
Damien Williams
fumble and raced 35 yards for the score.
March, 21, 2011
3/21/11
4:00
PM ET
Schedule:
Oklahoma opens spring practice Monday at 4:40 p.m. ET and will play its spring game on April 16. The first 15 minutes of Monday's practice are open to the media, but the remainder of the practices until the spring game will be closed.
What's new:
Offensive coordinator Kevin Wilson, responsible for the highest-scoring offense in college football history in 2008, took the head coaching job at Indiana. Replacing him for the Sooners are co-coordinators Josh Heupel and Jay Norvell. Heupel has been with the program since 2006 as the quarterbacks coach, and won a national title at OU in 2000. Wilson was with the team for its Fiesta Bowl win, but Heupel called the plays for the Sooners and will do so in 2011. Norvell has coached receivers at Oklahoma since 2008.
On the mend:
Running back
Roy Finch
looks like the favorite to replace
DeMarco Murray
as Oklahoma's featured back, but surgery to repair a stress fracture in his left foot suffered during bowl practices will keep him out during the spring. Starting fullback
Trey Millard
is also out for spring practices after minor surgery.
On the move:
Defensive back Aaron Colvin played some in spot duty as a true freshman in 2010, but opens the spring as the Sooners' starting strong safety. He was expected to replace last season's starting corner, Jamell Fleming, who is not enrolled and won't be back until the fall semester at the earliest after reported academic misconduct. The corner job went to Gabe Lynn, who enters the spring with little on-field experience.
New faces:
Running back
Brandon Williams
enrolled early and will start the spring at No. 2 on the depth chart at running back. Quarterback Kendal Thompson is also in camp as an early enrollee alongside Marquis Anderson, a third signee from the 2011 class.
Breaking out:
Nickel back Tony Jefferson. You could make the argument that he's already broken out as the co-Big 12 Defensive Freshman of the Year in 2010, but he's hardly a household name across the country or even the conference. That could change fast for Jefferson, who looks like his sophomore year could mean dropping the "rising" from his status as a rising star.
Don't forget about:
Sophomore receiver
Kenny Stills
. His teammate
Ryan Broyles
gets all the headlines, but Stills showed plenty of potential in his first season on the field, giving Oklahoma a much-needed second option in the passing game. He started all 14 games as a true freshman and broke Broyles' freshman receiving record with 786 yards and five touchdowns on 61 receptions.
All eyes on:
The defensive lines and secondary. It's a "National Championship or Bust" kind of year for the Sooners, who may well debut at No. 1 in the preseason polls next fall. If one thing stops them from winning it all, it will be a lack of experience up front or troubles defending the pass without their top corner, Fleming. Stacy McGee, Jamarkus McFarland, Daniel Noble and Casey Walker will be in the rotation at defensive tackle, and have to help collapse the pocket and stop the run. Junior Demontre Hurst played well as a sophomore, but if Fleming doesn't return, Lynn and Colvin will have to be solid alongside experienced safeties Javon Harris and Sam Proctor to slow the prolific Big 12 passing offenses.