NCF Nation:

Kendall Moore
September, 11, 2014
Sep 11
7:40
PM ET
SOUTH BEND, Ind. — The waiting game continues for No. 11 Notre Dame as it approaches its third game of the season still without answers regarding the five players being held out amid an internal academic investigation.
Coach Brian Kelly said Thursday that he still has not been updated on the status of the suspended players since he last shared information on the matter with reporters. Whether he was referring to
his comments on Sept. 4
that none of the players had been through honesty committee hearings yet is unclear. What remains clear, though, is that Kelly and the Irish would welcome the players back for Saturday night's game against Purdue if they were cleared Friday.
[+] Enlarge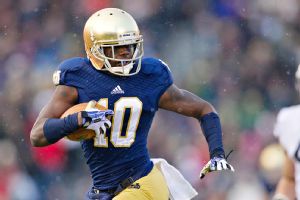 Matt Cashore/USA TODAY SportsDaVaris Daniels and four other Notre Dame players remain suspended as an academic investigation continues.
"We'd get them down there as quickly as we could and welcome them and put them in the uniform," Kelly said, two days before the Irish face the Boilermakers in Indianapolis. "Whether we could get them to know what we're doing offensively, defensively and special teams, who knows about that? But they would certainly be welcomed as part of our football team."
Kelly reiterated that he does not know much about the process that has been going on for nearly a month now, after the school announced Aug. 15 that it was withholding
DaVaris Daniels
,
Ishaq Williams
,
Kendall Moore
and
KeiVarae Russell
out from practices and games as it investigated academic misconduct. The school later announced, on Aug. 28, that
Eilar Hardy
would be withheld as well, and Kelly said that same day that the investigation was complete, meaning only hearings and potential appeals remained.
The players attend classes and have been welcomed back in the football complex, eating with teammates and working out with strength and conditioning coach Paul Longo, though Kelly has chosen to hold them out of team meetings.
The school had said that the Office of General Counsel initiated an immediate investigation when the compliance office was referred to evidence July 29.
Kelly said Thursday that he is anxious, that the players are anxious and that reporters are anxious, but that he does not know much, choosing to let the academic arm of the school conduct matters as it sees fit.
"This is separation from church and state in the sense," Kelly said. "This is the deans and they have their domain and that's their business, and it truly is their business, and I respect that. They don't give me advice about play-calling and that's the truth of the matter. Whether that's a poor analogy or not, they handle academic honesty and they handle those things and that's their domain and that's their world, and I want my guys back but I get it, and they work and that's their job and so I really don't have any say on it."
Notes:
Kelly said that former Irish and NFL player and current graduate assistant Kyle McCarthy has not missed a day of practice despite undergoing chemotherapy treatments for cancer. The NCAA allowed the school to hire former player Pat Eilers as a GA in light of the matter, but Kelly said Eilers cannot coach a unit during practice while McCarthy is still there.
"Incredible," Kelly said of McCarthy. "His resolve and his [desire] to be out at practice, just [a] pretty inspirational young man. It's been awesome to be around him and to get to know him even more, it doesn't surprise me why he's been such a favorite around here. He's a pretty inspirational kid."
Kelly also said
Torii Hunter Jr.
(Grade 3 groin tear) will not play Saturday despite showing progress throughout the week.
August, 22, 2014
Aug 22
10:30
AM ET
»
More team previews:
ACC
|
Big 12
|
Big Ten
|
Pac-12
|
SEC
Previewing the 2014 season for the
Notre Dame Fighting Irish
:
Key returners:
QB
Everett Golson
, RB
Tarean Folston
, RB
Cam McDaniel
, RB
Greg Bryant
, TE
Ben Koyack
, LT
Ronnie Stanley
, C
Nick Martin
, RG
Christian Lombard
, DT
Sheldon Day
, LB
Jaylon Smith
, LB
Joe Schmidt
, S
Matthias Farley
, S
Max Redfield
, S
Austin Collinsworth
Key losses:
QB Tommy Rees, RB
George Atkinson III
, WR
TJ Jones
, TE
Troy Niklas
, LT
Zack Martin
, LG
Chris Watt
, DE
Stephon Tuitt
, DT
Louis Nix
, LB
Dan Fox
, LB Carlo Calabrese, CB
Bennett Jackson
Most important 2014 games:
Sept. 6 vs. Michigan, Oct. 4 vs. Stanford, Oct. 18 at Florida State, Nov. 8 at Arizona State, Nov. 29 at USC
[+] Enlarge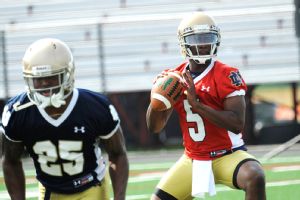 AP Photo/Joe RaymondEverett Golson returns as the starting quarterback at Notre Dame after missing all of the past season due to issues related to academics.
Projected win percentage (from Stats & Info):
0.538 (pre-suspensions)
Over/under Vegas odds:
7.5 (pre-suspensions)
Instant impact newcomer:
Redshirt senior cornerback
Cody Riggs
did enough this summer and in fall camp to earn a starting job after transferring from Florida. But Riggs' role has become even more important after
KeiVarae Russell
(and three others) were suspended amid an academic probe. Riggs is a physical, versatile corner who brings along plenty of SEC experience and has proven to be a stabilizing force in light of Russell's suspension. He will likely prove to be one of the bigger fifth-year pickups in college football this season.
High point from 2013:
It certainly didn't look like it at the time, but a
17-13 victory
over Michigan State on Sept. 21 proved to be a huge win for the Irish and one that might have ended up changing the landscape of the national title race. The game was ugly, with poor offensive play all afternoon. Little did anyone know the Spartans would win the rest of their games, finish 13-1 and win the Rose Bowl. How much MSU learned from that defeat is anyone's guess, but it's not a stretch to think a 13-0 Spartans squad could have been No. 2 at the end of the regular season and facing Florida State in the BCS title game. Instead, one-loss SEC champion Auburn earned the shot.
Low point from 2013:
A Nov. 9 loss at Pitt was a huge letdown, as the Irish entered the game with just two defeats and BCS bowl hopes still alive. Turnovers and mental mistakes in the Steel City did them in, though -- characteristics unbecoming of a Brian Kelly team in November. When Kelly said after the season that 2013 was a good year that could've been great, it is safe to assume the Panthers game was the one at the top of his mind. A Week 2 loss at Michigan also hurt -- because a loss to Michigan always hurts. But the ramifications of the Pitt defeat were bigger.
Best-case scenario for 2014:
The optimistic view sees a young Notre Dame team that does not play a true road game until Oct. 18 at Florida State. Until then, Golson and the Irish take care of business early and race to a 4-0 start before stumbling into Stanford. A back-loaded schedule makes even a confident team trip into a few road blocks, but Notre Dame manages to finish 9-3 and heads to one of the better ACC bowl games. All in all, it's a very strong season for a team facing so much uncertainty on the defensive side of the ball, especially given the camp suspensions. (We could see 10-2 and an access bowl as a best-case scenario with all of the currently suspended players on board.)
Worst-case scenario for 2014:
This is a tough one to project, given the uncertainty surrounding the currently suspended Russell,
DaVaris Daniels
,
Ishaq Williams
and
Kendall Moore
, but the weight of those players' losses might actually be more than the sum of their parts. Yes, three are starters, and Notre Dame will struggle to replace them, but if the academic probe lingers far into the season, it creates one more obstacle for a young team that faces a very difficult schedule. Notre Dame is favored in most of its games, but it has zero cakewalks. A worst-case scenario has the Irish scrapping for bowl eligibility.
They said it:
"You never want to lose any of your players, so that's always difficult. To lose any of your players, especially given the circumstances, that's always difficult. But I'm responsible for not just four players [but] 105-plus [and] over 30 support staff [members]. I've got to get going. I've got to move immediately to getting better as a program and as a football team. I don't spend much time on the past [and] don't mortgage the future. I try to stay in the present." — Kelly, on moving forward as four players serve an indefinite suspension amid Notre Dame's academic probe
April, 20, 2013
4/20/13
6:26
PM ET
SOUTH BEND, Ind. -- Big
Louis Nix
entered the media room in Notre Dame Stadium and was immediately intercepted by sports information director Michael Bertsch.
"You know quarterbacks go to the podium," Bertsch said.
Up Nix went to the center of the cramped room, facing a throng of media members who generally hang on his every word anyway, given the fourth-year junior's penchant for saying whatever in the world is on his mind at that moment.
One such instance came early in the 2012 season, when Nix explained how younger brother Kenneth, one of his 13 siblings, had told classmates during a presentation in Jacksonville, Fla., that his big brother was the Fighting Irish's quarterback.
Nix had no idea where that idea came from, but then joked that he would love to be inserted as a Wildcat-only signal caller in the "Irish Chocolate" package, an ode to his nickname.
His dream came to fruition during the fourth quarter of Notre Dame's Blue-Gold spring game Saturday before 31,652 fans, as Nix lined up in the backfield for a two-point conversion following the game's only touchdown. He took the shotgun snap and galloped into the end zone untouched for the score, continuing the roll he has been on in the past year.
"I really am a quarterback," Nix said. "I told you guys it would happen and it did."
That was Louis Nix being Louis Nix; as he provided a refreshing spark to a ho-hum exhibition on a 38-degree April afternoon. He was Notre Dame's best defensive player on the nation's biggest stage this past Jan. 7 against Alabama, and he was the anchor of a defense that happened to feature the Heisman Trophy runner-up.
By playing even bigger than his out-sized personality -- a trait that turned his every word into a soundbite and made his video news series a YouTube sensation -- Nix faced a decision that would have changed the lives of everyone back inside his family's three-bedroom home.
[+] Enlarge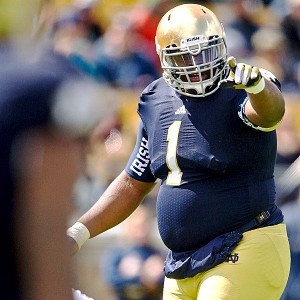 Matt Cashore/USA TODAY SportsLouis Nix capped off Notre Dame's spring game with a two-point conversion in the Blue-Gold Game.
Last spring Nix publicly expressed feelings of homesickness, as he fell into a rut and lost his spot on the first team to
Kona Schwenke
. But the film, television and theatre major thought back to senior night four years ago at Raines (Fla.) High School, when he was the only player who took the field without a loved one. His mom, Stephanie Wingfield had a shift at a hospital cafeteria that night and cried when she found out her son had taken the field alone. She begged him to stay in college, earn his degree and celebrate senior day with her.
The decision to stay ensures that the senior day moment will happen. The play that highlighted Saturday's scrimmage served as proof that he is on the right track in the classroom.
Nix's two-point conversion was the result of an academic wager he made with head coach Brian Kelly, who credited the conversion to offensive coordinator Chuck Martin and his new responsibilities as play-caller heading into the 2013 season.
"He surprised me, and so I paid up," Kelly said of Nix. "I said, 'What do you want?' I figured he would want something. He came up: 'I want to score a touchdown in the spring game.' As you know, we had a hard time scoring touchdowns in the spring game and I didn't think that was going to come to reality."
So Nix went up to quarterback Malik Zaire with 14:05 left in the contest, ordering the early-enrollee to get him to the promised land. Six plays and four minutes, 55 seconds later,
C.J. Prosise
was in the end zone with a 35-yard touchdown reception, allowing the blue-jerseyed Nix to step into the huddle with his white-jerseyed teammates. It set off a minor social media celebration of a FAT GUY TOUCHDOWN. (Or, in this case, a FAT GUY CONVERSION.)
Is this something Temple needs to scheme against come the teams' Aug. 31 opener?
"That's what all teams need to be scared of. Everybody needs to be scared of Irish Chocolate," Nix said.
"Everyone," he continued, staring at the reporter who had inquired, "including you."
The defense charged with stopping the play certainly seemed scared, though it adjusted enough to keep the new quarterback from beating them with his arm.
"I just made a few checks or whatever. You couldn't hear them. They were silent checks," Nix said. "I just told them where to line up, give me a nice pass-block. My O-line did a great job, that's why I was successful."
Or simply because he looked up, stared at nothing but daylight and entered a state of shock, with linebacker
Kendall Moore
getting the heck out of the way once Nix committed to running straight ahead.
"I saw fear in his eyes," Nix said of Moore.
George Atkinson III
said afterward that
Everett Golson
should worry about losing his job. Fellow defenders expressed relief that they will never have to face Nix again.
But that might not be the case, not if Nix continues to ride this surge.
"It's a dream of mine to happen [in a game], hopefully it does -- hopefully Coach thinks I can handle the ball," he said.
"I'm 305 right now," the listed 347-pounder deadpanned. "If I gain a few pounds, maybe he'll just hand me the ball off."
January, 29, 2013
1/29/13
3:30
PM ET
After the NFL and the
Manti Te'o
questions came football talk, bringing some good and bad news to a 22-day-old Notre Dame offseason that has felt much longer.
Starting cornerback
Bennett Jackson
had surgery to repair a labrum tear. Starting inside linebacker
Dan Fox
had a similar operation. Both are expected to be limited to non-contact portions of spring practice, which starts March 20.
Safety
Austin Collinsworth
is expected to be ready this spring after missing the 2012 season because of separate shoulder and back surgeries. Brian Kelly also sounded optimistic about the playing future of center
Matt Hegarty
, who was shut down for the season following a Nov. 8 mini-stroke, while cornerback
Lo Wood
continues to recover from an Achllies tear suffered in fall camp.
Constant leg problems, meanwhile, may force offensive tackle
Tate Nichols
to take a medical redshirt.
Kelly pegged Hegarty,
Nick Martin
and
Mark Harrell
as players in the mix to replace
Braxston Cave
at center. Kelly said Fox,
Carlo Calabrese
and
Jarrett Grace
are the front-runners to replace Te'o at the MIKE linebacker spot, with
Kendall Moore
and potential incoming freshmen having a chance to be included as well.
The mentioning of Fox and Calabrese means both will likely be back for a fifth season in 2013, though Kelly said the official process needs to still take place.
"We're going to sit down when we get back, as we always have from recruiting, once we finish up our numbers in recruiting, then we start to talk about our fifth-year guys," Kelly said. "But they'll all, as we have in the past, they'll continue to train because they're in school anyway. And then we'll let them know our decisions as we talk to the university, relative to granting that additional year."
Kelly also said he is hoping the NCAA's ruling on safety
Jamoris Slaughter
's appeal for a sixth year will come before national signing day. Kelly said Slaughter is still in school.
April, 21, 2012
4/21/12
7:11
PM ET
SOUTH BEND, Ind. -- From the stands, one could imagine the minor sigh of relief Notre Dame coach Brian Kelly exhaled upon
Everett Golson
's 19-yard touchdown pass to
Theo Riddick
in the second quarter of Saturday's Blue-Gold game.
It came after the defense forced another turnover, after Golson fumbled the drive's first snap and after the sophomore quarterback seemingly ran in circles before drawing a facemask penalty on
Kendall Moore
.
"The quarterback position, as I mentioned to you before, is the art and science," Kelly said. "In putting both the art and the science together, he's very creative. The art part he's got down. It's the science and the consistency, all of those things to be a championship quarterback."
Two drives earlier, Kelly was likely the only one among the crowd of 31,582 to control himself as
George Atkinson III
took a short pass from
Tommy Rees
, juked
Cam McDaniel
and made 19 yards out of nothing.
Because two plays later, the running back mishandled a pitch from Rees and turned it over for the second time in the first half.
Golson, the great unknown of this four-man quarterback derby, finished 11 of 15 for 120 yards and two touchdowns. He carried the ball six times for 25 yards. He was the only quarterback to not throw an interception.
Atkinson, whose electricity was on display during kick returns last season, rushed for 124 yards on just 15 carries, and added 54 receiving yards on three catches.
[+] Enlarge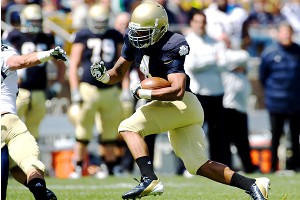 Matt Cashore/US PresswireGeorge Atkinson III ran for 124 yards on 15 carries, but also made some big mistakes.
"Both of those guys are exciting, electric players," Kelly cautioned, "but they are a heart attack for me."
So goes it for the Irish at the end of the spring season. They put up 500-plus yards of offense in five games a season ago, but ranked 118th in turnover margin. They entered fall camp last season with a quarterback controversy, and they also ended it with one.
Few clues could be gathered from Saturday's spring game -- in which the defense defeated the offense, 42-31, for those counting -- as the offense netted 551 yards but turned it over six times.
Rees took the game's first snap, played five drives, completed 7 of 14 passes for 84 yards and tossed a pick to
Matthias Farley
.
Andrew Hendrix
came next, connecting with
Tyler Eifert
for a 25-yard score and eventually playing four drives. He was 4 of 9 for 51 yards, rushed for 13 yards on a pair of carries and threw a pick right over the middle to
Ishaq Williams
.
Gunner Kiel started the second half, completed his first pass for 11 yards and was promptly picked by
Chris Salvi
on the next play. The freshman played the entire third and fourth quarters — which were eight minutes apiece with running time — and went 5 of 10 for 57 yards, adding 15 yards on three carries.
"I think we saw some things that we haven't seen before in terms of ball placement," Kelly said. "Then we saw some errors that, unfortunately, are all too familiar. So, I think there were some strides made, but clearly we're not there yet. We've got a lot of work to do with all the quarterbacks to get them to the level that we want. And we have a high bar set for them."
Kelly mentioned having seen the same movie before with Rees' and Hendrix's picks, specifically saying that Rees needs to know that "zero" is OK on third down, especially in drop-eight situations. He said the offense can't run everything with Kiel after just 15 practices to work with him.
And he said Golson needs to do a better job of getting plays in quicker, a fact the signal caller acknowledged goes a long way in earning the staff's trust.
"You never really know which way the play's gonna go with me and George," Golson said of himself and Atkinson. "That's because we're just not consistent: One play we're making a good play, one play it's a fumble or turnover, so I think just being more consistent on the positive end will help us out."
Added Atkinson: "There's so many things I can work on. I don't think I did that well today, personally. I still need fundamentals, basically. Just work on fundamentals and taking the coaching and everything else."
Atkinson said he doesn't want to give his staff a roller-coaster ride when he's on the field. Having a man under center who can protect the ball will go a long way in easing the blood pressure of everyone in the huddle and on the sideline. But an answer there isn't coming anytime soon.
"The guy that really commits to the details this summer is probably one of the guys that's going to start it," Kelly said. "So if you can go to any of those voluntary workouts, then let me know. I'd be happy to field that when I'm on the golf course. Just text me if you have that opportunity. The point is all of them have a lot of work to do. We'll see who does a great job this summer."
March, 29, 2012
3/29/12
9:00
AM ET
Our breakdown of Notre Dame's 2012 roster continues today with the defensive side of the ball.
DEFENSIVE LINE
The players:
Aaron Lynch
,
Louis Nix
,
Stephon Tuitt
,
Kapron Lewis-Moore
,
Tony Springmann
,
Chase Hounshell
, Sheldon Day,
Tyler Stockton
,
Kona Schwenke
The incoming:
Jarron Jones
,
Romeo Okwara
[+] Enlarge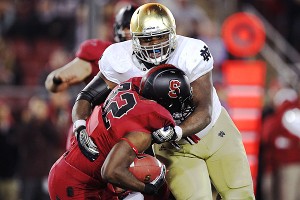 Ezra Shaw/Getty ImagesTackle Louis Nix is a key cog in what should be a strong, experienced defensive line for Notre Dame.
The breakdown:
Injuries forced all three current starters — Lynch, Nix and Tuitt — to play much more than expected last season, and none disappointed. They are all second-year players now, and their pass-rushing ability should have opposing offensive lines and quarterbacks on their heels. Lewis-Moore has been cleared for spring following a season-ending knee injury in 2011 but might not start, though he will likely see plenty of playing time as the line rotates. Hounshell (shoulder surgery) is not cleared yet, but he will likely see significant time this fall after playing as a true freshman last year as well.
LINEBACKERS
The players:
Danny Spond
,
Manti Te'o
,
Dan Fox
,
Prince Shembo
,
Kendall Moore
,
Ishaq Williams
,
Anthony Rabasa
,
Carlo Calabrese
,
Jarrett Grace
, Justin Utopo,
Connor Little
,
Ben Councell
,
Joe Schmidt
The incoming:
None
The breakdown:
As we said with
Tyler Eifert
yesterday, everyone knows what Te'o is capable of, as he likely would have been a first-round NFL draft pick had he left school following his junior year. Fox and Calabrese shared the other inside role last year, and their experience should prove valuable. Shembo has been working at the cat spot this spring, and up-and-coming talents like Williams and Spond figure to see extensive playing time.
SECONDARY
The players:
Bennett Jackson
,
Jamoris Slaughter
,
Zeke Motta
,
Lo Wood
,
Josh Atkinson
,
Austin Collinsworth
,
Dan McCarthy
,
Jalen Brown
,
Cam McDaniel
,
Eilar Hardy
,
Chris Salvi
,
Joe Romano
, Will Salvi,
Connor Cavalaris
,
Matthias Farley
,
Blake Breslau
The incoming:
Elijah Shumate
,
Nicky Baratti
,
C.J. Prosise
,
John Turner
The breakdown:
The loss of
Tee Shepard
really stings this group, which is down to four scholarship corners with a combined zero career starts. Jackson and Wood are in position to take over as the new starters, and playing time last season should help with the transition. At safety, Slaughter and Motta saw plenty of time the last two seasons, and Slaughter in particular has shown a nose for the ball and the capability of providing a leadership force that
Harrison Smith
is leaving behind. Collinsworth will likely also see plenty of snaps after playing last year.