NCF Nation:

Kendrick Hardy
May, 18, 2011
5/18/11
9:00
AM ET
I am continuing my look at potential BCS busters from Conference USA, a league that would love nothing more than to get one of its teams into one of the marquee games. Southern Miss has had 17 straight winning seasons, a level of success unmatched by anyone in C-USA. But the Golden Eagles have not won a conference championship since 2003 and last played in the C-USA title game in 2006. This season could be an outstanding one for the Golden Eagles based on their excellent returning quarterback and a very manageable schedule.

Why they have a shot:
Quarterback
Austin Davis
had his best year last season with 3,103 yards passing and 452 yards rushing, proving to be comfortable running the spread offense. He is on pace to set school career marks for passing yards and passing touchdowns. He should be even better headed into his senior year, especially with a nice compliment of running backs returning in
Kendrick Hardy
,
Desmond Johnson
and
Tracy Lampley
. Top receiver
Kelvin Bolden
also returns, along with
Quentin Pierce
. The schedule plays into the Golden Eagles' favor, with their toughest nonconference games at Virginia and home to Navy. Plus, they get UCF and SMU at home. The most difficult C-USA road game is at East Carolina.
Why they won't make it:
Southern Miss has not quite been able to get back into the driver's seat in the East in three seasons under Larry Fedora. The offense has looked good, but the defense has sputtered at times with breakdowns in crucial situations. In four of its five losses last season, Southern Miss gave up 40-plus points. The Golden Eagles beat eventual league champion UCF last season, but lost three conference games by a combined eight points and finished in a tie for second. They will have a new defensive scheme this season under new coordinator Dan Disch -- the 4-2-5 that TCU and Boise State run. Fedora was pleased with the progress the defense showed this spring, but there are sometimes growing pains when learning a new system.
Previously profiled
Houston
SMU
December, 20, 2010
12/20/10
9:00
AM ET
The questions were only natural. How would Southern Miss quarterback
Austin Davis
respond after missing the majority of 2009 and all of spring practice with a foot injury?
[+] Enlarge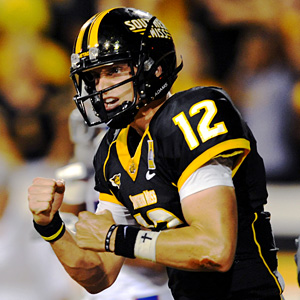 Chuck Cook/US PresswireAustin Davis is on pace to break many of the school's quarterback records.
Slowly at first. But now Davis is playing his best ball of the season, and it is coming at the right time, with the Beef 'O' Brady's Bowl against Louisville set for Tuesday in St. Petersburg, Fla.
"Everyone played better toward the end of the year," Davis said in a phone interview. "I'm more comfortable with the guys. You play more games, you get better. You can't substitute game experience."
Davis has had plenty of that, even though he missed the final eight games of last season with a ligament tear. In 2008, he became the first freshman to start in his first game since 1991 and is very close to breaking the school career records for passing yards, passing touchdowns, 200-yard passing games and rushing touchdowns by a quarterback.
He needs two more passing touchdowns to pass Lee Robert and Brett Favre into first place on the career touchdowns list with 53.
Davis was able to stay healthy this season despite some foot pain, but many of his teammates were not, and that accounted for some of the early struggles. Top receiver
DeAndre Brown
was hampered all season, and only played in five games. The running backs were also banged up.
Kendrick Hardy
,
Tracy Lampley
and
V.J. Floyd
all got starts this season. The offensive line also had to break in four new starters, so it took a while for everyone to find a rhythm.
"I think Austin played himself back into being comfortable," offensive coordinator Blake Anderson said. "You don't know how the guy is going to respond. Initially early maybe he was trying to do too much.
"Some of that had to do with some of the injuries we had earlier. You're dealing with different skill players every week, so there wasn't continuity with him and those guys. The timing was not always as good. We found the comfort zone offensively in what we liked and what we had confidence in and gradually our guys got better."
Indeed, Southern Miss scored 40-plus points in seven of its last eight games. But two of those were critical one-point losses to East Carolina and UAB. Because Southern Miss beat eventual East Division champion UCF, wins in those games would have gotten the Golden Eagles into the C-USA title game.
The UAB loss in double overtime was particularly galling because the Blazers ended the season 4-8. Davis has had a hard time of letting go of those losses, knowing how much they ended up costing Southern Miss.
"There were a couple of plays in those games that I know I made mistakes that keep me up at night," Davis said. "I feel if I could have done something different, we might have won that game and ended up playing in the championship. You never know what play is going to make a difference. We just have to learn, come out focused and ready to play with intensity in every game. Once we mature to the point we can do that, we'll find ourselves in the conference championships."
Despite the disappointment of those two games, Southern Miss is in a bowl game for the ninth straight season and has won eight games for the first time since 2006.
Davis was selected to the C-USA second-team and needs just 102 yards to go over 3,000 yards this season. He will be the only Southern Miss quarterback to go over 3,000 yards passing in a season. Plus, he is also a threat to run, ranking third on the team in rushing with 436 yards on 132 carries and 10 touchdowns.
With many of the skill players returning in 2011, this bowl game could be a big momentum booster. And it will all start with Davis.
"For us to win 10, 11, 12 games a year from now, we've got to start out the season with him playing like he's playing now," Anderson said. "That is not easy to do. His focus level and preparation over spring and summer is going to be tailored toward that."
May, 6, 2010
5/06/10
8:00
AM ET
2008 overall record:
7-6
2008 conference record:
5-3 (third C-USA East)
Returning starters
Offense
: 4, defense: 9, punter/kicker: 2

Top returners
QB
Austin Davis
, QB
Martevious Young
, WR
DeAndre Brown
, WR/RB/Returner
Tracey Lampley
, C Cameron Zipp, DL Anthony Gray, DL Cordarro Law, LB Martez Smith, LB, Korey Williams, DB C.J. Bailey, DB Justin Wilson, P Peter Boehme
Key losses
RB
Damion Fletcher
, OL Kyle Burkhart, OL Ryan Hebert, TE Leroy Banks, WR
Gerald Baptiste
, WR/Returner
Freddie Parham
, LS Cody Tawater, DS Andy Hill, DB Andre Watson, DB Eddie Hicks
2009 statistical leaders (* denotes returners)
Rushing:
Damion Fletcher (1,015 yards)
Passing:
Martevious Young* (1,861 yards)
Receiving:
DeAndre Brown* (785 yards)
Tackles:
Korey Williams* (121 tackles)
Sacks:
Korey Williams*, Cordarro Law* (7.5 sacks)
Interceptions:
Eddie Hicks (5 INTs)
Spring answers
1. Unexpected running back depth:
Losing the top two rushers from a year ago didn't seem to faze the Golden Eagles this spring as they found more running back depth than they've had in some time.
V.J. Floyd
,
Kendrick Hardy
, Tracey Lampley and
Desmond Johnson
all played well this spring and will all have the chance to compete in the fall.
2. Defensive line gets better:
The Eagles returned all of their starting defensive linemen from a year ago and they continued to get better in the spring led by end Cordarro Law, who had 11 tackles, including five sacks.
3. Kicking woes fixed:
Going into spring, coach Larry Fedora said the kicking game was going to be the focus. Southern Miss missed 10 extra points last season and six field goals. Justin Estes and Daniel Hrapmann struggled with consistency and Fedora challenged both players to get better this spring. It seemingly worked as the kicking game was much better during the spring. Hrapmann surged into the top kicking spot and Matthew Little looks like he'll add quality depth.
Fall questions
1. Offensive line still incomplete:
Southern Miss is still trying to fill four positions on the offensive line and had some success during spring ball. Center Cameron Zipp is the only returning starter and Fedora leaned on the experience of junior college players Lamar Holmes and Jason Weaver to jump-start the line this spring.
2. Lots of RBs, but who will start?
While the Eagles did find running back depth, it didn't find a definitive replacement for the school's all-time leading rusher, Damion Fletcher. V.J. Floyd will probably open the year as the starter, but Kendrick Hardy might ultimately be the team's future as a big, bruising back.
3. Quarterback conundrum:
Last year's starting quarterback, Austin Davis, suffered a foot injury, which kept him out the whole season. Martevious Young did an admirable job in Davis' absence and took the lead this spring. It's unclear what Davis' role will be when he gets back, especially since he's missed so much time and Young has played so well.
April, 12, 2010
4/12/10
12:30
PM ET
Southern Miss coach Larry Fedora said after Saturday's spring game that he's not ready to name a definitive starter to replace Damien Fletcher at running back, but he feels good about all four of the top competitors.
V.J. Floyd
,
Kendrick Hardy
, Tracy Lampley and
Desmond Johnson
all have been competing for the starting role. Floyd came into spring football as the leader because of experience and with his performance on Saturday, seemed to tighten his grip on the job.
Floyd led all running backs with 12 rushes for 83 yards and five catches for 112 yards and a 70-yard touchdown reception.
But the biggest surprise of the spring was the emergence of redshirt freshman running back Kendrick Hardy, who led the Gold team in rushing with 10 carries for 32 yards and had a 37-yard touchdown reception. Hardy started to catch on midway through spring practices and has seemingly gotten stronger as the weeks progressed. Hardy is the biggest of the backs and gives the Golden Eagles a different look in their running game.
Many anticipated Hardy being a factor last year after being a highly touted recruit, but he was redshirted and now seems to have matured into the player many thought he could be.
"He's been doing that all spring," Fedora said. "He runs hard. He adds another dimension to what we do offensively because of his size, his speed and how hard he runs."
Although Floyd was consistently the best running back throughout spring ball, Fedora wanted to look at film and the rest of spring before he made a final decision. That decision likely will not be set in stone until the first game in September, but with what all four have shown during spring practices and during competition last season, it appears as though Fedora can't go wrong regardless of who he chooses.
"We'll see. We'll have to evaluate it," Fedora said of naming a starting running back. "I can tell you this: All four of those guys have been working their butts off and have shown a lot of promise through spring in flashes. Even Desmond and [Tracy Lampley] have done some really good things. I think right now, we have four that we can count on. That's a great thing for us to get through the season."
March, 25, 2010
3/25/10
12:32
PM ET
One of the goals for Southern Miss this spring was to figure out its running back situation.
With top rushers
Damion Fletcher
and
Tory Harrison
lost to graduation, the Golden Eagles were looking for one of its four running backs --
V.J. Floyd
,
Tracey Lampley
,
Desmond Johnson
and
Kendrick Hardy
-- to fill the void.
While Southern Miss is only through seven of its 15 practices, culminating in the April 10 spring game, the running backs are trying to make their presence known.
After a live scrimmage during the second half of Wednesday's practice, coach Larry Fedora praised his running backs, which combined for 128 yards and five touchdowns (several during the goal-line drills) during the short scrimmage time.
Fedora was especially impressed with Hardy, a highly-touted redshirt freshman, who has a lot of talent, but has been described by the coaching staff as "raw." Hardy had 10 carries for 62 yards and two touchdowns.
"They have all made some plays," Fedora said of the running back corps. "Kendrick Hardy really made some nice plays [today], ran really hard and broke some tackles while showing some glimpses that he can be a really good football player for us."
Floyd, who had four rushes for 8 yards in the scrimmage, came into the spring as the top running back mostly because of experience. Lampley, who had five rushes for 43 yards, including a 25-yard touchdown, also played last season and was considered the top challenger for the starting role. Johnson, who had 15 yards and a touchdown on eight carries, played sparingly last year, but struggled with consistency.
Of the four, Hardy is the biggest back and has some of the greatest potential. If he can consistently play like he did Wednesday, he could find himself a regular in what is shaping to be a running-back-by-committee approach.
The Golden Eagles still have eight practices remaining and a depth chart likely won't be released until after the spring game.
March, 3, 2010
3/03/10
12:05
PM ET
Southern Miss coach Larry Fedora still gets fired up when he talks about the blocked extra point against East Carolina that eventually led to his team losing the Conference USA East title.
That extra point would have given the Golden Eagles a one-point lead in the fourth quarter. Instead, the lead swung the other way and East Carolina walked off with a 25-20 win and its second consecutive division title.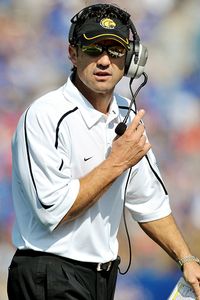 John Rieger-US PRESSWIRESouthern Miss coach Larry Fedora will be looking to make improvements on special teams.
"At some point, coming close has got to leave such a bitter taste in your mouth that you're willing to do something extra, something that you've never done before to get something that you've never had," Fedora said.
The Golden Eagles open spring football today and kicking, among other issues, will be the focal point of the next 14 practices and the spring game. Southern Miss missed 10 extra points last season and six field goals. The team couldn't find any consistency from any distance with either Justin Estes or Daniel Hrapmann.
The first half of the season wasn't bad, but then the kicking game cost the Golden Eagles games late. Against Houston, Southern Miss had two extra points blocked and ended up losing 50-43. In the bowl game against Middle Tennessee, Southern Miss tried two-point conversions after each of its four touchdowns.
"We got dramatic improvements in our special teams, but in the kicking game itself we were terrible," Fedora said. "We want to make sure that they come out of spring understanding the importance of our special teams play. We've got to make some dramatic improvements on our extra point and field goal units."
The kicking game is just one of many points of interest this spring. The Golden Eagles have to replace four offensive linemen and have to find a new feature back after losing their top two rushers from a year ago in Damion Fletcher and
Tory Harrison
. Fedora said
V.J. Floyd
would be the top back heading into today's practices, but maintained that's its an open competition. He's eager to see how
Desmond Johnson
, who rushed for 72 yards and a score last year, Tracy Lampley, who had 122 yards and a score last season, and
Kendrick Hardy
perform this spring.
"If we have one guy that stands out way ahead of the rest, he'll be the guy," Fedora said. "If we've got two guys then it will be two guys. And I'll be honest with you, I don't think you can make it through a season with just one anymore. So, we know we're going to need some depth there and we'll look forward to that competition this spring."
At quarterback,
Austin Davis
, who started the 2009 season before suffering a season-ending foot injury, will throw, but not in any situations where his foot could be injured.
Martevious Young
, who started the final eight games of the season, and
Chris Campbell
will be the main competitors at quarterback. Fedora said he's not ready to say whether Davis or Young will be the starter in the fall, but the spring work will be important.
"I always like to say that a guy doesn't lose his position because of an injury, but with the extra reps that guys are getting, if they come through and they get better, when the time comes, they'll be the guy," Fedora said.
While filling holes will be key this spring, Southern Miss also will be working on attitude. Fedora thinks he has a team that can compete for both the Conference USA East title and the overall conference title, but he wants to see that drive from his team and it starts when the players hit the field today.
"I think we're really close, I really do," Fedora said. "We've got to stay healthy. That's key. We lost some key starters last year that hurt us, even though the other guys stepped up and played well, it still wasn't what it should have been. So, I think we're real close, but it's time to quit talking about it and it's time to get over that hump now."
February, 22, 2010
2/22/10
10:00
AM ET
Here's a breakdown of three issues facing each program heading into the spring:

Central Florida Knights
Spring practice starts:
March 19
Spring game:
April 17
What to watch:
The Knights will need to develop offensive line talent after allowing 2.54 sacks per game and failing to block for a rushing offense that ranked 82nd in the country. The Knights return all but two offensive linemen and have one coming in the spring.
The quarterback battle will heat up with early enrollee Jeffrey Godfrey, who already has impressed coach George O'Leary. Godfrey will compete against Rob Calabrese for the starting role.
The Knights will have to find replacements for three key members of the defensive line -- DE Jarvis Geathers, RT Torrell Troup, LT Travis Timmons. The defense was the main reason the Knights finished 8-5 and won their final five games.

East Carolina Pirates
Spring practice starts:
March 22
Spring game:
April 17
What to watch:
With a new coach, a new system, and a crop of new starters, East Carolina will have its work cut out for it this spring. New head coach Ruffin McNeill needs to replace 15 players with starting experience, which won't be easy with just a month to work.
The most underrated positions the Pirates have to fill are punter and kicker. All-American Matt Dodge is gone as is kicker Ben Hartman, who set the school record for career scoring. Finding replacements for those two is a top priority.
New offensive coordinator Lincoln Riley will be implement Texas Tech's offensive system with just two scholarship quarterbacks and a team that relied on its running game. Riley is confident he can install all of his spread offense this fall, but there's no telling how quickly the Pirates will pick it up.

Houston Cougars
Spring practice starts:
March 27
Spring game:
April 24
What to watch:
The one thing that really kept Houston from an undefeated season was its defense. Brian Stewart, who was named the defensive coordinator in January, inherits a young team with a lot of talent, but he has some work to do to catch the defense up to the offense by September.
Quarterback Case Keenum returns for his senior season, but his center, Carl Barnett, does not. Barnett started 39 games, so Keenum will have to establish a good rapport with his new center this spring. Blake Sargent, who was the backup last year, appears to be the front-runner.
Even though the Cougars did not lose many starters on offense, coach Kevin Sumlin will look for more athletic players to rotate into the mix. Last season, 19 players had at least one catch and 12 had double-digit catches.
January, 26, 2010
1/26/10
11:59
AM ET
National signing day is just about a week away and there are several non-AQ teams that will be looking for the next great player to help their team to a conference championship or even a BCS bowl. The non-AQs are notorious for finding diamonds in the rough, but most teams are just looking to plug holes for positions depleted by graduation and the NFL Draft. Here's a quick look at the non-AQ's top areas of concern for this year's class:
BYU

Defensive line:
The Cougars took some big hits on the defensive line this year with the graduation of star end Jan Jorgensen and nose tackle Russell Tialavea. There's some depth there for the Cougars, but it didn't contribute much this season.
Linebackers:
BYU graduates all of its starting linebackers from 2009 and the Cougars will have three seniors starting in that unit next year. The linebacking corps was a great strength for BYU in 2009 and building it back up will be the highest priority.
Running back:
Star running back
Harvey Unga
is returning for his senior year and the Cougars will have two talented juniors in JJ Di Luigi and
Bryan Kariya
, but beyond that there isn't much help. The Cougars have gotten used to rotating a few guys in the backfield, so adding some young talent will allow that trend to continue.
TCU

Wide receiver:
The Horned Frogs had a lot of success spreading the ball around to several different receivers this past season, but enter 2010 with six seniors on the wide receiver depth chart, including playmaker
Jeremy Kerley
.
Secondary:
The secondary loses both of its corners this season and will have three seniors starting next year. The secondary has been one of the few weak spots of the defense in the past, so shoring that up will be a major priority.
HOUSTON

Offensive line:
The O-line loses senior center Carl Bennett, but will have three senior starters in 2010 and many of the players on the depth will be seniors as well. With as potent as the Houston offense is, finding players to step in right away is a must.
Quarterback:
Star
Case Keenum
is a senior and backup
Cotton Turner
is a junior. It would be good to get a couple young quarterbacks in to learn the system and have the benefit of learning from Keenum, who has essentially become the offensive coordinator on the field.
Athletes:
In Houston's offense, guys with great hands will be rewarded. The Cougars need athletes at both receiver and in the secondary and that should be a big focus in this class.
FRESNO STATE

Wide receiver:
All of Fresno State's starting receivers are gone, including leader
Seyi Ajirotutu
. Ajirotutu was a dynamic player and finding someone to replace him, especially with a couple young quarterbacks waiting in the wings, should be the top priority in this class.
Secondary:
The Bulldogs lose four seniors from the secondary and will lose two more in 2010. The secondary actually was the strength of an otherwise poor defense and the Bulldogs will want to continue to build on that momentum.
Running back:
With
Lonyae Miller
lost to graduation and
Ryan Mathews
leaving early for the draft, Fresno State was left scrambling for some depth at the running back position. Running back has long been the strongest position for the Bulldogs and finding a back to complement sophomore
Robbie Rouse
would be key.
SAN DIEGO STATE

Linebackers:
The linebacking corps was the strength of the Aztecs last season and with defensive coordinator Rocky Long's 3-3-5 scheme, it probably will be the strength for some time. SDSU graduated three linebackers and will have two seniors on the depth chart next year.
Hybrid:
The SDSU 3-3-5 defense uses a Warrior and Aztec position as its hybrids and finding the right athletes to play those spots will be key. Long used what he had last year, but with a full recruiting year under his belt, he should be able to find players that are specifically tailored to fit that hybrid role.
SMU

Running back:
With
Shawnbrey McNeal
opting to leave early for the draft, the Mustangs will need a couple running backs to keep that a viable position on the team. McNeal was coach June Jones' first 1,000-yard rusher and his presence took a lot of the pressure of the young quarterbacks.
Athletes:
All-everything player
Emmanuel Sanders
is gone and the Mustangs don't really have anyone to fill his role immediately. The run-and-shoot offense is successful because of playmakers and finding some of those players in this class will help SMU continue its winning ways.
SOUTHERN MISS

Running back:
The Golden Eagles picked up running back
Kendrick Hardy
in the last recruiting class, but he didn't do enough to unseat the guys who were already on the two-deep. Coach Larry Fedora has gotten a big-name kid each season he's been with Southern Miss, and with his top two running backs lost to graduation, that could be where he strikes next.
Offensive line:
Southern Miss lost four starters off the offensive line and could lose three more after 2010. There are some competent guys waiting in the wings, but they need to start building that depth now.
UCF

Offensive line:
The Knights lose two offensive linemen this year and will lose three next year, so adding more players to that unit in this class has become a priority. The O-line struggled mightily last season with 2.54 sacks allowed and the rushing offense ranked 82
nd
in the country.
Defensive line:
Similar to the offensive line, the Knights defensive line also will need some fresh faces. The defensive line was a major strength in 2009 and should be again in 2010. After that, the Knights will need the youth to start contributing.
Playmakers:
The UCF offense was better this year than it was a year ago, but it still wasn't good enough to be a consistent threat in Conference USA. The Knights need to find some offensive playmakers to really push this team to the forefront of the conference again.
UTAH

Quarterback:
Sophomore
Jordan Wynn
is the future of Utah, but he doesn't have a lot of depth behind him.
Terrance Cain
will be a senior in 2010, so the Utes will need a couple more bodies to provide a push for Wynn and some much-needed depth.
Secondary:
The Utes lose five seniors off the secondary two-deep and while there is some young talent there, the secondary has consistently been the Utes best unit and much of that has been because of the ability to develop young players.
Running back:
This position has consistently been riddled with injuries for the Utes and so stockpiling a few running backs, especially with both
Eddie Wide
and
Shaky Smithson
entering their final seasons, wouldn't be a bad idea.
BOISE STATE

Athlete:
Boise State lost one senior starter this year, so the Broncos needs aren't as great as most other teams around the FBS. However, this squad can never have too many athletes. The secondary could use a little help, as could the receiving corps, which is riddled with young players.
Quarterback:
Kellen Moore
will be a junior next season and backup Michael Coughlin will be a senior. With
Joe Southwick
still a freshman, the need for a new quarterback isn't pressing, but it might be good to get someone in to learn the ropes and give Southwick a challenge in a couple years.
MARSHALL

Quarterback:
The quarterback position hasn't been the strong point of Marshall's offense in quite some time, so finding a guy who can be a difference maker is key. Both
Brian Anderson
and
Press Taylor
will be seniors in 2010, so finding a young quarterback to challenge in this class would be the right move.
Wide receiver:
Marshall's leading receiver for most of last season was its now graduated tight end. While there is a lot of freshman talent on the two-deep, Antavious Willson was the only one that really made a lasting impression. If new coach Doc Holliday could get some high-level receiving talent, it would make his quarterbacks look better than they are.
Defensive line:
The Herd lost three seniors this season and will have four on the depth in 2010. Marshall's defense was one of the best in conference play and the reason why it was able to play in and win a bowl game.