NCF Nation:

Kenji Jackson
June, 30, 2011
6/30/11
1:15
PM ET
We'll move on to the safeties today in our position rankings across the Big 12.
Here's what we've covered so far:
The group of safeties across the Big 12 isn't fantastic, without any truly elite groups, but it's decent. There aren't any teams that look really hopeless at the position in the immediate future.
I haven't given it real close examination so far on the positions we haven't covered yet, but this is by far the closest gap between 1-10 of any position so far.
Here's how I ranked them. (Remember, I lumped in nickel backs with linebackers, so Ahmad Dixon and Tony Jefferson won't be found anywhere in this post.)
[+] Enlarge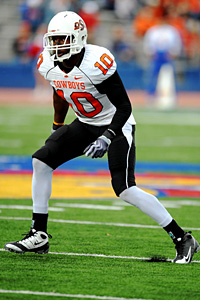 John Rieger/US PRESSWIREOklahoma State's Markelle Martin is the Big 12's best overall safety.
1. Oklahoma State
-- The Cowboys have Markelle Martin, the Big 12's best overall safety who's a big talent but a much better hitter than he is a cover man. Johnny Thomas is solid and both safeties got a lot better as the 2010 season progressed. OSU's depth lands them here, though. Daytawion Lowe could start for a few Big 12 teams and is slightly better than A&M and Texas' reserves, the other two teams with the deepest group of safeties.
2. Texas
-- Blake Gideon takes his share of criticism, a good deal of it fair, but there's a reason he's starting for Texas for a fourth season this fall. He knows what he's doing. Kenny Vaccaro will challenge OSU's Martin, among others, for the title of the Big 12's biggest hitter and Nolan Brewster and Christian Scott are strong reserves at the position. The Longhorns lose a lot at corner, but all the safeties are back from a defense that allowed just over 170 yards a game through the air in conference play last season.
3. Texas A&M
-- The Aggies' Steven Terrell and Trent Hunter are solid, and Hunter is a big playmaker who made 62 stops and picked off two passes last year. Toney Hurd Jr. is the backup and was one of the most impressive freshmen in fall camp last year, joined by Steven Campbell in the rotation.
4. Kansas State
-- Tysyn Hartman has loads of experience and is one of the Wildcats that Bill Snyder loves to rave about. Ty Zimmerman was one of the Big 12's best freshman last year, and picked off three passes. They should be solid again next year, and for as much criticism as K-State's defense faced last year, they were fifth in the Big 12 in pass defense. Logan Dold should be in the rotation, too.
5. Oklahoma
-- Reserve Sam Proctor has starting experience, but Javon Harris and Aaron Colvin enter fall camp as starters. That says plenty about how Bob Stoops and Brent Venables feel about them. In a word: confident. Colvin has the most potential in the group, but the two starters will have to learn on the go. Proctor, a senior, should be able to help. James Haynes will also be in the rotation.
6. Missouri
-- Jasper Simmons is gone, but Missouri's safeties might be a bit underrated in this spot. Kenji Jackson has loads of experience and should be solid, and Tavon Bolden and Matt White are a pair of promising sophomores who should compete at free safety. Kenronte Walker should be in the rotation, too.
7. Texas Tech
-- Injuries were a problem last year for the Tech secondary, but Cody Davis and D.J. Johnson will hold down the traditional safety spots away from the line of scrimmage in new coordinator Chad Glasgow's 4-2-5. The unit gave up lots of big plays in 2010 (151 over 10 yards, 46 over 20, and 25 over 30, all the most in the Big 12), but I'd expect that number to drop under Glasgow if the secondary stays healthy. Davis is the team's leading returning tackler, with 87 stops. Brett Dewhurst and Giorgio Durham should be in the rotation.
8. Kansas
-- Keeston Terry and Bradley McDougald give Kansas a lot of speed and athletic ability at the position, but both of the team's safeties from 2010 graduated and Terry and McDougald are short on experience. Lubbock Smith should add some solid depth to the position.
9. Iowa State
-- Iowa State loses their top playmaker at the position, David Sims, but returns starter Ter'Ran Benton. He'll be helped out by some combination of Jacques Washington, Earl Brooks and Deon Broomfield once the season starts. Iowa State's biggest weakness is on the defensive line, so it's hard to get a good read on how good the safeties really are with such a poor pass rush up front.
10. Baylor
-- This group might move up the list during the year under Phil Bennett, but the two best raw athletes (Ahmad Dixon, Prince Kent) at the position moved to nickel back and linebacker, respectively. The team's leading tackler, Byron Landor, graduated, and that left Mike Hicks as the other starter. He'll be helped out at safety by Sam Holl, Josh Wilson and K.J. Morton. Last year, the Bears ranked last in the Big 12 in pass defense in conference play, giving up over 300 yards a game. That'll have to change or Baylor won't get past seven wins.
February, 14, 2011
2/14/11
10:00
AM ET
Valentine's Day isn't all chocolate and kisses and hearts. Plenty of those hearts get broken. The same is true throughout any Big 12 season. Here's who left a few opposing fans in tears in 2010.
1. Landry Jones.
Oklahoma State had him backed up deep in his own territory with a two-point lead and a deafening crowd behind him with less than three minutes to play. He'd already teased them with a pick-six earlier in the game. But Jones connected with
Cameron Kenney
for
an 86-yard touchdown
to put the Sooners up by nine points. He later hit
James Hanna
for a 76-yard score to ice the game after the Cowboys returned the ensuing kick for a score. That's cold.
2. Kenji Jackson.
It looked like a fairly harmless hit at the time, one that happens countless times in any game. But late in the first half, the Missouri safety came up to the line of scrimmage and laid a solid hit on
Taylor Martinez
's lower body. Martinez stayed in the game to finish the half, but didn't play in the second half. Nebraska won, but Martinez's sprained ankle changed Nebraska's season, and
he was never quite the same player
after he hurt the ankle. Jackson's hit was the gift that kept on giving. If it didn't happen, who knows where Nebraska's season would have finished.
3. The Ames wind
. I'll give Iowa State backup punter Daniel Kuehl the benefit of the doubt on this one. If the wind at Jack Trice Stadium hadn't been absolutely swirling, he probably
could have completed the pass that would have meant the Cyclones beat Nebraska and Texas
in the same season and would go to a bowl game. But the pass floated in the wind, and Nebraska's Eric Hagg intercepted the fake extra point to preserve the win. If it had been completed, it would have put the Cyclones in the driver's seat of the Big 12 North, too.
4. Officials in The Bronx.
Adrian Hilburn
made the catch, made a defender miss and sprinted 30 yards into the end zone to cut Syracuse's eight-point lead to two with less than a minute to play in their bowl game. He
shook off a defender after scoring and saluted a group of K-State fans
in the stands who made the trip from one Manhattan to the other for the week before the Pinstripe Bowl. "Wrong move, buddy," one official reportedly told Hilburn. He tossed a flag and the Wildcats' lengthy conversion was incomplete. The dagger!
5. Oklahoma State's defense against Texas A&M.
What a cruel, cruel win. The defense struggled a bit and let the Aggies jump out to a 21-7 lead at the half. Then a sack and fumble returned for a touchdown put them up 35-21 in the fourth quarter against the Aggies, a stretch of 28 consecutive points. The defense allowed the Aggies to tie the game, but Shaun Lewis intercepted
Jerrod Johnson
-- his fifth turnover of the night -- and set up a game-winning field goal to beat the Aggies at the gun. If Texas A&M had beaten the Cowboys, it would have won the Big 12 South outright for its first division title since 1998. What a painful way to go down.
January, 18, 2011
1/18/11
11:46
AM ET
It's a difficult task to narrow down a season into 10 moments. My definition of the "top" 10 is the 10 moments that we'll look back on from this season and remember them, good or bad. So, here goes.
1. A&M makes the switch.
College football can be a cruel game. Texas A&M entered the season with the Big 12's Preseason Offensive Player of the Year,
Jerrod Johnson
, hoping to
lead the Aggies to their first Big 12 title
since 1998. But offseason surgery
sapped the zip from his throwing shoulder
and produced an ugly start to his season, leading the Aggies to switch to
Ryan Tannehill
. Tannehill set the school record for passing yards in his first start, a win over Texas Tech, and
helped the Aggies finish the regular season with six consecutive wins
and a berth in the Cotton Bowl.
2. Texas' loss to UCLA.
The red flags were there. Texas looked uninspired in wins over Wyoming and Rice, but looked dominant on defense in a road win over Texas Tech. Then the cellar-dwelling Bruins and their Pistol offense came to town. The Longhorns got rolled 34-12 in their own stadium. The loss
shocked just about everyone, but it was a sign of what was to come
: a 5-7 season the Texas faithful would rather forget.
3. Don't call it a comeback.
Actually, you could probably call it a comeback. It was no Cam Newton in the Iron Bowl, but
Landry Jones
helped rally Oklahoma from a 17-0 deficit to Nebraska in the Big 12 Championship
to knock off the Huskers, 23-20. The win gave Oklahoma its seventh Big 12 title of the decade.
[+] Enlarge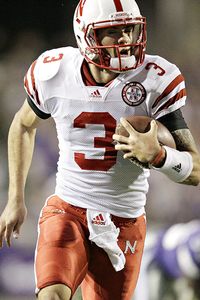 AP Photo/Charlie RiedelTaylor Martinez's career night included 241 rushing yards and five touchdowns.
4. T-Magic runs wild.
Kansas State packed Bill Snyder Family Stadium for a Thursday night game with its eyes on an upset of the undefeated Huskers.
Taylor Martinez
had other ideas. The Nebraska quarterback ran for 241 yards and five touchdowns, injecting himself into the Heisman race and
making people think very seriously about Nebraska as a national title contender
. Who would have thought Martinez would go the season's final nine games without a rushing touchdown after scoring 10 in the first four? Yes, K-State ended up finishing the season as the Big 12's worst defense, but Martinez put on a show and previewed what Nebraska fans hope is to come in the future.
5. We got a tip drill.
Oklahoma quarterback Landry Jones thought he'd thrown it away cleanly. Not so, said Brodrick Brown. The Oklahoma State corner
skied for Jones' pass headed for the sideline, tipped it back inbounds
to his teammate, linebacker Shaun Lewis, who caught it as one of Jones' three interceptions in the first half of the Big 12 South's deciding game.
6. Taylor Martinez's injury.
Nebraska already had a loss on its record, but one harmless-looking hit late in the first half of a big win changed Nebraska's season. Martinez was running laterally looking for a crease in the defense when Missouri safety Kenji Jackson flew in from the secondary and laid a hit on his lower body. Martinez sat the entire second half, and later revealed he had a sprained ankle. The freshman quarterback was never the same, and aggravated the injury again in a loss to Texas A&M.
7. Saluting your fans is bad, mmmmk.
Adrian Hilburn
made one of the biggest plays of Kansas State's season, catching a short pass and taking it 30 yards for a possible game-tying score with his team down eight. But after scoring, he saluted a group of Kansas State fans in the stands, and the
official tossed a flag for excessive celebration
after telling Hilburn he'd made the "wrong choice, buddy." The 15-yard penalty moved the Wildcats back, and
Carson Coffman
's pass on the conversion fell incomplete. Kansas State lost by two.
8. Moe's miracle.
Missouri's season already looked off the rails.
Blaine Gabbert
threw a pair of fourth-quarter interceptions. The Tigers trailed San Diego State 24-20 with a minute to play and 68 yards between them and the end zone. Don't worry about it, said
T.J. Moe
. The sophomore receiver caught a short pass, made two defenders slam into each other and
sprinted for the game-winning score that helped Missouri jump out to a 7-0 start
to its season. Teammate Carl Gettis told Moe in the end zone, "Thank you for saving our season."
9. Last five minutes of Bedlam.
Bedlam lived up to its moniker with a crazy finish that ended with the Sooners on top. Four touchdowns were scored within 92 seconds in the game's final five minutes. Oklahoma State scored to get within two points with just over four minutes to play, but on 3rd-and-long, Landry Jones found
Cameron Kenney
over the middle for an 86-yard touchdown pass. The ensuing kickoff? Oklahoma State's Justin Gilbert took it 89 yards to get back within two. But 17 seconds later, Jones found tight end
James Hanna
down the left sideline for a 76-yard touchdown that all but sealed the Sooners' win.
10. The Jayhawks win one for the ages
. Kansas and Colorado were the Big 12's only teams still without a win in conference play. Something had to give. Few figured the Buffaloes 28-point lead would be what buckled. Colorado led 45-17 with just over 11 minutes to play, but the Jayhawks scored a frenzied 35 points to finish with a 52-45 win, their only conference win of the season. Buffaloes coach
Dan Hawkins never got to coach another game for Colorado
after being fired following the loss.
August, 10, 2010
8/10/10
10:00
AM ET
1. Texas:
Texas' big-time freshmen receiving recruits Darius White and Mike Davis are on campus to compete with the remainder of the Longhorns receivers after the departures of Jordan Shipley and
Dan Buckner
. Whoever develops solid chemistry with quarterback
Garrett Gilbert
first should have a nice advantage heading into the season. Very few questions surround the Longhorns on defense, who also have exciting freshman Jordan Hicks competing for playing time at linebacker.
2. Oklahoma:
Honestly, my gut tells me to slide the Sooners above the Longhorns based on
coach Bob Stoops comments at media days
, but I'll give the champs their due entering the preseason. Oklahoma loses its top three blockers from a season ago, and any growth from Oklahoma's eight-win team last season will have to start on the offensive line. Stoops believes it will. If it does, look for the Sooners and Longhorns to switch positions if Oklahoma earns wins against Florida State and Cincinnati while Texas beats up on Rice and Wyoming. A convincing win at Texas Tech might keep the Longhorns on top.
3. Nebraska:
The Huskers quarterback issues can't end soon enough. The Big 12 blog's pick:
Zac Lee
. With its offensive line and quality running backs, Nebraska will be able to run the ball. If Lee can establish himself as the best passer of the group, his skills will better serve the offense than the more athletic
Cody Green
and
Taylor Martinez
. We won't know very much about how good the defense will be again this year until the Huskers' date with
Jake Locker
and the
Washington Huskies
on Sept. 18 in Seattle.
4. Missouri:
A solid contender in the North, Missouri's key to hopping over the Huskers lies in the secondary. That group returns all four starters and has another experienced player in junior Kenji Jackson entering camp as a new starter at safety. If it solidifies, Missouri will be a force that spends most of the season in the top 25.
Jerrell Jackson
and
Wes Kemp
should share the spotlight catching balls from
Blaine Gabbert
along with slot man
T.J. Moe
and tight end
Michael Egnew
.
5. Texas A&M:
The Aggies have
the conference's best player
, but its worst defense. Both will need to improve for the Aggies to earn a South title. On defense, new defensive coordinator Tim DeRuyter will have to build around tackle Lucas Patterson, linebacker Von Miller and safety Trent Hunter. Three freed-up offensive line spots -- which might all be filled by freshman -- will have to be solid and consistent for the offense to remain one of the Big 12's best, despite the Aggies' talent at the skill positions.
6. Kansas State:
Running back
Daniel Thomas
led the Big 12 in rushing with almost no help from the quarterback spot last season, so the competition between
Carson Coffman
,
Collin Klein
and
Sammuel Lamur
isn't immensely important to Kansas State's success. No doubt, they'll be a lot better with great play from one of those three, but they won't be a bad team without it. Two of the Wildcats' top four tacklers will be junior defensive backs in 2010, Emmanuel Lamur and Tysyn Hartman.
And yes, I am very proud that I'm still batting 1.000 in not mixing up Sammuel and Emmanuel Lamur. Stay tuned, though.
7. Texas Tech:
The Red Raiders have a great chance to move up this poll after hosting Texas on Sept. 18. Whoever wins the quarterback competition between
Taylor Potts
and
Steven Sheffield
should excel, which not every team in the Big 12 with a quarterback battle can say. Tech's aggressive new defense will have to limit big plays to see success in the first year under coach Tommy Tuberville and defensive coordinator James Willis. A convincing opening-week win against SMU will look better in December than some Tech fans might think after the team's Sunday, Sept. 5 debut.
8. Oklahoma State:
One of the conference's wildcards, the Cowboys bring back just eight starters from last season, and will showcase a radical new offense in Dana Holgorsen's version of the Air Raid. Oklahoma State's receiving corps, led by
Hubert Anyiam
and
Tracy Moore
, is extremely underrated and could surprise plenty of folks in 2010. Their first real test comes Sept. 30, when they'll get a chance to knock off media darling Texas A&M in Stillwater.
9. Iowa State:
The Cyclones nonconference schedule has made plenty of headlines this offseason, and Iowa State isn't shying away from its dates with Northern Illinois, Iowa and Utah. The legal issues surrounding defensive star
David Sims
appear to be resolved with an opening-game suspension, and running back
Alexander Robinson
looks ready for another big season after rushing for over 1,000 yards in his 2009 breakout season. Iowa State will need to steal a few games like last season to qualify for a second consecutive bowl game.
10. Baylor:
Freshman safety Ahmad Dixon is impressing early in camp with a few big hits, and is making good on his status as one of the best recruits in Baylor history. Another -- Robert Griffin -- is already dealing with the pressures of delivering a bowl game to Waco. Coach Art Briles will need more players like Dixon and Griffin to move the Bears goals past just making a bowl game.
11. Colorado:
The only team to move up from its position in
the post-spring power rankings,
Colorado simply brings back more talent than Kansas, and added two new receivers in UCLA non-qualifier Paul Richardson and
Travon Patterson
, whose transfer from USC was finalized on Monday. The offensive line has a lot of talent in Nate Solder and Ryan Miller, but the other three members will have to improve if the Buffs are going to rush for more than 1,055 yards like in 2009 (11th in the Big 12) and give up fewer than 43 sacks, 11 more than any other team in the Big 12.
12. Kansas:
Losing your three best players from a team that finished last in the Big 12 North a season ago -- plus implementing a new coaching philosophy -- is a recipe for a rebuilding year. That's where the Jayhawks sit to begin 2010. They've got good young talent in linebacker Huldon Tharp and receiver
Johnathan Wilson
, who are both sophomores, but they face major questions at quarterback with inexperienced candidates
Jordan Webb
and
Kale Pick
battling for the No. 1 spot. Last season's leading rusher,
Toben Opurum
, is also nowhere to be found on the depth chart after battling injuries throughout the spring. The Jayhawks were the only team in the conference to return all five starters on the offensive line, but
a season-ending injury to tackle Jeff Spikes
eliminated that status. Brad Thorson, who played both guard and tackle last season, is also recovering from a broken foot. A win against Southern Miss and a competitive loss to Georgia Tech would earn the Jayhawks some more respect.