April, 6, 2011
4/06/11
6:56
PM ET
One half of USC coach Lane Kiffin's Tennessee feudin' is over.
Kiffin, USC and the Tennessee Titans have settled their differences. The Titans last July
filed a lawsuit
against Kiffin and USC for interfering with the contract of running backs coach Kennedy Pola, who was hired to be the Trojans running backs coach.
Most observers (perhaps it was just me) believed the Titans were acting like big babies -- litigious and disingenuous ones at that -- so it's nice to put this to bed.
Here's a joint statement from USC and the Titans on the matter:
"We are pleased to be able to conclude a mutually satisfactory arrangement between the University of Southern California and the Tennessee Titans that concludes the litigation involving the hiring of Kennedy Pola. The settlement terms are private, but include opportunities for both parties to avoid future disagreements and disputes over employment of persons who are already employed by either party. With this amicable resolution, the Tennessee Titans and the University of Southern California have restored their long-time mutual relationship, and anticipate that the suit will be dismissed within the next few weeks."
Kiffin continues to have his NCAA issues based on his brief but colorful tenure coaching the Tennessee Volunteers, who volunteered Kiffin as
their fall guy for rules violations
.
July, 27, 2010
7/27/10
5:00
AM ET
1. Texas coach Mack Brown said Monday that not only is he in favor of the 10-team Big 12 Conference playing a full round-robin schedule (as does the Pac-10), but that the Longhorns have begun reaching out to other marquee teams to find at least one difficult non-conference game every season. That's even more impressive given that Texas will be playing only three non-leagues per year, not four.

2. Surely Lane Kiffin is not the first head coach to poach an assistant without permission. What's striking about the USC coach's latest misstep is that he didn't follow protocol when dealing with a Trojan alum and friend of the program, Tennessee Titans head coach Jeff Fisher. Kiffin stole Titans running back coach Kennedy Pola, a former USC assistant. Bad enough that the NFL team sued USC and Kiffin. What's worse, Fisher humiliated the head coach of his alma mater.

3. Let's say that Ole Miss coach Houston Nutt, down to one quarterback, signs Oregon washout Jeremiah Masoli. In order for everything to work, Masoli would have to travel across the country, fit in with a team he doesn't know, fit in with a culture he doesn't know, all while dealing with the reputation as a guy who threw his career away at Oregon. Talk about gambles. Nutt would have an easier time filling an inside straight.
July, 26, 2010
7/26/10
6:36
PM ET
Lane Kiffin and USC just can't
stay out of the news
.
The Tennessee Titans filed a lawsuit Monday against Kiffin and USC for interfering with the contract of running backs coach Kennedy Pola, according to
a report in The Tennessean
.
Kiffin hired Pola away from the Titans to be his running backs coach and offensive coordinator over the weekend, and it
didn't go over well
with Titans coach Jeff Fisher.
Apparently, Fisher -- a former Trojan -- wasn't fully mollified after a conversation with Kiffin when he was given "an accurate understanding of the timeline of events," according to a statement from Kiffin.
From the newspaper:
The lawsuit was filed in Davidson County [Tenn.] Chancery Court and it claims Pola breached his contract with the Titans after being induced by Kiffin. Pola, hired by the Titans in January, was hired by USC over the weekend as the school's new offensive coordinator.

The lawsuit states "as a result of USC and Kiffin's tortuous conduct, Tennessee (Titans) football has been damaged in an amount proven at trial.''
First thought: How sympathetic would a judge or jury from the state of Tennessee be towards Kiffin?
Second though: Really?
I know it's practically un-American to take any position that is remotely sympathetic to Kiffin, but this is frivolous litigation, and USC fans should be furious at Fisher for apparently allowing it to go forward.
Fisher didn't get a courtesy call from Kiffin about Pola: So, yes, he had a right to be steamed.
Yet now his justifiable anger has become a lawsuit against is alma mater, which he might have read hasn't had the greatest of offseasons. Why file the lawsuit? One reason: To embarrass Kiffin. But by doing so, Fisher is harming USC.
Fight on! Jeff.
Sniff, sniff: Anyone else smell a PR stunt from the Titans intended to make Volunteers fans -- read: the entire state -- giddy with Schadenfreude?
July, 24, 2010
7/24/10
3:59
PM ET
By
ESPN.com staff
| ESPN.com
The
USC Trojans
have hired
Tennessee Titans
running backs coach Kennedy Pola to serve as offensive coordinator under Lane Kiffin.
The move, however, has Titans coach Jeff Fisher questioning Kiffin's professionalism -- saying that nobody from USC contacted him before Pola left.
"So I am very disappointed in the lack of professionalism on behalf of Lane, to call me and leave me a voicemail after Kennedy had informed me he had taken the job," Kiffin told The Tennessean Saturday. "It is just a lack of professionalism."
Read the full ESPN.com report here.
January, 10, 2010
1/10/10
12:32
PM ET
If you were ranking the wish list pecking order for who USC might want to hire to replace coach Pete Carroll -- and, yes, we
continue to wait
for an official announcement from the Seattle Seahawks -- it likely would go: 1. Oregon State's Mike Riley; 2. Tennessee Titans coach Jeff Fisher; 3. Jacksonville Jaguars coach Jack Del Rio.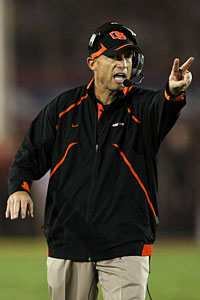 Stephen Dunn/Getty ImagesMike Riley and the Beavers finished 8-5 this season.
From the moment Bruce Feldman first reported it -- and other insiders have since backed it up -- Riley has been
choice No. 1
.
Riley would be an interesting hire. Combine his acumen as a talent evaluator and X's and O's skills with USC's recruiting base and national reach, and the end-result could be outstanding. His sterling reputation of a man of integrity also would go over well with the NCAA, which is investigating the Trojans' football program.
The question is whether Riley wants the job. There's a big difference between Oregon State and USC, Corvallis and LA, from expectations to lifestyle. Heck, start with traffic.
Riley has repeatedly said since he returned for his second tenure at Oregon State that he wants to retire a Beaver and he's never seemed driven by money, which he certainly could make more of with the Trojans. He's repeatedly said that his "grass is always greener" life lesson was when he left Oregon State for an ill-fated stint with the San Diego Chargers.
That doesn't mean he's not going to talk to the Trojans, but for the sake of this blog entry, let's say he doesn't want the job.
Then comes Fisher, who like Riley, USC athletic director Mike Garrett
tried to hire
before. But Fisher, who played at USC, has two years left on a contract that pays him $5.5 million a year, not to mention that he is a career NFL coach.
Let's say he also doesn't want the job.
What about Del Rio?

Del Rio
That could be an interesting choice, starting with the fact that he
might want the job
.
He's a former USC linebacker and has an impressive
coaching resume
, particularly on defense.
On the downside, like Fisher, Del Rio is a career NFL coach. And he has three years left on a contract that will play him more than more than $15 million.
Ah, but there's also an intriguing upside.
Check this out
. That's Del Rio's coaching staff in Jacksonville. See the offensive coordinator and running backs coach?
If Del Rio could bring Dirk Koetter and Kennedy Pola with him to USC, that would be a major coup.
Say what you want about how things went for Koetter at Arizona State -- and things didn't go well toward the end -- but the man knows offense. Just ask current Nebraska coach Bo Pelini. When Pelini was LSU's defensive coordinator -- and a highly respected one at that-- Arizona State rolled up 560 yards in a 35-31 loss.
Koetter and quarterback
Matt Barkley
could make beautiful music together.
Moreover, Koetter knows the Pac-10 and the recruiting landscape of the West Coast. If Del Rio needed help finding his way around a college coaching job, Koetter obviously could offer guidance.
And USC folks surely remember Pola, also a former Trojans player and coach. He was a USC assistant from 2000-2003 and earned a reputation as an outstanding recruiter.
Del Rio also may soon be available, or at least the Jaguars might embrace a way to save themselves some money on his contract. According to Gene Frenette of the Florida Times Union, "Del Rio is expected to meet with Jaguars owner Wayne Weaver on Monday or Tuesday to discuss this past season which ended with a four-game losing streak, a 7-9 record, and many fans calling for Weaver to bring in a new coach."
Hmm.
You know, the last time Garrett was unable to hire his first -- or second -- choice, things seemed to work out OK for the program.