February, 27, 2013
2/27/13
10:30
AM ET
Memphis

Spring Start:
Feb. 28
Spring game:
April 6
What to watch:
Quarterback: Jacob Karam returns as the starter after throwing for 1,895 yards, 14 touchdowns and three interceptions. But coach Justin Fuente says Karam will be pushed during the spring and has to win the starting job all over again.
Bump up the physicality: Fuente has said repeatedly that he wants to see his team be more physical, especially now that it is joining the Big East. The spring is the perfect chance to improve in this area. "We will play some of the same teams we played last year, but they will be the bigger, more physical teams we played last year," he said. "We have to understand that we have a lot of ground to make up. That is not ground that is made up easily."
Competition at defensive back: The Tigers lose two starters from their defensive backfield -- Cannon Smith and Robert Steeples -- and Fuente is excited about the competition at this position going into the spring.
Rutgers

Spring Start:
March 26
Spring game:
April 27
What to watch:
Quarterback: Even though coach Kyle Flood says Gary Nova is his starter, you can bet there is going to be competition at this position going into the spring, especially with a new offensive coordinator in Ron Prince. That doesn't mean there will be changes, but certainly Prince is going to want to take a look at all the players he has available to evaluate what they can or cannot do.
Defensive leaders: Rutgers lost its top defensive playmakers and needs to find guys who can step in for Scott Vallone, Khaseem Greene, Steve Beauharnais and Logan Ryan, to name four. Plus, there is a new coordinator in Dave Cohen, so there might be some adjustment period.
Huggins stepping up: The time is now for the highly heralded local recruit to live up to the expectations that came with him when he arrived on campus. Jawan Jamison is gone off to the NFL, so all eyes have turned to Huggins to see if he has what it takes to be the next 1,000-yard rusher.
SMU

Spring Start:
March 25
Spring game:
April 20
What to watch:
Replacing Zach Line: The Mustangs have to replace their top runner over the past several seasons in Line, who had three straight 1,000-yard seasons. Leading the charge this spring are junior college All-American Traylon Shead and reserve back Rishaad Wimbley, who switched from defense a few seasons ago.
New defensive starters: The Mustangs lost the bulk of their playmakers on defense in Margus Hunt and linebackers Taylor Reed and Ja'Gared Davis. Finding guys to step up without them is a huge priority. Watch for Zach Wood at defensive end in place of Hunt; and Kevin Pope and Robert Seals at linebacker.
More consistency at QB: June Jones' offense runs best when the quarterback is at his best. Garrett Gilbert returns as the starter, but he is going to need to find much more consistency this spring and into the fall. Two numbers that have to be improved: accuracy (53 percent in 2012) and touchdown-to-interception ratio (15-to-15 in 2012).
USF

Spring Start:
March 20
Spring game:
April 13
What to watch:
New coaches, new style: Coach Willie Taggart has promised to ratchet up the intensity and transform his team into more of a smash-mouth group. That process begins in the spring, when he has his first opportunity to really show his players what he expects out of them. You can bet he expects a lot more physicality from his offensive and defensive lines to start.
Quarterback competition: Who will emerge as the starter? Will we even know after the spring? Matt Floyd and Bobby Eveld, the top two candidates, have plenty of work to do as they fight to win the starting job. But this competition could very well go into the fall, when freshman Mike White arrives on campus.
Defensive back improvement: This was the worst group the Bulls had a year ago and the one in most need of immediate improvement. USF registered two interceptions in 2012, tied with Auburn for the fewest among all 120 schools in the nation. And they both came in the same game -- against UConn on Nov. 3.
Temple

Spring Start:
March 22
Spring game:
April 20
What to watch:
New staff: Matt Rhule certainly has a familiarity with Temple, having served as an assistant there under both Al Golden and Steve Addazio. But anytime a new coach comes in, there is change, so the spring gives him his first chance to really start implementing his style and what he wants to get accomplished.
Quarterbacks: You can bet this competition is going to be open this spring, with Chris Coyer, Juice Granger and Kevin Newsome all returning. Coyer and Granger both started a year ago; Newsome transferred in from Penn State a few years ago. How this shakes out is one major story to watch.
Running backs: Montel Harris and Matt Brown are gone, taking with them 1,426 yards rushing and 16 of the team's 21 rushing touchdowns. Jamie Gilmore got more carries as the season went on when Brown was hurt; Kenny Harper also is back and certainly will be relied upon even more.
April, 26, 2012
4/26/12
3:30
PM ET
PHILADELPHIA -- Temple coach Steve Addazio has always had a vision for his offense: a perfect blend of the power-run game and the spread, a way to keep defenses totally guessing.
He never quite got there during his time as offensive coordinator at Florida. But he thinks he is there now with Temple, thanks to a dual-threat/power-run quarterback in
Chris Coyer
, and some hybrid players at the tailback, receiver, fullback and tight end.
[+] Enlarge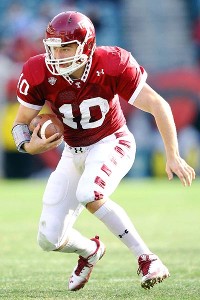 Danny Wild/US PresswireTemple coach Steve Addazio said quarterback Chris Coyer reminds him of another QB that he once coached -- Tim Tebow.
"I always thought cutting edge was the ability to not only be in a spread component, but then to have the ability to line up under center and come right at you," Addazio said. "We never quite got that done at Florida. We stayed in the shotgun with Tim (Tebow) and we had a lot of success with Tim doing that. ... But in my heart, I always knew, when I get a chance I'm going to run this thing. I want a defense to feel the power aspect, defend the run-power game, and then have the ability in that same grouping to spread the field and put in a spread-option component. That's where we are now."
It has taken time. Addazio's first order of business when he arrived at Temple was to mold a physical football team. That meant focusing heavily on the power-run game, something he could do with two established runners in
Bernard Pierce
and
Matt Brown
and a veteran offensive line.
When he turned to Coyer as his starter deep into the season, he was able to evolve the spread aspect of the offense. Coyer has the ability to line up under center or in the shotgun, something Temple did plenty of in its bowl win against Wyoming.
"I think we've got that blend now I've wanted the last couple of years," Addazio said. "When you play us, you're going to get a power attack in the running game, a two-back, two-tight end, fullback, downhill-run game at you. And then you're going to get a shotgun spread-option game coming right at you as well. That's a way that's going to be unique as we move forward. That's my vision. It was a great feeling being able to get that done up here because I wanted to get that done for a long time."
Keeping defenses off guard is a huge goal in Year 1 in the Big East. Addazio and offensive coordinator Ryan Day hopes this gives the Owls an advantage in a new conference environment, because they may be at a disadvantage in other areas, like depth and size up front.
"A defense only has so much time on a week to week basis to prepare for what you are doing," Day said. "Lining up under center, having a power run game creates its own issues for a defense. Attacking a defense with that, then having the spread offense component to it, now it creates a lot of stress to say: 'Now this is what we have to stop but wait a minute, we also have to stop this and we also have to stop this.'"
So who are the key players to watch in 2012 at some of these hybrid positions? Addazio breaks a few down:
QB: Coyer.
"He gives us a chance to be more multi-dimensional." On the comparisons between Coyer and Tebow, he said, "We are headed that way now. I see some of the similarity there. The difference for us is, we are still going to have a lot of under center offense."
IR/TB: Jalen Fitzpatrick.
"He was a spread-option quarterback in high school. We brought him here, and moved him to inside receiver and then to tailback. Since (former Florida receiver) Percy Harvin, he is a guy to me that is a true hybrid. He really can do that."
TB/FB: Kenny Harper.
"Kenny is a 230-pound back. He is tough so you can put him in as a tailback or fullback. So that gives you another hybrid deal."
TE/FB. Alex Jackson.
"He's a guy that can play on the point and block you, he can stretch the field vertically with his speed but he is now learning how to have power on the attack. He's a hybrid tight end. What's a hybrid tight end? It's a guy who can line up in the backfield and move around, line up and block you, or you can flex him out and he can beat a safety in man coverage."