April, 10, 2014
Apr 10
3:30
PM ET
NASHVILLE, Tenn. -- When Jim Harbaugh was in search of a defensive backs coach in 2010, he wanted someone who preferred a 3-4 defense. Stanford was making the transition to that scheme at the time. Harbaugh had already hired longtime NFL assistant coach Vic Fangio to run the defense, and he wanted like-minded assistants.
Enter Derek Mason. The up-and-coming coach had spent the last three years in the NFL with the Minnesota Vikings, and though they ran a 4-3, Mason knew his way around a 3-4 defense dating to his early days at Bucknell University.
"I think it's a different mentality," Mason said. "I think it's a difference of philosophy in terms of what we look to do. Obviously when you go from a four-man front to conceivably what's a five-man front, there's a different mentality in terms of how you attack the line of scrimmage and what you're looking to do with your structure."
[+] Enlarge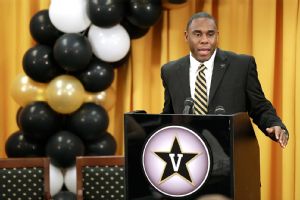 AP Photo/Mark HumphreyFour years of success running Stanford's D has Derek Mason looking to do more as the head coach at Vanderbilt.
After Harbaugh left for the NFL, Mason was promoted to co-defensive coordinator at Stanford and put his own stamp on the Cardinal's defense. Now, four years later, he's bringing that defense with him to Vanderbilt, except that this time he's in Harbaugh's shoes. For the first time in his career, he's the head coach.
Like his old boss, Mason went out and hired defensive coaches who share the same philosophy. And who better to serve as his defensive coordinator than David Kotulski, the inside linebackers coach at Stanford and the man who introduced the 3-4 defense to Mason when the two were together at Bucknell 15 years ago?
Bucknell was Kotulski's second defensive coordinator job. Vanderbilt will be his sixth.
"We're very excited about the young men that we have," Kotulski said. "Is there a transition point? Yes. And we put a lot of stuff in, no question about it. At this point in time, we just have to keep on playing faster as a unit, and it will come as we keep on getting better."
Changing defenses is never easy, but Mason knows what to expect as this Vanderbilt defense goes through the same transition.
Defensive linemen who are used to being on the edges are now being asked to take on blocks in order to free up linebackers. Defensive ends who have always played with their hand in the dirt are being asked to drop back and play in space.
"I think it's a three-phrase approach," Mason said. "I think it goes from spring into summer and then back to fall. What happens is right now they're learning it for the first time. When you come back in fall camp, they will now have heard it for the third time, and I think hearing it for the third time, that's when it starts to go.
"I really believe that where we're at right now is just the first phase of it. We'll be fine."
Veterans
Caleb Azubike
and
Kyle Woestmann
are among those in unfamiliar territory this spring.
As defensive ends a year ago, Azubike shared the team lead in tackles for loss (9.5), and Woestmann finished with a team-high six sacks. In the new defense, they're both moving to outside linebacker, where they will play standing up for the first time.
"We're learning a new scheme, obviously," Azubike said. "But playing with this new coaching staff has made the process much easier because they understand the fundamentals needed. They don't rush you. They try to make sure you know exactly what to do in every single aspect of the game. With their help, there's very little we couldn't do."
"The new staff is incredible," Woestmann added. "These coaches are great X's and O's coaches. "They show us how the fits work and all the moving pieces that you draw up on the whiteboard. They do a great job really teaching us how to play football."
As the Commodores adjust to the new defense, they're doing so essentially without eight starters from a year ago, including two potential NFL players in cornerback
Andre Hal
and safety
Kenny Ladler
. It's a unit that has talent, but is lean on experience. The goal is to develop leadership and game experience, but that will come with time.
"It's not a goal of winning championships right now," Kotulski said. "It's about getting better each time. Now, bottom line, that's what we're talking about. We didn't come here to play for second. You play hard. You play fast. You have fun playing it. You compete and when you put all those pieces together, good things happen.
"Hopefully, we'll play a lot of important games as the years go on."
January, 11, 2014
Jan 11
9:30
AM ET
The loss of James Franklin
is really going to sting for Vanderbilt. There's just no way to get around it, but all should not be lost for those that make up a more-energized Commodores fan base.
While it will be very hard for Vanderbilt athletic director David Williams to replace the charisma, fire and work ethic that Franklin displayed every day he was on the job, the program is light-years ahead of where it was before Franklin's arrival in 2010, which should help make this a more attractive job for top-notch coaching candidates.
[+] Enlarge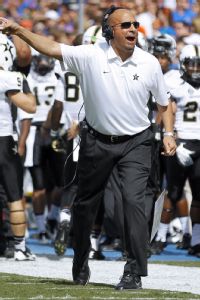 Zumapress/Icon SMICoach James Franklin, who is now Penn State's new coach, has left a solid foundation at Vanderbilt.
Vanderbilt was the perennial cellar-dweller of the SEC before Franklin came along. Now, there's swagger after three consecutive bowl berths (two straight wins) and back-to-back nine-win seasons (all firsts for the Commodores). The facilities have vastly upgraded and they'll only continue to get better because of what Franklin did -- and demanded. A new coach might not have the attitude and salesmanship of Franklin, but he'll have a good base to work with in Nashville, Tenn.
When Vanderbilt hired Franklin more than three years ago, the program had won just four games total in the previous two seasons and had always been traditionally looked down upon. Making a bowl would have been a major accomplishment for Franklin and the program, but he went far beyond that. Because of his triumphs with the Commodores, it will be much easier for this program to attract a decent name from the coaching ranks.
The Commodores could certainly look in-house, at defensive coordinator Bob Shoop or offensive-line coach Herb Hand, but if Williams decides to search elsewhere, he shouldn't have much of a problem luring solid candidates. Expect well-known up-and-coming coordinators to hear their names attached to this opening. Vandy might never be a true SEC championship contender, but it's now a job that you can't laugh at. There's moxie and confidence swirling throughout that locker room and program.
There's also a new breed of talent. Studs such as
Jordan Matthews
,
Wesley Johnson
,
Andre Hal
and
Kenny Ladler
might be gone, but there's a solid group of youngsters still in town. Keep an eye on running backs
Jerron Seymour
and
Brian Kimbrow
. Defensive end
Caleb Azubike
appears to have a bright future ahead of him, as do cornerbacks
Paris Head
and
Jahmel McIntosh
.
Getting Vandy to stay competitive means the Commodores' next head coach has to be able to build immediately. Even with a solid foundation, he has to be able to hit the same recruiting spots in the Southeast, especially the Atlanta area, with the same tenacity Franklin showed. He has to be able to keep the same level of confidence in that locker room and he has to invigorate a fan base that took a bit of an emotional hit with the loss of Franklin in order to keep this program relevant.
What Franklin did in Nashville was tremendous. Even after taking Vandy bowling in his first season, there was still plenty of skepticism. But the next year he did it again, this time winning a bowl, and equaled that accomplishment in 2013.
Really, keeping Franklin this long was a major win for Vandy, and now he leaves this program in much better shape than how he found it. He showed that there's a recipe for winning at Vandy -- but it isn't easy, and he's leaving some monster shoes to fill. The expectations are much higher at Vandy and it's going to take a special person to keep this momentum going.
Institutions with strong academic traditions have proven of late that winning is in fact an option. Vandy beat Florida, Georgia and Tennessee in the same season for the first time ever in 2013 and hasn't lost a game in November since 2011. This team had a ton of momentum going into the offseason with Franklin as the coach, but now it's someone else's turn to keep that fire burning. With what Franklin has taught these guys, they'll be able to find it, and you had better believe they'll be motivated to show they can win without him.
January, 4, 2014
Jan 4
11:00
AM ET
Vanderbilt is looking to win back-to-back bowl games for the first time, while Houston wants to show that its high-powered offense can send another SEC defense reeling in the postseason.


The Commodores (8-4) and Cougars (8-4) meet in the BBVA Compass Bowl on Saturday (1 p.m. ET, ESPN) at Legion Field in Birmingham, Ala. Here's a quick preview:
Who to watch:
Vanderbilt wide receiver
Jordan Matthews
. The SEC's all-time leader in receptions and yards steps back into his home state to take on a pass defense that is allowing 276 passing yards per game (ranked 116th in the nation). Matthews was one of the SEC's best receivers this season, catching a league-high 107 passes for 1,334 yards and five touchdowns. He's averaging almost nine catches and 111.2 yards per game.
Matthews had eight 100-yard receiving games this season and has caught double-digit receptions in three consecutive games. But it will be interesting to see if he sniffs the end zone -- Houston has given up just 12 touchdown passes and has 23 interceptions.
What to watch:
Both secondaries. Houston has given up a lot of yards through the air, but one thing that could work in the Cougars' favor is the fact that Vanderbilt starting quarterback
Austyn Carta-Samuels
is out (knee surgery). That means backup
Patton Robinette
will have to lead this offense. Robinette has passed for 488 yards, 2 touchdowns and 3 interceptions this season. If the Cougars can harass him and keep Matthews in check, Vandy will have a long day.
On the other side, Vandy's secondary has been solid all season, allowing just 204 passing yards a game. Leaders
Andre Hal
and
Kenny Ladler
had solid seasons, defending 21 passes and snagging seven interceptions. Houston freshman quarterback
John O'Korn
has thrown for nearly 3,000 yards and 26 touchdowns, while receiver
Deontay Greenberry
has 76 receptions for 1,106 yards and 10 touchdowns.
Why to watch:
The Commodores have been a feel-good story since
James Franklin
took over as coach three years ago, and this is the last time we'll see Matthews play in a Vandy uniform. He's had a truly special career with the Commodores, and it was only elevated with the arrival of Franklin. Plus, the Commodores have a chip on their shoulders after getting passed by Mississippi State in the bowl pecking order.
With Houston, it's a chance to see a team possibly on the rise behind a pretty fun offense that could give the Commodores fits. Behind a young quarterback and young playmakers such as Greenberry and running back
Ryan Jackson
, the future could be very bright for the Cougars.
Prediction:
Vanderbilt 23, Houston 21. Two fun offenses take the field in Birmingham, but Vandy will be without its starting quarterback. This is a big stage for Robinette, but having Matthews next to him to make plays should take the pressure off him.
December, 16, 2013
12/16/13
9:00
AM ET
We still have the bowls to play, but we've gone ahead and selected our 2013 All-SEC team at ESPN.com.
Some of the selections were no-brainers. Others were agonizingly difficult to make. We placed a heavy emphasis on performance in big games, consistency and how a player impacted his team both on and off the field. Durability and being in the lineup the entire season was also a factor. In other words, if a player missed three or four games, we took that into account. And when it was close everywhere else, we looked at SEC-only statistics as the tiebreaker.
Here's what we came up with:
OFFENSE
QB:
Johnny Manziel
, Texas A&M
RB:
Tre Mason
, Auburn
RB:
T.J. Yeldon
, Alabama
WR:
Mike Evans
, Texas A&M
WR:
Jordan Matthews
, Vanderbilt
AP:
Odell Beckham
Jr., LSU
TE:
Arthur Lynch
, Georgia
OL:
Gabe Jackson
, Mississippi State
OL:
Cyrus Kouandjio
, Alabama
OL:
Jake Matthews
, Texas A&M
OL:
Greg Robinson
, Auburn
C:
Travis Swanson
, Arkansas
DEFENSE
DL:
Jadeveon Clowney
, South Carolina
DL:
Dee Ford
, Auburn
DL:
Kelcy Quarles
, South Carolina
DL:
Michael Sam
, Missouri
LB:
Ramik Wilson
, Georgia
LB:
C.J. Mosley
, Alabama
LB:
Lamin Barrow
, LSU
DB:
Ha Ha Clinton-Dix
, Alabama
DB:
E.J. Gaines
, Missouri
DB:
Kenny Ladler
, Vanderbilt
DB:
Cody Prewitt
, Ole Miss
SPECIAL TEAMS
K:
Marshall Morgan
, Georgia
P:
Michael Palardy
, Tennessee
KR:
Solomon Patton
, Florida
PR:
Chris Davis
, Auburn
November, 9, 2013
11/09/13
7:10
PM ET
GAINESVILLE, Fla. -- Ron Zook called it "noise in the system" when negativity swirled around his third and final season at Florida. But Zook never lost to Vanderbilt, much less by blowout in the homecoming game.
That would be Will Muschamp's Gators, who lost their fourth consecutive game, an emotionally draining
34-17 loss
served up on a platter for Vanderbilt (5-4, 2-4 in the SEC) on Saturday. It was the Commodores' first victory in Gainesville since a 7-0 victory in 1945, the first game of the series.
"You're not going to win many games turning it over four times and spotting the ball on the 10, 22 and 4," a dejected Muschamp said after the loss that dropped the Gators (4-5, 3-4) below .500 during the season for the first time since 1992.
[+] Enlarge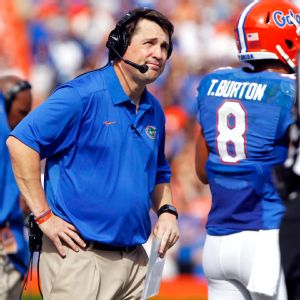 Kim Klement/USA TODAY SportsWill Muschamp and the Gators lost their fourth game in a row, and their first to Vanderbilt at home since 1945.
"We're not good enough to overcome critical mistakes like that. You hold a team under 200 yards. ... Emotionally, it takes the wind out of your sails when you turn the ball over. You throw it to them, you give it to them inside the 10-yard line three times, you're not going to win. We're not good enough to overcome those things. We've got to take care of the ball."
The obvious scapegoat was quarterback
Tyler Murphy
, who was responsible for all four of Florida's turnovers. He threw three interceptions -- each returned deep into UF territory -- and gave Vanderbilt a sack-fumble just before the first half ended.
"I didn't play well," Murphy said. "I mean, when you throw three interceptions, you put the defense in a bind. You kill your momentum offensively. I've got to play better."
Murphy, who took the reins of the offense after
Jeff Driskel
was lost for the season in Week 3, is one of many Gators backups who have been thrust into starting positions. Florida has lost nine players for the season to injury, including five starters.
But Muschamp, Murphy and his teammates refuse to use the injuries as an excuse. The Gators and their fans expected even a hobbled team to defeat Vanderbilt.
The Commodores came to Gainesville with the nation's 85th-ranked scoring defense (30.3 points per game). Murphy took advantage with a career-high 305 yards on 30-for-46 passing, but much of that production came with Vandy safely ahead in the second half.
The expected advantage for Florida's defense, which entered the game No. 5 in the nation in total defense, was even more pronounced.
Vanderbilt came to Gainesville as one of the slowest-starting teams in the country. The Commodores were outscored 85-24 in the first quarters of its first eight games. On Saturday, however, the Commodores scampered through openings in a mistake-prone Gators defense, intercepted Murphy deep in UF territory and took a 10-0 lead, setting an ominous tone.
Murphy's second interception was just as damaging. The junior, who has been struggling with a shoulder injury sustained against LSU on Oct. 12, lofted a long pass into the swirling wind and badly underthrew
Quinton Dunbar
. Vanderbilt safety
Kenny Ladler
easily corralled the ball at the 50 and set up the Commodores offense at the Florida 22. Four running plays later, the Gators were looking at a 17-0 deficit just over 20 minutes into the game.
After a penalty gave them the ball at their own 9-yard line, the Gators finally showed some life with one of their clock-chewing drives. On the 13th play, freshman running back
Kelvin Taylor
ran for 10 yards to set up a first-and-goal, but Murphy checked out of a straight-ahead run to a short-side option that he fumbled out of bounds. After two incompletions, UF settled for a field goal amid a shower of boos from the stands.
"It was a miscommunication between me and the line," Murphy said. "That's just once again [where] we shot ourselves in the foot in the red zone. We got a field goal and needed a touchdown."
Murphy's nightmarish day continued on the third play of the second half. His throw behind
Trey Burton
was bobbled into the arms of Vanderbilt safety
Andrew Williamson
, who followed the first-half script and returned the ball 38 yards to Florida's 4-yard line to set up the Vanderbilt offense for another easy touchdown and an insurmountable 24-3 lead.
After voicing their displeasure, the fans left in droves throughout the second half. Afterward, Muschamp took full responsibility for what they had witnessed.
"I'm a competitor. I don't like losing. I certainly don't like the product we are putting on the field, and that's my responsibility. I take full credit for that," he said. "When it's good, it's good. When it's not good, it's not good, and it hasn't been good. And that's on me. We'll make the decisions to move forward that we need to do to help this football team in the latter part of the season as we move forward. That's my plan. I'm not asking for anybody to be happy. I'm not asking anybody to give a pass.
"My expectation, I'll guarantee, is as high or higher than anyone sitting in those stands. There's nobody more let down or hurt or competitive edge dented a little bit by this run. So it's on me. We'll get it turned. I can assure you that."
The players took a less defiant tone and were more stunned at what their season has become.
"Very shocking," Murphy said. "We come here, everyone in that locker room came to Florida to win and we're not winning, and you know that's unacceptable. As players we know it's unacceptable, and we're just going to keep fighting and keep pushing. We're going to try to make the best out of this season."
With the heat rising after every loss, Muschamp said he is not worried about his job and plans to consider staff changes at the end of the season, as he has done before.
"You evaluate everything at the end of the season and that's certainly what I will do," he said. "I've done that my first two years and I'll do that this year. I'm not worried about that."
July, 10, 2013
7/10/13
5:19
PM ET
We've checked out the top cornerbacks in this league, now it's time to look at the top safeties:
1. Ha Ha Clinton-Dix, Jr., Alabama:
He might be the nation's best safety prospect with his range, speed, athleticism and physical nature. Clinton-Dix has a great football mind when he's on the field and isn't afraid to play high or in the box. What makes him so good is that he's not only a ballhawk and a banger, but he's excellent in coverage, too. He had five interceptions and defended nine passes last season.
2. Craig Loston, Sr., LSU:
It has taken some time for Loston to come into his own at LSU, but he is in position to be one of the nation's best. It's not like he ever lacked the talent, but his work ethic needed some improvement. Having more responsibility thrown his way helped turn his game up and he started to play like the top-flight athlete LSU's coaching staff had been waiting for. He's a ballhawk and can lay the lumber with ease.
[+] Enlarge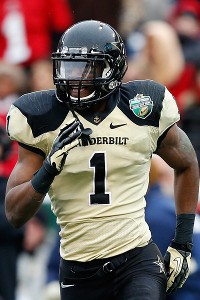 Joe Robbins/Getty ImagesKenny Ladler was a playmaker for the Commodores last season, notching 90 tackles and forcing three turnovers.
3. Kenny Ladler, Sr., Vanderbilt:
He's another one of those safeties who likes to mix it up all over the field and doesn't run from contact. You'll see him in the box ready to pounce. He led Vandy with 90 tackles last year and tied for the team lead with 60 solo stops. He also registered 3.5 tackles for loss, a sack, a forced fumble and two interceptions.
4. Nickoe Whitley, Sr., Mississippi State:
He's basically the grandpa of Mississippi State's secondary, but he certainly doesn't play like an old man. He has 10 career interceptions and was third on Mississippi State's team with 88 tackles last season. Whitley is a big-play threat at the safety spot and covers a lot of ground with his speed.
5. Byron Moore, Sr., Tennessee:
His team-high five interceptions were probably overlooked because of how poorly Tennessee's defense played, but Moore was a heck of a player. Moore, who was second on the team with 86 tackles last year, is extremely versatile as well. He started the first three games of the season at strong safety before moving over to free safety after
Brian Randolph
got hurt. He started the final nine games there.
6. Jaylen Watkins, Sr., Florida:
He's played in 36 games with 19 starts, but the majority of his work has come at cornerback. But Watkins is talented enough and knows Florida's defense well enough that moving to safety wasn't an issue. He played there at the end of last season and cross-trained there all year. He's a physical player, has good coverage skills and should be able to fly all over the field.
7. Demetruce McNeal, Sr., Auburn:
There weren't many positive things to say about Auburn's defense last year, but McNeal was pretty impressive. Off-field issues this spring made his status for the fall uncertain, but now that he's cleared everything up, he should be good to go. He notched a team-high 53 solo tackles last year and was tied for first with seven tackles for loss. Anytime you have a safety who isn't afraid to get rough up front, that's a very good thing.
8. Trae Elston, So., Ole Miss:
The Rebels expected him to play early last year and he didn't disappoint. He played in 12 games and made nine starts as the Rebels' Rover. Elston led the team with six pass breakups, had a sack and recovered a fumble last year. Elston is a big-hitting safety who can play all over. He'll get in the box and cover guys. He's a very dynamic athlete in the Rebels' defense.
9. T.J. Gurley, So., South Carolina:
A knee injury cut his 2012 season short, but even with only eight games under his belt he was selected to the SEC All-Freshman team. South Carolina's coaches are extremely excited about his potential and think he could have been a tremendous player if he was able to finish last season. He didn't go through spring, but should be 100 percent this fall. Gurley has the skill to make plays all over the field and be a solid ballhawk.
10. Tray Matthews, Fr., Georgia:
No, he hasn't played a down in college, but he could be one of the most physically gifted safeties in the SEC right now. He made an immediate impression on his coaches, especially defensive coordinator Todd Grantham this spring, and was an easy choice for the starting free safety spot. He's an excellent tackler, lays bone-crushing hits and has tremendous field range.
July, 10, 2013
7/10/13
2:12
PM ET
Someone has to chase down all those speedy skill position players, and the SEC is well equipped with some fine secondaries this fall.
Here's how they rank going into the 2013 season:
1. Florida:
The Gators will have arguably the nation's best cornerback duo in potential future first-rounders
Loucheiz Purifoy
and
Marcus Roberson
. Purifoy is viewed by many as the nation's top cornerback. He's still raw, but he's a tremendous athlete, has great speed and is getting better at being a pure cover corner. Though Roberson isn't as athletic, he's more polished and has real lockdown ability (14 passes defensed in 2012). Sophomore
Brian Poole
made tremendous strides this spring at corner, and many think incoming freshman Vernon Hargreaves III has the ability to play now. At safety, veterans
Jaylen Watkins
and
Cody Riggs
have moved from corner. Coach Will Muschamp wants to see more from this position, but has plenty of bodies to help Watkins and Riggs, starting with
Marcus Maye
and
Jabari Gorman
.
[+] Enlarge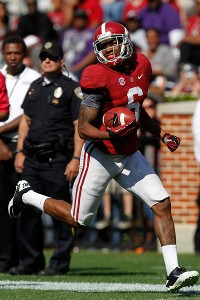 AP Photo/Butch DillHaHa Clinton-Dix could emerge as one of the best safeties in the nation.
2. Alabama:
First-round corner Dee Milliner and reliable safety Robert Lester are gone, but there's a wealth of young talent in the secondary. Safety
Ha Ha Clinton-Dix
is poised to be an All-American and could be the top safety in the country.
Deion Belue
emerged as a very reliable cornerback and should be one of the top players at his position in the SEC this year. Sophomore
Geno Smith
matured quickly last year and was solid this spring, so he shouldn't have a problem stepping into a starting role.
Vinnie Sunseri
gives Alabama a veteran leader at safety, while sophomore
Landon Collins
might be ready go from special teams workhorse to starting safety for the Tide.
3. Vanderbilt:
Andre Hal
is one of the best cornerbacks in the SEC, while
Kenny Ladler
ranks near the top at the safety position in the SEC. Hal was second in the SEC with 14 pass breakups and added two interceptions last season. Ladler figured out a way to be all over the field last year, leading the team with 90 tackles. His safety partner,
Javon Marshall
, is back. Marshall and Ladler tied for the team lead with 60 solo tackles and will be one of the league's best safety duos. Replacing Trey Wilson won't be easy, but there are plenty of options, starting with senior
Steven Clarke
, who was the primary nickel corner.
4. LSU:
The Tigers have to replace Eric Reid and Tharold Simon, but have the bodies to make things right, starting with corners
Jalen Mills
,
Jalen Collins
and safety
Craig Loston
. Mills and Collins were thrown onto the field early last season after Tyrann Mathieu's dismissal and grew up in a hurry. Mills started all 13 games and defended seven passes with two interceptions. Loston had trouble reaching his potential early in his career, but has really turned the corner and should be one of the top SEC safeties. Junior
Ronald Martin
should be fine at the other safety spot, while sophomores
Micah Eugene
and
Corey Thompson
are solid backups. Freshman
Jeryl Brazil
is a freak athlete who should help at corner.
5. Ole Miss:
The Rebels gave up more yards and touchdowns through the air than they would have liked last season, but this group showed good flashes here and there. A good spring and a healthy dose of experience should go a long way this fall. Senior
Charles Sawyer
was very steady at corner after moving from safety and is the leader of this group, while hard-hitting sophomore safety
Trae Elston
has what it takes to be a top safety in this league. Junior
Cody Prewitt
leads the charge at the other safety spot, while
Senquez Golson
will start opposite Sawyer. Highly-touted freshman Antonio Conner could enter the season as the starter at the hybrid "Husky" position. There is a ton of depth in the secondary, starting with big-play machine
Nick Brassell
, who is back after a juco stint.
Quintavius Burdette
and
Chief Brown
provide good reserve options at safety.
6. Texas A&M:
What was a young unit in 2012 is all grown up now. The top player back there is corner
Deshazor Everett
, who became a national name after his game-sealing interception against Alabama. While Everett could be a star, he and top safety Floyd Raven are dealing with legal issues after they were arrested in connection with an April incident at a College Station apartment complex. Getting them on the field is critical for the Aggies.
De'Vante Harris
enjoyed a solid freshman campaign and proved he can be a shutdown corner. Safety is stacked with veterans such as Raven,
Howard Matthews
and
Toney Hurd Jr
., so this unit should be drastically better in 2013.
7. South Carolina:
The Gamecocks lost a top-flight safety in D.J. Swearinger and an experienced corner in Akeem Auguste, but they bring back a lot of athleticism and speed. It starts with junior corner
Victor Hampton
, who has turned into one of South Carolina's best overall players.
Jimmy Legree
moved back to corner from safety last season and tied for a team-high three interceptions and six pass breakups. Talented sophomore
Ahmad Christian
will also push to get on the field.
Brison Williams
is solid at strong safety, while sophomore
T.J. Gurley
could be a stud at free safety. He'll have to battle with the much-improved
Kadetrix Marcus
, but Gurley is one of the team's most talented players. There's a lot of inexperience behind the main guys, and the staff is hoping to get more out of former top safety recruit
Chaz Elder
.
[+] Enlarge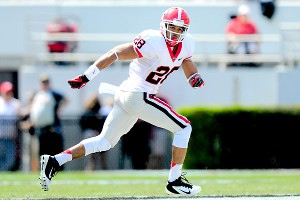 Dale Zanine/USA TODAY SportsTray Matthews could crack the starting lineup in time for the season opener.
8. Georgia:
The Bulldogs lost a ton of production here, but defensive coordinator Todd Grantham is excited by the talent his youngsters have, especially safety
Tray Matthews
, who might already be one of the top players at his position in the SEC. He covers a lot of ground, has great instincts and hits with the best of them. There's "old man"
Damian Swann
, who excelled as both a nickel and boundary corner last year. He's now
the guy
at corner. Sophomore "Star"
Josh Harvey-Clemons
might be the most talented player in the secondary and he'll work at both safety and linebacker in certain packages. Sophomore
Sheldon Dawson
left spring as the other starting corner, and the coaches are excited about his potential, while talented early enrollee
Reggie Wilkerson
will miss the season after suffering an ACL injury. Sophomore
Devin Bowman
should help at corner, along with true freshman Shaq Wiggins, a former ESPN 150 member.
9. Mississippi State:
Jim Thorpe Award winner Johnthan Banks, top interception man Darius Slay and longtime starter
Corey Broomfield
are all gone. It hurts, but the Bulldogs aren't lost in the secondary. Senior
Nickoe Whitley
has loads of experience, while fellow safety
Jay Hughes
really stepped up as a valuable leader this spring.
Jamerson Love
is the most experienced corner coming back and the coaches expect him to break out very soon. But a lot of attention is going to juco transfer
Justin Cox
, who might be the team's fastest player and looks ready to step right in and be a shutdown corner. The top four guys seem solid, but there is a lot of inexperience behind them.
10. Auburn:
Auburn has a lot of experience coming back to a unit that ranked eighth in pass defense last season. That number should be better this year, especially with Ellis Johnson taking over the defense. Corner
Chris Davis
might have only played nine games last season, but Johnson thinks he could be a special player. Corners
Jonathon Mincy
and Josh Holsey also saw plenty of time last year, while
Jonathan Jones
provides solid depth. Safety is covered by the high-flying
Demetruce McNeal
and
Jermaine Whitehead
, who were two of the Tigers' top tacklers last year. This group has to be more consistent and has to generate turnovers. Auburn had just two interceptions last year, with one coming from reserve safety
Trent Fisher
.
11. Missouri:
Senior corner
E.J. Gaines
is one of the best cover corners in the SEC. What he lacks in size, he makes up in athleticism, speed and toughness. He has 27 pass breakups and three interceptions in the last two seasons.
Randy Ponder
had a solid spring and should start opposite Gaines. He has played in 25 games with five starts. Safety
Braylon Webb
is back after starting 12 games last year at free safety, while senior
Matt White
should hold down the other safety spot. Only Gaines and Ponder return with interceptions from last year (one each) and this unit surrendered an average of 333.3 passing yards per game last November.
12. Tennessee:
The Vols do bring back experience, but this same group contributed to Tennessee owning the SEC's second worst pass defense (282.5 yards allowed per game). So that means these players have to grow and simply get better on the field. It won't come over night, but the experience gained last season should help. Safeties
Byron Moore
and
Brian Randolph
, who is coming back from an ACL injury, provide a solid foundation at safety, while returning starting corner
Justin Coleman
has to be much better than he was in 2012. Fortunately for the Vols, Coleman made very good strides this spring. Juco transfer Riyahd Jones could come in and start immediately.
13. Arkansas:
This is another group that returns a lot of experience, but it was also the SEC's worst pass defense last year. The Razorbacks surrendered 8.2 yards per pass, 285.8 passing yards per game and gave up 24 touchdowns with six interceptions. All four starters -- corners
Tevin Mitchel
and
Will Hines
and safeties
Eric Bennett
and
Rohan Gaines
-- but all of them have to get better. Mitchel and Gaines have the potential to be big-time players, but they have to be more consistent. This unit should get a boost from juco transfers Tiquention Coleman and Carroll Washington, while redshirt freshman
Jared Collins
had a pretty good spring.
14. Kentucky:
The Wildcats lost two quality starters and are now stuck with a lot of young players. Coach Mark Stoops wasn't too pleased with the play of the secondary this spring, so this won't be a quick fix. Junior safety
Ashely Lowery
has the playmaking ability Stoops wants back there, but he just resumed working out after his horrific car accident from earlier this year. Youngsters Daron and
Zack Blaylock
,
J.D. Harmon
,
Cody Quinn
, and
Fred Tiller
all saw good time last season, but their growing pains lasted for most of the season. There was some improvement this spring, but this unit has a long way to go before fall.
July, 22, 2011
7/22/11
8:15
PM ET
Alabama:
The Tide led the SEC with 16 players selected on the media's preseason All-SEC team. That's great for PR, and means that there should be some talent in Tuscaloosa this year, but neither the players nor head coach Nick Saban are paying attention to us and what we think.

Good, because the last thing Alabama needs is to get caught in the hype with the goal of winning multiple championships on the line.
"From a logical standpoint, I know there's a couple other teams in our division -- forget about the league -- that have just as many returners starting, and their quarterback," Saban said to the media when asked about being picked to win the SEC. "So even though I have a tremendous amount of respect for the intelligence level and your ability to prognosticate, which we really can't do, I'm not capable of doing it, I don't understand how you come to the decisions that you come to."

LSU:
The Tigers' offense was downright offensive to watch at times last fall, and they know it. LSU was 11th in the SEC in total offense, averaging 341.3 yards per game.
Now, under the tutelage of new offensive coordinator Steve Kragthorpe, there is more optimism on the bayou when it comes to talking about an offense that the Tigers expect to be more pass-friendly.
"I love it," offensive lineman T-Bob Hebert said of the offense. "Coach Kragthorpe brought a new intensity to the offensive side of the ball and he's injected new life in us. We can't wait to get back there during camp, start practicing, get more refined and more like a well-oiled machine. That's how an offense should work -- like a machine."

Ole Miss:
The loss of linebacker and emotional leader D.T. Shackelford this spring to a knee injury was absolutely devastating for the Rebels. The centerpiece of the defense is gone and Ole Miss didn't find a replacement this spring.
However, prized recruit C.J. Johnson appears to have what it takes and Houston Nutt isn't going to hesitate throwing him in the regular rotation early.
"C.J. Johnson doesn't look like a guy just coming out of high school," Nutt said. "Physically he looks the part. So I'm excited about him, getting him going. We'll give him every opportunity to get in the mix.
"Just by default because of D.T. Shackelford's injury, we lose a guy like that, he'll line up second team day one. He'll have every opportunity to play a lot of football."

Vanderbilt:
The Alabama secondary is getting a ton of preseason love, and so is LSU's secondary. But Vanderbilt senior cornerback Casey Hayward says not to sleep on the Commodores' secondary when you start ranking the best defensive backfields in the league.
Hayward was a second-team All-SEC selection by the coaches and media. Senior safety Sean Richardson had 98 tackles a year ago, and his running mate at the other safety spot, Kenny Ladler, was one of the most talented freshman safeties in the league last season. Junior cornerback Trey Wilson also looks like he's coming. He was one of the Commodores' most impressive players this spring.
"We don't get a lot of credit because of our record," said Hayward, who was second in the SEC last season with six interceptions. "But production-wise, when you look at the things we did last year, not too many secondaries did that. I think we'll take it to another step this year."
June, 22, 2011
6/22/11
9:44
AM ET
We head into high-flyer mode as we discuss defensive backs today. They are athletic as ever this season, and some teams return a bevy of secondary talent in 2011.
Here's how the teams look:
[+] Enlarge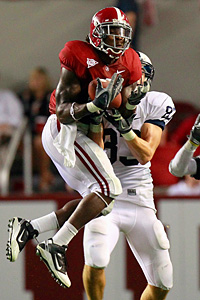 Kevin C. Cox/Getty ImagesMark Barron decided to return to Alabama instead of making himself eligible for the NFL draft.
1. Alabama:
This was an area of the team that was a problem and it wasn't so much the yardage given up but the lack of consistency, especially in big games (see the Auburn game). This year, the Tide should have one of the best defensive backfields in the country. Safety Mark Barron could have entered the NFL draft, but stayed. And while he was in a non-contact jersey this spring, he'll be one of the top safeties around this fall. Robert Lester is another solid safety who is also making everyone's short list of top safeties for next year's draft. At corner, everyone knows Dre Kirkpatrick, but DeQuan Menzie could be Alabama's best weapon in the secondary. Dee Milliner is still in the mix at corner and there is a lot of good young talent as well.
2. LSU:
No Patrick Peterson? No problem. The Tigers are once again loaded in their secondary with corners Morris Claiborne and Tyrann Mathieu. Both are All-SEC material and Claiborne led the Tigers with five interceptions last season. Mathieu found a way to get to the ball often last season and both should make it tough for any quarterback to throw on LSU this fall. Sophomore Tharold Simon made strong improvements at corner this spring as well. Safety Brandon Taylor is another top player at his position and he should be fine after suffering a foot injury at the end of last season. Youngsters Eric Reid and Craig Loston look like stars in the making at safety.
3. Mississippi State:
The Bulldogs return five players who started at some point in 2010. Johnthan Banks, Corey Broomfield and Nickoe Whitley each recorded three interceptions and had 50-plus tackles last year. Broomfield should be the Bulldogs' top option at corner, while Banks can play both corner and safety. Charles Mitchell returns at safety and was third on the team with 93 tackles last season. All of Mississippi State's defensive backs not only have a knack for making big plays down field but they can each play efficiently in the box.
4. Arkansas:
This group is a little inexperienced, but there is a lot of talent to go around. Things start with safety Tramain Thomas. Thomas was fourth on the team in tackles last season and grabbed four interceptions. Thomas looked even better this spring, making play after play. Fellow senior Elton Ford should get time at safety, and converted corner Eric Bennett should get reps as well. Hybrid linebacker Jerico Nelson enhances the group when he drops back with the safeties and Isaac Madison returns at one of the corner spots and should team up with Darius Winston. The two have 27 career starts under their belts.
5. South Carolina:
The Gamecocks' secondary has to improve after underachieving a year ago, and South Carolina has the weapons to do it. Corner Stephon Gilmore wasn't at his best last year, but has tremendous cover ability and speed to be tops at his position. Akeem Auguste moved from safety back to his more natural position at corner and should give the Gamecocks one of the top corner tandems in the SEC. DeVonte Holloman moved to the Spur linebacker spot, so there are still questions at safety, but D.J. Swearinger really impressed this spring and some think he's the most gifted defensive back in Columbia. Replacing Holloman's spot is going to be tough, and the coaches have yet to find someone to solidify that position.
6. Vanderbilt:
This is the strongest part of Vanderbilt's team. The Commodores return a heap of talent, starting with senior corner Casey Hayward, who was a second-team All-SEC pick a year ago. Hayward led the SEC with 11 pass breakups and had six interceptions. Safety Sean Richardson led the team with 98 tackles and would start on a lot of teams in the SEC. The other safety spot is occupied by Kenny Ladler, who was one of the top safeties in the league last season, even as a freshman. Junior Trey Wilson had a great spring and could move past last year's starter Eddie Foster on the depth chart.
7. Georgia:
Like most positions at Georgia, there's no shortage of talent. However, there are still questions. Senior Brandon Boykin is solid at one of the corner spots with his natural corner instincts, great speed and is the defensive leader. Sanders Commings is talented and has the best size, but he'll have to battle Branden Smith at the other corner spot. Smith is a total athlete, but he has to improve his coverage skills. Bacarri Rambo is solid at safety, but he needs to return to the form he had as a freshman. Finding someone to line up next to him is important. With Alec Ogletree moving to linebacker, there is a hole at safety and one of Georgia's newcomers might have to step in this fall.
8. Florida:
The Gators would have been higher on this list had it not been for the dismissal of All-SEC corner Janoris Jenkins. There's a gaping hole at corner, and the hope is that junior Jeremy Brown can help fill it. He finally played after a severe back injury kept him out for two years, and while he struggled at times, Florida's coaches were very impressed with his play this spring. Sophomore Cody Riggs was a pleasant surprise at corner last season and is battling unproven senior Moses Jenkins. There is nothing but youth and inexperience behind them. At safety, Matt Elam had a good spring at strong safety, while free safety wasn't totally locked down by Josh Evans. The good news is that Florida signed six defensive backs this year.
9. Tennessee:
This group could be decent, but there are so many questions. We aren't sure if star Janzen Jackson will return after leaving school this spring. Prentiss Waggner moved from safety to corner last season, where he was an All-SEC performer, and then back to safety when Jackson left. But he might be back at corner this fall. If Waggner is a corner and there's no Jackson, there's an enormous hole at safety. If he stays at safety, then there's one at corner. Fortunately, Brent Brewer, a former minor league baseball player, is a solid safety, and corner Marsalis Teague returns after converting from receiver last season. Incoming junior college transfer Byron Moore should compete immediately for time at corner.
10. Kentucky:
There is a lot of experience with four senior starters returning, but the unit has to show that it can be consistent in big games. Safety/linebacker hybrid Winston Guy leads the group with his speed, strength and athleticism, and will move down into the box as the nickel linebacker. Seniors Randall Burden and Anthony Mosley are back at corner after combing for 11 pass breakups and two interceptions. Junior Martavius Neloms began the spring as the starter at corner, but could see more time at safety this fall. Mychal Bailey will line up at safety and was second behind Guy with two interceptions last season. Inexperience behind this group is still a problem.
11. Auburn:
Things started off poorly when senior safety Michael McNeil was one of the four players arrested for robbery and later dismissed this spring. McNeil, who started seven games last season, was supposed to be one of the stars of the Tigers' defense this fall. Now he's gone and former corner Neiko Thorpe is moving over to safety. The move actually benefits the hit-first defensive back. T'Sharvan Bell is at corner and has the speed and tight cover skills to be one of the best at his position. After that, it's a free-for-all. Incoming freshman Erique Florence should get an opportunity to come in and play immediately at safety.
12. Ole Miss:
This group had to hear about how it was the goat of last season's 4-8 campaign after allowing 246 passing yards a game. It was a motivational tool this spring, but there's a lot of work to do. New defensive backs coach Keith Burns was pleased with the spring progress and really liked how JUCO transfer Wesley Pendleton played at corner. He's competing to take one of those spots from either Marcus Temple, who missed spring with injury, or Charles Sawyer, who had to be pushed at times this spring. The reliable Damien Jackson is back at safety and could line up next to Brishen Mathews, who got good playing time last season, but is still unproven. JUCO transfer Ivan Nicholas and freshman Cliff Coleman will compete for time at safety and corner, respectively.