November, 12, 2012
11/12/12
9:00
AM ET
With Alabama going down at home to Texas A&M, the top six teams in our power rankings really could go any way at this point.
Can you put the Aggies No. 1, even though they lost at home to Florida and LSU? Is Georgia the new No. 1, even with its best win being against a Florida team that keeps regressing on offense with each week that goes by?
This was the toughest week for the power rankings, but it was just too hard for us to move Alabama from the top spot right now:
1. Alabama (9-1; last week: 1):
You can't call the Tide's 29-24 loss to Texas A&M a letdown game. This team was beaten on both sides of the ball. Still, if you take a poll of people out there, most will say this is still the best team in the SEC. Does it have its issues? Yes. But it's still loaded with quality talent on both sides and if Saturday's game was played again, it might be hard to go against Alabama twice in a row. This is the only team to win at LSU this year and still controls its destiny to a BCS bowl game.
2. Georgia (9-1; LW: 2):
The Bulldogs are playing their best ball of the season right now and have an argument to take the top spot in our power rankings. However, the best win Georgia has is against a Florida team that has taken some mighty steps backward on offense. It also has that ugly 35-7 loss to a South Carolina team that lost by 30 to Florida. It's hard to say what would happen if these two teams played today, but the Bulldogs are really clicking at the moment.
3. Florida (9-1; LW: 3):
This was probably the toughest team to place in the power rankings. When you look at the offense, the Gators feel more like a 6, but it's hard to argue with their results. Florida went on the road and beat Texas A&M and beat both LSU and South Carolina at home. LSU and South Carolina were both ranked in the top 10 at the time. Now, LSU is playing at its best and the Aggies are one of the country's hottest teams. Florida's offense might be ugly, but this team's résumé is as impressive as anyone else's in the SEC.
4. Texas A&M (8-2; LW: 6):
Talk about hot! The Aggies are burning up and quarterback
Johnny Manziel
is more than a legitimate Heisman Trophy contender after the win at Alabama. The Aggies not only showed that they truly belong in the SEC but they punished the nation's top team and might have eliminated the SEC from making it to the BCS title game. This team did it with its most complete game of the season and no one in the country wants to tangle with Johnny Football's crew right now. The only negatives that stick out are home losses to Florida and LSU.
5. LSU (8-2; LW: 4):
It took two months, but the Tigers' offense has finally arrived.
Zach Mettenberger
has played very well in back-to-back games, throwing for 571 yards and three touchdowns to zero interceptions. Imagine if this Mettenberger showed up to the Swamp back in October. That win over Texas A&M just looks better and better for the Tigers, and if LSU wins out, the Tigers could be right back in contention for a BCS bowl game.
6. South Carolina (8-2; LW: 5):
Life without
Marcus Lattimore
won't be as enjoyable for the Gamecocks, but they didn't miss much of a beat against Arkansas. South Carolina erased its recent struggles with the Razorbacks by clobbering them 38-20 over the weekend. Even without Lattimore, the Gamecocks were very balanced on offense and have a pretty solid duo in senior
Kenny Miles
and freshman
Mike Davis
. The Gamecocks feel as though they're still under the radar, but a solid bowl is in their future.
7. Vanderbilt (6-4; LW: 8):
Don't look now, but the Commodores are bowl eligible for the second straight year. It looks like Vandy will make it to a bowl game in consecutive years for the first time in school history. Coach James Franklin has done a wonderful job turning things around in Nashville, and this team is good enough to finish the season with eight wins. Vandy has won four straight games and has a real chance of ending the regular season on a six-game winning streak with Tennessee and Wake Forest left.
8. Mississippi State (7-3; LW: 7):
After starting the season 7-0, the Bulldogs have lost three straight and really haven't looked very competitive in each of those losses. In the past three games, Mississippi State has lost by an average of 25 points and has been outscored 113-37. Granted, this team has lost to three teams that are all currently ranked in the top 10 of the BCS standings, but the Bulldogs were really never in any of those contests. Mississippi State still has a chance at 10 wins, but it has to beat Arkansas and Ole Miss and win its bowl game. Right now, the odds are against the Bulldogs.
9. Ole Miss (5-5; LW: 9):
The Rebels were the feel-good story of the SEC for most of the season, but now find themselves on a two-game losing streak. Ole Miss just can't seem to figure out Vanderbilt and now has to hope for a win in the next two weeks or the Rebels won't be going bowling. Saturday's 17-point blown lead shows how much depth is an issue for the Rebels. Ole Miss is very capable of stealing a win in the next two weeks, but it has to play better in the second half. In its past two losses, the Rebels have been outscored 44-10 in the second half.
10. Missouri (5-5; LW: 12):
And just like that, these Tigers are a win away from being bowl eligible. All the offense needed to get going again was some help from Tennessee's defense. Led by banged-up quarterback
James Franklin
, the Tigers rang up 51 points and 454 yards on the Vols in their quadruple-overtime win in Knoxville. Mizzou showed that it has the skill on offense to move the ball consistently, but it will have to keep that momentum going with a Syracuse team that routed previously unbeaten Louisville up next before facing the Aggies.
11. Arkansas (4-6; LW: 10):
History wasn't on the Hogs' side over the weekend against South Carolina. This team just didn't have much in the tank against the Gamecocks and is now a loss away from missing out on a bowl game. So much was expected from this team before the season, but the loss of Bobby Petrino was just too much for the Hogs to deal with. Arkansas players have shown heart and made a short bowl push, but most around that program probably are ready for this season to be over with.
12. Tennessee (4-6; LW: 11):
This isn't what anyone in Knoxville wanted. The Vols were supposed to be competitive in the SEC East and now find themselves on the verge of not making a bowl game for the second straight season. At least Tennessee won a conference game last year. It's hard to bet on this team doing that, even with floundering Kentucky left. Derek Dooley's days as the Vols' coach are certainly numbered and the defense needs a major overhaul if there's going to be any sort of improvement. Nothing is going right for this team and it's clear a lot will look awfully different next season.
13. Auburn (2-8; LW: 13):
Like Tennessee, nothing is getting better. Gene Chizik is fighting for his coaching life on the Plains, and by the way the student section looked in the second half against Georgia, few are really invested in this team right now. You thought you'd see some sort of life from the Tigers after they notched their second win of the year, but Auburn was blasted 38-0 by the Bulldogs, failing to score on Georgia for the first time since 1976. It's highly unlikely this team will be very competitive against Alabama and it seems like only a matter of when as far as change coming.
14. Kentucky (1-9; LW: 14):
The Wildcats were off, but the fact remains that this team is hurting all over the place. It's not only banged up, but its offense and defense are struggling to do much of anything right this year. Joker Phillips has only two games left as Kentucky's coach, but with the way some of these other SEC teams have done, athletic director Mitch Barnhart might want to really get cracking on this coaching search before other jobs come open.
November, 8, 2012
11/08/12
10:18
AM ET
There are a lot of interesting matchups and storylines in the SEC this weekend, so let's take a look at what to watch on Saturday:
1. SEC championship matchup:
By late Saturday night, we could know exactly who will be playing for the SEC title in Atlanta. Alabama kicks things off with its game against red-hot Texas A&M in Tuscaloosa, while Georgia heads to the Plains on Saturday night to take on struggling Auburn. Neither of these games are gimmies, but Alabama and Georgia are favored and have the more complete teams. If the Bulldogs win, it'll be their second straight SEC East title, while Alabama would be winning the West for the first time since 2009. A loss by Georgia and Florida takes the East. A loss for Alabama, and it could come down to next week's game with Auburn to see who takes the West.
2. Tennessee's defensive changes:
After so many bad defensive performances by the Vols, Derek Dooley said this week that he'll be much more involved with the defense going forward. That starts this weekend against a very banged-up Missouri team that has literally limped along on offense all season. But will Dooley's extra help make this defense that much better? He promised "major changes" but understands that he can't have a complete overhaul of things in just one week, and this unit might need exactly that. Still, taking on a struggling offense such as Missouri's could give this unit the confidence it needs to make some real positive strides this weekend.
[+] Enlarge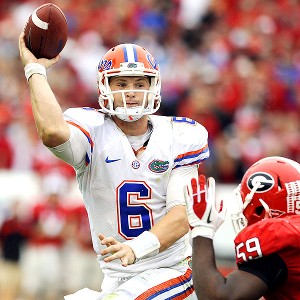 AP Photo/Stephen MortonThe Gators hope to see some progress from QB Jeff Driskel and the offense this week.
3. Florida's wide receiver struggles:
The SEC season is over for the Gators, and with two cupcakes in a row, it's time for this offense to find more playmakers. Florida got by with only its running game for so long, but a complete implosion on offense against Georgia cost the Gators a shot at clinching the SEC East last week. So Saturday's matchup with Louisiana-Lafayette gives the Gators the chance to find someone who can consistently catch the football other than tight end
Jordan Reed
.
Jeff Driskel
needs a lot more help in the passing game if this offense is going to make any sort of progress before the regular-season finale against Florida State. The good news for Florida is that the Ragin' Cajuns are 118th nationally in pass defense.
4. Alabama's D vs. Johnny Football:
We saw some holes open up in Alabama's defense last week against LSU. The players insist that things will get cleaned up this week, but the Aggies have an high-octane offense that could exploit Alabama's weaknesses, especially with a quarterback like
Johnny Manziel
. He has been the SEC's most exciting player and could pose quite a problem for this defense with his ability to run and throw. He's second in the SEC in passing and first in rushing. It comes down to being very sound and balanced on defense to contain him. Alabama's secondary gave up some big plays last week, and Texas A&M has a better passer and receivers for the Tide to handle.
5. Tide and Tigers fatigue:
Last week's epic showdown between Alabama and LSU was great for TV, but it had to be very hard on all those bodies on the field. Both teams are a little nicked up this week, but expect to be relatively healthy for the weekend. Still, you have to think that these squads won't have the same amount of energy they had last week -- mentally or physically. That's a lot to ask after such a physical game. The Tide will need a lot of stamina to contain the Aggies, and LSU is dealing with a Mississippi State team that is looking to find its dignity after back-to-back blowouts. We'll find out a lot more about the character of both of these teams Saturday.
6. Bowl hopes:
A handful of SEC teams are still looking to get to six wins, and could take crucial steps forward this weekend. Ole Miss and Vanderbilt are both a win away, and the Rebels are essentially in must-win mode with LSU and Mississippi State looming. Vandy has had the Rebels' number recently and has all the momentum going into Saturday's game. Missouri and Tennessee are both sitting at four wins and the Tigers
really
can't afford to lose, because they end the season at Texas A&M. The Vols still have Vandy and Kentucky on the schedule. Arkansas is also fighting for its bowl life, but has to take on South Carolina in Columbia. However, the Razorbacks have had a lot of success against the Gamecocks recently.
7. Playing without Lattimore:
It's life after
Marcus Lattimore
at South Carolina. The true heart of the Gamecocks' team was lost for the season two weeks ago after suffering a devastating knee injury. Now, it's time for this team to proceed with the rest of its schedule without him. While he won't be on the field for the Gamecocks, he'll certainly be a part of this team and he'll provide major motivation. But how this team responds without Lattimore against Arkansas will say a lot about where it is mentally. South Carolina has running back options in
Kenny Miles
and
Mike Davis
, so the Gamecocks should still be able to run the ball. But can they stay focused?
8. Someone is going bowling in Oxford:
Regardless of the outcome between Ole Miss and Vanderbilt, someone will leave Vaught-Hemingway Stadium with a postseason berth. If the Rebels win, they will be bowl-eligible for the first time since 2009, after combining to win only six games in the prior two seasons. A Vanderbilt win, and the Commodores will be bowl-eligible for the second straight season, and will have a chance to play in a bowl in consecutive years for the first time in school history. Talk about major turnarounds for both programs. Ole Miss has lost three of its past four to Vandy, including two at home, so it's not as though the Commodores will be intimidated by entering the Rebels' home.
9. Rediscovering that swag:
After back-to-back blowout losses to Alabama and Texas A&M, the Bulldogs have lost all of the swagger they had for the first seven weeks. You can point to that soft early schedule and say that it masked a lot of the issues this team has on both sides of the ball. But Saturday is a chance for some redemption for the Bulldogs. They'll take on a tired LSU team that just missed out on taking the SEC West. Their spirits could be low, and if the Bulldogs are going to pounce and generate some momentum for the rest of November, Saturday is the time to do it. It has the secondary to really frustrate quarterback
Zach Mettenberger
, but does it have the offense to put up points?
10. James Franklin's confidence:
Missouri's quarterback has been beaten up all season. Two shoulder injuries and a sprained knee have made him a shell of his former Big 12 self. Franklin has shown his toughness all season, but he was visibly shaken after throwing four interceptions in an ugly 14-7 loss to Florida last weekend. You can tell some of his confidence is gone, and if the Tigers are going to have a chance at making a bowl in their first season in the SEC, they need Franklin to rediscover his confidence. He's hurting, but he still has the ability to make plays, and Tennessee's defense gives him the opportunity to find some of those big plays he's used to making.
October, 19, 2012
10/19/12
8:12
PM ET
South Carolina expects star running back
Marcus Lattimore
to play Saturday at No. 2 Florida, but won't know for sure until pregame warm-ups.


What has been determined is that Lattimore won't start the game. Coach Steve Spurrier said Thursday night that senior
Kenny Miles
would start at tailback and that freshman
Mike Davis
would also be ready.
Lattimore, slowed by a bruised hip, returned to practice Thursday, but was limited.
"Marcus, with that bruised hip, he's not going to start the game," Spurrier said Thursday night on his weekly radio show. "He's going to go, and we'll see how he does in warm-ups. But Kenny Miles is ready to go and so is Mike Davis. They've both practiced very well this week. But if Marcus says, 'Coach, I can go,' he's going to be in there sometime in the game. If not, Kenny Miles and Mike Davis will be our two tailbacks."
Not having Lattimore at all would be a huge blow for the No. 7 Gamecocks, especially with his penchant for getting the tough yards. Being able to convert on third-and-short and run the ball in the red zone will be crucial for South Carolina against a Florida defense ranked third in the SEC in rushing defense and allowing just 107.5 yards per game.
It would be a big surprise to Lattimore's teammates and his position coach, Everette Sands, if Lattimore didn't play. Sands said Wednesday when Lattimore didn't practice that he expected Lattimore to be ready to go.
Lattimore, who leads the Gamecocks in rushing with 584 yards and in receptions with 22, had a career-high 212 rushing yards on 40 carries and scored three touchdowns as a freshman at the Swamp in 2010.
Miles has carried the ball 27 times for 100 yards this season.
August, 30, 2012
8/30/12
11:00
AM ET
Much like one of his customary dashes to daylight,
Marcus Lattimore
's mind will be racing Thursday night as South Carolina's 2012 opener against Vanderbilt nears.
He joked earlier this week that he'd been carrying around an imaginary stopwatch with him to count down the minutes.
"I can't wait. It can't get here soon enough," Lattimore said.
This is more than just a football game for Lattimore. It's a culmination of hard work, pain, faith and undying commitment, and he knows his emotions will run the gamut right up until kickoff.
"I'll be thinking about all that time I spent on crutches, all that time I spent in a cast," said Lattimore, who hasn't played in a game since tearing the anterior cruciate ligament in his left knee last Oct. 15 against Mississippi State.
[+] Enlarge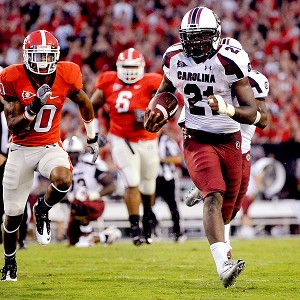 AP Photo/John AmisDespite missing six games due to injury last season, Marcus Lattimore accounted for 1,000 yards rushing and receiving and 11 touchdowns.
"I'll think back to the day I started running again for the first time, the day I cut for the first time, just everything I went through to get to this point. It's going to be a special night. It's been a long time, too long."
Lattimore already has tested his surgically repaired knee in preseason scrimmages. His coaches liked what they saw, and so did Lattimore.
But it's the games that count, and that's where he'll have to earn back the distinction of being college football's most complete running back.
"I've been hit in preseason, so I think I'm past the whole mental part of this thing," Lattimore said. "It's definitely something I've anticipated, that first carry and bouncing right back up. That's when I'll get all my jitters out. It's not nervousness. It's more anxiousness and just being ready to go and go at the same speed I've always played this game.
"After that first carry, I think it will be back to the way it always was."
That's good news for South Carolina and bad news for everybody else in the SEC.
Vanderbilt coach
James Franklin
is well aware what awaits his defense on Thursday night. Lattimore helped break open the game last season against the Commodores with a 52-yard touchdown catch and 22-yard touchdown run.
"There are a lot of guys who are fast or strong or quick or elusive, but there aren't many across the country who have the whole package," Franklin said. "That's what you're looking for. You're looking for guys who have it all. He's got size, speed, vision, all those things you're looking for. He's a rare guy."
Lattimore said he will play at 220 pounds this season after playing closer to 230 pounds a year ago. He's ready to carry the ball as many times as the Gamecocks need him. But whereas he'd already logged 107 carries through the first four games last season, he doesn't think that kind of load will be necessary in 2012.
Senior
Kenny Miles
has had an excellent camp, and freshman
Mike Davis
was one of the Gamecocks' top signees.
"Kenny could start anywhere around the country, and Mike has a lot of talent," said Lattimore, who has 412 carries and has caught 48 passes in 20 career games, which equates to an average of 23 touches per game.
"I could carry it 30 or 40 times. I know I could. That's my game, but I don't know that I'll have to carry it that much this year. I have two great backs behind me that will get a lot of carries."
That's vintage Lattimore, whose unselfishness is rivaled only by his competitive fire.
Like any great running back, he wants to be fed the ball. But he's motivated by championships and not rushing records, and he understands unequivocally that the Gamecocks' best chance of getting back to Atlanta for the SEC championship game centers around Lattimore being at his best come October and November.
[+] Enlarge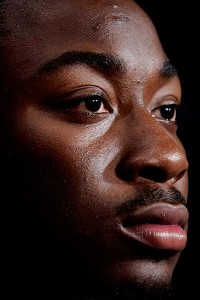 AP Photo/Dave Martin"I know I was hard to be around, and I was real down at times," Lattimore said of his injury. "But I kept my faith and kept believing."
"You go back and watch LSU last year, and I think that's the kind of backfield we're going to have, just rotate and rotate and wear a defense down with fresh legs," Lattimore said. "We're always going to have somebody fresh in the fourth quarter."
Lattimore's easy smile can light up a room, but he admits he wasn't the most pleasant guy to be around during his rehabilitation. He'd never been away from football that long, and he ached to get back onto the field with his teammates.
"I know I was hard to be around, and I was real down at times," Lattimore said. "But I kept my faith and kept believing."
Fittingly, one of the guys Lattimore leaned on during some of his darkest hours was Arkansas'
Knile Davis
, the SEC's leading rusher among running backs in 2010 and the most serious challenger to Lattimore's crown as the SEC's premier running back.
Davis felt Lattimore's pain last season. The Hogs' junior running back had been there himself after fracturing his ankle in the preseason and missing the entire 2011 season. It was the third fractured ankle of Davis' football career.
They texted each other, consoled each other and even needled each other at times about who truly was the SEC's best back. Most of all, they picked each other up when they needed to be picked up.
"That's my boy. We text all the time," Lattimore said of Davis, who has his own special night ahead on Saturday when he plays in his first game since the 2010 season.
"I knew it was hard on him, and then I tore my ACL, he called me and told me to keep my head up, that he was going through the same thing I was going through and that we were going to get through it. We encouraged each other and pushed each other. He's a great guy and a man of God, and I respect him a lot."
Even though Lattimore didn't finish the season a year ago, he said there's no substitute for having gone against SEC defenses for two straight years. It's taught him to study the game even closer.
"I honestly think the game is more mental than physical anyway. I've always thought that," said Lattimore, who's averaged 104.4 rushing yards in 13 games against SEC defenses.
"I believe my vision will be a lot better. I believe I'll have a better feel for what defenses are trying to do. I believe I'll be even better at keeping my pads low and getting the extra yardage.
"It's all going to be good."
And here's the best news for South Carolina fans: Lattimore believes the best is yet to come for the Gamecocks after winning 11 games for the first time in school history last season and going to the SEC championship game for the first time ever two years ago.
"There's a lot more that we want to do here at South Carolina, a lot of goals that we want to accomplish," Lattimore said. "The way we look at it is that we've just got a taste."
With No. 21 back in the lineup, the next bite for the Gamecocks could be scrumptious.
October, 18, 2011
10/18/11
2:59
PM ET
South Carolina suffered a major blow to its offense when sophomore running back
Marcus Lattimore
went down with a season-ending knee injury.
It was devastating not only to the team but to Lattimore who is both a tremendous player and person. But like any team, especially one looking to make a championship run, it's time to move on.
Running back depth is a real issue for the Gamecocks, and this offense has revolved mostly around Lattimore, who ended his season second in the league in rushing with 818 yards and 10 touchdowns on 163 carries.
The Gamecocks have already lost
Shon Carson
and
Jacob Baker
, who also had season-ending ACL injuries, but here are some names to keep an eye on when it comes to the Gamecocks' backfield:
BRANDON WILDS
[+] Enlarge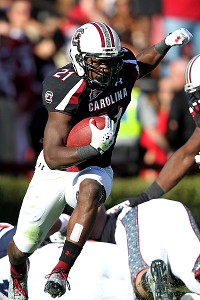 Jim Dedmon/Icon SMIHow will South Carolina replace Marcus Lattimore, one of their biggest offensive weapons?
Who is this guy?
Wilds wasn't highly recruited coming out of high school, but after starting off the year fifth on the depth chart and mainly a special teams player he's right at the top of the list now that Lattimore is out. As a senior in high school he carried the ball 175 times for 818 yards and eight touchdowns.
Qualifications:
Wilds has been the second-most productive running back for the Gamecocks this season, with 75 yards on 13 carries. That's another reason Lattimore was so important to the Gamecocks. After being at the bottom of the barrel, his rise to the top has to tell you about his character and work ethic.
What he could do:
He won't be near the running back Lattimore was, but he's going to work hard. You don't always need flash to get the job done and if Wilds can maintain the right attitude and determination on the field he can make a few plays. Just don't expect him to carry close to the load Lattimore did.
BRUCE ELLINGTON
Who is this guy?
He is true two-sport star for the Gamecocks, leading the basketball team in scoring as a freshman last season, and now he's taken his act to the football field. He's one of South Carolina's busiest offensive weapons because he runs, catches and throws in this offense.
Qualifications:
He was a high school quarterback along with being a basketball stud. He can be extremely elusive in space when he has the ball and gives the Gamecocks another element in the passing game. He's already completed two passes for 24 yards, including a long of 16. He currently has 12 catches for 129 yards and has carried the ball 11 times for 91 yards and a touchdown.
What he could do:
Ellington would be used primarily in the wildcat formation. He already has a long rush of 61 yards, so speed isn't an issue, and he's made a few plays over the middle, so you know he's durable. Ellington's role will expand even more now and he'll be getting more action out of the backfield from here on out.
KENNY MILES
Who is this guy?
Remember Miles? He led South Carolina in rushing back in 2009 with his 626 yards. He also caught 21 passes for 137 yards. But once Lattimore came on the scene, Miles' production dropped considerably. Last year he carried the ball 40 times for 152 yards.
Qualifications:
Miles entered the year as the No. 2 running back and for his career he has started eight games and has had three 100-yard performances. However, he hasn't played in a game since Sept. 17 (Navy) because of a right wrist injury. Even with South Carolina's next game on Oct. 29, Miles is still questionable to return that soon.
What he could do:
It would be a major lift for the Gamecocks if Miles can come back. While he's only carried the ball one time this season, Miles brings experience and leadership to the position. Things haven't been great for Miles since 2009, but he did step up to be more of a leader during the offseason.
ERIC BAKER
Who is this guy?
He was once the No. 1 back way back in the spring of 2009, but a summer hernia operation limited his touches during fall camp and he fell down the depth chart. He only touched the ball four times that season and eventually tore his ACL before the bowl game, causing him to miss all of 2010.
Qualifications:
He's spent very limited time as a starter, and rushed for 182 yards on 46 carries in 2008. We haven't seen much of him this year, with him carrying the ball three times for 3 yards. He also suffered a bad ankle injury against Vanderbilt and might not be available for the Tennessee game.
What he could do:
Baker has seen very little action during his career and injuries have really cut into his chances during the last three seasons. We aren't sure how durable he could be once he gets back on the field.
JOSH HINCH
Who is this guy?
Most people have probably never heard of Hinch. He is a walk-on who has mostly helped out on the scout team. He has yet to register any stats for the Gamecocks, but could enter next week's game at Tennessee as the No. 2 back. That has to be a scary thought for the coaching staff.
Qualifications:
While he hasn't played yet this season, Hinch has impressed with his play with the scout team. He was also a football and track star in both high school and at MidAmerica Nazarene, an NAIA school.
What he could do:
We really aren't sure what all Hinch can do for the Gamecocks. If he has to go in, expect the staff to water down what he does. But if no one else can go, he'll have to go in and try to do something to help out Wilds.
September, 24, 2011
9/24/11
7:05
PM ET
COLUMBIA, S.C. -- Mixing and matching uniforms has become the norm in college football and Vanderbilt has changed up its road wardrobe today.


Instead of going with the traditional gold helmets and white jerseys and pants, the Commodores are sporting black helmets on top of their white uniforms.
Will it add some extra energy for the lovable Commodores tonight? Probably not, but they are fun to look at.
The Gamecocks seem pretty relaxed before the game, but expect
Marcus Lattimore
to continue to carry much of the offensive load tonight. Backup
Kenny Miles
, who hurt his hand against Georgia, isn't dressed. That means the Gamecocks could look to get some carries out of junior
Eric Baker
and/or freshman
Brandon Wilds
.
Miles hasn't been much of a factor this season, carrying the ball once for 1 yard, but neither of the other backs have recorded any stats this year.
As for Vanderbilt, it looks like senior tight end
Brandon Barden
will miss his second straight start with an ankle injury. He was injured in Vandy's win over Conneticut in Week 2. His injury doesn't appear season-ending, but with next week being the bye for the Commodores, it makes sense to rest him now.
We might not see much -- if any -- of Vandy running back
Warren Norman
, either. Norman has yet to play this season and still seems to be recovering from last year's knee surgery.
The Commodores have been pretty successful with the running duo of
Zac Stacy
(29 carries for 262 yards and touchdown) and
Jerron Seymour
(28 carries, 145 yards and two scores), so not having Norman is nothing new for this team, but he does have big-play ability that the Commodores would love to have tonight.
Pregame festivities are almost done and the the smoke from the fireworks has cleared, so that means it's time for some nighttime football.
Should be a fun one in Columbia.
April, 8, 2011
4/08/11
12:52
PM ET
Spring game:
1 p.m. ET Saturday on
ESPN3.com
Questions answered:
Marcus Lattimore
was a workhorse last season as a true freshman for the Gamecocks, but it looks like he may get some help in 2011.
Kenny Miles
and
Eric Baker
both showed some burst this spring at running back. The Gamecocks will ride Lattimore next season, but they also don't want to wear him out by the time they get to November. Ellis Johnson, South Carolina's assistant head coach for the defense, thinks he's found a few linebackers. Damario Jeffery moved from the hybrid Spur position to weakside linebacker. Quin Smith has also looked good at the weakside spot. Shaq Wilson returns at middle linebacker after missing all but one game last season. Reggie Bowens, who's been beset with injuries, also got some work in the middle. If Bowens can stay healthy, he really helps the Gamecocks' depth, especially when you consider that Rodney Paulk will be back in the fall.
[+] Enlarge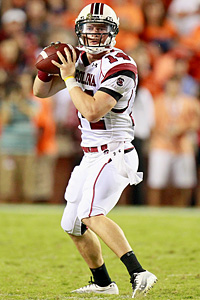 Kevin C. Cox/Getty ImagesConnor Shaw has attempted only 33 passes heading into the 2011 season.
Questions unanswered:
With senior quarterback
Stephen Garcia
indefinitely suspended (yes, for a fifth time), it's hard to say the Gamecocks are set at quarterback. Garcia could be gone for good, which puts a ton of pressure on sophomore
Connor Shaw
. South Carolina coach Steve Spurrier likes Shaw, but asking him to go the distance next season when he's never started an SEC game is a tough way to break in a new quarterback in this league. On defense, nobody stepped up and won the strong safety job, which makes you wonder if the Gamecocks might have to move DeVonte Holloman back there in the fall. Johnson wants to keep the 230-pound Holloman at the Spur position. But with Corey Addison hurt all spring, nobody else staked claim to the strong safety spot. Perhaps true freshman Sheldon Royster will be able to help once he arrives this summer.
Spring stars:
Offensive line coach Shawn Elliott said entering the spring that one of the keys up front would be how well redshirt freshman A.J. Cann played at left guard. Well, Cann exits the spring as the starter, which allowed Elliott to experiment a little bit with different players. Free safety D.J. Swearinger stole the show on defense. He's an All-SEC player in the making and was always around the ball and pitching in with big plays.
Jason Barnes
and
Ace Sanders
both showcased big-play potential at the slot receiver position. Finding other playmakers at receiver to help take the pressure off of
Alshon Jeffery
will be important. Redshirt freshman receiver
Nick Jones
is another guy who had his moments this spring.
Of note:
Kenny Davis moved from defensive tackle to offensive guard, while Corey Robinson moved from offensive tackle to defensive tackle. … True freshman Martay Mattox shifted from cornerback to free safety and looks like he could be a fixture on special teams. Mattox played quarterback in high school. … Bruce Ellington, the starting point guard on South Carolina's basketball team, plans to join the football team in June. He was a star football player in high school and could factor in at a number of positions, including receiver, kick returner and quarterback in the Wildcat formation. … Lattimore has beefed up to a rock-solid 231 pounds and has been a beast in the weight room. … Senior Rokevious Watkins has been working with the first unit at right tackle this spring, but could still slide back inside to guard if junior college newcomer Kaleb Broome or redshirt freshman Cody Gibson comes on at tackle. ... Offensive guard Ronald Patrick had his spring cut short after undergoing surgery for an abscess behind his right eye.