March, 20, 2013
3/20/13
10:00
AM ET
Indiana defensive coordinator Doug Mallory is looking for a few good men this spring. Actually, more than a few.
Mallory isn't necessarily seeking the next standout player (although he wouldn't complain if he found one). The Hoosiers' defense has had productive individuals over the years, from cornerback Tracy Porter to defensive linemen Jammie Kirlew and Greg Middleton, to defensive tackle
Adam Replogle
. Last fall, Replogle put up huge numbers for an interior lineman (13.5 tackles for loss, five sacks, two forced fumbles, 71 total tackles). Safety
Greg Heban
(91 tackles, three interceptions, seven tackles for loss) and linebacker
David Cooper
(86 tackles, nine tackles for loss, three sacks) also had strong statistical seasons.
[+] Enlarge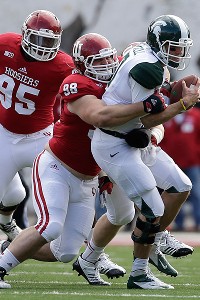 AP Photo/Darron CummingsIndiana defensive tackle Adam Replogle had 13.5 tackles for loss and five sacks last season.
But the unit still struggled, finishing 103rd nationally in yards allowed, 101st in points allowed and 116th against the run. The cumulative results were all too typical for a defense that has struggled for more than a decade because of its lack of depth.
"It can't be the same guy out there every single play of the game, every play of the season," Mallory told ESPN.com. "We've got to be able to have some guys come in and contribute, whether it's 10, 20, 30 plays a game, guys who give us a little bit better depth."
The Hoosiers are looking for numbers this spring, at least 22 defenders who Mallory can feel confident about sending onto the field this coming season. IU's offense took a significant step in coach Kevin Wilson's second year and should be one of the Big Ten's most explosive units in 2013.
But for Indiana to take a step as a program -- toward winning records and bowl appearances -- its defensive depth must improve substantially. Although it's not ideal that three projected starters -- Cooper and fellow linebacker
Chase Hoobler
, and safety
Mark Murphy
-- are now
sidelined this spring
, it's more important to get others up to speed.
"We're trying to see more competition, more guys putting themselves in position to compete," Mallory said. "With all these guys coming back, that's great, but we were not very good a year ago, so that could be a positive and it could also be a negative. We've got to make major strides and do a better job as coaches and as players defending the run, stopping the run and being a lot more physical on defense."
Mallory has made it clear to the players that there are "no starters" this spring. Players move between the first-, second- and third-teams from practice to practice, depending on performance, and sometimes even within a single workout.
"The worse you are, the further you fall on that depth chart," Mallory said. "Kids understand that."
Mallory has been impressed by cornerback
Kenny Mullen
, who started the final five games in 2012. Defensive end
Bobby Richardson
, a reserve last fall, also has stood out as IU must replace two starters up front.
Help is on the way as Indiana significantly elevated its defensive recruiting efforts for the 2013 class. Six of IU's
seven highest-rated recruits
, according to RecruitingNation, will play defense, including ESPN 150 defensive back
Rashard Fant
, and linemen
Darius Latham
and
David Kenney III
.
"On paper, it definitely looks like a good class," Mallory said. "We're looking forward to getting those guys here, and they'll get in here and compete. You certainly want to be quality two-deep and hope that your incoming class are guys that can help you get three-deep."
June, 8, 2012
6/08/12
10:30
AM ET
BLOOMINGTON, Ind. -- When
Lawrence Barnett
suffered a season-ending broken ankle the first game of his senior year of high school in 2008, teammate and lifelong friend
Kenny Mullen
was there to offer support.
Mullen visited Barnett in the hospital after the game and made a vow. "One way or another," he said, "we'll play together again."
That was far from guaranteed, as Mullen was two years behind Barnett in school. But after Barnett spent two seasons at Indiana and the Hoosiers came to Fort Wayne to recruit Mullen, he had his chance to make good.
"When IU offered me, I committed without a doubt," Mullen said. "Because I had made that promise."
[+] Enlarge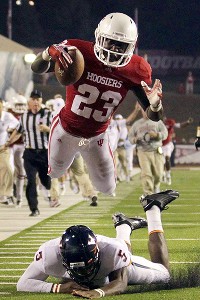 AJ Mast/Icon SMI"We just want to turn this program around and be known as a bowl team," Lawrence Barnett said.
The two got their chance to play together again last season. Barnett started nine games at cornerback, while Mullen appeared in all 12 games, with two starts, as a true freshman nickelback. It seemed like old times for the friends who got to know each other during their kindergarten ages. Mullen always found himself in Barnett's neighborhood for pickup games of football, basketball and whatever else, and the two were Pop Warner teammates. Though they went to different middle schools, they reunited at Fort Wayne's Bishop Luers High School, winning state titles together in football and basketball.
Similar success has yet to follow in college. Their first major taste of Big Ten playing time came during a dismal 1-11 season for the Hoosiers, who had one of the worst defenses in the country. Particularly galling to Barnett and Mullen is the fact that IU ranked 116th out of 120 FBS teams in pass-efficiency defense. They admit that they were a little lost last year in trying both to adjust to top-level competition and learn co-defensive coordinator Doug Mallory's system.
"The system we were playing in before [Mallory arrived] was a lot of Cover 2 and Cover 4," Barnett said. "Last year, we played a lot of man and a lot of disguised zone coverages. We weren't really ready for it."
An extra year of experience and a full offseason of doing things Mallory's way should help things improve in 2012. Mullen was one of 32 redshirt or true freshmen that head coach Kevin Wilson threw into the fire last season, many of them on defense.
"We didn't know how to approach the games or how to play the schemes the correct way," Mullen said. "But we look at last year as a learning experience. We've come out this year playing a lot faster and more aggressively. We know our keys, and we know the soft spots in our own defense."
They're hoping the secondary won't again be one of those soft spots. The good thing about playing so many youngsters last year is now a lot of experience returns. Wilson also brought in two junior college defensive backs for immediate help. And if chemistry is key to good secondary play, you won't find a much better connection than the one Mullen and Barnett share.
"Coaches always want us to communicate with each other," Barnett said, "and when me and Kenny are out there, we already know what the other is going to do. Sometimes I won't even say anything to him and he won't even say anything to me. It makes it a lot easier."
That closeness means the two pick each other up and push one another in offseason workouts. Mullen still lives in the dorms as an underclassmen, but he might as well pay rent on Barnett's apartment for as much as he is over there playing Madden and NBA 2K12 on XBox.
Both loved IU basketball growing up -- Barnett was a star point guard whom the Hoosiers briefly recruited for hoops -- but have become part of the building block for the school's football future. They're following in a recent line of productive Indiana players from Fort Wayne, which include
Damarlo Belcher
,
Dre Muhammad
and James Hardy.
Mullen and Barnett are happy they're teammates again. But they're hoping their college experience results in something more than just a great friendship.
"First and foremost, we want to handle our business this season and make a bowl game," Barnett said. "And then hopefully another one. We just want to turn this program around and be known as a bowl team."
February, 2, 2011
2/02/11
12:43
PM ET
Indiana is the first Big Ten team to announce its
complete 2011 recruiting class
.

New Hoosiers coach Kevin Wilson signed 21 players, including seven from within the state and seven from Ohio. Indiana added 12 defensive players and nine offensive players.
Here's the position breakdown:
DL:
4
LB:
3
CB:
3
S:
2
OL:
4
WR:
3
QB:
1
RB:
1
"There is good balance on both sides of the ball in this class," Wilson said in a prepared statement. "We got a good mix of guys up front and skill guys. Our staff did a great job getting in on some guys late in the game. There is great athleticism and potential in this group. We brought in help in the secondary and up front across the board, and we are excited to get to work with these guys."
A few notes from the release:
Quarterback Tre Roberson earned the 2010 Indiana Mr. Football award. He is the fourth Mr. Football to attend IU since the award's inception in 1992, and the first since Earl Haniford in 1995.
Linebacker Mike Replogle's brother, Adam, is a junior defensive tackle with the Hoosiers. His brother, Tyler, played linebacker at IU from 2007-10.
Safety Mark Murphy's father, Mark, played safety for the Green Bay Packers (1980-91) and was inducted into the Packers Hall of Fame in 1998.
Linebacker Kyle Kennedy (2008, 2010), cornerback Kenny Mullen (2007, 2008, 2010) and cornerback Nick Stoner (2008) each played on state championship teams.