NCF Nation:

Kenny Wheaton
January, 3, 2012
1/03/12
12:17
AM ET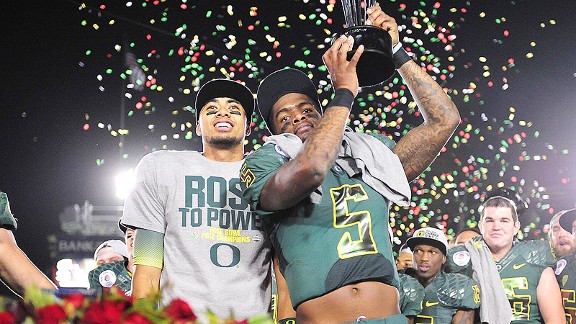 Gary A. Vasquez/US PresswireOffensive MVP Lavsier Tuinei, left, QB Darron Thomas and the Ducks are Rose Bowl champions.
PASADENA, Calif. -- It takes a lot for a football program to tear up 95 years of frustration and cast it into the trash. It takes spectacular plays, smart plays, clutch plays, unexpected plays and opportunistic plays. It takes stars, supporting players and players you don't see coming.
It's easy to roll one's eyes when players and coaches talk about a "total team effort," but Oregon's
45-38 Rose Bowl win over Wisconsin
inspired no such eye-rolling, in large part because averted eyes might have missed a big moment.
Take
Lavasier Tuinei
. The Ducks senior receiver didn't have a 100-yard receiving game all season. Eight times, he caught three or fewer passes. But his season-high eight receptions for 158 yards and two touchdowns earned him Offensive MVP honors.
Who had Tuinei in their Offensive MVP pool?
"For a senior, sometimes you get those moments, and he had a signature moment," Ducks coach Chip Kelly said.
Said Tuinei: "For the last week I've been here, I've been having dreams of making plays for this team and helping us win. What do you know: It came true."
Then take linebacker Kiko Alonso. Repeated instances of off-field trouble nearly cost him his career. He was suspended for the opener against LSU. But he earned Defensive MVP honors with 1.5 sacks, five tackles and a critical interception late in the third quarter.
Who had Alonso in their Defensive MVP pool?
"It is special how far Kiko has come," Kelly said.
Oh, the usual suspects showed up, too. Running back
LaMichael James
rushed for 159 yards and a touchdown, which propelled him to No. 2 all-time on the Pac-12's career rushing list -- 13th in NCAA history -- with 5,082 yards. QB
Darron Thomas
threw three TD passes to give him 33 for the season, an Oregon record. Super-fast freshman
De'Anthony Thomas
had just two carries, but they became touchdown runs of 91 and 64 yards, thereby averaging 77.5 yards per tote.
And let's not forget an offensive line that carved up the Wisconsin defensive front for 345 yards rushing -- 8.6 yards per carry.
But wait: We have more. Safety John Boyett tied a Rose Bowl record with 17 tackles, including 12 solo. Punter Jackson Rice averaged 46 yards on three punts. Freshman cornerback Terrance Mitchell forced a critical fumble with four minutes left that was recovered by linebacker Michael Clay, who had 13 tackles, including two for a loss.
Getting the idea?
"When they had to make a play, they made it," Kelly said. "So many guys contributed to it, and it's truly a total-team win. We're just proud we can say we are Rose Bowl champions."
Rose Bowl champions: Oregon fans know that is not merely a statement of the glorious moment either. It's a statement that ripples through a program whose history isn't terribly impressive until Kenny Wheaton went the other way against Washington during an unlikely Rose Bowl run in 1994.
Yet, as the Ducks started to pile up winning seasons over the past two decades or so, built their program into respectability and, eventually, eclipsed the hated Huskies, there was always that potent tweak: "Yeah, yeah. How many Rose Bowls have you won?" The most effective bit of trash talk that could diminish the Oregon program -- and Kelly's superb tenure -- died in this thriller of a game. A third consecutive conference title didn't advance the program in a meaningful way without this as a confetti-covered capper.
Oregon can't win the big one? Oregon can't beat a top-10 nonconference foe? Oregon's offense gets solved by a highly-rated defense if it gets extra time to prepare?
"It feels good to not have to answer that question any more," said offensive coordinator Mark Helfrich, whose offense gained 621 yards against a defense that was yielding just 293 per game.
All those tweaks and all the sometimes not-unreasonable criticism is wiped away because so many players showed up and did their jobs well.
"I think this kind of validates what we stand for," Kelly said. "This team is fearless. They're resilient. And they've got faith. ... They really stick together and believe in the guy to the right of them and to the left of them because they see what they do every day in practice."
And the run isn't over. The Ducks, even if James enters the NFL draft, as expected, will welcome back 32 of the 44 players on their two-deep depth chart, including both Thomases, Alonso, Clay, Mitchell and Boyett. They very likely will begin the 2012 season ranked in -- or at least very near -- the nation's top 5.
So, yeah, this team might be in Miami next January instead of returning to the Rose Bowl, though USC might have something to say about that.
But the present moment, the one that ripples backwards through 95 years in which scattered glory and success fell just short of ultimate satisfaction, is what Oregon is about right now. It should be savored. It should last until next preseason.
And Ducks fans surely should gloat that the rest of the Pac-12 just lost its best bit of trash talking.
December, 29, 2011
12/29/11
11:30
AM ET
Let's play a quick game of fill in the blank: Oregon fans are ... What comes to mind? Keep it clean, folks. Behave!
Yes, it is fair to say that Oregon fans have eagerly, zealously and vociferously embraced the recent success of their team. The seed that was planted when Kenny Wheaton went the other way against Washington in 1994 is now a full-grown oak, and Oregon fans enjoy pointing out that their oak is more stately and beautiful than yours.
[+] Enlarge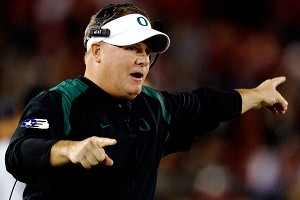 Jason O. Watson/US PRESSWIRENCAA sanctions appear to be the only thing that could derail Chip Kelly's Oregon juggernaut in the near future.
Eleven other Pac-12 teams want Oregon to go away. We have bad news for those 11. Not happening.
With the Rose Bowl on Jan. 2 against Wisconsin, the Ducks are playing in their third consecutive BCS bowl game. No other team in the country has played in three consecutive BCS bowl games. But this rise to the nation's elite started before this run of conference success. Oregon's first taste of national title contention was in 2000 and 2001. After a middling, post-Joey Harrington, pre-Chip Kelly interim, it was ranked No. 2 and a national title contender in 2007 before quarterback Dennis Dixon blew out his knee. Oregon finished the 2008 season ranked 10th. It finished 11th in 2009 after losing the Rose Bowl to Ohio State. It finished third in 2010 after losing to Auburn in the national title game.
While opposing fans can still pull out the "They haven't won a BCS bowl game under Kelly" card, that tweak comes from beneath the Ducks in the Pac-12 pecking order, so as ripostes go, it's rather pyrrhic.
And the Ducks, even if they lose to Wisconsin, will be a preseason top-10 team in 2012, probably top-five if they win the Granddaddy. There certainly is a lot to like about the depth chart.
Not including junior running back
LaMichael James
, who is likely off to the NFL, the Ducks should welcome back six starters on offense, six on defense and both specialists in 2012. But that doesn't tell the entire story.
For one, the Ducks will have a two-year starter returning at quarterback in
Darron Thomas
. While Thomas has had runs of inconsistent accuracy, there are two bottom lines: He's 22-3 as a starter and has thrown 63 touchdown passes with just 16 interceptions.
But what's notable about the Ducks' depth chart is not just returning starters.
Oregon only lists a two-deep. That means 44 players on offense and defense. Of the 22 names on offense, just four are departing seniors, not including James. Of the 22 names on defense, just six are seniors.
And most of the players who are leaving -- or are expected to leave, as in James' case -- are presently backed up by intriguing young talents who already have significant game experience. James leaving? Well, you all know who
Kenjon Barner
is. Tight end
David Paulson
? Freshman
Colt Lyerla
caught five touchdown passes this season. Lose two offensive linemen? Junior Ryan Clanton and freshman Jake Fisher have seen plenty of action. Lose two linebackers? Kiko Alonso has started five games and Boseko Lokombo has played a lot. Cornerback Anthony Gildon out the door? Redshirt freshman Troy Hill has started five games while Gildon has been hurt (and is doubtful for the Rose Bowl).
Further, the Ducks have some redshirt freshmen on both sides of the ball -- particularly at linebacker and receiver -- who figure to make an impact next year. Receivers
Devon Blackmon
,
Tacoi Sumler
and
B.J. Kelley
were highly touted 2011 signees, who could bolster the Ducks passing game.
If you were connecting the dots, you'd actually project the Ducks to be better in 2012 than their 2011, 11-2, Pac-12 champion selves.
And, even with the loss of Thomas after next season, the Ducks appear to set up nicely for 2013. And beyond.
I know. I know. Fans of those 11 other Pac-12 teams are jumping up and down and waving their arms, bellowing, "What about Willie Lyles and the NCAA?"
True, major NCAA sanctions would seem the mostly likely way the Ducks get knocked from their ascent to the nation's elite. And it could happen. You never know with the NCAA.
But the more I talk to people who make educated guesses on NCAA investigations, not to mention a few who have specific knowledge of the NCAA's inquiry into the Ducks, the more I'm leaning toward the position that the NCAA will not pound Oregon. I suspect sanctions will fall short of what Ohio State
recently received
.
Of course, I thought USC would receive less severe penalties than Alabama
received in 2002
, so I've also learned to not expect the NCAA to be logical and fair.
The point is this: If you are wondering what Oregon is likely to be doing in, say, 2014, my projection is they still will be annoying 11 other teams.
The Ducks aren't going to go away.
October, 31, 2011
10/31/11
7:03
PM ET
Oregon at Washington on Saturday: Is this the year hate becomes tethered to meaning and competitiveness once again?
Perhaps.


I've been pondering this for years. While Huskies and Ducks fans insist that I favor the other, I really only root for the game to be relevant and meaningful. What I want is two ranked teams hating each other. It makes my job -- standing in the middle, fanning the flames -- much more fun.
I, a transplanted Southerner, first learned about the rivalry's intensity in 1999 by being ignorant of it,
as I recounted here
. Note to future Huskies beat writers: Don't write a laudatory piece about the Oregon coach your first year in Seattle.
I once spent an evening in Eugene wearing a purple mock turtleneck with a big gold "W" on the front and giant foam Husky hat
just to see what would happen
.
I was there when
things seemed most bitter
. And I've pondered
a potential renaissance
with the Huskies hiring of Steve Sarkisian, a guy who clearly can coach.
But the media can only do so much. The problem with the rivalry has been simple: Oregon has been putting a footprint -- webbed -- on the Huskies foreheads for the past seven years.
Huskies, don't get mad. It's a fact: The Ducks have won seven in a row, their longest streak in the series, by at least 20 points. The average margin of victory during the run is 26.4 points.
What can you possibly say to that?
Well, Washington fans do have some arrows in their quiver. Chief among them: When did Oregon last win the Rose Bowl?
Then Ducks fans observe Huskies fans are living in the past, and Huskies fans -- fully knowing they have been doing exactly that, at least since 2000 -- use a variety of rhetorical tricks in order to yield no ground, as every college football fan should.
I miss the glory days, which can be loosely defined as 1994-2003, starting with Kenny Wheaton's game-clinching interception return for a touchdown -- "The Pick," as Ducks fans lovingly call it -- and the Huskies last win in the series, when Oregon safety Keith Lewis trashed talked before the game and got in a fight late in the 42-10 loss.
"Raw animosity," said former Huskies coach Rick Neuheisel of the feelings among the fan bases.
That's why our friends at Addicted to Quack warmed my heart Monday with this: "
Happy I Hate Washington Week
." Ahhh... they still care enough to talk about their hate.
The fact is the Pac-12 will get more respect nationally and become a better conference in a real, measurable way if Washington-Oregon becomes an annual measuring stick in the Pac-12 North. In other words: A game that conference TV partners salivate over and broadcast in a primetime slot.
Many college football fans -- Pac-12 and otherwise -- hate USC. They hate USC because it's won so much. In the 1980s and '90s, Pac-10 fans started to really, really hate Washington. Why? Washington won a bunch of Rose Bowls and a national title. Over the past few years, Oregon hate has reached a high-water mark. Why? Because the Ducks are looking for a third consecutive conference title and have been stomping foes while wearing loud uniforms.
And there is a rumor that, well, Oregon fans are a bit obnoxious. Not saying that's what I believe. No way. Would never even suggest it. But someone else might. Not me, though. Someone else.
Easy there, Washington fans. There are plenty of whispers about you, too.
This is not to say California or Oregon State rising in the national polls wouldn't be good for the conference. It's just that unadulterated hate moves the needle, and Huskies-Ducks is the Pac-12's only nuclear-powered rivalry.
If Ducks-Huskies on Saturday matched top-10 teams, with say Chip Kelly's ludicrous speed offense against a Huskies defense similar to the Don James years, let's just say that LSU-Alabama would share top billing.
I know the rest of the Pac-12 is going, "No way... screw them." But you're not
really
thinking that. You know where I'm coming from. You've seen it.
It makes me think of the Col. Nathan R. Jessep's speech in "A Few Good Men."
And my existence, while grotesque and incomprehensible to you, saves lives. You don't want the truth because deep down in places you don't talk about at parties, you want me on that wall, you need me on that wall.
Jessep was the villain of the movie. But that speech was absolutely right.
The thought of Oregon and Washington lording over the Pac-12 North might sound grotesque to you, but the truth is deep down in places you don't talk about at tailgates, you want their mutual hate to matter, you need their mutual hate to matter.
Or at least I do.
November, 24, 2010
11/24/10
11:22
AM ET
Shy Huntington surely never guessed it would take this long for Oregon to become a national power. After he grabbed three interceptions in the Ducks' 14-0 Rose Bowl victory over the
Pennsylvania Quakers
, he probably thought things were just beginning for the Ducks.
It was 1917.
From 1918 through 1988, however, Oregon would play in just five bowl games, winning one. Its first coach to win more than 33 games was Len Casanova, who went 82-73-8 from 1951-66. Oregon's next coach to post a winning record? Mike Bellotti.
[+] Enlarge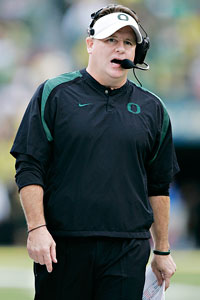 Joe Nicholson/US PresswireChip Kelly has the Ducks two wins away from their first undefeated season of the modern era.
Oregon is one of only 10 programs nationally to have played in at least 17 bowl games over the past 21 years, but it's clearly a member of the nouveau riche. The Ducks haven't finished unbeaten in the modern era and they've never won a national championship.
Yet now they are two wins away from doing the former and three from accomplishing the latter, starting with a home date with No. 21 Arizona on Friday.
This is uncharted territory for Oregon, but it also feels as if the arrival isn't temporary. The momentum -- having the right coach, great facilities, passionate fan base, national recruiting, a sugar daddy billionaire booster -- suggests Oregon is starting construction on a mansion in the neighborhood with programs like Florida, Alabama, Ohio State, Oklahoma, Texas and USC.
A character in "The Sun Also Rises" was asked how he went bankrupt. "Two ways," he replies. "Gradually and then suddenly." That description is apt for the Ducks, only in the opposite direction. Oregon broke through in the 1990s under Rich Brooks. Bellotti won 116 games from 1995-2008 -- the most in program history by a wide margin -- and created a Pac-10 and national contender.
Second-year coach Chip Kelly? He's on the cusp of winning a second consecutive Pac-10 title and earning a second BCS bowl berth, only this time in the national championship game on Jan. 10 in Glendale, Ariz. That qualifies as a good start to a career as a head coach.
For an Oregon fan in his or her 50s or 60s, this is a fairly shocking development. You remember cold, rainy days with only a few thousand fans on hand to watch the Ducks lose. You remember going down to Washington 58-0 (1973). Or tying rival Oregon State 0-0 in the 1983 Civil War (two bad teams, pouring rain, eleven fumbles, five interceptions, and four missed field goals, the last Division I game to end in a scoreless tie).
If you are, say, a 19-year-old freshman at Oregon, you grew up with the Ducks as a Pac-10 contender and a team that regularly appeared in the national rankings. Your first memory might be of Kenny Wheaton returning an interception 97 yards for a touchdown to beat Washington in 1994, the celebrated linchpin play of the Ducks' first Rose Bowl season in 37 years. You see your team headed for its sixth season with 10 or more wins since 2000.
You read about the construction of a new, $41 million, six-story, 130,000 square foot
operations building for the football program
that will begin early next year, and you (maybe) think, "About time."
"There is a difference between the people who have seen this program for 40 years and the people that have seen us for four years," Kelly said. "They obviously see it through a different set of eyes. This program wasn't always one of the top programs in the country... I still talk to some of the people who can remember the days gone by, when having a winning season was a big deal and making it to a bowl game was a really big deal."
Kelly adds that he's only known the good days. He arrived in 2007 as offensive coordinator, and Oregon has won 39 games -- and counting -- since then and finished each season nationally ranked, the last two in the top 11. Contemplating the present versus the past with nostalgia for days gone by? As he will tell you -- over and over and over and over -- he's only about winning the day, which is today and nothing else. Still.
"That's hard for me to fathom, this team struggling just to be bowl eligible," he said. "That's not the Oregon I know."
There is some respectful jealousy among other Pac-10 coaches. Want to know why California coach Jeff Tedford gets perhaps more understanding from sportswriters than Bears fans? Compare and contrast Oregon's facilities and the Bears'. It's major league vs. single-A (though Cal is -- finally -- in the process of a
major stadium project
that should help that).
Mike Stoops has led Arizona out of the Pac-10 cellar, but his facilities don't compare with Oregon's either. He noted -- indirectly -- that the Big 12's nouveau riche power, Oklahoma State, became a contender shortly after its billionaire sugar daddy, T. Boone Pickens, started to churn hundreds of millions of dollars into the program.
"They are both great examples of investing in your program, investing in your players and bringing first-class facilities to your program, and putting a lot of value to that," Stoops said. "You can see what's happened with Oregon. They continually won seven, eight, nine [games]. Now, all of a sudden, the last few years, they are competing for championships and competing for the national championship... Certainly, we are trying to do the same thing here in rebuilding our facilities as well."
Asked about whether he felt the powers-that-be at Arizona understood the value of facility upgrades, Stoops replied, "I can't erase 125 years of not going to the Rose Bowl. As much pressure as I can put on myself, I can't take all that responsibility. It can't be just all bad playing and all coaching."
(We, obviously, could start to debate the ethics and institutional value of the arms race in big-time college football when there are budget shortfalls on the academic side of things, but that prickly topic is for another day.)
Oregon's ascension also is fortuitously timed alongside the fall of USC. While the Ducks have won three of four versus the Trojans, the departure of Pete Carroll and the arrival of NCAA sanctions figure to benefit the Ducks as they tighten their moorings among the national elite.
Of course, the deal is not yet done. Irritated Washington fans, who have seen their Northwest supremacy taken away, would quibble: "Hey, win a Rose Bowl in the facemask era, would 'ya!" The Ducks haven't done that since Huntington's heroics. Two games remain in the regular season, and then there's the matter of closing the deal in Glendale.
But it's hard not to feel that Oregon is on the cusp of arriving. Consider this: Even if the Ducks don't win the national title game, when you look at what they have coming back in 2011, they are a good bet to begin next fall as the preseason No. 1.
November, 4, 2010
11/04/10
7:06
PM ET
Woody Hayes was a rivalry guy. When he was Ohio State's head coach, he wouldn't even say "Michigan." He said, "that team up north." He famously refused to fill up his gas tank while on a recruiting trip in Michigan. When Jim Tressel was hired to fill that legacy, he immediately endeared himself to Buckeyes' fans by promising something special "in 310 days in Ann Arbor, Mich., on the football field."
Oregon coach Chip Kelly is not a rivalry guy. The hated
Washington Huskies
visiting Kelly's Ducks on Saturday? Pffft.
"We have 12 rivalries," Kelly said.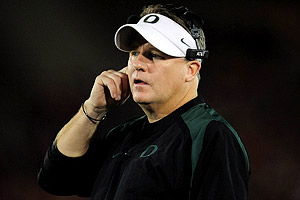 Gary A. Vasquez/US PresswireDon't tell Oregon coach Chip Kelly that Washington is a rival. Kelly contends the Ducks have 12 rivals.
Kelly previously said the Ducks play "12 Super Bowls," so his "every game is critical" philosophy is at least consistent.
Fact is, the Huskies-Ducks rivalry, long one of the nastiest and most underrated in the nation, has dramatically shifted. Washington was once the power that barely even noticed Oregon, which hated the Huskies sense of entitlement -- and winning -- in the Northwest (and a certain UW
vote in 1948 on who goes to the Rose Bowl
was a bit of an issue, too). But in the mid-1990s, things started to change. Oregon became competitive, and Huskies' fans didn't like that. The rivalry may have peaked when Rick Neuheisel became Washington's coach in 1999. Ducks fans already disliked Neuheisel from his days of Colorado, so it was a perfect stir to an already boiling pot.
Those were fun times
because both programs were national powers. The rivalry mattered.
Now? Not so much. Oregon has won six in a row in the series, each by at least 20 points. The Huskies appear to be headed toward an eighth-consecutive non-winning season. They are coming off an embarrassing 41-zip loss to Stanford inside a stunned Husky Stadium. Moreover, struggling quarterback
Jake Locker
, the unquestioned face of the program, will be out Saturday due to a broken rib, and redshirt freshman
Keith Price
will make his first career start in boisterous Autzen Stadium.
Uh-oh
.
Huskies coach Steve Sarkisian, therefore, fielded no questions about the glorious rivalry with the Ducks during a lengthy news conference Monday.
"I think more important for our program right now is focusing on us and not necessarily on the
Oregon Ducks
," Sarkisian said.
Meanwhile, Oregon, after finishing ranked in the top-11 the previous two seasons, is a national title contender. It's got bigger things going on than trash-talking a team that it's favored to beat by five touchdowns.
"Every game in this league is a challenge for everybody," Kelly droned. "Our concentration is solely on next week's game and that's playing Washington."
Oh, but the Huskies-Ducks hatred is still there among the fans.
Guess what's being celebrated -- again -- at Autzen on Saturday? Yep, "The Pick," the 1994 pick-six interception by Ducks cornerback Kenny Wheaton of Huskies QB Damon Huard, which is widely considered the most important play in school history. Wheaton will be at the game, appearing at PK Park from 10:30 a.m. to noon (PDT), signing autographs, including a T-shirt commemorating the play.
By the way, guess who is the new color guy on Huskies broadcasts? Huard. And guess who's an analyst for the ABC telecast? Damon's younger brother, Brock, also a former Washington QB. And guess who's going to be Brock Huard's co-analyst? Former Oregon coach Mike Bellotti.
How fun is that? How can you not smile about all that!
Said Kelly, "Harrumph." (We just made that up, but that's a fair translation of whatever he would say).
So do the Huskies have a chance? The short -- and practical -- answer is, no. But, folks, in college football, everyone has a chance, even when a team is missing its starting QB and brings one of the nation's worst defenses into the nation's most hostile venue to face the nation's best offense.
Said Kelly, "They've got really good athletes."
He then spit and let out an mocking laugh.
No, he didn't, but wouldn't it have been fun if he did?
October, 22, 2009
10/22/09
3:34
PM ET
Posted by ESPN.com's Ted Miller
These are tough times. Lots of problems in the world. The economy. War. Bitter political divisions.
| | |
| --- | --- |
| | |
| | Todd Warshaw/Icon SMI |
| | Rick Neuheisel was Huskies coach during arguably the height of the Washington-Oregon rivalry. |
But, really, it wasn't clear how tough times were until this week.
Up in the Northwest, when things were difficult, you could always rely on Oregon hating Washington and Washington hating Oregon. This hate was a
bedrock constant
in a region that shared so much -- snow-capped mountains, fleece, rain, coffee, organic foods, great music scenes, a highly literate populace and microbreweries.
And it was great fun.
So what follows is tragic, particularly with No. 11 Oregon heading to rejuvenated Washington on Saturday (ABC, 3:30 p.m ET).
"They're just the next team on our schedule," Oregon offensive tackle Bo Thran said.
Insert stunned silence from reporter.
Added Thran, "Did that kind of blow your story?"
Thran doesn't know this heated rivalry, even though he hails from Portland. And we don't give up so easily.
Still, what
in the name
of
Keith Lewis
,
Rick Neuheisel
and
Kenny Wheaton
is going on?
Part of the problem is this: Oregon has owned Washington of late, winning five consecutive games for the first time in the history of the rivalry, each by at least 20 points. Only one of those wins -- 2007, a 55-34 butt-kicking in the midst of a six-game UW losing streak -- was in Seattle, so none of the current Ducks really know what a frenzy Husky Stadium can be.
"I'm very aware (of the rivalry)," Washington coach Steve Sarkisian said. "It's one that has gone on for years and gone back and forth and obviously Oregon has had a great run right now, but we are expecting it to be an exciting day at Husky Stadium.''
Part of the issue is Sarkisian and Oregon's Chip Kelly will be head coaches in the game for the first time this weekend, though Kelly was the Ducks offensive coordinator the previous two seasons.
Both coaches fielded inquiry after inquiry this week about the heated nature of the rivalry. Both said they were aware of the fan feelings but downplayed the importance of them within the locker room or on the practice field.
"I think some people would be happy if we finished 2-9 and beat Washington and Oregon State, but we would be very disappointed as a program," Kelly said. "We don't put any more stock in this game than another. By that, I don't mean to diminish it, but we put everything we have into every game. We haven't done anything different in terms of our approach. It's a league game. It's on the road. And that's enough to get our players up and excited for practice.''
The rivalry probably peaked from 1994 to 2003. That spans Wheaton's game-clinching interception return for a touchdown -- "The Pick," as Ducks fans lovingly call it, is endlessly played in Autzen Stadium -- and the Huskies last win in the series, when Lewis trashed talked before the game and got in a fight late in the 42-10 loss.
And, truly, it peaked when Rick Neuheisel was the Huskies' coach and Mike Bellotti led the Ducks. The two often traded barbs in the media, which eagerly scampered back and forth between the two camps looking for a new tweak.
"There is no love lost, that would be the way to say it," said Neuheisel, now UCLA's coach. "It's for the fans more than the respective teams. I think the teams have respect for one another and do things in the correct way and so forth. But for the fans, there is some raw animosity."
Neuheisel once referred to Oregon as the "
propaganda machine
." He then tried to sell it as a compliment. Bellotti scoffed.
And it was great fun.
The key element during the hate peak, though, was both programs were good and typically nationally ranked.
While Washington still leads the series by a decisive 58-38-5 margin, the Huskies haven't kept up as Oregon and Oregon State have risen in the Northwest.
Yet, while Kelly has the Ducks again ranked highly and in the middle of the Pac-10 race, Sarkisian seems to be leading a program renaissance in Seattle.
The Huskies went 0-12 last year and were rarely competitive. They are 3-4 this year against a rugged schedule, and only one loss was decided by more than eight points. Sarkisian also appears to be putting together an elite recruiting class, and competitiveness in recruiting is often where coaches develop their fire for a rivalry.
Perhaps that's why Kelly isn't as concerned about fans trading barbs as he is about the Huskies on the field, most particularly quarterback
Jake Locker
.
"I think he's lights out," Kelly said. "He's as good as anybody in the country at quarterback. He's the guy who scares us."
The biggest source of intrigue heading into the game is Kelly's quarterback,
Jeremiah Masoli
, who hurt his knee on Oct. 3 against Washington State and missed the UCLA game the following weekend. He's been leading the No. 1 offense at practice this week, but how much of a run threat he will be if he starts remains a question.
What is not a question is the atmosphere Kelly and his Ducks will face. Husky Stadium has been mostly back to its old raucous self this season, and at least one rivalry veteran thinks the on-field experience might be transformative for Kelly.
"Yeah, no question," Bellotti said. "In the opponent's stadium, it's a different thing being on the field than being in the press box. I think in that regard he'll feel a lot more of it."
One of Neuheisel's favorite sayings is, "Tough times don't last; tough people do."
The Oregon-Washington rivalry has faced some tough times in recent years. But here's a guess that's about to end.