January, 2, 2014
Jan 2
9:00
AM ET
NEW ORLEANS -- As the clock ticks down to Thursday night's Allstate Sugar Bowl matchup between No. 3 Alabama (11-1, 7-1 SEC) and No. 11 Oklahoma (10-2, 7-2 Big 12), it's time to take a look at why Alabama will capture its third straight BCS bowl win.
This might not be a national championship scenario for the Crimson Tide, but coach Nick Saban and his players have made it clear that they are treating this one with the same sort of importance.
Here are 10 reasons why Alabama will beat the Sooners inside the Mercedes-Benz Superdome:
1. Alabama's running game:
One thing you can always count on with the Crimson Tide is a stout running game. Led by sophomore running backs
T.J. Yeldon
(1,163 yards and 13 touchdowns) and
Kenyan Drake
(694/eight), Alabama averaged 212 rushing yards per game and almost 6 yards per carry. Oklahoma's rush defense is giving up only 138 yards per game, but the push from Yeldon and Drake will just be too much.
2. Play in the trenches:
It's cliche, but it's true. If you can't win up front, you can't win at this level. Alabama's offensive line has been a force all year, while the defensive line is bigger than any line the Sooners have faced this year. It doesn't help that Oklahoma is dealing with the loss of two starters on its offensive line.
[+] Enlarge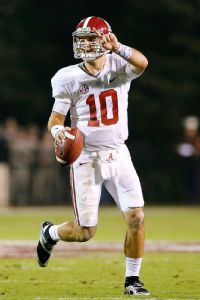 Kevin C. Cox/Getty ImagesAJ McCarron will be motivated to have a big finale.
3. That seasoned guy under center:
This is
AJ McCarron
's swan song and you better believe he's fired up about going out on top. Yet again, he was one of the nation's most efficient passers this season, throwing for 2,676 yards and 26 touchdowns with five interceptions. McCarron isn't the most athletic QB, but he knows how to make plays and win games. Expect him to show plenty of moxie and take some shots on the Big 12's No. 1 pass defense.
4. This team's mindset:
A lot of the talk leading up to this one has been about Alabama's approach to a game that isn't the national championship. Thanks to a miracle kick return, the Tide is on Bourbon Street and not out in Cali. But players sound motivated and ready, while Saban has said all week that he has been proud of his players' preparation. Seniors have talked about younger players buying in and youngsters have talked about sending the seniors out right. This Alabama team also wants to prove that it's still one of the best teams in the country.
5. C.J. Mosley:
Is there anything he can't do? Oklahoma coach Bob Stoops called him an "absolute perfect football player." Oklahoma center
Gabe Ikard
said he was the best defensive football player he has ever seen during his career. Alabama safety
Ha Ha Clinton-Dix
said he "
is
the defense." Mosley can move from sideline to sideline, drop back in coverage, stuff the run and rush the passer. He won the Butkus Award as the nation's top linebacker for a reason, and he'll show why over and over Thursday night.
6. A healthier secondary:
It seems like Alabama's secondary has been nicked up all year, but the time away from the playing field has given guys the opportunity to rest up and get back up to speed. Clinton-Dix is moving around better after getting his knee scoped and fellow safety
Landon Collins
is healthy after spraining his ankle early in bowl prep. Corner
Deion Belue
appears to be feeling much better after dealing with a nagging toe injury all season. This is a unit that has been up and down this season, but Alabama still owned the SEC's best pass defense (166.3 yards per game) and playing a team that rotates at quarterback and averages just 186 passing yards a game could be a good thing for the Tide.
7. Playmakers galore on offense:
There will just be too much of a mixture of McCarron, Yeldon/Drake and those talented receivers for Oklahoma's defense to handle. The Sooners have a linebacker in
Eric Striker
who has made his home in opposing backfields, but I don't see him having too much of an effect on McCarron's ability to throw or those running backs. Alabama will be able to churn yards out on the ground and McCarron will hit a couple of big plays down the field with
Amari Cooper
and
Kevin Norwood
.
8. Stopping the run early:
If Oklahoma can get its running game going early, it will open up things for the pass as the game goes on. That wouldn't be good for the Tide, but Alabama won't have to worry about that because this defense is looking to stop the run first, second and third. Before the Auburn game, Alabama was allowing just 91.3 rushing yards per game and 1.5 yards before contact per rush. OU likes that zone-read, but this isn't Auburn's run game.
9. Oklahoma's revolving quarterback door:
The fact that the Sooners won't know who their starting quarterback is until just before a game with Alabama isn't a good thing. Alabama prides itself on its consistency and thrives on opponents' errors. The revolving door at quarterback with
Blake Bell
and
Trevor Knight
could be an issue against such a detail-oriented defense. The Tide seems pretty comfortable defending either guy, after both passed for a combined 2,119 yards and 17 touchdowns with nine interceptions.
10. Nick Saban:
Is there a better game manager out there? Sure, Gus Malzahn got the best of him on the Plains at the end of the regular season, but Saban is still
the
coach everyone would want for a game like this … or any game, really. He'll have no problem pumping his team up and preparing it for the Sooners. He's obsessed with details and should have every single one of his bases covered for this game. He wants this win just as badly as his players.
November, 18, 2013
11/18/13
1:00
PM ET
STARKVILLE, Miss. -- The home crowd cheered, oblivious to the billboard-sized scoreboard pointing to their 20-7 defeat. Even some of their players looked content as they sang the school's fight song after the game. The No. 1 team in the country just came into their house and beat them, and yet they all seemed to OK with it.
[+] Enlarge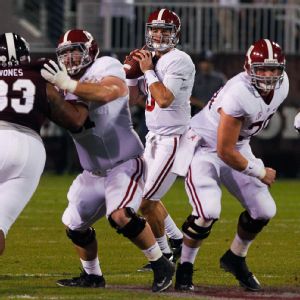 AP Photo/Butch DillThe win over Mississippi State wasn't impressive so AJ McCarron and Alabama have some work to do before their Iron Bowl game on Nov. 30.
Alabama wide receiver
Kevin Norwood
took note of the mood and knew something was wrong. His top-ranked Crimson Tide traveled to Starkville and beat the sub-.500
Mississippi State Bulldogs
in such an unconvincing way that the losers of the game didn't even feel like they'd lost.
"If the other team is cheering after a loss," he said, "then you definitely didn't do your job."
Alabama was sluggish, uninspired and out of sorts. The offense turned the ball over a season-high four times, and the defense struggled with communication. The Tide remained undefeated, but at a cost.
A week after beating a BCS-level LSU team convincingly, Alabama was suddenly flawed. UA coach Nick Saban said his team had won, but it really didn't beat Mississippi State in the process. He put the so-so performance on his shoulders and said that there was no question Alabama has to get better if it wants to reach its ultimate goal of a national championship.
"That's really not how we usually try and do it," Saban said, "but there's a lot our players [who] can learn from this."
Auburn, a state away and still celebrating its heart-stopping win over Georgia, could take heart: Alabama, for the first time in a long time, appeared beatable. College football's king finally looks capable of being dethroned and the Iron Bowl might just be the game to do it.
When the rivals go toe-to-toe in Jordan-Hare Stadium on Nov. 30, everything will be on the line. And if Alabama plays anything like it did on last Saturday night, it can kiss all hope of an undefeated season and a third straight trip to the national championship goodbye because Auburn will beat it.
You can question whether Auburn's program is on the same level of Alabama's right now, but it's hard to argue that the Tigers aren't much better than Mississippi State is today. Their nine wins speak for themselves, even if it took a miracle pass to survive Georgia.
The Iron Bowl won't come down to the wire if Alabama starts slow and turns the ball over four times as it did against Mississippi State. Auburn will run away with the game well before the final minutes.
Everything about last Saturday's game was sloppy on offense.
AJ McCarron
threw two uncharacteristic interceptions, and
T.J. Yeldon
and
Kenyan Drake
each fumbled the ball, brining their combined season total to eight.
Mississippi State didn't take advantage and converted just one of those turnovers into points. Auburn and its fleet-footed quarterback,
Nick Marshall
, won't have the same trouble. Auburn is 30th nationally in points off turnovers this season, while Mississippi State ranks 99th.
Don't think for a second that Auburn won't look at Alabama's ball control over the next two weeks.
But the Tigers will key in on the Tide's defense, too. Alabama may have knocked down or even intercepted the tipped pass Marshall threw to beat Georgia, but there's also a possibility no one would have been there at all. Considering the way Alabama let Mississippi State's receivers run into empty coverage, there's no telling what would have happened.
Though Alabama allowed just seven points to Mississippi State, the defense looked out of whack at times. Cornerback
Deion Belue
waved his hands and shouted the coverage clear across the field at a hapless
Cyrus Jones
, and
Landon Collins
got caught releasing a receiver into thin air. A better offense would have exploited their issues of miscommunication. Gus Malzahn may not have a ton of experience as Auburn's head coach, but no one out there doubts his skill as a play-caller.
If you look at this past weekend in Alabama's bubble, it's alarming. If you're Auburn, you feel great about what you saw.
But that's not how college football works. One bad game or one good game doesn't equal a trend.
Alabama, which will host hapless Chattanooga this coming Saturday, has essentially two weeks to recover from its hangover and get ready for Auburn. The way the Iron Bowl will be hyped, no one with a pulse will enter Jordan-Hare Stadium on Nov. 30 without the proper sense of preparedness.
October, 22, 2013
10/22/13
1:00
PM ET
TUSCALOOSA, Ala. -- Why
Kenyan Drake
was absent from the top-ranked
Alabama Crimson Tide
's season opener against Virginia Tech is still in question.
Was he suspended? Did he fall on the depth chart? Did he simply miss the flight? The talented sophomore and former Gatorade Player of the Year from Georgia seemed the incumbent No. 2 tailback heading into preseason camp, squarely behind another second-year player,
T.J. Yeldon
. The two, it was thought, would continue the one-two punch at tailback to which Alabama fans had become accustomed.
[+] Enlarge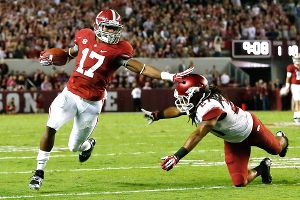 Kevin C. Cox/Getty ImagesKenyan Drake has rushed for 349 yarda and five TDs in the past four games.
But Drake was nowhere to be found in the Georgia Dome when the Tide beat the Hokies, 35-10, on Aug. 31. He wouldn't show up until two weeks later.
Nick Saban has enjoyed playing personnel matters close to the vest as a head coach, Drake's being no different. Saban, now in his seventh season leading Alabama, never announced why Drake wasn't on the depth chart when it was first released on Aug. 28. Drake, the team's third-leading rusher last season and arguably its most explosive back, wasn't wearing his No. 17 jersey in practices. Instead, he ran with the scout team, simulating opponents.
Saban, when asked, said matter-of-factly, "We had to get other guys ready to do things, and they actually did well enough." In other words, Drake was in the doghouse.
On a teleconference a week later, Saban said Drake was going to play against the then sixth-ranked Texas A&M Aggies. He was "ready to go," but he'd have to outplay those ahead of him.
Against the Aggies in College Station, Drake did exactly that. In fact, he wound up the team's second-leading rusher in what proved to be a dramatic 49-42 victory for Alabama. He rushed for 50 yards and a touchdown that day, providing a much-needed spark. And despite a poor performance a week later against Colorado State -- a game no one in crimson ran the ball especially well -- he has continued to be the clear No. 2 back behind Yeldon, racking up 349 yards and five touchdowns over the last four games.
The "why" of Drake's early season absence has gone by the wayside. All that seems to matter now is that he's back and Alabama is better off for it. The offense that has been known for showcasing two premier tailbacks at a time -- Eddie Lacy and Yeldon last year, Lacy and Trent Richardson the year before that, Richardson and Mark Ingram the year before that -- suddenly has the one-two punch it has been missing. Since Drake returned after Week 1, Alabama has ranked 19th in the country in rushing yards per game (231.0) and second in yards per rush (6.63).
"They complement each other and both guys have a little different running style," Saban said. "I think it's a real change of pace that they both present to the defensive players. Both guys have been productive for us and both guys have done a good job."
"It's a great combination with two different backs, two styles of runs," UA wideout
Christion Jones
said. "T.J. is a powerful and physical back. Drake is physical but quicker, faster on the perimeter."
[+] Enlarge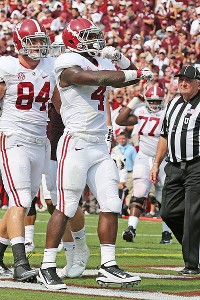 Matthew Emmons/USA TODAY T.J. Yeldon has rushed for 384 yards and five TDS in the past four games.
Where Yeldon is the more between-the-tackles, traditional back, Drake is all speed all the time. He's a big play waiting to happen. He has moves and vision, but the thing he's most known for in his ability to find daylight and accelerate through it. He and Oregon quarterback
Marcus Mariota
are the only two players in the country with 17 or more rushes of 10-plus yards in fewer than 70 attempts. In fact, neither has carried the ball 50 times this season.
If Drake gets to the edge of the defense, there's no tracking him down. Last weekend against Arkansas he had two rushes of 20 or more yards. It was as if went from zero to 60 mph in the blink of an eye on his 46-yard touchdown run in the second quarter, bouncing off a teammate at the line of scrimmage before accelerating in a hurry. He cut outside, made one defender miss and took the sideline the rest of the way for the score.
Drake, who acknowledged after the game that acceleration is one of his biggest assets, said it helps to "start up, and start up quick." It was his first time speaking with the media in Tuscaloosa since joining Alabama last season. And despite the early season turmoil, he seemed pleased with his role on the team, saying he and Yeldon were good friends who enjoyed working with one another.
"We support each other when we go in and do well. We pick each other up when we do badly," he said. "Everybody loves the connection we have. We just go out there and do our best.
"We push each other a lot. We're both competitive."
Drake came to Alabama to show he was a complete tailback. What he said he had to learn most, though, was how to put bad plays behind him and focus on what's next. It seemed fitting in the context of his season, overcoming an early absence to become a major contributor.
It couldn't have been easy for a young player with star potential, but he has learned that there's more to the game than going fast. Sometimes you have to be told to wait.
"Being here they teach you about learning the details and handling yourself accordingly," Drake said. "I feel like at the end of the day I've improved on the mental aspect of my game."
October, 13, 2013
10/13/13
9:00
AM ET
It was just another day in the SEC on Saturday. It got started with Missouri's upset win at Georgia and finished with Texas A&M's game-winning field goal to hold off Ole Miss. Now it's time to hand out the helmet stickers for Week 7's top performers.

L'Damian Washington, WR, Missouri:
If it hadn't been for the injury, Missouri's
James Franklin
might have been the one on this list, but it was Washington who stepped up when his quarterback went out. With the lead cut to two and the Tigers in need of a big play, coach Gary Pinkel called on a trick play. Backup quarterback
Maty Mauk
threw a lateral to wide receiver
Bud Sasser
who then heaved it toward the end zone. Who was waiting on the other end? Washington. The 6-foot-4 receiver outfought the defender and hauled in the 40-yard touchdown pass. He finished with seven catches for 115 yards and two touchdowns on the day.
Connor Shaw, QB, South Carolina:
The Gamecocks had struggled in recent weeks, not putting teams away, but that wasn't the case Saturday against Arkansas. They thrashed the Razorbacks to the tune of 52-7, and Shaw played his best game of the season. The South Carolina quarterback finished 19-of-28 for 219 yards and three touchdowns through the air and tallied his fourth score on a 10-yard run in the third quarter. Shaw has been lights out since returning from a recent shoulder injury. He now has 10 touchdown passes on the season, but more importantly, he has yet to throw an interception after throwing seven a year ago.
The LSU defense:
It has been only two weeks since LSU gave up 44 points in a loss to Georgia, but coach Les Miles never gave up on his defense. That confidence paid off Saturday. The Tigers defeated Florida, 17-6, in a good, old-fashioned slugfest, rare for the SEC this season. LSU didn't force a single turnover, but the Tigers held the Gators to just 240 yards of total offense. Tyler Murphy had looked impressive since taking over as Florida's quarterback, but he could get nothing going in Death Valley. The Tigers finished with four sacks and eight tackles for loss. Linebacker
Lamin Barrow
led the team with 13 tackles.
T.J. Yeldon and Kenyan Drake, RB, Alabama:
It wasn't much of a start for Yeldon or Drake. Both running backs fumbled early, and the Crimson Tide failed to score in the first quarter against Kentucky as a result of the miscues. However, instead of dwelling on the fumbles, they both redeemed themselves in a big way Saturday night. Yeldon led the way with 124 yards on 16 carries, while Drake gained 106 on 14 carries. They each scored two touchdowns. As a team, Alabama rushed for 299 yards against the Wildcats. Freshman running back
Altee Tenpenny
got into the mix late with a 7-yard touchdown run, the first of his career.
Johnny Manziel, QB, Texas A&M:
It wasn't pretty at times. It was downright ugly with the two second-half turnovers, but in the end, Johnny did what he always does. He made just enough plays to win the football game. The Aggies gave up a go-ahead touchdown in the fourth quarter, but Manziel led them back and answered with a 6-yard touchdown run. After Ole Miss went three-and-out, Manziel orchestrated a flawless two-minute drill that resulted in the game-winning field goal. The Texas A&M quarterback finished 31-of-39 for 346 yards through the air and rushed for 124 yards and two touchdowns.
September, 22, 2013
9/22/13
12:00
AM ET
TUSCALOOSA, Ala. --
AJ McCarron
didn't bother to watch
Kenyan Drake
cross the plane of the end zone. Alabama's veteran quarterback instead turned toward the sideline and threw his hands up in disgust. On fourth-and-inches from the Colorado State 3-yard line, McCarron went to hand the ball off, only to see his sophomore running back had gone left, not right like the play had called for. It worked and Drake scored, but it wasn't perfect.
Beside himself, McCarron fumed as he waited for the touchdown celebration to end.
On the way back to the sideline, McCarron saddled up to Drake and let him have it. Face mask to face mask, he shouted and wagged his finger like a disappointed father. Alabama had taken the lead, but by mistake. Against a better team, a defender might have broken into the backfield and jarred the ball loose. Who knows? The execution wasn't perfect and that's all that mattered to McCarron, who is a perfectionist to the core.
[+] Enlarge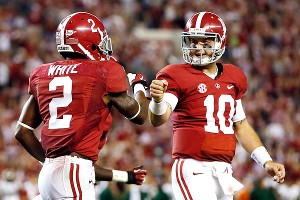 Kevin C. Cox/Getty ImagesAJ McCarron might have celebrated a little in Alabama's 31-6 win, but he was far from happy with the Tide's performance.
It went on like that for a while. There were few smiles to be had inside Bryant-Denny Stadium on Saturday night, especially on the home sideline. No. 1 Alabama remained undefeated despite a sloppy, disorganized performance against Colorado State. The 31-6 final score wasn't the least bit appeasing for UA head coach Nick Saban, who is nothing if not critical. It can be argued that McCarron got his sense of perfectionism from him.
"We want to be able to go dictate with our intensity, sense of urgency, preparation, everything that we have to do so we can be more dominant and more consistent in the game," Saban said. "And I don't think we did that tonight."
Saban was measured in his postgame comments, clearly frustrated by his team's performance but resolved to correct any and all mistakes. McCarron, by comparison, was mute. Every one-word answer or curt response revealed a deeper and deeper sense of irritation. He said the poor execution came down to poor communication, simple as that. When he was asked to elaborate, he wouldn't budge.
"We just didn't communicate," he said, repeating the same answer regardless of the question. "Communication, we didn't do it."
McCarron said more in his 30-second tirade to Drake in the first quarter than he did in five minutes with the media after the game. When asked what he said on their walk back to the sideline, he again declined to comment, saying, "Nothing. That's between me and him."
Alabama didn't have much in the way of answers Saturday night, either during or after the game. The Crimson Tide struggled against a CSU team it normally would have put away by halftime. The defense missed assignments left and right, allowing prolonged drives to pass the 50-yard line into Alabama territory. McCarron and the offense, meanwhile, couldn't finish them off either, failing to convert on a third-down attempt until the fourth quarter.
The same team that went blow-for-blow with Texas A&M in an instant classic a week ago looked out of breath and hung over against an opponent Alabama had to pay more $1 million just to show up.
"Any time you play in a big game and you come out, you want to respect your opponent and I don't think we did that tonight," right guard
Kellen Williams
said. "It was just a difficult thing to come off an emotional win and play again. We're kind of young and we have a lot of fundamentals and emotional things to work on."
Williams, who started his first career game Saturday, described the mood of the huddle during the game as "somber."
"I guess toward the end of the game we felt like we left a lot out on the field. Even though it's a win, in our minds we just didn't perform the way we're capable of performing."
"It was a win and you have to give the other team a lot of credit," Saban said. "Their players played with a lot of heart. But I'm not satisfied with where we are as a team. We need to focus on improving and we're going to need to do a lot better job as a football team if we're going to be the kind of team we're capable of being.
C.J. Mosley
, Alabama's leader on defense at middle linebacker, echoed his coach's statement, emphasizing the quick turnaround needed to prepare for a tough Ole Miss team that gave UA all it could handle a season ago. The same quick screens and short passes that gave the defense trouble against Colorado State could prove doubly fatal next weekend against an Ole Miss offense that entered Saturday averaging 490 yards per game.
"We knew what they were doing, we game-planned the right way and made all the right adjustments. We just had to execute," Mosley said. "A lot of their plays came from us not getting in the right gaps or not fitting the pulls the right way. It's little things that get you beat."
Mosley added later: "Some of those little things will get us beat next week."
Mosley, Williams and nearly every other player who spoke with the media expressed some optimism about the team's ability to regroup and improve. Everybody but McCarron, who left the room quickly after a tense turn in front of the cameras.
It was a concerning sight for an Alabama team expected to compete for a national championship: Its unquestioned leader showing poor body language while saying next to nothing about an obviously poor performance -- no talk of hope, no talk of working to get better, no nothing. Just the same line about communication.
If communication really is the answer, then he didn't do a good job of communicating that fact. It was, after all, a conflicting statement when put into context. If McCarron was willing to shout at his own teammates during the game, then why couldn't bear to do the same afterward?
And that, no matter how you slice it, isn't what you want to hear.
September, 16, 2013
9/16/13
4:30
PM ET
Alabama running back
T.J. Yeldon
did his own
Johnny Manziel
impersonation, mocking the Texas A&M quarterback's "show me the money" celebration after scoring a touchdown during Saturday's game. He added a double throat-slashing gesture at the end which drew a flag for a 15-yard unsportsmanlike conduct penalty.
On Monday, the sophomore running back
issued an apology
.

"I want to apologize to everyone for my selfish actions on Saturday," Yeldon said in a release. "That is not the way I want to represent myself, my family and our team. That is not the way we do things at Alabama. This is something that I will learn from, and I will use better judgement in the future."
Yeldon rushed for 149 yards and a touchdown in Alabama's 49-42 win over Texas A&M. Although coach Nick Saban was less than pleased with his star running back after the penalty, he stuck with him for most of the game. Yeldon finished with 25 carries while the rest of the team combined for 11.
However, the next time the Crimson Tide got close to the goal line, it was
Kenyan Drake
who punched it in for the score. The fellow sophomore rushed for 50 yards on seven carries in his first action of the season.
Both backs should play a major role again this weekend along with
Jalston Fowler
, but Saturday's game against Colorado State also should allow for some of the freshman running backs to get some carries.
September, 9, 2013
9/09/13
10:13
AM ET
TUSCALOOSA, Ala. -- This week, as No. 1 Alabama prepares to face No. 6 Texas A&M, much will be written about the two quarterbacks. And rightfully so.
AJ McCarron
was the country's most efficient passer a season ago and
Johnny Manziel
was the most electrifying player in the game, dazzling on his way to the Heisman Trophy.
But it won't be all about what happens when the ball is put in the air Saturday in College Station, Texas. The running backs and the offensive linemen who clear the way will have their say as well.
In fact, Alabama's success depends on their performance. If the running game looks like it did against Virginia Tech, it could spell disaster for the Tide's chances.
At first glance, Alabama's 119 yards on 34 designed rushes in Week 1 don't appear disappointing. But further inspection shows otherwise: The Tide averaged 224.9 yards per game on designed rushes last season. The offensive line helped the running game average 4.1 yards before contact in 2012, compared to the 2.0 yards before contact
T.J. Yeldon
and the rest of Alabama's ball carriers got against the Hokies. There were only three runs of 10 or more yards in that game; the Tide averaged 7.1 of such runs per game last season.
Simply put, the holes weren't there -- 3.5 yards per rush isn't going to cut it.
Center
Ryan Kelly
put it best when he told reporters that the offensive line needs to be punishing again.
"This week is very important because we get back to what the Alabama offensive line is about and that's being physical and making the defensive line quit," he said. "I think that's what we're going to bring to Texas A&M.
"I don't care what anybody else tries to tell you, it's your first game starting and you're going to be nervous. But I think we started to open up a little bit at times. From the first game to the second game, it's going to be a bigger transition."
The talent in the backfield is there, but the push from the offensive line hasn't been.
Alabama ran for 3,171 yards in 2012, better than any team in the SEC. Yeldon was one of the best freshmen tailbacks in the country as a backup, carrying the ball 10 or more yards on 36 occasions. He wound up third in the country and first in the SEC with 55.9 percent of his runs resulting in 5 or more yards (minimum 150 carries).
Even the Tide's third-string running back,
Kenyan Drake
, put up good numbers. As a freshman, he averaged 6.7 yards per carry, placing him in the top 30 nationally among players with at least 40 attempts.
The Tide averaged 5.56 yards per carry and had the fourth-lowest percentage of rushes for zero or negative yards. This season, they are last in that same category -- 123rd out of 123 FBS schools.
Against Texas A&M, that will have to change, and players expect it will. With three new starters on the offensive line, chemistry has been slow to develop. Coach Nick Saban said a lack of communication and trust up front was to blame for the Week 1 troubles.
"There's a lot of things a lot of people have the opportunity to learn and grow from," Saban said.
If the offensive line improves, so will the running game. And in turn, so will the production of the offense as a whole.
As Alabama fans saw last season, the passing game is at its most effective working off play-action. McCarron completed 79 of 113 passes for 1,329 yards, 13 touchdowns and no interceptions on run fakes in 2012. Against Virginia Tech, McCarron was 2-of-5 for 9 yards on play-action.
So while McCarron and the passing game are put under the microscope in the lead-up to Saturday, remember that they're only half of the story on offense. For Alabama to be successful, it will need help on the ground.
June, 3, 2013
6/03/13
5:00
PM ET
Looking at ESPN NFL Insider KC Joyner's recent piece on whether
West Virginia's offense can stay elite
got me to thinking: Can the SEC's top offenses from 2012 replicate last year's success?
The SEC is bringing back some real offensive firepower in 2013. Sure, this is still a defensive league, but as we've seen over the past couple of years, the offenses are really evolving and getting better.
So can the top five SEC offenses from last year duplicate what they did in 2012? Let's take a look:

1. Texas A&M
2012 total offense:
558.5 yards per game
2012 scoring offense:
44.5 points per game
The Aggies bring back Heisman winner
Johnny Manziel
, but a lot of Johnny Football's supporting cast is gone. Gone are offensive coordinator Kliff Kingsbury, left tackle Luke Joeckel and senior receivers Ryan Swope and Uzoma Nwachukwu. Joeckel was the best tackle in the SEC last year, Kingsbury and Manziel had a special on-field relationship, and those receivers are taking 1,398 yards and 15 touchdowns.
The Aggies have a stacked backfield that should be headlined by senior
Ben Malena
and Oklahoma transfer
Brandon Williams
, and
Mike Evans
leads a younger but very talented receiving corps. But teams will have better game plans for Manziel and those youngsters at receiver will have to grow up quickly. Manziel is special, but that target on his back is enormous. The Aggies were great on offense last year, and they'll be good again, but I expect the Aggies' numbers to dip in 2013.

2. Tennessee
2012 total offense
: 475.9
2012 scoring offense:
36.2
The Vols lost their starting quarterback and top four receiving targets. Tyler Bray accounted for 3,612 passing yards and 34 touchdowns. His top four targets, including Justin Hunter and Cordarrelle Patterson, caught 187 passes for 2,914 yards and 26 touchdowns. Tennessee returns one of the top lines around and has a solid trio at running back, but so much is different on offense.
Can the Vols adapt to Butch Jones' new hurry-up offense before the season starts? Can either
Justin Worley
or
Nathan Peterman
play beyond their inexperience this fall? There isn't a lot of experience at quarterback or receiver, and that's a major problem when Tennessee's offense revolved around its passing game last year.

3. Georgia
2012 total offense:
467.6
2012 scoring offense:
37.8
Record-setting quarterback
Aaron Murray
is back along with his entire offensive line, arguably the top running back duo in the SEC (
Todd Gurley
and
Keith Marshall
) and a host of talented receivers. Tavarres King and
Marlon Brown
, ranked first and third on the team in receiving last year, are gone, but
Malcolm Mitchell
is back and
Michael Bennett
should be healthy for the start of the season. Bennett might have been the Dawgs' top receiver before he went down with an ACL injury early last season.
There are some young players to keep an eye on as well in
Chris Conley
and
Justin Scott-Wesley
. Junior college transfer Jonathan Rumph and seasoned tight end
Arthur Lynch
should both be valuable options as well. This could be one of the most balanced offenses in the country this fall.

4. Alabama
2012 total offense:
445.5
2012 scoring offense:
38.7
Running back Eddie Lacy and three starters along Alabama's offensive line are gone. Two of those linemen were first-round picks and Lacy was a second-rounder. But quarterback
AJ McCarron
is back and he has a lot to work with.
Amari Cooper
is one of the top receivers in the league and
Chris Black
should be 100 percent this fall, giving McCarron another deep threat to complement Cooper and
Kenny Bell
.
Kevin Norwood
is also a reliable target for McCarron.
We know the offense goes through the running game first, and Alabama's backfield is once again stacked.
T.J. Yeldon
will battle to be one of the top rushers in the league and he'll have big boy
Jalston Fowler
and speedster
Dee Hart
to share time with. Youngsters
Kenyan Drake
and Derrick Henry, who is returning from a spring injury, should both contribute as well. Henry can be used in both the rushing and passing game. Alabama's line seems fine, so there isn't much worry in Tuscaloosa.

5. Ole Miss
2012 total offense:
423.8
2012 scoring offense:
31.5
The Rebels return a lot of pieces on offense and you'd think they'd be even better in Year 2 of Hugh Freeze's spread offense. Ole Miss managed to get through last season without any major injuries. Even Freeze doesn't know if that's likely to happen again. If it does, the Rebels should be fine, considering starters
Bo Wallace
(quarterback),
Jeff Scott
(running back) and
Donte Moncrief
(wide receiver) are all back. There are some talented younger players the Rebels can use as well, but the continuing theme in Oxford is that there are still depth issues along the offensive line and at receiver.
Any sort of injuries to those positions could rock the Rebels. Plus, Wallace is coming off of shoulder surgery and threw 17 interceptions last year. Wallace can't be as careless with the ball this fall.
Vince Sanders
and
Ja-Mes Logan
, along with true freshman Laquon Treadwell, should take some pressure off Moncrief, and the Rebels are also deep at running back, but the Rebels won't sneak up on people this fall.
May, 13, 2013
5/13/13
2:38
PM ET
The other day I was asked a question about the SEC that caught me off guard a little.
And no, it wasn't about Bob Stoops or scheduling.
I was asked if the league would be a quarterback or running back league in 2013. Obviously, when you think about the SEC, you think of pound-it-out, grind-it-out football. Games are won and lost in the trenches and running backs are usually a team's most coveted asset. The more the merrier, too.
But the SEC returns some pretty good experience at both positions.
At running back, the SEC will be without four of the league's top 10 rushers -- Eddie Lacy, Mike Gillislee, Zac Stacy and Kendial Lawrence -- from the 2012 season. The SEC will be without three of the top 10 passers -- Tyler Bray,
Tyler Wilson
and Jordan Rodgers.
Now, my math skills tell me that seven top players at a position is better than six, but the SEC is
deep
at running back this season. Of the seven top quarterbacks returning, six reached 2,500 passing yards, while only two made it to 3,000 yards --
Aaron Murray
and
Johnny Manziel
. Nine true starters return (Kentucky's
Maxwell Smith
missed most of last season and ended the spring behind
Jalen Whitlow
). So five teams are breaking in new starters.
The SEC saw eight running backs hit the 1,000-yard mark last season. There's a chance the league could not only reach that number again but it could eclipse it.
[+] Enlarge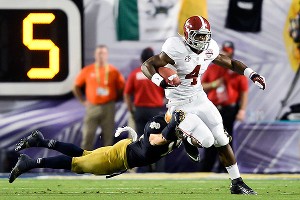 AP Photo/Romeo GuzmanT.J. Yeldon takes over for running back Eddie Lacy as "the guy" for Alabama.
Alabama lost Lacy -- and his 1,322 yards/17 touchdowns -- but rising sophomore
T.J. Yeldon
appears more than ready to take over as the lead back. He rushed for 1,108 yards and 12 touchdowns last year, and it sounds like he looked even better as
the guy
. He'll also have help from fellow sophomore
Kenyan Drake
, who played in 12 games last year, and
Jalston Fowler
and
Dee Hart
, who are both returning from season-ending knee injuries. Remember, Fowler had nearly 400 rushing yards in 2011. True freshman Derrick Henry, who was tearing it up this spring before his leg injury, should help once he's healthy this fall.
Oh, and Alabama will welcome three more backs this summer, including ESPN 150 member Alvn Kamara.
Texas A&M and Florida will also have the luxury of a packed backfield. The Aggies return leading rusher (for a running back)
Ben Malena
(808 yards), but will also have rising sophomore
Trey Williams
, and transfers
Brandon Williams
and
Tra Carson
. Brandon Williams might be the most talented of the bunch, and none of these guys should get too tired with all those legs to work with.
The Gators lost Gillislee, but sophomore-to-be
Matt Jones
had an excellent spring. He knew the playbook backward and forward and showed a more physical style. He already has the goal of getting 1,500 yards. But he'll have help from redshirt junior
Mack Brown
, who had a very solid spring, and freshmen Kelvin Taylor (early enrollee) and Adam Lane. The coaches feel very good about all four contributing a lot this fall.
Georgia is a little thin at running back, but with Gurley and
Keith Marshall
returning, the Dawgs could have the best running back duo in the SEC -- maybe the country.
Here's a quick look at how other SEC teams currently fare at running back heading into the summer:
Arkansas
The Razorbacks lack experience at the position, but sophomore
Jonathan Williams
made good strides this spring and looks poised to be the top back. He'll also have incoming freshman Alex Collins to help him this fall.
Auburn
Tre Mason
and his 1,000 yards return. He should have even more space to work with in Gus Malzahn's spread, which could spell trouble for defenses. Junior college transfer Cameron Artis-Payne had a solid spring, and
Corey Grant
returns.
Kentucky
Leading rushers
Raymond Sanders
(669 yards) and
Jonathan George
(504 yards) return with two talented youngsters to help out.
Dyshawn Mobley
had an excellent spring and
Josh Clemons
is back from a devastating knee injury he suffered in 2011.
LSU
Legal issues have
Jeremy Hill
's fall status unknown for the fall. If he returns, he gives the Tigers on of the top backs in the league.
Kenny Hilliard
and
Alfred Blue
return, but LSU will be thin at the position without Hill.
Mississippi State
LaDarius Perkins
returns after his 1,000-yard season. He's a complete back and can hurt teams running and catching.
Josh Robinson
returns after a productive year as the backup.
Nick Griffin
has a ton of skill, but still hasn't reached his potential.
Missouri
Lawrence is gone, but
Henry Josey
is back and says he's 100 percent after his devastating knee injury in 2011. He was one of the Big 12's best and most explosive running backs before his injury. The Tigers have plenty of bodies at running back and should get good use out of
Marcus Murphy
and
Russell Hansbrough
.
Ole Miss
Leading rusher
Jeff Scott
(846) is back and he'll be working with some solid sophomores in
I'Tavius Mathers
and
Jaylen Walton
. True freshman Mark Dodson had a productive spring as well. Along with the six returning lettermen, Ole Miss will have three more signees on campus this fall.
South Carolina
Mike Davis
isn't trying to be Marcus Lattimore, but he did a good job of taking his spot this spring. The rising sophomore can pound it or break out for that home run play.
Brandon Wilds
and
Shon Carson
are back from injuries and ESPN 150 member
David Williams
will be in town this fall.
Tennessee
Marlin Lane
's off-field problems didn't help things this spring, but Butch Jones was very happy with the play of
Alden Hill
and
Rajion Neal
this spring. Lane has every chance to come back and if he does the Vols will have a pretty solid three-headed rushing monster.
Vanderbilt
Stacy is gone, but
Wesley Tate
and
Brian Kimbrow
had good springs in Nashville.
Jerron Seymour
gives Vandy another body to use, as well. Tate and Kimbrow both have big-play ability, but they'll have to stay healthy because there isn't a lot of experience behind them.
January, 21, 2013
1/21/13
9:00
AM ET
Now that all of the early entries for this year's NFL draft are in, we decided to take a closer look at some of the players who decided to leave school early.
We're checking in on how teams were affected and who some of the winners and losers were from all of these early departures:
[+] Enlarge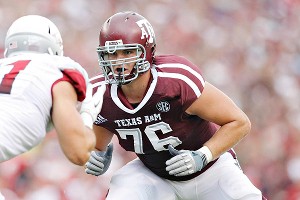 Brett Davis/US PresswireIt was a no-brainer for Luke Joeckel to take his talents to the NFL.
1. Biggest winners:
Texas A&M's
Luke Joeckel
flirted with staying in school for his senior year, but it appears that would have been a major mistake for the nation's top left tackle. He was a guaranteed top-10 pick for most of the season, but with the draft creeping closer, Joeckel has a great chance of being the top pick come April. He definitely made the right decision to leave school early, and so did his teammate
Damontre Moore
. After a monster 2012 season, Moore could follow Joeckel as the second player taken off the board. He moved to defensive end last fall and is a very attractive pick for teams because of his versatility. Georgia linebacker
Jarvis Jones
and Alabama cornerback
Dee Milliner
could also hear their names called very early in April, as they too could both be top-five picks.
2. Biggest loser:
LSU was ravaged by the NFL draft, as ten underclassmen declared early. Some were pretty obvious, but others left people confused. It didn't shock anyone that defensive linemen
Sam Montgomery
,
Barkevious Mingo
and
Bennie Logan
declared. Montgomery and Mingo could be first-round draft picks, while Logan could go within the first three rounds. Safety
Eric Reid
and linebacker
Kevin Minter
made sense as well, but seeing punter
Brad Wing
, cornerback
Tharold Simon
, offensive lineman
Chris Faulk
and running backs
Spencer Ware
and
Michael Ford
all leave was pretty surprising. The Tigers will be losing seven quality starters and basically their entire defensive line. LSU has a lot of quality youngsters who will be vying for major playing time, but losing all that experience will hurt the Tigers in 2013.
3. Head-scratchers:
Ware, Ford and Simon could all have benefited from another year in Baton Rouge. Neither Ford nor Ware hit the 400-yard rushing mark and combined for just four touchdowns on the season. Maybe the emergence of freshman running back
Jeremy Hill
helped influence their decisions. South Carolina wide receiver
Ace Sanders
shocked everyone when he decided to turn pro at the last minute. Sanders was one of the league's top multipurpose weapons, and while he isn't going to get any taller (he's a generous 5-foot-8), he could use another year to improve his receiving skills. He'll be looked at as a returner first in the NFL and won't likely be drafted very high at all. Also, Florida linebacker
Jelani Jenkins
could have used another year of school as well. He was banged up in 2012, only playing in nine games, and registered just 29 tackles. He's a very smart player, but another year could have helped his draft status even more.
4. The replacements:
October, 28, 2012
10/28/12
12:13
AM ET
Another week, another lopsided win for No. 1 Alabama. It didn't matter that Mississippi State brought a No. 11 ranking or an undefeated record to Bryant-Denny Stadium. The Crimson Tide did what they've done all season -- and for much of the past four years -- and applied a python-like vise grip on their opponent en route to an easy
38-7 win
.
Here's the skinny:


It was over when:
Alabama quarterback
AJ McCarron
hit wide receiver
Kenny Bell
on a wide-open go route for a 57-yard touchdown at the tail end of the first quarter. Sure, there was still plenty of football left to play, but the score gave Alabama a 14-0 lead, and double-digit deficits are hard things to overcome against Alabama squads. The Tide's defense forced a Bulldogs punt on the next possession, and Alabama scored again moments later to make it 21-0.
Game ball goes to:
McCarron was his usual efficient, mistake-free self against Mississippi State. He completed 16 of 23 passes -- 69 percent -- for 208 yards and two touchdowns. He has now gone eight weeks without throwing an interception. The junior bruised his back when he took a sack toward the end of the third quarter, and he didn't return to the game. That was probably more of a precautionary measure, but it's sure to be a storyline leading up to next week's trip to LSU.
Key play:
The Bulldogs threatened to claw back into a 24-0 game with a 97-yard drive that ate up 8:23 of the third quarter. Mississippi State quarterback
Tyler Russell
led his offense all the way to the Alabama 1-yard line, but the Crimson Tide stiffened and came away with an end zone interception to maintain the shutout.
Key stat:
The Crimson Tide forced three Mississippi State turnovers while committing none of their own, which pushes their season turnover margin to plus-17. Alabama scored touchdowns off two of those three turnovers -- a 27-yard screen pass from backup quarterback
Phillip Ely
to running back
Eddie Lacy
and a 3-yard touchdown run from third-string running back
Kenyan Drake
.
Key stat, part II:
Alabama narrowly missed out on its third shutout of the season, but it was the fifth time this year the defense has allowed 10 points or fewer. The Tide are allowing just 8.1 points per game.
What it means:
On a day when three top-10 teams suffered a loss, Alabama maintained its death grip on the No. 1 spot in college football. "College GameDay" has already announced it will be in Baton Rouge, La., for the Tide's showdown with No. 6 LSU -- the teams' third titanic meeting in the past year. The winner will grab the inside track to the SEC West championship.
The road doesn't get any easier for Mississippi State. The Bulldogs must bounce back quickly from this setback, as they host No. 20 Texas A&M next week before traveling to LSU on Nov. 10.
September, 10, 2012
9/10/12
4:35
PM ET
TUSCALOOSA, Ala. --
Jalston Fowler
,
who will likely miss the rest of the season recovering from knee surgery
, wasn't the leading rusher, the leading blocker or the leading receiver for the No. 1-ranked Crimson Tide. His name didn't appear first on any depth chart. In fact, he shared the distinction of being the No. 2 tailback with true freshman
T.J. Yeldon
.
But what Fowler lacked for in distinction on paper he made up for in usefulness on the field. His unique skill set -- a power runner with light feet and soft hands -- was put to use by the Alabama coaching staff. He was second on the team in yards rushing, but he was also a reason why the Alabama rushing game has been so effective this season in his role as a lead blocker at H-back.
[+] Enlarge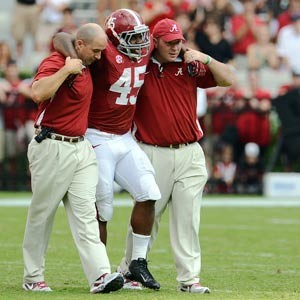 John David Mercer/US PresswireTide running back Jalston Fowler gets helped off the field during the fourth quarter against W. Kentucky.
Alabama coach Nick Saban said replacing Fowler's production will be a team effort. His loss at tailback hurts when considering starter
Eddie Lacy
's health concerns. He missed all of spring practice recovering from surgery to fix his battle with turf toe, only to sprain his ankle late in fall camp. He's been limited thus far, carrying the ball less than 10 times in each of the first two games.
The good news is Yeldon has emerged so quickly. The rookie was the first freshman in school history to rush for 100 yards in his debut. He followed up that performance by leading the team in receptions against Western Kentucky on Saturday. He and fellow freshmen
Dee Hart
and
Kenyan Drake
will take on more responsibility in Fowler's absence.
"I think we have what we have," Saban said. "We have backups at every one of the positions and roles that he filled. There may not be one particular guy. I think on special teams, there's a different guy on each special team that would take his place now. At running back, Dee Hart, Kenyan Drake will have a little more opportunity. Kelly [Johnson] was his backup at fullback, which is where he plays anyway. So we are going to miss him. It's going to take a number of people to replace him in various roles that he played on our team."
Junior receiver
Kevin Norwood
, who caught two touchdowns against Western Kentucky, said there's not much the team can do now other than move on.
"We're all going to pray for Jalston that hopefully he'll get back our there soon," Norwood said. "But the only thing we really can do is move on and make sure everybody is focused and preparing right for this team."
Guard
Chance Warmack
said he hasn't spoken to Fowler since the injury and hopes his recovery will happen swiftly. In the meantime, he said Alabama's lost a weapon on offense.
"Phenomenal player," Warmack explained. "Brought a lot to the offense. I don't want to count him out just yet. I don't know the specifics about how the injury is. Great guy, brought a lot to the offense. Very powerful back."
Fowler was one of three tailbacks in the SEC to average better than 6.9 yards per carry in 2011-12. He ran for 395 yards and four touchdowns on 56 carries.
Linebacker
Nico Johnson
went up against Fowler every day in practice. The 6-foot-1, 242-pound wrecking ball at tailback was routinely considered the most difficult man to bring down with the ball in his hands.
"He's more like a back like Trent (Richardson)," Johnson said. "He can run, catch out of the backfield, and he's tough to tackle. So, it's going to be real tough, but we've got enough guys and depth for somebody to step in and fill his role."
September, 8, 2012
9/08/12
7:21
PM ET
TUSCALOOSA, Ala. -- Alabama head coach Nick Saban didn't want his team taking Western Kentucky lightly, and although it might not have looked exciting, the Crimson Tide
cruised to a 35-0 win
as they get ready for Arkansas next week.


Quarterback
AJ McCarron
finished 14-of-19 for 219 yards and matched a career high with four touchdown passes. Freshman sensation
T.J. Yeldon
had just 25 yards rushing but caught four passes for 47 yards. Fellow freshman
Kenyan Drake
added a 32-yard touchdown run late in the game.
The defense gave up 224 yards to the Hilltoppers, but the unit forced four turnovers to keep the shutout intact. Junior college transfer
Deion Belue
made the first interception of his career at UA.
It was over when:
You could make a case it was when Western Kentucky got off the bus, but the Hilltoppers made it closer than the experts predicted. Still, when McCarron connected with
Christion Jones
on a 22-yard touchdown pass to make it 21-0 with 6:53 remaining in the first half, there was no coming back.
Game ball goes to:
The easy choice would be to give it to McCarron, who tied a career high with four touchdowns, but wide receivers Christion Jones and
Kevin Norwood
each caught two scores and gave the Tide the big play ability they lacked a year ago. Now a junior, Norwood has emerged into a playmaker and one of McCarron's favorite targets.
Stat of the game:
Alabama committed just one penalty all game. This has to make Saban happy after the Tide committed seven penalties for 55 yards last week against Michigan.
Unsung hero:
The Alabama pass rush looked to be more effective against the Hilltoppers and leading the way was redshirt freshman
Xzavier Dickson
. The outside linebacker seemed to be in the backfield all game. His biggest play came midway through the second quarter when he sacked the quarterback, forced a fumble and kept WKU off the board.
What it means for Alabama:
Regardless of what head coach Nick Saban says, this was just a tune-up for next week's showdown at Arkansas. Alabama's offense looked efficient and McCarron keeps improving. The defense didn't give up the big play, but WKU showed it could move the ball. Turnovers were key and will be key again next week.
What it means for WKU:
Nobody expected the Hilltoppers to win or even keep it close for that matter. They didn't look scared, though. This is a good football team who has the talent to compete in the Sun Belt this year. Playing in this type of environment can only help down the road.