NCF Nation:

Kenyon Barner
January, 12, 2012
1/12/12
11:00
AM ET
What were the top 10 games or moments of the 2011 season? Here's a stab at a list.
10. Colorado wins 17-14 at Utah
: If the Utes had won Nov. 25, they would have won the Pac-12 South Division -- instead of UCLA -- and played at Oregon in the first Pac-12 championship game, in their first year of Pac-12 play. As it was, the Buffaloes' surprising victory ended a 24-game losing streak outside of the state of Colorado.
9. Shelly Lyons' pick-six vs. Matt Barkley
: Arizona State ended an 11-game losing streak to USC on Sept. 24 in a quaking Sun Devil Stadium. The most memorable play was Lyons returning an interception 41 yards for a touchdown to ice the 43-22 victory. This victory seemed to announce the Sun Devils' arrival as a top-25 team.
8. Third-and-29
: Arizona State's shocking 29-28 loss at UCLA on Nov. 5 was the first of five consecutive losses that derailed the Sun Devils' season and got coach Dennis Erickson fired. While it's most remembered for kicker Alex Garoutte missing three field goals, the biggest play of the game was the Bruins converting on a third-and-29 play on their go-ahead drive late in the fourth quarter.
Kevin Prince
connected with
Nelson Rosario
for 33 yards to the Sun Devils' 6-yard line. After that play, pretty much nothing went right for the Sun Devils the rest of the season. Further, UCLA wouldn't have played in the Pac-12 championship game without that play.
7. Halliday
!
Celebrate
! Freshman
Connor Halliday
, the third quarterback Washington State used this season, threw for a Pac-12 freshman-record 494 yards and four touchdowns in a 37-27 victory over Arizona State on Nov. 12. It was his first significant playing time.
[+] Enlarge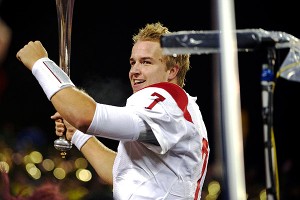 Jim Z. Rider/US PresswireUSC's win at Oregon, and Matt Barkley's decision to stay, signaled the Trojans' return to relevance.
6. Utah at USC, Sept. 10
: It was a good game that wasn't decided until the waning moments, with USC prevailing 23-14, but that's not why it was memorable. It was the first official Pac-12 game. (California's trip to Colorado earlier in the day didn't count as a conference game; it had been pre-scheduled as a nonconference game).
5. LSU-Oregon, third quarter
: The Ducks were statistically superior but trailed LSU 16-13 at halftime on Sept. 3 because Tyrann Mathieu scored a touchdown after stripping the ball from
Kenjon Barner
on a punt return. Then the third quarter happened. Two fumbles from
De'Anthony Thomas
in Oregon territory set up a pair of Tigers touchdowns, and the game was pretty much over before it got to the fourth quarter.
4. Stanford wins at USC 56-48 in triple overtime
: Start with this: The Oct. 29 meeting was a fantastic game, clearly one of the top five regular-season contests in the nation this year. What was most memorable to me wasn't the fumble that ended it, but Cardinal quarterback
Andrew Luck
regrouping after throwing a 33-yard pick-six to Nickell Robey and coolly leading a 76-yard touchdown drive to tie the count with 38 seconds left.
3. USC wins at Oregon 38-35
: When the Ducks missed a late field goal to tie the Nov. 19 game, several things happened, starting with the end of a 21-game home winning streak as well as the end of a 19-game conference winning streak. It eliminated Oregon from the national title hunt. It also announced USC's return to national relevance. This victory -- as well as quarterback Matt Barkley's decision to return for his senior season -- is why many see the Trojans as 2012 national title contenders.
2. Black Mamba strikes in the Rose Bowl
: For those in the college football world who only remembered De'Anthony Thomas from his fumbles in the opener against LSU, they got reintroduced in the Jan. 2 Rose Bowl. Thomas' touchdown runs of 91 and 64 yards were two of the most stunningly athletic plays of the bowl season. Immediately everyone thought: 2012 Heisman?
1. No Fiesta for Williamson
: Stanford kicker Jordan Williamson missed a 35-yard field goal wide left as time expired that would have given the Cardinal a victory over No. 3 Oklahoma State in the Fiesta Bowl on Jan. 2. Williamson then missed from 43 yards in overtime, setting up the game-winning kick for the Cowboys. Of course, Stanford wouldn't have been in that situation if it had stopped the Cowboys on one of their two fourth-down conversions. Or if they tackled Oklahoma State receiver
Justin Blackmon
better. Or if they hadn't fumbled inside their 10-yard line.
November, 9, 2009
11/09/09
4:19
PM ET
Posted by ESPN.com's Ted Miller
Oregon coach Chip Kelly wasn't terribly expansive Monday about his decision to reinstate running back
LeGarrette Blount
, but the basic outline of where things stand is fairly simple:
| | |
| --- | --- |
| | |
| | AP Photo/Matt Cilley |
| | LeGarrette Blount has been reinstated after serving an eight-game suspension. |
Blount was told on Sept. 25 that he would have to climb what Kelly called "academic and behavioral ladders" in order to be reinstated. Kelly said Blount successfully did so.
Kelly said that there was no delay in Blount's reinstatement, even though it was announced on Oct. 2 that he could return to action as early as last weekend's Stanford game. Kelly said he didn't make a decision last week because he was still gathering information.
Kelly said multiple times that redshirt freshman LaMichael James remains the No. 1 running back.
Kelly said that Blount was running "fourth or fifth" with the running backs during the Monday morning practice. That means Blount is behind James, Kenjon Barner, Andre Crenshaw and Remene Alston on the depth chart at present.
Kelly said there was no specific plan at the moment to play Blount against Arizona State on Saturday in Autzen Stadium.
It's possible that Kelly didn't reinstate Blount, who was suspended after he punched a Boise State player following the season opener on Sept. 3, last week for a reason, such as a desire to have no distractions the week after the red-letter victory over USC. But that's not what he said.
It's clear, however, that Kelly and Oregon don't want Blount's return now to become a distraction as the Ducks head into a three-game final stretch where they could win or lose the Pac-10 title. Blount, who will not be made available for interviews, has been practicing with the scout team since his suspension, so he should be in reasonably good shape and his presence probably won't create much of a ripple with his teammates.
Kelly told his players of Blount's reinstatement during a meeting Monday morning. Blount then addressed the team.
"He apologized again for the incident," Kelly said. "He is anxious to get back."
| | |
| --- | --- |
| | |
| | Kyle Terada/US Presswire |
| | Chip Kelly says he isn't worried about those who might second-guess the decision to reinstate LeGarrette Blount. |
Kelly fought off reporters' efforts to get him to describe specifics of the "academic and behavioral ladders," calling them "private," as well as efforts to get him to reflect on the practical and philosophical underpinnings of his decision.
Kelly didn't seem worried that many might criticize or second-guess his bringing Blount back after initially announcing the suspension was season-long.
"If I run the program based on what public opinion is, I'd have a lot of problems," Kelly said.
I previously wrote that Kelly's decision to reduce Blount's suspension was
a good thing
, and I still believe that.
But now that decision will be judged -- and Blount will be judged -- going forward.
Based on what we've seen out of James, Blount will play second fiddle in the Ducks' remaining games. He will, at best, get a handful of carries each weekend. The first order of business for him is to accept a reduced role with a "whatever you need, coach."
And, obviously, he needs to continue to climb those "academic and behavioral ladders."
The fact is, Oregon's success this season makes this situation much easier for Kelly. When Blount initially melted down, some coupled that with the anemic effort in the game and speculated that Kelly was another great coordinator who was in over his head as a head coach.
The number of folks at present who think Kelly can't handle being a head coach is somewhere between zero and none at all. That, of course, could change. Nature of the business. Genius today, idiot tomorrow. But Kelly's first year has been impressive in many ways.
Therefore, the entire weight of this falls on Blount. He will live his life under a microscope for as long as he's playing football in front of large crowds. That's the burden of doing what he did on national television.
He can do enough -- even with just a few carries -- during the remaining weeks to earn a shot at an NFL career. This is a great opportunity for him to start rebuilding his reputation.
The ball has been handed back to Blount. Now can he run with it, on and off the field?