March, 19, 2015
Mar 19
11:00
AM ET
Like any politician, football coaches have their talking points. If you listen to enough news conferences and conduct enough interviews, you will learn how to spot them.
Even Bret Bielema, who so often strays off course to argue for change regarding the pace of play in college football, has a theme he wants to get across about Arkansas. This year's involves a different way of looking at last season's 7-6 finish: "It's not a landing point, it's a launching point."
[+] Enlarge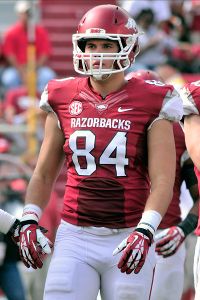 AP Photo/April L. BrownTight end Hunter Henry is among the reasons Bret Bielema is excited about Arkansas' offense.
"It's something I think can launch this program into the highest level of success," he told ESPN.com late last week.
But how do they get there? How does Arkansas go from a team on the rise to a team competing for conference titles?
Bielema, who said players are just now beginning to see that "Two plus two really is four," believes that consistently beating good teams is the key.
Beating LSU 17-0 was the first step. Throttling Ole Miss 30-0 served as reinforcement. And taking care of Texas to end the season? That might have been the biggest eye-opener of all about where Arkansas is headed.
"To beat Texas 31-7 and take a knee three times at the 1-yard line because we could, that instilled a mentality in our guys and a level of confidence," Bielema said.
Adding to that confidence is the addition of new offensive coordinator Dan Enos, who gave up a head coaching job at Central Michigan to join Arkansas' staff.
According to Bielema, Enos' impact has already been felt by simplifying an offense Bielema thought "got a little wordy" and was "hard for our players to play early and play fast."
"Dan has a little confidence, a little swagger," Bielema said. "He walks in a room and you can feel. The kids feel the energy. It reminds me a lot of the transition we had a year ago when I brought [defensive coordinator] Robb Smith in. It was an uttering and oozing of confidence; it's a good thing."
With two 1,000-yard rushers returning (Jonathan Williams, Alex Collins), a fifth-year quarterback with loads of starting experience (Brandon Allen), and a tight end who is arguably the best in the conference (Hunter Henry), there is plenty to feel confident about? The play at receiver, which has been uninspiring recently, should only get better. Senior Keon Hatcher, the team's leading pass-catcher, closed last season with touchdowns in three consecutive games.
But, staying true to his roots, the thing that excites Bielema most is the guys on offense who play with their hands in the dirt.
"[The offensive line] is going to be a huge, huge asset to our program," he said. "We have our best pass-pro play over to our left tackle spot, Denver Kirkland. We moved Dan Skipper from left to right; he's in a good battle with Brian Wallace for that right tackle spot. We have Sebastian Tretola at left guard, which puts two of better players right next to each other to play a little left-handed football. Frank Ragnow we moved from second-string center to first-string right guard. He looks great. He's put on 30 pounds in the last few months and still has less than 10 percent body fat and runs like a deer."
He later added: "I think O-line and tight end play could be at a high here, one of the best we've had."
The defense will have to adjust without Trey Flowers and Darius Philon up front, and Martrell Spraight at linebacker, but that does little to dissuade Bielema's excitement.
"Offensively, it's going to be a lot of fun to sit back and watch these guys work," he said.
For a program that lost nine games and was one of only 17 teams at the FBS level with 30 or fewer touchdowns in 2013, that's progress.
But, according to Bielema, that progress isn't complete. It's what he'll preach all spring and summer and on into the fall.
Whether his words turn into action, either on the field with his own team or off of it regarding pace of play, remains to be seen. But as Steve Spurrier and so many other coaches describe it, this is Talking Season. You have to say something.
August, 25, 2014
8/25/14
12:00
PM ET
Arkansas can't rely solely on the running game again.
Alex Collins
and
Jonathan Williams
might be one of the best tandems of running backs in the country, but they can take the offense only so far. Quarterback
Brandon Allen
and the passing game, which ranked dead last in the conference last season, must pick up the slack. If not, we could see the Razorbacks' nine-game losing streak continue into this season, beginning with Saturday's opener against Auburn.
At the center of it all stands
Hunter Henry
. The 6-foot-6, 255-pound tight end was one of the best true freshmen in the SEC last season, finishing with 28 receptions, 409 yards and four touchdowns. Against Texas A&M, he had 109 yards on four receptions. A few weeks later against Alabama, he proved to be a matchup nightmare yet again, splitting the defense on one play that picked up 25 yards.
[+] Enlarge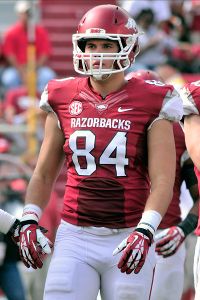 AP Photo/April L. BrownArkansas tight end Hunter Henry has shown the potential to be a deep threat in the passing game.
But his production was volatile. Like most freshmen, he struggled with consistency.
One reason for that was fairly obvious. He simply didn't know the offense like he should. He knew his job on each play, but hadn't had time to understand the concepts of everyone involved. The nuances of the game -- breaking in and out of each route, feeling for the soft spot in the defense, etc. -- hadn't come to him.
The other reason for his struggles was physical. Two games in, he banged his knee and was forced to sit out against Southern Miss. Then, about the halfway point of the season, he injured his other knee. Against South Carolina, he failed to catch a pass. Against Auburn, he caught just one ball. A few weeks later, in an overtime loss to Mississippi State, he had just two receptions for 14 yards.
"I had some fluid and muscular issues," Henry said. "It was really weird. I've never had anything like it. It was bothering me from really opening up my stride and really running at my full potential."
Despite getting his knee drained "a couple of times," the tightness lingered. He couldn't get to his second gear, he said.
Now, after some time to rest, he said he feels great. And judging by the word of his quarterback, he is playing like it -- from the neck up as much as the neck down.
"Physically, he's in better shape," Allen said. "He's more conditioned and built up a lot of muscle.
"The biggest thing is the maturity level. Going from being a freshman last year to now, his maturity level is off the charts. He's seeing defenses and seeing coverages a lot better. He's understanding how to get himself open within the coverage."
That could spell trouble for opposing defenses.
"They'll be prepared for him," Allen said. "But you can be as prepared as you want, because great players are going to make great plays, and I think Hunter is a great player. It doesn't matter if defenses are tailored for him or not, he's going to get himself open."
That might be true. But Henry's teammates need to play more of a supporting role than they did last season when defenses were able to double- and triple-team him without paying the price.
Those around the program say to expect a major upgrade at receiver.
Keon Hatcher
returns after ending last season on a good note,
Demetrius Wilson
is back from his torn ACL and
Cody Hollister
is poised to make an impact as a sophomore.
Then there are the young guns like
Kendrick Edwards
, who stands 6-foot-6.
Jared Cornelius
will "make people miss" in the slot, according to Allen. And
Jojo Robinson
, a former four-star prospect, has 4.4 speed and could find his way into the rotation, too.
"They've seen what [Henry] can do," Allen said. "So it's going to be up to a lot of people to step up and make plays besides him."
For Arkansas, it's all about finding the right complimentary weapons. The receivers must open up things for the tight ends. The tight ends and the receivers must then open up things for the running backs. And at the end of it all, Allen must execute.
"We have three great running backs," Allen said, counting sophomore
Korliss Marshall
along with Collins and Williams. "I feel like them pounding the ball is definitely going to be tough on a lot of defenses and cause them to put more people in the box and try to stop them. That, in turn, is going to open up the passing game.
"Our passing game has come a long way from last year. We have receivers making plays, understanding the routes and how to win one-on-ones. I feel like our passing game is night and day. It's much better, and we obviously have a great running game to go with it."
April, 26, 2013
4/26/13
10:30
AM ET
Cobi Hamilton
isn't walking through Arkansas' doors in 2013.
He may come back for a visit or two, but he won't be suiting up for the Razorbacks, which means that his single season school-record 90 receptions and 1,335 receiving yards aren't returning, either.
With a relatively inexperienced quarterback in
Brandon Allen
taking over and a brand new coaching staff in town, the Hogs will surely miss a top-flight receiver like Hamilton, but things aren't totally bleak in Fayetteville. The good news is that the Hogs will be able to replace Hamilton with numbers -- veteran numbers.
[+] Enlarge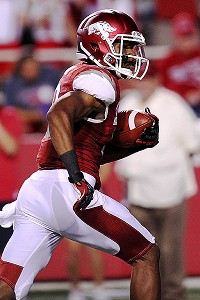 Nelson Chenault/USA TODAY SportsThe toughness of Arkansas WR Javontee Herndon has caught the eye of new coach Bret Bielema.
Arkansas has three senior receivers --
Javontee Herndon
,
Julian Horton
and
Demetrius Wilson
-- sitting atop the post-spring depth chart. Now, they might only have 67 combined receptions among them, but they've been around the game long enough to generate some confidence in the coaching staff this spring.
Their hunger to make things right again at Arkansas during their last go-round also excites Arkansas' coaching staff.
"When you have three seniors and it's as important to them as it is, the other guys can kind of take shape around them," coach Bret Bielema said. "I expect them to lead us."
Herndon will enter the fall with the most production of the three. He has 31 career receptions for 473 yards and three touchdowns. He caught 21 of those passes and all of his touchdowns last year. Herndon's on-field attitude and toughness really impressed Bielema this spring.
"Probably one of the more physical guys in our group," Bielema said of Herndon.
While Wilson, who came from the junior college ranks last year, only caught nine passes in his first year with the Hogs in 2012, Bielema said he was Arkansas' top performer at receiver this spring. The thing that really made him stand out was his consistency and he bought into the offense and what coaches asked him to do.
"Everything he does is 100 miles an hour," Bielema said. "He's very engaged, he's very hard on himself. If he makes a mistake or does something that he knows is wrong he's very critical, but is quick to rebound and make a great play after it."
Then you have Horton, who caught 14 passes last year. He has the physical ability to be a real playmaker in this offense with his speed and elusiveness. Bielema said he really came on during the last few weeks of spring practice.
It's not going to be easy to replace Hamilton -- or his production -- but the Hogs have bodies to work with. The next step is really developing that on-field confidence during game situations. It'll be tough with a younger QB taking over, but this is where coaches have to lean on their vets.
The Hogs will call upon youngsters like
Mekale McKay
and
Keon Hatcher
to help this fall, but to have three seniors clicking like they are exiting spring is a big win for this new coaching staff.
November, 10, 2012
11/10/12
5:14
PM ET
Missouri 51, Tennessee 48 (4 OT):
Redshirt freshman kicker
Andrew Baggett
connected on a 35-yard field goal, lifting the Tigers to a thrilling four-overtime road victory at Neyland Stadium.
Missouri needed a near-miracle just to get the game to overtime, trailing 28-21 in the final minute of regulation. The Tigers converted two fourth downs, including a 25-yard touchdown pass from
James Franklin
to
Dorial Green-Beckham
on 4th-and-12 to tie the game at 28-28 with 47 seconds left.
Boos rained down from the fans at Neyland when the Volunteers decided to run out the clock and go to overtime.
The teams exchanged touchdowns in the first two overtimes, and Missouri receiver
Marcus Lucas
made another impressive catch, an 18-yard reception reminiscent of Green-Beckham's regulation haul, to send it to a third overtime tied at 42.
The teams exchanged touchdowns and failed two-point conversion attempts in the third overtime, then Tennessee coach Derek Dooley made an interesting decision in the fourth overtime, electing to go for it on fourth-and-3 at the Missouri 18. Quarterback
Tyler Bray
's pass to
Zach Rogers
fell incomplete and the Vols paid for it when the Tigers capitalized with Baggett's game-winning kick.
The loss keeps Tennessee (4-6, 0-6 SEC) winless in conference play while the Tigers (5-5, 2-5) picked up their second SEC win.
Franklin's day was a good one, as he went 19-of-32 for 226 yards with four touchdowns and an interception. He also picked up 43 yards on the ground, and senior running back
Kendial Lawrence
rolled to a 153-yard, two-touchdown day on 21 carries, which included a 77-yard third-quarter touchdown run.
Tennessee was awful in the penalty department, committing 11 for 80 yards.
South Carolina 38, Arkansas 20:
Connor Shaw
and the Gamecocks receivers found plenty of room downfield en route to the resounding victory against the Razorbacks at Williams-Brice Stadium.
Shaw, the Gamecocks' junior quarterback, was 14-of-22 passing for 272 yards and two touchdowns. He was able to hit on big plays down the field early and often -- the first coming on a 29-yard pass to a wide-open freshman tight end
Jerell Adams
.
The Razorbacks moved the ball well themselves in the first half, getting inside the Gamecocks' 10 on three straight drives, but only yielded 10 points from those three trips. The first ended in a lost fumble by
Dennis Johnson
, the second resulted in a 6-yard touchdown pass from
Tyler Wilson
to
Keon Hatcher,
and the third stalled before becoming a short
Zach Hocker
field goal.
Shaw continued his downfield assault before the half, hitting a wide open
Bruce Ellington
for a 42-yard touchdown at the 1:30 mark, giving South Carolina a 21-10 lead going into halftime.
The defense got in on the act in the third quarter when
D.J. Swearinger
stepped in front of a Wilson pass and returned it 69 yards for a score and a 31-10 lead.
The Gamecocks put ample pressure on Wilson, sacking him four times and picking up four hurries as well. Wilson was productive when he did have time (26-of-41, 277 yards) but threw two interceptions with his two touchdowns.
South Carolina was able to keep the chains moving fairly well, converting 7-of-13 attempts on third down. That's an area where Arkansas struggled mightily (3-of-17). The turnover battle went in the Gamecocks' favor also, 3-1, with the only South Carolina turnover coming with Shaw taking a shot in the end zone holding a 38-13 lead in the fourth.
February, 1, 2012
2/01/12
10:52
AM ET
Missouri will be bringing a big-time wideout to the SEC East in 2012.
The Tigers got great news Wednesday morning when No. 1 wide receiver
Dorial Green-Beckham
(Springfield, Mo./
Hillcrest) picked Missouri over longtime favorite Arkansas.
Arkansas was considered No. 1 for most of Green-Beckham's recruitment, but his visit to Missouri last weekend appeared to change everything.
Missouri was in search of a game-changing receiver and might have found it in Green-Beckham. The 6-foot-6, 220-pounder isn't just a big target for quarterback
James Franklin
but he has great speed as well. He draws comparisons to
Julio Jones
and
Calvin Johnson
, who did pretty well for themselves in college and aren't too shabby at the pro level, either. Green-Beckham holds the national record for career high school receiving yards with 6,353 and caught 300 passes and scored 75 touchdowns in his career.
Green-Beckham should compete for immediate playing time at Missouri. He is quite the welcoming gift for the Tigers as they get ready to make the transition to the SEC this fall.
For Arkansas, this is a pretty big blow to this class. While the Razorbacks are expected to sign some quality receivers, including No. 27 wide receiver
D'Arthur Cowan
(Olive Branch, Miss.) and No. 28 receiver
Keon Hatcher
, Arkansas' staff put a lot of work into getting Green-Beckham. To lose him so late is tough. He could have really flourished in Bobby Petrino's offense.
The Hogs still have hope to add to the position, as No. 1 athlete
Davonte Neal
(Scottsdale, Ariz./Chaparral) has yet to sign anywhere and is still considering Arkansas.