NCF Nation:

Kermit Whitfield
September, 17, 2014
9/17/14
2:30
PM ET
A year ago,
Jameis Winston
marched his offense onto the field in Death Valley, cracked a few jokes in the huddle to lighten the mood, then proceeded to dismantle the Clemson defense for 60 minutes straight. He threw for 444 yards and three touchdowns, and when the carnage had ended, Florida State was a legitimate contender for the national title and Winston was a national celebrity.
In the 11 months since, that spotlight has unraveled so much of the veneer Winston's win over Clemson created, and now, just four days before the rematch, the scenario for Florida State and its star-crossed QB feels entirely different.
Sean Maguire
will be the man leading Florida State's offense onto the field this time around, thanks to a
half-game suspension
levied against Winston for his latest off-field troubles. The Seminoles will remain favorites to win, but Wednesday's news means Florida State is hardly the safe bet it once seemed.
[+] Enlarge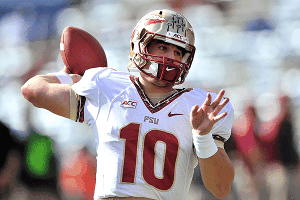 Steve Mitchell/USA TODAY SportsFlorida State is hoping that quarterback Sean Maguire will be a quick study this week.
Really, the questions began long before Winston stood atop a table in (or near) FSU's student union and shouted obscenities that resonated around the country in a matter of moments, thanks to social media.
Winston's offseason was a whirlwind of awards ceremonies and off-field scrutiny, and when the season began with a sluggish win over Oklahoma State, fans immediately began to wonder whether he was the same QB who'd looked so unflappable as a freshman.
Seminoles stars departed for the NFL, including Lamarcus Joyner, who forced the fumble that started the FSU avalanche in Death Valley last season, along with offensive stalwarts Kenny Shaw, Kelvin Benjamin and Devonta Freeman. Through the first two games of 2014, those absences were felt by Florida State, and the Seminoles were clearly searching for the right replacements to step up.
But even throughout all the turbulence since Jimbo Fisher hoisted the national championship trophy a year ago, Florida State remained the nation's safest bet for the College Football Playoff, and Winston was the constant.
Now, for the first 30 minutes of a game that will likely decide the ACC Atlantic Division, nothing seems certain.
Make no mistake, Maguire is capable of handling the role. He's spent two full seasons learning Fisher's system. He spent three chaotic weeks in November 2013 as FSU's top backup during a time when the courts held Winston's future in limbo. Winston said Wednesday he'd be spending extra time watching film and studying the playbook with Maguire to get him ready for his first career start. Maguire is prepared for this moment, but all the preparation in the world won't entirely close the gap in talent between the Heisman winner and the anonymous backup.
Clemson's pass rush is as good as any in the nation, and Maguire's calm under pressure will be tested. That was always Winston's strength.
Karlos Williams
is a talented runner who could help ease the transition for the backup QB, but look no further than the Week 1 game against Oklahoma State to find serious concerns about Florida State's ground game. Without Winston, the Tigers will almost certainly stack the box and dare Maguire to beat them downfield.
And while
Rashad Greene
remains as consistently productive a player as there is in the conference, there were already nagging questions surrounding the receiving corps' supporting cast. Now the burden falls on Maguire to help inexperienced targets like
Jesus Wilson
,
Kermit Whitfield
and
Ermon Lane
develop on the fly.
It's just 30 minutes of football, and the stage will be set for Winston to return to action in the second half and erase a few more demons on the field. But last year, those first 30 minutes meant everything, with the Seminoles jumping out to a 27-7 lead that never allowed Clemson to get out of the starting blocks.
Clemson coach Dabo Swinney grabbed headlines afterward, suggesting the talent on the field was split evenly, but the early momentum of the game tipped the scales Florida State's way. This time around, there will be no excuse for the Tigers to cede the game within the first few drives. If the talent really is evenly split, Winston's loss tips the scales back in Swinney's favor.
But a year ago, there were questions about Winston, too, when Florida State's bus motored into Death Valley, and he emerged a conquering hero.
Don't expect the first chapter of the legend of Sean Maguire to be written in Tallahassee on Saturday. But the backup to college football's biggest star will have a chance to script one heck of a footnote in the story of the Seminoles' 2014 season.
September, 4, 2014
9/04/14
4:00
PM ET
In the wake of Florida State's opening-week struggles, there has been a rush to blame
a lack of depth at receiver
for some of the problems.
Quarterback
Jameis Winston
played perhaps the worst game of his career, and aside from senior
Rashad Greene
, the rest of the receiving corps appeared limited. As the Seminoles prepped for their Week 2 matchup against The Citadel, finding alternatives to Greene in the passing game -- particularly on the outside -- is a priority. That means a focus on sophomores
Jesus Wilson
and
Kermit Whitfield
and freshman
Travis Rudolph
, in particular.
"[Defenses'] main focus is going to try and stop Rashad and Nick [O'Leary]," Winston said. "That is where those young guys are going to have to step up. It is a work in progress because we have to get those guys ready for the show."
Against Oklahoma State, Winston targeted Greene on 18 of his 40 pass attempts (45 percent). That is by far the most favoritism he has shown a single receiver in any of his 15 career starts, and the focus on Greene certainly underscores the need for a No. 2 receiver to emerge.
Though the Oklahoma State game did shine some light on the lack of established depth at the position, Winston's focus on a single receiver has actually been something of a trend that began at the tail end of last season.
In Winston's first 11 games last season, he distributed the ball rather well, with no single receiver earning more than 38 percent of his targets in any game. On average, Winston's most targeted receiver each game during that stretch received about 31 percent of his throws.
In Winston's past four games, however, that has changed. Against Florida, Kelvin Benjamin was targeted 13 times (42 percent of Winston's throws). Against Duke, Greene saw 10 targets, then saw 14 more against Auburn (40 percent). And against Oklahoma State, that number went up again. In total, Winston's top target in the past four games has averaged 40 percent of his throws.
Of course, the lack of diversity in the passing game at the end of 2013 certainly wasn't a result of a lack of weapons at receiver. More likely, it was a factor of matchups (like Benjamin vs. Florida) and taking what the defense allows.
But the numbers also suggest that zeroing in on a top target isn't good for Winston's overall performance.
.
In the four games in which Winston distributed the ball most evenly among his receivers, he completed a far better percentage of throws, averaged more yards per attempt and had a better touchdown to interception rate.
That is not to say the fix is simply to do a better job of distributing the ball. Winston is relying on the receivers he trusts, and he's identifying the best matchups. Sometimes that means targeting three or four players routinely, sometimes it means zeroing in on Greene. And it might be that defenses are just getting a better read on how to attack Winston.
It's worth noting, too, that despite the close score, FSU did generate 476 yards of offense (sixth most against a Power 5 team in Week 1), scored 37 points (also sixth nationally) and threw for 370 yards (third most vs. a Power 5 team), so the opener wasn't exactly an ugly performance regardless.
Winston and the Seminoles would certainly benefit from developing their young receivers as quickly as possible, but any perceived struggles probably relate far more to a dormant running game and a surprisingly mediocre performance by the O line than anything else.
August, 21, 2014
8/21/14
9:00
AM ET
Presenting the 2014 ESPN.com preseason All-ACC team:
Offense

WR: Jamison Crowder, Duke.
One of the most dynamic receivers in the ACC, Crowder has had consecutive 1,000-yard seasons and gets the nod over Louisville receiver
DeVante Parker
in a close call. Given Crowder's past production in the offense, he should be in line to break school receiving records this season.
WR: Rashad Greene, Florida State.
Perhaps one of the most underrated receivers in the country, Greene is a virtual lock to catch every pass that comes his way. He is the picture of consistency, and as the top returning target for
Jameis Winston
, should reach 1,000 yards again.
TE: Nick O'Leary, Florida State.
One of the best tight ends in the country, O'Leary had 33 receptions for 557 yards and seven touchdowns last season. He should improve on all those numbers this season.
T: Cameron Erving, Florida State.
Erving thought about leaving school early last season for the NFL draft but decided to return, and he now anchors the best offensive line in the country.
T: Sean Hickey, Syracuse.
Hickey is going into his third season as a starter and has developed into one of the best tackles in the league. He also may be the strongest player in the ACC, too.
C: Andy Gallik, Boston College.
Gallik helped spearhead a Boston College run game last season that averaged 212.5 yards on the ground. As a three-year starter, Gallik has grown into the best center in the league.
G: Tre' Jackson, Florida State.
One of the best guards in the country, Jackson also opted to return to school for his senior year. He and Erving are the best players on that line.
G: Laken Tomlinson, Duke.
A first-team All-ACC player a year ago, Tomlinson will be relied upon even more to lead an offensive line that has to replace two of its best players. If he has another stellar season, Tomlinson could be one of the first guards taken in next year's draft.
QB: Jameis Winston, Florida State.
The returning Heisman Trophy winner had a rough season off-the-field but there is no questioning his credentials on the field. After throwing for more than 4,000 yards a year ago, the expectation is he will be even better this year.
RB: Duke Johnson, Miami.
Johnson is one of the best backs in the country, averaging 6.6 yards every time he touches the ball. If he can stay healthy for the entire season, he's a virtual lock to gain 1,000 yards.
RB: Kevin Parks, Virginia.
Parks is the only returning 1,000-yard back in the ACC and is hoping for more in 2014. Tough call here between Parks and
Karlos Williams
, the next two best backs in the league behind Johnson.
Defense
DE: Vic Beasley, Clemson.
Beasley finished last season with 13 sacks (tops in ACC) and 23 TFL (4th in nation). He's a preseason All-American and the biggest star on one of the country's top defensive fronts.
DE: Mario Edwards Jr., Florida State.
The No. 1 overall recruit in the nation three years ago, Edwards is poised to come into his own in 2014. He was a critical piece of Florida State's run-stuffing defense a year ago, finishing with 9.5 TFL and 3.5 sacks.
DT: Luther Maddy, Virginia Tech.
No returning interior lineman in the ACC had more TFL last year than Maddy's 13.5, and he was a key for the Hokies' dominant defense. This season, he'll be the centerpiece of a new-look D line.
DT: Grady Jarrett, Clemson.
Dabo Swinney calls Jarrett one of the best defenders in the nation, even if he hasn't gotten much national acclaim. He finished last season with 59 tackles, including 10.5 for a loss, and should be the foundation for a dominant defensive line at Clemson this season.
LB: Denzel Perryman, Miami.
Perryman is Miami's most productive defender, finishing with 108 tackles last season (fifth in the ACC). He's the lone ACC defender returning for 2014 to have recorded at least 60 tackles in each of the previous three seasons.
LB: Stephone Anthony, Clemson.
His 15 TFL last season ranked eighth in the ACC, and no returning linebacker in the conference had more. He added 86 tackles and 4.5 sacks to boot.
CB: Kendall Fuller, Virginia Tech.
One of the top freshman defenders in the nation last season, Fuller picked off six passes as part of Virginia Tech's exceptional secondary. His 17 passes defended tied for eighth nationally.
CB: P.J. Williams, Florida State.
Williams racked up three interceptions and was dominant in coverage for Florida State, which finished with the best pass defense in the nation. He also won defensive MVP honors in the BCS national championship.
S: Anthony Harris, Virginia.
Led the nation with eight interceptions last season for Virginia, including picking off at least one pass in five straight games in conference play in October and November.
S: Jalen Ramsey, Florida State.
The first true freshman to start at cornerback for Florida State since Deion Sanders, Ramsey made the transition to safety midseason and didn't miss a beat, finishing with 49 tackles and an INT.
S: Jeremy Cash, Duke.
Cash finished last season second in the ACC in tackles (121), fifth in interceptions (4) and recorded 9.5 TFL, tops in the conference among defensive backs.
Specialists
K: Roberto Aguayo, Florida State.
The Lou Groza Award winner in 2013, Aguayo broke the national record for points by a kicker in a season with 157 points. He is virtually automatic every time he steps onto the field, missing just one field goal attempt and zero extra points last season.
P: A.J. Hughes, Virginia Tech.
A second-team All-ACC selection a year ago, Hughes averaged 44.1 yards per punt. He placed 24 inside the 20, and had 22 punts of 50 yards or longer.
KR: Kermit Whitfield, Florida State.
Whitfield led the nation last year in kickoffs, with an average of 36.4 yards per return. His speed makes him extremely difficult to stop, let alone slow down.
PR: Ryan Switzer, North Carolina.
Teams have probably learned to kick away from Switzer at all times. Last season, he had five returns for touchdowns, tying an NCAA record.
August, 12, 2014
8/12/14
1:00
PM ET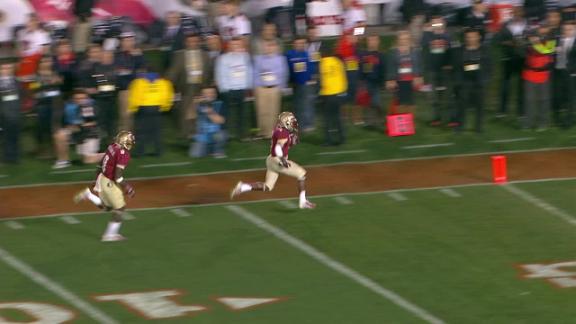 TALLAHASSEE, Fla. -- Florida State is not deviating from company line that the Seminoles have moved on from 2013, but forgive FSU fans if they're still reveling in the past.
Levonte Whitfield
gave Florida State its first lead of the national championship game with a 100-yard kickoff return in the fourth quarter, and, seven months later, it's still a talking point for Seminoles fans when interacting with the player affectionately known as Kermit.
"It's like every day, I get a lot of [Twitter] mentions about it," Whitfield said. "I try not to think about it. They can't take it away from me but I try not to think about it. It's time to move on."
Whitfield still has the play burned in his memory, though. With the Seminoles trailing 24-20 with 4:42 left in the game, the then-true freshman fielded the kickoff from about two yards deep in the end zone. Eleven seconds later, he was in the end zone.
"As soon as I got the ball I see
Chad Abram
kicked out, got his block and Karlos [Williams] made a cut and I see a big hole and I see nothing but daylight," Whitfield said.
With his sophomore season on the horizon, though, Whitfield wants to be remembered as more than just the kick returner from the national championship. The 5-foot-7, 183-pound receiver said he is working with the first-team offense in practice, and he could be relied upon in the passing game more often this season as a slot receiver, especially with fellow diminutive receiver
Jesus Wilson
(5-9, 177) indefinitely suspended.
Whitfield is one of the fastest players in the country, but Seminoles coach Jimbo Fisher said Whitfield needs to display that speed even when the ball is not in his hands. Whitfield said he is working on his route running, too.
"I want to be an All-American," Whitfield said, "and do what I need to do to help the team win."
January, 22, 2014
1/22/14
1:00
PM ET
The news was hardly a surprise, but Florida State nevertheless could breathe an immense sigh of relief when
Rashad Greene
announced he'd be back for his senior season in 2014. There are more talented, more highly regarded players from the Seminoles' national championship team departing for the NFL, but perhaps no one on the current FSU roster was more crucial in 2014 than Greene. He was practically irreplaceable.
[+] Enlarge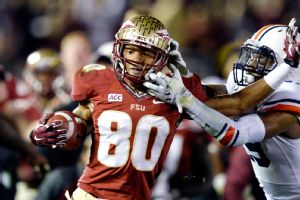 Robert Hanashiro/USA TODAY SportsRashad Green had a team-high 76 catches in 2013, including 9 in the national title game.
The run-up to the start of the 2013 season was a disaster for Florida State's receiver group. Greg Dent was expected to blossom into a consistent threat, but instead spent the year awaiting a trial for sexual assault. Willie Haulstead figured to return from more than two years saddled with the lingering effects of a concussion, but academics ended his season before it began.
Jarred Haggins
was poised for a far bigger role, but a knee injury relegated him to the sidelines.
What was left for
Jameis Winston
and the Florida State offense was essentially a three-man show: Greene,
Kelvin Benjamin
and
Kenny Shaw
. Of Winston's 384 pass attempts in 2013, he targeted his big three receivers 279 times (73 percent), according to ESPN Stats & Info.
The tight rotation actually proved to be a benefit. Greene, Benjamin and Shaw all enjoyed breakout seasons, with the former two topping 1,000 yards for the season. But as Florida State looks to 2014, the lack of established depth at the position means a massive rebuilding project must begin, with Greene providing the foundation.
Shaw is graduating. Benjamin departed early for the NFL. Winston's top three targets out of the backfield all moved on as well. Aside from Greene, the current Florida State roster accounts for just 44 of Winston's completions, the bulk of those to tight end Nick O'Leary.
So as the enthusiasm builds for a repeat performance by the Seminoles' high-flying offense thanks to the return of the Heisman Trophy winner and four-fifths of his offensive line, the obvious question is: Who will be catching all of those throws?
Greene's 76 catches last season were the second-most in Florida State history. It seems likely that number will increase in 2014. Even with tempting options in Shaw, O'Leary and Benjamin, Winston targeted Greene on more than 30 percent of his throws last year.
Greene was fond of telling the story of Florida State's receivers meeting last summer to discuss the new quarterback running the offense. It would be up to them, Greene said, to make Winston comfortable, to do their jobs so well it made his job easy. In 2014, Greene's role will be similar, except he'll now be mentoring a young group of receivers around him, too.
Kermit Whitfield
is electric with the ball in his hands, one of college football's fastest players. He figures to be a nice fit to replace Shaw as the team's top slot receiver, but he caught just five passes in 2013 -- none from Winston.
Benjamin's loss provides an even bigger hole. Receivers who are 6-foot-5, 235 pounds and can run and jump effortlessly are rare gems. Still, tall receivers have been a cornerstone of Florida State's offense, from Greg Carr to Rodney Smith to Benjamin. The last time the Seminoles didn't have a receiver taller than 6-4 record at least 30 catches and 400 yards was 2005. That role in 2014 figures to fall to 6-4
Isaiah Jones
, who caught just two passes for 31 yards as a freshman last season. And while he offers height similar to Benjamin, he checks in almost 40 pounds lighter and is hardly the same matchup nightmare as his predecessor.
Teammates raved about
Jesus Wilson
's work on the practice field in 2013, and he'll get his share of reps, too.
Christian Green
will be back again, but after a solid freshman campaign in 2011, he's all but disappeared in the past two seasons. Haggins returns from the knee injury, too, but since Oct. 13, 2012, his combined stat line looks like this: 1 catch, 1 yard.
All of that is simply to underscore the importance of Greene in FSU's 2014 passing game. His fellow receivers have potential, but Greene is the established weapon. And while the losses of Shaw and Benjamin are big, it's worth remembering that Winston's favorite weapon remains.
On third down last season, Winston targeted Greene 27 times -- nearly twice as often as any other receiver on the team. His 18 third-down catches doubled the next closest receiver, and all 18 went for first downs. Winston's other returning star, O'Leary, converted 8 of 9 third-down targets, too.
In the red zone in 2013, Greene was again Winston's top target (14 throws) and receiver (eight catches), and he and O'Leary accounted for nearly half of Winston's red-zone targets.
In short, few receivers made more catches when it mattered most. Fifty of Greene's receptions went for a first down, tied for third among ACC receivers. And no player on Florida State's offense has been as consistent. Greene has led the team in receiving in each of his first three seasons in Tallahassee. He needs 41 more catches and 1,133 more yards in 2014 to match FSU's career receiving marks.
Of course, as good as Greene has been, the onus will still fall to his emerging teammates to draw the attention of safeties away from him and provide Winston with a wider variety of weapons at his disposal. That development remains a work in progress for the next seven months, but Greene's ability to handle double coverage, to make the big plays when it matters most, to set the standard for game day on the practice field during the week -- that makes the jobs of everyone around him much easier.
For an offense that returns so many stars in 2014, Greene will again be the cornerstone.
January, 9, 2014
1/09/14
2:00
PM ET
Florida State finished off a spectacular season with a national championship, and with
Jameis Winston
,
Rashad Greene
,
Jalen Ramsey
and a host of other stars returning for 2014, the expectations for next season are already sky high.
So if FSU is going to repeat as national champs, what are the big stumbling blocks on the road ahead? We take a look at the top five.
1. Rebuilding the defensive line.
[+] Enlarge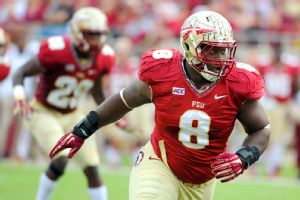 Melina Vastola/USA TODAY SportsWith Timmy Jernigan heading to the NFL, Florida State will have a big hole to fill in the middle of its line.
With
Timmy Jernigan
leaving early
for the NFL draft
-- he's widely considered a top-15 pick — Florida State will have a huge hole in the middle of the line. But the Seminoles also need to find someone to rush off the edge, as
Christian Jones
did throughout the season and develop some depth after waving goodbye to
Demonte McAllister
and
Dan Hicks
.
Nile Lawrence-Stample
,
Matthew Thomas
and others could fill those voids, but it will be incumbent on emerging stars
Mario Edwards Jr
. and
Eddie Goldman
to step up their games, too.
2. Developing new receivers.
It wasn't a huge surprise, but it was nevertheless a relief when Greene decided to return for his senior season. Florida State's receiving corps was exceptional in 2013, but it wasn't deep.
Kenny Shaw
is moving on, and
Kelvin Benjamin
could follow. That leaves Greene as FSU's only established, consistent receiver.
Isaiah Jones
,
Jesus Wilson
and
Kermit Whitfield
all got a taste of playing time in 2013, but they'll need to do a lot more next season.
3. Finding new leaders on defense.
This might be the toughest task for Florida State.
Telvin Smith
,
Lamarcus Joyner
,
Terrence Brooks
, Jones and Jernigan weren't simply the defensive standouts on the field, they were the heart and soul of the unit in the locker room. There's still plenty of talent remaining on the unit, but no one who has had to step up and galvanize a locker room or push the younger players to work harder. Finding leaders on that side of the ball — Edwards, Goldman,
Terrance Smith
and
Ronald Darby
, perhaps — will be crucial to maintaining the unit's immense production in 2014.
4. Managing the schedule.
If the knock on Florida State this season was that it wasn't tested until the title game, the concern for 2014 might be that there are simply too many big tests. The Seminoles open in Dallas against Oklahoma State, but also have Clemson, Louisville, Notre Dame, Miami and Florida before the season is out. If this title was a victory for the ACC's legitimacy on a national stage, the 2014 slate for Florida State only underscores how much tougher winning the league will be going forward.
5. Handling the hype.
It's one thing to win when no one is expecting it. Winning when everyone has you pegged as No. 1 is a whole other challenge. Florida State will enjoy its national championship now, but in 2014, everyone will be gunning for the Seminoles, and the media scrutiny will be immense. Can Winston go a full offseason as a Heisman winner and national champion and not waver from his commitment to getting better? Can the coaching staff maintain that same level of dedication from a group that already has a title on its résumé? There's a reason so few teams repeat as champions. It's really hard to do.
January, 7, 2014
1/07/14
1:30
PM ET
In a game as good as Monday's Vizio BCS National Championship, there are countless storylines to dissect in the aftermath. And as Florida State soaks in its third national championship, we're only beginning to fully appreciate the effort it took for the Seminoles to get here. So while the celebration in Tallahassee continues, here's a brief look at some of the most underrated storylines from FSU's absurd 34-31 win over Auburn.
[+] Enlarge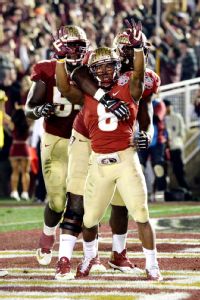 Jayne Kamin-Oncea/USA TODAY SportsFlorida State RB Devonta Freeman became the first 1,000-yard rusher for the Seminoles since 1996.
Quest for 1,000, Part I:
It was an otherwise uninteresting 4-yard rumble on first down late in the third quarter, but it was one of the most statistically significant rushes in Florida State history. The run put
Devonta Freeman
at exactly 1,000 yards for the season, making him the first FSU back to reach that mark since Warrick Dunn in 1996 and ending the longest active 1,000-yard rusher drought in college football. Freeman finished the season with 1,016 yards and 14 touchdowns. More importantly, he was a crucial part of the offense when
Jameis Winston
struggled early Monday, finishing with 94 all-purpose yards and a touchdown.
Quest for 1,000, Part II:
Freeman's 1,000th yard came late.
Rashad Greene
's came early. The junior wide receiver cracked the mark with the second of his nine catches in the title game, finishing the season with 1,128 receiving yards. He's the first FSU receiver to crack 1,000 since Anquan Boldin did it in 2002. Greene's impact Monday was huge. He was the only FSU receiver to catch a pass for positive yardage in the first half, and he was responsible for 40 percent of Winston's targets in the game. Most significant: He had 57 yards on two catches on the winning drive.
Quest for 1,000, Part III:
And if Freeman and Greene weren't enough, sophomore receiver
Kelvin Benjamin
became the third FSU player to join the 1,000-yard club with his penultimate grab, a crucial 21-yard catch early in the fourth quarter that set up Florida State's second touchdown. Benjamin ends the season with 1,011 yards. It was a frustrating game at times for Benjamin, who was shut out in the first half and had two crucial second-half drops that ended drives. His final two catches, however, were essential, including the winning touchdown grab.
Special teams was big:
Kermit Whitfield
's kick return for a score was obviously a turning point in the game, but it was hardly the only crucial play on special teams. The first half, in many ways, was defined by two momentum-shifting punts. The first, by Auburn's
Steven Clark
, pinned FSU at its own 2-yard line.
Cason Beatty
's punt on the ensuing drive netted just 22 yards, and Auburn scored easily to take a 7-3 lead. Tack on three lucky saves in a row for Auburn after muffed punts, the 15-yard penalty that kept FSU from going for two early in the fourth quarter and, perhaps most significant, a missed 33-yard field goal by Auburn's
Cody Parkey
early in the second quarter and special teams swung the momentum of the game in either direction again and again. As for Whitfield, the true freshman touched the ball just 25 times in 2013 but racked up 818 yards and four touchdowns.
[+] Enlarge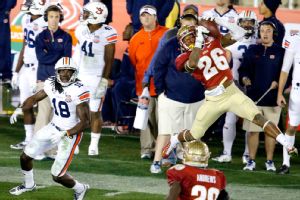 AP Photo/Gregory BullP.J. Williams' interception led to a touchdown that pulled the Seminoles within one point.
FSU's young stars:
The three biggest plays in the game for Florida State came from Winston (game-winning TD drive),
P.J. Williams
(game-saving interception) and Whitfield (game-changing kick return). That trio's total accomplishments prior to this season: 14 tackles by Williams, largely on special teams. In other words, this veteran team that Jimbo Fisher has been slowly building for years won the national title in large part because of the contributions of three players who'd barely seen the field before the start of 2013. That's a good sign for 2014 at Florida State, too.
Pruitt's big adjustment:
To open the game, FSU defensive coordinator Jeremy Pruitt brought pressure on
Nick Marshall
often, and it wasn't entirely successful. The Tigers' QB burned the Seminoles deep on several big plays. But Pruitt adjusted, was more conservative down the stretch, and it worked. Marshall was just 7-of-17 passing with an interception when Florida State brought four or fewer pass-rushers, according to ESPN Stats & Info.
Jernigan's impact:
The stat sheet shows just nine tackles, but anyone who watched Monday's game knows
Timmy Jernigan
meant so much more for Florida State's defense. He was a beast up the middle, shutting down Auburn's vaunted run game for long stretches and offering next to nothing between the tackles. He clogged gaps and allowed linebacker
Telvin Smith
to step up and record a game-high 15 tackles. He flushed Marshall out of the pocket repeatedly. Of course, Jernigan was also completely gassed by the end, relegated to the sideline for much of Auburn's final two scoring drives, and the Tigers' success without Jernigan in the game was the ultimate proof of what an impact FSU's under-the-radar defensive tackle actually made.
Winston's rebound:
There were two resounding narratives regarding Florida State entering the game. The first was that Winston, the Heisman Trophy winner, would have a field day against an overmatched Auburn secondary. The second was that the untested Seminoles wouldn't know how to handle a close game in the fourth quarter. It just goes to show that the pregame predictions often don't amount to much. Winston's unwavering confidence this season -- particularly on the prime-time stage -- has been Florida State's hallmark. The "do it big" speech has been played again and again, but Winston was hardly that guy during the first three quarters Monday. His footwork was a mess. He was off target on throws. He was hesitant to release the ball, choosing again and again to tuck and run. He rarely looked downfield in spite of those supposed mismatches for his receiving corps. And yet, when the game was on the line, the QB who'd thrown just 25 fourth-quarter passes all season rebounded by completing 9 of 11 for 117 yards and two touchdowns in the game's final quarter.
It really was about his teammates:
If there was a mantra Winston stuck to this season throughout all the highs and lows, it was that the season -- and his success -- was built on the backs of his teammates. Monday's national championship proved him right. While Winston struggled early, so many others stepped up. Freeman moved the ball on the ground. Greene provided a reliable target. Fisher called a brilliant fake punt that
Karlos Williams
managed to execute perfectly. Whitfield returned a kick for a score. The defense held Auburn scoreless on five straight drives -- forcing a turnover along the way -- while Winston slowly chipped away at a 21-3 deficit. Yes, it was the Heisman winner who delivered the winning drive with 1:19 to play, but it was Greene's spectacular run after a catch and Benjamin's unparalleled ability to go up for a ball in the end zone that made the difference. For Florida State, 2013 really was about team, no matter how good (or, in Monday's case, shaky) Winston was along the way.
January, 7, 2014
1/07/14
3:28
AM ET
PASADENA, Calif. -- As the Florida State players emerged from the locker room for the second half of Monday night's VIZIO BCS National Championship, their confidence unwavering in spite of falling behind against Auburn, receiver
Kelvin Benjamin
said they all agreed in the huddle that "this is our time."
Florida State had waited long enough.
With the program's first national title since 1999 on the line, Florida State found one big play after another -- the kind of explosive, big gains they had made look so easy all season but were so hard to come by against Auburn. It wasn't just Heisman Trophy winner
Jameis Winston
, who had been pressured all night by Auburn's defensive line, who delivered in the clutch. It was freshman Kermit Whitfield, one of the fastest young players in the country, whose jaw-dropping, 100-yard kickoff return for a touchdown in the fourth quarter changed the game with blazing speed. It was
Rashad Greene
, whose ability to split two defenders and run 49 yards off a screen pass extended the game-winning drive. It was Benjamin, whose otherwise quiet night was overshadowed by the game-winning touchdown.
One thing it wasn't: all about conference supremacy.
[+] Enlarge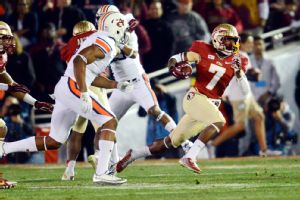 Jayne Kamin-Oncea/USA TODAY SportsKermit Whitfield's 100-yard kickoff return was just one of many big plays the Seminoles used to win their first national title since 1999.
While so much has been made about the ACC versus the SEC, Monday night's moment of celebrating a 34-31 win over Auburn was for Florida State, and only Florida State. The Seminoles earned it, collectively. As the players made their way to the locker room after the game, clutching roses between their teeth and already wearing their new hats and T-shirts proclaiming them national champs, it was a celebration of an improbable come-from-behind win -- and more than a decade of waiting for the return to No. 1.
"I have to say, it's been a four-year evolution to put ourselves in this opportunity," Florida State coach Jimbo Fisher said. "We talked about being a program, and we wanted to do things right, and we wanted to build the foundation, and these guys have given their hearts and souls to us as coaches and it's been unbelievable."
So was the game -- the last of the BCS era.
Florida State's comeback from 18 points down was the largest in BCS national championship game history. The Noles trailed 21-3 with 5:01 left in the second quarter. It looked like a dud, a collapse on the game's biggest stage. Florida State's strength of schedule was once again called into question. So was its offense. And its defense.
None of the players, though, flinched.
"When you train like we do and practice the way we practice, it's a habit to go out and play hard and compete," Greene said. "We weren't worried. I wasn't nervous at all. Even when they scored and there wasn't much time on the clock. Honest to god, I still knew we were going to win the game."
At halftime, Fisher prodded his team to keep blocking on kickoff returns because "Kermit's going to pop one anytime now."
Nobody else saw it coming -- and Auburn couldn't stop it.
Whitfield's return was the first special teams touchdown in the national title game since 2007, and it gave FSU a 27-24 lead with 4:31 left in the game. Fisher said Whitfield ran a 10.1 in the 100 meters, the third-fastest time in high school history.
"He has great hips, great acceleration, he's learning our offense and getting the touches," Fisher said. "But in the open field, he's as dynamic as anybody in America."
With Auburn being such an opportunistic team, though, it wasn't enough. Auburn responded with a touchdown on the next drive to take the 31-27 lead, and Florida State had 1:19 left to win a national title.
From FSU's own 28-yard line, Winston found Greene for 49 yards, and two plays later the Noles were in the red zone. Greene said he saw "green grass and one defender," so he got as many yards as he could before stepping out of bounds.
"I knew those guys were physical corners, physical defenders, so it was my job to get physical back with them and create some type of separation, and I was able to do it," Greene said. "We definitely had that calm mentality, just take a little at a time and they'll definitely come, and [the big plays] came at the end."
Indeed, it was finally their time.
November, 19, 2013
11/19/13
3:00
PM ET
TALLAHASSEE, Fla. -- The fact that quarterbacks don't get hit in practice has never quite felt right to
Jameis Winston
.
Back in high school, he got a feel for when his head coach,
Matt Scott
, might whistle a play dead to keep his quarterback from getting pummeled. So, just before the whistle blew, Winston would turn upfield, find a defender and deliver a hit of his own.
[+] Enlarge
Melina Vastola/USA TODAY SportsJameis Winston's diving block on Kermit Whitfield's touchdown run was the latest example of Winston's sometimes ill-advised physical play.
"It's just his will, his competitive nature," Scott said.
Not much has changed at Florida State. Winston dons a green non-contact jersey during practice, and Jimbo Fisher doesn't take any risks when it comes to halting a play before a big hit, but on game days, all bets are off.
Opponents bring the blitz, and Winston laughs. He's made a habit of shedding defenders, escaping tackles and chucking the ball downfield for a big play.
Put a defender in his face, and Winston is brilliant. For the season, he's completing nearly 74 percent of his passes (at 13.6 yards per attempt) when being hurried or hit, according to ESPN Stats and Info.
Even when he hands off the football, there's no guarantees Winston won't find himself in the thick of the action, with his diving block of Syracuse defensive back
Julian Whigham
on a 74-yard touchdown run by
Kermit Whitfield
the latest example of his eagerness to mix it up downfield.
"That says a lot about his character and what type of player and person he is," running back
James Wilder Jr
. said. "After a handoff, a toss, you can just chill back there, hold your hands up and say 'touchdown.' But it shows what type of determination and team player he is, 40 yards downfield making a block."
Fisher understands the implicit message being sent, too, so it's tough for him to be too upset when Winston puts himself in harm's way for the good of the team.
"You'd like to say no and you've got to be smart about it, but when guys know you're in the hunt with them and you're in the fight with them, they'll play really hard for you," Fisher said. "That's why they love him, because they know he's full-board with them."
The on-field scuffle between tackle
Bobby Hart
and Miami's
Anthony Chickillo
a few weeks ago wasn't any different. When the ruckus started, Winston was quick to jump to his teammate's defense. Again, Fisher was less than thrilled to see his quarterback mixing it up, and again, Winston knew it wasn't the wisest decision.
Still, it's tough to keep those emotions at bay.
"Next time it happens, I might run full speed to the sideline and be like, 'Coach Fisher, are you going to do something about this?'" Winston joked afterward. "It's just in us to react when something like that happens."
Of course, Winston's instincts kick in most often is in the pocket. Even that's become a hot-button issue for the quarterback.
In the blowout win over Syracuse last week, Winston played just the first half, but he was still sacked three times. The problem, he said, was that he wasn't playing physical enough.
"They brought a lot of pressure," Winston said. "And on two instances I did hold the ball too long. But I've got to break those tackles."
Winston has yet to chalk up a sack to poor blocking by his offensive line, but he's actually been pretty good at keeping the pass rush at bay this year.
Winston has been sacked 17 times this season -- once every 18 drop-backs. That's still a better rate than last year's quarterback, EJ Manuel, experienced, and Winston has tallied 102 yards after contact, according to ESPN Stats and Info, more than 70 percent of his rushing total for the year. Overall, Winston goes down on first contact less than 40 percent of the time.
Still, all those hits don't exactly sit well with his coach.
"You've got to be safe now," Fisher said. "We have to talk about that."
In the end though, all those talks probably won't amount to much, and Fisher shouldn't be entirely surprised.
The physical approach to the game is in Winston's DNA, and that's a big reason Fisher wanted him in the first place.
"I think it's about the guys Jimbo recruits. They always have that edge," running back
Karlos Williams
said. "Jameis is one of those guys. If it came down to it, and everything was live in practice, we'd see Jameis laying a few licks on guys."