September, 5, 2013
9/05/13
3:00
PM ET
COLUMBUS, Ohio -- The man-to-man plan wasn't scrapped just because the top cover guy was missing.
Reflecting on the assignments and the play-calling, the players that were available to cornerbacks coach Kerry Coombs were in one-on-one matchups over half the time in Ohio State's first game of the season.
[+] Enlarge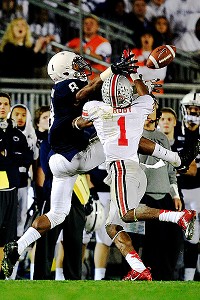 AP Photo/Gene J. PuskarOhio State cornerback Bradley Roby, who was suspended for the Buckeyes' season opener, led the nation in passes defended in 2012.
The ability to dial up pressure and attack the quarterback wasn't entirely compromised, either, with Coombs quick to defend the Buckeyes as more aggressive than perhaps they appeared last weekend.
But while Ohio State has consistently stressed its next-guy-up approach and insisted its schemes don't center around one player and his respective talents, taking arguably the best cornerback in the country out of the equation due to
Bradley Roby
's suspension definitely seemed to force a little tweaking in the secondary.
"I think we were probably a little more aggressive than people think," Coombs said. "At the same time, we weren't all up in their face and pressing all day and trying to make sure we had enough energy to play four quarters of a football game in that heat without a whole lot of depth."
The Buckeyes were also short a body at safety with senior
C.J. Barnett
a late scratch due to an ankle injury, and the absence of two starters with so much experience could understandably limit the playbook.
But it's Roby's ability to lockdown half of the field that truly frees up the Buckeyes to pin back their ears up front and dial up blitzes without the fear of getting beat in man coverage down the field. And while he was serving his punishment from coach Urban Meyer for an off-the-field incident at a bar in July, the shorthanded Buckeyes weren't pushing the limit quite as often in the win over Buffalo as they figure to on Saturday against San Diego State.
"I think so, I think we all want to be a little more aggressive," Meyer said. "We didn't play as much bump-and-run coverage, however, we did pressure quite a bit.
"Roby coming back now frees up Armani [Reeves], who was a tremendous special teams player for us a year ago, and we had to be very cautious. He played a lot of football for us in that heat. That helps with our depth."
The Buckeyes have seemingly gone out of their way to focus on the importance of simply having another cornerback in the fold again, regardless of Roby's credentials or the fact that there surely isn't a backup in the country who could block him from the starting lineup. Meyer drove his point home early in the week by bracketing Roby with Reeves in the latest depth chart and indicating he wouldn't rush a decision about who would ultimately get the nod against the Aztecs, a team that threw the ball 64 times in their opener.
Having a healthy Barnett return to the field is critical as well for a unit that has planned all along to rely heavily on its veteran defensive backs to set the tone for the Buckeyes.
But Barnett wasn't the guy who led the nation in passes defended last year, wasn't the one selected as an ESPN.com first-team All-American and wasn't the defensive back who was flirting with leaving early for the NFL draft last spring. That, of course, was Roby -- and having him back in pads can quickly change the entire complexion of the Ohio State defense.
"Last week, all week, he was in the office watching San Diego State film to prepare himself for this week," Coombs said. "I think that football players at all levels, but certainly the great ones, they live to play the game. It's been a long time since he's been on the field.
"He's excited about Saturday, I'm excited about Saturday, it's time to go."
May, 14, 2012
5/14/12
2:30
PM ET
COLUMBUS, Ohio --
Bradley Roby
came to Ohio State with a specific plan mapped out.
Redshirt the first year, in part because the Buckeyes had two senior starters returning at cornerback (
Chimdi Chekwa
and Devon Torrence). Check.
Earn a starting job as a redshirt freshman and keep it throughout Year 2 in the program. Check.
Cover the Big Ten's best wide receivers -- including four selected in last month's NFL draft -- both in games and in Buckeyes practices. Check.
"That's what I put all my efforts into," Roby told ESPN.com, "and I'm glad it came to fruition."
One item not included on Roby's plan was upset a future first-round pick with both skills and trash talk. But he succeeded in doing so during Ohio State's victory at Illinois in October. Roby held Illini star receiver
A.J. Jenkins
to 80 yards and no touchdowns -- Jenkins came in averaging 135.8 yards and 1.2 touchdowns per game. Roby also set up Ohio State's first touchdown with a 36-yard interception return.
Roby had
sparked some fireworks earlier in the week
when he described Jenkins as "decent, but he's nothing special, really." Jenkins had proclaimed himself the Big Ten's top receiver earlier in the season, and he had been backing it up. Roby now says the media spun his comments "out of control" but admits his words added excitement to the game.
The Buckeyes cornerback doesn't hide the fact he likes to talk trash during games, but most of his targets don't return fire. Jenkins did.
"I guess that's because I got in his head," Roby said. "Because if they're not responding to you, most likely they're trying to ignore you. But if they're yelling back at you, it means you're getting to them. So keep doing it."
Roby will keep yapping, and he'll continue seeking out the best competition. Last fall, he lined up across from standouts like Michigan State's
B.J. Cunningham
and Wisconsin's
Nick Toon
. He already has watched some tape of California standout
Keenan Allen
, a first-team All-Pac-12 selection in 2011 who will visit Ohio State in Week 3.
The 5-foot-11, 190-pound Roby also challenged himself in practice by seeking out
DeVier Posey
, Ohio State's top receiver. Posey played in just three games last season because of suspension, but was drafted in the third round in April.
"I always would want to go against DeVier last year to make sure I'm getting better," Roby said. "You only get better when you go against better people. If you can hang with DeVier, you can hang with any receiver in the Big Ten."
Ohio State's lack of depth at receiver entering 2012 is well documented, and asked who he sought out this spring, Roby replied, "Nobody, really." Still, he has a good eye for talent. When we talked two days before Ohio State's spring game, Roby spotted freshman Michael Thomas walking by and told me to look out for him. Thomas ended up recording 12 catches for 131 yards in the spring game.
Roby spent much of the spring working on off-man coverage, a focal point for new secondary coaches Everett Withers and Kerry Coombs. Ohio State played mostly press coverage in 2011 and will continue to do so, but off-man will be a bigger part of the scheme going forward. Roby welcomes the change.
"If you're a good athlete, anybody can play press," he said. "Coach Withers told me that's one thing in the [NFL] a lot of corners don't know how to do when they come from college. They just press, and they can't play off-man. Some teams need their corners to play off-man, so if you can't do that, you can't play. So me being able to learn this at this age, having three years left eligibility-wise, it will definitely help me by the time I get to that next level."
The next level is certainly part of Roby's plan, and broadening his coverage skills is crucial in taking that step.
"Technique, eyes in the right place, making sure you stay low," he said. "You've got to be disciplined to play off-man, because one false move, it's a touchdown."
Roby made some false moves during his first season in the fire, but he also showed he's a playmaker, tying for the team lead in interceptions (3), leading the team in pass breakups (6) and adding a forced fumble and 3.5 tackles for loss. The rapid rise didn't surprise Roby, who, in case it's not obvious, oozes confidence.
"To be a DB, you've got to have that," Buckeyes safety
C.J. Barnett
said. "You've got to think you're the best out there, because you don't have confidence, you're going to get beat. Roby, he exerts that. I really wasn't surprised by what he did last year. We all knew that he was good. He just needed his time and he stepped up."
March, 1, 2012
3/01/12
1:00
PM ET
Urban Meyer twice thought he had his cornerbacks coach locked up. The new Ohio State boss originally planned to retain Taver Johnson, but Johnson left for Arkansas. Then Meyer hired coaching veteran Bill Sheridan, a move that lasted only a couple of weeks before Sheridan decided to take an NFL job instead.

Meyer hopes the third time is a charm, and he looked within his own state for his latest choice to round out his staff. Cincinnati assistant Kerry Coombs is moving to Columbus, and assuming this one sticks, it's a really good move.
Coombs has coached defensive backs for the Bearcats since 2007, and has worked with some good players there, including eventual NFL draft picks
Haruki Nakamura
, Mike Mickens, DeAngelo Smith, and Buckeyes transfer
Brandon Underwood
. The 2008 secondary was a big reason why Cincinnati won its first Big East title. While it's true that Meyer's Florida team led by
Tim Tebow
tore apart the Bearcats' pass defense in the 2010 Sugar Bowl, Coombs has done solid work during his tenure at Cincinnati.
Here's another reason why hiring Coombs is smart: Before Brian Kelly gave him his first college job in 2007, Coombs was an extremely successful high school coach at Cincinnati's Colerain High School. His connections to the high schools in that city have made him a strong recruiter in that talent-rich area. Cincinnati should be a major pipeline for Ohio State, but the Buckeyes have had more success in the northern part of the state. Coombs should give them even more recruiting inroads.
I covered Coombs during my time as the Big East blogger and can tell you he is a fiery guy who was often the loudest voice at practice. It was impossible not to hear his raspy voice screaming both encouragement and criticism at his defensive backs after virtually every play. The Bearcats seemed to respond well to that style, and Kelly liked Coombs so much that he promoted him to associate head coach.
In other Ohio State news, linebacker
Jordan Whiting
announced via Twitter that he is transferring to Louisville. The redshirt junior was best known for incurring a one-game suspension for his role in the tattoo-for-memorabilia scandal, and had not made much of an impact on the field. He'll try to restart his career in his hometown.
January, 5, 2010
1/05/10
4:59
PM ET
Notre Dame's new staff will have a distinctly Cincinnati flavor.

Head coach Brian Kelly officially announced the hiring of former Bearcats defensive line/assistant head coach Mike Elston to his first Irish staff today. Also expected to join Kelly in South Bend are defensive coordinator Bob Diaco, passing game coordinator Charley Molnar and running backs coach/recruiting coordinator Tim Hinton.

The only current holdover for Cincinnati from the old staff is defensive backs coach Kerry Coombs, who was retained by new head coach Butch Jones. The rest are expected to join Kelly's former offensive coordinator, Jeff Quinn, in Buffalo. Jones will likely bring many assistants from his time at Central Michigan to Cincinnati.
December, 10, 2009
12/10/09
10:05
PM ET
Brian Kelly is just the latest Cincinnati coach to have success and then move on. From Sid Gillman to Tony Mason to Tim Murphy, the story has pretty much always been the same.

Bearcats' fans had hoped this time would be different. After all, the program was now in the Big East, and Kelly had proven that you could compete for the national championship at Cincinnati. His two straight trips to the BCS -- including this year's 12-0 record -- showed that you could chart a path to the big time from what was once a small-potatoes program. Bearcats' fans thought maybe Kelly would want to stick around and be their Joe Paterno or Frank Beamer, someone who could build from the ground up and see it through the rest of his career.

In reality, though, Kelly always had one foot out the door. After his first season in Cincinnati, he tried for the Michigan job. Last year, he interviewed with both Tennessee and Washington before the Orange Bowl. Finally, his dream job arrived when Notre Dame came calling, and Kelly badly wanted to move to South Bend.

And you can't really blame Kelly. First of all, he gave the Bearcats their three best years ever, winning 10, 11 and then 12 games and claiming two Big East titles. But Cincinnati doesn't have the resources to match the size of Kelly's vision. This is an athletic program mired in debt, which missed a deadline to build practice fields that were a stipulation in Kelly's contract. The fields should be done by next year, but it took a lot of work to raise the necessary money, and Kelly's teams had to practice in Nippert Stadium -- with the offense and defense splitting up the field between them -- during his first three years.

And speaking of Nippert, there's no getting around the fact that the Bearcats have a 35,000-seat stadium that, while charming, lacks luxury boxes or other revenue-generating avenues. And while the school is studying ways to expand the stadium, there's no obvious way to turn it into a major Division I facility because of its setting in the heart of campus.

Despite these limitations, there's no reason why Cincinnati can't continue to contend in the Big East. Kelly proved that you can build a winning program by recruiting southern Ohio and taking players that Ohio State didn't want. The challenge will be to find someone who can develop that talent the way Kelly could, and who can provide an exciting product that's necessary to gain notice in a pro town.

Athletic director Mike Thomas can choose to go two ways when looking to replace Kelly. He can keep the continuity going by hiring one of Kelly's assistants, such as offensive coordinator Jeff Quinn -- who will coach the team in the Allstate Sugar Bowl -- or associate coach and former highly successful local high school coach Kerry Coombs. Or Thomas can try to find the next up-and-coming guy like Kelly, perhaps turning to Butch Jones at Central Michigan -- the same school where he found Kelly -- or perhaps East Carolina's Skip Holtz.

A guy like Quinn, who's wanted a chance to be a head coach, or a local like Coombs might stick around for a long time. But that's less important than finding another coach who can win at a high level. While Kelly followed the program's history by bolting after a few seasons, Bearcats' fans shouldn't have any regrets about his incredibly successful tenure.