August, 12, 2011
8/12/11
9:00
AM ET
In 2008,
the then-Pac-10 blog noted
that "If you Google 'Arizona State' and 'sleeping giant,' 3,400 articles come up."

If you did it this week, you get 85,900 results (in 0.23 seconds! Technology rocks! Though it doesn't seem as if all the matches are relevant, Google).
In 2008, we wrote, "If a Pac-10 team has a chance to break USC's choke-hold on the conference title -- or at least to regularly challenge the Trojans for the top spot -- it's the Sun Devils."
Drrrrrr.
We were wrong. Somehow I want to blame Chip Kelly.
We are considering programs that are "teases" in the Pac-12, which my new boss,
Ruthless Reynolds
, described as "teams that always look great in the preseason only to underwhelm when play starts."
Sun Devils, why can't we quit you?
Well, lots of reasons.
You have the only coach in the conference who's won a national title in Dennis Erickson. As a resident of north Scottsdale living in the shadow of Black Mountain, I can confirm that the weather -- though a bit toasty in the summer -- is just about perfect eight months of the year. Tempe is just a short flight from the recruiting hotbed of Southern California. The, er, scene at Arizona State strikes this codger as something that might appeal to an average 18- or 19-year-old male. Academic standards don't typically limit recruiting options.
And the program has been there before, becoming a national power in the 1970s under Frank Kush and then again in the 1996 season, when it lost a national title in a thrilling Rose Bowl defeat to Ohio State.
Still, it's one of the great questions in college football: Why doesn't Arizona State win more consistently?
Of late, the Sun Devils have typically underperform compared to expectations. In four of the past six years, they've finished below where they were picked in the Pac-10 preseason media poll, most notably in 2008 -- that year! -- when they were picked second in the conference but finished sixth with a 5-7 record.
To be fair, though, they've eclipsed their preseason prediction in two of the four years -- 2007 and 2010 -- under Erickson.
And so we have 2011.
The Pac-12 blog started touting Arizona State as a 2011 contender before last season was done. Why? It wasn't just that the Sun Devils went nose-to-nose with some of the best teams in the country -- Oregon, Wisconsin, Stanford -- it was coaches from other teams specifically noting how talented the Sun Devils were.
Then you looked at the 2010 depth chart: Everyone was coming back. Seriously: The only senior starters last year were receiver Kerry Taylor and defensive tackle Saia Falahola.
Wow. To be honest, my thought process immediately saw 6-6 in 2010 and thought Rose Bowl shot in 2011.
But after a nice finish to the 2010 season, little has gone right for the Sun Devils. Defensive tackle Lawrence Guy made a poor decision and entered the NFL draft. Quarterback Steven Threet was forced to retire due to concussions. Fellow quarterback Samson Szakacsy left the team. Unanimous All-Pac-10 cornerback Omar Bolden blew out his knee at the beginning of spring practices, followed shortly thereafter by top returning receiver T.J. Simpson. Starting defensive end James Brooks quit, and the status of talented running back Deantre Lewis (gunshot wound) remains up in the air as he might redshirt this season.
That's five starters, a co-starter (Lewis) and an experienced backup quarterback. So, Sun Devils fans, you have a ready-made excuse if the season falls short of expectations and you end up only wondering what might have been.
That said, Arizona State, despite these major personnel losses, is still good enough to win the South Division. It also helps, by the way, that USC's ineligibility means it's only a five-team race among squads that each have significant holes.
But every time you start to think they'll be OK, something else happens, such as All-American linebacker Vontaze Burfict
fighting a receiver
he outweighs by 50 pounds in the locker room last week, or linebacker Oliver Aaron suffering a high ankle sprain, or backup defensive tackle Joita Te'i suffering a foot injury that will sideline him for seven weeks.
Still, 28 seniors back in the locker room, five starters back on the offensive line, Burfict leading impressive talent in the front seven, an underrated running back in Cameron Marshall and a quarterback in Brock Osweiler who looks ready to lead.
Sun Devils, why can't we quit you?
December, 1, 2010
12/01/10
7:34
PM ET
On page 13 of Arizona State's
weekly release
you find the team's depth chart. You don't need to review it now. We'll come back to that in a bit. The immediate business at hand for the Sun Devils is their game Thursday with rival Arizona.
The matchup is meaningful, and not just because it's a rivalry game that divides the state. It's also meaningful because the Sun Devils are still angling for a bowl berth.
While there are already 70 bowl-eligible teams, and Arizona State can't win seven games, the amount required by NCAA rules on bowl eligibility when you play two FCS teams, as the Sun Devils have, they nonetheless have submitted a waiver to the NCAA Legislative Relief Committee for review, and the Pac-10 office is backing that appeal with "emails and phone calls," according to a conference spokesman, Dave Hirsch.
"It is our hope that the waiver receives full consideration," Hirsch wrote in an e-mail. This was first reported by the
Arizona Republic
.
[+] Enlarge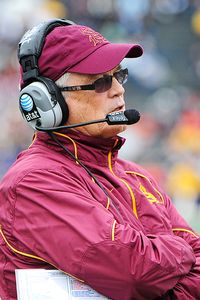 Kyle Terada/US PresswireArizona State coach Dennis Erickson only has 13 seniors on his 2010 roster.
So the Territorial Cup may or may not serve as a launching point for the Sun Devils in 2011. For one, they could lose; they are the underdogs in Tucson, where the 'Zona Zoo can be a bit of a problem. And, if they win, it might not be their last game, with the Holiday, Sun or Las Vegas bowls being potential options if the NCAA grants the waiver.
But now let's return to that depth chart. Just two likely starting position players against the Wildcats are seniors: receiver
Kerry Taylor
and defensive tackle Saia Falahola, who is listed as a co-starter with Bo Moos. In fact, the Sun Devils only have 13 total seniors. The only area in which graduations hits hard is with the specialists: both kicker Thomas Weber and punter Trevor Hankins are seniors.
That youth, coupled with a 5-6 record that includes four defeats by four or fewer points, suggests the Sun Devils could be pretty salty in 2011. As in: Top-25, top-third of the Pac-12 salty.
But, alas, coach Dennis Erickson wouldn't play along with this line of thinking -- Thursday as a potential launching point for promising 2011 campaign -- which is probably wise. He does have a game to get ready for, you know.
"I don't know if you can look at it as that. You've got to look at it as what it is," he said. "We're worried about what is going to happen Thursday, not next year. But when they're young like that, with some of the guys we've got coming back, you look forward to the next year -- when this year is over with."
As for the Wildcats, the present situation is they are headed to a good bowl game, but they'd like to show up at that game without a sign saying "Four-game losing streak!" blinking over their collective heads. A win, and they likely head to the Alamo Bowl. A loss, and they might end up the Holiday Bowl if Washington beats Washington State.
Coach Mike Stoops doesn't beat around the bush when assessing why his team's fortunes have been sagging of late after they played into the nation's top-10 earlier in the season.
"We've played better teams down the stretch, teams that emphasize running the football," he said. "Our inability to stop the run consistently has led a little bit to our demise."
The last three foes -- Stanford, USC and Oregon -- each rushed for more than 200 yards in wins over the Wildcats, including 389 yards on the ground from the Ducks. But the Sun Devils, not unlike the Wildcats, are a passing team. Arizona ranks No. 1 (314 yards passing per game) and the Sun Devils second (288.2 yards per game) in the Pac-10 in passing.
Speaking of passing, both teams have interesting quarterback situations, which will be interesting heading into the offseason and spring practices as well.
When Sun Devils starter
Steven Threet
suffered a concussion early against UCLA,
Brock Osweiler
came off the bench and was brilliant, passing for 380 yards and four touchdowns. He'll start Thursday, and if he plays well, expect there to be another tight QB competition in Tempe before the 2011 season.
As for the Wildcats,
Nick Foles
is one of the best quarterbacks in the country and likely will get preseason All-American attention in 2011. He threw for a career-high 448 yards at Oregon last week. Still, backup
Matt Scott
did enough in two starts while Foles was hurt to make a big impression on Stoops.
"It will be a conversation for another day how we move forward with both of these players moving into their senior year next year," Stoops said.
In other words, he wants Scott to anticipate playing a role next fall as more than a pure backup.
Last year's game between these two was a defensive-minded thriller, a 20-17 Arizona victory that was heartbreaking for the Sun Devils. ASU receiver Kyle Williams made a spectacular catch in the end zone to tie the game at 17, but just moments later he muffed a punt that set up the Wildcats' game-winning field goal. Afterwards, their was a brief fight at midfield as tempers flared.
Expect another tight one in this underrated rivalry.
"They are much improved football team than they were a year ago," Stoops said. "They are way better offensively. They have an identity."
If Stoops' team prevails, it figures to return to the national rankings -- it's already No. 23 in the BCS standings -- and then play in a quality bowl game against a nationally ranked Big 12 team.
It's not yet certain what a win would mean for the Sun Devils in terms of the postseason. But an upset victory might be viewed this way in the big picture: As a launching point for justifiable optimism heading into 2011.
July, 27, 2010
7/27/10
1:30
PM ET
Receiver is a difficult position to evaluate this year. Just about every team has a solid (or better) lead receiver back and some intriguing, but inexperienced, talent around him. But, other than Washington, no team should feel completely secure.
There is, however, a lot of potential at the position. Many of the names below who appear as secondary options could end up competing for All-Pac-10 spots.
Note: Tight ends and running backs don't count here.
Great shape
Washington: The Huskies entire two-deep is back, topped by second-team All-Pac-10 pick Jermaine Kearse and Devin Aguilar, who ranked seventh in the conference in receiving yards per game in 2009. James Johnson was probably the best freshman receiver in the conference last year.
Good shape
[+] Enlarge

AP Photo/Ben MargotOregon State's James Rodgers caught 91 passes for 1,034 yards and nine TDs last year.
We'll see
California: The Bears only lose No. 2 WR Verran Tucker and the underwhelming Nyan Boateng, but, other than Marvin Jones, they didn't get much production here in 2009.

Arizona State: The Sun Devils lost their top-two WRs, but the cupboard isn't empty, with Oregon transfer Aaron Pflugrad, who would have started for the Ducks in 2009, and JC transfer George Bell, Gerell Robinson, Jamal Miles and Kerry Taylor. Still, it's not a proven group.

Washington State: The Cougars went through spring with just four scholarship receivers, a crew topped by Jared Karstetter and Gino Simone. The incoming recruiting class features five receivers, and at least a couple will get on the field. The Cougars are OK here but they did rank last in the conference in passing in 2009.
Posted by ESPN.com's Ted Miller
Optimism is a powerful thing. And spring is a time for renewal. So this is a "Best of" list, without any of the "Negative Nellie" stuff.
Best spring game performance by a quarterback: Stanford redshirt freshman Andrew Luck all but won the starting quarterback job over incumbent Tavita Pritchard after completing 18 of 25 passes for 352 yards and five touchdowns to lead the White team to a 42-17 victory over the Cardinal.
Best spring game performance by a quarterback II: Washington quarterback Jake Locker seemed fine working in a pro-style offense after completing 16 of 18 passes for 200 yards and two touchdowns. The two incompletions, by the way, were drops.
Best spring game performance by two quarterbacks: Oregon's Jeremiah Masoli and Justin Roper combined to complete 37 of 56 passes for 516 yards and five touchdowns and neither threw an interception in the Ducks' spring game. Perhaps it was the rainy weather only fit for a Duck?
Best spring, overall, by a quarterback: Under intense, national scrutiny ,USC's Aaron Corp threw only one interception throughout spring practices and was consistently solid throughout the session, which earned him the nod as the Trojans No. 1 quarterback over spectacular freshman Matt Barkley entering the offseason. Under coach Pete Carroll, every previous Trojan quarterback who had been tapped No. 1 out of spring started the season opener.
Best performance by a true freshman: Barkley made the recruiting gurus who ranked him No. 1 look smart.
Best spring game on defense: Talk about a penetrating performance. USC's backup defensive end Nick Perry had six tackles for loss, including four sacks, among his seven tackles. Yeah, USC's defense is going to be hurting in 2009.
Best spring on defense: Six guys stood out: Oregon cornerback Walter Thurmond III, UCLA's tackle Brian Price, Oregon State tackle Stephen Paea, Arizona State defensive tackle Lawrence Guy, Arizona linebacker Vuna Tuihalamaka and USC linebacker Malcolm Smith.
Best surprise: USC transfer and notorious underachiever Jamere Holland suddenly decided to become Oregon's best deep threat and turned in an outstanding spring. Golly, sometimes listening to your coaches helps.
Best breakout: While California has questions at receiver, the general feeling is sophomore Marvin Jones is almost certainly one of the answers.
Best 'it's about time' breakout: USC's Everson Griffen might be the nation's most talented pass-rusher, but his high-performance engine has also been a high-maintenance engine. Yet his effort and intensity were consistentthis spring, which meant no one could block him.
Best comeback: California offensive tackle Mike Tepper has been through a lot, but he's hoping his sixth year will just be about anchoring a line with a lot of upside. Read Tepper's story here.
Best comeback II: Got a funny -- mean, but funny -- note during the 2008 season that instructed the Pac-10 blog to refer to Oregon State receiver Darrell Catchings as Darrell Droppings. Can't do that now because Catchings lived up to his name -- the real one -- this spring.
Best position change: Arizona sophomore Robert Golden, a marquee 2008 recruit, switched from cornerback to strong safety this spring, and early word is he could become an All-Conference player at his new position. The move further allowed the Wildcats to switch Cam Nelson to free safety from strong and get Trevin Wade on the field to complement Devin Ross at corner.
Best coaching decision: Stanford coach Jim Harbaugh wants his best 11 on the field at any given time, and he's willing to get creative to do it. That's why he's got a handful of guys playing both ways, including Owen Marecic (fullback and middle linebacker), Michael Thomas (cornerback and receiver), Richard Sherman (cornerback and receiver) and Alex Debniak (linebacker and running back). Will it work? We'll see. But it's undoubtedly interesting.
Best candidate for a karmic change: No team had worse injury issues this spring than Washington State, which is clearly in the midst of a major rebuilding project. Then promising defensive end Cory Mackay, who'd impressed this spring, suffered a serious back injury after he fell asleep at the wheel of his car. The Cougars are overdue for some luck. Perhaps it arrives this fall?
Best catch of the spring: You may have already watched this grab. Watch Arizona State receiver Kerry Taylor one more time. It's worth it.
Best position in conference: The Pac-10 might have the nation's best collection of talent in the secondary, with USC and California boasting units that should rank among the nation's best. Consider: FS Taylor Mays (USC), SS T.J. Ward (Oregon), SS Josh Pinkard (USC), CB Walter Thurmond III (Oregon), CB Alterraun Verner (UCLA), CB Syd'Quan Thompson (California), CB Devin Ross (Arizona), CB Omar Bolden (Arizona State), FS Rahim Moore (UCLA), CB Shareece Wright (USC), among others.
Best position in conference II: Five running backs who eclipsed 1,000 yards in 2008 are back, led by California's Jahvid Best and Oregon State's Jacquizz Rodgers.
Best potentially surprising position: If you talked about good Pac-10 defensive linemen in recent years, you were basically talking about USC. Not in 2009. Nine of the Pac-10's top 30 players, at least by, er, one person's accounting, are defensive linemen, and that list included only one player from USC (Griffen, at No. 30) and didn't include Cal's Cameron Jordan.
Best quote: "How do we go from nine to one?" said Chip Kelly on what he believes are his marching orders as Oregon's new coach. "Nine" is where the Ducks finished last y
ear in the final coaches' poll.
September, 7, 2008
9/07/08
3:00
AM ET
Posted by ESPN.com's Ted Miller
TEMPE, Ariz. -- Arizona State quarterback Rudy Carpenter knows how to deliver the ball -- he's one of the nation's most accurate passers -- but the reason he's climbing the Pac-10's all-time passing record list is almost as much about his ability to take a hit.


He completed 27 of the 36 passes he threw in the 15th-ranked Sun Devils 41-17 victory over Stanford, rolling up 345 yards with three touchdowns.
And after just about every throw , a Cardinal defender plastered him to the turf.
He was sacked only twice, but two roughing the passer penalties showed that Stanford fully intended to try to bust Carpenter into little pieces by any means necessary.
"He is one of the best quarterbacks in the Pac-10 and in the nation," Cardinal linebacker Pat Maynor said. "He's a tough kid."
Added Stanford coach Jim Harbaugh: "Rudy was very impressive. I gained a lot of respect for him tonight. He took some hits. He was under pressure a lot, but he made some good throws and was very accurate."
Carpenter's lone mistake was second-quarter interception that led to a Stanford touchdown, which closed the gap to 13-10. Carpenter, sprinting to his left, uncharacteristically lobbed the ball into coverage and made things easy for Stanford cornerback Kris Evans.
"That was a terrible interception," Carpenter said.
It didn't take long for Carpenter to bounce back, though. With less than a minute before halftime, he parlayed good field position after the ensuing kickoff went out of bounds and a roughing the passer penalty into a touchdown drive, which he completed with a 45-yard scoring toss to Kerry Taylor.
"That was a huge play, scoring there just before half," ASU coach Dennis Erickson said. "That was probably the turning point of the game, without question."
Carpenter completed passes to nine different receivers, often flinging the ball just before a defender flattened him.
It's hard on Carpenter, but not so bad for his receivers.
"It seems kind of easy out there right now, knowing where Rudy is going to put the ball," Taylor said. "I know where the ball is going to be every time."
Carpenter said he wasn't unhappy with his protection. In fact, he saluted the entire offense working together to put away the bugaboo of the 55 sacks yielded a year ago.
"I think our offensive line did a great job of picking up pressure today," Carpenter said. "I think our receivers did an even better job recognizing blitz and coming open on their hot routes."
Carpenter, who has made 33 consecutive starts, has thrown for 733 yards in the first two games, which is the most passing yards a Sun Devils quarterback has compiled to start a season.
He now has 69 touchdown passes, ninth most in Pac-10 history. He also has 8,731 career passing yards, which ranks 14th on the conference's all-time list. Another 300-yard effort next week against UNLV and he will pass Sun Devils legend Jake Plummer and former Washington State star Jason Gesser.
He's put up big numbers because he's one of the nation's best passers. But he's also had to survive. It's hard to imagine many QBs across the country who have hit the turf more in their careers.
Particularly one who never stays down.
"He knows how to take a fall," Erickson said. "He's had to take a few. It's amazing how many times he gets hit and gets right back up and makes plays."