January, 13, 2014
Jan 13
3:45
PM ET
Stanford left guard
David Yankey
's decision to forgo his final year of eligibility and
enter the NFL draft
ranks right up there with the least surprising declarations of the offseason.
Yankey could have easily justified a jump to the NFL after last season, when he was a consensus All-American and named the Pac-12's most outstanding offensive lineman. Instead, he returned for what most assumed would be one final season on the Farm.
[+] Enlarge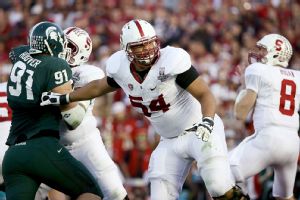 AP Photo/Ben LiebenbergAfter a 2013 season in which he was named a consensus All-American and the Pac-12's most outstanding offensive lineman, David Yankey is headed for the NFL.
It's a decision the Stanford coaching staff saw coming years in advance. If not for an injury in 2010 -- when he became the first Stanford offensive lineman in 10 years to play as a true freshman -- he'd already be out of eligibility, and it became clear early on in 2011 to offensive line coach Mike Bloomgren that Yankey was destined for the NFL.
There were times that season when Bloomgren, now the offensive coordinator, had trouble finding Yankey on film. It wasn't a bad thing, either. It was because Yankey, in his first year as a starter, played so similarly to junior right guard David DeCastro that it was easy to confuse the two. That's high praise considering DeCastro was a finalist for the Outland Trophy that season and the first offensive guard taken in the 2012 NFL draft (No. 24 overall to Pittsburgh).
How the Cardinal moves on without Yankey appears to be fairly clear cut.
Rising junior
Joshua Garnett
, who started in place of Yankey at left guard against Washington State and saw regular playing time this season in Stanford's formations that utilized extra linemen, should have an easy transition into the starting lineup. Whether that's at Yankey's left guard spot or at right guard, where Stanford loses
Kevin Danser
to graduation, remains to be seen.
Johnny Caspers
was listed as Danser's primary backup this season and will likely enter spring practice as the favorite to replace him.
The Cardinal will also have to find a new starter at center with
Khalil Wilkes
out of eligibility and potentially at right tackle as
Cam Fleming
has yet to announce publicly whether he'll return for his final season of eligibility or enter the NFL draft. The deadline to declare is Wednesday.
Kyle Murphy
would likely have the edge over
Brendon Austin
at right tackle if Fleming leaves, and the center competition will start with
Graham Shuler
and
Kevin Reihner
.
Left tackle
Andrus Peat
, a second-team All-Pac-12 selection this season, is the only starter guaranteed to return from an offensive line that ranked seventh nationally in fewest tackles for loss allowed per game (4.14).
November, 27, 2013
11/27/13
9:00
AM ET
SOUTH BEND, Ind. --
KeiVarae Russell
is a two-year starter at cornerback. By the time he turns 40, he says, he wants to spend a year living in London. He would like to have a poem published by then, too. He was the lead in a school play this past spring, and he is currently taking an acting class.
[+] Enlarge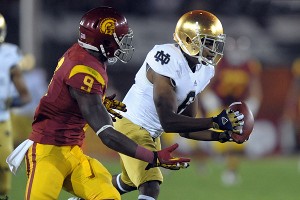 Kirby Lee/USA TODAY SportsActor-poet-cornerback KeiVarae Russell is one of the players who exemplifies the Stanford-Notre Dame rivalry.
"I'm a creative guy," Russell said. "I love being known for more than just football."
He is what Brian Kelly calls a gentleman off the field and a tough guy on it, distinctions that will hardly be unique when the sophomore takes the field Saturday night for No. 25 Notre Dame in its regular-season finale at No. 8 Stanford.
The Cardinal are among the three teams the Irish have chosen to keep on their schedule annually moving forward. In a season that has seen Kelly discredit the tension with Michigan, the nation's winningest program, it was more than a little noteworthy to hear the coach call the game with Stanford a "great rivalry" Tuesday.
"Both teams want to be the smartest, toughest football teams in the country," Kelly said.
Last year's meeting was the first between schools ranked in the top 20 of both the football polls and the U.S. News & World Report's best colleges list.
This year Kelly is tasked with taking his operation almost 2,000 miles away on Black Friday, a considerably lighter chore given that the schools had once eyed a destination for this contest some 7,000 miles away: China.
The terrain this weekend in Stanford Stadium will nonetheless be familiar for many visitors, Jack Swarbrick among them. The Irish athletic director has trouble hiding his enthusiasm when talking about this matchup, as he received his Bachelor's in economics from Notre Dame before moving on to Stanford Law.
"There are obvious similarities," Swarbrick said. "Private [schools], among the smallest undergraduate populations in the FBS, excellent academic reputations, a broad commitment to collegiate sports model as reflected in number of sports and levels of success, passionate alumni scattered around the globe and very strong brands.
"Relative to football, the clear commonality is an insistence that the members of our teams be fully integrated into the university in the same manner other students are. They are truly student athletes. This is reflected in both graduation rates and the success of our student-athletes after football is over."
Swarbrick has company on both sides. College Football Playoff selection committee member Condoleezza Rice earned her master's from Notre Dame and is a professor at Stanford. Cardinal coach David Shaw has enlisted the assistance of the former Secretary of State in hosting recruits -- one of whom,
TJ Jones
, initially committed to Stanford but is now an Irish captain. (Rice
has been no stranger at Notre Dame Stadium herself
.)
[+] Enlarge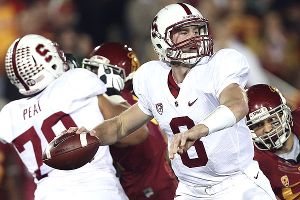 Jeff Gross/Getty ImagesStanford QB Kevin Hogan says he has several family member who went to Notre Dame.
Tyrone Willingham was head coach at both schools. Irish receivers coach Mike Denbrock came from the Cardinal. Then there is Bernard Muir, whose rise to Stanford athletic director included a five-year stint working at Notre Dame for Kevin White, who says Muir "represents the wonderful future of college athletics in every way possible."
Muir's new employer attracted headlines this summer when the Cardinal sold out of season tickets for the first time, underscoring the cat-and-mouse relationship between these two programs.
Notre Dame has sold out all but one home game since 1966, but it is Stanford that will make its fourth-straight BCS bowl with a win in next week's Pac-12 title game.
The Cardinal are quarterbacked by
Kevin Hogan
, who estimates he has 10-20 cousins and another five or six aunts and uncles who went to Notre Dame. Protecting Hogan is right guard
Kevin Danser
, whose uncle, John Gallagher, played hoops for the Irish and roomed with Joe Theismann. Reserve center
Conor McFadden
, whose photographic memory
has become the source of attention that seemingly only the Cardinal or Irish could attract
, has a grandfather and several uncles who went to Notre Dame as well.
"It's a fun game because you have the connections, family connections, and we all want to win it," Hogan said.
On Tuesday, Kelly fielded a question here about playing "Notre Dame football," sparking a response about how he does not want personalities like Russell's to be marginalized as just football players.
A few hours later in Silicon Valley, Shaw began his press conference by announcing that Stanford had won another off-the-field honor, this time its second straight AFCA Academic Achievement Award. The Cardinal coach then spent the next few minutes talking about how this would help in recruiting.
It only happened to be Notre Dame week.
"We understand how to manage your time so that you do well in school and you do well in football and you have a social life and you enjoy yourself here, that it is possible for all three of those," Shaw said. "When we graduate our guys and we play really good in football and they come to visit, our guys love it here. That helps a lot."
December, 30, 2012
12/30/12
10:00
AM ET
LOS ANGELES -- Before a Stanford offensive lineman ever sees the field, he must first negotiate "The Room." And The Room can be tougher than any drill, any conditioning program or even any defensive end or linebacker he will face. Because it's in the The Room where line coach Mike Bloomgren not-so-silently passes judgment on who does or doesn't have the chops.
And it's not just Bloomgren. It's the veterans, too --
Sam Schwartzstein
,
David Yankey
,
Kevin Danser
– who will self-police and critique those who desire more playing time.
"Everything those guys get in that room is earned," said Stanford head coach David Shaw. "And it's a tough room. You walk in that room, you better have thick skin. Cause it's not just Mike that's going to get on you. Sammy's gonna get on you. David Yankey's gonna get on you. If you can handle that room and come out and perform, you deserve to play."
[+] Enlarge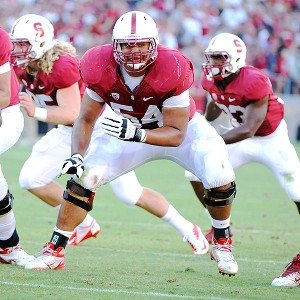 AP Photo/Rob HoltDavid Yankey and Stanford's offensive line have kept grinding down foes despite constant turnover.
For as much credit as Stanford gets for overcoming the losses of Toby Gerhart, Jim Harbaugh and Andrew Luck over the past few seasons, forgotten is that the offensive line has had to re-invent itself several times over with multiple standouts leaving for the NFL. The philosophy remains the same. But the personalities of each line have changed throughout the years.
"It starts in recruiting," said Bloomgren, who began his career as a graduate assistant at Alabama and cut his teeth for four seasons as an offensive assistant with the New York Jets. "We were fortunate to plug in the three new guys last year and have them grow (Schwartzstein, Yankey and
Cameron Fleming
). Then you lose David DeCastro and Jonathan Martin a year early and it's like, wow, now we have to do it again. David Yankey comes around and wins the Morris Trophy (given to the Pac-12's top lineman) and is a consensus All-American. It's a compliment to those guys and how they work and striving to get better. They call themselves the Tunnel Worker's Union. Those guys buy into that stuff."
Along with assistant Ron Crook -- who manages the tight ends and offensive tackles -- Bloomgren also coordinates Stanford's rushing attack, which has produced a three-time 1,000-yard rusher in
Stepfan Taylor
. And like any good running back, Taylor knows where his bread is buttered. He's rushed for 1,000 yards behind three very different offensive line units.
"They are a lot more goofy than last year," Taylor said. "They are great guys. I wouldn't want to be behind any other line. They are physical, tough, smart and athletic. That's the thing. They are really big athletic guys running around. It all starts with them and to win games, they have to do their job. And we are winning games so they are obviously doing their job."
Stanford's downhill, power-running approach is appealing to prospective offensive lineman. And the fact that they have offensive packages that involve as many as eight offensive linemen at a time is also attractive.
"For us, we've played one true freshman on the offensive line, up until this year, during the last five years," Shaw said. "This year we've played three. And those guys have earned that.
Andrus Peat
,
Kyle Murphy
,
Josh Garnett
. Those guys have earned that. And those guys have taken some beatings in that room. Some verbal assaults, if you will.
"… There are a lot of places that play five starters and the rest of the guys watch. They've had success and that's great. But we're going to play eight -- at least eight -- just in the Rose Bowl. And we've been that way all year. If we can play nine, we'll play nine. A young guy comes in and knows he's going to have a chance to play. That he won't sit on the bench for three years. If he does it right. If he can survive in our room, he'll get a chance to play."
Danser -- who became a full-time starter this year after seeing lots of time the last couple of years as a reserve -- has seen some great offensive linemen come and go. And he's witnessed each season how the line has rediscovered a new identity and how each group takes on a life of its own.
"It really comes down to the work we do in the winter, spring and summer," Danser said. "It really forms this unit. It takes leaders like Sam and leaders in the past like Chase Beeler, James McGillicuddy, David DeCastro, Jonathan Martin, Andrew Phillips. It's that leadership that makes this a great unit."
And the trio of freshmen who have made their debuts this year know they are getting their trial by fire on the field -- and in The Room.
"The coaches and the older guys won't let anything slide," Garnett said. "They always find something. Yankey tells me you have to find something. You never do it right. Always be nit-picky and find something you did wrong. That's what we're all about -- getting to that next level, never being content. You are always looking for the perfect block."
September, 16, 2012
9/16/12
2:44
AM ET
PALO ALTO, Calif. – Stanford's
Kevin Danser
was living an offensive lineman's dream Saturday night.
"You finish your block and you're on the ground, and then you look up and your running back is still going," said Stanford's guard. "Man, that's a great feeling. How about that guy? Man, not a lot of people can do what 33 can do."
That guy -- 33 -- is Stanford running back
Stepfan Taylor
, who was the offensive catalyst in Stanford's ugly-but-effective
21-14 victory
over No. 2 USC in front of a sold-out (50,360) Stanford Stadium. Classes don't start until next week, but that didn't stop the students in attendance from rushing the field and celebrating Stanford's fourth consecutive win over the Trojans.
It's the second time in the past five meetings that Stanford has beaten USC when the Trojans were ranked second nationally. They did it in Los Angeles in 2007 on a last-minute touchdown pass by Tavita Pritchard, winning 24-23 when Stanford was a 41-point underdog.
Saturday night, the Trojans (2-1) weren't as heavily favored, but they were still considered a grade above No. 21 Stanford (3-0). Taylor saw to disprove that. He chipped, chipped and then broke through. Then he chipped and chipped again. And then he broke through again. And when he was done chipping, he had broken USC's defense.
"That guy is a rock," said Stanford fullback
Ryan Hewitt
. "I get to see his yards after contact because he usually blows right by me. And it's impressive."
Taylor looked like the best player on the field Saturday night -- not exactly a passing statement when he was sharing the field with USC quarterback
Matt Barkley
and A-list wide receivers
Marqise Lee
and
Robert Woods
. Taylor rushed for 153 yards on 27 carries (5.9 average) and a touchdown to go with five catches for 60 yards and a score.
"We were going to keep giving him the ball," said Stanford head coach David Shaw. "He never gets tired. He drags people, he breaks tackles. By one out-of-town paper I was called 'the king of hyperbole' [when talking about Taylor] but
that
is why I love talking about him. We typically like to rest him, but when we need him, I told him two years ago, we are going to put a saddle on him and ride him."
[+] Enlarge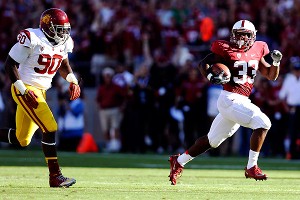 AP Photo/Marcio Jose SanchezStepfan Taylor scoots away from USC's George Uko for the first of his two touchdowns.
And Stanford needed him Saturday. With a new quarterback still learning his way around the offense and a rebuilt offensive line, the Cardinal looked stilted at times on offense. Then again, so did Barkley, the Heisman frontrunner who probably lost a few voters with his 20-of-41 performance and two interceptions. But more damning to his campaign were the zero touchdowns -- almost unheard of with playmakers like Lee and Woods at his disposal. The Cardinal kept Barkley under constant pressure and sacked him four times.
"They played better football than us," said an extremely despondent Barkley. "We were prepared. They played better."
Taylor certainly had his share of highlights. His 59-yard touchdown run that knotted the score at 7-7 in the first quarter was pretty. So was his 23-yard screen pass that went for a touchdown, tying the score at 14-14 in the third quarter. But he saved some of his best running for the end of the game -- and he didn't even get in the end zone. His 2- and 3-yard runs were turning into 7- and 8-yard runs by the second half. The final 8 minutes, 40 seconds was exactly the kind of football Shaw wants his team to play. The Cardinal started at their own 19 and pounded; Taylor for 1, Taylor for 7, Taylor for 2, Taylor for 8, etc., etc., etc. At the end of the scoreless drive, the Cardinal had run 10 plays and eaten 5 minutes, 56 seconds of clock.
The Trojans took over with 2 minutes, 44 seconds left at their own 11, trailing 21-14. But penalties and a pair of Stanford sacks ended the drive, and the game. The Cardinal threw all kinds of blitzes and pressure at Barkley all night -- and without starting center
Khaled Holmes
, the Trojans were unable to adjust.
"If you sit back there, the quarterback is too good," Shaw said. "Regardless of what happened tonight, that is the best quarterback in the country. If you give him too much time, he will kill you. You have to get after him. Those receivers are really good. We had to mix it up. Some plays we came after him and some plays we sat back. Our secondary made all the tackles."
For
Josh Nunes
, tasked with replacing Andrew Luck as Stanford's quarterback, having a back like Taylor has made life a lot easier. He was 15-of-32 for 215 yards with two touchdowns and two interceptions.
"He's a quarterback's best friend," Nunes said. "This game was a testament to our style of football, the guys up front, and certainly Stepfan Taylor."
April, 6, 2012
4/06/12
9:00
AM ET
STANFORD, Calif. -- Stanford kicked off its second spring session after a three-week break this week, and here are some notes from the Pac-12 blog's visit on Thursday.


And the first quarterback of the post-Andrew Luck Era is ... Yeah, right. It's likely going to be either junior Brett Nottingham or senior Josh Nunes, but coach David Shaw said the competition will extend into fall camp. "I want them to finish spring in competition mode. And I want them to start fall camp in competition mode," he said. "I don't want to name a starter the week of the first game. I'd like to do it before that so we can start to settle in." Shaw called the competition "Neck and neck."
A recurring theme from the coaches -- Shaw and both coordinators -- is that members of the 2012 recruiting class are going to play in the fall. Several, in fact. Particularly in need areas such as the offensive line and secondary. Yes, those touted frosh O-linemen are going to see immediate action.
As for the competition among existing players to replace left tackle Jonathan Martin and right guard David DeCastro, those spots are still up in the air. Brendon Austin and Cole Underwood are in the mix at LT, and Khalil Wilkes and Kevin Danser are in a battle for DeCastro's guard spot.
Talented sophomore James Vaughters will get on the field, and don't be surprised if he ends up at inside linebacker. At least, that seems to be where defensive coordinator Derek Mason envisions him at present. Part of this appears to be his comfort with Kevin Anderson, who's been playing defensive end, and Alex Debniak backing up outside 'backers Trent Murphy and Chase Thomas.
By the way, Mason loves his linebacker depth. He said as many as 10 could play in the Cardinal's 3-4 next year.
Henry Anderson and Josh Mauro are locked in a tough competition to replace underrated defensive end Matt Masifilo.
The Cardinal need to replace both starting safeties. The name that comes up the most is Ed Reynolds, who was out last season with a knee injury. Jordan Richards, Kyle Olugbode and Devon Carrington are in the mix also, but Mason doesn't hesitate to bring up incoming freshmen Drew Madhu and Zach Hoffpauir.
It's pretty clear that the not-entirely-unreasonable questioning of whether Stanford can remain an elite team post-Andrew Luck is serving as motivation in the locker room. While the topic is hardly obsessed over, it's also fair to say everyone is aware of the widespread doubts heading into 2012.
March, 1, 2011
3/01/11
5:40
PM ET
Stanford has a secret: 2010 wasn't only about
Andrew Luck
. And, if things go according to plan, 2011 won't be either.
[+] Enlarge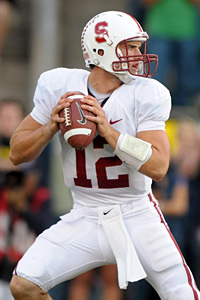 Kirby Lee/Image of Sport/US PresswireAndrew Luck is just part of the reason Stanford has high expectations this season.
It's not that Stanford doesn't recognize the benefit of having the best quarterback in the nation. It does. But the program's transformation from also-ran to BCS bowl winner was more about attitude than Luck.
That attitude -- play with "
character and cruelty
" --started up front under former coach Jim Harbaugh, and that attitude will remain in place under new coach David Shaw, at least according to offensive coordinator Pep Hamilton, whom Shaw promoted from receivers coach.
"We are a power running team," Hamilton said. "We are going to get off the bus running power. We're going to establish and control the line of scrimmage. We want to out-physical our opponent."
Of course, when you're beating a defense up at the line of scrimmage, it makes it a lot easier for any quarterback. And when your quarterback likely would have been the top pick in this spring's NFL draft, well, you're in pretty good shape when the goal is to keep a defense guessing and off-balance.
Just consider the numbers from the
40-12 beatdown
of Virginia Tech in the Orange Bowl. Sure, Luck got lots of attention for throwing four pretty touchdown passes. But the Cardinal rushed for 247 yards and two scores, and averaged eight yards a carry.
There, however, is work to be done this spring. The Cardinal needs to replace three starters from its 2010 line, including All-American center Chase Beeler. So it's not unreasonable to wonder if the offensive line will continue to be -- to use Hamilton's phrase -- "big, tough guys who enjoy imposing their will on their opponent."
Hamilton thinks so, in large part because of the two coming back: left tackle Jonathan Martin and right guard David DeCastro, who both earned first-team All-Pac-10 honors.
"Their personalities, their physical mentalities will permeate amongst the rest of the offensive line group," he said.
Khalil Wilkes and Sam Schwartzstein are battling to replace Beeler. Kevin Danser has been running with the first unit at left guard, while Tyler Mabry is the right tackle. Cameron Flemming and David Yankey also could play their way into the mix.
Still, the Cardinal might take a step back at the line of scrimmage, at least early in the season. Last year's unit welcomed back four starters, and it was widely hailed in the preseason as perhaps the best unit in the Pac-10 after it had paved the way for Toby Gerhart's runner-up finish in the 2009 Heisman Trophy race. As good as Martin and DeCastro are, and as intriguing as the new talent is, it often takes lines time to mesh.
That's where Luck comes in. As a third-year starter, he should be able to carry the load at times in the passing game. An outstanding athlete, he's fully capable of making plays outside of the pocket or with his feet if protection breaks down. But he's also adapting to change with the departure of his two leading receivers,
Doug Baldwin
and
Ryan Whalen
.
"He has some new wide receivers, so he has to work to develop some continuity with those guys," Hamilton said.
With
Chris Owusu
sitting out, those "new" receivers include
Griff Whalen
,
Jamal-Rashad Patterson
and
Drew Terrell
(each is at least a third-year player).
Hamilton doesn't envision Luck's role changing this year, even with his national celebrity as the leading Heisman Trophy candidate. He certainly doesn't want Luck to feel like he needs to transform into an alpha dog in the locker room. That would mean Luck isn't being himself.
"His personality is something that teammates gravitate towards. They all want to reach his level of success. He has field credibility in our locker room," Hamilton said. "He says the right thing at the right times. I don't see that changing."
The offense will try to retain the identity from the "Harbaugh Transformation," but there will be some tweaks to schemes, without question. Said Hamilton, "It's premature to say we've established our offensive identity."
As for life post-Harbaugh, Hamilton said he doesn't expect things to be any less emotional or edgy in the locker room. Sure, Shaw is smoother and less eccentric than Harbaugh. But that doesn't mean he lacks intensity.
"Coach Shaw brings a lot of emotion as well," said Hamilton, who also coached with Shaw when both were with the Baltimore Ravens. "When he's in front of the cameras, he gives a perception that he's laid back. But he's a fiery guy. He's as competitive as any other coach in college football, or in the NFL for that matter."
And if he is successful in 2011, it won't all be about Luck.