May, 24, 2012
5/24/12
2:00
PM ET
PONTE VEDRA BEACH, Fla. -- I had a chance to catch up with UConn coach Paul Pasqualoni during the Big East spring meetings. We talked about where the quarterback race stands and some of his remaining questions heading into fall practice.
Do you have a front-runner in the race to be your starting quarterback?
PP:
Chandler Whitmer had the best production in the spring game, so I think there are members of the media, and I've been through this before, that like to choose the quarterback. If the members of the media, based on the spring game, were choosing the starting quarterback, Chandler Whitmer would be the front-runner. But I've been in this long enough to know that it's not based on one performance. It's the body of work over an extended period of time. They all did some pretty good things in the spring. Having said that, we're going to come back into preseason camp and we're going to continue the competition but I would like very, very much to make a decision as soon as I can.
[+] Enlarge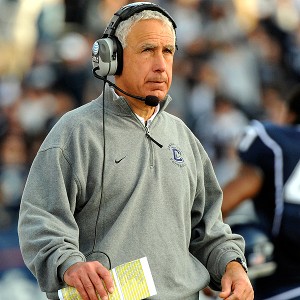 AP Photo/Tomasso DeRosaPaul Pasqualoni still has a decision to make regarding his starting quarterback.
It did drag on into the season opener last year.
PP:
I preferred for that not to happen. Years back when we had Donovan McNabb, Kevin Johnson and Keith Downing all competing, it was the same thing; we were trying to figure it out. We weren't able to do it early in preseason, so we did it in the end to get all the scrimmages in and get all the opportunities to watch and see them play and produce. If we have to, we're going to do that, but if we don't have to, we're not going to do that. I'd like to be able to say tomorrow, 'Here it is, let's go,' but I just can't do that. So we're going to grind it out. It's a big decision, obviously, and we're going to try to make the best, informed decision that we can.
How will you manage the reps with all five still competing?
PP:
We did a great job of managing the reps in the spring, so we'll go back in and we'll manage the reps the same way. They'll each get a significant number of reps. Scotty McCummings will still have the majority of the Wildcat reps, although he works on the entire game plan and we're trying to develop him as a drop-back passer as well. We'll divide them up and we'll do the best we can with it.
If Casey Cochran doesn't emerge as your starter, have you given thought to redshirting him?
PP:
We haven't discussed any of that yet. We really don't talk about redshirting anyone at this point. My policy is I want them coming in with a non-redshirt mentality when they get on campus. My fear has always been if you start to talk that redshirt mentality and they come into camp and they're not ready enough, it affects their conditioning and the way they go through practice. I want them coming in and all competing.
How about the development of your offensive line this spring. Where does that group stand?
PP:
We're anxious to get
Jimmy Bennett
back. He'll be back. He's been cleared, he'll work out full go here in early June. He was really one of our better tackles last year. The biggest issue with Jimmy is to get him ready to go but keep him healthy.
Adam Masters
got nicked up in the spring, we have to get Adam back, and over at right tackle,
Kevin Friend
has been working hard. So if Jimmy's back and Jimmy's playing tackle, it gives us flexibility to put Adam back at guard.
Alex Mateas
and
Tyler Bullock
are competing at center. There are a few freshmen I want to see practice, Tyler Samra, Rennick Bryan. I want to see where they can fit in the top 10. So those are going to be all really big things for us with the offensive line in camp.
How about the defensive line? It seemed Ryan Wirth had a good spring game.
PP:
Ryan Wirth got nicked up but then he came back for the spring game and had a very productive spring game. He's a senior, and we expect to get senior leadership out of him.
Shamar Stephen
,
Angel Pruitt
, I thought
Julian Campenni
had a productive spring until he got hurt. He cut his ear and was unable to play in spring game but he had a productive spring. We're not there yet on the defensive line, and we're not there yet on the offensive line, but we're going in the right direction. We've got the right guys on the bus. It's a matter of getting them in the right seats now.
What are your biggest questions then, aside from quarterback?
PP:
Offensive line, defensive line, and what the depth is going to be at both the tailback position and the wide receiver position.
Losing D.J. Shoemate was obviously tough.
PP:
It was. We know what
Lyle McCombs
can do. But we've got to find out who the next two guys are.
At receiver, Shakim Phillips seemed to have a good spring as well.
PP:
Shakim had a good spring,
Mike Smith
is back and he's played a lot of football for us.
Nick Williams
is back. We've got the two young guys in
Tebucky Jones
and
Geremy Davis
who have done pretty good, and then we moved
Deshon Foxx
out to wide receiver and he showed some promise. I think we know who the older guys are there. Now we have to figure out the younger rookie guys and see what kind of depth we have. I want each of them to have a role. To say that I've got all that figured out right now -- I don't.
October, 25, 2011
10/25/11
5:05
PM ET
The pressure has been on UConn quarterback
Johnny McEntee
. Let's just say the Huskies haven't handled it particularly well.
McEntee has been sacked 12 times in the last two games, leaving quarterback protection one of the big priorities headed into their game against Pitt on Wednesday. UConn has seen more blitzes in those two games against West Virginia and USF because, simply put, it has an inexperienced quarterback.
"I think that's pretty typical," coach Paul Pasqualoni said. "South Florida came in with a couple of new pressures and once we saw them, we got them straightened out on the sideline and at halftime. After that we were fine. Sometimes you have to see those (blitzes) once or twice to figure it out."
UConn has given up an unusual number of sacks already this season. After giving up just 15 last year, the Huskies already have given up 24, second worst in the Big East. It's not as if the Huskies are passing more this season, either. The rush-pass attempts this season are nearly identical to 2010. The Huskies rush about 57 percent of the time this year; last year, it was 58 percent of the time.
There have been changes on the offensive line in regard to scheme, a season-ending injury to starting left tackle Jimmy Bennett, plus a shuffling of players. Four different starting lineups have been used on the offensive line this season. But the same group had started three straight games -- left tackle Mike Ryan, left guard Steve Greene, center Moe Petrus, right guard Adam Masters and right tackle Kevin Friend.
"I thought the offensive line played a pretty physical game against South Florida," he said. "I think they executed very well and there were some good things to see on the film. Hopefully, we are settling in with who we have there. I think [the lineup] is established now and we need to continue to build on the urgency that they played with against South Florida. We need to continue to build on the urgency and the detail and absolutely go out and finish every play."
Though McEntee has taken his share of hits, he slowly is getting better. He also has worked with all his teammates to try to avoid getting hit so much.
"USF did some things I don't think we were ready for," he said. "They had some packages we didn't expect. We need to be prepared to pick up the blitzes this week against Pitt, wherever they come from."
December, 4, 2010
12/04/10
7:47
PM ET
TAMPA, Fla. -- No official word yet, but it sure looks like
Bobby Eveld
will make his first career start at quarterback for South Florida.
Eveld took all the snaps with the first-team offense during warm-ups, while
B.J. Daniels
worked with the second stringers. Unless Skip Holtz is trying to fake out Randy Edsall, that's a pretty solid sign of who's getting the call. But Daniels looks healthy enough to play.
One change for Connecticut: Left tackle
Mike Ryan
is not starting because of a leg injury. He'll be replaced by Kevin Friend. That would be huge for most teams, but the Huskies always seem to be able to plug-and-play their offensive linemen.
A bigger loss will be Twyon Martin, the defensive tackle who we found out on Thursday night would miss the game because of an injury. Shamar Stephen will start in his place.
June, 3, 2010
6/03/10
11:36
AM ET
If
Dion Lewis
were to go down, Pitt could still run the ball well with
Ray Graham
,
Chris Burns
and
Jason Douglas
, plus battering ram fullback
Henry Hynoski
.
But the Panthers aren't the only team in the Big East that's prepared for injuries and other scenarios at key spots.
There are few players as dynamic as
Noel Devine
, but West Virginia believes it may have the next divine runner in
Tavon Austin
.
Jock Sanders
has also ably filled in at tailback for Devine over the years, and
Ryan Clarke
is physical, bruising ball carrier.
Cincinnati and Connecticut are blessed with rare quarterback depth. While
Zach Collaros
should be a star, his backup --
Chazz Anderson
-- has already won important games. Same goes with UConn, which will start
Zach Frazer
but feels comfortable with
Cody Endres
leading the team. And both teams have third-stringers who can play.
The Bearcats are loaded at wide receiver with
Armon Binns
,
D.J. Woods
and
Vidal Hazelton
. Take one out, and it would hurt but not cripple the offense, as
Marcus Barnett
and two players who excelled in junior college --
Jamar Howard
and Kenbrell Thompkins -- could pick up some slack.
UConn has the league's deepest cast at offensive line, which showed this spring when Adam Masters and Kevin Friend stepped in to compensate for injuries and excelled. The Huskies seem to just plug in and play on their O-line with little dropoff.
Rutgers might have its deepest defensive line ever under Greg Schiano, so deep that the Scarlet Knights didn't mind moving former top-rated recruit Antwan Lowery over to offense. South Florida lost George Selvie and Jason Pierre-Paul off its defensive line but could still go 8-to-10 deep there if youngsters develop as expected.
Depth isn't a word thrown around Syracuse much lately, but the Orange enter 2010 with a full stable of defensive backs, including five players who started a year ago and several others who earned valuable experience in 2009.
Overall, I'd say UConn, Pittsburgh and West Virginia are the deepest teams in the Big East. But depending on the position, some teams are better off than others.
March, 8, 2010
3/08/10
8:55
AM ET
This could be a big year for Connecticut.
The Huskies were playing as well as anybody in the Big East down the stretch and finished the 2009 season with a victory over South Carolina in the Papajohns.com Bowl. They bring back a wealth of starters and plenty of depth. I caught up with UConn coach Randy Edsall last week to talk about the beginning of spring practice, which starts March 16. This is part I of my interview. Check back later for part II.
First of all, you have to be feeling pretty good about where the program is given all the players you bring back from last year, right?
[+] Enlarge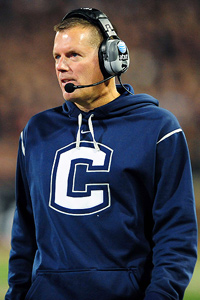 Andrew Weber/US PresswireRandy Edsall led the Huskies to an 8-5 record in 2009.
Randy Edsall:
We do. We have a lot of guys back and we only have 12 seniors on the roster, so that bodes well for us. We're going to have more depth than we've ever had. The thing about this spring that's going to be a little different is, we're going to have a lot of guys who won't be doing things because of injuries. So we'll be able to get a lot of work in, but some of the kids won't be out there with us because of injury. But the thing I'm excited about is that we're going to give some of these young guys a lot of work to even develop more depth in the program.
Do the injuries cause a little less of a concern this spring just because you have so much experience coming back?
RE:
Yeah, it really does. Just looking at our depth chart and our board ... even though Jesse Joseph is not going to go through the spring, Greg Lloyd is not going to go through the spring, Blidi Wreh-Wilson is not going to go through the spring on defense, with those guys out we still have so many guys and we know what those guys can do because they played for us. And now get some other kids more repetitions and kids we know are going to be available to play next year. For me, it's a plus for us. And we had six kids who came in at midyear, so it's another plus that those kids are going to get a lot of reps.
We're not going to be the finished product coming out of spring, because like with Jimmy Bennett and Mike Ryan on offense, they're not going to be practicing due to the injuries that they had in the fall and
Robbie Frey
will be limited and won't be full go. That's where in terms of the offensive line, it's going to give us a chance to work with some of our young guys and really get them a lot of reps to develop them so if they've got to get into a game, they're going to have some experience there.
Let's talk about the quarterbacks. Zach Frazer played well for you at the end of the year, but Cody Endres also played well before his injury. Is Frazer the No. 1 guy right now or is it more of a competition?
RE:
As we came out of the season, we won four straight there with Zach and I thought he did some good things. Cody did, too, I think, so we're in a good situation. But as we go into the spring, Zach's the No. 1 guy and it would be his job to lose. He knows there's always competition, but he's the No. 1 guy as we start practice on the 16th.
What did you like about the way Frazer played at the end of the year?
RE:
I thought he really just played within himself. I thought he was relaxed, he was poised and I thought he made a lot of good decisions He wasn't forcing the ball; he was taking what the defense was giving and throwing the ball where it should have been thrown. And when it wasn't there, he threw the ball away as opposed to trying to make a great play, squeeze a ball into somewhere you shouldn't. I really thought he did a good job of what we asked him to do in the game plans we had for those games.
People may forget that you put in a new offense last year, and there must have been some adjustments along the way.
RE:
You could see the improvement as the season went on with what we did offensively, and I think one of the keys this spring is now the kids are going to be more comfortable in the offense. There are going to be some things that we're able to do to add or to tweak where we think it will make us better. But I was pleased with the development of the offense as the season went along. Our point production and passing yardage was up from a year ago, and we maintained what we wanted to do in the running game.
It took two guys to replace Donald Brown, but that's fine. And we want to keep building on the positives we had last year and keep moving forward, and the good thing is we only lost Andre [Dixon], and we still have
Jordan Todman
coming back. We lost Brad [Kanuch] and
Marcus Easley
, but we feel we have receivers to step in and do the job. And up front the only guy we lost was Mike Hicks. We really feel good about the guys we have coming back and what we can do to improve upon the production and the output we had a year ago.