July, 11, 2014
Jul 11
10:00
AM ET
College football fans sure find easy targets to wear the black hat. Whether it's a coach bouncing from school to school, a recruit flipping to a rival or someone who just can't avoid making headlines, there remains no shortage of villains in this sport.
That doesn't mean it's without guys worth rooting for, though. Here, we give you five ACC guys whom even rival fans have to appreciate for what they do on Saturdays and beyond.
[+] Enlarge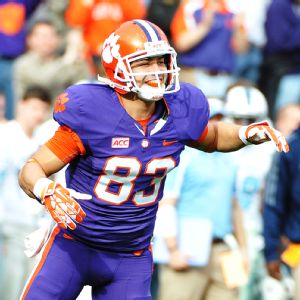 AP Photo/Rainier EhrhardtWR Daniel Rodriguez walked on at Clemson after serving tours in Iraq and Afghanistan.
Daniel Rodriguez, Clemson.
The Tigers receiver served roughly 18 months in Iraq and one year in Afghanistan. He served in the Army from 2006-10. He earned a Purple Heart and the Bronze Star Medal With Valor Device. Just watch
this "College GameDay" feature on him
. One of the better moments all of last season was Rodriguez scoring a 2-yard touchdown against The Citadel on Military Appreciation Day. He enters his senior year with 10 career catches for 30 yards and five punt returns for 31 yards. You don't see stories like Rodriguez's every day, and he certainly helps put the term "hero" in perspective.
Laken Tomlinson, Duke.
Tomlinson arrived in Chicago from Jamaica at the age of 10, with little knowledge of the game of football.
His recruitment and background is very similar to that of "The Blind Side,"
with Tomlinson ultimately committing to David Cutcliffe and a then-rebuilding Blue Devils program. He took part in a service trip two years ago in Ethiopia to help construct freshwater wells for local communities. He's blossomed into a pretty good offensive guard, too, earning All-ACC honors during Duke's run to the Coastal Division crown last season.
Kevin Haplea, Florida State.
You're out for the season with a torn ACL. So what do you do? If you're Haplea, you help start a charity chapter at your new school. The Penn State transfer founded the Seminoles' chapter of Uplifting Athletes, which, coincidentally, holds its first event, "Lift for Life," today. The fundraising effort raises awareness and research money for rare diseases, with FSU's chapter championing Fanconi anemia, which is the disease that coach Jimbo Fisher's son, Ethan, was diagnosed with. A redshirt senior, Haplea could see his role expand this year, complementing
Nick O'Leary
in FSU's two-tight-end sets.
Lorenzo Mauldin, Louisville.
With both of his parents in jail, Mauldin
bounced between different foster families before one of his foster mothers introduced him to football in high school
. He's excelled since, registering 9.5 sacks last season and earning second-team all-league honors from the American Athletic Conference. Mauldin does no shortage of community work as well.
David Durham, Pitt.
The starting defensive end has done no shortage of work around his new community since transferring from Ohio State prior to the 2012 season. Durham has hosted youth football clinics, wrapped and delivered Christmas gifts to families in need, volunteered with the Greater Pittsburgh Community Food Bank and, most recently, was part of a group of Pitt players who visited an orphanage in Haiti in May for a weeklong mission trip. Durham was the Panthers defense's winner of the Ed Conway Award this spring, which goes to the most improved player.
August, 2, 2012
8/02/12
9:45
AM ET
Penn State has absorbed personnel hits on both offense and defense since the NCAA handed down major sanctions against the program last week.
The Nittany Lions' special-teams units won't be spared, either.
Junior
Anthony Fera
, who handled both punting and place-kicking duties in 2011, will transfer to Texas, colleague Joe Schad and others are reporting. Fera earned second-team All-Big Ten honors (media) as a punter last season, averaging 42 yards per punt with 18 punts inside opponents' 20-yard line. He also connected on 14 of 17 field goal attempts and was a semifinalist for the Lou Groza Award.
Fera, a native of Cypress, Texas, earned three Big Ten Special Teams Player of the Week honors in 2011 and became the first Nittany Lions specialist since Chris Bahr in 1975 to be the starter for field goals, kickoffs and punts.
Next to starting running back
Silas Redd
, Fera is the most significant departure for Penn State so far. The Lions likely will turn to sophomore
Sam Ficken
for place-kicking duties and junior
Alex Butterworth
to handle the punting, but Fera certainly will be missed, especially for an offense that could have some significant struggles.
Fera is the seventh Penn State player to confirm a transfer elsewhere, joining Redd (USC), linebacker
Khairi Fortt
(Cal), tight end
Kevin Haplea
(Florida State), quarterback
Rob Bolden
(LSU), safety Tim Buckley (NC State) and defensive lineman Jamil Pollard (Rutgers). There likely will be more to come, including
possibly top wide receiver Justin Brown
, who would be another significant loss for the offense.
There was a lot of excitement in Nittany Nation about the pledges of loyalty made last week by a group of Penn State's upperclassmen as well as several top 2013 recruits. In reality, most of the seniors wouldn't have benefited from leaving State College. Who expected guys like
Matthew McGloin
or
Michael Mauti
to leave? All along, the key players to watch were those with multiple years of eligibility remaining.
So far, those are the individuals heading elsewhere.
August, 1, 2012
8/01/12
9:25
PM ET
Senior wide receiver
Justin Brown
said he was still mulling a transfer Wednesday night and wasn't sure whether he would remain at Penn State.
"I haven't made a decision yet," he said in a brief telephone interview. "I just don't know."
Brown said he doesn't have a timetable for his decision, although preseason practice starts Monday. His high school coach, George Kosanovich of Concord (Del.), said Brown fielded calls from about three or four schools, including Cincinnati, Illinois and Oklahoma.
As the Nittany Lions' top returning wideout, Brown's decision could prove critical to Penn State's offensive success -- especially without starting tailback
Silas Redd
, who announced his transfer to USC on Tuesday.
If Brown leaves, unproven receivers
Shawney Kersey
, a redshirt junior, and sophomore
Allen Robinson
-- who combined for just eight catches last season -- would battle for the top spot.
Brown finished last season with 35 receptions, 517 yards and two touchdowns.
Five Penn State players have already announced their intent to transfer since the sanctions: Redd, linebacker
Khairi Fortt
, safety
Tim Buckley
, defensive lineman
Jamil Pollard
and tight end
Kevin Haplea
. Quaterback
Rob Bolden
was released from his scholarship prior to the sanctions, according to a source.
August, 1, 2012
8/01/12
10:00
AM ET
The hits keep coming for Penn State, as linebacker
Khairi Fortt
and incoming freshman Jamil Pollard have decided to go elsewhere.
Fortt, a junior from Stamford, Conn., is
transferring to Cal
. He was a highly-decorated recruit who played as a true freshman in 2010 and was a member of the linebacker rotation last season. He finished 2011 with 33 tackles, including six for loss, and 2.5 sacks.
He missed some time this spring with a sprained knee but was listed as the co-starter at middle linebacker going into fall practice, along with
Glenn Carson
.
"Basically I wanted to take a leap of faith and trust in God," Fortt told the Stamford Advocate this morning. "This is what's right for me and my family. ... The way you go through life is the way you handle adversity. The friends I've made here are friends."
Penn State should still be fine with its starting linebackers -- this is Linebacker U., after all -- considering that it boasts first-team All-Big Ten performer
Gerald Hodges
, fifth-year senior
Michael Mauti
and Carson, who started every game last season. But Mauti has had recurring knee problems and is no lock to stay healthy. Losing Fortt definitely hurts the depth at the position.
There was a lot of talk at Big Ten media days about who in the league was recruiting Penn State players. But it turns out that the Nittany Lions should have been worried about the Pac-12 more, as Fortt's teammate and fellow Connecticut native
Silas Redd
moved on to USC on Tuesday.
Pollard, an incoming defensive tackle, has
decided to go to Rutgers
instead of Penn State. He was rated a three-star prospect by ESPN.com and the No. 37 defensive tackle in his class.
His high school coach, Clyde Folsom, told The News of Cumberland County (N.J. ) that the NCAA sanctions against Penn State were the reason for Pollard's departure.
"We spoke last week when the penalties became public at Penn State," Folsom told the newspaper. "He wasn't sure what he wanted to do; he wasn't in the right state of mind at the time to really make a decision. But over a 48-hour period there were six or seven Division I schools that were interested in bringing him in on scholarship."
If you're scoring at home, five players on the active roster -- Fortt, Redd, quarterback
Rob Bolden
(LSU), tight end
Kevin Haplea
(Florida State) and walk-on safety
Tim Buckley
(NC State) -- have officially transferred thus far. There will likely be more to come. Penn State, which begins practice on Monday, will have to hope the hits stop coming soon.
October, 10, 2011
10/10/11
3:00
PM ET
Those who do not study history are doomed ... to be confused by this post. Let's review Week 6 in the Big Ten.
Team of the week:
Penn State. The Nittany Lions needed a confidence-building win, something to show us and themselves that they could be a legitimate contender in the Big Ten Leaders Division. They got that with a 13-3 victory against the thorn in their side, Iowa. The Nittany Lions' defense controlled the game from start to finish, and the offensive line had its best performance of the season. Penn State is 5-1, back in the coaches' poll and, with Purdue and Northwestern next, has a chance to get to 7-1.
[+] Enlarge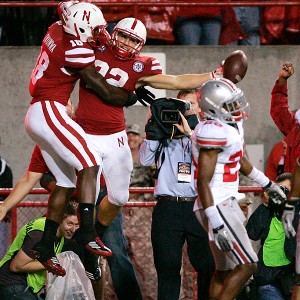 AP Photo/Nati HarnikNebraska's Rex Burkhead, center, celebrates his go-ahead TD against Ohio State with Quincy Enunwa.
Best game:
Nebraska 34, Ohio State 27. So maybe this wasn't the clash of titans we thought it might be in the preseason, but the game still lived up to advance hype. The Cornhuskers completed the biggest comeback in school history by rallying from a 27-6 second-half deficit to add to Ohio State's misery. It was a season-saving type of game for Nebraska, which did not want to go into the bye week facing questions about an 0-2 start in Big Ten play.
Biggest play:
Nebraska linebacker Lavonte David strip of Ohio State quarterback
Braxton Miller
to ignite the team's comeback. The Cornhuskers went on to score 28 unanswered points, and Miller left the game a few plays later with an ankle injury. "That was a game-changing play," Huskers coach Bo Pelini said of David's forced fumble. "That was a huge play in the football game. He's been doing it since he got here."
Best call:
After Penn State linebacker Gerald Hodges ripped the ball free from Iowa quarterback
James Vandenberg
near midfield, the Nittany Lions' offensive coaches decided to get physical. They ran the ball 10 straight times, wearing out the already tired Hawkeyes front seven, before Matt McGloin hit tight end
Kevin Haplea
on a short play-action pass into the end zone. It was the only touchdown of the game.
Big Man on Campus (Offense):
Nebraska quarterback
Taylor Martinez
. After a week of withering criticism, Martinez completed 16-of-22 passes for 191 yards and two touchdowns and ran for 102 yards and a score in the comeback win against Ohio State.
Big Man on Campus (Defense):
Illinois cornerback Tavon Wilson. The senior had a team-high 11 tackles, including 3.5 for loss and a sack, and returned a fumble 66 yards to give the Illini a lead they would not relinquish against Indiana.
Big Man on Campus (Special teams):
Nebraska's Brett Maher. The Huskers' punter/kicker drilled field goals from 50 and 34 yards and averaged 44.2 yards on four punts, putting two inside the 20-yard line.
Worst hangover:
Ohio State. It was hard not to feel a little sorry for the Buckeyes at the end of the loss in Lincoln. Ohio State's coaches had a great game plan that was executed brilliantly for more than a half. But the injury to Miller short-circuited the offense, and it was painful watching
Joe Bauserman
repeatedly misfire on passes that had little chance. If Miller is out for significant time, that's only going to further damage this team's chances of getting things turned around. And with Illinois and Wisconsin up next, this has the potential to be one of the worst months in the program's recent history.
Strangest moment:
Let me preface this by saying journalists are usually not math majors or close to it. Still, Illinois coach Ron Zook caused armchair quarterbacks everywhere to scratch their heads when he decided to go for the two-point conversion after an Illini touchdown gave them a 20-13 lead against Indiana. Since it came midway through the second quarter and a simple extra point would have put his team up eight, Zook's call went against every principle on a coach's two-point cheat sheet. Even odder was Zook's answer when asked about it.
''We were down five, right?" he said. "Up five, I mean. It was 20-13? Up seven?
''Maybe I didn't know what the score was. That's happened to me before. It's usually when we're behind. I have to go back and look at it. That will give you something to pound us about."
No pounding here, coach. Just maybe a little chuckle.
October, 5, 2010
10/05/10
2:38
PM ET
As you might have seen earlier today, Michigan State coach Mark Dantonio will once again
attempt to watch his team from the press box
this week at archrival Michigan.
Dantonio, released from the hospital Monday after being treated for a blood clot in his leg, is back in the office and started his news conference today by saying, "Can't keep me down Michigan week." The 54-year-old had planned to coach from the press box last week against Wisconsin but was readmitted to the hospital Thursday after doctors found the clot.
"As long as I don't have a setback, that's where I'll be," Dantonio said of the Michigan Stadium press box.
Dantonio feels "outstanding" and is back at the football complex after spending Sunday and Monday watching film. He watched the Wisconsin game from the hospital, where he communicated with his assistants at Spartan Stadium.
"I'll take it easy, I won't overdo things, I'll listen to what people are telling me, I'll listen to my body," Dantonio said. "But at the same time, I feel very good."
It's encouraging to hear Dantonio is doing well again, and while I'm not a doctor, allowing him to spend three-plus hours on his feet Saturday following a blood clot probably isn't a wise move. Hopefully, he'll spend the game in Michigan's spacious and luxurious new press box.
Other Big Ten health nuggets:
Ohio State coach Jim Tressel confirmed that safety-linebacker Tyler Moeller is out for the year with a torn pectoral muscle that will require surgery later this week. Moeller is a big loss after leading Ohio State in both tackles for loss (4.5) and forced fumbles (2). I'll be stunned if he doesn't receive a sixth year of eligibility from the NCAA, so we should see him back in 2011. Freshman Christian Bryant will step in for Moeller, although Tressel said Jermale Hines also can play the "star" position in Ohio State's nickel package. Nate Oliver also is getting healthy and should be able to help.
Buckeyes starting quarterback Terrelle Pryor should be fine for Saturday's game against Indiana. Pryor, who missed two series with a strained quad against Illinois, might be limited in practice early this week but will "get as close to 100 percent as one can be" for the Hoosiers.
Speaking of Indiana, starting cornerback Richard Council will miss "an extended period of time" with a knee injury, coach Bill Lynch said. Council's injury isn't season ending at this point, but Indiana will turn to others, namely Adrian Burks, as well as Greg Heben and juco transfer Andre Kates, to fill the void.
Not a health note, but a personnel nugget regarding Brandon Wegher. There had been some buzz about the running back returning to Iowa, but it's not happening. "If he comes back, we'll let you know," coach Kirk Ferentz said. "As far as I know, he's gone for at least this season and maybe forever."
The hits keep coming for Purdue, as coach Danny Hope said receiver Justin Siller will miss three to six weeks with a sprained foot. The good news is the Boilers are getting healthier at running back as players like Al-Terek McBurse and Keith Carlos improved during the bye week. Purdue can move Antavian Edison and O.J. Ross back to receiver.
Penn State linebacker Gerald Hodges and receiver Curtis Drake are improving from their injuries but likely won't be back for a little longer. Tight end Andrew Szczerba (back) started to do some light jogging but won't be back as Penn State turns to true freshman Kevin Haplea as its starter against Illinois. Defensive tackle Jordan Hill (ankle) is expected to play Saturday.
Finally, some good news about Minnesota receiver Connor Cosgrove, who last month was diagnosed with leukemia. He's doing well and was in the locker room before last week's game against Northwestern. "The leukemia counts in his body are way down," Gophers coach Tim Brewster said. "His body is reacting positively to the chemotherapy. The outlook for Connor is really positive." Great to hear.