NCF Nation:

Kevin Matthews
September, 4, 2013
9/04/13
3:00
PM ET
COLLEGE STATION, Texas -- As Jake and
Mike Matthews
settled in to watch the BCS championship game this January, Jake thought deeply about his future and whether to stick around Texas A&M for one more season, perhaps to make a run at playing in the type of game the two were about to watch on television, or declare for the NFL draft.
[+] Enlarge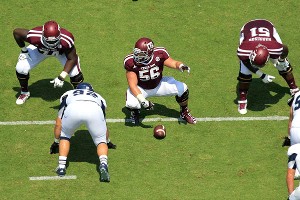 Thomas Campbell/USA TODAY SportsMike Matthews is playing on the O-line with his brother Jake for the first time since high school.
Naturally, Jake sought advice from his father, Pro Football Hall of Famer and Tennessee Titans offensive line coach Bruce Matthews. The two spoke on the phone at length about Jake's options before Jake decided it was best to finish out his Aggie career.
Once his parents knew, the next person he told was Mike, now a sophomore center for Texas A&M. His reaction?
"'Alright, cool,'" Jake recalls Mike saying, nonchalantly. "And then watched the game. That's just way he is."
Now the two embark on a unique opportunity, brothers playing only two spots away from each other on the No. 7 Aggies' offensive line.
The 6-foot-5, 305-pound Jake is now a senior who spent his first three seasons at A&M playing right tackle. But after 2012 Outland Trophy winner Luke Joeckel declared for the 2013 draft and joined the Jacksonville Jaguars, who drafted him second overall, Jake is now manning Joeckel's old left tackle spot.
Mike, a 6-2, 285-pounder who backed up starter Patrick Lewis at center last season, played late in games when the Aggies held comfortable leads in 2012, so the two didn't have a chance to play on the field at the same time last season. With Lewis having graduated and Mike next in line to start at center, the chance to do so existed.
"It's one of the main reasons I wanted to come back and finish up my senior year here, just the opportunity to play with him," Jake said. "… It's always something real special to play with your brother, especially a sport like this and especially playing on the o-line, just because it's such a close-knit group."
The pair had the chance once before, under similar circumstances. When Jake was a high school senior and Mike -- then known as "Mikey" -- was a sophomore at Missouri City (Texas) Elkins High School, they spent a season starting at left tackle, and center, respectively.
Fast forward four years and the pair are playing together on a top-10 team and blocking for one of the country's most explosive offenses, which includes Heisman Trophy-winning quarterback,
Johnny Manziel
.
Jake has established himself as an elite tackle. He was a first-team All-SEC selection last season, was named a first-team All-American by the Football Writers' Association of America and was projected by many to be a first round pick in the 2013 draft, had he elected to enter it. That will still likely be the case when 2014 arrives.
Mike, in his first year starting for the Aggies, has already impressed the coaching staff. His debut as a starter on Saturday in a win over Rice yielded positive results, according to Coach Kevin Sumlin.
"He handled [adjustments] very, very well," Sumlin said. "Really, after the first series, he played extremely well. I think that was evident by our ability to rush the football effectively."
For Jake, there is an adjustment phase in moving from right tackle to left tackle.
"It's definitely different," Jake said. "I played left tackle throughout high school but playing college football three years at right tackle you definitely get some tendencies. That's been a little bit of a challenge, getting used to flipping everything, your feet and all that stuff."
Sumlin calls Jake, one of the Aggies' team captains, a classic "low maintenance, great player," the same compliment he used on Joeckel.
Outside the whistles, their personalities are distinct, according to coaches and teammates.
"I would say Mike Matthews is the more rowdy guy and Jake is more quiet," senior running back
Ben Malena
said. "I think with [Mike] playing the position that he does, by him being vocal it helps him a lot."
Mike agrees.
"I guess I am a little loud," he said. "[Jake] always tells me I'm annoying because I don't shut my mouth. I do a lot of talking. When I get on the field, I start yelling around a little bit. I'm kind of hyper."
Jake even compared Mike's personality to that of a former Texas A&M defensive lineman who was known for his outsized personality.
"He's like the new Spencer Nealy," Jake said. "He's always been like that growing up. You would think we were raised by different parents. He's always yelling and excited and stuff. It's fun to have someone like that on the team because he picks up the energy and gets guys excited. I'm not sure where he gets it from though."
Jake has his share of fun, too, though. Though Mike seemingly shed the "Mikey" nickname once he left high school, Jake has done his best to keep it alive.
"Everyone calls him Mike and I call him Mikey," Jake said. "It is kind of funny, because now half the guys on the team call him 'Mikey,' and it's kind of funny to see it. [Quarterback]
Matt Joeckel
does it the most and makes fun of him with it. It's second nature [for me] to call him Mikey, I've been calling him that since we've been running around like little kids."
Jake doesn't escape ribbing however. Offensive coordinator Clarence McKinney has gotten in a jab or two.
"I always tease Jake and tell him he's the fourth-best center in his family," said McKinney, referring to Bruce, Kevin and Mike Matthews who have all played center. "He'll be a guy who leads us and we're definitely happy to have both of those guys be a part of this program."
The pair aren't the first of the Matthews men to don the maroon-and-white, though. Their older brother Kevin Matthews, who spent three years with the Tennessee Titans and spent time in Washington Redskins camp last month, also played for the Aggies.
With Bruce being a Hall of Famer, Kevin having played in the NFL and Jake next in line, Mike said he wants to follow in his elders' footsteps. The bond he shares with Jake is a strong one.
"We spend a lot of time together," Mike said. "He's like a best friend to me and every single day we have basically the same schedule. We go to class, go to football practice, hang out there, go home, watch TV together, hang out, joke around, just like any old brother relationship."
While Mike was a big reason that Jake returned for one final season in Aggieland, there were a few others too. Jake, a university studies major in A&M's Mays Business School, is on track to earn his degree in December, three-and-a-half years after he stepped on campus. It never hurts to make your mother happy, which Jake did. Carrie Matthews was hopeful for the opportunity to see two of her five sons share the field together at least one more fall. And Jake feels like there are special things ahead for the Aggies.
"We're a great team right now and we're getting a lot of publicity," Jake said. "That was one of the main things I liked. We have a chance to do some special things and I really wanted to be a part of that."
The Aggies are thankful to have them both this season.
"Let me just tell you that I'm extremely happy to have Mike Matthews here, because I do believe if he wasn't here,
Jake Matthews
wouldn't be here this year," McKinney said with a smile. "We're happy about that."
May, 26, 2009
5/26/09
10:15
AM ET
Posted by ESPN.com's Tim Griffin
All questions aren't settled during the course of spring practice as teams still have much work to upgrade their weaknesses heading into the season.
Obviously, some will receive a boost from incoming freshmen who will arrive later. But here's how each team's biggest liability shakes out heading into the summer.
Baylor: The Bears are desperately looking for help at offensive tackle after losing No. 2 overall draft pick Jason Smith and Dan Gay as their starters. Former Canadian firefighter Danny Watkins has established himself at Smith's old position protecting Robert Griffin's blind side. And on the right side, junior Chris Griesenbeck and redshirt freshmen Cameron Kaufhold are competing for the starting job with Tyler Junior College's Phillip Blake and Blinn College's Marquis Franklin set the arrive later this summer.
Colorado: Wide receiver has been a question mark for the Buffaloes throughout Dan Hawkins' coaching tenure. The Buffaloes return four scholarship wide receivers and had a chance to work out several new players with Scotty McKnight injured during the spring. Josh Smith and Markques Simas are the top playmakers coming out of the spring. Non-scholarship players like Jason Espinoza and Ryan Maxwell emerged, but the Buffaloes definitely need a big upgrade at the position from their arriving freshman class.
Iowa State: The Cyclones will be facing a big hole at left tackle, where two-year starter Doug Dedrick departs. It could be filled by Matt Hulbert, who started two games last season when Dedrick was hurt. Or it could be massive 354-pound junior Hayworth Hicks or freshman Brayden Burris at the position. Whoever emerges will face a huge challenge in filling Dedrick's experience as he protects the blind side of the Iowa State quarterbacks.
Kansas: Coach Mark Mangino will be facing a few huge rebuilding job at linebacker, where the Jayhawks lose key contributors Joe Mortensen, Mike Rivera and James Holt from last season. Mangino is talking about using a two-linebacker set as his base defense with fifth-year senior Jake Schermer and senior Arist Wright getting the starting jobs leaving spring practice. Sophomore Steven Johnson and converted running back Angus Quigley were competing for playing time during the spring and another boost is expected when junior linebacker Justin Springer, who is recovering from a torn ACL last season, returns in the fall.
Kansas State: Carson Coffman appeared to have claimed the starting job at quarterback -- at least for a few weeks -- after a strong effort during the latter stages of spring practice. But Coffman's late binge has to be tempered considering he is playing against the weak Kansas State secondary. So it's fair to say there are some lingering questions at the position. Coffman apparently has beaten back the challenge of challengers Collin Klein, Joseph Kassanavoid, Trey Scott and Milton McPeek. But the arrival of South Florida transfer Grant Gregory and heralded junior-college transfer Daniel Thomas will mean more competition in the summer.
Missouri: The Tigers will be facing a challenge of replacing NFL first-round draft pick Evander "Ziggy" Hood at defensive tackle to play opposite nose tackle Jaron Baston. Redshirt sophomore Terrell Resonno appeared to have claimed the job out of the spring, with Dominique Hamilton, Chris Earnhardt and converted linebacker George White perhaps earning their way into the rotation.
Nebraska: After the graduation of top receivers Todd Peterson and Nate Swift from last season, the Cornhuskers need to fill both positions. Leading returning receiver Menelik Holt appears to have a hammerlock on one position, but Niles Paul lost a chance to take a big step forward after missing the spring after he was suspended for driving under the influence. Antonio Bell was the biggest surprise, but converted I-back Marcus Mendoza, Chris Brooks, Wes Cammack and Curenski Gilleylen all showed flashes during the spring.
Oklahoma: There was concern before spring practice, considering the Sooners were replacing four-fifths of their starting offensive line with only Trent Williams back from last season's starters. And it got worse when Bob Stoops called out the young replacements because of their lack of diligence in their preseason conditioning. Williams emerged at left tackle with Brian Simmons and Stephen Good at guards, redshirt freshman Ben Habern at center and either LSU transfer Jarvis Jones or Cory Brandon at right tackle. The depth took a hit when center Jason Hannan left early in training camp and sophomore guard Alex Williams chose to leave after spring practice. The group struggled against the Sooners' talented defensive line, allowing Sam Bradford to be touch-sacked twice in three possessions in the spring game and produced only 27 rushing yards in 52 carries.
Oklahoma State: The loss of veteran center David Washington produced a huge hole in the center of the Cowboys' interior line. Andrew Lewis returns to his natural position, leaving Oklahoma State needing two new starters at guard. Noah Franklin and Jonathan Rush have staked claims to the starting positions with Anthony Morgan and Nick Martinez getting repetitions inside. This group needs to improve if it hopes to equal the standards of previous seasons, when the Cowboys led the Big 12 in rushing each of the last three seasons.
Texas: The tight end was rarely used for the Longhorns after Blaine Irby dislocated his kneecap last season against Rice. He still wasn't ready to go during the spring as Greg Smith, Ahmard Howard, Ian Harris and D.J. Grant all got work. None of them emerged. And with Irby's return remaining iffy, it means the Longhorns again could reduce the use of the tight end and utilize four-receiver sets when they want to move the ball. Don't look for the Longhorns to use the tight end much unless this production improves.
Texas A&M: The Ag
gies were wracked with injuries during the spring as projected starters Lee Grimes, Kevin Matthews and Lucas Patterson were sidelined all spring as A&M was down to only nine healthy offensive linemen for some practices. It still doesn't excuse the lack of offensive production for A&M's starting unit, which produced only 9 yards rushing on 24 carries against Texas A&M's first-string defense. Coach Mike Sherman will be counting on immediate production from an impressive group of incoming freshman at fall practice, but it's fair to characterize the Aggies' offensive line as the team's biggest spring concern -- especially after allowing 39 sacks last season and ranking last in the conference in rushing yards per game.
Texas Tech: The loss of productive starters Daniel Charbonnet and Darcel McBath left a gaping hole at safety for the Red Raiders. Junior Franklin Mitchem earned the free safety position leaving spring practice and redshirt freshman Cody Davis emerged at strong safety.Jared Flannel , Brett Dewhurst and converted linebacker Julius Howard also got some snaps at safety. It will still be a challenge to combat the explosive Big 12 defenses with such an inexperienced group at the position.