October, 27, 2012
10/27/12
7:10
PM ET
UCLA true freshman
Ka'imi Fairbairn
connected on a 33-yard field goal as time expired to give the visiting Bruins a
45-43 road victory
over the
Arizona State Sun Devils
.


Taylor Kelly
connected with
D.J. Foster
with 1:33 remaining in the game to put Arizona State ahead 43-42 in a critical, back-and-forth Pac-12 South showdown.
UCLA quarterback
Brett Hundley
took over at his own 25-yard line with 1:33 to play and moved the Bruins (6-2, 3-2) down to the ASU 15-yard line. He was 4 of 7 on the final drive (two attempts were spikes) for 40 yards.
"He might be young in age, but that sucker is so mature and he's unflappable," UCLA coach Jim Mora told FX after the game. "I've been saying it since spring. Nothing bothers him. He just executed beautifully and that was wonderful."
Fairbairn, who is now 10 of 10 on field goals inside 36 yards, but is 0 for 5 outside that range, drilled the deciding kick dead center.
"Ka'imi, he's struggled a little bit, let's be serious, but we all kept confidence that he was going to knock that through," Mora said. "Man, I'm so proud of these young men."
Hundley finished 19 of 31 for 274 yards with three touchdowns. Running back
Johnathan Franklin
had a very strong game, rushing for 164 yards on 26 carries with a pair of touchdowns.
The game smacked of the 2011 match up, which UCLA won 29-28 when ASU missed a last second field goal.
It looked like it wasn't going to be a nail biter early. The Sun Devils (5-3, 3-2) jumped ahead 14-0 in the first five minutes on a touchdown pass from Kelly to
Kevin Ozier
and a touchdown run from
Marion Grice
.
But the Bruins stormed back and seized momentum at the end of the first half when Kelly threw an ill-advised ball from his end zone, which was picked off by
Dalton Hilliard
. Franklin darted in on the next play to give the Bruins a 21-17 lead at the break.
The teams went back-and-forth in the second half before ASU took the lead in the closing minutes, setting up Fairbairn's finish.
Aside from the one interception, it was a very strong game from Kelly, who completed 25 of 35 balls for 315 yards and four touchdowns. ASU's backs continued to be impactful in the receiving game with Foster catching seven balls for 107 yards and the score. Grice caught six balls for 69 yards and two touchdowns.
But ultimately it came down to the play of a redshirt freshman quarterback and a true freshman kicker.
"We needed this," Mora said. "The resilience and the resolve our young men showed, they never stopped believing."
September, 30, 2012
9/30/12
9:00
AM ET
With great performances come great rewards. And there is no greater reward than a helmet sticker from the Pac-12 blog. Here are this week's winners.
Bishop Sankey, RB, Washington: In a game without many offensive highlights, Sankey provided one of the contest's most exciting plays, taking a fourth-and-1 handoff at the Washington 39 and darting ahead for a 61-yard touchdown in an upset win over No. 8 Stanford. He finished with 144 yards on 20 carries.
Justin Wilcox, defensive coordinator, Washington: Beat a top-10 team, and you get a helmet sticker. Beat a top-10 team that has outscored you 140-35 in three previous meetings by not allowing an offensive touchdown, then your new defensive coordinator gets a helmet sticker. Most impressive was how the Huskies limited Stanford running back Stepfan Taylor to 75 yards on the ground on 21 carries.
Brett Hundley, QB, UCLA: The Bruins signal-caller accounted for four touchdowns -- throwing for two and running in another two. He was 25-of-38 (65.8 percent) for 281 yards through the air. He threw a 17-yard touchdown to Darius Bell, an 8-yard strike to Joseph Fauria and ran for scores of 12 yards and 1 yard.
Kenjon Barner, RB, Oregon: Time to start adding him to the Heisman tracker? Barner rushed for 195 yards and three touchdowns in the victory over Washington State. He averaged 9.8 yards per carry and ran for scores of 22, 10 and 80 yards.
Sean Mannion, QB, Oregon State: He continued his recent tear by tossing a career-high 433 yards and three touchdowns on 29-of-45 passing. Twice he connected for touchdowns with Markus Wheaton and he found Connor Hamlett for a 9-yard score in the closing minutes to seal a 38-35 win on the road at Arizona. He was interception-free and 6-of-6 for 52 yards on the game-winning drive.
Taylor Kelly, QB, Arizona State: Let the Kelly lovefest continue. He was 26-of-45 for 292 yards with three touchdown passes in ASU's road win over Cal. Twice he connected for scores with Kevin Ozier and once to Darwin Rogers. More importantly, another game with no interceptions.
August, 26, 2011
8/26/11
10:00
AM ET
Oregon State quarterback
Ryan Katz
laughs. Yeah, he remembers receiving a head-butt from Arizona State linebacker Vontaze Burfict after a play last season.
"That started before the game, though. He was on the sidelines talking and everything," Katz recalls.
[+] Enlarge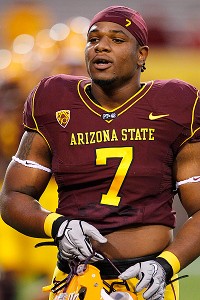 Rick Scuteri/US PresswireArizona State is counting on a drama-free season from star linebacker Vontaze Burfict.
He then pauses. Katz is a sharp guy who favors giving reporters vanilla answers. But it's not hard to hear the wheels turning. He's being goaded to spice things up and he's considering whether than might be fun or not.
He takes a pass. Said Katz, "It's just competitive juices flowing. I don't take it personally. Things happen. I know he's an emotional player. He was just trying to get in our head."
Just about everyone who has played or coached against Burfict has a story. Many are about his breath-taking skills that rate the 6-foot-3, 252-pound true junior perhaps the nation's best linebacker, one with an NFL All-Pro future. But others are about him being unhinged, his intensity so overwhelming his self-control that he often hurts his team with his antics.
The head-butt to Katz, in fact, convinced Dennis Erickson, a coach not typically thought of as a strict disciplinarian, to take away Burfict's starting job last fall (albeit briefly).
A few weeks later, in a tight game with Stanford, Burfict was called for a critical face-mask penalty. It was a bad call, but Burfict couldn't resist the urge to point that out to officials, which earned him an unsportsmanlike conduct penalty on top of the face mask, which gave Stanford the ball on the Sun Devils' 7-yard line. Shortly thereafter, Stanford pushed in the game-winning score, foiling a potential major upset that also would have earned the Sun Devils bowl eligibility.
In a highly competitive game with Oregon, Burfict spent a lot of time focusing on the Ducks' sideline, including mocking coach Chip Kelly's well-publicized method of signalling plays with random graphics on a large poster board.
Want more? Go to YouTube. If you search Vontaze Burfict, you'll find a long list of great plays and dubious behavior caught on film -- both noticed and unnoticed by officials.
"A lot of people ask about Vontaze -- from Oregon, from other places," said former Ducks and current Sun Devils wide receiver
Aaron Pflugrad
. "They are like 'What's up with this guy?' He's a shy, quiet guy off the field, but he's just a monster on it. That's the only way to explain it. I've never played with anyone like him before."
While Burfict loves to talk, intimidate and get inside opponents' heads, he's not so chatty or revealing about his own state of mind off it. After a spring and offseason when he worked with the school's sports information office and granted more interviews than he did his first two years, he has turned down interview requests -- including one from the Pac-12 blog -- this summer.
While part of that is because Burfict is reclusive and insecure with public speaking, another part involves things he doesn't want to talk about, including a locker room fight with 200-pound receiver
Kevin Ozier
, which the school attempted to downplay. Since that incident, reports of
other off-field skirmishes
, including a practice altercation with receivers coach Steve Broussard -- which Erickson told reporters was "totally ridiculous" -- have surfaced.
All this has clouded a storyline that Erickson and ASU officials had been working on since the spring: Burfict as team leader, a role even more required of him after cornerback Omar Bolden and linebacker Brandon Magee went down with season-ending injuries.
Said Erickson at Sun Devils media day, which Burfict chose not to attend: "He's matured a whole heck of a lot. I'm really proud of how he's matured." That was just days after the locker room fight.
Fellow linebacker Shelly Lyons, like Magee a former Burfict teammate at Centennial High School (Corona, Calif.), was asked what Burfict needs to work on this season.
"I would say when he gets frustrated," Lyons said. "He really has all the attributes as a player -- size, speed, he can hit. So I'd just say that when he gets frustrated to take it easy. The referees have a target on him. He's got to hold it back this year."
Last season, Burfict led the Sun Devils -- and was ninth in the Pac-10 -- with 90 tackles, including 8.5 for a loss. He also forced two fumbles. While there are some holes in his game -- his frenetic style sometimes gets him out of position -- physically, he's a finished product, one whose ability screams he's a certain top-15 NFL draft pick.
But the lack of self-control, on and off the field, will be an issue with NFL general managers.
If Burfict can fully focus his ability and intensity on what happens between the whistles, he could win the Butkus Award as the nation's best linebacker. And the Sun Devils' defense, despite injuries, could become one of the top units on the West Coast.
If that happens, Burfict and the Sun Devils will have a happy ending: Perhaps a Pac-12 South Division title and a high draft pick.
"Hopefully this year it's controlled insanity and he doesn't go after a player or anything," Pflugrad said.
If it isn't, well, it's still likely to be great theater.