November, 19, 2012
11/19/12
4:45
PM ET
Maryland's top officials along with Big Ten commissioner Jim Delany concluded a news conference today in College Park, Md., confirming
the school's move to the Big Ten
.
The Terrapins will officially become a Big Ten member on July 1, 2014, and begin competing in athletics in the 2014-15 season.
[+] Enlarge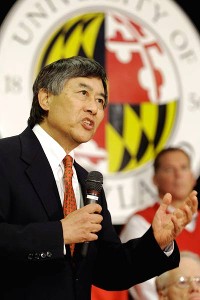 Patrick Semansky/AP PhotoUniversity of Maryland President Wallace Loh speaks at a news conference to announce Maryland's decision to move to the Big Ten.
Maryland president Wallace Loh made it very clear from the start of the announcement that the financial gains the Big Ten offered were the primary reason why the school left the ACC, where it had been a founding member. In June, Maryland
eliminated seven varsity sports
because of financial woes.
Loh and athletic director Kevin Anderson repeatedly stated that they never want to make such cutbacks again, and the move to the Big Ten ensures financial stability "for decades to come." In perhaps the best news of the announcement, Loh said Maryland immediately will start the process of reinstating those teams. Loh and Anderson obviously felt they would have had to cut more teams if Maryland stayed in the ACC.
SI.com reports that Maryland expects to
make $100 million more in conference revenue
from 2014 to 2020 as a Big Ten member, according to information Delany presented to the school. As SI.com's Pete Thamel notes, the big jump comes after the Big Ten negotiates its new television contract.
Some other notes and thoughts:
Although Loh and others repeatedly pointed to the Big Ten's financial advantages, they danced around questions of how Maryland would pay a $50 million exit fee from the ACC. Clearly, folks like Maryland super booster Kevin Plank, the founder of Under Armour, will help in this area, as well as a projected Big Ten revenue windfall, but it'll be interesting to see how Maryland addresses its immediate debts as it looks for future gains.

Delany revealed the Big Ten will open an East Coast office in addition to its main headquarters, currently in Park Ridge, Ill., but soon moving to nearby Rosemont, Ill. With Maryland in the league and Rutgers soon to follow, the Big Ten will have a larger East Coast presence. Delany said the Big Ten isn't a national conference, but it now has a presence in two distinct areas of the country (Midwest, East Coast).

Anderson said he has discussed the Big Ten move with football coach Randy Edsall and that Maryland "will take on the Big Ten and be very competitive." Better question: Will Edsall be around to coach the Terrapins in their first Big Ten game?

Delany noted that when the Big Ten announced its last expansion push in December 2009, it triggered an unexpected wave of bad reports and tension on a number of campuses. The league didn't expect such a response and took a much quieter approach this time around. The talks with Maryland really heated up in the past 2-3 weeks.

Delany said there were no direct conversations with Maryland during the Big Ten's last expansion push, but the league looked at models that included the school.

Loh acknowledged the disappointment many Maryland fans have about leaving the ACC, but he also noted that the ACC is changing with new membership and that some of Maryland's long-term rivalries would be changing, too. He also waited until noon ET today to inform ACC commissioner John Swofford of the school's departure from the league. Ouch. Almost as cold as Nebraska chancellor Harvey Perlman ripping Texas when Nebraska joined the Big Ten. Good times.
November, 18, 2012
11/18/12
7:25
PM ET
Maryland's regents will vote Monday morning whether to accept an invitation to join the Big Ten Conference as a new member, a source tells ESPN.com. Under Armour founder and top Maryland booster Kevin Plank is "100 percent" supportive of the school joining the Big Ten, a regent has told ESPN.com.
Here's the
news story
.
If Maryland goes from the ACC to the Big Ten, Rutgers of the Big East will then follow suit, a source said. The Rutgers announcement could be as early as Tuesday, sources said. The addition of Maryland and Rutgers would give the Big Ten 14 members as the league gears toward negotiations on a new media rights deal when its first-tier rights expire in 2017.

There is not a consensus among Maryland athletic department officials, a source said. The school is leaning toward the move but there is still time for the school to decide to stay in the ACC, according to the source.

Maryland president Wallace Loh has been handling the conversation with Big Ten officials, a source said.

One stumbling block for Maryland could be finances. Maryland's athletic department has recently dropped sports because of budget issues, and the ACC recently raised its exit fee to $50 million. ....

A source told ESPN that the Big Ten has been itchy about further expansion since Notre Dame made its official move to the ACC two months ago in all sports other than football. The source said the Big Ten can justify Maryland and then possibly Rutgers since they are all contiguous states to the Big Ten footprint.
We'll obviously have much, much more as this story develops. Monday is potentially another huge day in Big Ten history.
December, 21, 2010
12/21/10
5:00
AM ET
1. Oregon climbed to national power with the significant financial and emotional support of Nike founder Phil Knight for the past two decades. Now it's Maryland's turn. The Terps fired Ralph Friedgen and are looking at former Texas Tech coach Mike Leach. He has the backing of UnderArmour founder Kevin Plank, who a) sponsored the Red Raiders and b) is a significant emotional and financial supporter of his alma mater. I don't know about you, but I'm already thinking how much fun an Oregon-Maryland title game would be.

2. The trickle-down effect of the win-now mentality is evident at UCLA, where Rick Neuheisel is remaking his staff after a 4-8 season. Two assistants are gone, including defensive coordinator Chuck Bullough. At least Neuheisel wasted little time. As Michigan athletic director David Brandon considers -- and considers -- whether to retain Rich Rodriguez, the lack of a decision is eating away at Rodriguez and the program. Rodriguez shrugs it off. But he doesn't know what Brandon is waiting for, either.

3. Like J.K. McKay returning to USC, Indiana head coach Kevin Wilson will reap a lot of benefits by bringing a Mallory back to Indiana. Bill Mallory remains the most successful head coach of the Hoosiers in the past four decades. His son Doug, a well-respected defensive assistant, returns to Bloomington as co-defensive coordinator for Wilson. It's not much, but a program bereft of history can use all the legacy it can generate.