NCF Nation:

Kevin Weiberg
May, 16, 2012
5/16/12
3:45
PM ET
CHICAGO -- Despite a few speed bumps, the Big Ten/Pac-12 scheduling partnership is "a go," Big Ten commissioner Jim Delany told his league's athletic directors this week.

The details are still being worked out, which isn't a surprise when you have 24 major-conference programs with unique interests, scheduling philosophies and scheduling agreements. But Delany hopes to have a more specific idea of the scheduling models in the next few months.

"We do want it all fit in," Delany said Wednesday. "Whether that means you have 12 games or 11 games or 10 games in the first cycle ... we're going to want 12 games ASAP. A lot of scheduling has been done in other nonconference areas that's reliant on this."

The original goal was to have a full round-robin schedule by 2017, but it could be wishful thinking. Ohio State, for example, has games scheduled with both Oklahoma and North Carolina, and athletic director Gene Smith told ESPN.com last month that he wouldn't add a Pac-12 opponent to the slate in 2017. Pac-12 teams have their own issues, namely a nine-game conference schedule -- as opposed to eight in the Big Ten -- and long-term agreements with teams like Notre Dame (USC, Stanford).

The partnership eventually will feature six home-and-home series, but it might not be complete until after 2017.

The scheduling process will be a "hybrid" effort between the schools and the two league offices. Big Ten and Pac-12 teams are facing one another with more frequency in the coming years -- three matchups take place this fall -- and some series are already set for 2017 and beyond. Northwestern and Stanford, for example, have a four-game series set for 2019-22.

Big Ten senior associate commissioner for television administration Mark Rudner and Pac-12 deputy commissioner Kevin Weiberg, are overseeing the scheduling elements.

"We may have to do less," Delany said, referring to the league. "In other words, if there are three or four games [set] in '17, '18, '19 and '20, maybe the conference will only have to come in and pick seven or eight other games."

Before announcing the Pac-12 partnership, the Big Ten had approved a nine-game conference schedule, supporting Delany's frequent statement that league teams should play one another more, not less. But the Big Ten decided to stay at eight league games because of the Pac-12 agreement.

"On balance, it's a close call," Delany said. "But in the nine-game conference schedule, who you don't play was one factor, but the other fact was five home games, four away. If you can create a situation where you improve your schedules, you improve the fan experience, you improve the games that are going on television without affecting the home/away segment inside of the conference, [it] was the preferred method. If we hadn't done the collaboration, we'd do nine [league games]. If we do the collaboration, we'll do eight.

"We're able to attract a higher-quality of game."

One potential concern is how the scheduling partnership will impact teams' other nonconference agreements. Purdue athletic director Morgan Burke has made it clear he wants to keep the annual Notre Dame series going as long as possible, and added that the Boilers have played Notre Dame and a Pac-12 team (Oregon, Arizona) in the same season before.

"It adds some name recognition to your schedules in September," Burke said. "Working together, we can try to get the programs in comparable stages of development, to compete against one another so we don't have an imbalance. It's not easy to do that, but that's something to work toward."
September, 19, 2011
9/19/11
7:44
PM ET
Big 12 commissioner Dan Beebe released a statement on Monday evening in response to Texas and Oklahoma's announcements that
they have authorized their respective presidents to act on behalf of the university
in matters pertaining to conference realignment.
"The actions taken today by the governing boards of the universities of Oklahoma and Texas were anticipated. It is my opinion that the case for the Big 12 Conference continues to be as strong today for all of our current members as it was last year, especially considering the welfare of those to whom we owe the greatest responsibility-the student-athletes. We continue to apply all effort and resources toward assuring our members that maintaining the Big 12 is in the best interest for their institutions."
After Monday's regents' meeting at Oklahoma, OU president David Boren said he had spoken with Pac-12 officials, calling them "warm and productive discussions."
Pac-12 deputy commissioner Kevin Weiberg, essentially the Pac-12's No. 2 man behind commissioner Larry Scott, served as Big 12 commissioner from 1998-2007.
From our report:
Boren made it clear that OU had not notified the Big 12 Conference it was leaving and that remaining in the Big 12 was "still on the table." He added, however, that the threat of litigation by other Big 12 members had not affected OU's position of exploring realignment.

"Obviously, we do not want to continue to have these kinds of situations where our membership in a conference has to be revisited every year," Boren said.
May, 6, 2010
5/06/10
5:40
PM ET
Most of the expansion talk on the West Coast has focused on the Pac-10 luring Colorado away from the Big 12, but there's increasing evidence that the Pac-10 and Big 12 also are interested in a potential partnership.
Big 12 and Pac-10 administrators and athletic directors met Wednesday in Phoenix, and afterwards Pac-10 commissioner Larry Scott used terms like "strategic alliance" and "pooling TV rights" and "joint network."
None of it sounded terribly adversarial.
Both conferences' media contracts expire after the 2011-12 academic year. Both want -- need -- to sign new contracts that help them keep pace with the SEC and Big Ten.
That might take some creativity, though a rebounding economy should help the cause. There are plenty of reasons the conferences could work together, starting with geography: They are the only two BCS conferences entirely located west of the Mississippi River. It would be easier for the Pac-10 to partner with a conference in the Mountain and Central time zones, rather than one that's entirely in the East, such as the ACC.
Moreover, Scott's No. 2, deputy commissioner/chief operating officer Kevin Weiberg, is a former Big 12 commissioner. Not to mention that new Arizona athletic director Greg Byrne is the son of Texas A&M AD Bill Byrne, who used to be athletic director at Oregon.
So there are grounds to build trust during what could be complicated negotiations.
Scott and Big 12 commissioner Dan Beebe huddled for several minutes after a long afternoon meeting on Wednesday. It may have been only one of many future negotiations between the two.
This comes a bit late for Oklahoma, but the Pac-10 is considering no longer using conference officials for nonconference home games, which would reduce controversy when homer, er, bad calls are made and would fall in line with other BCS conferences. Understand: Nothing is official until a proposal is ratified by the conference during June meetings.
As part of a more aggressive marketing effort, the Pac-10 will hold a bi-coastal preseason "media day" in late July. The first day would be in New York, the second at the Rose Bowl in Pasadena on July 29. Previously, Pac-10 media day was a one-day event in a LA airport hotel.
Football travel squads may enlarge from 64 to 70, which falls in line with what other BCS conferences allow.
Scott said that the NCAA's new, controversial "no taunting rule," which is scheduled to be adopted in 2011, was a hot topic. The new rule would make taunting a live-ball foul and the penalty would be assessed at the point of the infraction, which means it could kill a touchdown. "There's some concern about that from our coaches," Scott said. I bet.
The Pac-10 coaches and ADs also met with officials from the Alamo Bowl, the conference new No. 2 bowl -- replacing the Holiday Bowl, which is now No. 3 -- as well as BCS executive director Bill Hancock.
May, 5, 2010
5/05/10
6:31
PM ET
PHOENIX -- After the coaches and athletic directors met with commissioner Larry Scott on Wednesday at the Pac-10 meetings, Stanford's Jim Harbaugh revealed some major news.
"The really interesting thing from Stanford's point of view we're going to be on national television for five straight weeks, starting with UCLA [on Sept. 11]," he said. "I don't know if that's ever been the case in the history of Stanford football."
What? Did you expect some expansion headlines?
Sure, it was a lead topic. Sure, everyone is interested. But even if the coaches were filled in on some grand plan -- which they weren't -- they were told to hush when approached by nosy reporters.
"Not really at liberty to talk about what those [expansion scenarios] are," Harbaugh said.
For the the most part, conference coaches seem, to borrow a term from Washington coach Steve Sarkisian, "neutral" on expansion. There also seems to be a general feeling of confidence that Scott and the administrators and consultants looking into the matter ultimately will make the right decision. The right decision, of course, meaning one that makes every conference program richer.
"I like our conference. I like the natural rivalries we have. I like the fact we play everybody in our conference and a true champion comes out of it," Sarkisian said. "But if there is value in expansion, if Larry Scott and his team -- who do a great job -- if they deem it's the best thing for our conference, then I'm all for it. If we do it, I know it will be the right thing to do because of the time and effort they're putting into this. And if we don't, I'll have faith that was the right thing to do. Either way they go with it, that's why they hired him and they'll make a good decision."
Said Harbaugh: "Is [expansion] a good thing? What we got right now is a good thing. It's set up really well. But our conference is going to look at all possible options. You've got to be open because you don't know what the landscape of college football will look like in two to five years. I think the Pac-10 is being proactive."
What about a conference title game, with or without expansion?
"I think that would be great, would be great for our conference," Sarkisian said. "I know for our kids, they love playing football. So if they give them another chance to play a game, they'll play it. I'm sure that's how it would be for the other nine programs in our conference. Just from an exposure standpoint for our conference, I think it would be a good thing."
Scott has
significantly restructured
the conference office since he took over last summer, including hiring deputy commissioner/chief operating officer Kevin Weiberg (the former Big 12 commissioner), chief financial officer Ron McQuate, chief marketing officer Danette Leighton and senior associate commissioner/SWA Gloria Nevarez.
Scott also has retained retained the Creative Artists Agency, the global marketing and entertainment firm, to explore expansion possibilities,
according to a report
from Jon Wilner of the San Jose Mercury News.
With all the new faces and agenda items, the meeting, in large part, functioned as a "getting to know you" session.
There was other business, of course. Administrators talked about improving conference marketing. Moreover, the upcoming TV and media negotiations are critical as the Pac-10 tries to catch up to the SEC and Big Ten.
Football travel rosters are expanding!
Sure, expansion is front-and-center at the meetings, but that doesn't mean it's the coaches are obsessing.
"From our perspective, we're obsessing about the 12-game schedule we've got coming this fall and recruiting," Sarkisian said. "[Expansion] talk is really out of our hands."
February, 11, 2010
2/11/10
5:00
AM ET
1. Pac-10 commissioner Larry Scott announced Tuesday that the league will look at expansion in the next few months. That's pretty much the same message that Scott delivered Tuesday when he announced hiring former Big 12 commissioner and Big Ten Network executive Kevin Weiberg to be his wingman. Do football needs drive expansion? TV sets? Academic compatibility? Other sports? One thing's for sure: Fresno State and San Diego State fit none of the above criteria.
2. Stanford went 8-5, its most successful season in nearly a decade, yet head coach Jim Harbaugh has had to replace four assistants and his operations director. Most left for better jobs or for bigger, better-paying schools. After Heisman runner-up
Toby Gerhart
left for the NFL, the Cardinal would get questions about whether the team is a one-hit wonder. But with half a new staff, the answer will be more interesting.
3. Kentucky coach Joker Phillips said he hired Tee Martin as wide receivers coach because of what he saw at a high school game in Atlanta last fall. "When Tee walked in the stadium," Phillips said, "it was like every little kid, coach and media outlet knew who Tee Martin was." Martin survived receiving improper cash as a Tennessee quarterback. He survived a year on Mike Locksley's staff at New Mexico. When the pocket collapses, he still knows how to escape the rush.
February, 9, 2010
2/09/10
6:15
PM ET
Debating Pac-10 expansion is no longer idle chit-chat. Pac-10 commissioner Larry Scott made that clear during a teleconference with reporters Tuesday.

"It really is over the next six to 12 months that we'll start having serious analysis and serious conversations," Scott said about potential expansion.

Scott was joined on the conference call by Kevin Weiberg, his new right-hand man. Weiberg, the former Big 12 commissioner and Big Ten executive, was named deputy commissioner and chief operating officer this week.

Scott said he spent the first six months of his tenure listening to administrators throughout the conference. Now he's turning his focus toward action.

"The announcement of Kevin is really the start of changes and repositioning you'll see for the conference over the next 12 to 18 months," he said.

That time period is vital because the conference's TV and media contracts expire after the 2011-12 academic year. The conference needs a significant upgrade in revenue if it is going to keep up with the other BCS conferences, particularly the SEC and Big Ten.

And expansion could make the conference more alluring during negotiations.

"It makes sense [to consider expansion], if you are going to do it, to do it when you can monetize it and get value for it commercially," Scott said.

It also appears that some sort of Pac-10 network -- it could be a partnership with another BCS conference -- will get serious consideration. Scott said Weiberg's experience building the Big Ten network was "very significant."

"A network is absolutely one of the solutions we will look at," Scott said.

Scott said there have been no serious discussions with any potential candidates if the Pac-10 were to expand. He only said he'd noticed an increased "curiosity" about expansion among conference members, which was, in part, inspired by the Big Ten announcing it was looking into expansion.

Still, it's fair to say a subject of seemingly endless debate -- expansion -- might be resolved within the next year.
January, 18, 2010
1/18/10
10:09
AM ET
By
Tim Griffin
| ESPN.com
The Big 12 fulfilled its promise and then some during the most recent decade.
Two national championships and five other trips to the BCS title game proved that the conference had earned its rightful position among the nation's best in its first full decade of play.
How its teams did it was most interesting. The conference was transformed from its run-heavy roots from the Big Eight and Southwest conference beginnings into a cutting-edge passing league where high-powered aerial attacks captured the nation's attention.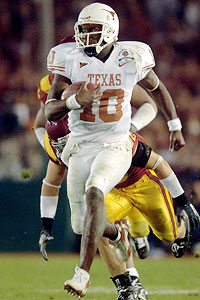 Mark J. Rebilas/US PresswireVince Young led Texas to a national championship.
In 2000, the Big 12 had only five teams ranked among the top 54 teams in passing and none higher than 11th. By 2008, the conference had five teams ranked among the top eight passing teams in the nation and 10 among the nation's top 38.
Former Texas Tech coach Mike Leach deserves much of the credit for transforming the Big 12 from a ground-based conference to one where passing predominated. Leach helped convert Oklahoma when he arrived in 1999 as Bob Stoops' offensive coordinator into the upcoming decade. After a season there, Leach continued his offensive mastery at Texas Tech, where he led the Red Raiders to a bowl game in every season of the decade before he was fired after the 2009 regular season.
That cost him a chance to become a coach who made it through his job during the entire decade. Only Stoops and Texas' Mack Brown remained at their jobs during the aughts -- understandable because of the enviable national programs both developed during the decade.
Stoops claimed six Big 12 titles and Brown won two championships to help account for a title tilt to the South Division as the decade progressed. In the first eight seasons of the conference, the Big 12 alternated between the South and North Division in titles. But since 2004, the Big 12's title has been won by the South Division champion in every season.
The South has dominated in cross-division games, notching a 13-5 record in the most recent regular season. That continued a trend that has seen the South win the seasonal series against the North in seven of the last eight seasons.
Some of that has been because of the turnover at North programs. Nebraska went from playing for a national championship in 2001 under Frank Solich to seeing the former Cornhusker legend fired less than two seasons later. The Bill Callahan era represented a step backward from that, but Bo Pelini has the Cornhuskers pointed back to national prominence after only two seasons.
Colorado claimed four North titles in a five-season span, but let Gary Barnett go after the last of those championship-game losses. The Buffaloes haven't been back to the title game since.
And Bill Snyder, the last North coach to win a Big 12 championship, returned to prowl the sideline at Kansas State last season, restarting his career after a three-season sabbatical.
The conference's star power was best shown in 2008 when
Sam Bradford
claimed the Heisman Trophy and the conference produced an unprecedented four of the top five Heisman finishers that season. Bradford was one of three Big 12 Heisman winners during the decade joining Eric Crouch in 2001 and Jason White in 2003.
The Big 12's transition to an offensive juggernaut has helped capture the attention of the NFL. The conference notched a record seven first-round picks in the 2009 draft and likely will produce even more in the upcoming draft.
Kevin Weiberg resigned in 2007 to assume a position helping start the Big Ten's cable television network. He was replaced by assistant Big 12 commissioner Dan Beebe, who immediately inherited the challenge of trying to unify a conference where an uneven revenue sharing plan has been a point of controversy since the conference began. It remains the conference's biggest trigger point -- as it has since the creation of the conference.
The conference has fallen behind the Southeastern Conference and the Big Ten in its national exposure, lagging behind those conferences as they have settled their immediate television concerns.
That proposition will be Beebe's biggest upcoming challenge into the current decade. A quick and equitable resolution will be a key factor in the Big 12's potential for growth in upcoming years.