December, 31, 2009
12/31/09
11:02
AM ET
This much is known: Tim Brewster
will be back as Minnesota's head coach
in 2010.
But we don't know who will be the Golden Gophers' starting quarterback next fall. We don't know who will emerge as the top ball carrier or the playmaking receiver. We don't know who will replace three outstanding linebackers, two solid defensive tackles and a top-level cornerback in Traye Simmons.
[+] Enlarge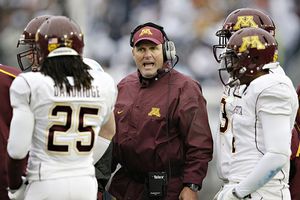 Chris Gardner/Getty ImagesGophers coach Tim Brewster is hoping for a bowl win to springboard his team into next season.
Many of these answers won't come for several months, but we could have a better idea after Thursday's matchup against Iowa State in the Insight Bowl (NFL Network, 6 p.m. ET).
Every bowl-bound team hopes to use the extra game to get an idea of what to expect the following season. For Minnesota, today's game takes on added meaning before a pivotal 2010 campaign. Expectations will be higher then, and the pressure will be turned up on Brewster to produce better results.
"Every coach would love to be able to win the last game of the season because it springboards you," Brewster said. "It springboards you forward with positive momentum, positive energy. Not that a loss is going to determine your season the following season. I just think a last-game win certainly helps, particularly from a mental point of view, going into the offseason."
Though Minnesota loses more on defense, the offense will be the big question mark in the spring.
Quarterback
Adam Weber
is completing his third season as the starter, but he'll need to beat out talented backup
MarQueis Gray
and third-stringer
Moses Alipate
this spring to keep his job. Running backs
Duane Bennett
,
Kevin Whaley
and
DeLeon Eskridge
all return, but one of them needs to distinguish himself this spring, something that didn't happen during the season. The Gophers are also searching for the next
Eric Decker
at receiver and will be looking to players like
Troy Stoudermire
,
Brandon Green
and
Da'Jon McKnight
to step up.
The offense has been a unit of extremes, from the highs against Michigan State and Northwestern to the lows against Penn State, Iowa and Ohio State.
"The level of consistency has got to improve," Brewster said. "That's been our mindset in our preparation for the bowl game. 'Let's make good decisions with the ball, not turn the ball over, be able to run the football and take advantage of some strengths down the field.'
"I expect us to play well offensively, based on the practices we've had."
October, 27, 2009
10/27/09
3:42
PM ET
Posted by ESPN.com's Adam Rittenberg
In a conference starved for offensive stars, Minnesota wide receiver
Eric Decker
shined the brightest during the first part of the season.
He caught 43 passes for 639 yards in his first five games and drew some well-deserved national attention after a gutsy performance in Minnesota's loss to Cal on Sept. 19. For a Gophers offense going through a lot of transition this year, Decker was the one constant.
| | |
| --- | --- |
| | |
| | Jack Rendulich/Icon SMI |
| | Minnesota's Eric Decker will miss the rest of the regular season with a strained left foot. |
And now he'll be
sidelined for the rest of the regular season
with a strained left foot that may require surgery. Decker, who missed time late last season with a high ankle sprain, sustained the injury during Saturday's loss to No. 17 Ohio State.
You can't sugarcoat the significance of this loss for the Gophers.
Minnesota's offense ranks last in the Big Ten in both total yards (292.8 ypg) and rushing yards (105.9 ypg) and 10th in scoring (21.1 ppg). The Gophers' new pro-style system hasn't clicked consistently, as the offensive line is struggling and junior quarterback
Adam Weber
seems to be regressing.
Decker deserves to finish his spectacular college career in a bowl game. But will he get the chance?
Minnesota needs to win at least two of its final four games to reach the postseason. The Gophers begin a three-game homestand Saturday night against Michigan State (Big Ten Network, 8 p.m. ET) before hosting Illinois and South Dakota State. Though they should be favored in the latter two contests, they need to find some offense in a hurry.
The offensive line needs to protect Weber better, and wide receivers like
Troy Stoudermire
and
Brandon Green
have to step up. Tight end
Nick Tow-Arnett
has done his part, but Decker had 32 more receptions than any other Gophers wideout despite a drop in production the last three games.
An inconsistent run game also needs to improve, which won't be easy against Michigan State. Running backs
Duane Bennett
,
DeLeon Eskridge
and
Kevin Whaley
all have had their moments, but Minnesota lacks a bell cow in the backfield.
The Gophers are sticking with Weber as the starting quarterback, but they can't forget about talented freshman
MarQueis Gray
.
Decker could have pursued a pro baseball career after being drafted in June by the hometown Twins, but he returned to serve as a co-captain and set more records. He owns team records for career receptions, career receiving yardage, career 100-yard receiving games, single-season receptions and consecutive 100-yard games.
"It's cumulative right now, all 11 guys on offense have to step up," head coach Tim Brewster said. "I really think he's the most complete wide receiver in college football today. You don't just replace that guy too easily. We'll be fine. It's kind of our mindset. Next man up. Our guys are going to respond well."
We'll find out on Saturday night.
October, 12, 2009
10/12/09
9:00
AM ET

Posted by ESPN.com's Adam Rittenberg
The top four spots remain unchanged after a week that featured no upsets in conference play. There's somewhat of a drop-off after No. 4, and there's not much separation between Nos. 5-8. No one should question the three teams at the bottom.
1. Ohio State (5-1, 3-0) --
The Buckeyes won a weird game against Wisconsin, proving that big plays can overcome very inconsistent offense. I don't see a more complete unit in the league than Ohio State's defense, and with the offenses struggling around the Big Ten, it's tough to see any team scoring many points against the Scarlet and Gray. Ohio State will need
Terrelle Pryor
to win a conference game or two at some point, but the Buckeyes remain the team to beat.
2. Iowa (6-0, 2-0)
-- Some were surprised that Iowa didn't beat Michigan by more, but the Hawkeyes once again showed their resiliency by rallying from an early deficit and making big plays down the stretch. Defense and special teams have carried Iowa this season, and those units need to be sharp for upcoming road games against Wisconsin and Michigan State.
3. Penn State (5-1, 1-1)
-- A pathetic nonconference slate is finally complete, and we'll finally learn more about Penn State in the coming weeks. Quarterback
Daryll Clark
has turned in back-to-back strong performances, and the defense is getting production from its standout players (Navorro Bowman, Jared Odrick). Penn State now must elevate its play another level against better competition.
4. Wisconsin (5-1, 2-1) --
Sure, the Badgers lost by 18 points at Ohio Stadium, but they showed why their 5-0 start wasn't a fluke. If Wisconsin can clean up the major mistakes, it should go on to a strong season. The Badgers need to get running back
John Clay
back on track, but they have to love what they're getting from senior defensive end O'Brien Schofield right now.
5. Minnesota (4-2, 2-1) --
With upcoming trips to both Penn State and Ohio State, Minnesota desperately needed to beat Purdue and the Gophers came through. Plus, they rediscovered their rushing attack thanks to
Kevin Whaley
and others. It's tough to see Minnesota winning these next two, but the Gophers still should be set up for a strong finish toward a bowl berth.
T-6. Michigan State (3-3, 2-1) --
The Spartans' defense delivered its second consecutive strong performance against Illinois, and the offense did some nice things before being hampered by injuries. Michigan State's margin for error remains slim after the slow start, and it needs to continue the momentum this week against Northwestern before Iowa visits Spartan Stadium.
T-6. Michigan (4-2, 1-2) --
Despite a 1-2 Big Ten mark, Michigan remains a dangerous team because of its talent level and ability to hang around in games. The Wolverines have some obvious flaws, including a lack of depth and way too many defensive breakdowns, but they should continue to make progress throughout the season. Head coach Rich Rodriguez needs to effectively manage quarterbacks
Tate Forcier
and
Denard Robinson
this week against Delaware State.
8. Northwestern (4-2, 1-1) --
The résumé still looks extremely weak for Northwestern, which has beaten three FBS teams that own a combined record of 1-16. It didn't help that the Wildcats struggled to put away a bad Miami (Ohio) team on Saturday. The defense appears to be coming around, but an offense without a consistent run game or many big-play threats needs to find a better rhythm Saturday against Michigan State.
9. Indiana (3-3, 0-2) --
What the heck happened to the Hoosiers in Charlottesville? Players and coaches undoubtedly are wondering the same thing after an embarrassing performance against Virginia. The 3-0 start seems like a distant memory, and Indiana must get back on track at home against Illinois this week. The Hoosiers' veteran-laden defense needs to bounce back fast.
10. Purdue (1-5, 0-2) --
The Boilers aren't really this bad, right? A team that outplayed Oregon on its home field and nearly knocked off Notre Dame? Well, the beauty of football is you tend to get what you deserve, and Purdue deserves a four-game losing streak after committing 20 turnovers this season. Major mistakes are cropping up in every game, and Danny Hope needs to get things fixed fast. Things don't get any easier with No. 7 Ohio State visiting Ross-Ade Stadium on Saturday.
11. Illinois (1-4, 0-3) --
There's obviously a preparation problem for Illinois, which has yet to score a first-half touchdown against a BCS opponent. Quarterback
Juice Williams
clearly isn't the problem with the offense, which continues to waste talent at wide receiver. It's simply stating the obvious, but Illinois must beat Indiana on Saturday to have any chance of salvaging the season.
October, 11, 2009
10/11/09
2:18
PM ET

Posted by ESPN.com's Adam Rittenberg
Five lessons from the week that was in the Big Ten:
1. Iowa is foolproof in the clutch -- After a long stretch of heartbreaking losses from 2006-2008, Iowa has won its last five games decided by five points or fewer. The Hawkeyes have fallen behind in both of their Big Ten games and rallied behind tremendous special teams play, opportunistic defense and a resilient quarterback in Ricky Stanzi. Since upsetting Penn State last November, Iowa has displayed a team-wide confidence when things get close. The Hawkeyes might not be able to live on the edge much longer given their schedule, but they're a good bet when the score gets close late in games.
2. Ohio State's defense is the Big Ten's best unit -- Jim Heacock's defense once again has made the Buckeyes the team to beat in the Big Ten. The Buckeyes rank seventh nationally in points allowed and 11th in total defense, and they're forcing more turnovers than they have in past years. No Big Ten offense comes close from a talent and execution standpoint, and while Iowa's defense has been solid, Michigan exposed some weaknesses Saturday at Kinnick Stadium. Despite losing several national award winners, Ohio State's defense repeatedly makes big plays and rescues an offense that still hasn't found its rhythm. Sure, the Buckeyes allowed yards to Wisconsin, but they forced major mistakes and didn't wear down despite being on the field for 42:47.
3. Minnesota can run the football -- Tim Brewster wants to restore Minnesota as a rushing powerhouse, and the Gophers took a big step Saturday. Eight players combined for 207 rush yards and four touchdowns in Saturday's victory against Purdue. Redshirt freshman Kevin Whaley provided a spark off the bench, and quarterback Adam Weber got more involved in the run game with nine carries and a touchdown. Weber only attempted nine passes in the victory, two of which were intercepted. Wide receiver Eric Decker might be the Big Ten's best offensive player, but Minnesota knows it needs to run the ball to win Big Ten games.
4. Big Ten getting defensive -- It's very clear midway through the season that the Big Ten won't be an offensive league in 2009. While veteran quarterbacks have struggled a bit and one potential juggernaut (Illinois) has totally crumbled, the league's defenses are once again the story. Both Ohio State and Penn State boast top-20 units, and Iowa has at times been the league's most impressive defense. Minnesota's linebackers have sparked an improved defense, while both Michigan State and Northwestern are starting to see their veteran-laden units step up. Both Michigan and Wisconsin showed good things on defense despite losses, while the league's bottom three (Purdue, Indiana, Illinois) are all struggling to stop anybody.
5. Michigan not a finished product -- Credit the Wolverines for never giving up and always finding ways to hang around in games, but it's clear that head coach Rich Rodriguez is still very much in the building stage. Michigan is still too prone to defensive breakdowns, and its special-teams play, aside from all-world punter Zoltan Mesko, left much to be desired against Iowa. Despite Tate Forcier's late-game magic earlier this season, Rodriguez didn't go back to the freshman quarterback in crunch time after some earlier struggles. The talent is there and Michigan will continue to improve, but things aren't falling into place just yet.
September, 1, 2009
9/01/09
12:18
PM ET

Posted by ESPN.com's Adam Rittenberg
Duane Bennett
lost a season but gained a healthy dose of perspective, not to mention a new offense that makes running backs drool.
Bennett appeared destined for big things last fall at Minnesota. He racked up 140 rush yards, 125 receiving yards and three touchdowns (2 rush, 1 receiving) in less than two games before tearing the ACL in his left knee in the fourth quarter of a win at Bowling Green.
| | |
| --- | --- |
| | |
| | Tom Dahlin/Getty Images |
| | Duane Bennett is looking forward to going back to a run-oriented offense. |
After quickly establishing himself as the Golden Gophers' top back, Bennett could merely watch as the team struggled on the ground, finishing last in the Big Ten and 104th nationally in rushing (103.8 ypg).
"I felt I was taking a step in the right direction to really have a solid season last year," he said Monday night. "But once the injury occurred, we refocused and gathered our thoughts, never detoured from the vision but changed the way we went about it."
Bennett has fully recovered from the injury and returns to a seemingly perfect situation with the Gophers this fall.
The team's woeful rush attack in 2008 prompted head coach Tim Brewster to revamp the offense. This fall, Minnesota will employ a pro-style system that will accentuate a downhill run game.
Two years of the spread offense diverted Minnesota from its rushing roots, as the team fell from among the nation's elite in 2004 and 2005 to the middle of the Big Ten in 2007 and then to the bottom last fall. Brewster hired offensive coordinator Jedd Fisch and offensive line coach Tim Davis, the team's running game coordinator, to get things back on track.
"We still had a great game plan with the spread, but just jumping back into the I-formation was a great transition for us," Bennett said. "It gives us the chance to see the defense from a different perspective, having those seven-man boxes, eight-man boxes. It gets us back to what Minnesota's running game is all about, using a tight end and a fullback and really pounding the ball, playing like a Big Ten team is supposed to play."
Minnesota unveils its new offense Saturday in the season opener against Syracuse (ESPN2, noon ET), a team that ranked 101st nationally against the run last fall. Brewster expects to use a three-man rotation at running back with Bennett,
DeLeon Eskridge
and
Kevin Whaley
.
Bennett, who received a medical hardship waiver for 2008, went through winter workouts with his teammates and was allowed to do noncontact drills during spring ball. Brewster last week declared the sophomore "100 percent healthy," and Bennett has spent preseason camp absorbing the new offense.
"The cuts are a little more crisp," he explained. "You're able to use your linemen a lot more, really press the issue with those big guys up front. In the spread, it's all about speed and how you can get to one point faster than the defender, so I really felt that converting to the I-formation is good. We've been able to re-establish the dominance up front, really putting the game on the shoulders of the offensive linemen once again.
"Being able to get downhill, being able to see things from a North-and-South perspective instead of an East-and-West [perspective] is really going to help."
Minnesota's running tradition wasn't the deciding factor in Bennett's decision to play for the Gophers, but he's well aware of the names that came before him.
"I knew about Marion Barber, Thomas Tapeh, Terry Jackson, Laurence Maroney, all the consecutive 1,000-yard rushers they had over those years," Bennett said. "I wanted to go to a team that really established the run, and at that point in time, Minnesota was one of the best teams in the run game."
Minnesota hopes to reclaim that distinction this fall, and Bennett could be the man leading the charge.