NCF Nation:

Kevin Wilson Q&A
December, 9, 2010
12/09/10
3:00
PM ET
Here's the second half of my interview with new Indiana coach Kevin Wilson. Check out
Part I
as well.
[+] Enlarge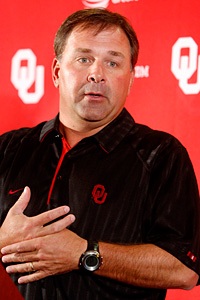 AP Photo/Sue OgrockiNew Indiana coach Kevin Wilson is confident he can build a quality defense.
What do you think it's going to take to turn around the defense at IU?
Kevin Wilson:
Well, we'll start with our coordinator and structure, and I'm going to take some time to research and get the right person there, myself being much more offensive-oriented. So we'll take a little time and get the right one there and start with the structure standpoint. From there, I don't know because I've not really had the opportunity with our defense to know if there's physical limitations or concerns with certain position groups that aren't as talented, as strong, as big, as fast as we need.
So we'll start here with our defensive leadership, we'll start with our defensive structure. I've got a couple thoughts, but I'm going to wait until we get our defensive guy on staff and not square-peg or pigeonhole him and give him a chance to get it going. We're going to buy some time from the coaching and scheme standpoint, and I don't know a great deal about our actual personnel as we speak.
Is it a concern for you that the defense has been a problem for more than a decade? Indiana has had the offensive players -- Antwaan Randle El, Ben Chappell and those guys -- but the defense hasn't really caught up.
KW:
I don't have a clue what their defensive stats have been. I just know for nine years, 15 spring practices, all preseason, every Tuesday and Wednesday going against coach [Bob] Stoops, with the attitude and the mind-set, I might be known as an offensive guy, but having come from the environment that I just came from, I have a great feel for what it looks like and how to structure, practice, recruit, coordinate, prepare, put a defense in great position.
Because I'm coming from one of the greatest defensive places there is with the coaching and the way that thing has been run with Bob, with Mike [Stoops], with Bo Pelini, with Brent Venables, that's been a pretty strong defensive place. Trust me, the hardest thing at Oklahoma isn't game day. The hardest thing at Oklahoma is Tuesday and Wednesday in practice.
There's a perception that Indiana is a basketball school. How do you deal with that? Was it a concern for you when you started talking about the job?

KW:
It really wasn't. Coach [Tom] Crean is a great coach and we do have phenomenal tradition in basketball. He's going to be an extremely positive and avid supporter because this school is such a strong school, I don't think it should take a backseat or not be strong in any department. I don't think our school, the way president [Michael] McRobbie has it set up, he doesn't want to be average in anything.
From an athletic perspective, with our new administration with [athletic director] Fred Glass, with resources and dollars and Big Ten revenue and things we're generating and raising, I don't think we want to be just a member of a conference in any sport. We're pushing ourselves to get ourselves in position to play at an extremely high level, to play at a consistent winning level and start putting our teams in position to play for championships in all sports. It's great we're a basketball school, but what we really are at Indiana is we're a great school. We should be great at all things. We're looking forward to the challenge, and we're looking forward to the opportunity to build this thing and make it into a strong program.
I know you haven't been there too long, but from talking to the players or seeing any tape from last year, how close is Indiana to getting over that hump?
KW:
I haven't really studied it. I know we're not playing horseshoes, so I don't want to be close. From what I've gathered, there is a strong nucleus of some talent coming back, sounds like a great recruiting class. I know we've done a very nice job in our scheduling and what we've got nonconference. I know the Big Ten league, I know it's going to be competitive. But I also feel we're going to put a plan in place, a process in place, to win.
We're not trying to win three, five years down the road. In fairness to our seniors, our alumni and our fans, we need to win right now. That's not trying to be arrogant or boastful or making statements that can't come true, but we're going to try and build something. It's a process, it's going to take time, but in fairness to our seniors, we're going to do everything we can to be as good as we can as fast as we can.
When you look at scores and you look at the talent, yeah, they're not far off. But being close is not winning. Being close doesn't excite me. But it does make me feel like there are the resources here where we feel like we have a chance. We tried to start [Tuesday] with a change of mind-set, a change of body language, a change of how we act and carry ourselves to see if we can get this thing going in a positive direction and build something that's going to be special here for our school and these players and for the fans and for the state of Indiana.
December, 9, 2010
12/09/10
1:00
PM ET
The wait is over for Kevin Wilson.
After climbing up the ranks to become one of the nation's top assistant coaches, Wilson finally landed a head-coaching position Tuesday at Indiana. He
received a seven-year, $8.4 million contract
to make Indiana relevant in an improving Big Ten Conference, and the work begins right away.
[+] Enlarge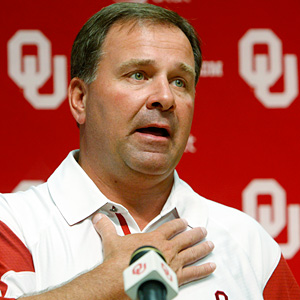 AP Photo/Sue OgrockiKevin Wilson says Indiana has everything it needs to become a consistently competitive program.
I caught up with Wilson on Wednesday.
Here's the first half of my interview with the new head Hoosier.
Why Indiana?
Kevin Wilson:
Well, I get an opportunity to be a head coach. I've had some opportunities before, but when you're an assistant coach, how many times do you get an opportunity to be a head coach in the Big Ten? Great league to be a part of, a place I think has got a lot of untapped potential, has a lot of upside. A place where we can build on what's going on and maybe have a huge positive effect on our state, on our community, on our school.
I had 12 years at Northwestern, Miami of Ohio, my wife's from Cincinnati. I'm a Carolina guy, Miami of Ohio guy, Oklahoma guy. For 25 years, I've been in a college-town environment. I'm coming to one of the premier college towns in the country, Big Ten football, a chance to build a program, a chance to do something special.
I know you had other options in the past. Was coming back to the Big Ten something that was always on your radar?
KW:
I don't know if anything was technically on the radar. When you're an assistant, it's very difficult to get those head-coaching opportunities, so I didn't really have anything on or off the radar. I really felt working for coach [Bob] Stoops, working at Oklahoma, it's a great place to be, great people to be with. It's a great program, it's difficult to leave. And in some ways, as a coordinator, especially economically the way they're doing things at upper-level programs now, those jobs maybe are even better than certain schools where you could have been the head coach. So there really weren't a lot of options that were better than the job that I had.
Again, a chance to have a Big Ten opportunity, a chance to be a coach at the state institution. When you go around the country and when you say, 'The University of,' there's not a lot of those. So it's a very unique opportunity. I'm very fortunate that Mr. [Fred] Glass and president [Michael] McRobbie have given me this opportunity, and I'm also very appreciative they've given us seven years in a contract so we've got a chance to have some continuity and build something strong and start putting together our process of how to win on a daily basis and build this into a strong program.
What's the most challenging part of this job?
KW:
The initial challenge is to make sure that we have the right mind-set, enthusiasm and energy within our building. We can't control on the outside what other people may think or believe are our inherent problems. Our problems are we have a great opportunity to play Big Ten football, which is some of the best in the country, and we have a chance to compete with what looks to be a lot of good players returning. There was a lot of contact with good recruits, and it looks like we can put together a strong class.
But for this to work, the first thing that needs to happen is our mind-set, our energy, our enthusiasm that's generated from me, our staff, our building, through our players. With that energy and that strength of purpose, we can then maybe start generating a change of thought with other people's perceptions. Perception vs. reality: how are we perceived vs. the reality of what we are and how we can be.
You're not the first coach with an offensive background to come to Indiana. Why do you think you'll be different from the guys who didn't have the success Indiana wanted?
KW:
I think my background with coach [Randy] Walker and Bob Stoops, those are the premier guys. Twelve years working under Randy, nine years with coach Stoops, and every other coach I've been a part of as a player, my high school background, college background, I've been fortunate to always be in great programs with great coaches. Guys that were winners.
What Randy was able to do at Northwestern was build some consistency. Coach [Pat] Fitzgerald's been able to keep that thing going. I don't know, going a long time back, where Iowa and Wisconsin were, but there were coaches that came through that changed internally the culture of the players, the culture of the staff, started building some consistency. And with that change in their school and the state, they became strong Big Ten football powers and teams. We're looking forward to doing that here.
I think we've got the resources, the league, the region. We'll put together a strong staff, we're going to take some time to do that. But I don't think there's any doubt that there's untapped potential here for this to be a great, strong program. What's happened in the past, I don't know because I wasn't a part of it and I was focused on where I was. We're concentrating on where we are today and moving forward and building this thing in a strong fashion.