NCF Nation:

Kevin Zeitler
May, 28, 2013
5/28/13
2:30
PM ET
The Big Ten endured
arguably the worst NFL draft in its history
last month, and its struggles to produce high first-round talent are well documented.

The league hasn't had a top-10 pick since Michigan's Jake Long and Ohio State's Vernon Gholston went No. 1 and No. 6, respectively, in the 2008 draft. The Big Ten narrowly avoided being shut out of the first round for the first time since the NFL-AFL merger when Wisconsin's Travis Frederick went at No. 31 in April's draft.
Is the troubling trend for the Big Ten more of a coaching/development issue or a recruiting issue? The declining number of first-round picks might have more to do with the Big Ten footprint than the Big Ten Conference.
As
CoachingSearch.com's Chris Vannini points out
, certain states in the Big Ten footprint, namely Ohio, have seen a drop in producing first-round picks in recent years. Vannini looked at where first-round picks from the past eight drafts played their high school ball.
Not surprisingly, Texas (17) and Florida (12) produced the most first-round picks between 2010-13, followed by Georgia (10) and California (8). Florida, Texas and California also were among the top producers in the previous four drafts (2006-09).
Pennsylvania is the top producer in the Big Ten footprint with five first-round picks since 2010. Michigan (4) and Wisconsin (4) are next, along with future Big Ten state New Jersey (4).
Where's Ohio? Way down the list with just two first-round picks since 2010. It comes as a surprise as Ohio is celebrated for its high school football and serves as the starting point in recruiting for many Big Ten programs.
Ohio produced nine first-round draft picks between 2006-09. New Jersey also saw its total drop from 10 (between 2006-09) to four (between 2010-13).
Pennsylvania and Wisconsin both produced three more first-round picks in the past four drafts than the previous four. All four Wisconsin products -- J.J. Watt, Gabe Carimi, Kevin Zeitler and Frederick -- played for the
Wisconsin Badgers
during their run of Rose Bowls. Michigan saw a slight increase in recent years, Illinois held steady and Indiana dropped from four (2006-09) to two (2010-13). Minnesota had one first-round pick in 2012 after none from 2006-09, while Nebraska and Iowa aren't on the board for either span.
What about the Big Ten's other new territory, the Washington D.C./Maryland/Northern Virginia region? Maryland's total dropped from four (2006-09) to three (2010-13), Virginia's went from seven (2006-09) to three (2010-13) and Washington D.C. failed to produce a first-round pick from 2010-13 after having two between 2006-09.
What does this mean for the Big Ten? First-round draft picks are only one way to gauge the strength of a league or a region, but the numbers reinforce that much of the nation's elite talent grows up far from Big Ten campuses. Big Ten schools have to spread their wings in recruiting and invest more time and resources in states like Texas, Florida and Georgia. Many programs already do this, but there's a greater sense of urgency.
The Ohio total is a bit alarming, but I'd be surprised if the state produces so few first-round picks in the next four years. It will be interesting to see what happens with the Wisconsin total under a new Badgers coaching staff.
I still like the Big Ten's new additions, Rutgers and Maryland, from a recruiting standpoint, but the declining totals of first-round draft picks from both areas are a bit unsettling as the two programs prepare to move to the Big Ten in 2014.
April, 24, 2012
4/24/12
11:00
AM ET
MADISON, Wisc. -- Just thinking about all the talent Wisconsin has lost in the past two years can be a little daunting.
The Badgers saw four first- or second-team All-Americans leave after the 2010 season (Gabe Carimi, John Moffitt, Lance Kendricks and J.J. Watt) and two more depart after last season (
Peter Konz
,
Kevin Zeitler
), along with their NCAA record-breaking transfer quarterback (
Russell Wilson
). Many programs would expect a dip after having so much star power leave town, but Bret Bielema is feeling fine.
[+] Enlarge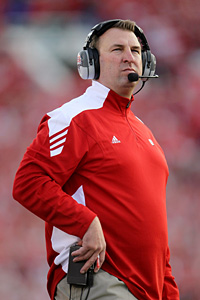 Jeff Gross/Getty Images"Of the last 66 kids we signed, 64 of them are still on campus ... " Bielema said.
"I used to freak out when we lost players, too," Bielema said. "But we do a good job of just developing. We always talk about being a developmental program, and I think it truly is that type of program now."
Wisconsin's ability to keep reloading will be put to the test in 2012. The team returns just 11 starters from last year's Big Ten champions, and six assistant coaches -- including almost all of the offensive brain trust -- left for other jobs in the offseason. Yet many still predict the Badgers will repeat as Leaders Division champs.
They will need new starters to emerge at receiver, on the right side of the offensive line, on the defensive line, in the secondary and of course at quarterback, where Maryland transfer
Danny O'Brien
could plug the hole. But O'Brien is the exception, as Wisconsin usually just brings along the next man on the depth chart.
"There are All-Americans sitting behind All-Americans, especially at spots like offensive line and running back," linebacker
Chris Borland
said. "Like last year, having lost Moffitt and Carimi, and then our line was arguably better. I think it speaks more to the development than it does to the players."
Madison might well be the world's leading producer of offensive linemen, and the running back tradition is just as strong. But other positions are becoming known for their string of successes as well, including tight end and safety. In each of the past two years, Wisconsin has lost an all-conference safety -- Jay Valai in 2010 and
Aaron Henry
in 2011. But Bielema says this year's pair of starters,
Dezmen Southward
and
Shelton Johnson
, might be his best duo yet.
"A guy might not be good enough to play right away, but a lot of times he'll develop for a year and come on the scene when a guy leaves or gets injured," said
Jared Abbrederis
, who's gone from former walk-on to one of the league's best wideouts. "That's kind of how it goes around here."
What's most impressive about the Badgers' recent run is that they've done it without many high-profile recruits. Bielema mostly signs three-star types and rarely brings in the true blue-chipper that gets scouting services drooling. Even though the program's exposure has increased of late, he still has little interest in trying to recruit much outside of a few key areas.
"We do what we can with what we've got," Bielema said. "I don't think we want more national recruits. A lot of times, those guys come with some issues you don't want to deal with. I take a lot of pride with the way our guys go about their business and handle themselves."
Player development is going to be key for Wisconsin's immediate future, because a cavalry of help isn't coming. The team signed only 12 players in February and expects to bring in an even smaller class next year. The reason? So few players have left before their eligibility ended.
"A lot of places sign 24 or 25 kids every year, so something is happening to those kids," Bielema said. "Of the last 66 kids we signed, 64 of them are still on campus, which is an unheard of number."
Last year's Rose Bowl team had only 24 juniors and seniors, and the rest were underclassmen. If those youngsters develop the way their predecessors have, then the Badgers will have a deep and experienced team soon. In fact, when O'Brien -- who has two years of eligibility remaining -- came on his visit, Bielema told him, "I think we'll be really good this year. But next year, on paper, might be the best team I've ever had."
That's a big statement, given how much talent -- both players and coaches -- has exited Madison in the past two years. But Wisconsin is confident in its ability to reload from within.
"We realize we're a developmental program," athletic director Barry Alvarez said. "We don't have the access to a lot of five-star guys. We might have a Joe Thomas coming out of the state or get a Ron Dayne because of his ties to the area. But for the most part, we develop players. And I think we have the right formula."
March, 14, 2012
3/14/12
2:30
PM ET
Every year, it seems like a Wisconsin offensive lineman emerges to become an All-American.
Two years ago,
John Moffitt
and
Gabe Carimi
earned All-America honors.
Peter Konz
and
Kevin Zeitler
did the same in 2011. If it happens again this year, a guy who knows as much about computers as he does football seems like the smart bet.
[+] Enlarge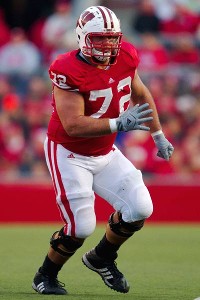 Jeff Hanisch/US PresswireJunior Travis Frederick will be counted on to hold up the Badgers' offensive line in 2012.
Junior
Travis Frederick
started at left guard for the Badgers last year before Konz got hurt against Minnesota. Midway through the Illinois game the next week, Frederick slid over to take Konz's spot at center after
Ryan Groy
had some snapping problems. Frederick stayed there for the win over Penn State and the Big Ten championship game against Michigan State, and Wisconsin didn't miss a beat without Konz, whom many project as a first-round NFL pick next month.
Frederick could assume Konz's former role on a full-time basis this season. That's mostly where he's been working out during winter conditioning drills, though he'll likely also see time at guard when Wisconsin opens spring practice next week. Wherever he ends up, Frederick knows the bar has been set awfully high by previous stars on the Thick Red Line.
"All we can do is hope to carry on what they left behind," Frederick said. "Obviously that's a goal of mine, to be able to play at a high level and get that sort of recognition, because that means you're helping your team. Whether or not I get that individual recognition, I'm going to do what I can to help the team, be it at center or guard or wherever it is."
Frederick believes one reason for the robust tradition at Wisconsin is that offensive linemen have always been able to look up to strong leaders. When he was a freshman, he followed the work habits of Moffitt and guard
Bill Nagy
. Konz and Zeitler helped set the standard last season. This year's O-line group is young, with
Ricky Wagner
and
Robert Burge
the only seniors. And since Wagner, the lone upperclassman with any starting experience, is a quiet guy by nature, Frederick has worked this winter on his leadership skills.
"Ryan Groy and I are trying to take over and be a little more vocal," he said. "We're just helping the group along with the transition we've been faced with."
Replacing three starters — all-conference tackle
Josh Oglesby
also graduated — isn't the only transition the Badgers' big uglies face. For the first time in their careers, they will have a new position coach in Mike Markuson after Bob Bostad left to join Paul Chryst's staff at Pittsburgh. There's also a new offensive coordinator in Matt Canada, and the players are eager to see what changes are in store for them.
"It's been kind of odd for all of us because we haven't really had a playbook yet," Frederick said. "Some of the stuff is just starting to trickle down and some of it is just starting to get set in stone. So for us, it's kind of a waiting game of, when will we get this new stuff so we can try to learn it?"
But head coach Bret Bielema has promised the offense won't look much different, and why would it? Wisconsin has had one of the most successful and consistent offensive attacks in the country, led by its powerful line and running game. While quarterback remains an uncertainty heading into spring and possibly summer,
Montee Ball
is back for his senior season after leading the nation in rushing yards and touchdowns.
"That meant a lot to us that he came back," Frederick said. "It told us he trusted the offensive line to help him continue to get good numbers."
Frederick has earned the trust of the coaching staff over his career. He was the first true freshman offensive lineman ever to start an opener for Wisconsin when he lined up at center against Northern Illinois in 2009. He took a redshirt year in 2010 when the Badgers were stuffed with talent on the line and came back last year to earn second-team All-Big Ten honors.
The 6-foot-4, 330-pounder is one of the strongest players in the program, having reportedly squatted 730 pounds with a 500-pound bench press last year. He may also be one of the team's smartest player, challenging himself with a double major in computer engineering and computer science. You might expect to find a man his size at the buffet line, but he spends much of his time away from football in the computer lab.
"I always wondered how computers worked," he said. "To think that everything in a computer comes down to electrons and electricity flowing through wires is really kind of amazing to me. To figure out how it works and understand it down to a semiconductor transistor level is really very interesting."
Frederick's recent class projects have included writing programs for operating systems and designing an integer divider coprocessor.
"It's been a lot of fun," he said.
We'll have to take his word on that. But the idea that Travis Frederick can become the next star on the Wisconsin offensive line certainly does compute.
February, 17, 2012
2/17/12
10:00
AM ET
After taking a look at the Legends Division outlook for spring practice, it's time to turn the focus to the Leaders Division.
Away we go ...

ILLINOIS
Start of spring practice:
March 7
Spring game:
April 14
What to watch:
New faces in new roles: Tim Beckman and his assistants get their first chance to work with the players on the field. Beckman retained only one assistant (defensive line coach Keith Gilmore) from the previous staff, so it'll be important for the players and coaches to get acclimated. It's also a big spring for co-offensive coordinators Billy Gonzales and Chris Beatty, both of whom will be primary playcallers for the first time at this level.
The quarterbacks: Nathan Scheelhaase is a two-year starter, but he'll have to re-establish himself as the team's top option at quarterback. Reilly O'Toole received a decent amount of field time last season, and Illinois should have a competition under center in spring practice. Both men will have to learn a new offense and show good decision-making skills after combining to throw 12 interceptions last fall.
No Merci: All-American defensive end Whitney Mercilus is gone, and Illinois will be looking for his replacement this spring. The defensive line could once again be a strength for the Illini, especially with Gilmore back and an aggressive defensive coordinator in Tim Banks. It'll be interesting to see how the coaches use Michael Buchanan and Justin Staples, who played the "bandit" position in the previous scheme and boast speed but don't have typical defensive end size.

INDIANA
Start of spring practice:
March 3
Spring game:
April 14
What to watch:
Juco fever: Indiana needs a quick fix on defense, and it hopes an influx of junior college players can provide one. Six juco players already are enrolled and will participate in spring practice, including five on the defensive side. It will be interesting to see how players such as defensive back Tregg Waters and linebackers Justin Rayside and Jacarri Alexander perform this spring as they compete to play right away.
New direction on offense: Coach Kevin Wilson wants to be more productive in the passing game, and he hired an offensive coordinator in Seth Littrell who can help in that area. Littrell guided an Arizona offense that last season ranked third nationally in passing (370.8 ypg) and 27th in pass efficiency (145.2). He'll try to help Tre Roberson, who Wilson said he thinks can elevate his game significantly as a passer despite throwing twice as many interceptions (six) as touchdowns (three) as a freshman.
Who has grown up: Indiana played 32 freshmen (16 true, 16 redshirt) in 2011, the most in the FBS. The early experience should pay off for several players, and Indiana needs them to grow up quickly during the spring. Roberson showed a lot of promise at quarterback, and safety Mark Murphy finished second on the team with 76 tackles. Keep an eye on players such as defensive end Bobby Richardson and receiver/returner Shane Wynn.

OHIO STATE
Start of spring practice:
March 28
Spring game:
April 21
What to watch:
Urban renewal: The mood has improved around Ohio State's program from the moment Urban Meyer stepped to the podium Nov. 28. After putting together his staff, signing an elite recruiting class and ticking off some of his Big Ten coaching colleagues, Meyer finally gets a chance to work with the players on the practice field. After a lackluster final season at Florida in 2010, Meyer says he's refreshed and recharged, and it'll be interesting to see how he attacks practices.
The new offense: Ohio State fans can't wait for a new offense after suffering through a 2011 season that featured some extremely questionable play-calling. Meyer's offensive system is well-known throughout college football, but the interesting thing this spring will be how Meyer and offensive coordinator Tom Herman blend their ideas. Herman is a dynamic young coach who impressed a lot of folks at Iowa State. But Ohio State is a different animal, and expectations will be high for quarterback Braxton Miller and the unit.
Fickell back on defense: After spending last season as Ohio State's head coach, Luke Fickell returns to an assistant role on the defensive side. And for the first time, Fickell will be the Buckeyes' primary defensive playcaller. Ohio State's defense took a step back last season and will be looking to regain its traditional form. Fickell will work alongside co-defensive coordinator Everett Withers and look to identify some leaders to complement defensive lineman John Simon.

PENN STATE
Start of spring practice:
March 26
Spring game:
April 21
What to watch:
O'Brien's time: Much will be made of Penn State opening spring ball without Joe Paterno, but the real story is how critical these practices will be for new coach Bill O'Brien and his team. Penn State will be acclimating to new systems on both sides of the ball and a new coaching style from O'Brien and his assistant coaches, all but two of whom are from the outside. The learning curve will be accelerated for all involved, as Penn State needs to get a lot done in 15 workouts.
The quarterbacks: It's good that O'Brien has extensive experience coaching quarterbacks because no position needs a bigger upgrade at Penn State. The Lions struggled mightily under center last season and need a major boost beginning this spring. Can O'Brien get more out of Matthew McGloin and Rob Bolden, both of whom have seen extensive time in the Big Ten? How does Paul Jones factor into the mix? It'll be interesting to see how the signal-callers perform this spring.
Filling gaps on defense: Penn State should have one of the nation's best linebacker groups this season, but the Lions need to fill some holes on the line and in the secondary. Big Ten Defensive Player of the Year Devon Still departs, and Penn State will be leaning on Jordan Hill and others to step up. A bigger concern is the secondary, which loses two multiyear starters at safety (Drew Astorino and Nick Sukay). Penn State also has a new defensive coordinator in Ted Roof, who will be looking for better results than he had at Auburn.

PURDUE
Start of spring practice:
March 7
Spring game:
April 14
What to watch:
Another quarterback competition: Boilers coach Danny Hope loves having options at quarterback, and he'll once again get his wish during spring practice. Caleb TerBush, Robert Marve,Rob Henry and Sean Robinson all boast starting experience and will vie for the No. 1 job when workouts resume. Henry, who sizzled last spring and would have started the season if not for a torn ACL, has been cleared to participate in noncontact drills. Marve received an extra year of eligibility and will be in the mix. TerBush started every game last season.
Tisebar takes over: Purdue has a new defensive coordinator for the third consecutive season, as Tim Tisebar takes over this spring. Tisebar returns to college football after spending the past three seasons with the Canadian Football League's Montreal Alouettes. Hope hired Tisebar to help Purdue improve against the spread offense and the zone-read game. It will be interesting to see what spin Tisebar puts on the defense as the Boilers enter a pivotal season.
Offensive line depth: One of Purdue's strengths last season is a bit light on bodies following several departures. The Boilers need a left tackle to replace Dennis Kelly, and they also must increase depth on the interior line. Purdue already has moved tight end Robert Kugler to center, and Hope said earlier this month that several other tight ends could practice at offensive tackle during the spring.

WISCONSIN
Start of spring practice:
March 17
Spring game:
April 28
What to watch:
A revamped staff: Bret Bielema hired six new assistant coaches during the winter months, including offensive coordinator Matt Canada. The new coaches will have their first opportunity to work with players on the field this spring. It's important for both sides to acclimate, mainly because Wisconsin has had tremendous success the past two seasons and doesn't want the staff shakeup to throw things off course. Quarterback Russell Wilson made a seamless transition to the program last summer. Let's see if the new assistants can do the same in spring ball.
The quarterbacks: Speaking of Wilson, he departs Madison, leaving a major void under center. Jon Budmayr and Curt Phillips are coming off of major injuries, and while they're both making progress it could be tough to get a gauge on them this spring. Canada will spend much of his time working with Joel Stave and Joe Brennan, who need to get comfortable with Canada's adjustments to the offense and start establishing themselves as potential team leaders.
Reloading up front: Wisconsin will have to replace two All-American offensive linemen for the second consecutive year, and the Badgers lose three All-Big Ten selections up front (Peter Konz, Kevin Zeitler and Josh Oglesby). While the Badgers are built to reload, offensive line coach Mike Markuson has a lot of evaluating to do this spring. On the defensive line, Wisconsin loses two starters (Patrick Butrym and Louis Nzegwu) and will be looking for some difference-makers. End David Gilbert returns to the mix after missing most of last season with a broken foot.
January, 13, 2012
1/13/12
9:00
AM ET
Let's put a final bow on bowl season with our choices for the 2011 Big Ten All-Bowl team. As usual, some positions had more than enough worthy selections, such as defensive line, while other positions -- safety, offensive line -- left us scrambling a bit.
Despite a 4-6 bowl performance by the Big Ten, the league had some nice individual performances.
Here's the bowl squad ...
OFFENSE
QB:
Russell Wilson
, Wisconsin: Though he threw a costly interception late, Wilson completed 19 of 25 passes for 296 yards and two touchdowns in the Rose Bowl loss to Oregon. That performance was good enough for him to finish the season with the NCAA record for pass efficiency.
RB:
Akeem Shavers
, Purdue: With leading rusher
Ralph Bolden
injured, the Boilermakers needed another back to step up. Shavers responded with a career high 149 yards on 22 carries in the Boilermakers' 37-32 Little Caesars Bowl victory over Western Michigan.
[+] Enlarge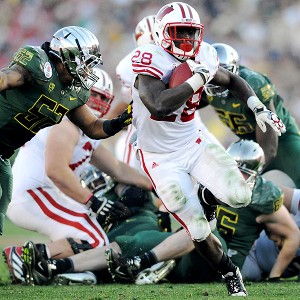 Kelvin Kuo/US PRESSWIREMontee Ball racked up 164 yards on the ground and scored his 39th TD of the season in the Rose Bowl.
RB:
Montee Ball
, Wisconsin: Ball carried 32 times for 164 yards against Oregon, and his touchdown gave him 39 on the season, tying Barry Sanders' Football Bowl Subdivision record. Ball was quieted late as the Ducks' defense made adjustments against the running game.
WR:
Jared Abbrederis
, Wisconsin: Like Wilson, Abbrederis had a costly second-half turnover, but his overall performance stood out in the Rose Bowl. The sophomore had four receptions for a team-high 119 yards and a touchdown and also had 227 return yards in the game, including a 60-yard kickoff runback.
WR:
Junior Hemingway
, Michigan: He only had two catches in the Allstate Sugar Bowl win over Virginia Tech, but both went for touchdowns. He caught the first one in traffic then juked his way toward a 45-yard score. He made a leaping grab near the back of the end zone for the second one.
TE:
Brian Linthicum
, Michigan State: The senior picked a good time to have a career day, coming up with seven catches for 115 yards against Georgia plus a catch on a two-point conversion. He took a tight end screen pass 50 yards during the fourth quarter for the longest play of his career.
OL:
Peter Konz
, Wisconsin: Konz made his first appearance since Nov. 13 and didn't look rusty after rehabbing a dislocated ankle. The All-Big Ten selection keyed a Badgers offense that racked up 212 rush yards, 23 first downs and 508 total yards against Oregon. Konz performed well in what turned out to be his final game as a Badger.
OL:
Dennis Kelly
, Purdue: The Boilers' offensive line overpowered Western Michigan in the Little Caesars Pizza Bowl, and Kelly, a mainstay at left tackle during his career, helped lead the charge. Purdue racked up 265 rush yards on 56 attempts and steamrolled the Broncos despite not having top running back Bolden (knee).
OL:
David Molk
, Michigan: A foot injury in warmups wasn't going to keep Molk from playing his final game with the Wolverines. The Rimington Trophy winner, who some thought wouldn't return to the field, missed only one series and did his part for the Michigan offense in its win against Virginia Tech.
OL:
Jeff Allen
, Illinois: Allen keyed an Illinois offense that showed some life in the Kraft Fight Hunger Bowl after fading down the stretch of the regular season. He helped the Illini rush for 178 yards, while UCLA had only one sack in the game.
OL:
Kevin Zeitler
, Wisconsin: Like Konz, Zeitler delivered a typical performance in Pasadena and helped Ball and the ground game get going. Wisconsin's physical play along the offensive line gave Oregon problems for most of the game.
DEFENSE
[+] Enlarge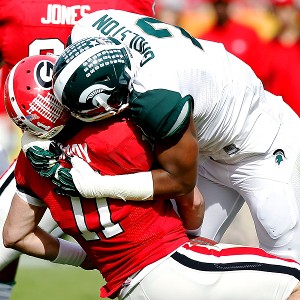 J. Meric/Getty ImagesWilliam Gholston seemed unstoppable in Michigan State's win over Georgia in the Outback Bowl.
DL:
William Gholston
, Michigan State: The sophomore announced himself as a likely breakout star in 2012 with a huge performance against Georgia in the Outback Bowl. Gholston had five tackles for loss, including two sacks, plus a fumble recovery in the Spartans' victory.
DL:
Whitney Mercilus
, Illinois: The nation's sacks leader went out with a bang before declaring for the NFL draft. Mercilus registered 1.5 sacks in the Kraft Fight Hunger Bowl win over UCLA, tying him with Simeon Rice for the school single-season record of 16. He finished with three tackles for loss and gave the Bruins offense fits.
DL:
Mike Martin
, Michigan: The Wolverines repeatedly stuffed Virginia Tech in the red zone, and Martin was a big reason why. The senior had 10 tackles and 0.5 sacks while helping control the interior of the defensive line.
DL
Mike Daniels
, Iowa: The Hawkeyes defense showed up in the Insight Bowl, and Daniels led the way with five tackles, including three tackles for loss and two sacks. Oklahoma came into the game having allowed just nine sacks all season, but Daniels had two in the first half.
LB
:
Lavonte David
, Nebraska: Though the Huskers lost to South Carolina, David had his usual brilliant game. He finished with 11 tackles and two sacks in the losing effort to cap a terrific career.
LB:
Joe Holland
, Purdue: The senior delivered in his final game as a Boiler, recording team highs for tackles (9), tackles for loss (2) and pass breakups (3) against Western Michigan. Holland was always around the ball and spurred a play-making Purdue defense in Detroit.
LB:
Ian Thomas
, Illinois: Like Holland, Thomas had a big performance in his final collegiate game as Illinois held UCLA to seven points through the first 59 minutes. Thomas finished with seven tackles, including two for loss and a sack, as well as a pass breakup against the Bruins.
CB:
Darqueze Dennard
, Michigan State: He got burned on a long pass in the first half but made up for it with two second-half interceptions, including one he returned 38 yards for a touchdown, in the win against Georgia. Dennard tied the Michigan State bowl record with the two picks.
CB:
Terry Hawthorne
, Illinois: Hawthorne's 39-yard interception return for a touchdown in the third quarter gave Illinois its first lead against UCLA. It marked the second pick-six of Hawthorne's career and the first since 2009. He also had five tackles, including 1.5 for loss.
S:
Jordan Kovacs
, Michigan: Kovacs capped a breakthrough season in the Allstate Sugar Bowl with a a team-high 11 tackles in the win against Virginia Tech. He helped limit the Hokies to just one touchdown on six red zone possessions and finished the season with 75 total tackles.
S:
Brian Peters
, Northwestern: Peters made a nifty interception against Texas A&M, his Big Ten-leading fifth pick of the season, and added seven tackles against the Aggies. He finished his career with 12 interceptions, the third-highest total in team history.
SPECIAL TEAMS
K:
Brendan Gibbons
, Michigan: Gibbons nailed all three of his field goal attempts, including the 37-yarder in overtime to win the game for the Wolverines.
P:
Mike Sadler
, Michigan State: Sadler was big in the field position battle against Georgia. He averaged 50.1 yards on eight punts, placing four of them inside the 20-yard line.
KR:
Raheem Mostert
, Purdue: Mostert returned a kickoff 99 yards for a touchdown in the win over Western Michigan. It marked the longest kick return in Purdue bowl history and helped Mostert finish the season as the nation's leading return man (33.5 ypr).
PR:
Venric Mark
, Northwestern: Not too many choices around the Big Ten, but Mark broke off a 47-yard return in the Meineke Car Care Bowl of Texas. He also had a two-yard rushing touchdown in the game.
December, 30, 2011
12/30/11
3:17
PM ET
LOS ANGELES -- Outside the Wisconsin locker room is a wall full of plaques honoring the school's All-Americans. Guard Kevin Zeitler walked past that every day last offseason dreaming of hanging his picture up there next to John Moffitt, who earned All-America recognition last year.
Zeitler was lightly recruited until late in his high school career and had never even made an All-Big Ten team. But after an outstanding senior season, he now has his own spot on that wall.
[+] Enlarge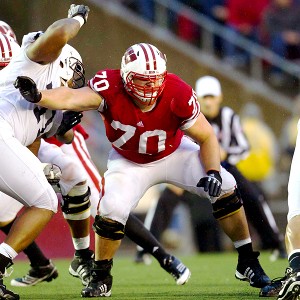 Jeff Hanisch/US PresswireAll-American Kevin Zeitler was a member of an O-line that helped Wisconsin lead the Big Ten in scoring.
"We have a lot of pride in our offensive line here, and all of us want to live up to expectations," he said. "And I guess when you live up to expectations, that equals All-Americans."
Churning out offensive line talent may just be the state of Wisconsin's No. 1 industry at this point. Last year, Moffitt and tackle Gabe Carimi were named All-Americans. Both of them and guard Bill Nagy were drafted by the NFL and started as rookies. That exodus would decimate some programs. The Badgers simply reloaded with two more All-Americans in Zeitler and center Peter Konz.
The offensive line has been the program's signature position since the days of Barry Alvarez. While linemen at most schools are an anonymous bunch, the Badgers big fellas become stars, as evidenced by how many interviews the starting linemen gave at Friday's Rose Bowl media day.
"There's just something about that Wisconsin tradition," guard/center Travis Frederick said. "If you're from Wisconsin, you almost want to grow up and be a Wisconsin offensive lineman. And if you get a chance to play at Wisconsin, you take that chance."
The only thing more remarkable about the Badgers size on the line -- the starters measure an average of 6-foot-5 and 322 pounds -- is the fact that every key contributor is from the state of Wisconsin. Whether they were stud recruits like left tackle Josh Oglesby and Konz or a former walk-on like Ricky Wagner who gained 70 pounds after arriving on campus as a tight end, they all seem to develop into some of the best linemen in the country. Maybe it's all that cheese in the Dairy State. Milk apparently does a big body good.
But it's more than just
the Scandinavian stock
or whatever accounts for all that homegrown size. A standard has been set.
"You look back, and you see Gabe Carimi, and Joe Thomas, both Outland Trophy winners," Konz said. "You've got Chris McIntosh. You've got a lot of guys that you really have to live up to.
"You've got to live up to the strength standards, the weight standards. You've got to live up to the knowledge that they had about the game. We pride ourselves on being extremely smart, understanding blitzes, understanding formations, and really being on target so that we can be as successful as possible."
A major factor in Monday's Rose Bowl will be whether Oregon can handle that offensive line. The Ducks are bigger and better up front defensively than many people think, especially at defensive tackle with Taylor Hard (6-6, 283) and Wade Keliikipi (6-3, 300). Still, outside of Stanford and USC, Oregon isn't used to seeing lines like Wisconsin's. Because there aren't many.
Oregon's defensive players are downplaying any beef disadvantage in the trenches.
"They've got huge offensive linemen just like Stanford," said defensive end Brandon Hanna, whose Ducks have manhandled the Cardinal in recent years. "We're not too worried about that. Size doesn't bother us."
The Rose Bowl will mark the end of an era of sorts for the Wisconsin offensive line, as position coach Bob Bostad is moving on to Pittsburgh to join offensive coordinator Paul Chryst. He oversaw the development of four All-Americans since 2008. Tight ends coach Joe Rudolph will take over the group once Bostad leaves. Rudolph was an All-Big Ten guard for the Badgers.
"He's got a lot of pride in the position because he played it," Zeitler said. "To see what he's done with all the tight ends who've gone on to be All-Americans here, you know he knows how to coach. So it will be a new personality, but I believe the production will stay the same."
The names and faces may change, but Wisconsin keeps adding plaques to the wall.
December, 9, 2011
12/09/11
10:30
AM ET
Editor's Note: Tune into the "AT&T ESPN All America Team Show" on Saturday (ABC, 1:30 p.m. ET) to see who ESPN's writers and experts selected.
The envelope, please ...
OFFENSE
QB:
Russell Wilson
, Wisconsin
RB:
Montee Ball
, Wisconsin
RB:
Rex Burkhead
, Nebraska
WR:
Marvin McNutt
, Iowa
WR:
B.J. Cunningham
, Michigan State
TE:
Drake Dunsmore
, Northwestern
OL:
David Molk, Michigan
OL:
Kevin Zeitler, Wisconsin
OL:
Peter Konz, Wisconsin
OL:
Joel Foreman, Michigan State
OL:
Reilly Reiff, Iowa
DEFENSE
DL:
Whitney Mercilus, Illinois
DL:
Devon Still, Penn State
DL:
Jerel Worthy, Michigan State
DL:
John Simon, Ohio State
LB:
Lavonte David, Nebraska

LB:
Gerald Hodges, Penn State
LB:
Mike Taylor, Wisconsin
CB:
Alfonzo Dennard, Nebraska
CB:
Johnny Adams, Michigan State
S:
Trenton Robinson, Michigan State
S:
Nick Sukay, Penn State
SPECIALISTS
P:
Anthony Fera, Penn State
K:
Brett Maher, Nebraska
KR:
Raheem Mostert
, Purdue
PR:
Jared Abbrederis
, Wisconsin
Comments:
We said before the season that the strength in the Big Ten lay in the interior lines, and that is illustrated in our picks. Still and Worthy had All-American seasons, and Simon was great as well. We didn't even have room for Michigan's Mike Martin, who had a terrific season. Our offensive line has two centers in Molk and Konz (two Rimington Trophy finalists) because we thought that position was much stronger than tackle. (Konz has played guard in his career, so we could figure it out if we actually had to play with this team). Some of our toughest choices came at the second receiver spot, where we liked Cunningham's production down the stretch far more than
A.J. Jenkins
' early numbers for an Illinois team that faded badly; the third linebacker spot, where we could have gone with Taylor's teammate Chris Borland or Illinois' Jonathan Brown; and the second safety selection, where we chose Sukay over Northwestern's
Brian Peters
, Minnesota's Kim Royston or Wisconsin's Aaron Henry because we felt Sukay made a big impact on a better defense. Lastly, only eight players who we chose on our
preseason All-Big Ten team
ended up on our official postseason squad. That shows how much things can change from season to season -- and it also shows that maybe our prognosticating skills need some improvement.
December, 9, 2011
12/09/11
9:00
AM ET
"The Home Depot College Football Awards" show last night is in the books, and several Big Ten players were recognized for their efforts this season.
Here's a quick roundup:
RIMINGTON TROPHY
Michigan's David Molk won the award as the nation's top center. He becomes the third Big Ten center to win the Rimington Trophy since 2004 and the first Michigan player to do so since David Baas shared the award in 2004.
Molk was a first-team All-Big Ten selection and claimed Big Ten Offensive Lineman of the Year honors.
Wisconsin's Peter Konz also was a finalist for the award.
WALTER CAMP ALL-AMERICA TEAM
First team
Michigan center David Molk
Illinois defensive end Whitney Mercilus
Penn State defensive tackle Devon Still
Michigan State defensive tackle Jerel Worthy
Second team
Wisconsin running back Montee Ball
Wisconsin guard Kevin Zeitler
Nebraska linebacker Lavonte David
Ball deserved the first-team nod over Oregon's
LaMichael James
, but at least he appears on the second team. Konz also should have appeared, as he was arguably the nation's top center until dislocating his ankle Nov. 12 at Minnesota. Mercilus becomes Illinois' first Walter Camp All-American since linebackers Simeon Rice and Kevin Hardy were recognized in 1995.
OTHER AWARDS
Wisconsin's Ball lost out to Alabama's Trent Richardson for the Doak Walker Award (nation's top running back). Although Ball had superior stats to Richardson, he only gained national recognition later in the season, which might have cost him. Both are great backs, but Ball was certainly deserving of the Doak. Who knows? Maybe he'll return in 2012 and win it.
Penn State's Still lost out to LSU cornerback Tyrann Mathieu for the Bednarik Award (nation's top defender)
Still lost out to Alabama offensive lineman Barrett Jones for the Outland Trophy (nation's top interior lineman). I thought Still had a better shot at the Outland than the Bednarik, as Mathieu has been so electric this season. Jones, who has played several offensive line positions for the Tide, is a strong choice. The Lions star will learn Monday whether or not he'll win the Bronko Nagurski Trophy.
August, 12, 2011
8/12/11
11:00
AM ET
Are two heads really better than one?
We've put that to the test in brainstorming the 2011 preseason All-Big Ten team. Not surprisingly, there were some tough choices, and we're sure you'll point them out to us
here
and
here
. Past performance definitely factored into our selections, but we also looked for players likely to make a significant impact this season.
Let's get to it.
OFFENSE
QB:
Denard Robinson
, Michigan
RB:
James White
, Wisconsin
RB:
Edwin Baker
, Michigan State
WR:
Jeremy Ebert
, Northwestern
WR:
Derek Moye
, Penn State
TE:
Kyler Reed
, Nebraska
C:
Mike Brewster, Ohio State
T:
Riley Reiff, Iowa
T:
Jeff Allen, Illinois
G:
Joel Foreman, Michigan State
G:
Kevin Zeitler, Wisconsin
DEFENSE
DL:
Jared Crick, Nebraska
DL:
Mike Martin, Michigan
DL:
Jerel Worthy, Michigan State
DL:
John Simon, Ohio State
LB:
Lavonte David, Nebraska
LB:
Michael Mauti, Penn State
LB:
Chris Borland, Wisconsin
CB:
Alfonzo Dennard, Nebraska
CB:
Ricardo Allen, Purdue
S:
Trenton Robinson, Michigan State
S:
Aaron Henry, Wisconsin
SPECIALISTS
K:
Derek Dimke, Illinois
P:
Brad Nortman, Wisconsin
KR:
Troy Stoudermire, Minnesota
PR:
Keshawn Martin
, Michigan State
Selections by team:
Michigan State (5), Wisconsin (5), Nebraska (4), Ohio State (2), Illinois (2), Michigan (2), Penn State (2), Northwestern (1), Purdue (1), Iowa (1), Minnesota (1)
June, 28, 2011
6/28/11
7:56
PM ET
My apologies for posting these a day late -- blame it on
Russell Wilson
-- but it's time to break down the Big Ten offensive linemen entering the 2011 season.
Rather than list the top 10 across the three position groups, I've decided to go a different route:
top five players at each spot
. Despite losing standout linemen like Wisconsin's Gabe Carimi and John Moffitt, and Penn State's Stefen Wisniewski, the Big Ten returns several of the nation's top players at their positions.
Center might be the Big Ten's deepest position, while the league also boasts several standout tackles. The guard spot is a bit thin.
Let's take a look.
CENTER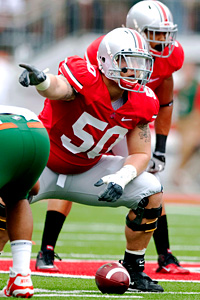 Greg Bartram/US PresswireMichael Brewster may be the best center in the country.
1. Michael Brewster, Ohio State, senior --
Brewster enters the season as the leading candidate for the Rimington Trophy, awarded to the nation's top center. He has started each of the past three seasons and earned first-team All-Big Ten honors from the media in 2010. Boasting 36 career starts, Brewster could be the top center selected in next April's NFL draft.
2. David Molk, Michigan, senior --
Molk is right up there with Brewster among the nation's truly elite centers. If not for some injury trouble, he could be at the top of the list. He earned first-team All-Big Ten honors from the coaches in 2010 and was a finalist for the Rimington Trophy. Molk has made 29 career starts and displays top-notch blocking skills and leadership.
3. Peter Konz, Wisconsin, junior --
Konz is a big reason why Wisconsin's line shouldn't take a step back despite losing Carimi, Moffitt and Bill Nagy. He has made 20 starts at center in the past two seasons and earned honorable mention All-Big Ten honors in 2010. After missing most of spring practice with an ankle injury, Konz's health this fall is a big key for Wisconsin.
4. Mike Caputo, Nebraska, senior:
The Huskers' line has a few question marks entering the season, but center isn't one of them. Caputo is the undisputed leader of the group after starting every game in 2010. The former walk-on earned consensus honorable mention All-Big 12 honors and helped Nebraska eclipse 200 rushing yards in 10 of 14 games.
T-5. James Ferentz, Iowa, junior:
Ferentz has emerged as an All-Big Ten caliber lineman and will lead one of the league's better groups this season. He started every game in 2010 and showed impressive durability, playing every offensive down in nine contests. Iowa needs an elite offensive line this season, and Ferentz will be leading the charge.
T-5. Graham Pocic, Illinois, junior:
Along with Jeff Allen and others, Pocic leads an Illinois line that punished opponents at times last season. He earned consensus honorable mention All-Big Ten honors in his first year as a starter. Pocic solidified a line that helped Illinois lead the Big Ten in rushing and rank 11th nationally (246.1 ypg).
TACKLE
1. Riley Reiff, Iowa, junior:
Reiff has put himself in position to become the next truly great Hawkeyes offensive lineman. He started every game in 2010 and 11 of 13 contests in 2009, earning consensus second-team All-Big Ten honors last fall. Already projected as a potential top-15 pick in the 2012 NFL draft, Reiff should be in the mix for the Outland Trophy as he anchors the Iowa line.
2. Mike Adams, Ohio State, senior:
The Buckeyes will be counting the days until Adams returns from his suspension to open the season. After some ups and downs early in his career, Adams blossomed last season and started to meet the lofty expectations placed on him coming out of high school. He earned consensus first-team All-Big Ten honors. If not for the five-game suspension, he would be a top contender for the Outland Trophy.
3. Jeff Allen, Illinois, senior:
One of the league's best and most experienced offensive linemen, Allen will lead a strong Illini line this fall. He has started 34 games in his first three seasons at Illinois, earning second-team All-Big Ten honors from the media last fall. Allen is a bona fide NFL prospect who should challenge players like Brewster, Molk and Reiff for Big Ten Offensive Lineman of the Year honors.
4. Al Netter, Northwestern, senior:
Besides star quarterback
Dan Persa
, Netter is the only player coach Pat Fitzgerald considers an undisputed starter entering the fall. Perhaps it's because Netter has started each of the past 39 games. He earned honorable mention All-Big Ten honors in 2010 and should be primed for a big senior season. Northwestern needs him to help spark its rushing attack.
5. Ricky Wagner, Wisconsin, junior:
We'll get a full read on Wagner after he switches from right tackle to the left side to replace Carimi, but the expectations are high. He earned consensus honorable mention All-Big Ten honors in 2010 after stepping in for the injured Josh Oglesby at right tackle. Wisconsin really likes Wagner's potential, and he'll have a chance to blossom at the more prestigious tackle position.
GUARD
1. Joel Foreman, Michigan State, senior:
An easy pick here as Foreman enters the season as one of the nation's top left guards. He has earned consensus honorable mention All-Big Ten honors in each of the past two seasons and started 36 games at left guard, including each of the past 22. Offensive line is a huge question mark for the Spartans, so Foreman's play will be huge.
2. Kevin Zeitler, Wisconsin, senior:
Zeitler will be a leader this fall for a Wisconsin line looking to continue its tradition of excellence. He has started 22 games at right guard in each of the past two seasons and helped Wisconsin rank among the nation's top rushing offenses. Zeitler earned consensus honorable mention All-Big Ten honors in 2010.
3. Hugh Thornton, Illinois, junior:
Thornton has played a lot of football in his first two seasons and could take another step in his development this fall. He started eight games at weak-side guard in 2010 after starting seven games at tackle in 2009. Illinois expects the offensive line to be its strength, and Thornton is a big part of the group.
4. Ken Plue, Purdue, senior:
This pick is a bit risky after Plue worked his way into the coaches' dog house in spring practice. But he has the size, the skills and the experience (28 starts) to become one of the Big Ten's top guards this fall. If the 6-7, 358-pound Plue can work out his issues, look out for him and the Boilers.
5. Patrick Omameh, Michigan, junior:
After starting all 13 games for a record-setting offense in 2010, Omameh is a reason why hopes are high for the Wolverines offensive line. He has started 16 consecutive games and has the ability to contend for All-Big honors. Omameh must get a little more consistent this fall, but I like how he projects for 2011.
June, 24, 2011
6/24/11
1:30
PM ET
The preseason position rankings march on with the offensive lines. Team rankings are below, and we'll take a look at the individual rankings for tackles, centers and guards early next week.
Looking at the league landscape, offensive line could be a major strength throughout the Big Ten this season. Although standout players such as Outland Trophy winner Gabe Carimi and All-American Stefen Wisniewski depart, I see improved depth for several teams as well as quite a few multiyear starters.
Honestly, there
aren't any bad lines in the league
; just some with more question marks than others.
Let's get to the rundown.
1. Wisconsin:
Talk about an ability to reload. The Badgers lose All-Americans Carimi and John Moffitt, plus the versatile Bill Nagy, and they still shouldn't take any steps backward. Injuries have allowed Wisconsin to build depth the past few seasons, and four of the five spots look extremely solid. Tackle Ricky Wagner, center Peter Konz and guard Kevin Zeitler lead a group that will block for the league's top running back tandem. Wisconsin's track record up front is impossible to ignore, and this year's line should continue the trend.
[+] Enlarge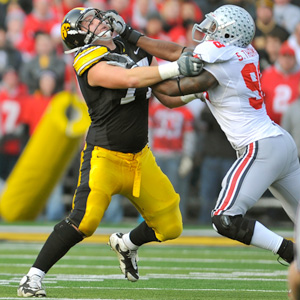 David Purdy/Getty ImagesWill arm length be an issue for former Iowa left tackle Riley Reiff in the NFL?
2. Iowa:
The line is undoubtedly Iowa's biggest strength and should be one of the nation's elite units in 2011. Iowa returns starting experience at all five positions and should have decent depth. Left tackle Riley Reiff, projected as a first-round pick in the 2012 NFL draft, will enter the fall as a leading candidate for the Outland Trophy. James Ferentz is one of the league's top centers, and Markus Zusevics is poised for a big year at right tackle.
3. Ohio State:
Depth is the only reason the Buckeyes' line isn't higher in the rankings. Ohio State boasts arguably the nation's top center in Mike Brewster, and first-team All-Big Ten tackle Mike Adams will be back after a five-game suspension to begin the season. The Buckeyes need big things from tackle Andrew Norwell during Adams' absence, and tackle J.B. Shugarts must play like a veteran. After struggling to put two sets of capable linemen on the field this spring, Ohio State has to find more depth in preseason camp.
4. Michigan:
This is another group that could climb up the rankings by season's end. Center David Molk is a terrific piece to build around, and if gifted players like Taylor Lewan and Patrick Omameh continue to develop, Michigan's line will be a major strength. The concerns are Molk's ability to stay healthy and an adjustment to a new offensive system under Al Borges. The line did an excellent job of protecting
Denard Robinson
in 2010, allowing a league-low 11 sacks.
5. Illinois:
The Illini flat-out punished opponents at the line of scrimmage on several occasions last season, and I really like the potential for the front five in 2011. The biggest reason? Left tackle Jeff Allen, one of the Big Ten's most experienced linemen. Allen and center Graham Pocic will contend for All-Big Ten honors, and if Corey Lewis gets healthy, this should be one of the league's top offensive lines.
6. Purdue:
Expectations are high for a line that coach Danny Hope thinks will be Purdue's strength in 2011. Left tackle Dennis Kelly is an All-Big Ten candidate with NFL potential who has started the past 24 games. Center Peters Drey and tackle Nick Mondek help anchor the group. The big question is whether mammoth guard Ken Plue, a multiyear starter, can get out of Hope's doghouse to help lead the way. Plue will be pushed by James Shepherd this summer. The combination of experience up front and the return of running back
Ralph Bolden
bode well for the Boilers.
7. Northwestern:
The Wildcats boast the nation's second most experienced line (137 combined career starts), but experience must start translating to production. This group still must prove it can spark a decent rushing attack after several years of decline. Left tackle Al Netter is an All-Big Ten candidate and center Ben Burkett enters his fourth season as the starter. If Northwestern gets more consistent play from right tackle Patrick Ward and others, it should be a solid group.
8. Penn State:
This is a big year for Penn State's O-line, which has heard the criticism and has vowed to erase it in 2011. The tackle spots look solid with Quinn Barham and Chima Okoli, but Penn State needs to shore up the interior after losing Wisniewski, a mainstay for the past four seasons. If veterans like Johnnie Troutman and DeOn'tae Pannell step up and turn in consistent performances, the line should hold up nicely.
9. Nebraska:
The Huskers ranked ninth nationally in rushing last season but have quite a few question marks up front. Center Mike Caputo is a building block and sophomore tackle Jeremiah Sirles is a returning starter, but Nebraska has little proven experience. The Huskers will benefit from a healthy Marcel Jones at right tackle, and Yoshi Hardwick adds depth. This could turn out to be a decent group, but the experience issue combined with a scheme change creates some uncertainty.
10. Michigan State:
Not to put too much pressure on the line, but arguably no position group will have more influence on Michigan State's season. The Spartans must replace both starting tackles and their starting center, never an easy task. All-Big Ten guard Joel Foreman returns to lead the group, but Michigan State needs immediate contributions from unproven players. The coaches feel they've upgraded the athleticism up front by moving players like Dan France and Blake Treadwell over from the defensive side.
11. Minnesota:
The Gophers boast a mix of veterans and youth, and it'll be interesting to see whether the group comes together this fall. Hopes are high for young tackles Eric Olson and Jimmy Gjere, but they'll need help from seniors like Ryan Wynn and Chris Bunders on the interior. Minnesota needs to regain its swagger as an elite rushing offense, and it starts up front this fall. This is a group that certainly has a chance to make strides.
12. Indiana:
I like some of Indiana's individual pieces, but as a group, the Hoosiers must show they can create space for the running backs. Indiana switched to the pistol offense in hopes of sparking the ground game but produced barely 100 rushing yards a game in 2010 (112th nationally). The line allowed only 12 sacks and must continue to protect its unproven quarterbacks this fall, but getting the run game going is paramount. Returning starters Will Matte, Justin Pagan and Andrew McDonald give Indiana hope.