NCF Nation:

Khalek Shepherd
April, 3, 2014
Apr 3
2:00
PM ET
Virginia running back
Taquan Mizzell
became a rookie all over again this winter when, at one of his first indoor track meets, the freshman realized he didn't know how to set up his own starting blocks. Baffled, he looked around for some help.
Mizzell, nicknamed "Smoke" for his raw speed, was still learning how to run.
[+] Enlarge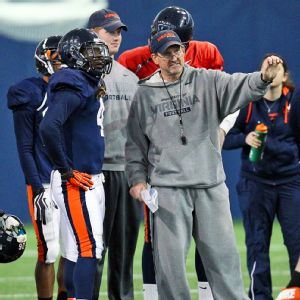 Jim Daves UVa Media RelationsTaquan Mizzell (left) has been learning the finer points of playing running back this spring.
The past year has been a dramatic learning curve for Mizzell, who came to Virginia shouldering the lofty expectations that accompany every highly touted recruit. With the ability to catch the ball and return kicks in high school, Mizzell quickly drew comparisons to versatile Miami running back
Duke Johnson
-- a parallel Mizzell not only embraced but used as a goal.
One of Virginia's fastest recruits, though, was forced to slow down. He had to learn the playbook. He had to adjust to life as a college student. He had to compete against veterans. And he had to overcome the first injury to ever sideline him.
Now, finally healthy again and more knowledgeable in the playbook, Mizzell is primed and eager to show why he was widely considered one of the nation's top running backs in the
2013 recruiting class
. For Mizzell, his desire to be the best isn't about bravado, recruiting rankings or hype. (His coaches gush about his genuine modesty.) Instead, the former four-star, ESPN 300 prospect is simply trying to reach his ceiling -- which is why it was all the more devastating when his rookie season was derailed by an ankle injury. It was a hurdle he had to clear both mentally and physically, but also one that has helped him mature into a more complete player.
And a faster one, too.
"I can't even ... it's so exciting," he said, searching for the right words to describe his return. "Sometimes you might not want to wake up at 6 o'clock in the morning for practice, but every morning I wake up, I'm so anxious to get on the field. As soon as I felt myself -- even after the season -- the moment I felt myself back 100 percent, I was ready to go. That's why I started running track. I'm trying to get myself better right now. I don't want to wait until August or September to get better. I want to get better right now. So I started running track, and now my opportunity to get back on the field, I'm going to take advantage of it and play to the best of my ability."
This offseason, Mizzell, who never ran track in high school, has competed in the 60-meter dash during indoor track and the 100-meter dash in outdoor track. He's also taking reps with the first and second teams at spring football practices and has been used in the return game. He's in good company, as Virginia returns senior starter
Kevin Parks
and senior
Khalek Shepherd
, the Cavaliers' two leading rushers from a year ago. Parks ran for 1,031 yards last year and started all 12 games, while Shepherd had 304 yards.
There doesn't seem to be any concern within the program, though, about a shortage of snaps for Mizzell. Coach Mike London said the staff has made sure to evaluate Mizzell with the first-team offense in an effort to get him as many touches as possible.
"It's about the maturation process," London said. "He's bigger, he's stronger, his knowledge of the offense both in running the ball and pass protection and running routes, all of those things have really materialized. He's back there catching punts now. He caught some kickoffs last year. There are some things we do in the backfield exclusively for him, but he's also a running back. He's learned the gamut from A-Z about how to be a complete player."
"

He's bigger, he's stronger, his knowledge of the offense both in running the ball and pass protection and running routes all of those things have really materialized. ... He's learned the gamut from A-Z about how to be a complete player.

"

-- Virginia coach Mike London on Taquan Mizzell
Virginia fans are eager to see the total package.
On his first carry in the second game of last season against Oregon, Mizzell was taken down by two defenders and said he immediately felt the pain in his ankle when he tried to stand on it. He missed two games and never started a game but still finished with 695 all-purpose yards.
"I think he came in with a lot of high expectations," running backs coach and special teams coordinator Larry Lewis said. "It probably didn't go like he wanted to, but what he learned in that year has helped him to be the player he is right now, which right now I see what everybody's expectations are. He's healthy and knows what's going on and has that experience from last year. It's not like he's a rookie player right now. It's like he's a veteran player stepping out on the field. You see a remarkable difference right now."
Credit UVa track coach Bryan Fetzer with some of the change.
Through track, Mizzell has learned how to create power through his legs and properly accelerate, zeroing in on biomechanics and techniques that can make the difference of a fraction of a second -- or a first down.
"I tried to make it so he can relate it towards football," said Fetzer, who has four other football players on his roster this spring. "I was a football-track athlete in college myself, so I understand the reason. He's not coming out to be a track star. He's coming out to improve his game for football and hopefully have some fun and get faster.
"We've talked about the process of it, that his first year he's not going to see this incredible improvement. It's going to take a little bit of time. It's going to take him learning how to do things before he really sees the results."
Just like it did in football.
August, 9, 2013
8/09/13
9:00
AM ET
You want to find a good quarterback in the ACC? Plenty of places to look.
A solid receiver? Plenty of places to look.
A game-changing running back? Well, let's just say this is not a position of strength for the ACC headed into 2013.
Both 1,000-yard rushers from a year ago are gone. So are five of the top 10 rushers in the league. Now factor in recent developments from the offseason:
Virginia Tech back Michael Holmes was kicked out of school following his arrest after the spring game.

Pitt Rushel Shell decided to transfer, to hated rival West Virginia no less.

Maryland back Wes Brown has been suspended for the season after an offseason arrest.

Wake Forest leading rusher Josh Harris is not with the team while the Deacs wait for an answer from the NCAA on his eligibility.

NC State running back Shadrach Thornton was suspended one game after being charged with misdemeanor assault on a female following a June 6 arrest.
[+] Enlarge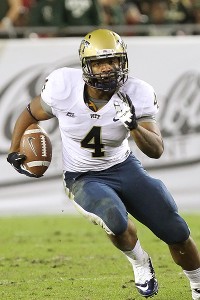 Kim Klement/USA TODAY Sports Running back Rushel Shell left Pitt for rival West Virginia.
Holmes and Brown were expected to be significant contributors this year; Shell and Harris were expected to start; Thornton led the Wolfpack in rushing last year.
So let us take stock of who remains. Essentially, the ACC has one big-time headliner in
Duke Johnson
at Miami, and several teams with talent and depth.
Take Florida State. The Noles have a great duo in
James Wilder Jr.
and
Devonta Freeman
. Syracuse has a 1,000-yard rusher returning in
Jerome Smith
, plus more depth than nearly everyone in the league. Duke has its top six rushers back from a year ago.
Still, the league overall has improving to do in this important category. In 2012, the ACC had the fewest 1,000-yard rushers of the five biggest conferences. It also only had two teams ranked in the Top 30 in rushing offense (Georgia Tech and Florida State), tied with the SEC for fewest among the top five conferences.
But here is the big distinction between the two. The SEC only had one team ranked in the bottom 30 in rushing offense last season: Arkansas. The ACC had a whopping six -- Virginia, Duke, NC State, Maryland, Wake Forest, Boston College -- the most among the power five.
Will fortunes improve this season? Let us take a look at one key statistic that could have some bearing. I broke down how many returning carries there are per team headed into 2013.

DUKE
Top returners: Jela Duncan, Josh Snead

Percent carries returning: 87 percent

What it means: Duke has perhaps the best opportunity of any team in the league to boost its rushing numbers this year, with its top six rushers back, a more mobile quarterback in Anthony Boone and four starters returning on the offensive line.

SYRACUSE
Top returners: Jerome Smith, Prince-Tyson Gulley

Percent carries returning: 82 percent

What it means: Syracuse has had a 1,000-yard rusher in five straight seasons, and has pretty terrific depth going into the season. It is a pretty safe bet the Orange will make it six straight 1,000-yard rushers.

BOSTON COLLEGE
Top returners: Andre Williams, Dave Dudeck

Percent carries returning: 75 percent

What it means: Though the Eagles don't have much in the way of depth, they do have experienced players returning in Williams and Dudeck. Given the way Steve Addazio likes to run the football, expect to see the Eagles much better than No. 115 in the nation in rushing.

VIRGINIA TECH
Top returners: Logan Thomas, J.C. Coleman

Percent returning carries: 70 percent

What it means: Even though this was a weak spot for the Hokies, they do return their top rushers even with Holmes gone. Thomas led the team in carries and rushing last season. Virginia Tech wants to change that this year.

GEORGIA TECH
Top returners: Zach Laskey, David Sims

Percent returning carries: 68 percent

What it means: Tevin Washington and Orwin Smith take nearly all the missing carries (176), meaning the Jackets have plenty of experienced players and depth to fill all their running back spots. Shouldn't be a drop-off here.

NC STATE
Top returners: Shadrach Thornton, Tony Creecy

Percent carries returning: 63 percent

What it means: Once he returns from suspension, Thornton will carry the load with Creecy, the way they did last season. Given the emphasis Dave Doeren puts on the run in his offense -- Northern Illinois ranked No. 12 in rushing offense last season -- the Wolfpack should not be in the bottom 30 again.

CLEMSON
Top returners: Tajh Boyd, Rod McDowell

Percent returning carries: 62 percent

What it means: Interesting stat here, considering the Tigers lose 1,000-yard rusher Andre Ellington. He is one of the biggest losses this team has to replace on offense. Having Boyd run as much as he does certainly helps these numbers, but there's no question Clemson has to find a way to replace Ellington's production.

MIAMI
Top returners: Duke Johnson, Eduardo Clements

Percent returning carries: 59 percent

What it means: Miami loses Mike James, but that just means Johnson moves into a starting role and will get more carries. If he continues the work he did last season, Johnson should be the leading rusher in the ACC this season.

WAKE FOREST
Top returner: Deandre Martin

Percent returning carries: 57 percent

What it means: Wake Forest is still waiting to see whether Harris will be eligible this season. There are serious concerns about this position right now, as coach Jim Grobe has said he still hasn't seen anybody step up and prove they can be an every-down back.

NORTH CAROLINA
Top returners: A.J. Blue, Romar Morris

Percent returning carries: 56 percent

What it means: The prevailing storyline in Chapel Hill has centered around replacing Giovani Bernard, the other 1,000-yard rusher in the ACC last season. Blue and Morris combined for 151 carries a year ago, so there might not be as big a drop-off in total production as some might anticipate. Each averaged more than 5 yards per carry.

MARYLAND
Top returners: Brandon Ross, Albert Reid

Percent returning carries: 48 percent

What it means: The Terps lost significant carries from Brown (90) and Justus Pickett (69). I also did not count Shawn Petty's 58 carries, because he went back to defense. Overall, Maryland feels good about Ross and Reid being able to carry the load, but questions still remain about whether this group can be consistent.

FLORIDA STATE
Top returners: James Wilder Jr., Devonta Freeman

Percent Returning carries:45 percent

What it means: This one is the most misleading among all ACC teams, because the Noles do return two terrific talents and expect contributions from a third in Mario Pender. Those lost carries are from Lonnie Pryor and EJ Manuel, along with Chris Thompson (who was out for the second half of the season anyway). Florida State should continue to be an excellent running team.

VIRGINIA
Top returners: Kevin Parks, Khalek Shepherd

Percent carries returning: 44 percent

What it means: UVa lost carries from Clifton Richardson, Perry Jones and Phillip Sims, but the Hoos believe they will be better running the ball this season -- especially if Taquan "Smoke" Mizzell is as good as advertised. He could be a breakout star.

PITT
Top returners: Isaac Bennett, Malcolm Crockett

Percent returning carries: 9 percent

What it means: I thought this number would be low with Shell and Ray Graham gone. But this is actually worse than anticipated. Pitt has little in the way of experienced players or depth at running back, and we are talking about a team that relies heavily on the run.
October, 20, 2012
10/20/12
3:56
PM ET
Wake Forest did not have to do much on offense against Virginia, not with the way the defense played on Saturday.


The Deacs got three field goals from
Chad Hedlund
in his first career start and held on to win
16-10
, handing the Hoos their sixth straight loss. Virginia hit a new low point on the season, scoring a season low for points while turning the ball over way too much once again.
Anybody who tuned in knows this game was unwatchable at times. Virginia had plenty of opportunities to win, but Wake Forest came up big time and again. Down 16-10,
Phillip Sims
had the Hoos driving early in the fourth quarter. But he threw an ill-advised pass down the field that was intercepted by
Kevin Johnson
near the goal line.
Later in the period, Virginia (2-6, 0-4) had the ball down to the Wake 36, but the Deacs defense came up with back-to-back plays behind the line of scrimmage. The first was a tackle on
Clifton Richardson
for a 6-yard loss.
Nikita Whitlock
was forced out of the game because he lost his helmet. His replacement,
Tylor Harris
, came up with a huge sack on Sims on third down.
Virginia nearly had one final attempt to win, but
Khalek Shepherd
fumbled a punt with two minutes to go, and Wake Forest recovered.
So on the day, the Hoos had three turnovers and finished minus-3 in turnover ratio, with just 301 yards of total offense.
They actually outgained Wake Forest (4-3, 2-3), which had 215 yards of total offense and only converted one of 14 third-down opportunities.
Tanner Price
only had 102 yards passing (7-of-19). Its only touchdown of the day was set up because of a terrific return on special teams by
Lovell Jackson
. But that is a fine formula to win: solid special teams, solid defense and limit your own mistakes.
October, 13, 2012
10/13/12
6:46
PM ET
Maryland is 2-0 in the Atlantic Division.


Repeat: Maryland is 2-0 in the Atlantic Division -- ahead of Florida State and Clemson in the ACC standings.
Only in the ACC.
One year after an abysmal 2-10 finish in Randy Edsall's first season, Maryland is leading the division standings after Saturday's
27-20
win over Virginia. And the Terps have done it with a true freshman at quarterback in
Perry Hills
and the worst rushing offense in the ACC. Good thing for that D.
Maryland's defense did it again, holding Virginia to three straight incompletions on its final possession to seal the win. Virginia quarterback
Michael Rocco
came off the bench to relieve
Phillip Sims
, and he looked capable of orchestrating the comeback, but an errant pass to a wide-open
Khalek Shepherd
is going to haunt the Hoos.
With four wins, Maryland looks much more capable of playing in a bowl game this year -- something that seemed like a far-fetched goal this summer when starting quarterback
C.J. Brown
suffered a season-ending knee injury. Virginia, meanwhile, has now lost five straight games and is almost out of chances to reach the postseason.
Maryland won with minus-2 rushing yards. It should savor its place in the standings while it can.
August, 27, 2012
8/27/12
3:45
PM ET
Virginia quarterback
Michael Rocco
has been able to hold on to his starting job despite competition from Alabama transfer
Phillip Sims
, coach Mike London announced Monday.
Rocco started all 13 games last season, throwing for 2,671 yards with 13 touchdowns and 12 interceptions. But London opened up the competition once Sims arrived and was granted his immediate eligibility. Rocco, Sims and
David Watford
were involved in an open quarterback competition during preseason practice, but London always maintained that Rocco had the edge over the other two quarterbacks in the race to win the job.
He confirmed that Monday.
"It just became apparent that Michael has the best grasp of the offense right now," London said during his weekly news conference. "He's the guy that we feel most comfortable with right now because of what he knows, knowing the system and the schemes and knowing the players he'll be throwing the ball to or handing the ball off to. He's done nothing to lose his position. We talked about his leadership, his knowledge of the offense, and so he's put himself in a position to be the guy right now and I'm quite sure he'll work hard at it, he takes pride in it. That's how it worked out."
"I believe that I was the starter throughout the spring and the summer," Rocco said. "It was my job to lose. I root for Phil and David as hard as I can. I would never want anything bad to happen in their career and their life. But I believe I'm here to play quarterback at a high level. I was excited when I heard Coach London was going with me, but in my mind I was preparing to be the starting quarterback. I was excited, but I had a confidence in my mind, too."
London added that he knew it would be a tall order for Sims to overtake Rocco while learning a new offensive system.
"With respect to Phillip, he has a big arm, strong arm, been in college games as well. He's a guy that's learning our offense," London said. "To expect him to know our whole offense by the time the season started, I don't think that would be fair on him. He knows enough of the offense that we understand his situation will be on-the-job training as the season goes on, how much he picks up, the communication, all those things."
London also said he would try to redshirt Watford, who served as the backup to Rocco last season.
"With David, it was a tough call," London said. "David has done everything that we've asked and then some. He's matured tremendously, his physical talents and skills improved greatly. They are three selfless players. They want what's best for the team. My plan is to try to redshirt him."
A few other UVa notes:
August, 13, 2012
8/13/12
4:00
PM ET
Virginia coach Mike London held a teleconference with reporters Monday. Here is a little of what he had to say.
London gave a quick update on what is happening at quarterback, with Michael Rocco, David Watford and Alabama transfer Phillip Sims. "We're at a point where Phil is now this week is going to be exposed to more things," London said. "We're going to have a couple scrimmages. The only way you can really know is when coaches are off the field and they're calling plays and have to execute. They're progressing nicely. Michael, his knowledge of the offense continues to improve, same with David. With Phillip having been in a pro-style offense before, he understands the concepts." What will they be judged on? "Accuracy, every throw they make, every situation they're in -- whether it's one-on-one, team, throwing with running backs, tight ends on air, they they they're being evaluated. This is an important week for us to see if there is going to be some separation made."
Finding players to step up in the defensive backfield is of paramount importance this season, with only one starter returning. Though it is early in camp, one true freshman has stood out so far -- Maurice Canady, a versatile in-state athlete who played a variety of positions in high school. Canady came into Virginia and wanted to try and play defensive back first. What has helped him so far is his background as a receiver and quarterback, because he understands route running, from how deep a route goes to where a quarterback is going to throw the ball. "So far he's shown the physical and athletic skills that show promise for him," London said. "Now as we start to add more coverages, more things, we're going to see if he can handle it. But right now, he's doing a nice job."
London also has been pleased with the way receivers Dominique Terrell and Darius Jennings have started to mentor the younger players. Terrell and Jennings are not exactly veterans themselves, with Tim Smith being the elder statesman of the group, but they are actively helping out in any way they can. "What you see is more of a mature approach," London said. "They're guys that played in college games before. ... They want everybody to get it. They know our passing game is a timing game. If these young guys understand how to run their routes, it's going to help the entire team."
There is plenty of talent and depth at the running back position, and London said the team will explore creative ways to get all of his playmakers involved. That means seeing more guys on special teams, specifically a player like Khalek Shepherd on punt returns. "People talk about two halfbacks in the game, which is very possible, very doable for us because of the matchups they present," London said. "We'll come up with creative ways, not only through offense but also through special teams. We are going to try to utilize all their skills, that's for sure. As we get the plays and the opportunities, I can guarantee each one will be cheering each other on."
At guard, another player who has stood out is Cody Wallace. "Cody's a tough guy, tenacious guy," London said. "Might not be the most athletic guy, but he'll try to hit you, bite you on your ankles, whatever it takes. You like that kind of attitude from a guy. He's quietly inserted himself or put him in position to battle for that guard position. Right now, Cody has that spot because of what he's done to this point."
April, 4, 2011
4/04/11
9:00
AM ET
The focus at Virginia this spring has been on the quarterbacks, as coach Mike London needs to name a new starter, and
Michael Rocco
led the group on Saturday in the Cavaliers' spring game at Scott Stadium.

Rocco completed 10 of 22 passes for 95 yards for the Blue team and seven of 10 throws for 57 yards for the Orange team.
Ross Metheny
, who also played for both teams, combined to complete 3 of 6 passes for 60 yards. True freshman David Watford completed 1 of 5 passes for 6 yards with both teams.
Michael Strauss
completed 6 of 14 attempts for 85 yards.
The teams played four 10-minute quarters in a standard game format that included special-teams play. The Blue team featured the majority of the Cavaliers' returning starters on offense while the Orange team included the returning starters on defense. The Blue team won 17-7. Veteran receivers
Kris Burd
,
Matt Snyder
,
Tim Smith
and
Bobby Smith
did not play because of injuries. Snyder, Jones, strong safety Rodney McLeod and defensive tackle Nick Jenkins were named team captains for the 2011 season.
Offensive highlights:
Perry Jones scored on a 15-yard reception from Rocco and had a game-high five receptions for 35 yards and 7 yards on 11 carries.
Rocco threw a 3-yard touchdown pass to Brendan Morgan.
Robert Randolph made a 40-yard field goal.
Jones Khalek Shepherd had 15 yards on 10 attempts.
Defensive highlights:
No player had a run longer than 8 yards.
Steve Greer led all defenders with nine tackles, a pair of sacks and one pass breakup. The two teams combined for 19 sacks since quarterbacks were whistled down when touched by a defensive player. Billy Schautz accounted for three solo sacks.
Mike Ahunamba and Henry Coley both had five tackles to lead the Blue team.
Chase Minnifield intercepted Rocco on the opening drive when the receiver slipped while running his route.
Dom Joseph intercepted Strauss and returned it 65 yards for a score.