NCF Nation:

Ki-Jana Carter
June, 13, 2012
6/13/12
5:00
PM ET
"College Football Live" made of list of the greatest individual seasons in college football history this month, and it left off a great season from Colorado's 1994 Heisman Trophy winning running back Rashaan Salaam.
At least one reader pleaded for some consideration of Salaam, and not without justification. In 1994 he was just the fourth player to rush for more than 2,000 yards (2,055) in a season. This was before bowl games counted, which has served to inflate recent numbers.
Salaam, who won the Heisman over Penn State great Ki-Jana Carter and an
impressive list of other players
, led the nation in rushing, scoring (24 touchdowns) and all-purpose yards (213.8). He played for a team that finished 11-1 and ranked No. 3 in the final polls. But it wasn't just about his numbers or his team's success. It was about quality opposition.
Colorado played six ranked teams -- three top-10 teams -- during the first eight weeks of the season. Through eight games, Salaam had rushed for 1,390 yards; 1,041 against ranked teams. That's 173.5 yards per game against ranked foes.
That crew of Buffs, by the way, was a heck of a collection of players, particularly on offense. Early in the season, it wasn't easy to figure who the team's top Heisman candidate was: Salaam, quarterback Kordell Stewart or receiver Michael Westbrook. Westbrook made "The Catch" at Michigan that season, one of the all-time great college football stunners. By the way, Salaam had 141 yards in the Big House, more than any visiting back since Ohio State's Archie Griffin in 1973.
The next weekend at Texas, Salaam rushed for 317 yards, with a school record 362 all-purpose yards.
The only time he was held to fewer than 100 yards was against Wisconsin. Of course, he did score four touchdowns against the Badgers.
Salaam hit 2,000 yards in game 11. How? With 1,988 yards entering the fourth quarter, he took a pitch against Iowa State and raced 67 yards for a touchdown.
Here's the game-by-game for Salaam's 1994 season, with his carries, yards and touchdowns.
November, 26, 2011
11/26/11
9:53
PM ET
MADISON, Wis. -- The game ended one debate and added intrigue to another.
Wisconsin's
45-7
dissection of Penn State left no doubt as to which is the best team in the Leaders division. After falling behind early, the Badgers outclassed the Nittany Lions, as they're prone to do in a building where they've now won 16 consecutive games. They earned the right to face Michigan State next week in the inaugural Big Ten championship game.
But the decisive victory only brought more uncertainty to a question Badgers players and coaches love to get asked even though few have an answer.
Who is the Big Ten's Offensive Player of the Year: quarterback
Russell Wilson
or running back
Montee Ball
?
[+] Enlarge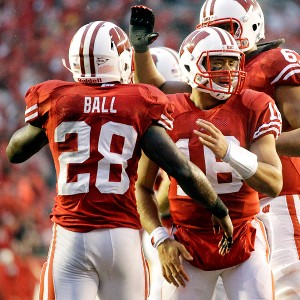 AP Photo/Morry GashWill Russell Wilson and Montee Ball end up sharing the Big Ten's top offensive player of the year honors?
"I'd split it," Wisconsin coach Bret Bielema said. "I don't know if there's ever been co-offensive MVPs off the same team. I don't know if that's ever been done, but I don't know how you can give it to one without the other."
It has happened once: Big Ten coaches voted Iowa quarterback Matt Rodgers and running back Nick Bell as co-Offensive Players of the Year in 1990. Will it happen again next week?
Wisconsin wouldn't be where it is without the contributions of Wilson and Ball, who are putting together the best combined quarterback-running back performance in a season in Big Ten history (more on that later). The senior quarterback and junior running back both sparkled again Saturday, having a hand in all six Wisconsin touchdowns against the nation's No. 8 defense. Wilson finished the game 19-of-29 passing for 186 yards and two touchdowns, while Ball recorded 156 yards and a touchdown on 25 carries.
It's rare when one NCAA record is set in a game, much less two. How about two records by two players in the same half? Wilson and Ball delivered Saturday.
Ball's second rushing score late in the second quarter gave him 12 consecutive games with multiple touchdowns, breaking Barry Sanders' NCAA record of 11 straight games. Wilson's 21-yard touchdown strike to
Jared Abbrederis
in the first quarter gave him 36 consecutive games with at least one touchdown pass, tying the NCAA record held by former Texas Tech star Graham Harrell.
Wilson's team single-season touchdown passes record stands at 28. Ball, meanwhile, has his sights set on a loftier mark, one thought to be unreachable. His four touchdowns Saturday give him 34 for the season, the second-most in NCAA history behind only Sanders' 39 scores in 1988.
"It's extremely rare," Wilson said of his and Ball's performances this season. "It's a once-in-a-lifetime type thing. You don't see it very often, but I think with Montee's ability to do a lot of different things, and then with my ability to throw the ball extremely well and to improvise when I have to, it's pretty dangerous."
You think?
Big Ten awards voting wraps up Sunday, and all-conference teams will be announced Monday night. The league's Offensive and Defensive Player of the Year awards are announced Wednesday afternoon, so the debate about Wilson vs. Ball will continue until then.
Don't expect much help from the Badgers.
"I'm very happy I don't have to make that decision," offensive lineman Travis Fredrick said.
"I couldn't say," added fellow offensive lineman Ryan Groy. "I'd be split between both of them."
Ball appeared to provide a definitive answer the first time I asked him.
"I'd pick myself," he said. "Of course, I'd pick myself."
But when asked during a
video interview
, Ball flip-flopped, saying he'd vote for "the pretty boy, Russell. Because what he brought to this team was a lot." When called out, Ball tried to backtrack, the first time all afternoon he had to.
Wilson was a bit more decisive.
"I'd definitely vote for Montee," he said.
While the debate carries on about which individual performance is superior, the combined effort from Ball and Wilson is more notable.
There's never been anything quite like it in Big Ten history. Wilson's passer rating of 192.9 this season keeps him on pace to break Colt Brennan's single-season NCAA record of 186. He should have no trouble breaking the Big Ten season record of 175.3 set by Michigan's Bob Chappuis in 1947.
Ball already has shattered the Big Ten season touchdowns mark of 26 and should finish among the league's top 10 in single-season rushing (he currently has 1,622).
While the Big Ten has witnessed better individual rushing and passing performances, the combined effort from Ball and Wilson stands alone in league annals. It's the best since Penn State's Kerry Collins and Ki-Jana Carter 1994: Collins passed for 2,679 yards and had a quarterback rating of 172.8, which ranks second in Big Ten history; Carter rushed for 1,539 yards and 23 touchdowns.
Former Wisconsin coach and current athletic director Barry Alvarez brought up Iowa's Chuck Long and Ronnie Harmon in 1985. They had impressive numbers -- Long racked up 3,297 pass yards, 27 touchdowns and a rating of 153.1; Harmon had 1,166 rush yards and nine touchdowns -- but not as impressive as the Wilson-Ball tandem.
"They're both really special," Alvarez told ESPN.com. "You only have one ball, so it's hard to have two guys with numbers like that."
It wasn't hard for Ball and Wilson to mesh. They play different positions and have different responsibilities, but they're driven in the same way.
"It goes back to how hard I worked in the offseason and how hard he worked when he got here," Ball said.
When Wilson arrived July 1, he told Ball he would compete to become one of the best quarterbacks in the country.
"He gravitated to that," Wilson said. "Every day in practice, we work together and communicate extremely well. Our desire to be great and to never be afraid to excel is something we definitely have in common."
For those arguing that Wisconsin and its stars feast on inferior competition, consider this: Ball racked up 495 rush yards and seven touchdowns and added two receiving scores against three top-10 defenses (Michigan State, Penn State and Illinois). While Wilson wasn't at his best in the Michigan State game, he still rallied his team brilliantly in the fourth quarter and stepped up against an excellent Penn State defense on Saturday, completing 15 of 21 passes for 149 yards in the first half.
"Two of the most complete players at their respective positions that I've ever seen play the game," Bielema said.
Wilson and Ball could share Big Ten Offensive Player of the Year. One or both could earn an invitation to New York for the Heisman Trophy presentation.
But the two are more focused on sharing a podium in two other places -- Indianapolis and Pasadena.
November, 10, 2011
11/10/11
10:15
AM ET
Ten things to watch around the Big Ten as a pivotal Week 11 slate of games kicks off on Saturday.
1. Penn State with no JoePa:
For the first time since 1965, Penn State will play a game without Joe Paterno as its head coach. Paterno's firing Thursday night shook a program that had been rattled to its core throughout the week. Senior Day at Beaver Stadium will take place without the most famous senior of all. How will Penn State players respond? How will the fans respond after an outpouring of emotion Wednesday night? It's a very big game for this team and these seniors, but they'll be truly challenged to keep the focus on the task at hand.
[+] Enlarge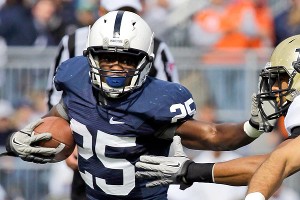 AP Photo/Gene J. PuskarSilas Redd and Penn State take the field after difficult week in State College.
2. Tom Bradley:
The longtime Penn State defensive coordinator steps into the uncomfortable position of acting head coach following Paterno's ouster. Bradley must keep the focus on the players and not on the firestorm outside the program. He'll need help from his fellow assistants, including former head coaches like Galen Hall and Ron Vanderlinden. While many think Penn State's assistants have coached the team for years, Saturday will mark the first time Paterno is totally out of the equation.
3. A date with destiny:
Michigan State and Iowa are the only two Legends Division teams that control their own fate in the Big Ten championship race. Only one squad will walk out of Kinnick Stadium on Saturday with that label still in place. Iowa has won seven consecutive home games in the series, including a 37-6 spanking of the then-undefeated Spartans last season. Michigan State hasn't been the same team away from home and must come out with better energy, particularly on offense, after struggling in a 24-3 loss at Nebraska on Oct. 30. The Hawkeyes haven't lost at home this season, but haven't played a team as complete as Michigan State.
4. Chasing the record:
Wisconsin running back
Montee Ball
, or "Moneyball," as we like to call him, needs two touchdowns to tie the Big Ten single-season record of 26 held by three players (Ohio State's Pete Johnson in 1975, Indiana's Anthony Thompson in 1988 and Penn State's Ki-Jana Carter in 1994). Ball has scored at least two touchdowns in every game this season and leads the nation with 24 scores in 2011. He'll try to make history as Wisconsin puts Paul Bunyan's Axe on the line at Minnesota.
5. Starting blocks in Champaign:
Michigan and Illinois are trying to get back in the win column, and both teams are looking for stronger starts. The Wolverines have throttled opponents after the first quarter, but have been outscored in the first 15 minutes. The Illini have failed to score in the first half in each of their past three games, all losses. Ron Zook wants his Illinois team to play loose, while offensive coordinator Paul Petrino said it comes down to the basics. Illinois needs to show up offensively against a Michigan team that typically gets better as games go along.
6. Rex vs. Silas:
Still undecided about the
Big Ten's best running back
? You're not alone. Two of the top candidates square off Saturday in State College as Nebraska's
Rex Burkhead
goes up against Penn State's
Silas Redd
. Both men have been their teams' most consistent offensive performers this season. Redd comes off of a bye week after recording a historic performance in October, rushing for more than 100 yards in five consecutive games and leading all FBS players with 703 rush yards during the month. Burkhead, who was a bit banged up in last week's loss to Northwestern, has eclipsed 100 rush yards five times in the past seven games.
7. Cousins' chance at redemption:
Michigan State QB
Kirk Cousins
grew up a big Iowa fan and has a few Hawkeye alums in his immediate family. But he has yet to record a win against Iowa as Michigan State's starting quarterback, losing a 15-13 heartbreaker in 2009 and struggling in last year's game, throwing three interceptions, including a pick-six. Cousins gets one final shot at Iowa on Saturday, and it's a huge game for the senior and his Spartans teammates. Iowa has been vulnerable against the pass at times this season, so Cousins and his receivers will look to stretch the field.
8. Axe to grind:
Speaking of final chances, Minnesota senior safety Kim Royston gets one last crack at Wisconsin, his former team, on Saturday at TCF Bank Stadium. Royston began his career as a Badger before transferring to Minnesota, where he has faced some hurdles, including a broken leg that sidelined him all of last season. The NCAA granted Royston a sixth year of eligibility, and he has made the most of it as one of few bright spots for Minnesota's defense, leading the Big Ten in solo tackles (51). The Gophers have been playing much better ball as of late, and they hope to shock Wisconsin and regain the Axe on Saturday.
Said Royston
: "I've been having those visions [of hoisting the Axe] ever since I left there."
9. Buckeyes' boiling point:
After looking flat at times last week against Indiana, Ohio State knows it can't afford a similar performance this week at Purdue. The Boilers are one of those teams, like Illinois, that seems to give Ohio State trouble. Ohio State stumbled at Purdue in 2009, putting its Big Ten title hopes in jeopardy. Another loss Saturday likely would take Ohio State out of the Leaders Division race. Buckeyes' running backs
Dan Herron
and
Jordan Hall
both are dealing with ankle injuries. Herron is expected to play and Hall could return after missing the Indiana game.
10. Bowl push continues:
Northwestern (4-5) and Purdue (4-5) both need two more wins to become bowl eligible, and the quest resumes Saturday on their home fields. After a potentially season-turning win at Nebraska, Northwestern returns home to face 3-6 Rice, which has a victory over, yep, Purdue. Wildcats coach Pat Fitzgerald said his team won't be overlooking the Owls, who can put up plenty of points. Purdue, meanwhile, returns home after consecutive blowout losses on the road against Wisconsin and Michigan. The Boilers are 2-0 in Big Ten home contests and need at least one of the next two (Ohio State, Iowa), plus the finale at Indiana to become bowl-eligible for the first time since 2007.