NCF Nation:

Kinnick Stadium
October, 22, 2012
10/22/12
11:23
AM ET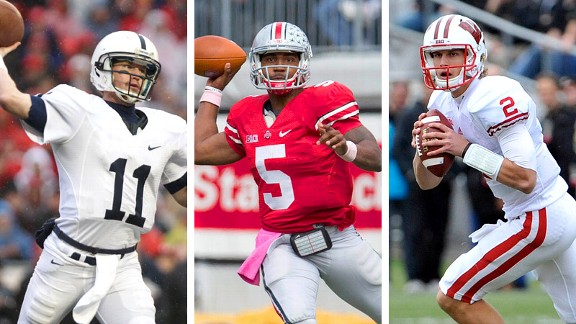 US PresswireThe recent performances by (L to R) Penn State's Matt McGloin, Ohio State's Braxton Miller and Wisconsin's Joel Stave give the Big Ten some hope for improved quarterback play.
Of the many theories to explain the Big Ten's collective struggles this season, the one about the league's dearth of elite quarterbacks certainly rings true.
Through eight weeks, the Big Ten has just one quarterback ranked among the nation's top 30 in pass efficiency (Nebraska's
Taylor Martinez
at No. 15). The league has just one quarterback in the nation's top 30 in completions per game (Penn State's
Matt McGloin
at No. 19). The league has zero quarterbacks ranked in the nation's top 30 in total passing yards.
As former
Ohio State coach Earle Bruce told me last month
, "A team can't get cut short at that position. I don't know whether the evaluation of the quarterbacks has been wrong, or they had injuries or whatever, but the quarterback position is down in the Big Ten. There's no doubt about that."
Bruce is right. There's no doubt. But there's also hope on the horizon for a league that hasn't had a quarterback selected in the first round of the NFL draft since 1995 (Penn State's Kerry Collins).
I sat in Kinnick Stadium on Saturday night and watched McGloin pick apart what had been a pretty salty Iowa defense. McGloin had complete command and tremendous awareness of his receivers and tight ends. He made correct reads and confident throws. McGloin's mobility is, well, limited, but one of his best plays came in the first quarter, when he evaded the rush and spotted tight end
Jesse James
on a deep crossing route to set up Penn State's first touchdown. As I
tweeted at the time
, McGloin is simply a different quarterback.
The same Matt McGloin who looked lost for much of the past two seasons has thrown 14 touchdown passes and just two interceptions in 259 pass attempts. The same guy whose selection as the Lions' starting quarterback this spring elicited groans from much of Nittany Nation, and understandably so, is by far the best drop-back passer in the Big Ten. Some say that's an indictment against the league, and they're right to a degree. But it's also a tribute to what new Penn State coach Bill O'Brien can do with a quarterback.
If O'Brien can do this with McGloin, a former walk-on (sorry, Matt, had to mention it) in one offseason, think of what he can do with a quarterback who comes to Penn State with bona fide next-level potential. Like Christian Hackenberg, the nation's No. 1 quarterback prospect, who has verbally committed to O'Brien and the Lions.
There are other reasons for optimism at the most important position on the field. Ohio State's
Braxton Miller
has exceeded all expectations in his first year as a spread-offense quarterback. Whether or not Miller hoists the Heisman Trophy in December -- or even gets to New York for the ceremony -- he'll enter 2013 as the likely Heisman front-runner. There's little doubt Miller's skills fit seamlessly with what Urban Meyer and Tom Herman want to do on offense.
Youth is a common theme among current Big Ten quarterbacks. New offensive systems is another.
Minnesota coach Jerry Kill pressed the fast-forward button Saturday, burned
Philip Nelson
's redshirt and decided the future is now at quarterback. While Nelson made some expected mistakes in his first career start at a very tough venue (Wisconsin's Camp Randall Stadium), he also showed why Minnesota fans are so excited about his potential. The experience this fall only will make him better in 2013.
The other quarterback on the field at Camp Randall Stadium, Wisconsin freshman
Joel Stave
, also is hardly a finished product. But he's a good play-action passer who doesn't make a ton of mistakes in a newish offense. Stave is another guy who should be better in 2013. Wisconsin also will have
Danny O'Brien
,
Jon Budmayr
and heralded recruit
Bart Houston
, provided Budmayr and Houston recover from their injuries.
Northwestern sophomore
Trevor Siemian
is another young Big Ten quarterback who looks his age. He's a half-step slow on his reads and his deliveries, and he's not connecting on the short-to-midrange routes that have defined Northwestern's offense for years. The good news is coordinator Mick McCall has a proven track record of developing younger quarterbacks into top-level Big Ten players in their junior and/or senior seasons (Dan Persa, Mike Kafka, C.J. Bacher). There's no reason to think Siemian, who has played more than the others as a sophomore, won't make a similar jump in 2013.
Look around the Big Ten, and most of the current signal-callers will be back next fall.
Nebraska's Martinez is a confounding player at times, particularly away from Lincoln, but he also has undoubtedly improved in 2012 -- he completes a league-best 67 percent of his passes with 15 touchdown strikes and four interceptions -- and will enter next year as one of the nation's most experienced quarterbacks. Another player who falls under that label is Illinois'
Nathan Scheelhaase
, who has had his struggles this season but also has been operating in a new system with barely any weapons around him. Scheelhaase and the Illini offense will be better in 2013.
Indiana might have the Big Ten's deepest group of quarterbacks in 2013, as
Tre Roberson
returns from injury to join
Cameron Coffman
and
Nate Sudfeld
in a pass-oriented scheme coordinated by Seth Littrell.
This isn't to suggest Big Ten teams don't have concerns at quarterback, both now and in years ahead.
Andrew Maxwell
's struggles at Michigan State are unsettling. Then again, he's a first-year starter with no proven receivers. Michigan loses one of the most productive players in team history in
Denard Robinson
. Then again, Robinson's departure accelerates Michigan's transition to the true pro-style offense Al Borges wants to run. If incoming recruit
Shane Morris
is as good as advertised, Michigan's future at quarterback looks promising.
No one expected Iowa's
James Vandenberg
to struggle so much in his senior season. Then again, the Hawkeyes are operating in a new offense under Greg Davis, and another full offseason could pay dividends for the new starter (most likely
Jake Rudock
).
The quarterback spot is and has been a problem in the Big Ten. There's no sugarcoating it.
But I saw reason for optimism with McGloin in Iowa City, and the combination of coaches, new systems, maturing players and incoming recruits suggests better days lie ahead.
September, 15, 2010
9/15/10
10:43
AM ET
It's easy to imagine a Hollywood version of Arizona's
Nick Foles
coming off the bench against Iowa last year. Mike Stoops, played by Russell Crowe, would toss his headset to the ground in frustration over the Wildcats' offensive ineptitude. And as he picked it up, amid the din of Kinnick Stadium, he'd catch sight of Foles, played by
Kip Pardue
, looking chill but also engaged.
[+] Enlarge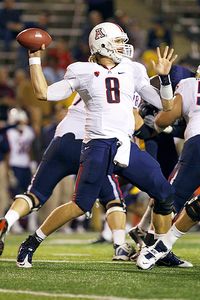 Rick Osentoski/US PresswireNick Foles' key to success: "I just try to keep it level."
"Foles!" Stoops/Crowe would bellow. "Son, the Wildcat nation is depending on you!"
Cue inspirational music.
And, of course, Foles would lead the Wildcats to a comeback win, all the while looking chill but also engaged.
Not what happened. The unsentimental reality: A coach -- Foles doesn't remember who -- told him to warm up after Iowa took a 20-10 lead at the beginning of the fourth quarter.
"And as I was warming up, they said, 'you're going in'," Foles recalled.
He led the Wildcats to a first down. And then they punted. After an 8 1/2-minute touchdown drive from Iowa made it 27-10, Foles led the Wildcats 62 yards for a TD that made the score more respectable. That was it.
Foles would arrive at the football offices early the next day, a Sunday. He watched film. After that, he went out to throw into a net on the practice field. Then he was summoned by then-offensive coordinator Sonny Dykes, who told him he would make his first start at Oregon State. Against the Beavers, Foles completed 25 of 34 passes for 254 yards with three TDs and no interceptions in a 37-22 victory.
And away he went. Nothing Hollywood about it, really. But by remaining chill and engaged and not letting the frustration of initially losing out a close quarterback competition to
Matt Scott
drive him to distraction, Foles set himself up to be ready when called.
"I was just continuing to work hard, preparing like I was a starter," Foles said. "I knew at any moment I could get an opportunity to play. My big thing was just staying focused, staying ready. I didn't get frustrated because I knew I might eventually get a chance."
Now Foles is something of an X factor in the rematch with Iowa on Saturday in Arizona Stadium. A lot of the same players will be on the field for both teams, but Foles went on to become one of the nation's best quarterbacks
after
the Iowa game.
Of course, the Iowa defense, which welcomes back eight starters, including all four members of what is probably the nation's best defensive line, is a year older and a year scarier.
"They are very disruptive," Stoops said. "They took away a lot of stuff we thought we would be able to do [last year]. We've got to come up with a better game plan. But they do that to a lot of people. They are so good inside and up front they limit what you can do."
Stoops even specified what Iowa does: While most defenses need seven (or eight) guys to stop the run, Iowa can do it with six, which is not unlike what Nebraska did in the Holiday Bowl -- sorry for bringing that up, Wildcats fans. More guys playing in space makes it harder to throw the ball.
"[Foles] is going to have to play much faster," Stoops said. "Things have to happen a lot faster this week. The windows are going to be a lot tighter to throw in. So we're going to need his accuracy and our players are going to have to make a lot of tough, competitive catches."
Accuracy? Foles is completing 83 percent of his passes.
But Foles is going to need plenty of help. He's going to need his receivers to be aggressive with the ball in the air, his line to stand up to the Hawkeyes' front and he needs running back
Nic Grigsby
to be a threat on the ground. Also, he needs his guys to remain chill but engaged, because Iowa is going to make big plays on defense. The unit, led by future NFL first-round draft pick Adrian Clayborn at end, is too talented not to.
Foles is the right guy to role model that state of mind.
"I just try to keep it level. I think that's the key to being successful," he said. "You are going to have highs and you are going to have lows but you've got to keep steady. I tell the guys all the time during a game you can have some bad plays and you have some great plays, but the key is to stay steady, to stay mentally focused. That's how I go about it every day. Just have fun. That's a key. Play the game. Just let it come to you."
Arizona defensive end Brooks Reed let the Iowa game come to him last year. It gave him a high ankle sprain early in the second half that pretty much ruined his season. Remember that long, back-breaking Iowa drive at the beginning of the fourth quarter that made it 27-10? Reed tried to come back and play during it. Bad idea.
"I think they noticed I was limping around, and they started running power to my side," Reed said. "Got a few yards, and I got taken out."
Reed and fellow end Ricky Elmore are the best DE-tandem in the Pac-10, and the Wildcats' secondary is good enough to mute Hawkeyes quarterback
Ricky Stanzi
and his solid crew of receivers. But the big question is how the two new tackles and three new linebackers will handle the power running game, which is Iowa's primary mode of travel.
"They like to run guys over -- that's their deal," Reed said. "This is our first real test as a defense. The first two games kind of got us warmed up."
Reed has seen encouraging signs in the first two games, in which Arizona gave up eight points (two came on a safety) and just 177 yards per game. It reminds him of his first year as a starter in 2008 when the Wildcats had to replace eight starters on defense and ended up ranked 24th in the nation in total defense.
But this is a major step up in competition. And opportunity. The Wildcats have become a top-25 program under Stoops. The next step means entering a rarefied atmosphere.
"That's a hard place to get, but we're fighting like mad to get there," Stoops said. "This is another opportunity. Hopefully, we take advantage of it."
February, 25, 2009
2/25/09
9:55
AM ET
Posted by ESPN.com's Adam Rittenberg
Love and hate are the themes of the day around these parts, so I figured I'd chime in about the Big Ten. There are many reasons why I love covering football in this conference, and a few things I'm not so crazy about.
Let's begin with five good things.

Big stadiums --
Size matters in the Big Ten, which boasts three of the nation's four largest stadiums at Michigan, Penn State and Ohio State. Ohio Stadium, Beaver Stadium and Camp Randall Stadium are on the short list of toughest places to play, and other Big Ten venues (Kinnick Stadium, Spartan Stadium) add their own charm. The game-day experience is truly captured where Big Ten teams call home.
The Game (and other rivalries) -- The Big Ten lays claim to quite possibly the greatest rivalry in all of sports, between Ohio State and Michigan. No series has produced more colorful figures and memorable moments. The league also features exciting annual matchups like Michigan-Michigan State, Penn State-Ohio State and Minnesota-Wisconsin. At stake are coveted items like a bronzed pig, a giant ax, a brown jug and an ancient bucket.
Regent Street and the Beaver Stadium grounds -- They are two of the nation's prime tailgating spots, and they both belong to the Big Ten. Tailgating at Wisconsin or Penn State is an experience every college football fan should enjoy. You get beer and brats in Madison, and elaborate set-ups and daylong debauchery in State College. As a college football fan, you can't go wrong at either place.
Legendary coaches -- The Big Ten has produced legendary coaches through the decades. From Fielding Yost and Bob Zuppke to Bernie Bierman and Fritz Crisler to Woody and Bo to Hayden Fry and Duffy Daugherty to Barry Alvarez and Jim Tressel, the Big Ten has been at the top of the coaching ranks. The arrival of Penn State's Joe Paterno in 1993 has only added to the league's rich coaching tradition.
Night games in Columbus, Madison and State College -- Noon kickoffs are generally the norm in the Big Ten, which sort of blows but makes the rare night game all the more special. Ohio State will host only the ninth night game in team history this fall against USC, and the atmosphere will undoubtedly be electric. Same goes for any game under the lights at Camp Randall Stadium -- there were two last year -- and at Penn State, which thankfully welcomes night football more than any other Big Ten team.
January, 30, 2009
1/30/09
12:54
PM ET
Posted by ESPN.com's Adam Rittenberg
Saturday, wait. And Sunday always comes too late. But Friday, never hesitate ...
"The geography of this year's class shows the shift in approach. There are six players from Florida, more than any other state, two from Arizona, one from Oklahoma, one from Louisiana and another from New Jersey. These were states that were only hit on occasion by the previous staff."
"So is Holmes a good guy or a bad guy? People are clearly much more complex than that. But when I see Holmes' comments about he once 'found cocaine in my dump truck when I was a kid, which was the worst thing ever,' I instantly realize this is a man who had to escape situations and exorcise demons I never faced in my own stable family background.

'Either you go to sell drugs or you play football,' Holmes said this week, describing his neighborhood. 'You're going to do sports or you're going to be on the corner.'"
September, 11, 2008
9/11/08
10:10
AM ET
Posted by ESPN.com's Adam Rittenberg
This week needs no introduction. It boasts an excellent selection of games around the Big Ten, certain to destroy my nearly spotless season record. Two matchups with the Pac-10 and another with a non-BCS power from the West Coast headline the slate, which will largely determine public opinion about the Big Ten until the bowl season.
Expect a bunch of offense on Saturday, except in South Bend.
Michigan State 44, Florida Atlantic 23 -- Rusty Smith and the Owls offense will test the Spartans, who need their line to generate pressure and their patchwork secondary to hold together. But Florida Atlantic's defense has looked awful so far and it's only a matter of time before Javon Ringer gets going again. Quarterback Brian Hoyer and wideouts Mark Dell and B.J. Cunningham should have big games as well.
Minnesota 45, Montana State 14 -- The audition to replace running back Duane Bennett begins as Minnesota gets a long look at junior Jay Thomas and freshmen DeLeon Eskridge and Shady Salamon. The Gophers lost to a FCS team (North Dakota State) last year, but quarterback Adam Weber won't let it happen again. Montana State running back Demetrius Crawford tests Minnesota's front seven.
Illinois 55, Louisiana-Lafayette 24 -- Until Illinois' defensive line starts playing to its potential and stopping the run, teams will continue to put up points. Louisiana-Lafayette quarterback Michael Desormeaux is very dangerous on the move, so linebackers Brit Miller and Martez Wilson need to track him. Juice Williams continues to put up huge numbers against an overmatched defense.
Northwestern 37, Southern Illinois 21 -- C.J. Bacher and his receivers regain their timing against a Salukis defense that gave up 31 points to Hampton in the opener. More importantly, running back Tyrell Sutton gets on track after cramps limited him against Duke. Running back Larry Warner and the SIU offense should keep things close for a while, but Northwestern pulls away in the third quarter.
Iowa 31, Iowa State 21 -- The home team has won the last four Cy-Hawk Trophies, and though the Hawkeyes haven't been tested this fall, they'll prevail at Kinnick Stadium. Iowa State's struggles to defend the run hurts against blossoming back Shonn Greene. Expect an early hiccup for quarterback Ricky Stanzi, but Iowa's acknowledged starter settles down in the second quarter.
Penn State 51, Syracuse 10 -- Syracuse has a big weekend on tap with the premiere of "The Express," a film about Heisman Trophy winner Ernie Davis. The actual game will be the lowlight. Syracuse allowed 42 points to Akron at home last week, and Penn State provides a much tougher test. Daryll Clark, Evan Royster and Stephfon Green run all around the Carrier Dome.
Oregon 44, Purdue 31 -- This will be a shootout for a while before Oregon pulls away on the field and on the scoreboard. Purdue's coaches gushed all week about the Ducks' team speed, and it will take a phenomenal game plan from defensive coordinator Brock Spack to keep Oregon in check, especially with his fastest linebacker, Jason Werner, sidelined. Joe Tiller's record-setting win will have to wait a week.
Michigan 21, Notre Dame 10 -- The Wolverines' veteran defensive line is the difference against a still shaky Fighting Irish offensive front. Jimmy Clausen won't spend as much time on the ground as he did last year in Ann Arbor, but Michigan defensive end Tim Jamison should cause some havoc. Quarterback Steven Threet makes a few mistakes before moving the ball with short passes, and a Michigan running back breaks a long touchdown run.
USC 31, Ohio State 24 -- The Buckeyes perform better than many expect, but there are just too many factors going against them. USC never loses in L.A. -- at least not to formidable opponents -- and the bye week should benefit the Trojans. Ohio State's defense generates an early turnover, but the offense won't be able to keep up for four quarters without a fully healthy Chris "Beanie" Wells. Terrelle Pryor makes a big play and a bone-headed one, and the Buckeyes' national title hopes fade -- at least for now.
Wisconsin 28, Fresno State 27 -- I had Fresno State winning this game until a conversation Tuesday night with a Wisconsin player (check back Friday to see who he was). The Bulldogs certainly provide an incredible challenge, but the Badgers avoid another slow start and start pounding away with their running backs. All-American tight end Travis Beckum makes his debut and comes up with a big catch or two in the fourth quarter as Wisconsin survives.
Bye: Indiana
Season record: 19-2
Posted by ESPN.com's Adam Rittenberg
By now you know that Ohio State tops the list, but which Big Ten team comes next? Here's a look at the league's most hated to least hated teams and some of the reasons why (or why not). Honestly, after the top two or three, it gets a bit fuzzy. But keep in mind, being on the bottom isn't necessarily a good thing.
1. Ohio State -- Several factors fuel the Buckeye hate, including lots of winning, the Sweater Vest, Maurice Clarett, some riotous fans, the "dotting the i" tradition, an inhospitable home field and the team's recent BCS flops.
2. Michigan -- The Wolverines remain college football's winningest program (869 victories), a source of pride for a fan base often branded as arrogant. The Michigan Man ideal reinforces the perception, and Michigan's constant TV exposure annoys many. Former coach Lloyd Carr was viewed as a complainer and a curmudgeon, and new coach Rich Rodriguez arrives amid some bad p.r.
3. Penn State -- People are sick of the constant attention on Joe Paterno, but there are other reasons for the Penn State hate. As a longtime independent with a national following, the school suffers from a milder case of Notre Dame syndrome. The "We Are, Penn State" chant and the roaring Nittany Lion at Beaver Stadium don't help matters.
4. Iowa -- The program's recent decline had tapered the hate, but all the off-field problems since April 2007 might have triggered it again. Some Iowa fans are seen as obnoxious, and the pink visitors' locker room at Kinnick Stadium still gets attention.
5. Wisconsin -- The team's success after the arrival of Barry Alvarez moved it up the list. Camp Randall Stadium is one of the league's most raucous environments, and some Wisconsin fans aren't overly popular around the league.
6. Illinois -- Ron Zook's arrival and the recent recruiting surge move Illinois up the list. Zook remains somewhat of a lightning rod, and Illinois is quickly forming a rivalry with Ohio State.
7. Michigan State -- Several cocky players and a memorable post-game celebration at Notre Dame in 2005 heightened the hate for Michigan State. But the program's string of traumatic losses has inspired more sympathy than bile.
8. Minnesota --The Gophers have the potential to be higher, with a loud and inhospitable home stadium and fans who have rioted before (2003 Frozen Four). But it's hard to hate a team that hasn't won a Big Ten title since 1967.
9. Purdue -- There's not much to hate other than the pioneering spread offense Joe Tiller implemented in 1997. Boilers fans are generally harmless, and Ross-Ade Stadium isn't overly intimidating.
10. Northwestern -- A snooty fan base and cut-blocking lineman can be irritating, but the team's losing history (pre-1995) and half-full home field doesn't spark much hate.
11. Indiana -- The Hoosiers soon could climb the list after their first bowl appearance since 1993, but the program usually isn't relevant enough to be hated.