March, 7, 2012
3/07/12
9:00
AM ET
We're moving on with our 2011 postseason position rankings. Today, it's time for cornerbacks. If you missed it,
here's how I ranked them in the preseason
.
Here are the other position rankings we've done so far:
Depth is somewhat of a factor here, but I weighted it heavily toward the top two starters at the position.
[+] Enlarge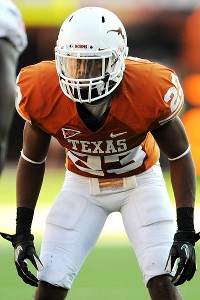 John Albright/Icon SMICarrington Byndom went up against some of the Big 12's top receivers and held his own.
1. Texas
— The Longhorns duo of
Carrington Byndom
and
Quandre Diggs
were by far the league's best at limiting the big play. Both are physical. Both return. Beware, Big 12 offenses. In just their first year as starters, they helped the Longhorns lead the league in pass defense. Diggs, a true freshman, led the team with four interceptions. Until the regular-season finale against Baylor, Texas and Alabama were the only teams that hadn't given up a touchdown pass longer than 20 yards. Obviously, that's way, way more impressive in the Big 12.
2. Kansas State
— K-State overachieved in a lot of ways this year, and perhaps nowhere more than at cornerback. Juco transfer
Nigel Malone
led the league with seven interceptions. Known entity
David Garrett
was even more solid, making 88 tackles and 6.5 tackles for loss. I ranked this unit 10th in the Big 12 before the season. They finished second. I was wrong.
3. Oklahoma
— The Sooners' corners were good, but not great, and underachieved slightly.
Jamell Fleming
and
Demontre Hurst
are supremely talented, but were susceptible to big plays this year. Granted, everybody in the Big 12 was, but the Sooners ranked fourth in pass defense. Fleming broke up 10 passes and intercepted two more. Hurst broke up 11 and had an interception.
4. Oklahoma State
— At times, Oklahoma State's
Brodrick Brown
was a legitimate shutdown corner.
Justin Gilbert
turned in a solid effort in his first year as a starter, which was much more important after a season-ending injury to
Devin Hedgepeth
in September. Gilbert picked off five passes, second-most in the Big 12.
5. Iowa State
—
Leonard Johnson
was quietly an NFL prospect that put together a huge year. He was a big reason for ISU's upset of No. 2 Oklahoma State, and helped shut down
Justin Blackmon
. He finished with 71 tackles, eight pass breakups and a pick.
Jeremy Reeves
added two picks and seven pass breakups.
6. Missouri
—
E.J. Gaines
led the Big 12 with 16 pass breakups, and the Tigers ranked fifth in the Big 12 in pass defense. Fellow first-year starter
Kip Edwards
added a pick and three pass breakups.
7. Texas A&M
— The team's top corner,
Coryell Judie
, was hampered by a hamstring injury all season, but production is production. It wasn't there for Judie, one of the league's top corners in 2010.
Terrence Frederick
had a good year with 13 pass breakups and a pick, but the Aggies were susceptible through the air all year.
Lionel Smith
and
Dustin Harris
filled in well in Judie's absence, but not well enough. A&M finished eighth in pass defense and helped five QBs set career highs for passing yardage in 2011.
8. Baylor
—
K.J. Morton
played well down the stretch for Baylor, but the Bears defense left a lot to be desired almost everywhere. They finished last in the Big 12 in pass defense, giving up over 290 yards a game. Morton picked off four passes and broke up six more. All four of his picks came in the final three games of 2011.
Chance Casey
broke up six passes and made 48 stops.
9. Texas Tech
— How's this for irony? The Red Raiders actually finished second in the Big 12 in pass defense. It doesn't matter much.
Tre' Porter
had the only interception for a cornerback all season, and broke up two passes. Injuries were a problem all season.
Cornelius Douglas
,
Derrick Mays
,
Jarvis Phillips
and
Sawyer Vest
filled the unit, but Tech faced 61 fewer pass attempts than Kansas and 111 fewer than the next team in the Big 12. That's what happens when you can't stop the run. Doesn't mean the corners played well.
10. Kansas
—
Greg Brown
picked off two passes and broke up three more.
Isiah Barfield
made 35 tackles and broke up five passes. The Jayhawks ranked ninth in the Big 12 in pass defense. They didn't get much of a pass rush to help the corners, but the corners were very poor in 2011.
September, 10, 2011
9/10/11
12:00
AM ET
Let's take a look inside that first half out in Tempe, Ariz., where Missouri trails Arizona State, 16-10.
Turning point:
Arizona State quarterback
Brock Osweiler
, who, if you haven't heard, is 6-foot-8, connected with
Aaron Pflugrad
on a gorgeous 60-yard rainbow down the right side of the field to give Arizona State its halftime lead. The momentum had shifted toward the Tigers, who scored on the previous drive, but Osweiler's deep ball gave ASU points on its first play of the ensuing possession and control of the game once again.
Turning point II:
Missouri lost
De'Vion Moore
early on with an ankle injury and he won't return. Missouri had four reliable backs to begin the season, but for tonight and perhaps a bit into the future, it's down to just one.
Henry Josey
is the only healthy back left from a group that included Moore,
Marcus Murphy
(shoulder surgery) and
Kendial Lawrence
(broken fibula) and rushed for 1,557 yards and 19 touchdowns last season. Missouri already entered tonight's game missing six starters due to injury just a week into the season. Moore was a new starter, so it's still six, but still.
Stat of the half:
Osweiler and Missouri's
James Franklin
have combined to complete 23-of-29 passes. It's been a pretty clean-looking game so far with both quarterbacks dealing.
Best player in the half:
Osweiler. He's been outstanding, connecting on throws at every level of the defense and really making the Tigers' defense work. In the first half, he was 11-of-14 for 229 yards and two touchdowns. He also swung the game on a huge throw to Pflugrad that earned our turning point of the half.
Second guessing:
On Missouri's opening drive, Gary Pinkel elected to kick a 24-yard field goal on fourth-and-short in the red zone, rather than try and tie the game at 7 after Arizona State scored on its first drive. The Tigers have the perfect quarterback to make those kinds of plays, and OC David Yost has lauded Franklin's ability to push a pile. However, coach Gary Pinkel didn't give him the opportunity. Somewhat reminiscent of a similar decision early on against Oklahoma State in 2008, a game in which top 10 Missouri was upset on its home field.
What Missouri needs to do:
Get in the backfield. Missouri's defensive line is strong, but it has been quiet in the first half. The Tigers have been unable to pressure Osweiler with any consistency, but the Tigers' cornerbacks need help. E.J. Gaines and Kip Edwards have both been burnt already, and two of Missouri's defensive backs somehow whiffed on the first touchdown pass. How did it happen, though? Osweiler had lots of time and receivers were able to find open space in the secondary.
September, 3, 2011
9/03/11
1:42
PM ET
Missouri lost two senior cornerbacks from last year's team, Kevin Rutland and Carl Gettis. Additionally, the team's third corner in 2010, Kip Edwards, isn't playing today.
Replacing them won't be easy, but the coaching staff has lauded its young defensive backs all offseason.
That confidence paid off late in the first half when sophomore E.J. Gaines intercepted a pass in the end zone to keep Miami (Ohio) off the scoreboard and
the Tigers ahead, 10-0
.
Gaines came from underneath on the play and intercepted the ball in zone coverage.
The road will get tougher for this secondary once it starts facing Big 12 quarterbacks, but for now, Gaines is helping Missouri's defense carry over a strong season from 2010.
July, 14, 2011
7/14/11
9:00
AM ET
We'll move on to the cornerbacks today in our position rankings across the Big 12.
Here's what we've covered so far:
This group? Well, it's not very good. And considering the crazy depth in the Big 12 at receiver, it could be a long season for cornerbacks in this league. I love the upside of many of the Big 12 corners -- namely the guys at Missouri and Texas Tech (especially working with Chad Glasgow's 4-2-5 in Lubbock). Texas could also develop fast in its new defense, but outside of Texas A&M and Oklahoma, I don't see any Big 12 teams that should be completely comfortable with their cornerbacks.
Of course, for fans who love points, this could be a welcome development. For secondary coaches and defensive coordinators? Not so much.
[+] Enlarge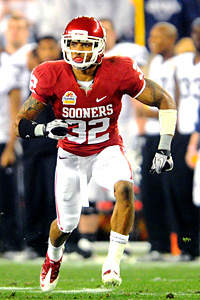 Mark J. Rebilas/US PresswireJamell Fleming returns as the Big 12's top cornerback.
1. Oklahoma
-- Jamell Fleming is the Big 12's top returner at the position and gives the Sooners a huge boost after being reinstated last week. Fleming had withdrawn from the university because of academic problems following the season. Aaron Colvin moved to safety during the offseason, but Fleming will still have to beat out Gabe Lynn in fall camp to start opposite Demontre Hurst. Julian Wilson also adds depth.
2. Texas A&M
-- Fleming's return pushed the Sooners over A&M as having the Big 12's best group of corners. But Coryell Judie and Terrence Frederick could both challenge for first team All-Big 12 honors at the position. They are ahead of reserves Dustin Harris and Lionel Smith, who will get plenty of time on the field.
3. Missouri
-- Missouri loses starters Carl Gettis and Kevin Rutland, but the coaches consider Kip Edwards a returning starter because of how much he played last season. Edwards could join E.J. Gaines in eventually becoming better than both Gettis and Rutland. Trey Hobson and Robert Steeples will get time in the rotation, too.
4. Oklahoma State --
OSU has to replace the Big 12's interception leader Andrew McGee , but Brodrick Brown's development should continue. He's likely a dark horse to earn first-team All-Big 12 honors after the season. The Cowboys didn't release a post-spring depth chart, but don't be surprised if return specialist Justin Gilbert edges out Devin Hedgepeth for the starting spot before the opener. Andrae May has earned playing time on special teams in both of his first two seasons on campus, but could be counted on for a much bigger role this year as the fourth corner.
5. Texas --
The Longhorns are fairly decimated at corner after losing three to the NFL in one offseason. Curtis and Chykie Brown joined Aaron Williams for one of the most talented sets of corners we've seen in this league, but now, secondary coach Duane Akina will have to replace them. Texas' depth chart is still as in flux as any in college football, but I'd be surprised if Carrington Byndom didn't emerge with a starting spot. True freshman Quandre Diggs might swipe the other, but Eryon Barnett and A.J. White will be on the field, too.
6. Texas Tech --
The Red Raiders are likely to ascend this list by season's end, but for now, find themselves at No. 6. Injuries were costly for the defense last season, but Tre Porter and Derrick Mays should be much better, and Tech fans can be encouraged by the upside in Jarvis Phillips, Jeremy Reynolds and Eugene Neboh.
7. Iowa State --
This group might be a bit underrated, but with Iowa State's defensive problems last season, it's a bit hard to tell. Jeremy Reeves and Leonard Johnson return with loads of experience, and Anthony Young is a great additional piece as the third corner. Matthew Thomas should be in the rotation, too.
8. Baylor --
The Bears return both starters. Chance Casey has 15 career starts to Tyler Stephenson's four, but the Bears secondary struggled last season, especially the corners. Tuswani Copeland should be on the field, and Romie Blaylock offers some experience as a senior under new coordinator Phil Bennett, whose work is cut out for him at this spot.
9. Kansas --
Kansas loses Chris Harris from last season's team, but Isiah Barfield is a playmaker at the position. Greg Brown, Tyler Patmon and Anthony Davis fill out the group.
10. Kansas State
-- The Wildcats have a huge talent in David Garrett, who led the team in tackles last season and was the nation's leader in tackles for loss, but he's still just one player at a position that needs lots of depth in this league. Also, his coverage leaves a bit to be desired. For now, K-State doesn't look like it has that necessary depth. Terrance Sweeney and Stephen Harrison are gone, but the Wildcats need to find more talents at the position in fall camp. Watch for Thomas Ferguson to emerge as the other starter.
May, 25, 2011
5/25/11
9:00
AM ET
A little more than three months before we kick off the 2011 season, one thing is clear: Oklahoma, Oklahoma State and Texas A&M are the Big 12 favorites.
Of course, last season, Texas and Oklahoma were the favorites and Oklahoma State came out of nowhere to contend.
So, who could be this season's Cowboys? Here are three teams with the most upside that could contend for a Big 12 title.

Missouri
Last season: 10-3
Big 12 Power Rankings: 4th
Why the Tigers aren't a contender
: Simply put, Blaine Gabbert is gone. If the Tigers still had their first-round pick, they'd likely be a borderline top-10 team entering the season.
Why they can contend
: Missouri's defense should be great once again after taking big strides in 2010 under coordinator Dave Steckel. The Tigers have lots of confidence in corners Kip Edwards and E.J. Gaines, and even list Edwards as a returning starter since he was in the rotation alongside Carl Gettis and Kevin Rutland last season. They'll get a lot of help up front from an offensive line that should be the Big 12's best, and perhaps one of the best in college football.
Offensively,
James Franklin
replaces Gabbert, but has lots of talent around him, including four returning running backs with experience and every single receiver on the team returns, including four with at least 39 catches a season ago. That's rare, and the experience gained will pay off next fall.

Texas
Last season: 5-7
Big 12 Power Rankings: 7th
Why the Longhorns aren't a contender
: The offense crashed and burned in 2010 and the reigning Big 12 champs and national runner-up endured its worst season since 1997.
Why they can contend
: Mock recruiting rankings all you'd like, but it's still hard to shake the feeling that Texas is a sleeping giant in 2011. The offensive talent didn't look like it was there last season, but can new coordinator Bryan Harsin change that? The Big 12 won't have a truly elite defense this season, so it's possible.
Texas also should have one of the Big 12's best defenses, as long as it can overcome some inexperience in the secondary. The front seven has loads of experience and potential, and if the turnovers, which coach Mack Brown has harped on all offseason, swing in the Longhorns favor, Texas could become a factor once again. That 5-7 record last season wasn't far from 9-3. Texas lost four games by eight points or fewer.

Kansas State
Last season: 7-6
Big 12 Power Rankings: 8th
Why the Wildcats aren't a contender
: The Wildcats rode Daniel Thomas for two seasons, and lose him, as well as starting quarterback
Carson Coffman
. Combine that with a defense that struggled for most of last season, and it's not an attractive résumé.
Why they can contend
: It all comes down to how good the new faces will be.
Bryce Brown
and Arthur Brown have gotten plenty of press this spring, but Arthur and quarterback
Collin Klein
will likely have the most to do with the Wildcats exceeding expectations. Klein will have receiver
Brodrick Smith
back, a transfer who started the season hot before breaking his leg against Nebraska.
The Wildcats are by far the darkest of these horses, but it could be one of Bill Snyder's best coaching jobs if this team contends or finishes in the top 25.
TOP 25 SCOREBOARD
Thursday, 12/5
Friday, 12/6
Saturday, 12/7
TOP PERFORMERS