August, 22, 2013
8/22/13
10:30
AM ET
Pigskin, potatoes and blue-turf football fields are three things Idaho does very, very well. And again this season, it could be more of the same.
BOISE STATE BRONCOS
Coach Chris Petersen
(84-8 overall, 84-8 at Boise State)
2012 record:
(11-2 overall, 7-1 in Mountain West)
[+] Enlarge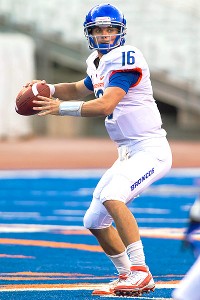 Otto Kitsinger III/Getty ImagesBoise State hopes QB Joe Southwick can be more consistent in the passing game this season.
Key losses:
RB DJ Harper, LB J.C. Percy
Key returnees:
QB
Joe Southwick
, LT
Charles Leno
Jr., C
Matt Paradis
, WR
Matt Miller
, WR
Kirby Moore
, DE
Demarcus Lawrence
, LB
Blake Renaud
, S
Jeremy Ioane
Newcomer to watch:
With a defense that's attempting to replace almost two-thirds of its starters, someone like freshman linebacker
Joe Martarano
could be one to watch. The 6-foot-2, 234-pound linebacker chose football over an MLB career and with the Broncos needing some help in their front seven, he could contribute immediately.
Biggest games in 2013:
at Washington (Aug. 31), vs. Air Force (Sept. 13), at Fresno State (Sept. 20) and at BYU (Oct. 25)
Biggest question mark heading into 2013:
Can the Broncos get it done on the road? Their three toughest games of the season will come on opponents' turf so they need to finish the job there. And it's not as though they'll have much of a warm up considering their season opener is a trip to Washington -- a team that they snuck past last December, in a 28-26 win in the MAACO Bowl Las Vegas. Boise State beat both Fresno State and BYU last season, but both were home games. If the Broncos can win on the road, they could be hosting the Mountain West championship game at home in early December.
Forecast:
Boise State has a good shot to win the Mountain West, and if it does, the Broncos could find themselves in a BCS bowl game this season. The defense only returns four starters from its 11-2 season a year ago, but if the Broncos can make stops and keep the offense on the field, they have a chance to have a really successful season.
It wouldn't be unprecedented for a Petersen-led group to overachieve, and since their schedule isn't the kindest on the road, they'll have the chance to do that. They'll need consistency from their players, especially early in the season. Boise State will face Washington, Air Force (whose offense is so hard to prepare for) and Fresno State in its first four games. That stretch alone could define the season in a very bad or very good way. But if they can kick it in to high gear early, they could go undefeated, and an argument for a national title game bid could be made. However, the Broncos could just as easily have a few missteps here, and the tight games they closed out last season could go the other way, leaving them with two or three losses heading into bowl season.
Southwick finished last season with 2,730 yards and 19 touchdowns. He had his moments when he didn't look like a polished passer. Five times last season he completed less than 67 percent of his passes. However, with Harper, the Broncos were able to turn three of those games into wins. This season, with a new running back, Southwick will need to be more consistent in the passing game. If he can excel and sophomore running back
Jay Ajayi
can be productive from Day 1 (and especially on the road), this team could be one we're talking about in December.
August, 24, 2011
8/24/11
9:30
AM ET
As I look into my crystal ball, here are three predictions for the Mountain West:

1. Boise State will win the Mountain West.
I am going with the Broncos to win the league based on
Kellen Moore
and all their returning talent. I know there are some questions at receiver, but I have faith that Moore is an excellent teacher and has helped in their development this summer and during fall camp.
Tyler Shoemaker
,
Chris Potter
,
Kirby Moore
and
Geraldo Boldewijn
all have played, but now they have added responsibility. Do not be surprised to see Boise State spread the ball around more. Last season, Titus Young and Austin Pettis each had 71 catches. Shoemaker was next on the list with 32. That type of discrepancy should not happen again in 2011.

2. TCU will not lead the nation in total defense.
This is a tough prediction to make, considering the Horned Frogs have led the nation in this category for three straight seasons. Coach Gary Patterson has talked about the potential for this to be his best unit yet. He has a strong defensive front and linebacker group, led by All-American Tank Carder. But there are questions in the back end of the defense, especially with Tejay Johnson gone. But a bigger factor is the offense. I think this unit could take a step back without Andy Dalton, and that will have a direct impact on defensive statistics. Without an offense that averages north of 40 points, the defense might find tougher sledding.

3. Colorado State will make a bowl game.
The Rams have a bevy of starters returning, including quarterback
Pete Thomas
, who took his share of lumps as a true freshman last season but showed signs of potential. Linebacker Mychal Sisson also returns to anchor the defense after leading the nation last season with seven forced fumbles. The schedule sets up perfectly for Colorado State, too. The toughest nonconference game is Colorado, so at worst the Rams should be 3-1 in those games, meaning they need three wins in eight conference games to become bowl-eligible.
August, 9, 2011
8/09/11
11:00
AM ET
You would be hard pressed to find a more consistent passer than
Kellen Moore
over the past three seasons.
His numbers are downright eye popping when you stop and look. Moore has thrown for more than 3,000 yards in each of his three seasons as a starter for Boise State. He threw 10 interceptions as a freshman, and a combined nine since. He ranks second on the NCAA active career list in completion percentage (68.17), and he is coming off a season in which he made it to New York as a finalist for the Heisman.
But there are many changes headed into his senior season. Moore lost his two star receivers, Titus Young and Austin Pettis. He has a new offensive coordinator in Brent Pease. And he goes into the season as a married man, having wed his high school sweetheart earlier this summer.
Plenty of upheaval to be sure. Yet coach Chris Petersen is highly confident in Moore, a student of the game who has the leadership ability, calm demeanor and perfect attitude to lead the Broncos on another run to a BCS game.
"He's played at such a good level from his freshman year," Petersen said. "We've seen growth and changes, they're just so subtle. He's just been consistent. … We need him to do what he's been doing. If everyone around him plays good, his numbers will be good."
True, but much responsibility falls onto the shoulders of Moore as the quarterback. The last year has been a whirlwind for him. He has been in constant motion since last December, when he became the first Boise State player to become a Heisman finalist.
Moore had some down time in June, and that was about it. In between then, he got timing down with his receivers during offseason workouts; attended the Manning Passing Academy; and served as a counselor at an Elite 11 camp for the best prep quarterbacks in the country.
Somehow he squeezed in his wedding in Park City, Utah -- just a few months after he got down on one knee and proposed on his front porch in his hometown of Prosser, Wash., where he and his wife shared their first kiss 6 ½ years ago.
[+] Enlarge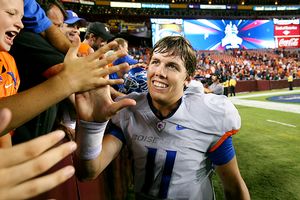 AP Photo/Joe Jaszewski/Idaho StatesmanBoise State's Kellen Moore needs eight wins to become the all-time winningest quarterback in FBS history.
But now it's back to the business of football. Moore shrugged away all queries about his untested group of receivers during Mountain West media day, saying he had talented players around him who just need their shot.
"We're going to look at six, seven guys, rotating them in and getting them involved, as opposed to two or four guys involved in the game plan," Moore said. "We'll try to get a couple running backs going. (Tight ends)
Kyle Efaw
,
Gabe Linehan
… at the wide receiver position,
Tyler Shoemaker
's played enough -- he's ready to rock and roll. Geraldo Boldewijn, he'll step up. Guys like Kirby (Moore) and
Chris Potter
,
Mitch Burroughs
, guys who've had experience, we can lean on them."
Shoemaker is the leading returning receiver to the team, having caught 32 passes last season for 582 yards and five touchdowns. Running back
Doug Martin
could play more of a role as well, after catching 28 passes for 338 yards and two touchdowns last season as well.
There should also be familiarity with Pease, who was on the Boise State staff as receivers coach before replacing Bryan Harsin -- who left for Texas -- as coordinator. The offensive philosophy will stay the same, and Moore is confident the changes will mean minimal disruption.
That would help in getting Moore another shot at the Heisman. In the past 10 years, five Heisman finalists have returned to New York as finalists the following season. That includes two winners, Tim Tebow and Jason White.
But more than that, Moore is on pace to become the winningest quarterback in FBS history. Moore has 38 career victories and needs eight to break the mark of 45, set by Colt McCoy of Texas in 2009.
"The victories record is a special one just because that comes with more than just me," Moore said. "I'm smart enough to recognize if I can do that, then George Iloka would probably be the winningest safety. Thomas Byrd would love to be the winningest center. There's been a lot of guys involved in that run. I think that would be pretty neat."
Neater still if he did it given all the changes ahead.
August, 4, 2011
8/04/11
1:14
PM ET
By now, we have come to expect to see Boise State and TCU in the Top 25 every season. So when the preseason
USA Today coaches Top 25
was released Thursday, the top non-AQ teams were right there in the top 15.
The Broncos will start the season ranked No. 7, while TCU is ranked No. 15. Boise State returns Heisman Trophy finalist
Kellen Moore
, along with
Doug Martin
, Nate Potter, Billy Winn, Shea McClellin and George Iloka, and expectations are high once again to return to a BCS game.
TCU, meanwhile, loses Andy Dalton off its Rose Bowl-winning team, which is why the Horned Frogs are outside the top 10.
Both teams open up their fall camps Thursday, so let us take a look at a few of the burning questions that they face.
Boise State

1. Developing depth.
No question the Broncos have some big-time senior players in Moore, Martin, McClellin and Iloka. In fact, 15 projected starters are seniors. That means Boise State has to develop its young players, something coach Chris Petersen emphasized at Mountain West media day in July. "We have some players that have played a lot of football that are very good players, and then we've got a big gap to some young guys that haven't played and need the experience and need the knowledge," Petersen said. "On our team right now, I think it's fairly wide. Our job as coaches is to narrow that gap."
2. Developing receivers.
Petersen and Moore both emphasized they are not worried about their receiving group. Rather than relying heavily on two players the way they did the past few seasons with Titus Young and Austin Pettis, you will see more players involved. That means
Tyler Shoemaker
,
Chris Potter
,
Kirby Moore
,
Mitch Burroughs
,
Aaron Burks
and
Geraldo Boldewijn
(formerly Hiwat) will have expanded roles. True freshman
Troy Ware
had a nice spring and could contribute as well.
3. The kicker is ...
Kyle Brotzman is gone, leaving a bit of inexperience at the kicker position. The Broncos have scholarship true freshman Jake Van Ginkel, who will practice for the first time this fall, along with walk-ons Dan Goodale and Michael Frisina.
TCU

1. Casey Pachall era begins.
Much has been written about how Pachall will do in replacing Dalton. Pachall has heard all of it. "I am ready,"
Pachall said
at a news conference earlier this week. "I am ready to be the guy that everybody looks to when things are good or bad. [The comparison to Dalton] doesn't bother me. It just gives me incentive and a little bit more motivation to be more of a leader and get more in that role."
2. Developing receivers.
Leading receiver
Josh Boyce
returns, but Jeremy Kerley,
Jimmy Young
and
Bart Johnson
are gone. There is talent in Fort Worth, but much of it is unproven. It is tie for players like
Antoine Hicks
and
Skye Dawson
to step up and help Pachall get the job done. Boyce is confident in his teammates. "We've worked really hard this summer with Casey, to get our chemistry going," Boyce said. "We will be just fine."
3. Can TCU be No. 1 in total defense again?
The stat is incredibly impressive -- TCU has led the nation in total defense for three straight seasons. Can TCU make it four in a row? Gary Patterson believes this unit can be even better than last season, even without defensive leader Tejay Johnson. Linebacker tandem Tanner Brock and Tank Carder return, and they should be the heart of the defense. Even with the potential, Patterson has no idea what type of identity this unit will take on. Each season, that changes. He will have a better idea once the season begins.
July, 25, 2011
7/25/11
9:30
AM ET
I am traveling to Las Vegas Monday for Mountain West media days. You already saw
my top questions for the league
headed into the annual interview extravaganza. Now you get my predicted order of finish for 2011:
1. Boise State
2. TCU
3. Air Force
4. San Diego State
5. Colorado State
6. Wyoming
7. UNLV
8. New Mexico
I have the Broncos as the champion based on a few factors. First, they have a huge advantage with
Kellen Moore
returning at quarterback. Moore was a Heisman finalist last year, and has a huge challenge on his hands without his top receivers in Austin Pettis and Titus Young. But Moore will make guys like
Tyler Shoemaker
,
Kirby Moore
and
Geraldo Hiwat
into solid standouts. Moore and
Doug Martin
form the best quarterback-running back duo in the league. On defense, the line should be one of the best in the league with veterans Billy Winn, Shea McClellin and Chase Baker returning. Factor in Boise State getting Air Force and TCU at home, and that completes my prediction.
The Horned Frogs, of course, would love nothing more than to leave the league as champion. But I am not sure the team will be able to match the heights it reached the last two seasons without an experienced quarterback.
Casey Pachall
may end up being one of the greats at TCU, but we have no idea right now. Replacing Dalton is going to be incredibly hard, and the TCU schedule is tough this year with trips to Air Force, San Diego State and Boise State.
I placed Air Force ahead of San Diego State for a few reasons: the Falcons have consistency in a coaching staff returning, and
Tim Jefferson
proved last season he has the capability of dominating the league. This is no shot at
Ryan Lindley
, who also came into his own last season. But the Aztecs are going to have a huge challenge on their hands at receiver.
Vincent Brown and DeMarco Sampson are gone, and now comes word that
Dominique Sandifer
and redshirt freshman
Jay Waddell
are going to miss the season with injuries. Teams no doubt will load the box to stop
Ronnie Hillman
and force Lindley to beat them with a group of inexperienced receivers. The good news for San Diego State is their talent at the tight end position is the best in the league.
The departures of Utah and BYU leave an opening for another team to break through into a bowl game. My pick is Colorado State, which has one of the most experienced teams returning in the league and has a schedule that should make the Rams bowl-eligible.
Pete Thomas
is a rising star at quarterback.
The bottom three all have issues to work out. Quarterback is a big question for all three.
My preseason choices for players of the year should not come as a huge shock: Moore for offensive POY; TCU linebacker Tank Carder for defensive POY; Air Force return specialist
Jonathan Warzeka
for special-teams POY.
May, 10, 2011
5/10/11
4:00
PM ET

1. Boise State
: The Broncos have
Kellen Moore
back, and that makes them a preseason top 10 team going into the season.
Geraldo Hiwat
,
Tyler Shoemaker
and
Kirby Moore
had good springs, helping ease some questions about the receiver situation.

2. TCU
: The Horned Frogs are at the point where they don't rebuild. They reload. They move ahead of BYU based on their defense. I am still uncertain about how
Casey Pachall
will do at QB. Andy Dalton lost five games in his first year as a starter, though the TCU defense in 2007 was not as good as what is expected in 2011.

3. BYU
: The Cougars might be overhyped, but I really do think they are back to being a top 25 team this year. They return 19 starters from a team that found itself at the end of last season. The independent schedule may appear tough, but every game is winnable.

4. Tulsa
: The Golden Hurricane return 16 starters off one of the best offenses in the country. Though there is a new coach and new offensive coordinator in place, there is opportunity to pick up where they left off last season because of the continuity in hiring Bill Blankenship as the head man.

5. Houston
: With
Case Keenum
back, the Cougars jump back into the rankings. This team was lost without him last year. Now that he has returned, expect the offense to be high-powered again. If the defense improves, Houston could make some noise.

6. San Diego State
: The Aztecs lost coach Brady Hoke and their top receivers in Vincent Brown and DeMarco Sampson. But
Ronnie Hillman
,
Ryan Lindley
and Miles Burris return in the highly competitive Mountain West.

7. Air Force
: The Falcons could be a dark horse contender in the Mountain West with
Tim Jefferson
returning at quarterback.

8. UCF
: Just because the Knights ended the season ranked in the top 25 doesn't mean they will start the season there. UCF has question marks, though the return of quarterback Jeff Godfrey makes the Knights the favorite to repeat as C-USA East champs.

9. Hawaii
: The WAC is open, and though Hawaii loses a lot of starters, including Greg Salas and Kealoha Pilares, it is the only team of the top three that returns a starting quarterback.

10. Northern Illinois
: The Huskies replace Miami (Ohio) in my rankings thanks to the return of
Chandler Harnish
and the performance of the running backs in the spring game. Miami's continued quarterback derby gives me pause.
May, 10, 2011
5/10/11
12:00
PM ET
2010 overall record:
12-1
2010 conference record:
7-1 WAC (co-champs)

Returning starters
Offense: 7, defense 7 , punter/kicker 0
Top returners
QB
Kellen Moore
, RB
Doug Martin
, OT Nate Potter, S George Iloka
Key losses
WR Austin Pettis, WR Titus Young, S Winston Venable, S Jeron Johnson
2010 statistical leaders
(* denotes returners)
Rushing:
Martin* (1,260 yards, 12 TDs)
Passing:
Moore* (273-of-383 for 3,845 yards, 35 TDs, 6 INTs)
Receiving:
Young (1,215 yards, 9 TDs)
Tackles:
Johnson (82)
Sacks:
Shea McClellin* (9.5)
Interceptions:
Brandyn Thompson (3)
Spring Answers
1. Geraldo Hiwat emerges.
The biggest question going into the spring was who would fill the big gap created with the departure of Austin Pettis and Titus Young. After the spring, the name on everyone's mind is Hiwat, who turned heads. He needs to continue to develop and has the potential to follow in line.
2. Tyrone Crawford is a handful.
Crawford played well behind Ryan Winterswyk last season, recording seven sacks. Now he takes over at defensive end full time, and he had a great spring, leading coaches to believe that position is in good hands.
3. Smooth transition to Pease.
When offensive coordinator Bryan Harsin went to Texas, Boise State went and hired back receivers coach Brent Pease, who had left for a coordinator job at Indiana. Because Pease is so familiar with the Boise State offense, the transition in coordinators was smooth during camp. There will be a few new wrinkles, but nothing overly dramatic.
Fall Questions
1. Receivers.
Hiwat may have stepped up this spring, but playing in games as a featured receiver is another matter entirely.
Tyler Shoemaker
,
Kirby Moore
and Hiwat do have experience, but what is it going to be like when they are going to be relied upon full time?
2. Safeties.
Boise State loses so much without Johnson and Winston Venable, and coach Chris Petersen knows it. The starters here are not solidified yet, partly because of injuries during the spring that took out some top competitors. Hunter White and Dextrell Simmons are the top competitors for Venable's spot while Jeremy Ioane, Cedric Febis and Travis Stanaway are competing for Johnson's spot.
3. Mountain West.
How will the Broncos fare in their first season in the Mountain West? Many are picking them to win the league, but remember Boise State is going to be facing a slew of teams it has never seen before. That unfamiliarity could be a problem in some of the tougher matchups against Air Force and San Diego State.
April, 19, 2011
4/19/11
4:30
PM ET
I had a chance to check in with Boise State coach Chris Petersen today, and here is a little of what he had to say about the team now that spring practice is over.
Unanswered questions.
There are plenty at receiver, where
Titus Young
and
Austin Pettis
are gone, and in the secondary, where Winston Venable and Jeron Johnson are also gone. But when I asked for the biggest unanswered question post-spring, Petersen said, "You have questions across the board always. Even if you've got a
Kellen Moore
coming back, the question is, 'Can he perform like he has the last three years?' People take things for granted and then, 'OK, if something happens to Kellen, who's going to be the guy that steps in and carries the flag?' We can't miss a beat if something like that happens. You have to think about that. Every coach does. We have a tremendous amount of questions so that's why it's always a work in progress. We made some strides in spring, but now the summer program and summer conditioning are really important."
[+] Enlarge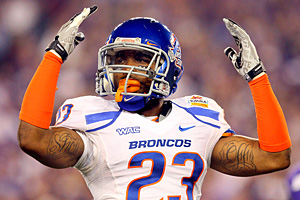 Christian Petersen/Getty ImagesReplacing Jeron Johnson will be a tall order for the Boise State defense.
Replacing Johnson.
Much of the focus this spring has been on replacing the receivers, but perhaps an even bigger hole to fill is the one Johnson leaves behind. He led the team in tackles for three straight seasons, and was literally the last line of defense in the Broncos' secondary. Jeremy Ioane, Cedric Febis and Travis Stanaway are all competing for the job. Febis missed the spring with an injury, and Stanaway got hurt and missed the last week. Petersen also mentioned cornerback Quaylon Ewing, who got some work at safety.
"I've said this forever: Jeron Johnson is one of our most unsung heroes over the past two to three years," Petersen said. "He has made so many plays for us. I'm talking line of scrimmage, 3 and 4 yards downfield, where if he doesn't make the play it's going to be a huge explosive play. A sure tackler, really smart player and we've known that for a long time. Those are tremendous shoes to fill."
Replacing Venable.
Just as valuable to the Boise State defense was Venable, who won the team's defensive most valuable player award. Hunter White and junior college transfer Dextrell Simmons are leading the chase to get the starting job. Jon Brown is in the mix, though he sat out the spring with an injury.
Moore's improvement.
Where does Moore get better? He has put together three outstanding seasons, throwing 99 touchdown passes to just 19 interceptions, and was a Heisman Trophy finalist in 2010. What will he be focusing on in the offseason? Certainly he has to develop his relationship with his receivers --
Tyler Shoemaker
,
Chris Potter
,
Geraldo Hiwat
,
Kirby Moore
and
Troy Ware
among them. But as for working on individual improvements, footwork is going to be vital.
"We just want Kellen to play like he's been playing," Petersen said. "There's always little details, always little decisions to make differently, setting his feet, stepping into some throws to make him a cleaner thrower -- that is one area we're paying attention to. Kellen's played as well as anybody in the country the last several years. If he can do that, we'll be in good position."
Finishing.
Doug Martin
and Jamar Taylor said last week the team was re-focused on finishing games, a hard lesson it learned after blowing a halftime lead in a loss to Nevada that ended its undefeated season. I asked Petersen if that was a point of emphasis from the coaches.
"It's not different than it's been in the past," he said. "The team we had last year was a really good team. To me, it's the best team we've had since I've been here. That doesn't mean your best team is going to win every game. We're going to get most people's best shot every game. If it's not all clicking just right -- that's why we play the game. That's why coaches are so paranoid about things. You understand the best teams don't always win. That game at Nevada was a great game. Nevada is one heck of a team. We've been saying forever those guys were underrated. We had chances to win, but that's why you play the game."
I had to follow up and ask whether that loss was harder than all the others because he felt that was the best team he has had at Boise State. "That's just part of coaching," he said. "Every game that we've lost here has been tremendously painful. That's just how it is. These kids know how to win and they win a lot, and when we don't, it hurts and it hurts bad."
April, 18, 2011
4/18/11
9:00
AM ET
For
Kellen Moore
, the challenge this summer is obvious. The veteran quarterback has got to develop a good chemistry with a new group of receivers to help answer the biggest question on the Boise State football team headed into the fall.
The spring delivered a few answers. But as Moore said in a phone interview after the spring game Saturday, "The spring is such a small portion of the big picture. We'll get better. Those guys are doing really well so far."
Moore spent plenty of time on the sideline this spring to allow backup
Joe Southwick
time to gain experience. The Heisman Trophy finalist only played three series in the spring game, going 5-of-14 for 50 yards. The entire offense struggled all day, but the one player who stood out should give Broncos fans a reason to feel optimistic that their team will be just fine without
Titus Young
and
Austin Pettis
.
[+] Enlarge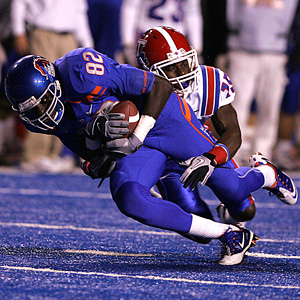 AP Photo/Matt CilleyGeraldo Hiwat (82) will be counted on to step up his game for Boise State this season.
Geraldo Hiwat
continued his stellar spring with five catches for 97 yards, including a 49-yard catch from Southwick that was the longest offensive play of the game. Moore singled him out as the receiver who really stood out to him this spring.
A sophomore, Hiwat only had 11 receptions last season and no touchdowns. But Hiwat is Young and Pettis rolled into one. At 6-foot-4, he has the size of Pettis, who served as Moore's go-to guy on third downs, with the speed of Young, the big-time deep threat.
"Geraldo is a big-body guy who has the ability to be the vertical threat in this offense," Moore said. "He's big, strong and athletic. He hasn't played football a ton, but he's gotten to that point he knows what he needs to do."
Indeed, Hiwat has only been playing organized football for three years. Born in the Netherlands, he arrived in the United States when he was in high school and played just one season before heading to Boise State.
The Broncos also have
Tyler Shoemaker
, the most experienced of the group who returns. Shoemaker finished third on the team last season behind Pettis and Young with 32 catches for 582 yards and five touchdowns.
Kirby Moore
, who is Kellen's brother, also returns off his redshirt season and is eager to make his mark.
There definitely is talent, but the question is whether the players will be able to step up immediately to replace two clutch receivers. Pettis and Young each had 71 receptions last season and combined for more than 2,000 yards and 19 touchdowns -- half of the team's total of receiving scores.
Moore said the receivers recognize the opportunity in front of them.
"They know it's their time," Moore said. "They're excited, but they've got a lot of work to do."
That involves working out with Moore this summer so they can develop their timing. What made Young and Pettis so successful is how they were completely in sync with Moore. He could anticipate what they would do and knew all of their tendencies as if they were his own.
Moore knows he has a lot of work ahead of him, too, and he is more than up for the challenge.
"Austin and Titus, those two guys have done everything you can ask for this program," Moore said. "But we have some young guys that have just as much ability. They just have to get that experience."
April, 14, 2011
4/14/11
10:30
AM ET
Nobody at Boise State talks about what happened last season. What is there to say?

But the hurt of seeing their BCS chances and an undefeated season slip away in an overtime loss to Nevada linger and are being used to serve a purpose headed into 2011. The overriding lesson from that game, in which Boise State blew a 24-7 halftime lead: finish.
"It's always in the back of our heads knowing we didn't play our best game," cornerback Jamar Taylor said in a recent phone interview. "We need to finish. We're carrying that into this year, using it as motivation. Finish that's our main thing, start fast and finish strong, never give in. Even if we're up by 100 points, we have to keep our foot on the gas pedal."
When asked whether this was something that was discussed among teammates, Taylor replied, "It doesn't need to be said out loud. We know what we need to do. We know what we did last year and want to carry that motivation into this year, go out there and play every game hard for all four quarters."
The 34-31 loss to the Wolf Pack knocked the Broncos out of BCS contention and into the MAACO Las Vegas Bowl against Utah, a consolation prize after being one of the biggest national stories for the entire season. As stunning as the implosion was to watch on television, it was worse for the players on the sideline. They were unaccustomed to losing, let alone losing after holding such a big lead.
"The sting is always there," running back
Doug Martin
said. "You never like to lose. You always reminisce about it, but you have to face reality. For me, the hurt passed after the Utah game. You just have to move on. We need to focus on finishing."
Boise State has plenty of players left on the team who went through that loss, but other new faces that are eager to make an impact in 2011. This will be a different team with a different identity, though the Broncos are expected to be ranked in the preseason Top 10 again -- largely because quarterback
Kellen Moore
returns, along with the bulk of their front seven.
As they wrap up spring practice Saturday, Boise State has gotten some answers at receiver -- its biggest question mark headed into the season. With
Titus Young
and
Austin Pettis
gone, several guys have showcased themselves, from
Tyler Shoemaker
to
Chris Potter
to
Geraldo Hiwat
to
Kirby Moore
. Newcomer
Troy Ware
could also have a big impact.
Boise State has a new offensive coordinator in Brent Pease as well, though he is anything but new. Pease served as receivers coach before leaving in late December to become Indiana offensive coordinator. He returned to Boise State a short time later as offensive coordinator when Bryan Harsin left for Texas.
Martin said the offense has welcomed Pease, who plans on adding a few new wrinkles to an offense that will remain relatively the same. Defensively, Boise State has to find replacements for Jeron Johnson, Winston Venable, Brandyn Thompson and Ryan Winterswyk.
Among those who have stood out this spring: Travis Stanaway, Jerrell Gavins, Jeremy Ioane, Hunter White and junior college transfer Dextrell Simmons.
The spring game Saturday is going to be a scrimmage because injuries have taken their toll on the team this season. There is plenty of work ahead, but players already have one valuable lesson they will take with them into a brand new season.
January, 28, 2011
1/28/11
4:00
PM ET
Welcome to another Friday mailbag. I got lots of comments on the UCF story I wrote earlier this week, so I wanted to start off with a sampling of your opinions before I answered a few questions. Thanks to all who write in, and
keep those comments coming.
Scott Costin in Orlando writes
: Good report on UCF athletics. All that's missing for this program is exposure. Hopefully an AQ conference is in the near future for UCF.
Brian in Tampa writes:
How can you write those articles on UCF without mentioning USF's success in catching up with FSU and Miami programs? UCF is trying to do what USF has done. Don't make it seem like it's still the 90's with the BIG 3. It's the BIG 4 now. UF, FSU, Miami, and USF.
Gene Barra writes:
UCF football might be on the rise, but they had no business being ranked in the Top 25. Not one of their victories this year came against a team that ended the season with a winning record. Their three losses this year - well, those would be against the three teams they played that ended the season with a winning record! Anyone that voted them in should be paying more attention before they cast their vote.
John Bream writes:
I'm not sure what makes you think UCF is so elite or what the impetus for your article was. UCF is far from elite. They are 3-48 (or close to it, I know the 3 wins is right) against the BCS in football. They are 2-8 all-time against ECU in football. Not to mention, they are currently a bottom feeder in C-USA basketball. Their baseball program is non-existent. Their "state of the art" athletic complex doesn't even sit 40,000 people in football. They cannot even fill their stadium for big games. They do not play any hard out of conference games, and the ones they do, they never win. They have one all-time bowl win in football. They have one all-time top 25 finish in football. They have no history, no tradition, and no fan support in their home city. Now, please, tell me what is so elite about UCF?
Andrea Adelson:
I actually did not expect as much outrage as this article received, both in the mailbag, my inbox and the comments section of the story. I addressed this as well in my live chat yesterday. The reason for writing the story was simple -- UCF had its two marquee teams ranked in the Top 25 for the first time in school history, and the program has been discussed as potentially getting a Big East invite. So it made sense to help explain the roots of this program and where it may or may not be headed. UCF is not elite right now. UCF does not have the fan support it needs right now. The article does not present the facts in that regard, either. It simply was meant to serve as a brief history of the program and the potential ahead. As for Brian, USF already got its Big East bid, so does it need to be said the Bulls are a step ahead? Yes they have wins against FSU and Miami in the past two years, but I don't think people in this state consider USF a part of a Big 4. Gene, you are forgetting SMU. John one correction – the football stadium seats over 45,000 with plans to increase capacity to 56,000.
---
Arlen in Pocatello, Idaho, writes:
I am OK with the BCS not giving the MWC champion an automatic bid every year because they want good competition in these bowls (excluding UConn 2010). So why don't they put a clause in the rules that says if the MWC champion is ranked in the top 8 or 10, then they will receive an automatic invite? This gives the conference something to look forward to, and then there will be no "snubbing" complaints by the MWC, and if they aren't good enough, then the BCS doesn't have to take them. This is, of course, separate from the non-AQ clause already in place. What do you think?
Adelson writes:
You are right, there already is a clause in there that states a non-AQ that finishes in the Top 12 gets an automatic berth, so I am not sure what the additional clause does for the Mountain West, except in cases where there is another non-AQ school that is fighting for a BCS spot as well. I think it would serve the BCS well to add in a clause that states any conference champion must, oh I don't know, be RANKED in the BCS standings to get into a game to avoid another UConn scenario.
---
Matthieu Duquette in Boise writes:
Everyone is in a quandary over the receiver core of Boise State now that (Austin) Pettis and (Titus) Young are gone. But I would submit these couple of points. First
Kirby Moore
will be back with one active year already under his belt averaging 11.5 yards per attempt over 21 receptions. Secondly, Boise under
Kellen Moore
, until this past year, wasn't regarded as a deep pass offense. The experience last year obviously allowed them to blossom for a year in the deep game. But I would say that the new faces will still be effective as they undoubtedly return to a system more like that of the first two Kellen years. Third, (Tyler) Shoemaker will be a huge factor now that the deep game will become more conservative. He was great last year and BSU will no doubt rely on his experience even more this year. Last, Kellen Moore's accuracy is going to make up much of the lack of experience in the new receivers. That's how I see it. What are your thoughts?
Adelson writes:
You present some very logical arguments, Matthieu. I think Shoemaker is going to be in line for a breakout year, and there is obviously some really good young talent on the team, Kirby Moore included. That being said, it is difficult to replace the experience and the rhythm Moore had with Young and Pettis, simply because they were his go-to guys for so long. I don't think losing them is a backbreaker, though, because Boise State will still be a Top 10 team when the preseason polls come out. I just think it might take some time to get his new receivers going. It's a valid question to have whenever you have young talent coming in.