February, 9, 2015
Feb 9
11:00
AM ET
The ceaseless debate over conference strength waged here and in other forums ultimately centers on one question: How many teams in League X are capable of winning a national championship in Season Y?
The Big Ten entered the 2014 season with what many believed were two capable candidates: Michigan State and Ohio State. Although Wisconsin and Nebraska also appeared in the preseason Top 25 polls, the Badgers and Huskers were fringe contenders to reach the inaugural College Football Playoff.
It turned out both Michigan State and Ohio State were worthy of contender status. Ohio State won the national title; Michigan State won the Cotton Bowl and recorded its second consecutive top-5 finish.
[+] Enlarge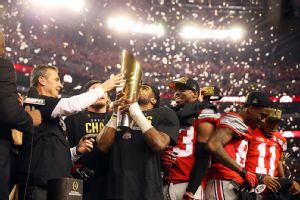 Darren Carroll for ESPNBig seasons by Ohio State and Michigan State brought respect to the Big Ten, but the conference needs more than two teams capable of winning the national championship.
No single accomplishment helps conference perception like a national title. After all the mud slung the Big Ten's way for the better part of a decade, Ohio State showed that the laughed-at league was, in fact, capable of having the last laugh. There is a residual from ending the season with the shiny trophy, and the Big Ten is enjoying one right now.
But how long does it last?
Some will say the good vibes ended today as colleague Mark Schlabach produced his latest
way-too-early Top 25
for the 2015 season. Ohio State leads off at No. 1, and Michigan State appears at No. 7. Only one other Big Ten team makes the rundown: Wisconsin at No. 17.
Schlabach's Top 25 includes four SEC teams in the top-14 and eight overall. The Pac-12 has three teams in the top nine and five in the top 20. Even the ACC has more Top 25 teams (four) than the Big Ten.
Longtime Big Ten blog readers know how much I love to needle Schlabach for his regional, uh, preferences. The memory of him shivering outside Spartan Stadium on a balmy 42-degree October day a few years back warms my heart. Thin Southern blood, y'all.
But I have no problem with his rankings. The Big Ten remains a top-heavy league looking to build sustained depth. Schlabach's list isn't dramatically different from where the preseason polls had the Big Ten in August.
Ohio State should be No. 1 after its dominant Playoff performance and with possibly an even better team coming back. Michigan State's march into the national elite, along with the return of quarterback
Connor Cook
, merits a place in the top-8. Wisconsin's run of very good, not quite great, has withstood one shocking coaching change. It can withstand another, especially with a coach (Paul Chryst) who knows the landscape and can fix the program's primary hindrance (the passing game).
After those three teams, though, I can't make a strong case for more Big Ten Top 25 representation.
Minnesota is on the borderline. The defense once again should be solid, possibly more than solid. But the passing game remains a huge unknown, especially with tight end
Maxx Williams
gone. The Gophers have taken significant steps under Jerry Kill, but of their 16 wins the past two seasons, only five came against teams that finished with winning records. They also have yet to win a bowl game under Kill. There is more to prove.
This is the point where Nebraska fans have to catch their breath after screaming, "What about us?!" There are things to like about the Huskers' roster, as well as Mike Riley's ability to develop quarterbacks and wide receivers. But Nebraska lost its best offensive player (
Ameer Abdullah
) and best defender (
Randy Gregory
). Add in a coaching change and this isn't a Top 25 team -- yet.
Neither is Penn State, although if the Lions can figure out how to keep quarterback
Christian Hackenberg
upright, they could soon enter the national rankings.
So what does this mean for the Big Ten? The league is no longer the scourge of college football. Ohio State and Michigan State are considered elite programs by anyone who matters. But league-wide respect likely remains in short supply.
It goes back to the central question: How many Big Ten teams are capable of winning it all in a given season?
Ohio State should be capable every year under Urban Meyer. Michigan State should be in most years under Mark Dantonio. Wisconsin could rise to that level, but hasn't quite gotten there in recent years. Penn State and Nebraska? History is on their side and both programs are recruiting well, but both must clear some hurdles. Kirk Ferentz's Iowa teams have shown elite-level capability at times, but the program needs to regain momentum.
Few doubt Michigan's capability as a championship contender. The history and resources are there, and Michigan seemingly has the the coach in Jim Harbaugh to facilitate a rise. But the Wolverines haven't been a national player since the 2006 season. Opposing coaches are conflicted about how much talent is in the program right now. Is Michigan fast-track-able? We'll soon find out.
TCU showed last season that a team nowhere near the Playoff radar in August can be in the mix for a spot in early December. Does the Big Ten have such a team in 2015?
Winning a national title was huge for this league, but the macro challenge hasn't changed. The Big Ten needs more Playoff-worthy depth so the league isn't pinning its hopes on one or two teams every year. The SEC pulled off its historic run with four different championship teams, and several others with win-it-all capability.
An Ohio State title defense in 2015 will resonate much more for the Buckeyes than the Big Ten. Ohio State fans might disagree, but the Big Ten's path to national respect isn't simply the I-270 "Outerbelt" that circles Columbus.
The route must include other cities in other states and ultimately lead back to Glendale, Arizona, where college football's next national champion will be crowned.