NCF Nation:

Kolby Listenbee
October, 15, 2014
Oct 15
11:00
AM ET
After
Marcus Mallet
's fourth-quarter pick-six of
Bryce Petty
, the visiting fans rained chants down from the upper deck of McLane Stadium.
"TCU! TCU!"
The Horned Frogs seemingly had put a vise on the Big 12 race. And placed themselves at the top of the playoff conversation.
Then the unthinkable happened.
[+] Enlarge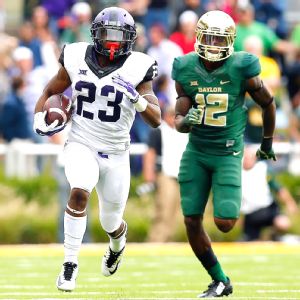 Tom Pennington/Getty Images"The loss (to Baylor) hurt," B.J. Catalon said. "But if it was going to happen, it's better it happened now rather than later. We can learn from this."
Baylor and Petty roared back with 24 unanswered points in the final 11 minutes to stun TCU with a 61-58 victory.
"I felt really bad for them," coach Gary Patterson said this week. "We didn't get done what we wanted to do."
That, however, doesn't mean the Horned Frogs still can't win the Big 12. Or even make the playoff.
Sure, TCU needs a little help now. And the margin for error is gone. But in Fort Worth, there is life after an improbable one-game demise.
"Everyone is disappointed," said TCU running back
B.J. Catalon
. "We left that game on the field. We didn't take it.
"But even though we have a loss, if we get out and play hard through this next stretch, we'll be fine. We'll have the opportunity to compete to get a Big 12 championship and get to a big bowl game."
But that will hinge on whether No. 12 TCU can ditch any Baylor hangover in time for Oklahoma State this weekend. The No. 15 Cowboys are 5-1, with five straight wins since taking defending national champion Florida State to the wire in the opener. Oklahoma State has also defeated TCU by double digits in two meetings as Big 12 foes.
Of course, this isn't the same TCU.
The Horned Frogs knocked off Big 12 preseason favorite Oklahoma two weeks ago, then had the defending Big 12 champion Bears on the ropes in their own stadium.
"One thing I didn't see last year, I didn't see tears. And I did the other night," Patterson said of the locker room at Baylor. "This group is a lot more invested in what we want to get accomplished and where we're trying to get."
These Horned Frogs have already shown they're capable of getting to the top of the Big 12 standings.
Thriving in TCU's new up-tempo attack, quarterback
Trevone Boykin
has been as improved as any player in the league. He's thrown for 1,463 yards and 11 touchdowns with just two picks. He's also rushed for another 305 yards and three scores.
"Trevone has been delivering the ball,"
Kolby Listenbee
, who had 146 receiving yards and a touchdown against Baylor, told reporters Tuesday. "Making plays."
Catalon has been making plays, too, ranking seventh in the league in all-purpose yards while tying for second with eight touchdowns. And save for the fourth-quarter collapse in Waco, the defense has been stout, too, shutting out Oklahoma in the fourth quarter of a 37-33 win.
The key for the Horned Frogs now is preventing the Baylor loss from defeating them twice.
"The same thing I said in the locker room after the Oklahoma game is basically the way I treated them after the loss in the Baylor game -- you can't get too high or too low, especially playing the level of competition we're playing," Patterson said. "It was a better practice on Sunday for Oklahoma State than it was for Baylor on Sunday the week before. I think people handle failure a lot better than they handle success sometimes."
If the Horned Frogs can handle failure, they could set themselves up for plenty of success.
Baylor is now in the driver's seat of the Big 12 race. But the Bears have the more difficult remaining schedule, including a Nov. 8 road trip to Oklahoma. Both Baylor and TCU still have to go to West Virginia. But TCU's only two remaining games against ranked opponents both come at home, including the Cowboys this weekend and No. 14 Kansas State on that pivotal Nov. 8 Saturday in the Big 12.
"The loss (to Baylor) hurt," Catalon said. "But if it was going to happen, it's better it happened now rather than later. We can learn from this. We can't get comfortable no matter what the score is. We can fix how we lost and make sure we don't lose that way again. We know now we have to finish every game."
The Horned Frogs didn't finish in Waco. But they can still finish this season strong -- while keeping their Big 12 and playoff hopes alive.
"That (Baylor) game hurt pretty bad," Listenbee said. "But we're putting it behind us and getting ready for the rest of the season."
April, 15, 2014
Apr 15
9:30
AM ET
FORT WORTH, Texas -- For years,
TCU
stuck to an offensive philosophy built around trying to out-physical foes and trick them with play action. That style won the Horned Frogs five conference titles while in the Mountain West and Conference USA. They have not won many Big 12 games.
After two years in his new league and a 6-12 record in Big 12 play, TCU coach Gary Patterson knew it was time for a new approach.
[+] Enlarge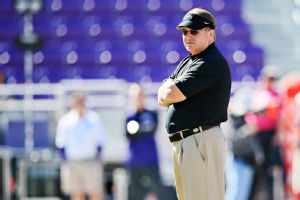 Kevin Jairaj/USA TODAY SportsTCU coach Gary Patterson brought in new coordinators Doug Meacham and Sonny Cumbie to change the team's offense.
"We're going to a style of offense that I thought evened the playing field," Patterson said.
He went out and landed a pair of offensive coordinators who know Big 12 ball to design a hybrid Oklahoma State-Texas Tech scheme that Patterson says will still have "some of the old TCU" in the run game.
But this is the new TCU. No playbook, no huddle, no looking back.
The struggles of 2013 weren't the lone motivator for Patterson's change of plans, but the evidence was hard to ignore. Last season, TCU's offense hit 10-year lows in points per game (25.1) and yards per play (5.03) and 10-year highs in turnovers (30) and three-and-outs (49).
The Horned Frogs had an offense that averaged 8.8 points in the first half of games, behind an offensive line that Patterson admits got "pushed around" at times due to injuries and departures. You can't keep up with high-speed Big 12 offenses that way.
Another motivator? Patterson's belief that a seemingly unexciting Horned Frogs offense wasn't helping his cause in recruiting.
"I had watched too many skill players leave the city. Right now, they don't know what this offense is about," Patterson said. "Right now, they think TCU has a defensive coach. But to be honest with you, I have no problem winning 45-31."
He's putting his full trust in Doug Meacham and Sonny Cumbie to build up the new-look offense, so much so that Patterson says he's taken a hands-off approach to the transition. He just tried to defend it in spring practice, and that wasn't fun.
Meacham spent eight years learning and teaching one of the nation's finest spread offenses at Oklahoma State, then left to run his own at Houston in 2013. TCU's new playcaller has already served as an OC at five other schools in his career.
He'll collaborate with Cumbie, a Mike Leach disciple who coached the past four years at Texas Tech and will oversee the TCU quarterbacks.
As Tech's quarterback in 2004, Cumbie put up 70 points on the Frogs -- two touchdowns more than a Patterson-led TCU team has ever given up. And yes, that came up in the job interview.
Both are respected offensive minds and recruiters in the Dallas-Fort Worth Metroplex, and previous coordinators Rusty Burns and Jarrett Anderson are still on staff and have a say in game plans.
"Their relationship is awesome," Patterson said. "I think the whole group has meshed real well. They've brought a lot of energy and new ideas."
[+] Enlarge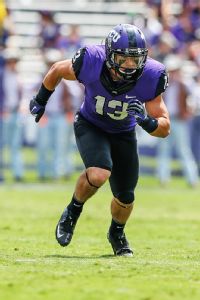 Kevin Jairaj/USA TODAY SportsHorned Frogs receiver Ty Slanina caught 19 passes for 184 yards and a touchdown as a freshman last season.
Installing the new attack meant coming up with new terminology, since at least three other Big 12 programs run similar sets, and new answers to how to outsmart opponents.
"It's not so much you don't know what's coming, but can you out-execute it?" Patterson said. "It'll be very important for us to be able to run the football, because I think going in that's where our strengths are -- our offensive line and our running backs and our quarterback can run, especially
Trevone [Boykin]
."
The offensive line should be better and much, much bigger. Six of TCU's best exiting spring ball --
Halapoulivaati Vaitai
,
Tayo Fabuluje
,
Frank Kee
,
Matt Pryor
,
Joseph Noteboom
and
Aviante Collins
-- average 6-foot-5 and 315 pounds.
TCU's top running backs all got hurt in spring ball -- literally -- but there are options there with
B.J. Catalon
,
Aaron Green
,
Kyle Hicks
, incoming freshman
Shaun Nixon
and a few others.
At receiver, Patterson says TCU has the guys needed to stretch a defense. Whether or not
Brandon Carter
returns, the staff is excited about speedsters like
Deante' Gray
and
Kolby Listenbee
and incoming freshmen
Emanuel Porter
and
Corey McBride
to go along with
David Porter
,
Josh Doctson
,
Cameron Echols-Luper
,
Ty Slanina
and
Jordan Moore
.
"I think we'll have enough weapons to be able to move the football," Patterson said.
Quarterback is still the question mark, especially if the versatile Boykin isn't the choice. No matter who runs the show, the initial goal will be simple: first downs, points and a tempo that causes trouble.
"They've been awfully fast this spring," Patterson said. "The biggest thing is to go fast enough to make people uncomfortable."
That, after all, is the goal here: An offense that can prove as challenging as Patterson's stingy defenses. The Horned Frogs' mission for transformation isn't guided by some sort of "if you can't beat 'em, join 'em" sentiment.
No, this is adaptation, and it's necessary. After its first two Big 12 seasons ended in frustration, TCU is working on a new way to beat 'em.