NCF Nation:

Kolton Houston
September, 26, 2013
9/26/13
1:15
PM ET
When LSU meets Georgia in Athens on Saturday,
Ego Ferguson
expects a slugfest up front.
LSU's junior defensive tackle knows playing with the big uglies in the SEC means constant fights each week, but this one feels different. Georgia has experience and comfort, while LSU walks in with inexperience and hunger.
The sledgehammer that hits hardest could pave the way to a 2-0 conference start.
"It's like watching a heavyweight fight. It's like [Muhammad] Ali and [George] Foreman go at it," Ferguson said. "It's going to be a battle all day. The way we look at it, we're coming in to prove a point that we can still do it on the defensive line. It's going to be a great challenge, but we're going to be at our best."


It's been nearly 39 years since Ali claimed his second heavyweight title, knocking out Foreman in the eighth round of the historic "Rumble in the Jungle" in Kinshasa, Zaire. It was a fight for the ages and Ferguson, who is second on LSU's team with 21 tackles and has 2.5 tackles for loss and a sack, expects a dogfight to break out up front inside Sanford Stadium.
He has every reason to think this will be quite the bout between these two lines. Georgia returned all five offensive line starters this season and added a top-end piece to the starting lineup with the return of
Kolton Houston
. After giving up four sacks in the season-opening loss to Clemson, Georgia's line has allowed just two sacks since then and the Bulldogs are second in the SEC in offense, averaging 574 yards per game and 7.8 yards per play.
Tight end
Arthur Lynch
says a reason for the line's turnaround has been comfort. Communication and nerves hurt this line in a hostile environment at Clemson, but the line's composure has improved greatly in the last two games. It started in the dramatic, 41-30 win over South Carolina, when the line surrendered two sacks and 39 negative yards. It continued with Georgia giving up no sacks and just four negative rushing yards in the blowout of North Texas.
The line would like to clean up the negative rushing yards in big games -- there were 72 combined against Clemson and South Carolina -- but with the mistakes decreasing every week, Lynch has high hopes for Saturday.
"It all starts up front; that's the nature of it," Lynch said. "No matter what you think or how you think football is played, the battle is one up front on the offensive or defensive side of the ball. For us to have some confidence in our offensive line and to know that they get better each week, as it continues to grow knowing the stuff that we have built around it, the sky is the limit for us as an offense."
The Tigers have been impressive on defense, allowing 310 yards per game, and 5.5 of LSU's seven sacks have come from linemen. But they've had some hiccups. They let teams such as TCU and Auburn hang around with 38 combined second-half points. LSU gave up a season-high 213 rushing yards and three touchdowns to Auburn.
It's a bit of a concern, but defensive tackle
Anthony Johnson
said the defensive line embraces the challenge Saturday, trying to stop Georgia's high-powered passing and rushing attacks.
"Our linebackers felt it was their job to [put pressure on Georgia's offense], but honestly, it starts up front," Johnson said. "We have to set the line of scrimmage and get everything together. If we play like we're supposed to play, it'll be a great day for us."
So how does LSU beat a line that's seemingly getting better every week? Johnson, who has 2.5 tackles for loss this year, says it starts inside. Georgia's line is clicking, but Johnson thinks he knows what the Tigers can exploit Saturday.
"Honestly, we've seen guys beat them on the inside," he said. "We've watched a lot of film on Georgia and they can be beaten. There's nobody that's invincible. We just have to work hard and play our technique."
Winning the battle inside would do wonders for LSU's pass rush, which has to improve if the Tigers are going to stop Georgia. LSU hasn't had the same production as years past, but that past aggression must be present Saturday. However, it won't be easy with Houston and
Kenarious Gates
manning the outside.
You have to respect Johnson's confidence, especially considering the fact that LSU's defensive line lost four NFL draft picks, but you also have to respect what Georgia's line has done. It's helped engineer one of the nation's best running duos in
Todd Gurley
(377 yards) and
Keith Marshall
(117). Quarterback
Aaron Murray
also is inching closer to more Georgia and SEC records with his 1,040 yards and seven touchdowns.
"Are we the most physically imposing bunch of guys up front? We're not," Georgia coach Mark Richt said, "but we have a bunch of guys collectively that when they get on the same page and they get after it, we've been able to create enough space for our backs and enough time for our quarterback to succeed."
It should be quite the rumble between the hedges.
September, 2, 2013
9/02/13
7:00
AM ET
ATHENS, Ga. -- While it might seem odd to criticize an offensive line that helped Georgia generate 545 yards -- on the road in one of the louder stadiums the Bulldogs will visit this season, no less -- it is clear that offensive line coach Will Friend has not settled on a lineup that he loves after Saturday's 38-35 loss to Clemson.
With
Jadeveon Clowney
and South Carolina's fearsome defensive front on deck Saturday, that is not a particularly encouraging sign for the Bulldogs. But Georgia's linemen realize they can't allow themselves to think that way.
[+] Enlarge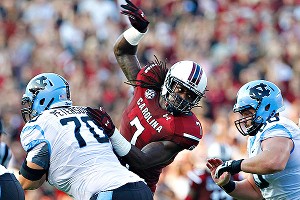 Gerry Melendez/Getty ImagesJadeveon Clowney was unimpressive against North Carolina, but he has starred against Georgia.
"If you take that aspect of it, then you're just going to psyche yourself out," said offensive tackle
Kolton Houston
, who started his first college game at right tackle on Saturday. "You've got to give him credit. I mean Clowney's definitely one of the best players there is, but at the end of the day, you've just got to treat it like any other guy."
Such a philosophy might not be particularly useful for Georgia's coaching staff, which knows it must frequently commit more than one blocker to Clowney -- a player widely viewed as one of the top pro prospects in college football.
Clowney got off to an unimpressive start in last Thursday's win against North Carolina, but he has made his impression felt in two games against Georgia to date.
As a freshman in 2011, he twice sacked Bulldogs quarterback
Aaron Murray
and forced Murray into a fumble that teammate Melvin Ingram recovered for the win-clinching touchdown late in a 45-42 South Carolina victory. Last season, Clowney had two tackles for a loss and a sack as the Gamecocks harassed Murray into the lowest single-game QBR (8.4, when his season average was 78.2, 13
th
-best in the nation) of his college career.
"Whatever happened last year is last year," said Georgia's
Kenarious Gates
, who struggled mightily against Clowney a season ago. "The thing about me is I learned to move on and focus on what's ahead of me."
What's ahead is a chance for redemption, not just for Gates, but for an entire offensive line that turned in an embarrassing effort in last season's 35-7 loss to the Gamecocks. But it's unclear who will line up on the edge to defend against Clowney,
Chaz Sutton
and South Carolina's other pass rushers.
Friend experimented with several lineups in Saturday's opener, to mixed results at best. While Georgia generated more first downs, rushing yards and passing yards, averaged more yards per play and led in time of possession, the line also committed a handful of costly penalties and surrendered four sacks -- more than in any game last year except one, when they allowed five to Ole Miss.
Three of those sacks came in the second quarter, when Clemson's defense put the clamps on a Georgia offense that moved the ball at will early in the game. Tigers defensive end
Vic Beasley
zipped around flailing left tackle Gates on one third-down rush to nearly decapitate Murray with a vicious blind-side blow that forced a punt.
On Georgia's next possession,
Stephone Anthony
got around right tackle Houston and knocked the ball away from Murray at the Bulldogs' 20-yard line, forcing a fumble that Clemson's
Spencer Shuey
recovered at the 16 to set up a short touchdown drive.
And on the final possession of the first half,
Tavaris Barnes
blew past Houston -- now playing left tackle -- to take down Murray near midfield and short-circuit Georgia's attempt to drive for the go-ahead points just before halftime.
Clemson added one more sack on Georgia's first possession of the second half and the Bulldogs otherwise kept Murray upright. Some key damage had already been done, however, and Georgia's offense never regained its early momentum.
"We definitely had our ups and downs, but at the end of the day it's a loss and Aaron got his jersey dirty," Houston said.
Gates lost weight in the offseason, partially out of a desire to be quicker on his feet so he could more easily contend with speed rushers like Beasley and Clowney.
"I felt like that would make me a better player -- lighter on my feet and quicker and it's lighter on my knees, as well," Gates said last week. "I feel like doing it for me, doing it for the team, it would make me a more athletic player. I want to be that guy, and overall it's been helpful."
Clowney presents the biggest challenge of the season for Georgia's pass protectors, though, and it seems unlikely that Friend and Bulldogs offensive coordinator Mike Bobo will make one player responsible for the Gamecocks star. Count on Georgia to devote tight ends and running backs to Clowney's side, as well, to assist the tackles against the player who totaled 23.5 tackles for a loss and 13 sacks a season ago.
And as Bulldogs coach Mark Richt pointed out, the Bulldogs will also enjoy the benefit of playing at home, unlike in Saturday's loss. Georgia relied on silent snap counts because of the noise present in Death Valley, but the friendly confines of Sanford Stadium will allow the Bulldogs to vary their cadences and prevent Clowney and company from jumping the snap count so easily.
"I think the times we got beat in my opinion, we just got beat off the snap," Richt said. "We'll have our cadence next week and that will help. If we were at South Carolina, it would be a little bit tougher, but I think it will help when we get off on the cadence."
July, 25, 2013
7/25/13
6:55
PM ET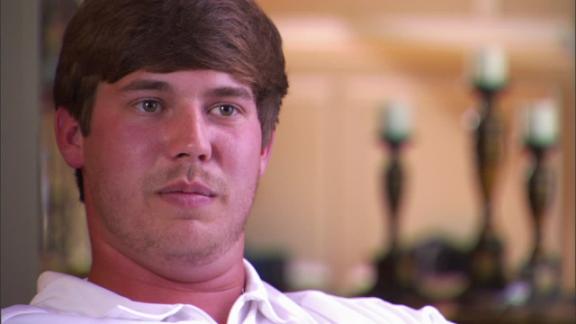 Georgia offensive lineman Kolton Houston has been fighting with the NCAA to get back on the field for three years.
He finally got some good news on Thursday when the
NCAA reinstated him
.
Houston's story was chronicled on ESPN's "Outside the Lines" (above), and he never gave up hope of playing for the Bulldogs. Houston first failed an NCAA random drug test shortly after enrolling at Georgia in 2010, causing the NCAA to rule him ineligible because of steroid use. Houston and Georgia's medical staff insisted that his positive drug test stemmed from a steroid injection following a shoulder surgery prior to enrolling at Georgia. The steroid, however, seemed to be stuck in Houston's system, and the levels never decreased enough for the NCAA to rule him eligible until just recently.
"This is the best birthday present I've ever had," Houston said in a university statement. "I had almost reached the point where I thought this situation would never end. When I got the call, I broke down and cried for about 30 minutes. I had that much emotion stored up and it felt good to get it out. I'm ready now to show what I can do."
Houston, who turned 22 on Thursday, joins a Georgia offensive line that was already returning its top eight lettermen from last season. Houston worked as the Bulldogs' starting right tackle in the spring of 2012 and gives them even more flexibility up front going into this season.
August, 3, 2012
8/03/12
10:19
AM ET
It's as if Georgia just can't escape off-field storylines during the offseason.
First, we saw the spring arrests of cornerbacks
Sanders Commings
and
Branden Smith
. Then, safety
Bacarri Rambo
and linebacker
Alec Ogletree
reportedly failed drug tests. Commings is set to serve a two-game suspension, while the others are likely to miss time as well this fall.
Oh, and then there was the whole Isaiah Crowell incident that left the Bulldogs without its starting running back entering fall camp.
[+] Enlarge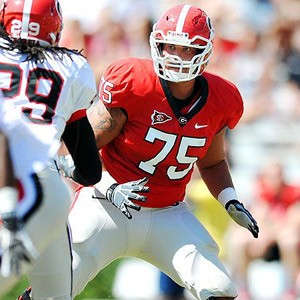 Radi Nabulsi/ESPN.comThe Bulldogs will be without their No. 1 right tackle, Kolton Houston, until an anabolic steroid leaves his system.
Then, came Thursday's events. One incident could be classified as bad luck, as redshirt sophomore offensive lineman
Kolton Houston
was
ruled ineligible
because he again tested positive for a steroid he was given after he underwent shoulder surgery before enrolling at Georgia in 2010.
The other? Well, it was another suspension, as Mark Richt announced that potential starting linebacker
Chase Vasser
will
serve a two-game suspension
to begin the year following his DUI arrest in May in Atlanta.
While the latter has to infuriate Richt, Houston's situation must
be frustrating
. Houston, who won the starting right tackle spot this spring, is still testing positive for an anabolic steroid, 19-norandrosterone, that Georgia's medical staff says he unknowingly took after undergoing shoulder surgery in 2009. Georgia's staff has continued to test Houston since he first tested positive for the steroid in April 2010 and insists that he hasn't used the drug again.
Unfortunately, enough of the drug still remains in his system. Georgia pleaded its case to have the NCAA make an exception for Houston, but the NCAA said no way.
"He's been tested probably more times than anybody in the history of college football," Richt told reporters at Georgia's preseason media day Thursday. "We're 100 percent certain he has not continued to take this thing, but it's just never gotten far enough out of his system for him to be declared eligible to play."
Added Georgia associate athletic director for sports medicine Ron Courson: "My hope is to restore his eligibility as soon as we can. ... We feel like we're so close," Courson said. "He's served his penalty. Let's not quibble about two or three anagrams. There's no performance-enhancing aspect. He's paid his due."
Unfortunately, the NCAA can't make an exception for Houston. He's already escaped a lifetime ban after his second positive test, and while you have to feel for Houston, making an exception for him would open up a new can of worms for the NCAA. The NCAA doesn't want to have to deal with similar cases each year because you never know which ones could be true or fabiricated.
I'm not saying Houston's is fabricated, but if he were allowed to play, what's to stop other athletes from experimenting to see if they can use a similar story to slip by the NCAA?
It also means that Georgia's line, which wasn't in the best shape exiting spring, has more concerns to work through. Though Houston had yet to play a down for the Bulldogs, he was still viewed as one of Georgia's top linemen. Richt said sophomore
Watts Dantzler
now moves into the starting right tackle spot. The bottom line is that this line has to accelerate its development and get some of those youngsters more prepared.
While Houston's situation is out of Richt's hands, he has to make sure that ones like Vasser's stop. This team has too much to lose and can't let boneheaded incidents slow it down.
Georgia has one of stricter discipline policies in the league, but maybe Richt has to do more because you have to wonder if some of these players don't care. If it's so strict, why do off-field incidents continue to pile up in Athens? You could argue that law enforcement there is a bit stricter, but at the end of the day it's the athletes who make these decisions.
I wouldn't blame Richt if he went to bed with his cell phone off.
Georgia has to stop the silliness or its season will be a major disappointment and, unfortunately, Richt will have to shoulder most of the blame from fans.
April, 24, 2012
4/24/12
3:40
PM ET
At first glance, it appears that Georgia has all the parts needed to make another title run in the SEC this fall.
A quality quarterback is assisted by some talented skill players on the offensive side of the ball. And the defense is loaded with just about everyone who was a part of the nation's fifth-ranked defense last year.
But upon closer examination, there is a glaring issue on the offensive line. Well, maybe there was.

Entering the spring, Georgia was down three starters up front, including potential NFL first-round draft pick
Cordy Glenn
at left tackle and All-SEC center
Ben Jones
.
The Bulldogs had the bodies, but not the experience, and it showed early. Georgia coach Mark Richt said he spent the first part of spring just trying to find the right pieces to plug in. He was constantly rolling different players in at center and experimenting with putting players in different places along the line.
The result: a lot of mistakes and some pretty good defensive highlights.
Richt said all of the stunts and different looks that defensive coordinator Todd Grantham threw at the Bulldogs' line of young pups confused and frustrated the line. Things didn't move smoothly on offense at first because the offensive line wasn't comfortable.
"The bottom line was we just weren't blocking very good and we weren't handling our mature defensive line," Richt said Tuesday.
But like good things, even bad things come to an end. And they did for Georgia's line.
As the spring continued, players started to get more settled up front. By the midpoint of the spring, offensive coordinator Mike Bobo said he found three reliable linemen in tackles
Kenarious Gates
and
Kolton Houston
, and guard
Chris Burnette
. Leaving spring, the staff found five that it could call starters, with the additions of rising sophomore
David Andrews
at center and
Dallas Lee
, who started seven games last season before breaking his right leg against Florida, at guard
Gates might be the best of the bunch because of his athleticism and smarts. Richt said he has the option of moving Gates around on the line because he has the ability to play just about every position up there.
But the player who really stuck out to Richt and his staff was Houston. Richt said Houston was always viewed as either a guard or a center prospect until this spring when they threw him in at tackle and watched him excel.
"He held up pretty good, especially in the pass protection area," Richt said. "I don't know if you can sell the big mauler out there in the run game, but a big part of being able to play tackle is being able to pass [protect] and he did a nice job."
While Richt saw improvement as spring continued, he'll also get some more talent in two incoming freshmen, including top tackle prospect John Theus, so Georgia's depth will look a little better this fall. Getting guys more reps and game ready is the main goal in fall camp.
April, 2, 2012
4/02/12
6:00
PM ET
ATHENS, Ga. -- Georgia's football team has the talent to have a very special fall, but the spring has come with unwanted hiccups.
Georgia has dealt with too much suspension and attrition. The most glaring issue for the Bulldogs is that they'll be without defensive starters
Sanders Commings
,
Alec Ogletree
,
Bacarri Rambo
and
Branden Smith
to begin the season due to suspensions.
The losses of key starters, especially Commings, Rambo and Smith, who all patrol a pretty thin secondary, have Georgia players and coaches frustrated, but they're pushing ahead as the second half of spring football bleeds into the true offseason.
[+] Enlarge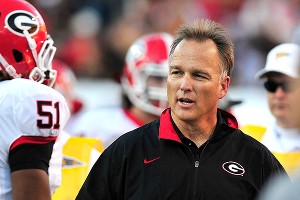 AP Photo/Stephen MortonSuspensions will leave Mark Richt thin in the secondary to begin the 2012 season.
"It robs some of the momentum that you're trying to build and trying to create," coach Mark Richt said. "It doesn't destroy it unless you let it, but it's just another thing that needs to be overcome."
Georgia has had a rash of off-the-field incidents in the past calendar year, and when asked if he thought there was an invincibility complex with some of his players, Richt said he hoped not, but didn't think that there was a discipline problem with his football team.
"The bottom line is that if there are things that need to be disciplined around here, we'll discipline them," he said. "We don't treat a starter any different than a walk-on. We'll discipline even if it hurts -- and it hurts sometimes."
Georgia's coaches are now having to plug more young players into first-team rotations on defense. While the Bulldogs have a handful of players to use at Ogletree's middle linebacker spot, the same can't be said for the secondary.
Georgia had to dip into its offense to get help at cornerback by inserting rising sophomore
Malcolm Mitchell
, who is coming off a solid SEC debut in 2011. Mitchell has received most of his work on defense this spring, and the consensus is that he's taking hold of his new position, but offensive coordinator Mike Bobo isn't ready to totally give Mitchell up to Todd Grantham and Georgia's defense.
"I don't plan on losing Malcolm Mitchell," Bobo said.
In the meantime, Mitchell is looking to help a relatively young secondary in Athens. Coaches and players agreed that two youngsters currently standing out are
Corey Moore
and
Damian Swann
.
The depth in the secondary isn't ideal, but Grantham said he isn't concerned about numbers, or talent. He's just looking for the development, and it's slowly coming.
"The guys that we've got here are capable," Grantham said.
Mitchell's absence on offense also means that Bobo and quarterback
Aaron Murray
are both looking for more from younger wide receivers. Murray gushed about rising seniors
Tavarres King
and
Marlon Brown
, who Murray said finally looks like he's putting things together and is actually healthy. Bobo and Murray both stated that sophomores-to-be
Michael Bennett
and
Chris Conley
should continue to be reliable targets this fall.
But one player really sticking out to Richt is redshirt freshman
Justin Scott-Wesley
. Though he sat out last fall and split time between track and throwing sessions before spring practice, Scott-Wesley has really impressed with his speed and athletic ability.
"He's a track guy, but he's a big, strong, physical guy," Richt said. "He's going to help out a lot this season. There's no doubt about it."
Where Georgia would really like to get more consistent this spring is on the offensive line. Bobo sees a lot of bodies there, but he's still worried about depth. Right now, he likes what he's seen from
Kenarious Gates
,
Kolton Houston
and
Chris Burnette
, but after that it's a bit of a mystery.
Bobo said the second half of spring will be crucial to finding capable depth up front.
"We have three guys we feel good about," he said. "We're looking to find some depth. We're actually trying to find five (linemen who can play)."
April, 10, 2011
4/10/11
8:39
PM ET
Talk about cruelty.
Sunday, tests confirmed that Georgia senior offensive tackle
Trinton Sturdivant suffered his third ACL-related, season-ending injury
. His first two were in his left knee, but this one was in his right one.
Remember, this is a guy who was a freshman All-American in 2007 after starting all 13 games at left tackle for the Bulldogs.
He then tore the ACL in his left knee during a preseason scrimmage in 2008 and tore it again in the 2009 season opener.
For a guy who has given everything for his team, this is a devastating blow for not only Georgia but also his career.
Sturdivant, who started seven of the 12 games he played in during the 2010 season, considered forgoing his senior year to enter the 2011 NFL draft, but later decided to stay at Georgia for his final season.
It's unknown if Sturdivant, who would be a fifth-year senior this fall, will petition the NCAA for a sixth year of eligibility.
As for Georgia's offensive line, this leaves a huge hole. The 6-foot-5, 312-pound Sturdivant was splitting time with converted guard Cordy Glenn at the left and right tackle positions.
Sturdivant's injury leaves Glenn as the only Bulldog tackle with any real experience, and while Glenn did start four games at left tackle after Sturdivant went down in 2009, most of his experience has come at left and right guard.
Junior A.J. Harmon could be an option at tackle, but he's played in just seven career games. Redshirt sophomore Austin Long and redshirt freshman Kolton Houston could be options at right tackle, should Glenn permanently move to left tackle. Redshirt freshman Brent Benedict, who missed all of the 2010 season after suffering a severe right knee injury during his senior year of high school, could also be an option to replace Sturdivant.
The low numbers at tackle mean the Bulldogs will have to immediately throw incoming freshmen tackles Zach DeBell, Xzavier Ward and Watts Dantzler into the fall practice rotation.