NCF Nation:

Kona Schwenke
November, 23, 2013
Nov 23
10:40
PM ET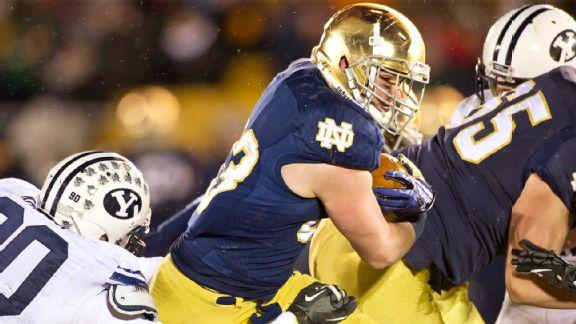 SOUTH BEND, Ind. —
Jarron Jones
walked to the corner of the Notre Dame Stadium interview room, the media members following him numbering in the dozens, all to hear the words of a guy who, before Saturday, had seven career tackles.
Jones had doubled that total in the minutes before his meeting with the press, tallying seven stops against BYU. He doubled his career blocked kick total, too, recording his second of the season. He had stepped in for an injured
Kona Schwenke
, who was stepping in for an injured Louis Nix, and he delivered a performance that at least momentarily quelled the fears of everyone surrounding the program about who could step in if (and likely when) Nix goes pro.
[+] Enlarge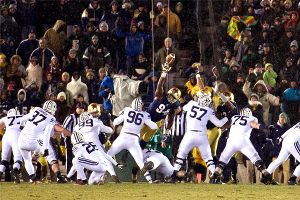 Matt Cashore/USA TODAY SportsJarron Jones had a breakout game filling in for the injured Louis Nix.
"Opportunity, right?" coach Brian Kelly said. "He got the opportunity, was the next man in situation.
"Jarron we felt like was coming on, and he played exceedingly well and really happy for him. But we thought this was something that when we recruited him that he was capable of, and he showed that today."
Yet as much as Jones' play represented the future, Senior Day at Notre Dame was still about the present. The Irish led from start-to-finish in their 23-13 win over BYU, something they had not done since a Week 1 victory over Temple, back when all of their goals were still in front of them. That was no longer the case after their last outing, a harrowing loss at Pitt two weeks ago, but elimination from a BCS-bowl chase seemingly had a reverse effect on this group, which took care of the Cougars by playing as complete of a game as it has all season long.
"When we go out on the field, we're going to compete, we're going to compete to win, we expect to win when we go out on the field — we're not going to lay down," said
Cam McDaniel
, perplexed by the idea that the Irish had little left to play for. "Anybody that says that these last two games are irrelevant, that's just a completely ignorant statement, because of what we put into this thing, all the blood, sweat and tears that go into this, everything behind the scenes.
"I mean, if you make comments like that, you don't understand what this football team -- what we stand for and what we want to do. We expect to win every time we go out on the football field, and we're going to compete our tails off."
The junior running back did his part, rushing for a career-best 117 yards on a day in which the Irish eclipsed the 200-yard rushing mark for just the third time this season -- despite losing center
Nick Martin
in the first quarter to a hyper-extended left knee, and despite a running loop of first-year starters at right guard in
Conor Hanratty
and
Steve Elmer
. The banged-up defense hunkered down when it mattered most. Notre Dame held a team that totaled 415 yards to just 13 points, thanks in large part to holding the Cougars to just one touchdown and three field goal attempts in four red zone trips.
And the Irish were not too shabby on special teams themselves, with
Kyle Brindza
aiding them offensively by going 3-for-3 on field goals, including a 51-yarder mid-way through the fourth quarter to make it a two-possession game.
"Yeah, we could be loose here and there during warmups and everything," Brindza said, "but this was probably the most locked-in week we've ever had in a while, even dating back to last year when we went to a BCS-bowl game."
The attitude came down from Kelly, who, despite probably wishing the program was beyond it at this point, demanded a sharper effort and focus across the board.
Yes, that means preaching the can't-start-winning-till-you-stop-losing mantra, again. And yes, that means keeping the locker room clean, still.
"The locker-room thing was a big one," two-time captain
Zack Martin
said. "… We prepared a lot of plays this week. If we didn't have 11 guys doing the right thing, we'd do it again. Just little things like that that tried to focus our guys a little more. But tonight we were playing for the seniors, and hats off to our younger guys for coming in and playing their butts off."
Chief among them was Jones, still feeling the effects of his field goal block, which came near the four-minute mark with BYU threatening to slice the deficit back to a single possession.
It was the redshirt freshman's first blocked kick since getting a hand on a Temple kick back in Week 1.
"It hurts," Jones said, looking at his left hand, still stinging from the contact in what Notre Dame said was its coldest home game (26 degrees) in 22 years.
"I'm not going to lie. The ball feels like eight-times harder when it's coming at your hand like that. The Temple game, that wasn't as bad as this one."
Left guard
Chris Watt
was more impressed with the rest of Jones' game.
"I just see [Dan] Fox, eight tackles, Jones -- I'm like,
TJ Jones
? I was like, 'Wow, seven,'" the redshirt senior laughed of Jarron Jones' breakout. "That's good for us, having younger guys stepping up in this program, especially going into next year."
Next year might look a little brighter after Saturday, but the Notre Dame is not ready to turn the page on this season just yet.
The Pinstripe Bowl figured to be there at the end for the Irish whether they went 7-5 or 9-3. Given two long weeks to ponder each scenario after stumbling in the Steel City, they came out and delivered their decision, a verdict validating this senior class' contributions in the process.
November, 4, 2013
Nov 4
9:00
AM ET
SOUTH BEND, Ind. -- As Brian Kelly was finishing up his postgame press conference Saturday, an unexpected visitor made an appearance during the penultimate question.
"Jaylon, we'll be done in a second," Kelly said to
Jaylon Smith
, who had entered prematurely. "I know it's your press conference, but I'll be done in a second, and we'll let you get going. Is that all right?"
"Sorry," Smith said to the room of reporters. "I'm new to everything."
Within 24 hours, it turned out the freshman linebacker would be a seasoned veteran by Notre Dame's defense's standards. The Irish are hurting on that side of the ball -- just trying to get by, in a sense, with this weekend's game at Pitt preceding a much-needed bye before a two-game stretch against BYU and at Stanford.
[+] Enlarge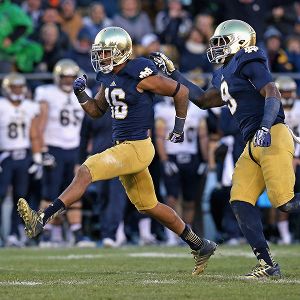 Jonathan Daniel/Getty ImagesSafety Eliar Hardy (left) is one of several Notre Dame reserves that were pressed into action due to injuries.
BCS dreams have essentially taken a backseat to figuring out just who is going to play and where, and how the remaining available guy will get ready for when their time comes.
"I think this is probably close to the pinnacle," Kelly said during Sunday's teleconference when asked if this defense has been hit as hard as any he's had in 23 years as a head coach. He added: "They don't give you any points for complaining about it. If they did, I'd complain every minute. So we just take care of it internally and get the next guy ready."
Ben Councell
, the man behind Smith most of the season at the dog linebacker spot,
was ruled out for the season Sunday after suffering a significant knee injury in the 38-34 win over Navy
. Smith and Councell, of course, waged a preseason battle for a starting spot only after senior
Danny Spond
, last season's starter, was forced to retire because of hemiplegic migraines. And the linebacking corp is less than a month removed from its other big hit, when
Jarrett Grace
broke his leg in the Oct. 5 Arizona State game, costing the Mike linebacker the rest of his redshirt sophomore season.
It only gets worse up front, where
Kona Schwenke
is lost for at least this Saturday's game at Pitt because of a high-ankle sprain suffered on the Midshipmen's final drive. And Schwenke was only starting these last two games in place of nose guard
Louis Nix III
, who at first was ruled to have a shoulder injury suffered in the USC game, and then knee tendinitis, and now tendinitis and a small meniscus tear, though the school says he will practice this week after undergoing an MRI Sunday. Before that, Schwenke filled in for end
Sheldon Day
, who missed most of a three-game stretch after leaving a Sept. 14 game against Purdue with a high ankle sprain, and then re-aggravated said ankle sprain against Navy.
And no, it is not a coincidence that most of these injuries have come during this two-game stretch against Air Force and Navy, teams that often cut-block.
"It's unfortunate," Kelly said. "It's the style of offense that the academies play. It is what it is."
Kelly said it will make sense to possibly avoid scheduling multiple option teams in a single season, but that is a bridge he will cross when he gets to it. For now, his next-man-in philosophy is being tested by, well, a lack of next-men-in.
He said he guards against that by putting those who saw 15 or fewer plays in a game through extra conditioning that following Monday, while reserves get roughly half the work of the starters during 11-on-11 and scout team work in a given week.
"I think that we're so close that you don't really think about it in terms of, Oh, I've never seen you out here," redshirt senior linebacker
Dan Fox
said. "We get a lot of guys in at practice, there's a lot of reps to go around, so next man in and next man in."
Underclassmen such as
Jarron Jones
,
Isaac Rochell
and
Romeo Okwara
have been thrust into more meaningful time than most could have reasonably expected entering the season, while names unfamiliar to all but the closest of program observers --
Tyler Stockton
,
Justin Utupo
and
Eilar Hardy
, to name a few -- saw extended action.
The last of those names, Hardy, helped set Smith up for the game-clinching tackle on Navy's
Shawn Lynch
during the visitors' final fourth-and-4 try. And he was only there because
Austin Collinsworth
suffered a neck strain that will require an MRI Monday.
Fellow safety
Elijah Shumate
, meanwhile, is expected to play against the Panthers after being sidelined the last three games with a hamstring injury, though Kelly had said the sophomore would play going into the Navy game, too.
There are also the knee injuries to left guard
Chris Watt
(PCL) and cat linebacker
Ishaq Williams
(ACL), both of whom left the Air Force game a week ago but only one of whom, Watt, could possibly return this week, depending on how quickly the redshirt senior can acclimate to the knee, which will not require surgery. Williams was in an immobilizer this week and could possibly return for the Nov. 23 BYU game.
The return of Watt would give Notre Dame four of its five starters back on the offensive line, as it lost right guard
Christian Lombard
for the season because of back surgery after the USC game. Still, the bruises have taken their biggest tolls on the other line, which during the spring and summer lost reserves
Chase Hounshell
(shoulder) and
Tony Springmann
(knee) for the season, in addition to seeing freshman signee
Eddie Vanderdoes
leave for UCLA.
All of it leaves the Irish, winners of four in a row, crawling to the finish line, every last piece of Kelly's three straight top-10 recruiting classes fitting into the plan for his push toward a second straight BCS-bowl berth.
"We are running out of next men. We're at that point where from a defensive standpoint, and particularly the defensive line, we're left with very few options," Kelly said, adding, "We'll figure something out. We'll get 11 guys out there. It's just not going to be one of those things where we're going to have the same group of guys out there all the time. As you know, we're going to have to find a way to stop a big, physical offensive line at Pittsburgh, and that is the thing that concerns you the most."
November, 2, 2013
Nov 2
9:54
PM ET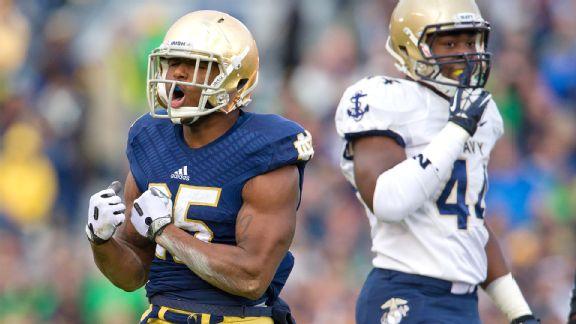 SOUTH BEND, Ind. -- Can't
anything
be easy around here?
Perhaps Ken Niumatalolo encapsulated why not after Saturday's Navy-Notre Dame game.
"For everybody that plays Notre Dame," the Navy coach said, "this is the Super Bowl for that team."
It was a different kind of championship, to be sure. And it was a different kind of rivalry, one whose mutual respect seeped through a silence that could best be described as deafening when both the Midshipmen and the Fighting Irish gathered near the visiting pocket of Notre Dame Stadium to sing the Navy Hymn afterward.
The ensuing "U-S-A" chants from the crowd as both teams gathered for Notre Dame's alma mater was a nice touch, too, as was the scary-low pregame flyover from the Blue Angels.
As for everything that happened in between on Saturday? Let's just say No. 25 Notre Dame will take the 38-34 win, thank you, and will wave a glorious goodbye to triple-option football for another year.
"Yes, I'm very glad," precocious freshman linebacker
Jaylon Smith
said of being done with a two-week stretch of Air Force and Navy, before adding that it would be "good to get back to regular football."
[+] Enlarge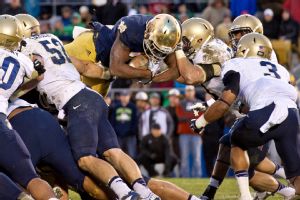 Matt Cashore/USA TODAY SportsTarean Folston, who gained 140 yards rushing, dives for the game-winning score in the fourth period.
Lately at this place, regular football has been tight, even when it should not be. Regular football usually has featured the slightest of game-changing mistakes -- in this case, a missed extra point on Navy's third touchdown, which had the Midshipmen chasing a touchdown on their failed final drive when they should have been a field goal away from tying it.
It all resulted in Notre Dame's 10th straight win under Brian Kelly in games decided by seven points or fewer, with eight of those 10 wins coming at home in the past two seasons.
Kelly said he was "ecstatic" to escape this contest with a win, that there would be no asterisk next to it, that his guys would enjoy all 24 hours of their allotted celebration time.
But after so much talk this week about the confidence built up from three straight wins over Arizona State, USC and Air Force, he recognized the outlier that Navy was, how liberating the sigh of relief that washed over the building was once Smith stopped
Shawn Lynch
on Navy's final play, a fourth-and-4 end-around from the Irish 31.
"This is one, just throw it away," Kelly said. "It's such a different game. It's defending the quarterback, lead play, and it's just you're ready for one game and the Naval Academy and what they do and how they do it, and then the next week it's a totally different situation. That's why it's such a difficult game to play.
"Nobody runs this option as effectively, and when they are on and they're not turning the football over -- and that's what they did today -- it's a one-shot deal with them. Find a way to beat them and move on."
To be fair, his defensive line is pushing all sorts of limits on depth. From the
Eddie Vanderdoes
transfer to UCLA to season-ending surgeries this summer for
Chase Hounshell
and
Tony Springmann
, from losing
Louis Nix
for these past two games and then seeing
Sheldon Day
and
Kona Schwenke
go down with undisclosed injuries against Navy, Notre Dame is barely getting by up front, and it is no surprise that the Midshipmen were able to run for 331 yards.
"I'm just glad I'll never do the triple option ever again," redshirt senior linebacker
Dan Fox
said.
So it was a touching renewal with a rival who actually will stay on the schedule, and then another mark in the W column -- not much else to see here. It is on to a Pitt team that has fallen to the Irish by three points in each of the past two seasons, before a bye week gives way to tougher tests against BYU and Stanford.
Those BCS-bowl hopes that a seemingly refreshed outfit chatted about this week? Still alive, and that's all Notre Dame cares to know, however ridiculous the notion of an Orange Bowl matchup against someone like Florida State sounds after all that transpired in the last 60 minutes.
"It's Notre Dame; we don't expect anything to be easy," Irish senior captain
TJ Jones
said. "That's why we came here. It's one of the greatest challenges off the field and on the field that you can get from an institution, and we expect that week in and week out."
April, 20, 2013
Apr 20
6:26
PM ET
SOUTH BEND, Ind. -- Big
Louis Nix
entered the media room in Notre Dame Stadium and was immediately intercepted by sports information director Michael Bertsch.
"You know quarterbacks go to the podium," Bertsch said.
Up Nix went to the center of the cramped room, facing a throng of media members who generally hang on his every word anyway, given the fourth-year junior's penchant for saying whatever in the world is on his mind at that moment.
One such instance came early in the 2012 season, when Nix explained how younger brother Kenneth, one of his 13 siblings, had told classmates during a presentation in Jacksonville, Fla., that his big brother was the Fighting Irish's quarterback.
Nix had no idea where that idea came from, but then joked that he would love to be inserted as a Wildcat-only signal caller in the "Irish Chocolate" package, an ode to his nickname.
His dream came to fruition during the fourth quarter of Notre Dame's Blue-Gold spring game Saturday before 31,652 fans, as Nix lined up in the backfield for a two-point conversion following the game's only touchdown. He took the shotgun snap and galloped into the end zone untouched for the score, continuing the roll he has been on in the past year.
"I really am a quarterback," Nix said. "I told you guys it would happen and it did."
That was Louis Nix being Louis Nix; as he provided a refreshing spark to a ho-hum exhibition on a 38-degree April afternoon. He was Notre Dame's best defensive player on the nation's biggest stage this past Jan. 7 against Alabama, and he was the anchor of a defense that happened to feature the Heisman Trophy runner-up.
By playing even bigger than his out-sized personality -- a trait that turned his every word into a soundbite and made his video news series a YouTube sensation -- Nix faced a decision that would have changed the lives of everyone back inside his family's three-bedroom home.
[+] Enlarge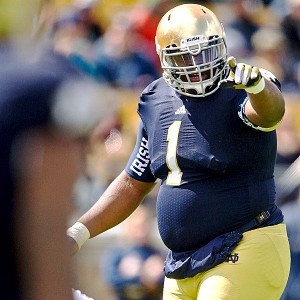 Matt Cashore/USA TODAY SportsLouis Nix capped off Notre Dame's spring game with a two-point conversion in the Blue-Gold Game.
Last spring Nix publicly expressed feelings of homesickness, as he fell into a rut and lost his spot on the first team to
Kona Schwenke
. But the film, television and theatre major thought back to senior night four years ago at Raines (Fla.) High School, when he was the only player who took the field without a loved one. His mom, Stephanie Wingfield had a shift at a hospital cafeteria that night and cried when she found out her son had taken the field alone. She begged him to stay in college, earn his degree and celebrate senior day with her.
The decision to stay ensures that the senior day moment will happen. The play that highlighted Saturday's scrimmage served as proof that he is on the right track in the classroom.
Nix's two-point conversion was the result of an academic wager he made with head coach Brian Kelly, who credited the conversion to offensive coordinator Chuck Martin and his new responsibilities as play-caller heading into the 2013 season.
"He surprised me, and so I paid up," Kelly said of Nix. "I said, 'What do you want?' I figured he would want something. He came up: 'I want to score a touchdown in the spring game.' As you know, we had a hard time scoring touchdowns in the spring game and I didn't think that was going to come to reality."
So Nix went up to quarterback Malik Zaire with 14:05 left in the contest, ordering the early-enrollee to get him to the promised land. Six plays and four minutes, 55 seconds later,
C.J. Prosise
was in the end zone with a 35-yard touchdown reception, allowing the blue-jerseyed Nix to step into the huddle with his white-jerseyed teammates. It set off a minor social media celebration of a FAT GUY TOUCHDOWN. (Or, in this case, a FAT GUY CONVERSION.)
Is this something Temple needs to scheme against come the teams' Aug. 31 opener?
"That's what all teams need to be scared of. Everybody needs to be scared of Irish Chocolate," Nix said.
"Everyone," he continued, staring at the reporter who had inquired, "including you."
The defense charged with stopping the play certainly seemed scared, though it adjusted enough to keep the new quarterback from beating them with his arm.
"I just made a few checks or whatever. You couldn't hear them. They were silent checks," Nix said. "I just told them where to line up, give me a nice pass-block. My O-line did a great job, that's why I was successful."
Or simply because he looked up, stared at nothing but daylight and entered a state of shock, with linebacker
Kendall Moore
getting the heck out of the way once Nix committed to running straight ahead.
"I saw fear in his eyes," Nix said of Moore.
George Atkinson III
said afterward that
Everett Golson
should worry about losing his job. Fellow defenders expressed relief that they will never have to face Nix again.
But that might not be the case, not if Nix continues to ride this surge.
"It's a dream of mine to happen [in a game], hopefully it does -- hopefully Coach thinks I can handle the ball," he said.
"I'm 305 right now," the listed 347-pounder deadpanned. "If I gain a few pounds, maybe he'll just hand me the ball off."
October, 19, 2012
10/19/12
11:00
AM ET
SOUTH BEND, Ind. -- This edition of the BYU-Notre Dame series was born on the day the Cougars declared their independence, which will turn two years old when these teams square off Saturday.


The ties run a bit deeper than the pair's lack of conference membership in football, though. The private, religious affiliations of each adds another layer for an Irish squad that boasts a small handful of members of the Church of Jesus Christ of Latter-day Saints.
"All of them have felt very comfortable in the community," coach Brian Kelly said. "I don't know what the dynamic is, but it just seems that there's a reaching out that has taken place in their time here, and it's made it, I think, a great transition for those kids."
Manti Te'o
,
Kona Schwenke
and
Chris Badger
all are LDS members, with Badger returning to Notre Dame this year following his two-year Mormon mission.
Much has been made of Te'o's path to Notre Dame over BYU and childhood favorite USC, a decision he says he had prayed on. His cousin, Jray Galea'i, is a student assistant with the Cougars after chronic injuries forced him to quit his role as a defensive back.
"We wanted Manti," BYU coach Bronco Mendenhall said. "We thought he was an excellent player. It was a heavy recruiting race. He had an official visit, saw everything that we had to offer, and really didn't want BYU. Certainly our evaluation as a player was right; he's very good."
Notre Dame, in some ways, has provided a template for football independence for BYU, which, in some ways, fashions itself as the Notre Dame of the West. The Irish and the Cougars announced their series upon the latter's defection from the Mountain West Conference, with Notre Dame scheduled to host BYU again next season before they each host a pair of games between 2014-20, with the dates to be determined.
His team continuing its pursuit of perfection, Te'o's one and only shot against BYU won't add to the intrigue Saturday -- despite the irony behind his analogy.
"It's just game seven," Te'o said. "I think I said this before: When you start to do things differently than you've done in the past, then bad things start to happen."
July, 14, 2012
7/14/12
10:05
PM ET
We're two days removed from Friday the 13th, and no bad news has come for Notre Dame.

That wasn't the case three months ago, when a hastily called news conference was set up the morning of April 13 to announce the decision of Aaron Lynch to transfer. The move wasn't without its drama — Lynch had been sent home days earlier, his mother pleaded on Twitter with former Irish lineman Justin Tuck to convince her son to stay — but when the dust cleared, Lynch was heading closer to home.
The Cape Coral, Fla., native will play for Irish alum Skip Holtz at South Florida, where he will look to build on a freshman All-America season that saw him start six games and lead the Irish in sacks (5.5) and quarterback hurries (14). He also had 33 tackles, including seven for a loss, and forced one fumble.
The 6-foot-6, 270-pound Lynch has first-round NFL talent, getting to the quarterback with ease and capable of making a game-changing play at any given moment. He was expected to key an Irish pass rush that would ease the burden of breaking in two new starters in the secondary.
But if one position group can handle a defection, it is the defensive line.
Stephon Tuitt
is more versatile and, possibly, more valuable than Lynch, able to play inside or out.
Kapron Lewis-Moore
is back for one more year and a proven starter, and
Kona Schwenke
emerged in the middle this spring, creating the potential for a very strong interior with him and
Louis Nix
splitting snaps. Lynch also picked up six penalties last season, mostly after the whistle, and he didn't exactly apologize for them when given the chance.
While the energy, athleticism and overall threat of Lynch on the field can't be replaced, the Irish do have plenty of talent that is capable of filling the void and still producing a strong pass rush this season.
May, 22, 2012
5/22/12
9:00
AM ET
As part of the "College Football Live" 100 Days 'Til Kickoff countdown, here's a look at Notre Dame's top 10 players.
[+] Enlarge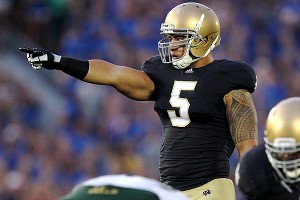 Jonathan Daniel/Getty ImagesManti Te'o could be the best inside linebacker in all of college football.
1. Manti Te'o:
The senior passed up NFL millions and returns as perhaps the top inside linebacker in the nation. He will look to build off consecutive 120-plus-tackle campaigns and anchor a front seven primed to take the next step under third-year coordinator Bob Diaco.
2. Tyler Eifert:
Like Te'o, Eifert deferred NFL dollars and dreams to return for one more year. And, like Te'o, Eifert may just be the nation's best player at his position. But the tight end will resemble more of a receiver this season, moving all over the field and serving as the No. 1 target for whoever ends up throwing the ball for Notre Dame.
3. Cierre Wood:
Coming off a 1,000-yard season in which he lost snaps to Jonas Gray late in the campaign, Wood returns as the Irish's No. 1 running back. Depth in the backfield may keep carries down again, but Wood figures to have another strong season with a proven line blocking for him.
4. Jamoris Slaughter:
He probably won't be a first-round draft pick the way
Harrison Smith
was, but the fifth-year senior is a versatile playmaker who can move up and play linebacker while serving as the voice for a young secondary.
5. Stephon Tuitt:
He didn't put up the big numbers of fellow class member Aaron Lynch, but he may be even better. Tuitt has shown the versatility to play end and nose guard, and he will only get better after bursting onto the scene as a freshman.
6. Zack Martin:
Want to know what helps with the quarterback transition the most? A proven offensive line. At left tackle, Martin keys that group as he enters his senior year with 26 straight starts under his belt (two at right tackle).
7. Theo Riddick:
You'd be hard-pressed to find someone who stood out more this spring. The running back/slot receiver is a playmaker when he gets the ball in his hands. If he can stay healthy and succeed as a punt returner, he will find his name much higher on this list a few months from now.
8. Braxston Cave:
Another veteran piece on this line, Cave stars in the middle and is an important locker room voice. Limited this spring after a foot injury sidelined him late last season, Cave is back for a fifth year, his third in a row as the starting center.
9. Louis Nix:
A subpar spring forced Nix behind
Kona Schwenke
on the depth chart, but the nose guard is an invaluable cog in the middle for the Irish's young line. A strong preseason camp -- and a capable replacement in Schwenke -- should only make Nix better in his second year of game action. (He redshirted his freshman year.)
10. George Atkinson III:
Atkinson returned a pair of kickoffs for touchdowns as a freshman. Now, he's hoping that playmaking ability translates on the offensive side of the ball. He netted 178 yards of offense in the spring game but coughed it up twice, and he'll have to ease the staff's concerns since Wood and Riddick are ahead of him.
May, 17, 2012
5/17/12
10:30
AM ET
Who made names for themselves this spring? Glad you asked.
RB/WR Theo Riddick:
Riddick seemed more comfortable this spring, as the learning curve from playing two different positions is all but gone and he is ready to make plays. The senior stood out during several intrasquad scrimmages. If Riddick can be an effective punt returner this fall, he can be the complete package for the Irish.

WR John Goodman:
It's not often you see a fifth-year senior on lists like these, but Goodman, as coach Brian Kelly said, was the Irish's go-to guy this spring, and he served as an offensive captain in the Blue-Gold game as a result of being the unit's most improved player. No longer in the shadow of Michael Floyd and with one last chance to succeed after being invited back for another year, Goodman is primed for a breakout season this fall.
NG Kona Schwenke:
Like Goodman, Schwenke was a captain in the Blue-Gold game, winning most improved defensive player honors while temporarily supplanting Louis Nix from the starting spot in the middle. He added some weight and improved his handwork, and he figures to see plenty of snaps next season, regardless of whether or not he starts.
LB Ishaq Williams:
Kelly revealed that Williams went home to Brooklyn, N.Y., for a few days in the winter to think about his future. He has apparently come back with a new focus, as the rising sophomore had a strong spring, filling in for the injured
Prince Shembo
at the cat position and coming up with a pick and a fumble recovery in the spring game.
LB Jarrett Grace:
Playing time may be hard to come by -- he is, after all, backing up a likely first-round draft pick in
Manti Te'o
-- but Grace has made the most of his opportunities. Defensive coordinator Bob Diaco loved him this spring, and, after redshirting his freshman season, Grace figures to spell Te'o every now and then this fall while also seeing duties on special teams.
March, 29, 2012
3/29/12
9:00
AM ET
Our breakdown of Notre Dame's 2012 roster continues today with the defensive side of the ball.
DEFENSIVE LINE
The players:
Aaron Lynch
,
Louis Nix
,
Stephon Tuitt
,
Kapron Lewis-Moore
,
Tony Springmann
,
Chase Hounshell
, Sheldon Day,
Tyler Stockton
,
Kona Schwenke
The incoming:
Jarron Jones
,
Romeo Okwara
[+] Enlarge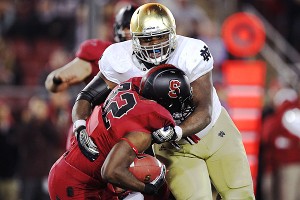 Ezra Shaw/Getty ImagesTackle Louis Nix is a key cog in what should be a strong, experienced defensive line for Notre Dame.
The breakdown:
Injuries forced all three current starters — Lynch, Nix and Tuitt — to play much more than expected last season, and none disappointed. They are all second-year players now, and their pass-rushing ability should have opposing offensive lines and quarterbacks on their heels. Lewis-Moore has been cleared for spring following a season-ending knee injury in 2011 but might not start, though he will likely see plenty of playing time as the line rotates. Hounshell (shoulder surgery) is not cleared yet, but he will likely see significant time this fall after playing as a true freshman last year as well.
LINEBACKERS
The players:
Danny Spond
,
Manti Te'o
,
Dan Fox
,
Prince Shembo
,
Kendall Moore
,
Ishaq Williams
,
Anthony Rabasa
,
Carlo Calabrese
,
Jarrett Grace
, Justin Utopo,
Connor Little
,
Ben Councell
,
Joe Schmidt
The incoming:
None
The breakdown:
As we said with
Tyler Eifert
yesterday, everyone knows what Te'o is capable of, as he likely would have been a first-round NFL draft pick had he left school following his junior year. Fox and Calabrese shared the other inside role last year, and their experience should prove valuable. Shembo has been working at the cat spot this spring, and up-and-coming talents like Williams and Spond figure to see extensive playing time.
SECONDARY
The players:
Bennett Jackson
,
Jamoris Slaughter
,
Zeke Motta
,
Lo Wood
,
Josh Atkinson
,
Austin Collinsworth
,
Dan McCarthy
,
Jalen Brown
,
Cam McDaniel
,
Eilar Hardy
,
Chris Salvi
,
Joe Romano
, Will Salvi,
Connor Cavalaris
,
Matthias Farley
,
Blake Breslau
The incoming:
Elijah Shumate
,
Nicky Baratti
,
C.J. Prosise
,
John Turner
The breakdown:
The loss of
Tee Shepard
really stings this group, which is down to four scholarship corners with a combined zero career starts. Jackson and Wood are in position to take over as the new starters, and playing time last season should help with the transition. At safety, Slaughter and Motta saw plenty of time the last two seasons, and Slaughter in particular has shown a nose for the ball and the capability of providing a leadership force that
Harrison Smith
is leaving behind. Collinsworth will likely also see plenty of snaps after playing last year.
August, 10, 2011
8/10/11
11:00
AM ET
Notre Dame has an experienced team coming back in 2011, with 20 players who started at least seven games last season. But there are also plenty of opportunities for young players to make an impact, like
Tommy Rees
and
Cierre Wood
did last year.
Today, we'll take a look at a few underclassmen who could step up and become difference-makers this season. We'll define underclassmen as those who are in their first or second year of playing -- remember, Notre Dame doesn't officially do redshirts -- then talk about a few true freshmen who could make a splash. We'll limit these to three in each category and try to focus on those players who haven't seen a lot of action so far.
Sophomores who have played
[+] Enlarge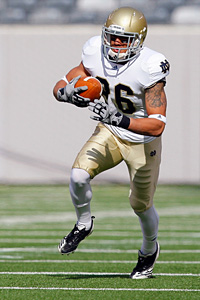 Jim O'Connor/US PresswireBennett Jackson, recruited as a receiver by Notre Dame, will move to cornerback this fall.
1. Bennett Jackson, CB:
Jackson was recruited as a receiver but did his best work in 2010 on special teams as both a returner and a tackler. He was moved to cornerback in the spring to help shore up a thin position. He'll see some playing time there, and if anything happens to Gary Gray or Robert Blanton, Jackson will instantly become vitally important.
2. Prince Shembo and Danny Spond, OLB:
We're combining these two into one because both are expected to compete for the starting job at one of the outside linebacker positions. Both saw action last season as backups and showed promise at times. Shembo has excellent speed, while former high school quarterback Spond has adjusted well to defense.
3. Kona Schwenke, DE:
The Hawaiian became a surprise contributor late in the season after Ian Williams' injury. He has put on a lot of weight since coming to campus and is now up to 6-foot-4, 285 pounds. He'll push for playing time in what is becoming a very deep position for the Irish.
Sophomores who haven't played
1. Lucas Nix, NG:
Nix was a highly rated recruit who came to campus extremely overweight. He has shed more than 40 pounds and was listed at 326 to start fall practice. He still might not be in good enough shape to play every down, but if he can give about 20 quality snaps in the middle of that defensive line, he can provide a valuable run-stuffing presence.
2. Andrew Hendrix, QB:
The offensive MVP of the spring game, Hendrix is in a four-way competition for the starting quarterback job. Or, more accurately, he's in a competition with true freshman Everett Golson to be the change-of-pace, running-threat quarterback in special packages. Either he or Golson will likely have an impact on the season at some point.
3. Christian Lombard and Tate Nichols, OT:
Lombard and Nichols are big, talented tackle prospects Notre Dame had the luxury of grooming without playing last season. With Zack Martin and Taylor Dever returning as the starting tackles, Lombard and Nichols will begin the season as backups but will factor into the rotation. They're just an injury or a lackluster performance away from being very important.
True freshmen
1. Aaron Lynch, DE:
The breakout star of the spring game, Lynch wowed everybody with his speed and instincts as a pass-rusher. He'll likely start out as more of a situational player, but if he continues to grow and play like he did in the spring, he'll force his way into more and more snaps.
2. DaVaris Daniels, WR:
The Irish are looking for more playmakers at wide receiver to complement
Michael Floyd
and
Theo Riddick
, and the coaching staff is high on Daniels' potential. The 6-foot-1 freshman has the pedigree, as his father played 15 years in the NFL at defensive end. He'll have to learn quickly, though, as he did not arrive until the summer.
3. Ishaq Williams, OLB:
Like Lynch, Williams went through spring practice to get an early acclimation to college. The highly rated recruit has more experienced players in front of him at outside linebacker, but he's a physical force at 6-5, 255 pounds. At the very least, he can be used on third downs as a pass-rush specialist.
October, 31, 2010
10/31/10
10:00
AM ET
What we learned from Notre Dame in the Irish's
28-27
home loss to Tulsa on Saturday:
1. Rees' pieces:
This is, for better or worse,
Tommy Rees
' team now. The true freshman will have to take over at quarterback for
Dayne Crist
, who's apparently out for the year with a knee injury. Rees had good moments against Tulsa, throwing for four touchdowns in a tough spot. But he also had three interceptions and should never have thrown the final pick in the end zone in the final minute with Notre Dame already in field-goal position. Notre Dame will have to coach up Rees as much as possible during the bye week and hope for the best in the final three games.
2. Bye bye bowl?:
Now at 4-5, the Irish have games left against Army, Utah and at USC, a place they haven't won since 2000. Dropping games to Navy and Tulsa erased all margin for error, and it's looking increasingly likely that the Irish will stay home for the holidays in Brian Kelly's first year. Any way you slice it, that's vastly disappointing.
3. Youth steps forward:
All of a sudden, Notre Dame is a very young team. There's Rees at quarterback, of course. Armando Allen's career might be done at running back, leaving that job in the hands of
Cierre Wood
. True frosh T.J. Jones is the second-leading receiver, and
Tyler Eifert
has taken over for the injured
Kyle Rudolph
. Sophomore Sean Cwynar is starting for Ian Williams at nose tackle, with freshman Kona Schwenke seeing reps at defensive end. All this youth shows how little experienced depth the Irish had and makes a strong finishing kick even more unlikely. If there's any good news, it's that these guys are gaining valuable seasoning for 2011.
October, 26, 2010
10/26/10
1:47
PM ET
Forget about Notre Dame turning down invitations to lesser bowls this season if it finishes with a 6-6 record for the second straight season. First-year coach Brian Kelly says reaching a bowl game, any bowl game, is of utmost importance.

The reason? The 15 extra practices that bowl teams are allowed could prove invaluable as Kelly continues to implement his system and way of doing things. The Irish turned down bowl opportunities last year, but the school had already fired Charlie Weis by that point.

"We need those 15 practices," Kelly said. "It's very important to the development of our program and moving forward. I need more time with our guys. Our coaches need more time with our players."

That's one reason why Kelly is planning to play true freshman defensive end Kona Schwenke for the first time Saturday against Tulsa in the ninth game for the 4-4 Irish. With star nose tackle Ian Williams out with a medial collateral injury in his knee, Hafis Williams will move from end to backup nose guard, splitting time with Sean Cwynar. Schwenke will be a primary backup at one of the end spots.

"He's got to help us win games," Kelly said. "We're in that mode where we've got to win more games, obviously. This isn't one of those ride-out-the-streak situations. We've got to win games."

Losing Williams, whom Kelly said will be out 4-to-6 weeks, is a huge setback. Williams was arguably the defense's most valuable player and a much-improved performer who served as the main run-stuffer on the point of the 3-4 scheme.

Cwynar has played well this season, though, and bulk up front may not be needed as much this week against Tulsa, which runs a spread offense.

"The production has to be there at the nose guard position," Kelly said. "But I wouldn't say we can't execute our defense against this offense if our nose guard isn't an All-American."

The defense can't play as poorly as it did in last week's 35-17 loss to Navy. Kelly called that dismal day "an isolated incident" that happened because of the Midshipmen's triple-option attack. He said he didn't expect it to have any influence on this week's game and liked his defense's "overall body of work." He's more concerned about facing an option team again when the Irish play Army on Nov. 20.

If Notre Dame can beat Tulsa this week, it could be playing for bowl positioning by the time that Army game rolls around. A minor bowl, for sure, but one that is now the major goal for the Irish.
February, 3, 2010
2/03/10
1:09
PM ET
It's been a mixed day so far for Notre Dame on the recruiting front.
The Irish got a big (literally) boost when offensive lineman
Matt James
of Cincinnati signed this morning. The 6-foot-7, 280-pounder who is ranked No. 14 among tackles by Scouts Inc. chose Notre Dame over Ohio State as Brian Kelly's Cincinnati connections paid off again.
Notre Dame continued its Hawaii connection by signing
Kona Schwenke
out of Hauula. He's a 6-foot-4, 217-pound three-star defensive end who picked the Irish over Washington.
However, Notre Dame wasn't able to reel in safety
Jeremy Ioane
from Punahous School in Hawaii, the same alma mater as
Manti Te'o
. Ioane, who took a late visit to South Bend, ended up at Boise State instead, giving panic-stricken Irish fans something to howl about.
The Irish also couldn't pry linebacker
Christian Jones
away from Florida State, but that really shouldn't be a surprise since his brother and father both played for the Seminoles.
Now the Domers wait for
Seantrel Henderson
's announcement, though it seems like a long shot that he'll sign with Notre Dame. The school will likely end up without any five-star signees in this class, but Kelly's strength is in player development, anyway.
TOP 25 SCOREBOARD
Thursday, 12/5
Friday, 12/6
Saturday, 12/7
TOP PERFORMERS