NCF Nation:

Konica Minolta Gator Bowl 2009 bowls
January, 1, 2010
1/01/10
4:51
PM ET
Instant analysis of West Virginia's
33-21 loss
to Florida State in the Konica Minolta Gator Bowl:


How the game was won:
The Mountaineers simply couldn't stop the run. Florida State rushed for 225 yards, more than half of them by
Jermaine Thomas
, as the West Virginia defense couldn't get off the field enough. After getting out to an early 14-3 lead, the Mountaineers struggled to do much more on offense and lost starting quarterback
Jarrett Brown
to an ankle injury late in the first half.
Turning point:
West Virginia had a first down on the FSU 22-yard line late in the second quarter with a 14-10 lead. The next two plays resulted in a holding penalty and an intentional grounding foul, followed by a sack of Brown that knocked him out of the game for good. The Mountaineers came away with no points, the Seminoles got a field goal before halftime and the game was virtually all Florida State from there.
Player of the game:
Florida State quarterback
E.J. Manuel
. The youngster threw for 189 yards and ran for 69 yards and a score as he managed the game efficiently throughout.
Stat of the game:
West Virginia had only 102 yards passing, and 35 of those came on the final drive when the outcome was well in hand. Outside of
Noel Devine
(16 rushes, 168 yards), the Mountaineers didn't have a lot of options on offense.
Unsung hero of the game:
Florida State kick returner Greg Reid. His 69-yard return to start the second half set up the Seminoles' go-ahead field goal.
What it means:
West Virginia was in a tough spot in this game, trying to play the villain in Bobby Bowden's curtain call. The Mountaineers could have reached the 10-win plateau and possibly secured a top 15 finish. Instead, they lost a bowl game for the first time since 2005 and became the first Big East to lose in the postseason. Still, the future looks pretty bright in Morgantown. Freshman quarterback
Geno Smith
played the second half and showed off some of his many talents. West Virginia could lose Devine to the draft but will return a lot of key players next year.
December, 31, 2009
12/31/09
10:30
AM ET
Here's a quick preview of Friday's Konica Minolta Gator Bowl:


WHO TO WATCH:
FSU quarterback
E.J. Manuel
. It's only his fourth career start, and so far Manuel has been a bit unpredictable, which is to be expected. In his debut against Wake Forest, Manuel looked as if he made a seamless transition into the starting job in place of injured starter
Christian Ponder
. He has completed over 60 percent of his passes in each of the past three games, but has also thrown six interceptions and only two touchdowns. West Virginia leads the Big East and is No. 26 in the country in pass efficiency defense.
WHAT TO WATCH:
Florida State's run defense. It has to be better. Has to be. West Virginia is averaging 183.5 rushing yards per game, second best in the Big East and 32nd in the nation. FSU's rushing defense is ranked 108th in the nation, allowing 203.3 yards per game. FSU's defensive line will have some problems handling the Mountaineers up front, and they should be able to find some creases for
Noel Devine
.
WHY WATCH:
If you don't know, find a new hobby. Try knitting or something. It's Bobby Bowden's final game of his career, and it comes against his former team, as Bowden was the head coach at West Virginia from 1970-75, leading the Mountaineers to a 42-26 record (1-1 in bowls). Bowden (388-129-4) has won 388 games over 44 seasons, the second most among all FBS coaches behind Joe Paterno (393). As if that weren't reason enough, it's also the final game for longtime defensive coordinator Mickey Andrews.
PREDICTION:
The Seminoles will start of strong, fueled by the emotion surrounding the game, but West Virginia will win the battle up front, and Florida State won't be able to contain Devine or quarterback
Jarrett Brown
for four quarters. The Noles' defense has been FSU's problem all season, and that's not going to change just because it's Bowden's final game. Manuel will play well enough to keep Florida State in the game, but in the end he'll make a few rookie mistakes and West Virginia will win the turnover battle leading to a 35-24 Mountaineers win.
December, 31, 2009
12/31/09
8:53
AM ET
A brief primer on Friday's Konica Minolta Gator Bowl matchup between West Virginia (9-3) and Florida State (6-6):


WHO TO WATCH:
Noel Devine
. The electric West Virginia tailback is one of the most exciting players in college football. But the junior might be playing in his last game for the Mountaineers as a potential NFL career beckons. Florida State allowed more than 200 yards rushing per game this season, ranking 108th in the nation. The conditions seem perfect for a huge final performance from Devine in his home state.
WHAT TO WATCH:
These two teams are built on speed, and you know you'll see a lot of athletes all over the field. West Virginia's offense isn't what it used to be, but Florida State's former defensive superiority has gone MIA. A big key will be how Seminoles freshman quarterback E.J. Manuel handles himself in a bowl spotlight and against the Mountaineers' unusual 3-3-5 defensive scheme. West Virginia's defense found a new gear late in the season and -- even without ineligible starters Scooter Berry and Nate Sowers -- could cause the inexperienced signal-caller lots of problems.
WHY WATCH:
Of course, the only reason Florida State is even in Jacksonville is because of Bobby Bowden's last game. Anyone with an appreciation of college football history will want to see one of the sport's true lions -- and a real gentleman -- coach one more time. From a West Virginia perspective, the Mountaineers can finish with a 10-win season and start building for next year, when a lot of key players return. Bill Stewart can improve to 3-0 in bowl games. And the Big East can notch another scalp against the ACC.
PREDICTION:
West Virginia has clearly had the better season and is a better team. But the Mountaineers will be an underdog in this game because of the tidal wave of support for Bowden and the emotion the Seminoles will surely bring to the field. Florida State comes out firing, but inspiration can't cover for all the mistakes Bowden's club has made throughout the year. West Virginia in a squeaker, 27-25.
December, 30, 2009
12/30/09
5:00
PM ET
Florida State coach Bobby Bowden took some time to sign autographs before and after today's practice. He took the time to visit with some of his former players. And as always, he was gracious with the media after practice, and blended his humor, wit and perspective to address all of the hoopla surrounding his impending retirement following the Gator Bowl.
[+] Enlarge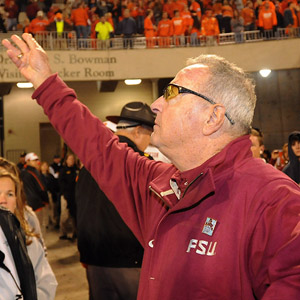 Sam Sharpe/US PresswireBobby Bowden built the Seminoles into one of college football's greatest dynasties.
When asked about all of the events surrounding his final game, including being grand marshal of the Gator Bowl parade, Bowden said:
"As long as it don't lead to the cemetery. Is there a cemetery out there somewhere? This is something that will be different. At first, I had preferred not to do it but these people have just been so gosh darn good that I felt like I needed to do everything for them I could. I certainly appreciate everything they are doing, but if we were playing for the national championship I would probably say I could not do all this. But the coaches are organized, I told them before we got here that they (the city of Jacksonville) have a lot of events planned for me, since it's my last game, so I want you all to prepare your practice like you'll never see me. But I do get to see the practice. They are good enough to get it done."
That's typical Bowden, and beyond everything he's done for the game, that's what I'll miss most -- his personality. There's been plenty of discussion about whether or not Florida State can beat West Virginia. But even Bowden has shied away from talking about college football's biggest story this year -- his story. Today was his last practice as head coach.
"I haven't really thought about it until you just mentioned it now," Bowden told reporters. "It is really not on my mind."
The feeling seems mutual, as fans have already moved on to discussions about Jimbo Fisher's latest hires, the latest superstar recruit to commit and what the team might be capable of in 2010 with Christian Ponder leading the way. It seems as if everyone -- including Florida State -- has already moved on. Fisher already has his first staff meeting planned for when they get back from the bowl game.
Maybe that's when it will really hit everyone -- when Bowden doesn't come back. When he's not in the staff meeting, or his office, or the locker room, or on the practice field.
Win or lose, this Gator Bowl should be about saying goodbye to Bowden, not the final score. While the finality of it all might not be on Bowden's mind or anyone else's right now, it's only a matter of days before it will be. We know Florida State is headed in the right direction so far under Fisher, but it's still hard to imagine a college football Saturday without Bowden.
December, 23, 2009
12/23/09
8:55
AM ET
West Virginia rolls into the Konica Minolta Gator Bowl with a three-game winning streak and victories in five straight bowls. Its opponent, Florida State, finished just 6-6 this season.
[+] Enlarge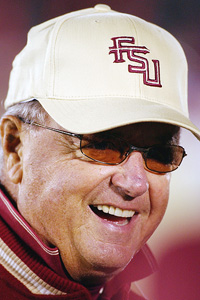 Jonathan Daniel/Getty ImagesWest Virginia will have to overcome the sentimental edge for retiring FSU coach Bobby Bowden off with a smile.
And yet, the Mountaineers face one of the toughest challenges of the entire bowl season. They'll be taking on the Seminoles in coach Bobby Bowden's final game. Everyone who does not have a pre-existing West Virginia allegiance will certainly be rooting for one of the game's true legendary figures to go out a winner.
"I've told the guys this: There's going to be 70,000 crimson, gold and white Florida State fans, I'm sure, against about 15,000 of us," West Virginia coach Bill Stewart said this week. "Our men know they're going to be outnumbered, our men know they're going to be up against it, and if they don't they're going to know real quick as soon as we come through that tunnel.
"I've probably got family at home that will be cheering for him, I don't know."
Stewart understands what the other sideline will be going through. He was an assistant coach during Don Nehlen's final game at West Virginia, a win over Ole Miss in the 2000 Music City Bowl.
"I've coached a lot of football games in my time," Stewart said. "That one right there, I gave everything I had to give. I gave just a little more that night for Coach Nehlen. I can only imagine what the Florida State coaches and players are going to do, and I can only imagine what Coach Bowden himself is going to do for this last hurrah."
In one sense, the Mountaineers are honored to be a part of the last game ever coached by Bowden, who was the West Virginia head man before he went to Florida State. But they have to find a way to match the intensity of their opponents while staying focused.
"It's nice, but it's something you don't want to get caught up in," senior linebacker Reed Williams. "We know most people will be rooting for (Bowden), but we can't care about what everybody else thinks. We've played in a lot of emotional games around here, so I think we should be ready."
If West Virginia can maintain its level of play from the last month of the regular season, especially defensively, it should have a great chance to end up with a 10-win campaign.
After a disheartening loss at South Florida on Oct. 30, the defense held Louisville to nine points, helped nearly pull off an upset at Cincinnati in a 24-21 loss, kept Pitt at bay in a 19-16 win and held off Rutgers on the road for a 24-21 victory. Getting the entire unit healthy and active -- with guys like Williams, safety Sidney Glover and defensive tackle Scooter Berry returning -- proved to be a big key.
"We finished the season strong, but I still feel like we haven't played our best football yet," Williams said. "Hopefully, we can do that in our last game."
It's a game in which Stewart says his team will be underdogs. Most people will probably hope West Virginia is a footnote in a historic ending for Bowden.
But the Mountaineers have a little history on their side as well. No current player has ever lost in a bowl game.
"That's a tradition we definitely want to keep going," Williams said.