NCF Nation:

Kourtnei Brown
October, 24, 2011
10/24/11
9:26
AM ET
»
Power Rankings
:
ACC
|
Big 12
|
Big East
|
Big Ten
|
Pac-12
|
SEC
This will mark the fifth straight week that Clemson has held the No. 1 spot in the ACC power rankings. Yes, these Tigers have proven capable of consistency. The rest of the ACC? Flip a coin. Here's a look at how the league stacks up heading into Week 9:
1. Clemson (8-0, 5-0 ACC; LW: No. 1) --
It was a complete effort in a 59-38 win over North Carolina, as the defense forced six turnovers, and five different receivers caught touchdown passes. Quarterback
Tajh Boyd
threw for five touchdowns and he ran for another. Defensive end Kourtnei Brown accounted for two more touchdowns on turnovers. Can they keep it up on the road this weekend against a Georgia Tech program that thrives on beating Clemson?
2. Virginia Tech (7-1, 3-1; LW: No. 2) --
The Hokies got off to a slow start offensively against Boston College, but they bounced back in the second half thanks to a 42-yard touchdown run by running back
David Wilson
. Virginia Tech has a road trip to Duke, which is coming off a heartbreaking loss to Wake Forest, on Saturday. The Hokies have now won three straight and are atop the Coastal Division standings.
3. Miami (4-3, 2-2; LW: No. 4) --
With their upset win over Georgia Tech on Saturday, the Hurricanes evened the playing field in the Coastal Division race and joined a pack of two-loss teams now chasing Virginia Tech. The Canes have a short week to prepare for a Thursday night game against a completely different team in Virginia.
4. Wake Forest (5-2, 4-1; LW: No. 5) --
The Deacs keep finding ways to win, and it seems to be a different player every game. Wake Forest has quietly put itself in a position to challenge Clemson for the Atlantic Division title, but they're in a must-win situation on Saturday at North Carolina.
5. Georgia Tech (6-2, 3-2; LW: No. 3) --
The Yellow Jackets seem to have gone backwards in each of the past two weeks, as upset losses to Virginia and Miami have them looking up at Virginia Tech in the conference standings. Saturday marked the worst offensive output of the season for Georgia Tech, which will need far more than seven points to beat Clemson this weekend.
6. Florida State (4-3, 2-2; LW: No. 7) --
The Seminoles took another step forward with a win against the Terps, and this time, they got their running game going in the process.
Devonta Freeman
has now had two straight games of 100 yards rushing. (Where has HE been?) The Noles have home field advantage again this weekend against NC State.
7. NC State (4-3, 1-2; LW: No. 11) --
Coach Tom O'Brien has fared well in the second half of the season during his tenure in Raleigh, and he continued that trend on Saturday with a road win at Virginia. It was the Pack's first ACC road win of the season. NC State is still three wins shy of bowl eligibility, but it suddenly looks like a much more realistic possibility.
8. North Carolina (5-3, 1-3, LW: No. 6) --
The Tar Heels were beaten soundly by Clemson on Saturday. The secondary was picked apart. The offense turned it over six times and not much went right for UNC, which fell into a hole in the Coastal Division standings that it probably won't be able to climb out of. And yes, UNC fans should be worried about Wake Forest this weekend.
9. Virginia (4-3, 1-2; LW: No. 8) --
The Cavaliers were unable to build any momentum from their upset win over Georgia Tech and lost at home to NC State. It's not going to get any easier this week with a Thursday night trip to Miami. The Canes have put together back-to-back wins and now have a roster free of suspensions.
10. Maryland (2-5, 1-3; LW: No. 9) --
The Terps are sinking, but on Saturday, they'll finally meet up against a team that has fared worse this season in Boston College. Pride will be on the line in this one. The Terps have home field advantage, but BC played Virginia Tech tough on the road this past weekend. Maryland has to win four of its final five games to reach a bowl.
11. Duke (3-4, 1-2; LW: No. 10) --
The Blue Devils gave it everything they had against Wake Forest, but it was too little, too late. Wake Forest almost squandered a 17-point lead, but the defense came through in the clutch and Duke lost its 12th straight to Wake Forest.
12. Boston College (1-6, 0-4; LW: No. 12) --
For the second straight year, BC is off to an 0-4 start in conference play. The Eagles haven't won since Sept. 24 against Massachusetts, and the next three games are against Atlantic Division opponents. BC doesn't need to worry about getting to a bowl game, it needs to worry about winning a game. Any game.
October, 22, 2011
10/22/11
7:03
PM ET
CLEMSON, S.C. -- On Monday, Clemson was on fall break and the players were allowed to sleep in before attending an offensive meeting at 10 a.m.
That's when offensive coordinator Chad Morris woke them up.
"I've never seen him that fired up," center Dalton Freeman said.
Clemson fans might say the same about the Tigers' offense on Saturday against North Carolina.
Seven different players accounted for touchdowns in
Clemson's 59-38 romp
of the Tar Heels, including defensive end Kourtnei Brown, who returned two turnovers for scores. It seemed as if Clemson had more playmakers than North Carolina had defenders on the field. Only one other time in school history -- against Wake Forest in 1981 -- had Clemson scored more points against an ACC opponent. The Tigers' ability to distribute the ball coupled with the unselfish attitude from playmakers young and old are what has separated the program, now 8-0, from the rest of the ACC this year.
[+] Enlarge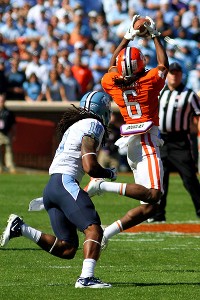 Joshua S. Kelly/US PresswireDeAndre Hopkins gashed the Tar Heels' secondary with nine catches for 157 yards and a touchdown.
Receiver
Sammy Watkins
might be the best freshman in the country, but he doesn't have to be for Clemson to win.
"Today was probably the most complete game we've had as far as distributing the ball and sharing the wealth," quarterback
Tajh Boyd
said. "There is a lot to go around. If somebody game-plans for this person or that person, we do have other options out there. It's exciting to see, and that's probably the most rewarding thing I took from today, was that you come back into the locker room and you see the smiles on these guys' faces because they are getting shown love. We've got too many playmakers. It's a quarterbacks dream to have those type of players out there."
Against North Carolina, receiver DeAndre "Nuke" Hopkins was Boyd's favorite target, with nine catches for 157 yards and a touchdown. He was one of five different receivers who caught touchdown passes, a single-game school record. Even with Watkins drawing the bulk of the attention from UNC's defense, he still finished with eight catches for 91 yards and a touchdown.
"I think that's the key to our success," coach Dabo Swinney said. "First of all we've got really, really good players. We've hit some home runs with recruits from that standpoint. … The key for us is it's not like you can just defend one guy. We have a lot of guys who can make plays. We have a lot of backups who can make plays. We've got a quarterback who can pull the trigger and make a decision, and the offensive line is playing some really, really good football. That's a good combination to have."
And it's only the beginning. Clemson has 42 freshmen (redshirt or first-year) among the 85 players on scholarship. The Tigers have played 13 true freshmen, none of whom have had more of an impact that Watkins, but
Mike Bellamy
and receiver
Martavis Bryant
have also been key contributors this year.
"You're going to see that distribution continue to spread, especially next year, because these guys are going to be sophomores and even better," Swinney said. "There's not a lot of distance between our skill guys from a talent standpoint. There's just not much difference at all. That's a big blessing for us. That's the bottom line, they know that everybody is going to have an opportunity to make a play in this offense. We're not sitting there throwing to one guy."
And if there's anyone on the roster who still feels the need to be THE guy?
"The door's right there," Swinney said. "That's the least of my worries. I am the last guy to coddle guys. This is a team sport. Our guys know that. It's one team, one dream. You're going to have a hard time making it at Clemson if you're not a team guy."
And opponents are going to continue to have a hard time stopping Clemson without an extra defender or six on the field.
October, 22, 2011
10/22/11
1:53
PM ET
CLEMSON, S.C. -- Another exciting ACC conference game is under way here, and North Carolina's defense has been impressive in the first half. Not impressive enough, though, to slow down Clemson receiver
DeAndre Hopkins
. The Tar Heels' offense has had two costly turnovers that resulted in 10 points for Clemson, and a third turnover resulted in a missed field goal for Clemson. Here's a look back at the first half.


Turning point:
Clemson defensive end Kourtnei Brown intercepted a poorly thrown pass by UNC quarterback
Bryn Renner
and returned it 20 yards for a touchdown for a 24-10 lead. It was the first touchdown scored by a Clemson defensive lineman since 2006, and it finally put some separation between the Tigers and the Tar Heels in what had been an otherwise tight game.
Stat of the half:
North Carolina is 0-for-6 on third downs. The Tar Heels entered the game seventh in the ACC in third-down conversions with 41.6 percent. Clemson's third-down defense was fifth in the ACC, allowing opponents to convert 37.9 percent of the time.
Best player in the half:
Hopkins. His number has been called today, and so has his name. His nickname, "Nuke," has resounded throughout the stadium like "Nuuuuuuuke" frequently today. He has 118 yards and one touchdown on eight catches.
August, 15, 2011
8/15/11
9:00
AM ET
It was a busy weekend in the ACC. Here's a look back at the highlights from the scrimmages, according to the sports information departments of the teams that provided reports:

BOSTON COLLEGE
Coach Frank Spaziani told reporters after the 70-minute scrimmage that there were some good things, but "it's like a jigsaw puzzle with all the pieces in the box; they're not connected yet."
Offensive highlights:
Defensive highlights:
Linebacker Nick Clancy and defensive back Sean Sylvia led the team with four tackles each.
Sophomore linebacker Jake Sinkovec had one interception and one fumble recovery.

CLEMSON
Quarterback
Tajh Boyd
had an impressive performance, as he completed 10 of 12 passes for 168 yards and a touchdown to highlight the new offense in Clemson's 75-play scrimmage in Memorial Stadium on Saturday morning.
Offensive highlights:
Defensive highlights
:
The first-team defense did not allow a scoring drive.
Martin Jenkins led the team with seven tackles, including a tackle for loss.
Corico Hawkins had five tackles and a fumble recovery, while freshman defensive end Corey Crawford had five stops, including a sack.
Special teams highlights:
Clemson's three kickers, Chandler Catanzaro, Ammon Lakip and Brian Symmes were a combined 16-of-16 on the day in field goal attempts and extra points against a live rush.
Notable:
Three Tigers missed the scrimmage because they were going through graduation exercises across the street from Memorial Stadium in Littlejohn Coliseum. Starting offensive tackle Landon Walker, starting safety Rashard Hall and reserve defensive end Kourtnei Brown all graduated from Clemson on Saturday. It was especially noteworthy for Hall, who has been at Clemson just three years. He joins Nick Eason (now in the NFL with the Arizona Cardinals) as the only scholarship football players to graduate with two years of athletic eligibility remaining.
Four players missed the scrimmage due to injury. Those players were defensive back Xavier Brewer (sprained foot), defensive back Garry Peters (bruised calf), Andre Branch (head injury), DeShawn Williams (sprained ankle).

GEORGIA TECH
Georgia Tech coach Paul Johnson had mixed reviews after the Yellow Jackets' first scrimmage, which ran 90 minutes inside Bobby Dodd Stadium on Saturday morning.
"It was like a lot of first scrimmages, there were way too many balls on the ground and way too many penalties," Johnson said. "But we hit some big plays. When you play against each other there's positives and negatives on both sides. It's a starting place and we'll look at it and try to make some improvements."
Offensive highlights:
While no official statistics were kept, quarterback Tevin Washington passed for well over 100 yards, including a 63-yarder to senior A-back Roddy Jones. Redshirt freshman quarterback Synjyn Days threw the only touchdown of the day, to true freshman Jeff Greene.
Greene ran with the first unit Saturday as most of the veterans -- junior Stephen Hill, senior Tyler Melton, sophomore Jeremy Moore and junior Daniel McKayhan -- all sat out with injuries.
Washington scored the only other touchdown Saturday on a 1-yard QB keeper.
Defensive highlights:
Defensive end Emmanuel Dieke had a sack, true freshman Jamal Golden intercepted a Vad Lee pass, and Steven Sylvester and Isaiah Johnson both recovered fumbles.
Special teams highlights:
Sophomore Justin Moore booted a 45-yard field goal on his only attempt.
David Scully's 52-yard attempt was long enough, but just wide left.

MIAMI
The most important news out of Miami's first scrimmage was that quarterbacks
Jacory Harris
and
Stephen Morris
combined for five touchdown passes and only one interception. That sounds like improvement. Miami's quarterbacks combined for 407 passing yards on 38-of-52 passing for six touchdowns and only one interception.
Offensive highlights:
Receiver Tommy Streeter had the best offensive day for the Canes, catching five passes for 71 yards and three touchdowns, two of which came from Harris.
Lamar Miller had runs of 16 and 31 yards on the opening drive.
Defensive highlights:
Senior defensive back JoJo Nicolas led all defenders with eight tackles (six solo), with two tackles for loss.
Ramon Buchanan and freshman Gionni Paul and each had six total tackles, with Paul also recording a tackle for loss.
The defense totaled eight tackles behind the line of scrimmage for a total loss of 29 yards

VIRGINIA TECH
The Hokies' offense was the highlight, but what does that mean for the defense? Coach Frank Beamer pointed out that there were some long plays allowed, as the offense racked up 398 yards of total offense in the 78-play scrimmage at Lane Stadium on Saturday afternoon. The touchdowns came against Tech's second- or third-team defense, though, so the jury is still out.
"I thought it was a good first scrimmage -- better than most," Beamer said, according to the team's scrimmage report. "You take into consideration that you're trying to get everyone some work, people who don't know quite what they're doing, and that makes things a little ragged. I thought overall, though, it was a sharp scrimmage. The quarterbacks made some nice plays and Wilson got a couple of long plays against the defense, and we need to see what's going on there. Overall, the effort was good and the play was good."
Offensive highlights:
Backup quarterback Mark Leal led the quarterbacks with 116 yards passing, completing 6 of 13. He also threw an interception. Beamer said Leal is No. 2 on the depth chart behind Logan Thomas. Ju-Ju Clayton, who has dropped to No. 3 on the depth chart, completed 6 of 10 for 51 yards, while starter Thomas completed 4 of 8 for 79 yards, with an interception, in limited action.
Tailback David Wilson scored against the Hokies' second-team defense on a 22-yard run. Wilson led all rushers with 57 yards on five carries. Freshman Michael Holmes added 54 yards rushing on a game-high 11 carries.
Defensive highlights:
Freshman tackle Luther Maddy led the team with eight tackles, including two for a loss, and a sack. Freshman Michael Cole added six tackles, while Telvion Clark and Jack Tyler each finished with four.
Barquell Rivers had three tackles and an interception.
Jayron Hosley and freshman Ronny Vandyke also had interceptions. Hosley intercepted a Logan Thomas pass, while Vandyke intercepted a Trey Gresh attempt.
Special teams highlights:
The kickers connected on 5-of-6 attempts. Cody Journell hit from 35, 22 and 35 yards, while Justin Myer drilled a 52-yarder and a 28-yarder. "Cody's kicking extremely well," Beamer said. "Myer has a load of potential, and he needs to win some of the kicking contests during the week. That shows consistency, and that's where he is right now. Cody is usually winning it or right in the running at the end."