March, 19, 2012
3/19/12
8:00
AM ET
At this time last year, Virginia's quarterbacks were involved in one of the better offseason competitions in the ACC. This spring, it's a different story, as
Michael Rocco
has asserted himself as the leader of the offense and is looking to build upon a strong debut in 2011. Last year Rocco completed 61.4 percent of his passes for 1,485 yards, with just four interceptions, nine touchdowns and a 141.00 pass efficiency rating. I spoke with Rocco recently about his outlook on 2012. Here are the highlights of our conversation:
What's the next step for you? What can you build on and get better at next season?
Michael Rocco:
My first priority really has been lifting and being a leader in the offseason, just getting down what I need to work on through film. I've been doing that the past couple of weeks. And then really just going out and working on that in my spare time with other quarterbacks and receivers, just making sure I'm a leader during our offseason workouts.
How much more enjoyable has this offseason been because there haven't been questions about who's going to be Virginia's quarterback and the uncertainty of the position and your role in it?
MR:
I think it's just more enjoyable that I'm going to be the leader I knew I could be this whole time and people are looking to me for leadership and accountability. Last year I was trying to develop my leadership and this year, I am a leader now. I need to watch my step and make sure I'm leading through example.
What was the most important lesson you learned from last season?
MR:
Really that it's a team game, and that I have to rely on my playmakers to make plays for me, and I can't get it all done alone from the quarterback position. I have great players around me. I just have to do my part in leading the offense and good things will happen. Our offense really got better towards the end of the year and throughout the year.
How big of a deal is it from your perspective that coach [Bill] Lazor ended the speculation about him going to the NFL and he'll be your coordinator again this year?
MR:
It's huge, especially having a coordinator for three years in a row now. This offense is really taking off, and I know I have become a way better quarterback, just from being under his tutelage, and making sure that I'm using all of his information. I meet with him weekly, and just knowing that he's here and having him for another year in this offense is really something special.
As a group, where do you guys think you made the most progress offensively last year?
MR:
I know we ran the ball respectively for most of our games, and in just another year in the offense, we knew that we were going to excel and get better and I believe our offensive line took a huge step forward this past year. The running backs did a great job of running through those holes they opened up. This next year we're really looking to take our passing game to get to the level of the running game we had this past year.
Are you going to be able to do that without Mr. [Kris] Burd?
MR:
It's going to be tough. He is a really good receiver, but we have good receivers coming back, and we have a good recruiting class of receivers coming in. It's exciting to work with our receivers right now in the offseason and I look forward to the guys coming in this summer to see who can play right away. It's going to take a little time to progress, but it's going to be a great experience and we're ready for it.
You guys totally jumped the gun on expectations last year by getting to a bowl game and contending for the Coastal Division title. What do you think are realistic expectations for Virginia fans for you guys for this season?
MR:
Our expectations on ourselves are really all that matters, and I know all of our guys are expecting us to improve upon last year. Our record was 8-5 last year. That's not all we look at is our record, but improving as players and teammates, and we know we have the players and the playmakers to do something special next year, even though we lost a lot. We have the guys in place, the recruits in place to take this program to the next level. I know I'm working as hard as I can to be the leader I need to be this offseason and I know other leaders on the team are, too. We're expecting a lot out of this season and not looking to skip a beat.
January, 13, 2012
1/13/12
11:00
AM ET
It's time to wrap up the 2011 season with the top performers from the bowl games. No, they're not all from Florida State and NC State. Although they could be …
Offense:
QB:
Mike Glennon
, NC State:
He was named the MVP of the Belk Bowl after throwing for 264 yards and three touchdowns to lead NC State past Louisville 31-24.
RB:
Preston Lyons
, Georgia Tech:
The senior fullback started in place of injured
David Sims
and rushed for 138 yards in the overtime loss to Utah. Before this, Lyons had never rushed for more than 50 yards in a game.
[+] Enlarge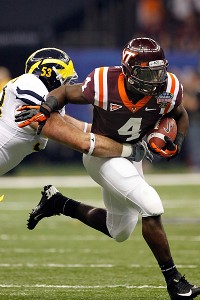 AP Photo/Dave MartinVirginia Tech running back David Wilson finished the season with 1,709 rushing yards.
RB:
David Wilson
, Virginia Tech:
He broke the school's single-season rushing record in the Allstate Sugar Bowl against Michigan with 82 yards on 24 carries. He finished the season with 1,709 yards. His 11-yard run on his second carry of the third quarter enabled him to surpass Ryan Williams' mark of 1,655 yards set in 2009.
WR:
Rashad Greene
, Florida State:
He had five catches for 99 yards and a touchdown in the 18-14 win against Notre Dame and was named the MVP of the Champs Sports Bowl. His 15-yard touchdown catch with just over 13 minutes to play gave the Noles a 15-14 lead.
WR:
T.J. Graham
, NC State:
He finished with seven catches for 116 yards and two touchdowns in the win against Louisville. He also had three kick returns for 63 yards and one punt return for two yards.
WR:
Kris Burd
, Virginia:
He had six catches, 103 yards, two touchdowns and a broken collarbone. He became only the third player in school history to score two receiving touchdowns in a bowl game.
OT:
Zebrie Sanders
, Florida State:
He was the lone senior on an offensive line that started four freshmen. He posted a career-high grade of 94 percent in his final game at left tackle.
OT:
Rob Crisp
, NC State:
Hey, no other lineman in the ACC had a reception in a bowl game. Granted, his teammates keep ribbing him for rumbling and fumbling, but Crisp played a good game, paving the way for the offense from the right tackle spot.
G:
Josue Matias
, Florida State:
As one of four true freshman starters on the Noles' line, Matias posted a grade of 82 percent from the left guard position in his first career start.
G:
Shaq Mason
, Georgia Tech:
Even with guard
Omoregie Uzzi
sitting out with an injury and suspended tackle
Phil Smith
on a bus back to Atlanta, Tech rolled up 311 rushing yards and 448 total yards against a Utah defense that was ranked among the nation's best entering the Hyundai Sun Bowl.
C:
Dalton Freeman
, Clemson:
Freeman had an 84 percent grade and four knockdowns in helping Clemson to 443 yards and 33 points against West Virginia.
Defense:
DE:
Brandon Jenkins
, Florida State:
He finished with two tackles (both solo), including one sack for minus-10 yards. His sack in the third quarter took Notre Dame out of field goal range.
DT:
Nikita Whitlock
, Wake Forest:
He finished with six tackles, 0.5 sacks, 1.5 tackles for loss and one fumble recovery in the loss to Mississippi State.
[+] Enlarge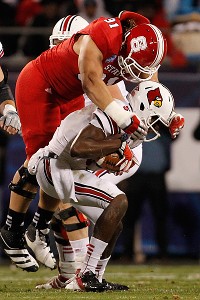 AP Photo/Bob LeveroneThe Wolfpack's Markus Kuhn lands on Louisville's Teddy Bridgewater for a sack during the Belk Bowl.
DT:
Markus Kuhn
, NC State:
He finished with three tackles, including 1.5 for a loss of seven yards. He also had one sack for a loss of six yards in the win against Louisville.
DE:
J.R. Collins
, Virginia Tech:
He finished second on the team with seven tackles and had one tackle for loss in the loss to Michigan in the Allstate Sugar Bowl.
LB:
Nigel Bradham
, Florida State:
He closed out his career with a team-high nine tackles (eight solo) against Notre Dame, finishing the season with a team-leading 86. He was the first FSU player to lead the team in tackles for three consecutive years since All-American Marvin Jones (1990-92). Bradham also added his third career interception in the win.
LB:
Tariq Edwards
, Virginia Tech:
He finished with a team-high eight tackles, one sack for a loss of seven yards and two tackles for a loss of eight yards in the loss to Michigan.
LB:
Audie Cole
, NC State:
The senior ended his career with a team-high 10 tackles, including a pair of sacks and four tackles for loss.
DB:
David Amerson
, NC State:
He had two interceptions and returned one of them 65 yards for a touchdown in the Belk Bowl win against Louisville. He became the ACC's leader in interceptions in a single season with 13. It was one shy of the Football Bowl Subdivision record set by Al Worley of Washington in 1968.
DB:
Kyle Fuller
, Virginia Tech:
He intercepted a pass by Michigan quarterback
Denard Robinson
in the first quarter. The interception marked his second of the season and the second of his career.
DB:
Merrill Noel
, Wake Forest:
He had a team-leading seven tackles and one interception for 18 yards in the 23-17 loss to Mississippi State.
DB:
Lamarcus Joyner
, Florida State:
With Notre Dame inside the 5-yard line, Joyner intercepted his team-best fourth pass of the season. His 77-yard kickoff return after Notre Dame went up 14-0 was the longest kickoff return by a Seminole this year. It was also the third-longest in FSU bowl and Champs Sports Bowl history.
Special teams:
P:
Shawn Powell
, Florida State: He punted 8 times for 378 yards and a 47.2-yard average. He had three punts of more than 50 yards and landed two inside the 20-yard line. His performance sealed his title as the nation's leader in punting.
P/K:
Justin Myer
, Virginia Tech:
Myer entered the game 0-for-2 on the season but made field goals in the Allstate Sugar Bowl of 37, 43, 36 and 25 yards, recording a field goal in every quarter and tying Georgia's Billy Bennett (2003) for the BCS bowl record. The four field goals tied for second-most in Sugar Bowl history. Myer missed on his fifth try, a 37-yard attempt in overtime. The field goals were the first in Myer's collegiate career. The Hokies made six field goals of 30 or more yards all season entering the game.
A/P:
Sammy Watkins
, Clemson:
Despite the loss, Watkins broke two school records in the Discover Orange Bowl and finished with 205 all-purpose yards, giving him 2,282 for the season -- second-most in ACC history. He had seven kick returns for 143 yards, and he had five catches for 66 yards and a touchdown.
November, 26, 2011
11/26/11
9:20
PM ET
CHARLOTTESVILLE, Va. -- Heading into Saturday's game against rival Virginia Tech, easily the biggest game of the season for the Cavaliers and the most important one they had played in since the regular-season finale in 2007, Virginia was riding a four-game winning streak. They were ranked in the Top 25 of The Associated Press and were one of the hottest teams in the ACC.
Apparently, Virginia Tech was sick and tired of hearing about it.
"The guys definitely took it as a slap in the face," quarterback
Logan Thomas
said. "We've been a part of this rivalry for the past couple of years. Nobody was really talking about us. They were all talking about Virginia and how good Virginia was going to play. We took it as a slap in the face and wanted to go play hard."
Virginia Tech didn't just play hard in the
38-0 win
that clinched the Coastal Division title, it brought down its lunch pail on the Cavaliers. Over. And over. And over again. There's no question Virginia Tech still owns this rivalry, winning eight straight games in the series. It's obvious a gap still remains between the Hokies and the Hoos, and Virginia Tech is still the team to beat not only within the state, but also within the ACC until proven otherwise.
But ...
But
...
Be wary of Virginia.
[+] Enlarge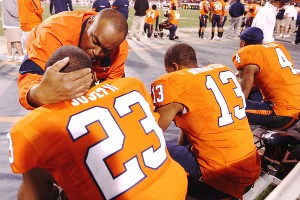 Steve Helber/AP PhotoDespite the shutout loss to rival Virginia Tech, Mike London and his Cavaliers still exceeded expectations for the season.
Despite the lopsided score when it mattered most, Virginia still exceeded expectations in the second season under coach Mike London. His team was picked by the media to finish fifth in the Coastal Division, and many outside the program scoffed at the possibility of a bowl game. The fact that Virginia even had a chance to play in the ACC championship game was one of the biggest surprises of the season, and London is convinced that the loss to Virginia Tech -- as devastating as it might be to his players in the moment -- doesn't detract from their overall resume this season.
"We're a better team that what we showed tonight," London said. "It's easy to walk around with your head down because you lost to your rival. The implications of this game, it's kind of tough because this is the game that could get you into the ACC championship game. No one ever thought our team would do that. Those two things combined, it's disappointing, but the fact we won eight games, we won games on national TV and played well and had a chance to write our own ending here winning our game ... who would've thought that at the beginning of the year?"
Virginia had played so well recently, upsetting then-No. 25 Florida State on the road last week for the first time in school history, that it's fair to say the Cavaliers actually underachieved in the season finale. Granted, Virginia Tech's smothering defense had a lot to do with it, but it was an uncharacteristic performance for the Cavaliers. It was the first time this year that Virginia didn't force a turnover, and the Hoos tied a season high with four turnovers. They were also held to a season-low 30 yards rushing and were shut out at home for the first time in 172 games.
What hurt Virginia the most was the fact it came up empty in three trips inside the red zone. The Cavaliers also had just three third-down conversions and came up short in the first half on a critical fourth-and-2 from the 7-yard line.
Despite what it might have looked like on the outside, offensive coordinator Bill Lazor said it certainly wasn't for a lack of effort.
"To me, we've been playing every game like it's a playoff game," Lazor said. " ... As a program that hasn't been to a bowl game in a while, getting to that sixth game, to me, was like a playoff game. And then getting to the seventh game, and then you're at the point where you're playing Miami at night, and then you're playing Florida State knowing the team hadn't beaten two Florida teams in the same year. So to me, they're all playoff games once we hit a certain point and guys were rising to the occasion.
"Yeah, everyone is disappointed and it's certainly very disappointing to be shut out and be kept to such a low yardage number, but the big disappointment is losing because I think our guys came in really believing they were going to win the game, they believed they earned the chance to play in a [conference] championship game which they had, and it's disappointing for the guys. I feel bad for them."
Virginia Tech running back
David Wilson
doesn't. He racked up 153 yards and two touchdowns, his 10th 100-yard game of the season.
"We have televisions in our locker room and we see what people say," Wilson said. "ESPN was doubting us, saying we should not be in the top five, but the way the score went today gave a lot of those guys a wake-up call."
The Hokies made their statement, and they'll have a chance to do it again in the ACC title game against Clemson, which beat Virginia Tech 23-3 earlier this season. They're not the only ones, though, with an extended season this year.
"Last year at this time, I was packing it up and putting it away for the season," said Virginia receiver
Kris Burd
. "For us to have an opportunity to go in a bowl game and play is another opportunity for us to step on the field."
It's also another step forward for London's program. It's just not quite the leap they had hoped for.
November, 23, 2011
11/23/11
10:15
AM ET
This is it. Enjoy every minute of it, because it's the final week of the regular season and it's going to be a long, long time before these rivalry games come along again. There's plenty to keep an eye on this weekend, but here are 10 things worth watching:
1. The scoreboard against the SEC.
The ACC has not had a winning record against the SEC since 2003. It's off to a 1-0 start with Clemson's victory over Auburn, but No. 12 South Carolina and No. 13 Georgia are both ranked higher than the ACC rivals they face Saturday, Vanderbilt will be playing for bowl eligibility against Wake Forest, and Florida, well, the Noles look like the better team in that matchup. Can the ACC finally turn the tables on the SEC?
2. The magic seven.
NC State needs to beat Maryland in order to become bowl-eligible. Can the Wolfpack avoid a letdown after knocking off then-No. 7-ranked Clemson? The Atlantic Division was on the line last year when NC State lost at Maryland, and coach Tom O'Brien is 1-3 against the Terps. NC State has only had back-to-back victories once this season. Can the Wolfpack do it again when it matters most?
3. Turnovers for Clemson.
The Tigers now have 11 turnovers in the past three games after having just eight in the first eight games. Clemson is 1-2 in those games, and the Tigers can't afford to continue that trend against a South Carolina defense that is tied for No. 6 in the country in turnovers gained with 29.
4. Clemson receiver Sammy Watkins.
Coach Chad Morris said this week that the Tigers needed a spark. Could Watkins' return to the lineup be it? Watkins said Tuesday that he thinks he will be close to 100 percent by game time, and that the late kickoff should give him even a little more time to heal. While Watkins' absence last week didn't entirely explain the Tigers' meltdown, it did play a role in the second half when Clemson was trying to come from behind and didn't have him as a vertical threat.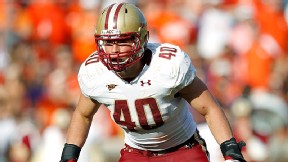 Joe Robbins/Getty ImagesBC linebacker Luke Kuechly needs six tackles Friday to set an NCAA record for tackles per game.
5. Florida State's offense.
There have been too many missed blocks in the past two weeks, both by linemen and running backs, and the passing game has gotten out of sync. FSU has just two offensive touchdowns in the past two games. In the victory over Miami, FSU's best offense was a punt return for a touchdown and three field goals. In the loss to UVa, FSU was just 3-of-13 on third downs. Florida ranks fourth in the nation in third-down defense, allowing opponents to convert just 29.14 percent of the time, the best number that UF has posted since the 2001 season (26.7 percent).
6. BC linebacker Luke Kuechly
. Kuechly, who is averaging 16.55 tackles a game, needs only 6 against Miami to set the NCAA's record for stops per game in a season. He had 14 tackles in Saturday's 16-14 loss at Notre Dame and now has an ACC-record total of 523 in his career. That is the third-highest on record with the NCAA, which began tracking the statistic in 2000. Kuechly is 22 stops from tying the NCAA record, held by Tim McGarigle of Northwestern (2002-05). This is his last game of the season, but it could also be the last in a BC uniform if he leaves early for the NFL.
7. Georgia Tech's defense.
Six Georgia receivers have more than 200 yards receiving, and four have at least 29 catches. Georgia has also had four different 100-yard rushers this season. This is going to be a big test for Tech defensive coordinator Al Groh, whose defense has been average this season and is allowing 359.5 yards per game.
8. The No. 2s.
Georgia Tech ranks No. 2 nationally in rushing offense (323.6), while Georgia ranks No. 2 nationally in rushing defense (81.3). Something's gotta give.
9. First downs in Charlottesville.
UVa has averaged 21.2 first downs per game, which ranks No. 3 in the ACC behind Clemson (23.1) and Virginia Tech (22.3). UVa's opponents are averaging only 16.5 first downs a game, which ranks as the third-fewest in the ACC and No. 14 nationally. Of
Kris Burd
's 53 receptions on the season, 36 have resulted in a first down. That is a rate of 67.9 percent.
Clifton Richardson
has seven rushes on third down and all seven have resulted in a first down.
10. Virginia Tech's pressure on quarterback Michael Rocco.
The Hokies are averaging three sacks per game, which ranks tied for eighth nationally. UVa's offensive line has played well this season, and is tied for 16th in the country with one sack allowed per game. Last week against FSU marked the 11th consecutive game that Virginia had the same five starters in the offensive line. UVa hasn't gone through an entire season with the same starting lineup on the offensive line since 2004.
July, 25, 2011
7/25/11
5:00
PM ET
PINEHURST, N.C. - A few basic observations from this year's ACC football kickoff:
BC linebacker Luke Kuechly is huge. Those within the program used to joke he looked like Clark Kent because of his short dark hair and glasses, but the dude is seriously busting out of his shirt these days like Superman. I asked him how much weight he has gained since his freshman year and he said 20 pounds. The funny thing about Kuechly, though, is that he still doesn't really look intimidating. It's the glasses. You know, Clark Kent?
The ACC has gotten taller at quarterback. They might not have much experience, but they've got the height. Duke's Sean Renfree, Maryland's Danny O'Brien, and Florida State's EJ Manuel are all towers. And of course, Logan Thomas at Virginia Tech, who's not here, has about six inches on his predecessor, and Mike Glennon is also a height upgrade. O'Brien really looks a lot stronger. It's hard to believe he's the same player who started his first game last year. He's going to be harder to bring down this fall.
ACC commissioner John Swofford is pushing change. He's repeatedly said phrases such as "crossroads" and "tipping point" here when referring to the state of college football. His main area of reform has been with scholarships, in that he's a proponent of the full cost of tuition. But when it comes to talking about the NCAA investigations and allegations against Georgia Tech and North Carolina, Swofford only really scratches the surface. It's impossible to tell what he really thinks about both situations.
The players here are great representatives of the conference. Georgia Tech's Roddy Jones? His smile is contagious. UNC lineman Jonathan Cooper is a terrific interview. Virginia's Kris Burd and Chase Minnifield had a great time turning the tables on me for a video interview. They did their research and found out I was an Indiana grad. Who will win that game this year? They're trying to take my job I think. Danny Coale is first class. Every one of the players here has been great to talk to. I can't remember coming to this event when they weren't.
June, 23, 2011
6/23/11
10:30
AM ET
You asked, I answered. Readers (particularly @AsylumGodfather) were calling for more position rankings, so the receivers are up next. This could be the strongest position group in the conference, and one of the more difficult to rank, so I looked back on a few stats to help me separate them, including how some of these guys did against their best competition (i.e.
Danny Coale
versus FSU, wow). Here's the final verdict of which teams in the ACC have the best combination of depth and talent:
1. Virginia Tech:
With
Jarrett Boykin
and Coale returning, the Hokies' passing game has a chance to flourish this fall. Boykin, Coale and
Dyrell Roberts
were the team's top three receivers last year for the second straight season, combining for 113 catches, 1,882 yards and 11 touchdowns. Add to that
Marcus Davis
,
D.J. Coles
,
E.L. Smiling
-- it's a bottomless cup of depth and talent.
2. Duke:
Conner Vernon
has 128 catches in his first two collegiate seasons and
Donovan Varner
ranked fourth in the ACC in pass receptions (60) and seventh in yardage (736). Their combined 274 receptions are the most of any active duo in the ACC. They are the top two returning leaders in catches per game, and Vernon is the ACC's returning leader in receiving yards per game. The Blue Devils also have sophomore
Brandon Braxton
(14 catches), who could make a name for himself as the third option this year.
3. Florida State:
Every Seminole who caught a pass last season returns.
Bert Reed
,
Taiwan Easterling
and
Rodney Smith
return with a combined 50 career starts. Reed ranks second among all returning ACC receivers with 141 career receptions.
Willie Haulstead
had 38 catches last season, Smith had 31, and there's plenty of rising talent like
Christian Green
.
4. North Carolina:
Like Florida State, North Carolina returns all of its receivers, including two who redshirted last season.
Dwight Jones
, who had 946 yards and 62 receptions, leads the group, but
Erik Highsmith
(25 catches, 348 yards and three touchdowns) must be accounted for as well. Defenses also can't forget about
Jheranie Boyd
, who is a deep threat.
5. Miami:
The Canes will miss the production of Leonard Hankerson, but they don't have to if one or two of the other players show more consistency.
Travis Benjamin
has big-play capabilities and averaged 17.3 yards on his 43 catches last season. There is no shortage of other options with
LaRon Byrd
,
Aldarius Johnson
,
Tommy Streeter
,
Allen Hurns
and
Kendal Thompkins
. Which one will rise to the occasion?
6. Clemson:
It was the
DeAndre Hopkins
show last season, and he should again highlight the Tigers' passing game. As a true freshman, Hopkins had 52 catches, the most by a first-year player in school history.
Jaron Brown
returns with 10 career starts, and the Tigers also have
Marquan Jones
(21 catches) and
Bryce McNeal
(19).
7. Maryland:
The Terps have to replace their top two receivers from a year ago in Torrey Smith and
Adrian Cannon
, and no clear frontrunners emerged this spring.
Quintin McCree
leads all returners with 16 catches, followed by
Kevin Dorsey
(15),
Ronnie Tyler
(13),
Kerry Boykins
(10), and
Tony Logan
.
8. Boston College:
True freshman
Bobby Swigert
led the Eagles last year with 39 catches and four touchdowns in five starts. The Eagles are hoping to get a significant boost from the return of
Colin Larmond Jr.
, who missed all of last season with a knee injury, but the young group should be better regardless because of the experience gained last season.
9. Virginia:
The Cavaliers will miss
Dontrelle Inman
, who averaged 16 yards per catch on 51 receptions, but returning starter
Kris Burd
finished fifth in the ACC last season in pass receptions (58). The group will also get a boost from the return of
Tim Smith
, who missed almost all of last season with an injury, and
Matt Snyder
(30 catches) and
Ray Keys
(three catches).
10. NC State:
NC State has to replace its top two receivers from a year ago, and
T.J. Graham
is the team's leading returning receiver with 25 catches.
Steven Howard
,
Jay Smith
and
Quintin Payton
all have experience, and redshirt freshman
Bryan Underwood
,
Tobias Palmer
and Everett Proctor have also been competing for playing time.
11. Wake Forest:
Chris Givens
(35 catches, 13.7 average),
Michael Campanaro
(10 catches) and
Danny Dembry
are the lead candidates to start, but the Deacs are missing a spark like Kenny Moore (2007) and D.J. Boldin (2008) provided. There were too many dropped passes in the spring game, so this group has some work to do in summer camp.
12. Georgia Tech:
Yes, Georgia Tech throws the ball, just not often enough or efficiently enough to be anywhere but last place on this list.
Stephen Hill
led the Jackets last year with 15 catches for 291 yards and three touchdowns. He should show progress this fall now that there's no pressure on him to be the next Demaryius Thomas. If he doesn't show more consistency, the Jackets could turn to
Daniel McKayhan
,
Tyler Melton
or
Jeremy Moore
.
June, 23, 2011
6/23/11
9:00
AM ET
The quarterbacks in the ACC are not strong this year. They're not weak, either.
They're a complete unknown.
With more than half of the ACC introducing first-year starting quarterbacks, there's not enough on tape yet to determine how this group will fare. There is enough evidence, though, to pinpoint which position groups -- based on past performances and future potential -- enter this fall as the strongest and weakest in the ACC:
STRONGEST/OFFENSE
[+] Enlarge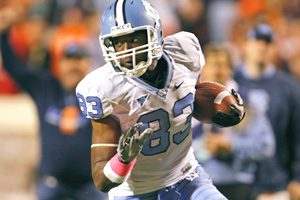 AP Photo/Steve HelberDwight Jones had 62 receptions for 946 yards last season, both good for fourth in the ACC.
Wide receivers:
The ACC overfloweth this year with veteran receivers. Virginia Tech, Florida State and Duke come to mind first, but don't forget about North Carolina. The Tar Heels didn't lose any receivers from last year, and
Dwight Jones
had 946 yards last year. Colin Larmond Jr. at Boston College, who is making his way back from a season-ending knee injury,
Kris Burd
at Virginia and Miami's fast and talented group will also highlight ACC passing games. With Leonard Hankerson gone at Miami, somebody is going to have to emerge as the go-to receiver, and
Tommy Streeter
gets my vote, but he must be more consistent.
WEAKEST/OFFENSE
Center:
There are three above-average centers in the league this year: Cam Holland at North Carolina, Tyler Horn at Miami, and Dalton Freeman at Clemson. Beyond that, it's a thankless yet vital position that's in transition throughout the conference. Brian Moore is replacing a three-year starter at Duke, Florida State loses one of its best players in center Ryan McMahon, the same with Georgia Tech and Sean Bedford, Virginia Tech and Beau Warren, and Wake Forest and Russell Nenon. With the exception of Freeman (22), and Holland (20), no returning starter at center in the league has more than 13 career starts.
STRONGEST/DEFENSE
[+] Enlarge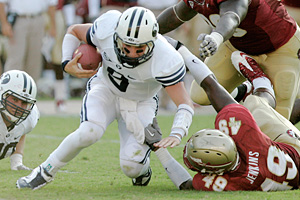 AP Photo/Steve CannonFlorida State's Brandon Jenkins had 13.5 sacks as a true sophomore.
Defensive ends:
The ACC has had a reputation as a defensive conference, and this year shouldn't be any different. Conference fans should be excited about the talent up front. Brandon Jenkins at Florida State and Quinton Coples at North Carolina should be two of the best pass-rushers in the country, but they're not the only players with all-league potential. Andre Branch at Clemson, UNC's Donte Paige-Moss, Virginia's Cam Johnson, and Miami's Adewale Ojomo and Olivier Vernon are all going to cause opposing quarterbacks some pain.
WEAKEST/DEFENSE
Cornerbacks:
Unless, of course, you're Florida State, where Greg Reid and Xavier Rhodes should be one of the best duos in the country. Chase Minnifield at Virginia and Jayron Hosley should also be candidates for national honors, but that's about where the confidence in corners comes to a halt. North Carolina has to replace its entire secondary, and so does Georgia Tech. Clemson also lost two starting corners in Marcus Gilchrist and Byron Maxwell, and Miami lost two starters in Brandon Harris and Ryan Hill.
April, 4, 2011
4/04/11
9:00
AM ET
The focus at Virginia this spring has been on the quarterbacks, as coach Mike London needs to name a new starter, and
Michael Rocco
led the group on Saturday in the Cavaliers' spring game at Scott Stadium.

Rocco completed 10 of 22 passes for 95 yards for the Blue team and seven of 10 throws for 57 yards for the Orange team.
Ross Metheny
, who also played for both teams, combined to complete 3 of 6 passes for 60 yards. True freshman David Watford completed 1 of 5 passes for 6 yards with both teams.
Michael Strauss
completed 6 of 14 attempts for 85 yards.
The teams played four 10-minute quarters in a standard game format that included special-teams play. The Blue team featured the majority of the Cavaliers' returning starters on offense while the Orange team included the returning starters on defense. The Blue team won 17-7. Veteran receivers
Kris Burd
,
Matt Snyder
,
Tim Smith
and
Bobby Smith
did not play because of injuries. Snyder, Jones, strong safety Rodney McLeod and defensive tackle Nick Jenkins were named team captains for the 2011 season.
Offensive highlights:
Perry Jones scored on a 15-yard reception from Rocco and had a game-high five receptions for 35 yards and 7 yards on 11 carries.
Rocco threw a 3-yard touchdown pass to Brendan Morgan.
Robert Randolph made a 40-yard field goal.
Jones Khalek Shepherd had 15 yards on 10 attempts.
Defensive highlights:
No player had a run longer than 8 yards.
Steve Greer led all defenders with nine tackles, a pair of sacks and one pass breakup. The two teams combined for 19 sacks since quarterbacks were whistled down when touched by a defensive player. Billy Schautz accounted for three solo sacks.
Mike Ahunamba and Henry Coley both had five tackles to lead the Blue team.
Chase Minnifield intercepted Rocco on the opening drive when the receiver slipped while running his route.
Dom Joseph intercepted Strauss and returned it 65 yards for a score.
September, 27, 2010
9/27/10
6:39
PM ET
Virginia receiver
Tim Smith
will miss the rest of the season with an ankle injury and is scheduled for surgery on Oct. 1, the school announced in its Monday injury report. Smith had played in two games and caught three passes for 28 yards before missing Saturday's game against VMI. He was No. 3 on the depth chart and expected to be a contributor.
Smith's speed would have been an asset to that offense. He got 16 yards on a reverse at USC that was set up with great blocks, and he might have scored had he not been hurt, because he couldn't accelerate.
Dontrelle Inman
and
Kris Burd
have played so well that Smith was the third option in an offense that uses a lot of two-back sets.
Jared Green
and
Matt Snyder
played well against VMI, but they lack Smith's speed.
Colter Phillips
and
Joe Torchia
at tight end are both great options, which makes losing Smith hurt less. But if Virginia can't run the ball -- in order to work the play-action pass properly -- it won't matter much who's on the receiving end.
May, 19, 2009
5/19/09
1:59
PM ET
Posted by ESPN.com's Heather Dinich
You got to know some of them better than others this spring, but all of the following newcomers (in no particular order) established themselves as players' whose names you should remember come fall:
Virginia Tech TB Ryan Williams -- He quickly earned the spotlight with an 80-yard run on the first carry of his first spring scrimmage. In the spring game he had 10 carries for 85 yards, and two receptions for 66 yards, including a 56-yard touchdown on a middle screen.
Boston College TE Chris Pantale -- The 6-foot-5, 238-pound redshirt freshman from Wayne, N.J., had five catches for 45 yards - including a long of 17 yards in the spring game.
Florida State DE Brandon Jenkins -- He made plays every day, and probably had the most sacks of any of the Noles this spring. He also was constantly in the backfield. He probably won't start but may help replace some of the sacks Everette Brown took with him.
Maryland LB Demetrius Hartsfield -- The redshirt freshman is expected to be the starting Will linebacker in 2009. He's quick, athletic, and big enough (230 pounds) to be effective in the run game and yet fast enough to cover receivers coming out of the backfield. He was in the two-deep the second half of last season and nearly played, but held his redshirt. He ended a solid spring with seven tackles for the White team in the spring game.
UNC TB Jamal Womble -- He's a powerful runner built low to the ground who earned the No. 3 spot behind Shaun Draughn and Ryan Houston. He was the leading rusher in the spring game with 50 yards on seven carries and caught three passes for 12 yards. He proved this spring he could give the starters a breather.
UNC LB Zach Brown -- He reportedly ran a 4.26 with the strength and conditioning staff last week. He will be the starter at outside linebacker now that Quan Sturdivant has moved inside to middle.
Duke QB Sean Renfree -- He earned the confidence of coach David Cutcliffe and some playing time this fall with his strong performance this spring behind starter Thaddeus Lewis. Renfree threw for 210 yards and two touchdowns in the spring game.
Virginia WR Kris Burd and DB Rodney McLeod -- They're two players who showed the potential for breakout seasons. Burd saw action in all 12 games last year but caught only seven passes. With Kevin Ogletree gone, odds are that number increases.
McLeod was a true freshman last year and played almost exclusively in the nickel/dime packages from scrimmage. This year he's likely to be a starter at safety. He has great athleticism to complement h his football instincts.
Georgia Tech RB/SB Anthony Allen -- The junior transfer from Louisville is almost certain to figure into the crowded backfield this fall. He and Embry Peeples led all rushers in the spring game with 69 yards each.
Georgia Tech DL T.J. Barnes -- With three starters gone from last year's nine-win season, Barnes proved this spring he could become a dependable replacement. He had eight tackles, two tackles-for-loss and a forced fumble in the spring game.
Clemson QB Kyle Parker -- The dual sport athlete juggled his baseball responsibilities while competing with Willy Korn for the starting job, and wowed Tigers fans with his performance in the spring game. He completed 13-21 passes for 171 yards and a score, and also ran for a score.
NC State QB Mike Glennon -- He showed significant improvement this season and took advantage of the fact that starter Russell Wilson dedicated half of his spring to baseball. Glennon was 28-46 for 338 yards and three touchdowns with one interception in the spring game.
Wake Forest corner Kenny Okoro -- He's a long, tall athlete with the potential to replace Alphonso Smith. He made play after play this spring, tackles well and handles calls well. He'll continue to battle with Josh Bush this summer, but at the minimum will be used as a nickle back.
Miami WR Kendal Thompkins -- He's a smaller, speedy deep threat who caught two passes for 45 yards and has the potential to truly separate himself from the crowded group of receivers.