May, 3, 2011
5/03/11
3:45
PM ET
Georgia assistant coaches Tony Ball and Bryan McClendon received significant pay raises,
according to a report
by the Atlanta Journal-Constitution.
Ball, Georgia's wide receivers coach, has been on coach Mark Richt's staff since 2006 and is set to make $200,000, which is up from the $165,480 he made last year.
McClendon, who joined the Bulldogs' staff as the running backs coach in 2009, was previously one of the lowest-paid SEC assistants. His salary was $90,000 a year, but he will now make $200,000 each year.
Georgia athletic director Greg McGarity said the raises were results of other schools reaching out to Ball and McClendon. McGarity declined to get into what schools contacted the coaches, but did say that the raises were approved in February and March.
"All I can say is they were legit offers," McGarity told the AJC. "I think the key is continuity. We had already lost two coaches to other schools. Continuity of staff is important to me and to Mark and we thought it was important to maintain stability, especially.
"They're well-deserved. Both of these men are tremendous coaches who work very hard and were underpaid, in my opinion. We had some momentum going after recruiting and they had a lot to do with that. All signs are pointing up and we needed to be proactive. We will always be proactive."
The news of Ball's raise comes just days after the Bulldogs had two wide receivers drafted in the 2011 NFL draft. Junior
A.J. Green
went fourth overall to the Cincinnati Bengals and senior
Kris Durham
went in the fourth round to the Seattle Seahawks.
Green, who was arguably the best receiver in the draft, caught 57 passes for 848 yards and nine touchdowns in his shortened 2010 season. He finished his career at Georgia with 166 receptions for 2,619 yards and 23 touchdowns.
Durham was second on the team with 32 catches for 659 yards and three scores. He finished his college career with 64 receptions for 1,109 yards and four touchdowns.
McClendon has a chance to really earn his new paycheck this fall. He has the responsibility of coaching up a talented but unproven receiving group. Junior
Tavarres King
returns as the most experienced wideout and moved to Green's flanker position this spring. He and quarterback
Aaron Murray
developed good chemistry this spring and King figures to be the go-to-receiver in Georgia's offense.
Behind him, it's a bit of a mystery.
Marlon Brown
and
Rantavious Wooten
could have the most pure talent of the bunch, but neither has yet to make much of a contribution at Georgia. Brown caught just 11 passes for 133 yards and a touchdown last year, while Wooten snatched seven balls for 41 yards and a score.
The good news for Ball is that both seemed to have their internal light bulbs come on during spring, but the next step is having that carry over to fall.
As for McClendon, he's got a stable of running backs, but inconsistency is an issue. Senior
Caleb King
made vast improvements in practice, but never really broke away from the rest of the running back pack.
Washaun Ealey
is easily the most gifted runner, but off-the-field issues have him crammed in Richt's doghouse. For now, we don't know where Ealey fits in with the running backs.
Next you have
Ken Malcome
,
Carlton Thomas
and incoming freshman Isaiah Crowell. Richt didn't hesitate when Crowell signed to say that he could be the guy this fall. Crowell brings great speed, athleticism and strength to the position, but he's young. Malcome and Thomas battled injuries this spring, but Malcome impressed in Georgia's spring game.
Both coaches have their work cut out for them this fall, but getting strong numbers out of their groups will make them well worth the recent investment.
Of note:
"Salary actions" were also completed for new offensive line coach Will Friend, who will earn $200,000 this year, and new linebackers coach Kirk Olivadotti, who will earn $250,000.
September, 30, 2010
9/30/10
4:37
PM ET
Six SEC players have been selected as semifinalists for the William V. Campbell Trophy, college football's premier scholar-athlete award.
Making the list were South Carolina offensive guard Garrett Chisolm, Georgia receiver
Kris Durham
, Tennessee kicker Daniel Lincoln, Alabama quarterback
Greg McElroy
, Mississippi State offensive tackle Derek Sherrod and Vanderbilt linebacker John Stokes.
Nominated by their schools, which are limited to one nominee each, semifinalists must be a senior or graduate student in their final year of eligibility, have a GPA of at least 3.2 on a 4.0 scale, have outstanding football ability as a first-team player or significant contributor and have demonstrated strong leadership and citizenship.
The award was formerly known as the Draddy Trophy and has been referred to as the Academic Heisman. Florida's Tim Tebow was the recipient last year.
September, 9, 2010
9/09/10
5:00
AM ET
1. Why is the suspension of Georgia wide receiver
A.J. Green
by the NCAA a huge blow? First of all, Green will miss three SEC games. Second, Green would have forced an aggressive South Carolina defense to play honestly against young quarterback
Aaron Murray
. Senior
Kris Durham
, who caught five passes for 83 yards last week after missing 2009 with a shoulder injury, is a big (6-5, 211) target. But he's not Green. No one is.
2. We pause while Florida and Texas tear their collective hair out over their offensive problems last week to remind Gator and Longhorn fans that both offenses embarked on huge transitions this offseason. I know you heard about it. It was in all the papers all year. Each offense lost longtime starting quarterbacks and adjusted their schemes for their new personnel. Yet not until the season began and we saw the struggles of both teams did anyone understand that, yes, Tim Tebow and Colt McCoy really are gone.
3. Former Sugar Bowl executive director Mickey Holmes died Wednesday. Two decades ago, when bowl directors lured teams with cunning and salesmanship, Holmes and the late Jim Brock, who ran the Cotton Bowl, waged a friendly annual battle to outfox each other. Their search for advantage became so heated that in 1990, Holmes invited 6-0, No. 1 Virginia, in early November. The Cavaliers finished 7-4. The uproar provided the impetus for the creation in 1992 of the Bowl Coalition, the grandfather of the BCS.
September, 8, 2010
9/08/10
6:21
PM ET
Georgia got the news it had been waiting on Wednesday concerning star receiver
A.J. Green
, and it wasn't good.
The NCAA ruled that
Green be required to miss four games
as a penalty for selling his Independence Bowl jersey to someone who meets the NCAA's definition of an agent. Green already sat out the opener against Louisiana-Lafayette, so that means he will also miss this Saturday's game at South Carolina, the Sept. 18 home game against Arkansas and the Sept. 25 away game against Mississippi State.
[+] Enlarge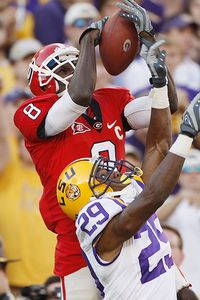 AP Photo/John BazemoreA.J. Green will miss Georgia's next three games: at South Carolina, home against Arkansas and at Mississippi State.
The blow is especially tough for the Bulldogs, because the next three games are SEC games, two of those on the road.
Georgia athletic director Greg McGarity said the school would appeal the NCAA's ruling, hoping to get Green's suspension reduced.
With Green, the Bulldogs' receiving corps is one of the best in the SEC. Without him, there's not a proven go-to guy.
Getting sophomore
Tavarres King
back this week will help. He was suspended for the opener following an offseason arrest. Senior
Kris Durham
will again start in Green's flanker spot after catching five passes for 83 yards and a touchdown last week. The player the Bulldogs need to step up more than ever now is sophomore
Marlon Brown
.
Here's Mark Richt's statement on the matter:
"Certainly I'm disappointed with the outcome. However, we have games to play and that's where our focus needs to be in the coming days and weeks. Other players will have to step forward and I'm confident they will do that."
Here's Green's full statement:
"I want to apologize to my coaches, teammates, and the Georgia fans for the mistake in judgment. I very much regret all that has taken place and the distraction that's been caused. I've learned a valuable lesson and hope others can learn from my mistake. I can only focus my attention now on practicing and looking ahead to getting back with my teammates as quickly as possible."
Maybe the Bulldogs will overcome. They certainly played well in their opener, but you can't help but wonder when all the off-the-field drama will finally catch up with them. They've had nine players arrested since March, going back to former quarterback Zach Mettenberger's arrest and his eventual dismissal from the team. And now they find out they will be without their best player the entire month of September.
It's not the way you draw it up. That's for sure. We'll find out how good these Bulldogs are at blocking everything out and just playing. At least, all the wondering about Green's status can end now.
They're not going to have him (unless they win an appeal) until the Colorado trip on Oct. 2.
September, 4, 2010
9/04/10
1:34
PM ET
One of the things Georgia fans wanted to see from this new-look 3-4 defense under first-year coordinator Todd Grantham was more pressure.
So far, so good.
Georgia has been dominant defensively, particularly on third down, in racing out to a 17-0 lead against Louisiana-Lafayette in the second quarter.
The Bulldogs weren't very good on third down a year ago.
Lafayette, though, has been unsuccessful on its first six third-down attempts Saturday, and Georgia's second touchdown was set up by outside linebacker Justin Houston forcing the Lafayette quarterback to throw earlier than he wanted to. Brandon Boykin was there to pick off the pass for the Bulldogs.
With star receiver
A.J. Green
sidelined, the Bulldogs also needed somebody else at receiver to step up. Veteran
Kris Durham
caught a 3-yard touchdown pass. It's the first time Durham has played in 707 days. He missed most of the 2008 season with an assortment of injuries, then redshirted last season after having shoulder surgery.