NCF Nation:

Kristofer O'Dowd
November, 30, 2010
11/30/10
12:26
PM ET
We have just gutted the 2010 USC-UCLA game. Its entrails lay before us on a sacred stone where teams have revealed their greatness in days of yore, as well as in recent years. We -- you and the Pac-10 blog, of course -- are haruspices attempting to divine meaning from the state of the two programs and what their rivalry game on Saturday means.
In truth, it's just a wet, sticky, yucky pile. But things were pretty gross even before we made a bloody mess that reveals little.


"Steak tartare?" I say. "Sushi?" you say.
The battle for LA bragging rights ain't much to look at. USC is 7-5 and has lost two in a row. UCLA is 4-7 and has lost five of six. It's the most combined defeats for the two teams entering the game since 1999.
What is fair to say: The loser will be really, really miserable this offseason. The winner? It gets to
not
be the loser.
That said, the most accurate grade for both this season might be an incomplete, for it is difficult to get an accurate, big-picture measure of the state of either program.
For one, both programs had some impressive highs this season.
USC has been in and out of the rankings throughout the year, but it appeared to be there to stay after an impressive win at Arizona on Nov. 13. At that point, it was fair to predict a 10-3 finish, a strong first season for new coach Lane Kiffin by any measure, considering the circumstances.
At that point, some prematurely
pinned a rose on Kiffin's nose
. But then USC got blown out at Oregon State 36-7 and lost to Notre Dame 20-16 at home, thereby ending a record eight-game winning streak in the storied series.
The Trojans will lose a number of quality seniors heading into 2011 (WR Ronald Johnson, C Kristofer O'Dowd, FB Stanley Havili, CB Shareece Wright), and a couple more could enter the NFL draft a year early (OT Tyron Smith, DT Jurrell Casey).
Considering how young and thin the Trojans were this season, it's hard not to see them trending down after Kiffin's first season.
As for UCLA, the Bruins looked awful in their first two games -- a loss at Kansas State and a 35-0 drubbing at home against Stanford. But a three-game winning streak followed, topped by wins over Houston and Texas, a pair of nationally ranked teams. The defense stepped up and the pistol offense appeared to be breaking through with quarterback Kevin Prince.
Then: Splat. Prince, who was struggling in the passing game, was lost for the season to a knee injury, and the Bruins lost three in a row. They briefly seemed to recover with a win over Oregon State, which reignited bowl hopes, but they then lost by 17 at Washington and 21 at Arizona State.
The defense has been bad, but the offense has been awful. The Bruins rank 116th in the nation in passing and 103rd in scoring, and that has created a offensive coordinator controversy with Norm Chow, who is highly respected -- and highly paid -- but hasn't lived up to his reputation in Westwood.
It's hard not to see the Bruins trending down after Rick Neuheisel's third season.
So there is the suggestion of a downward trend for both, but there are variables beyond wins and losses in 2010.
USC still awaits a ruling from the NCAA Appeals Committee on severe sanctions, which included a two-year bowl ban and a docking of 30 scholarships over three years. In light of recent reports and ensuing investigations launched across the Eastern Seaboard for far worse offenses involving agents and pay-for-play schemes than what the NCAA turned up after investigating the Trojans football program for four years, it seems reasonable for the Committee to give USC a break.
Don't hold your breath, Trojans fans. But if penalties were reduced, that would provide a significant jolt of positive momentum, particularly if scholarships are restored.
With USC getting trampled by the NCAA, UCLA was supposed to take advantage, particularly in recruiting. At present, however, the Trojans
rank 13th in the nation in recruiting
, while the Bruins are not ranked in the top-25. USC has
16 commitments
with four from the ESPNU 150. UCLA
nine commitments
with just one from the ESPNU 150.
But it's premature to measure recruiting classes before national signing day on Feb. 2. Recall that Neuheisel has made impressive late runs the past two years.
So, again, rain clouds hang over both programs in sunny Southern California. Neither is happy with this season. And both really, really would like to walk away from 2010 by putting a footprint on the other's forehead.
As for the big-picture trends in the rivalry? Who the heck knows?
December, 2, 2009
12/02/09
12:36
PM ET
Everybody wants to talk about the ending of USC's 28-7 win over UCLA. In fact, 2,000 words of Pete Carroll's news conference Tuesday were about the Trojans' late 48-yard touchdown pass and the general nuances of sportsmanship.
Carroll yielded little under questioning. He believes in two things: 1. competition; 2. fun. He doesn't believe you can ever have too much of either, even if others wonder about when a compounding of them might push a team past the boundaries of decorum.
[+] Enlarge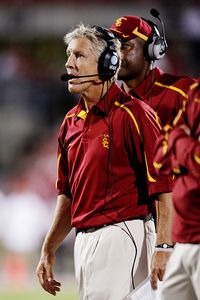 Andy Lyons/Getty ImagesA win against Arizona likely gives Pete Carroll's team the inside track to the Holiday Bowl.
"We talked about it yesterday in the meetings about what can happen by showing the excitement," Carroll said. "I'll remind you that last year in the Rose Bowl the officials told us at halftime that if we continue to celebrate as much on the sidelines they were going to call a 15-yard penalty on us. I blew it because I wanted to make them call that penalty. I wish we would have done it so they would have called the penalty on us, so we could have gotten penalized for having too much fun. Because I don't understand that."
Oh, by the way, USC plays host to Arizona on Saturday in a game that will play a big role in deciding the Pac-10's bowl pecking order. The winner likely has the inside track to the Holiday Bowl.
Both teams had bigger goals a few weeks ago, but both are coming off of hard-fought victories in rivalry games, so the glass feels half-full, particularly for Arizona (7-4, 5-3).
"I think we seemed like we were in a better place last night [at practice] than we were a week ago," said Arizona coach Mike Stoops, whose team two weeks ago was knocked out of the Rose Bowl race when it lost a double-overtime thriller to Oregon.
USC (8-3, 5-3) didn't look particularly good while beating the Bruins. While the defense played fairly well against one of the Pac-10's worst offenses, the offense was mostly stagnant.
At least until the end, and we're not talking about
Matt Barkley
's bomb to
Damian Williams
that nearly ignited a riot.
The best moments for USC came before that. After the Bruins cut the margin to 14-7 in the fourth quarter, Barkley and company drove 73 yards in nine plays for a touchdown. It was the evening's best drive. Barkley completed 4 of 5 passes for 43 yards, and
Allen Bradford
ran four times for 30 yards.
Then the defense forced a four-and-out, which appeared to end the game's drama until emotions ran high at the end.
[+] Enlarge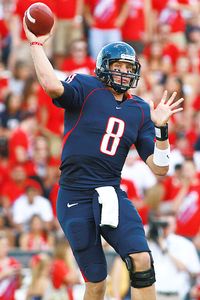 Chris Morrison/US PresswireQuarterback Nick Foles will try to play Saturday with a broken hand.
Still, Stoops found himself in the unusual position of seeming to have to build up the Trojans as an opponent.
"They look like USC to me when I watch them play," he said. "I think they're starting to get comfortable and get their confidence and their swagger back, so they present some huge problems defensively with their personnel."
Stoops' high-powered offense hit the skids in the second half at Arizona State. Injuries, as they have been all season, are an issue. Starting tailback
Nic Grigsby
won't play again Saturday because of a lingering shoulder injury, while quarterback
Nick Foles
is trying to play with a broken non-throwing hand.
USC knows all about injury woes, but it's as healthy as it has been all season. Williams and tight end
Anthony McCoy
, whose absences substantially hurt the passing game, figure to be closer to 100 percent this week than they were against UCLA, and preseason All-American center Kristofer O'Dowd will be back in the starting lineup after he lost his job for much of the year due to a lingering knee problem.
Still, Arizona typically gives the Trojans problems. USC has won the past two games by a touchdown and it hasn't scored more than 20 points against the Wildcats' defense since 2005.
"We've always struggled with these guys," Carroll said. "They've been a very difficult scheme against us, and we know it's going to be very hard again."
The stakes are still substantial, in large part because the winner continues to feel good in a season when that wasn't always the case.
As Carroll vaguely alluded, "Kind of feeling good feeling about getting back on track after the two weeks, you know, prior."
October, 1, 2009
10/01/09
1:20
PM ET

Posted by ESPN.com's Ted Miller
A California offensive tackle is late getting out of his stance -- perhaps due to crowd noise -- and the Oregon defensive end sacks the Bears quarterback as a receiver breaks wide open downfield. The Cal receiver drops the ball deep in Ducks territory. Cal's pulling offensive lineman falls on his face so the lone Duck defender between the running back and a huge gain makes the tackle. The Cal receiver gets flagged for unsportsmanlike conduct after drawing a pass interference flag. The Cal defender recovers a fumble only to immediately fumble the ball back to Oregon.
The pass arrives late. Or it arrives early.
How did Cal flop so outrageously in a 42-3 loss at Oregon? At least one Bear screwed up on just about every play while 11 Ducks executed.
"It was a lopsided football game that surprised everybody," USC coach Pete Carroll said.
Actually, USC's All-American center Kristofer O'Dowd, a three-year starter, said he doesn't get shocked anymore. Otherwise, how could the Trojans deal with their own flop at Washington, a team they beat 56-0 last year?
| | |
| --- | --- |
| | |
| | Stephen Dunn/Getty Images |
| | Quarterback Matt Barkley is still working his way back to complete health from a bruised shoulder. |
"It's college football," O'Dowd said. "We're in the Pac-10. Any given Saturday anything can happen. We've been a witness to that. It's not really shocking."
What seemed like the Pac-10 game of the year in the preseason is now a showdown of wounded giants (ABC, 8 p.m. EST). Both teams are laden with talent. Both teams gagged terribly in their Pac-10 openers.
Only seven times in Pac-10 history has the champion lost two conference games. And -- pay attention Cal -- that champion never started 0-2 in conference play.
So while it's not the scintillating matchup of top-10 teams with national championship implications -- at least not obvious ones at this juncture of the season -- No. 7 USC's visit to No. 24 Cal owns a high degree of gravity because the winner re-emerges while the loser is relegated to the slag heap.
That would be a new experience for USC under Pete Carroll, but Cal coach Jeff Tedford knows better than most how fragile a promising season can be.
Immediately after the loss at Oregon, his least favorite topic reappeared: 2007.
That's when Cal, on the cusp of rising to No. 1 for the first time in 56 years, committed a monumental execution failure in the waning moments against Oregon State. Quarterback
Kevin Riley
, who was making his first career start, failed to throw the ball away or run out of bounds and stop the clock, killing the Bears' opportunity to kick a game-tying field goal that would have forced overtime.
It was the only time anyone can remember the businesslike Tedford going completely nuts on the sideline.
That crushing moment became the first of six losses in Cal's next seven games.
Riley, now a junior, is the Bears' starting quarterback. In the first three games, he rolled up great numbers and was ranked sixth in the nation in pass efficiency. After completing just 12 of 31 passes for 123 yards against the Ducks, he now ranks 44th in the nation and fourth in the Pac-10 in pass efficiency.
The question presently haunting Cal fans is whether another moment of high expectations is going to be met with a crushing implosion.
"A couple of the veteran players talked about [2007], talked about how we can't let it happen," Riley said. "This is a different team. We don't think that's going to happen. We know last week didn't go well but it's over with."
Tedford said that he believe his team "understands that's not who we are" after watching the Oregon film. He also said he learned a hard coaching lesson in 2007.
"I learned a lot as a coach that year -- that there's a lot more to it than just X's and O's," he said. "To keep your team motivated, to keep their confidence up and keep them together is a big thing."
| | |
| --- | --- |
| | |
| | Steve Dykes/Getty Images |
| | The Bears need Jahvid Best to get on track Saturday against USC. |
USC floundered back from the loss at Washington with a lackluster effort against Washington State. The Trojans have been riddled with injuries, and freshman quarterback
Matt Barkley
's bruised shoulder, which sidelined him during the loss to the Huskies, is only this week showing real signs of improvement.
The latest USC player to get hurt was particularly shocking: Senior running back
Stafon Johnson
suffered major trauma to his voice box and windpipe when he dropped a 275-pound bar on his neck while doing bench-press. Johnson's season is over, but that was good news considering the incident could have been life-threatening.
While everyone on the team was shaken by Johnson's emergency surgery, which lasted more than seven hours, O'Dowd said it will serve as a rallying point, not a distraction.
"You'd think everybody would be down, but when we heard word from Stafon that he's fired up about this week that gives us confidence to come out with that extra edge," he said.
Speaking of an extra edge, Cal running back
Jahvid Best
admitted he won't have to look for one Saturday. He gained just 55 yards against the Ducks, and last year USC completely shut him down, holding him to just 30 yards rushing.
In fact, the Cal rushing attack has been bottled up for the past six quarters as teams piled up defenders near the line of scrimmage to stop Best, daring Riley to make plays over the top.
Best knows the Trojans will be gunning for him. And he knows a big play from him could spark his teammates, not to mention the Memorial Stadium crowd.
"It just gives me a little bit more motivation to go out there and produce this weekend, just to show that I can produce," Best said.
Both teams have been high on expectations but middling on production thus far, and that's why what could have been a glamour matchup is now mostly about desperation.
August, 14, 2009
8/14/09
10:05
AM ET
Posted by ESPN.com's Ted Miller
It's never easy to put a preseason all-conference list together. Should you project forward or look back? How do you choose between three A-list cornerbacks or leave off a couple of deserving defensive ends?
Perhaps this list will be much different by mid-December.
QB Jeremiah Masoli, Oregon
RB Jahvid Best, California
RB Jacquizz Rodgers, Oregon State
WR Damian Williams, USC
WR James Rodgers, Oregon State
TE Rob Gronkowski, Arizona
C Kristofer O'Dowd, USC
OG Jeff Byers, USC
OG Colin Baxter, Arizona
OT Charles Brown, USC
OT Shawn Lauvao, Arizona State
K Kai Forbath, UCLA
DE Will Tukuafu, Oregon
DT Brian Price, UCLA
DT Stephen Paea, Oregon State
DE Dexter Davis, Arizona State
LB Keaton Kristick, Oregon State
LB Reggie Carter, UCLA
LB Mike Nixon, Arizona State
CB Walter Thurmond, Oregon
CB Syd'Quan Thompson, California
FS Taylor Mays, USC
SS Cam Nelson, Arizona
P Bryan Anger, California
May, 28, 2009
5/28/09
10:00
AM ET
Posted by ESPN.com's Ted Miller
We've discussed positions of concern a lot. But where are teams (almost) worry-free?
Here are some spots.
USC's offensive line: The Trojans welcome back all five starters, including the nation's best center, Kristofer O'Dowd. And, oh by the way, super-sophomore Tyron Smith might displace returning starter Butch Lewis at tackle. The Trojans averaged 195 yards rushing per game last year and surrendered only 18 sacks, fewest in the conference.
California's secondary: All four starters are back, including first-team All-Pac-10 cornerback Syd'Quan Thompson, from a unit that finished third in the nation with 24 interceptions and ranked sixth in pass efficiency defense. And the backups are so good that a couple of returning starters are hearing footsteps.
USC's secondary: Start with Taylor Mays and Josh Pinkard, the best safety combination in the nation -- though Pinkard played corner last year. Sure, two starters -- Kevin Ellison and Cary Harris -- are gone. But three players -- safety Will Harris and corners Shareece Wright and Kevin Thomas -- have starting experience. And a couple of the youngsters turned in impressive springs.
Oregon State's quarterbacks: The Beavers have two successful starting quarterbacks in Sean Canfield and Lyle Moevao, though Moevao is coming back from shoulder surgery. They also have an impressive No. 3 in redshirt freshman Ryan Katz, and Virginia transfer Peter Lalich is a wildcard who had disappeared before coming up big in the spring game. His questionable attitude won't help him climb the depth chart, though.
UCLA's tight ends: Ryan Moya earned second-team All-Pac-10 honors last year, and he was Logan Paulsen's backup until Paulsen's season ended with a foot injury in the opener against Tennessee. The Bruins also like sophomore Cory Harkey, and then there's touted freshman Morrell Presley, who's more a hybrid receiver-tight end. Lots of options here. Just got to get them the ball.
November, 9, 2008
11/09/08
2:12
AM ET
Posted by ESPN.com's Ted Miller
LOS ANGELES -- USC coach Pete Carroll recognized the sea of skeptical looks that surrounded him. He had just announced that he was satisfied with his offense's performance in a 17-3 win over California, and he knew that the gaggle of reporters wasn't buying what he was selling.
| | |
| --- | --- |
| | |
| | Kirby Lee/US PRESSWIRE |
| | USC coach Pete Carroll wasn't sweating his team's lackluster offensive performance in a 17-3 win over Cal. |
Sure, Cal has a good defense. But the Bears give up 21 points per game, so USC's performance was below average.
And the talent on the Trojans offense isn't below average.
It was all part of the plan, Carroll countered. He and the offensive coaches had pulled hard on the reins of quarterback Mark Sanchez and his teammates, knowing that the Bears had forced more turnovers than any other Pac-10 team.
"You guys don't understand that in this game we were very concerned about their defense taking the football away from us," Carroll explained. "Mark was schooled all week long to not take any chances down the field, to not feel bad about dumping the ball off or throwing the ball away, so we don't give them a chance to do what they do so well. I thought he did a beautiful job of that today."
Hmm.
Sanchez's numbers were, well, fine. He completed 18 of 29 passes for 238 yards with two touchdowns and -- most importantly -- no interceptions.
But still. 17 points?
Carroll would be glad to know that Sanchez, who was hardly his typical buoyant self after the game, stayed on message, despite questions probing for frustration or self-doubt.
"I didn't throw four touchdowns or for 400 yards but this is just as sweet. I played like this team needed me to tonight," he said. "They can't all be 52-7, 69-0 or 56-0."
Those are previous USC blowout wins. But a team fighting to get back into the national title race can never have too many blowout wins.
The numbers weren't bad. The Trojans gained 411 yards, including 173 on the ground. They only had one turnover, a Joe McKnight fumble in Cal territory after a spectacular run. They averaged 6.2 yards per play.
Part of the problem was Cal's well-executed plan to play keep-away with the Trojans. Through three quarters, the Bears had nearly an eight-minute advantage in time of possession.
Still, USC didn't get adequate value out of nine trips into Bears territory, in large part because they were 4 of 11 on third down.
Asked about third down, Carroll immediately started waxing poetic about his defense, which again was, to use his term, "crazy lights-out."
He's right about that, with linebackers Rey Maualuga and Brian Cushing and safety Taylor Mays combining for 24 tackles and many crazy-lights-out hits in another utterly dominant performance.
But the question was about his offense.
"I don't know," Carroll said. "I'll have to go back and look at what the issues were. I know we were a little bit off."
Receiver Patrick Turner hauled in a 19-yard touchdown from Sanchez on a beautiful throw through a small window in the Bears zone. It was one of the few offensive highlights, but Turner didn't have an explanation for why his unit isn't more consistent nine games into the season or what they might do to fix the problems.
"That's not my job -- I don't know," he said. "I just run what I'm supposed to run."
Turner then volunteered that it's the "little things" derailing the offense. Center Kristofer O'Dowd said it was "missed assignments" and not being familiar with Cal's unusual 3-4 defensive front. Receiver Ronald Johnson, who caught the other Sanchez TD pass, offered that it was hard to pass because the Bears drop so many players into coverage.
Each offered that "a win is a win."
But every win isn't equal in the BCS system, and as good as the defense was, pollsters might raise a skeptical eyebrow at 17 points.
September, 9, 2008
9/09/08
11:13
PM ET
Posted by ESPN.com's Ted Miller
LOS ANGELES -- A full day's worth of notes and quotes as coaches Pete Carroll and Jim Tressel talked to reporters on both ends of the USC-Ohio State showdown.
RECRUITING BATTLE


Carroll and Tressel don't know each other personally but that doesn't mean they don't know each other.
"We know them through recruiting," Carroll said.
They don't steal prospects from each other's states very often -- Ohio State has three players from California, USC one from Ohio -- but both programs recruit nationally.
Tressel noticed some familiar names when he looked over the USC roster.
"Gosh -- all of those guys were on our wish list," he said.
He then ticked off some of those names: center Kristofer O'Dowd, tight end Blake Ayles, receiver Ronald Johnson, quarterback Mark Sanchez and offensive guard Jeff Byers.
USC hasn't always won recruiting the recruiting battles either -- see Chris Wells and Ted Ginn, Jr.

CARROLL AND WOODY
The best anecdote of the day was Carroll talking about his year as an Ohio State assistant coach under Earle Bruce.
It just so happens that it was 1979, the season Ohio State lost in the Rose Bowl to USC and Charles White.
But Carroll's biggest thrill was looking out a window and seeing former coach Woody Hayes as he walked down the sidewalk.
"I had never seen him before," Carroll said. "So I dropped everything and took off across the parking lot and met him and I introduced myself."
Carroll said it was especially gratifying that Hayes knew who he was. They, of course, talked football.
"To me that was a really special moment," Carroll said.
QUOTABLE
Tressel to an L.A. audience about the poor performance in the 26-14 victory over Ohio on Saturday: "I've tried not to spend too much time looking back at that... We survived, I guess."
Carroll on the Ohio State-Ohio game:
"I don't think that has anything to do with it... They just won that game a little differently than everybody wanted them to and expected them to."
Tressel on the comments from Ohio State WR Ray Small suggesting that there is a "class" difference between the two schools: "It's disappointing when anyone talks... The only thing I can say about Ray is Ray doesn't have a malicious bone in his body and has no ill-intention... Those of us who speak to the press at times can error... Obviously it wasn't a good thing but he's a good kid."
USC safety Kevin Ellison, who was injured most of the 2005 season, on comparing OSU QB Terrelle Pryor to Vince Young: "I couldn't compare them right now. Vince Young was a totally different level. Terrelle Pryor is a freshman. I'm sure he'll be good a couple of years down the line. But you're talking about Vince Young, the second pick of the NFL draft."
July, 23, 2008
7/23/08
5:41
PM ET
Posted by ESPN.com's Ted Miller
| | |
| --- | --- |
| | |
| | Matt Brown/Icon SMI |
| | USC offensive coordinator Steve Sarkisian would "love someday to be a head football coach." |
USC offensive coordinator Steve Sarkisian is a hot head-coaching prospect and runs a unit that -- if recruiting rankings are to be believed -- is almost as talented annually as any in the nation.
Of course, when an offense is perceived as owning elite talent, the margin for error is small and fans are quick to criticize when things aren't perfect. More than a few believe the Trojans 32.6 points and 434.9 yards per game in 2007 qualified as underachieving, regardless of the critical injuries at many key positions.
So with just four starters back on offense, what's in store in 2008? Is quarterback Mark Sanchez the man? What's up with the logjams at tailback and receiver? And is an offensive line with just one returning starter in trouble?
Sark stopped by for a chat.
What did Mark Sanchez do in the spring to jump ahead in the quarterback race?
Steve Sarkisian: The first thing that jumps out is he has a great comfort level with the offense. He does a nice job handling the offense as far as making the proper checks, the audibles, getting the ball into guys' hands quickly. But on top of that I think we felt and saw his energetic leadership. We saw a charismatic guy who loved to come out and work and practice every day and I think it was contagious for the entire football team. Those are some of the qualities you like to see in a leader, a guy who makes those around him better.
Is there a chance that someone else will start at quarterback in the opener at Virginia?
SS: Up until now [Sanchez] won the job. But we're going to give those other guys their opportunities in fall camp to go out and compete and prove they're worthy of playing time. But up until this point, Mark is the guy for us.
It seems like the competition remains wide-open at tailback, with a bunch of guys who could end up starting or at least get a lot of carries: How does the pecking order stack up there?
SS: If we were going to play today you'd see three guys: You'd see Joe McKnight. You'd see Stafon Johnson. You'd see C.J. Gable. For sure those three. But I think you're also going to get a little dose of Allen Bradford as well. Now that doesn't mean Allen Bradford couldn't be the lead dog by the end of camp. And that doesn't mean Marc Tyler or Broderick Green couldn't get in the mix. But coming out of spring football, those three guys really established themselves. And Allen Bradford made a lot of noise.
You guys have so many talented running backs, but has there been much discussion among the coaches about maybe picking one horse, one guy who gets 25 carries a game?
SS: Not really. We've always had -- go back to when it was Justin Fargas and Sultan McCullough -- we've always had sort of a two-horse-type backfield with a third guy who was kind of a variety-type guy who can do a lot of different things. So we've always been that way. Sure, preferably you'd like it to be two solid guys where you know what you're getting. But right now we're looking at three or four guys. But I think that kind of stuff kind of settles itself out. Injuries come into play and guys step up. But it's good to know we've got that luxury at that position because it is a tough position to sustain and stay healthy at. As you saw last year. The moment Stafon Johnson established himself as the back, he got hurt and then Chauncey Washington played and Joe McKnight stepped up when we lost C.J. Gable after the third game. So, obvious, it's a luxury to have three guys there -- or four or five.
Same thing at receiver: What's the pecking order there?
| | |
| --- | --- |
| | |
| | AP Photo/John Froschauer |
| | Wide receiver Patrick Turner had 48 catches for 569 yards last year, including 3 scores. |
SS: Coming out of spring football you really saw Vidal Hazelton really rise to the challenge. He was a [50]-catch guy as a sophomore and really was playing injured. He got healthy during spring football and looked fantastic. Patrick Turner, I think, is poised for a big-time senior season, and Damian Williams, a transfer from Arkansas, really impressed people. The two young guys, David Ausberry and Ronald Johnson, really stepped up in spring and got better. Then there are some dark horses in there: Travon Patterson, and a true freshman by the name of Brice Butler is coming into the mix. I think it is a really good position group for us because we've got a lot of depth there. But, again, we're looking for two or three guys to really step up and take over that spot and be the go-to guys for us.
The receivers as a group took some criticism last year. Was that fair? Were you disappointed in some of the production?
SS: Well, I think as a group offensively we were disappointed in ourselves as a whole. That position group was young and inexperienced and had some drops early in the season. And to compound that they were replacing maybe the greatest tandem of receivers in college football history in Steve Smith and Dwayne Jarrett. I think that made that discrepancy even bigger. There was a lot of pressure on them last year, but I really like how they ended the year. They grew up. I like the way Vidal ended the year. It was unfortunate that Patrick Turner couldn't pla
y in the bowl game. But he got better during the year. And I think David Ausberry got better and Ronald Johnson got better and it carried over to spring practice. They'll be ready for fall camp.
The offensive line needs four new starters. Is this a reload or rebuild?
SS: Last year we were hit with an injury bug up front all last year; it seemed like every week we had a different starting five. That forced a lot of our young kids to have to play last year, whether that was Charles Brown or Zach Heberer or Kristofer O'Dowd, the true freshman. So those guys got a lot more experience than I think people realize. It sounds like we're an inexperienced group because we're replacing four starters. But in reality these guys have played a lot of football and we're excited about them. This is an ornery group. They're competitive and athletic and tough and nasty. I think realistically we're a good eight deep with guys who can play. The challenge for us is to just get cohesive as we go through fall camp.
Of the guys we maybe haven't heard much about, who's going to break out this year?
SS: I don't know how to answer that. We've got a lot of kids who are very talented who have kind of just waited for their opportunity. The guy who jumps out at me is [tight end] Anthony McCoy, the guy who's played behind Fred Davis the last couple of years. I'm anxious to see [fullback] Stanley Havili as a sophomore. Damian Williams the transfer from Arkansas. And I'm anxious to see our quarterback play. I expect him to play really well and I think he expects to play really well. I wouldn't be surprised if he went out and had a great year.
Your name seems to come up a lot during coaching searches the past couple of years. What are your thoughts on your future as far as becoming a head coach? Do you have a timeline? Are you anxious about it?
SS: There's no question I'd love someday to be a head football coach. But I'm extremely fortunate. I am at a tremendous place at a tremendous time. Pete Carroll has been very good to me. We're winning. We've got great kids. We get to live in Los Angeles. I love it. I'm in no rush to get out of here. Every day is learning, watching how Pete handles our football team. I have fun going to work every day. So, yeah, I want to be a head football coach. But I'm not in any rush.