March, 20, 2012
3/20/12
4:00
PM ET
WACO, Texas -- Heisman winner
Robert Griffin III
earned accolades for his performance at the podium at last month's NFL combine, but he elected not to throw until his pro day at Baylor.
The day for NFL scouts, GMs and coaches to see it up close and in person has arrived. Or, at least, it will on Wednesday.
[+] Enlarge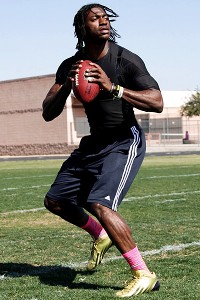 AdidasRG3 will get his chance Wednesday to show off for NFL scouts, GMs and coaches at Baylor's pro day.
"It'll probably be the biggest pro day Baylor's had in awhile," Griffin said on Monday after arriving to campus to take in his former team's spring practice.
Now, when would Baylor have ever had a bigger pro day?
"Well, I didn't want to say that," Griffin said with a laugh.
Make no mistake, it's the biggest ever. Around 130 media members were credentialed for Wednesday's event, and 60-80 more NFL personnel are expected to arrive. That number was trimmed from around 120 after the
Washington Redskins
traded up to No. 2 with intentions to select Griffin.
"We'll see what happens," Griffin said of his future destination. "Either way, if it's Indy or Washington or whatever happens in the draft, I'll be excited to play for that team."
The Bears had originally planned to allow fans to attend, and expected around 1,000 to show up and watch Griffin go throw a scripted set of throws, but that plan was scrapped.
Several networks, including ESPN, will broadcast the pro day live. The Big 12 Blog will be on hand, too. It's not only about Griffin throwing, though.
"We're trying to show [NFL teams] we've got two really good running backs in
Terrance Ganaway
and Isaac Williams. Kendall [Wright]'s going to show off and do his thing and run great routes," Griffin said. "We've got a couple older guys coming back in Ernest Smith and Krys Buerck. They're looking forward to a shot at the NFL, so I'm trying to help, help everybody out, not just show what I can do. Tape doesn't lie, so I don't have to prove anything at pro day, it's about going out and having fun and helping those guys be successful, so we're looking forward to it."
Griffin's spent the past two-plus months training in Arizona for Wednesday, and explained some of what Wednesday's workout can prove to NFL teams that want to see more than just his extensive, impressive game tape.
"The routes are all different in different systems, but they give you that generic NFL route tree and they want you to go run that and show them, 'Hey, I can run the basics, now teach me everything else,'" Griffin said. "So, just matching the drops to those throws, because they're not what anybody does in the college level, no matter whether they're in a pro system or in a spread system.
"I don't think I've ever seen a quarterback go seven [steps], plant and throw -- throw an out route at the college level. So, it doesn't matter if you're in a spread or in a pro style at college. It's still a different game and I'm excited to go play that game."
He'll get his chance this fall, but even with an adidas endorsement deal, Griffin isn't showing off any newfound cash just yet.
He hasn't made any car or house purchases, and doesn't have any plans to change that just right now.
"Not at all," he said. "I'm still broke."
November, 6, 2010
11/06/10
2:31
PM ET
STILLWATER, Okla. -- The score's a pretty good reflection of this one. Baylor got deep into Oklahoma State territory once and turned it over, but Oklahoma State dropped what should have been an easy touchdown pass. This is a pretty clear-cut,
24-point game
that Oklahoma State has dominated from the start. If not for a late missed field goal by Lou Groza Award candidate Dan Bailey -- his first of the season -- it could be 27-0.
Turning point:
On Baylor's second drive of the game, Oklahoma State cornerback Brodrick Brown stripped Baylor receiver
Josh Gordon
and recovered the fumble to set up Oklahoma State's first touchdown. That drive put the Cowboys up 10-0 and on their way to a great first-half performance on both sides of the ball.
Turning point II:
Baylor had a wide-open
Krys Buerck
in the end zone, but Baylor quarterback
Robert Griffin III
underestimated the speed of Oklahoma State safety Johnny Thomas, who came from the opposite side of the field to intercept the pass and keep Baylor off the scoreboard with just minutes remaining in the first half.
Stat of the half:
Baylor turnovers: 3. Oklahoma State: 0. The Cowboys defense has played great, but all three of the turnovers have been because of plays the defense made, and without them, this could be a two-touchdown or 10-point lead.
Best player in the half:
Oklahoma State quarterback
Brandon Weeden
. He's had all day in the pocket, been able to hit receivers for short passes and been accurate when he's looked downfield. He's completed 20-of-25 passes for 244 yards to seven different receivers.
Best player in the half II:
Oklahoma State's secondary. Brown's fumble and Thomas' interception have the Cowboys on top.
Best call:
Mike Gundy elected to try and convert a 4th-and-2 near midfield, and Baylor's defense lost
Justin Blackmon
over the top. Blackmon dropped the pass, but the defense kept Baylor off the board on the ensuing possession. Obviously, the execution wasn't there, but from a decision-making standpoint, Gundy's call and Weeden's decision to go deep should have paid off.
What Oklahoma State needs to do:
Everything it's been doing. Don't take chances on defense, prevent the big play, and hand the ball to
Kendall Hunter
in the second half. He'll take the Cowboys home.
What Baylor needs to do:
Keep trying to stretch the field. Oklahoma State has reined in Griffin's legs, but they've had plenty of opportunities for long plays down the field through the air. Griffin hasn't been accurate with those passes, but you have to keep forcing the issue. There still has to be some patience in the offense, but Baylor's going to need at least five second-half touchdowns to win this game.
March, 2, 2009
3/02/09
10:06
PM ET
Posted by ESPN.com's Tim Griffin
Baylor started spring practice Monday with six players playing different positions than those they played at the end of the 2007 season.
Some notable players were key contributors at their old positions.
Here are some of the changes:
Senior RB Jeremy Sanders to safety. Sanders rushed for 128 yards on 34 carries and scored a touchdown last season. He also recorded Baylor's highest kickoff return average with six returns for 163 yards (27.2 yard per kick average).
Senior WR T.J. Scranton has moved to safety. Scranton accounted for two catches for 24 yards and one kickoff return for 19 yards.
Sophomore WR Romie Blaylock has moved to cornerback. Blaylock rushed once for 7 yards and accounted for two receptions for -6 yards
Junior CB Krys Buerck has moved back to wide receiver. Buerck produced 24 tackles, broke up two passes and notched an interception for a return of 46 yards.
Senior DT Sam Sledge has moved to fullback. Sledge notched nine tackles, and produced 1 1/2 sacks.
Senior WR Ernest Smith has moved to the inside receiver position from outside. Smith produced seven catches for 175 yards and a team-best 25.0 yard-per-catch average.
The Bears worked out for two hours, 20 minutes on their first day of practice on Monday. Coach Art Briles was excited about what his team showed.
"We're just glad to be back on the field," Briles told reporters after the workout. "You spend all your time planning and hoping and now you get to put it to realization on the field. It's just a great time."
The Bears will work three more days before taking next week off for spring break. Their work will conclude April 2 with a controlled scrimmage.
"The thing we are really excited about is just getting a chance to concentrate on our guys," Briles said. "When you are in a season, you spend a lot of your time working on opponents and yourselves. When you get to spring ball, it's all about you.
"This is what we are all about. We're about Baylor. We are about getting ready to be bowl bound in '09."
August, 5, 2008
8/05/08
9:23
AM ET
Posted by ESPN.com's Tim Griffin
Daily Oklahoman columnist John Rohde might have found the secret for Oklahoma State coach Mike Gundy's vigor. And it doesn't come from his excitement about being around his players.
Rohde details Gundy's three Red Bull energy drink-a-day habit in his column Tuesday. I know that Gundy has long enjoyed the drink, stocking a refrigerator in his office with the product. He even offered me one during a visit to Stillwater earlier this year.
The combination of taurine, caffeine, glucose and B12 appears to get Gundy's juices flowing -- almost as much as a negative newspaper column.
He could joke about his habit in Rohde's column. After showing up at a recent press conference, he wondered what soft drink that Oklahoma State had a sponsorship deal with.
When somebody answered "Red Bull," Gundy had a quick answer.
"You've got that right," he said.
And he later joked that he wasn't showing the signs of a Red Bull addict, despite playfully twitching his head several times in quick succession after the question.
I hope all of the Big 12 readers out there are similarly charged with the early-morning lift that these morning links are meant to provide as Gundy is with his favorite drink.

If so, maybe I should bottle them.