April, 9, 2013
Apr 9
10:30
AM ET
Max McCaffrey
's Duke family tree has more branches than the federal government.
His grandfather, Dave Sime, was an All-ACC outfielder who led Duke in batting average, home runs and stolen bases. He won
12 ACC titles
in track, was an All-American, and set seven
world
records. He played one season of football as a wide receiver and went on to win a silver medal in the 100-meter dash in the 1960 Olympics in Rome. Oh, and he found time to graduate from Duke's medical school in 1962.
And that's just gramps.
McCaffrey's grandmother, Betty Conroy, graduated from Duke in 1959. His uncle, Scott Sime, lettered in four seasons (1981-84) as a fullback at Duke before graduating in 1986. Another uncle, Billy McCaffrey, lettered two seasons (1990-91) in basketball at Duke.
And that was just at Duke.
[+] Enlarge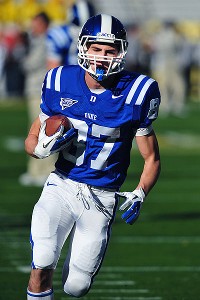 Courtesy of David JohnsonThose within the Duke football program say that receiver Max McCaffrey's toughness has stood out this spring.
McCaffrey's dad, Ed, was an All-American receiver at Stanford and went on to play 13 years in the NFL. His mother, Lisa, earned three letters in soccer at Stanford. Oh, and aunt Monica lettered four seasons in hoops at Georgetown.
That must make for some family picnic.
"I guess it's a pretty competitive family," Max said.
There's no question he has inherited the trait.
"Oh, man, Max McCaffrey has opened up every single person's eyes here," Duke quarterback
Anthony Boone
said. "I don't know if he wants me to say this, but he came out a little bit of a fighter, like he's not gonna back down from nobody. He's been making a lot of plays. He's our blue-collar guy. He's going to work. Even when he's tired, he's going to push through. He's smart, he knows what he's doing, and he's tough. He's going to stick his nose in there in the run game. Even if he gets smacked and hits the ground, he's going to get back up and try and push the guy a little extra. He's a hard-nosed player and he's really stepped up and shined bright for us this spring. I'm looking forward to seeing what he's going to do this year in the ACC."
Despite his remarkable pedigree, there's no pressure from McCaffrey's family to be the next All-American wide receiver. There is, however, a wee bit of pressure on Duke's receivers to fill the void left by record-setter
Conner Vernon
, who closed out his career as the ACC's all-time leader in pass receptions and receiving yardage. McCaffrey only caught two passes last year, but he's proven more than worthy this spring of stepping in opposite
Jamison Crowder
, who started all 13 games last year and had five 100-yard games. Crowder is poised to be the next go-to player, but McCaffrey will be equally important in keeping defenses honest.
"He's had a great spring," said offensive coordinator Kurt Roper. "I think the thing that I like the best about him is he's an unbelievable competitor. He's a guy who, every day -- it doesn't matter if you're at the beginning of practice or the end of practice -- his effort level is the same. His competitiveness is the same. I don't think I really understood how tough he was, but he's a tough guy, too, so he can make the contact area catches. He doesn't mind mixing it up when he has to block in the run game. I can't say I'm shocked by how well he's doing. I obviously couldn't be happier about it, because we need him to step up in a big way. I think spring is about getting guys game ready, not about beating your defense, and I think Max is ready to play on Saturday, quite frankly."
McCaffrey, a sophomore, caught two passes for 31 yards against Florida State last year and played a total of 196 snaps in 13 games. He said he knows more will be expected of him this fall. At a scrimmage earlier this month, McCaffrey caught five passes for a team-high 76 yards.
"Last year just getting a little bit of experience was awesome, but this year I definitely need to step it up," he said. "I've been working real hard this spring just perfecting the offense, learning coverages on defense, just being able to read the coverages, and I've been trying to get a lot stronger and faster, just working on basic fundamentals of the game."
He's already mastered the competitive part. After all, it's in his genes.
April, 2, 2013
Apr 2
3:30
PM ET
Kurt Roper has several titles for Duke: He is the assistant head coach, the offensive coordinator, and the quarterbacks coach. He joined Duke in January, 2008, and was promoted to assistant head coach this past February. Last year, Roper guided Duke's offense to an average of 31.5 points per game, the fifth-highest total in school history. This year, he has a new quarterback in
Anthony Boone
and a new center in
Matt Skura
. I caught up with Roper recently to get his take on the offense this spring. Here are the highlights of our conversation:
Looking at the quarterback position, obviously that's been a big change for you guys. How has Anthony looked this spring?
[+] Enlarge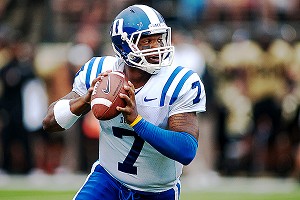 Jeremy Brevard/USA TODAY SportsDuke assistant head coach Kurt Roper said that he's been impressed with the performance of QB Anthony Boone this spring.
Kurt Roper:
He's done a good job. It's obviously a different role in the fact he's a starter, so you have to walk, talk, look like -- everything you do has to be as the starting quarterback. I think he's taking that responsibility the way he should. It still has to show up on the field in productive play, and he's doing that. He's a guy who's really skilled. He's a guy who, his feet are great, his throwing motion is really fast-twitch. His arm is really strong. He's a good decision-maker. He has command of what we're doing at the line of scrimmage. I guess what I should say is, he has a quarterback's charisma. He's playing like a starter for the most part. There are things we always need to improve on. His accuracy is a thing we stress all the time, but he's a guy who can help us win games on Saturday, and he was able to do that last year.
Who else is having a good spring for you offensively?
KR:
Isaac Blakeney is doing a good job for us at his position, he's really a talented guy who can make plays and needs to keep coming on. Matt Skura and
Lucas Patrick
in the offensive line have had good springs and are physical guys. When you lose a starting center, that's a scary thing. It's nervewracking. Especially with us, the way our offense is built, with the gun snap such a high percentage of the time. If you can't be good at that, it's hard to be a good offense, and he's done a good job of that. If we stay healthy, we've got four running backs that can help us win on Saturdays. That's a position we have some confidence in.
How do you guys look up front on the offensive line?
KR:
That's probably been the area that has been the most transformed since we've been here in guys that can help us win. You try to build depth. What happens at that position, if you don't feel like you have eight guys that can go play -- your five starters and then a third tackle, a third guard, and a second center -- then you have huge depth issues. Every year that we've been here, we've had those huge depth issues. If the wrong guy gets hurt, then it gets hard for us. I think we're building that depth. I think we're closer to saying we've got eight guys who can go play against ACC competition and have a chance to help us win.
From your perspective, where do you think the program is at? You guys hit an important milestone getting to the bowl game last year, but I'm sure you would have liked to win more in the second half of the season.
KR:
The best thing I can say is it's going in the right direction. When we got here, it definitely was a challenge in the fact we were fighting people's perception of us. I think we've been fighting that challenge -- and it really shows up in recruiting more than anywhere else. People have to buy in and believe, and I think by going to a bowl game, people are starting to see tangible evidence to what we're selling in recruiting. It's going in the right direction. I do think we're better physically in some places than we've been. Each Saturday, it doesn't matter where you are … if you're coaching for the Green Bay Packers, it's still hard to win on game day, but we're putting guys out there who are really good college football players.
April, 1, 2013
Apr 1
10:30
AM ET
You've heard of Cabin Fever?
Duke tight end
Braxton Deaver
half-jokes that he's been suffering from Training Room Fever.
[+] Enlarge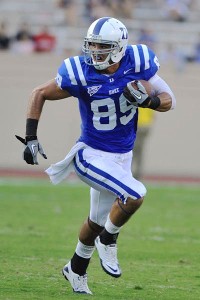 Cal Sport Media/AP PhotoTight end Braxton Deaver last played for the Duke Blue Devils during the 2011 season.
In December 2011, Deaver tore his ACL. He went through the rehab, missed all of last spring, came back strong, and then broke his thumb in June and was out for five weeks. As soon as he came back, he fractured his patella, essentially ripping his kneecap in half.
"At one point," he said, "I was just angry."
Understandably so.
It's been a long road to recovery, but Deaver has finally rejoined his teammates this spring with the hopes of being a major contributor this fall. He's still not 100 percent healthy, but Deaver is participating in spring drills and expects to play again for the first time since 2011. When he's at his best, those within the program say Deaver can be a complete tight end for the Blue Devils -- a strength the team was lacking last year. Deaver, though, is versatile enough to help the running backs get to the perimeter, help the tackles with the linebackers, and be a threat as a pass catcher.
He just hasn't been in a starting role yet.
"I love his mentality," said offensive coordinator Kurt Roper. "He's a guy that just loves football, lives and breathes it. It's who he is. It's kind of his identity, if that makes sense. He's really talented. I've been around some guys who have gone on to play in the NFL at the tight end position, and Braxton is like that. When he's healthy, I don't think the size, speed, strength, football IQ combination could get better."
Deaver is eager to prove it.
Roper said Deaver was about 205 pounds coming out of high school, and some recruiters doubted if he would be big enough to be a tight end and fast enough to be a wideout. He was recruited by Wake Forest, where his father, Jay, lettered four seasons as an offensive guard (1985-88). Duke, though, showed more interest, and Deaver gravitated toward the offense and the coaching staff.
Now, at 6-foot-5, 240 pounds, Deaver is more than capable of both blocking and catching. He also has added motivation from the injuries he suffered.
"I wanted to come back and really show everyone exactly what I can do," he said. "Everyone says he's got the potential, but you know what? I'm done with that. It's time to put your money where your mouth is."
Deaver said he puts the team goals first, but that he wants to catch over 50 balls, be a first-team all-ACC selection, and be "the absolute best" he can be. He's finally healthy enough to try and do that.
"I've never felt better in my sport-playing career," he said. "We have an unbelievable staff here as far as the training room and everything else. I've been really diligent. I knew it was going to be hard, but I really put my nose to the grindstone and now I feel great."
February, 15, 2010
2/15/10
11:00
AM ET
At Duke, former scout team quarterback
Sean Schroeder
has been reciting the names of plays so he can spit them out a little easier in the huddle as the No. 1 signal-caller this spring. At Wake Forest, coach Jim Grobe would like nothing more than to say he feels good about his quarterbacks, but he hasn't seen any of them play significant game time yet. And at NC State, backup
Mike Glennon
plans on working to unseat his friend and teammate
Russell Wilson
as the starter this spring.
[+] Enlarge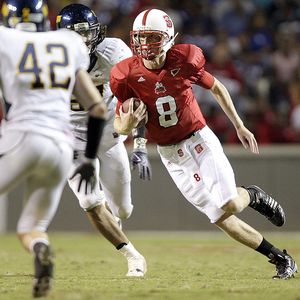 AP Photo/Gerry Broome Mike Glennon will get extra reps under center this spring while incumbent starter Russell Wilson plays baseball.
Bring on the competition in the ACC.
All across the conference, uncertainty looms at quarterback heading into spring practices. The biggest transitions will occur at Duke and Wake Forest, where two of the ACC's most accomplished quarterbacks --
Thaddeus Lewis
and
Riley Skinner
-- have graduated. Virginia is also starting from scratch to replace
Jameel Sewell
, and nobody on the roster but
Marc Verica
has experience. Maryland's
Jamarr Robinson
has two starts ahead of the competition. Some schools, like North Carolina and Boston College, have experienced starters returning, but have welcomed an audition from the backups. At NC State and Clemson, the position's future depends on whether or not starters
Kyle Parker
and Wilson decide to pursue their baseball careers.
"My goal is to prepare to be the starter, regardless of what decision [Wilson] makes, whenever he has to make a decision," Glennon said. "… Once spring comes around, I'll be getting all of those extra reps I wouldn't have been given if he was there. Every ball I throw is really an advantage to me."
Florida State is the only school in the Atlantic Division without any questions about who the starter is, as
Christian Ponder
will return from a shoulder injury and has the potential to factor into the Heisman race. The Coastal Division is a little more secure, with Georgia Tech's
Josh Nesbitt
, Miami's
Jacory Harris
, and Virginia Tech's
Tyrod Taylor
all established and on the brink of their best seasons yet. Whether or not that gives them an edge in the conference race will depend upon how quickly the league's rookies can catch up.
"It's always difficult to replace a guy who had the ability [Lewis] had," said Duke offensive coordinator and quarterbacks coach Kurt Roper. "He's obviously very, very talented, and then the experience factor. You don't have a four-year starter very often ever at many positions, especially at quarterback."
Boston College is in a much better position than it was this time a year ago, as the staff had no idea who its quarterback would be until 25-year-old
Dave Shinskie
arrived on campus. Shinskie is the front-runner heading into the spring, but
Mike Marscovetra
and two true freshmen -- Chase Rettig and Josh Bordner -- are on campus and will be given a chance.
"I think there should always be competition," said offensive coordinator/quarterbacks coach Gary Tranquill. "It's Shinskie's job, and if they can unseat him, then they can unseat him."
Duke's quarterback depth took a hit after Lewis graduated and his backup,
Sean Renfree
, tore his ACL. Renfree is expected to be the Blue Devils' starter this fall, but he will miss all of spring drills while he recovers.
Next man up? Schroeder.
"I'm expecting to really get a hold of the offense," he said. "I've got a year under my belt as a redshirt freshman. That helped a lot. I'm looking to grow from that and master the offense and different schemes we have."
Wake Forest has to replace the winningest quarterback in school history in Skinner. Truth is, there really is no front-runner. Not when the most experienced player,
Ted Stachitas
, has one series against Elon to fall back on.
"It is legitimately wide open," said quarterbacks coach Tom Elrod.
The contenders include
Skylar Jones
, who was moved to wide receiver last year; Stachitas, who has had two shoulder surgeries on his right shoulder but said he feels almost 100 percent;
Brendan Cross
; walk-on
Turner Faulk
; and true freshman Tanner Price.
"I can't tell you that I'm very confident, just because we haven't seen the guys in live fire," Grobe said. "I don't know that we'll feel good about them until they get a real game under their belt. I like what we've got – I like the kids who are playing quarterback for us, but even in practice and the scrimmages, it's just really hard to tell who the guys are until they get out in games that really mean something."
The one thing Grobe can take some solace in? He's hardly alone this spring in the ACC.
TOP 25 SCOREBOARD
Thursday, 12/5
Friday, 12/6
Saturday, 12/7
TOP PERFORMERS