NCF Nation:

Kwesi Mitchell
July, 16, 2012
7/16/12
10:30
AM ET
Week 1:
Sept. 1 versus Navy (at Aviva Stadium in Dublin, Ireland)
Time/TV:
9 a.m. ET, CBS


Series:
Notre Dame leads all-time, 72-12-2
2011 record:
5-7
Head coach:
Ken Niumatalolo (32-21, four years)
Returning starters:
Offense: 4; defense: 8; kicker/punter: 1
Top returners
QB
Trey Miller
, RB
Gee Gee Greene
, WR
Brandon Turner
, WR
Matt Aiken
, WR
Casey Bolena
, LT
Graham Vickers
, LG
Josh Cabral
, DE
Wes Henderson
, LB
Brye French
, LB
Matt Warrick
, LB
Matt Brewer
, CB
Jonathan Wev
, CB
David Sperry
, CB
Parrish Gaines
, S
Tra'ves Bush
, S
Chris Ferguson
, P
Pablo Beltran
Key losses
QB
Kriss Proctor
, RB
Alexander Teich
, C
Brady DeMell
, G
John Dowd
, RT
Ryan Basford
, NG
Jared Marks
, DE
Jabaree Tuani
, LB
Caleb King
, LB
Jarred Shannon
, CB
Kwesi Mitchell
, K
Jon Teague
2011 statistical leaders (*returners)
Rushing:
Proctor (914 yards)

Passing:
Proctor (787 yards)
Receiving:
Turner* (300 yards)
Tackles:
Warrick* (103)
Sacks:
Tuani (5.5)
Interceptions:
Mitchell, Bush*, Ferguson*, Sperry* (2)
Three questions for ...
College Football Nation blogger Andrea Adelson:
Versus Notre Dame in Ireland, at Penn State (following a bye). One can think of easier ways to open the season, but Navy has laid a tough task ahead of itself. What can this program take away from those games and environments early on, and do the Midshipmen actually have a shot of stealing one?
Andrea Adelson:
Navy is no stranger to playing tough games. This is a program that continually challenges itself. The Midshipmen nearly upset South
Carolina early last year, and have beaten Notre Dame twice in the last three years. If anything, I think opening the season with two incredibly tough games will set this team up for the rest of the season, even if it loses both. There are some young players that are going to get valuable on-the-job training against two traditional power teams and to me, there is no substitute for that as the season moves on. Can they steal one? Absolutely. Last time I checked, neither team is Alabama. I never count Navy out of a game.
Quarterback Trey Miller got thrown into the fire early last season following Kriss Proctor's injury. How much will that help Miller this year, especially with running an offense as sophisticated as Navy's?
AA:
I spoke with coach Ken Niumatalolo during the spring, and he is really excited about having Miller start this year. Niumatalolo called Miller's performance against Notre Dame last year "baptism under fire," so I think he learned a valuable lesson from that experience. Any time you can go into the year with some game experience as the bona fide starting quarterback, it helps. But no question, opening the season on the road against the Irish is going to be a huge task for Miller and the entire offense.
There's no beating around the bush. Navy, due to turnovers and poor execution, often beat itself last season. (That may sound familiar to readers of this space.) With five of last season's losses coming by three points or fewer, just how close is Navy this year to getting back on track and returning to a bowl game?
AA:
I think Navy will get back to a bowl game. What really surprised me about last season is Navy rarely beats itself. In fact, Navy is usually one of the most disciplined teams in all of college football. Niumatalolo basically went back to the basics this spring and stressed that discipline. "We are paying more attention to detail," he told me. "I know we lost close games last year and there are small little things we missed that cost us a game, and I think that resonates with our guys because they know losing five games by 11 points, they saw all the little things we could get better."
August, 17, 2011
8/17/11
1:00
PM ET
They are fierce rivals, yes, but everybody who coaches at and plays for a service academy understands the difficulty of making a bowl game. So it should come as little shock that they applauded what happened last season -- when Army, Navy and Air Force all made bowl games for the first time in college football history.
"All three are phenomenal places. Each one has their own niche that our country badly needs," Air Force coach Troy Calhoun said. "We're fortunate to have each one of these academies. When they all have winning seasons, that's pretty cool stuff."
Now the big question -- can they do it again and again?
[+] Enlarge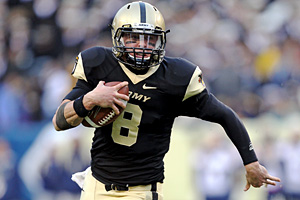 Hunter Martin/Getty ImagesLast season Trent Steelman passed for 995 yards, rushed for 721 yards and led Army to its first bowl game since 1996.
"There are no guarantees in this, but I think that's a realistic outcome when you look at who we are and our schedules and how well we're playing," Army coach Rich Ellerson said. "It's not hard to visualize that."
Navy and Air Force have been playing at high levels in recent years. The Midshipmen have been to eight straight bowl games; Air Force to four straight. It had been Army that lagged behind. But Ellerson has changed the culture at West Point, taking his Black Knights to a bowl game for the first time since 1996.
Is that enough to get the momentum going for Army? On paper, it appears that Army has the longest shot of the three service academies to make it back to a bowl game.
The defense lost six starters, including all-important nose guard Mike Gann and defensive end Josh McNary, who holds the school record for tackles for loss and sacks. The defensive line is more undersized than usual for a service academic, so the team is hoping its quickness and athleticism can make up for that. The Black Knights also lose leading tackler Stephen Anderson, who had 108 stops last season, and both starting safeties.
If you take a look at the Army schedule, you will find very few gimmes. Six of the 12 games feature bowl teams; only four of their FBS teams had losing records last season. The opening stretch is tough, starting with a game at Northern Illinois (11-3 last season), then home to San Diego State (9-4) and Northwestern (7-6). Army plays six straight games before getting a bye.
But if there is a bright spot for Army, it has to be on offense. Quarterback
Trent Steelman
and fullback
Jared Hassin
return, and they should given opposing defenses fits. Hassin ran for 1,013 yards last season and Steelman added 721 on the ground and 995 yards passing. Army does have to replace four starters on the offensive line, but Ellerson has been pleased with their progress.

Navy faces a rebuilding year as well, but the Midshipmen are a team that knows how to win and win consistently. They only return 10 starters -- and just three on defense. Navy lost its top four tacklers from a year ago -- Wyatt Middleton, Tyler Simmons, Aaron McCauley and Jerry Hauburger.
There are some bright spots returning, though. Defensive end Jabaree Tuani, their best defensive lineman, returns. Cornerback Kewsi Mitchell will anchor the defensive backfield, though just exactly where he will play remains up in the air. On the latest depth chart, he is listed as a possibility at rover, right and left cornerback.
Offensively, Ricky Dobbs is gone, but there isn't much concern about
Kriss Proctor
coming in to run the triple-option. Proctor has had extensive experience running the offense as a backup the past two seasons. Plus, he has fullback
Alexander Teich
to help him out. Teich had a breakout year in 2010, running for 863 yards and is in line to be a 1,000-yard rusher this season. Four of five starters on the offensive line return as well.

As for Air Force, the Falcons are the defending Commander-In-Chief Trophy winners after breaking the seven-year Navy streak. Air Force has to be the favorite to repeat as CIC champions because of everybody it has returning. In fact, the Falcons were picked to finish third in the Mountain West in the preseason media poll, and some have called them a darkhorse candidate to win the conference.
Air Force has the best quarterback of the service academies in
Tim Jefferson
, and the best return specalist in
Jonathan Warzeka
. The Falcons also have the most solid defense. Eight starters return on defense, including the team's top three tacklers from a year ago -- Jordan Waiwaiole, Jon Davis and Brady Amack.
All three programs need to get to six wins to be bowl eligible. If that happens again, Navy would head to the Military Bowl presented by Northrop Grumman on Dec. 28 in Washington against a team from the ACC. Army would head to the Kraft Fight Hunger Bowl in San Francisco against a Pac-12 team on Dec. 31. Air Force would go to a Mountain West tie-in.
May, 10, 2011
5/10/11
10:30
AM ET
2010 overall record:
9-4

Returning starters
Offense: 8, defense 3, punter/kicker 0
Top returners
FB
Alexander Teich
, DE Jabaree Tuani, SB
Gee Gee Greene
Key losses
QB
Ricky Dobbs
, S Wyatt Middleton, CB Kevin Edwards
2010 statistical leaders
(* denotes returners)
Rushing:
Dobbs (967 yards, 14 TDs)
Passing:
Dobbs (82-of-150 for 1,527, 13 TDs, 6 INT)
Receiving:
Greg Jones
(662 yards, 5 TDs)
Tackles:
Tyler Simmons (131)
Sacks:
Billy Yarborough (6)
Interceptions:
Simmons, Max Blue*, Kevin Edwards, De'Von Richardson, Kwesi Mitchell*, Tra'ves Bush*, Emmett Merchant (one each)
Spring Answers
1. Kriss Proctor at quarterback.
There was never any doubt that Proctor would succeed Dobbs, but nonetheless coach Ken Niumatalolo wanted to see a good spring out of him and he most certainly got one. Proctor no doubt already has the respect of his teammates, and that is important going into fall practice.
2. Depth in the backfield.
Navy is deeper than it has ever been in the offensive backfield under Niumatalolo. Eight deep in fact. Greene and Teich return, along with
Aaron Santiago
,
Bo Snelson
and
John Howell
, giving the Midshipmen plenty of options.
3. Bush steps up.
No question Bush has some big shoes to fill in replacing Middleton, the best player on the defense and a team leader. Middleton started all four seasons so Navy loses all his experience. But Bush had a good spring and is penciled in to start.
Fall Questions
1. Linebacker.
Navy is going to have new starters on the outside after the graduation of Jerry Hauburger and the abrupt departure of Aaron McCauley. Jarred Shannon and Mason Graham top the depth chart, but there will be more competition in the fall when Brye French (lacrosse) and Craig Veech (baseball) return to football.
2. Youth in the secondary.
Cornerback Kwesi Mitchell is the only returning starter in the secondary. Navy took a big hit in leadership and experience after losing Middleton and Edwards. Jordan Fraser is tops on the depth chart at the other safety spot, while David Sperry and Jonathan Wev are competing for the cornerback job opposite Mitchell.
3. Leadership.
The departed senior class won 35 games, tied for the second most in school history. Players like Dobbs, Middleton, Edwards and Jeff Battipaglia started many games in their Navy careers. Niumatalolo said this spring was spent emphasizing the Navy culture to the young players whose job it will be to step up and lead.
March, 11, 2010
3/11/10
5:10
PM ET
Navy football, which will begin spring practice at the end of the month, released its depth chart this week and there are a couple of interesting moves listed.
Junior
Mike Stukel
has been moved from quarterback to slot back, a move coach Ken Niumatalolo wanted to do last year, but couldn't because of injuries to backup quarterback
Kriss Proctor
in the preseason and starter
Ricky Dobbs
during the year.
Stukel is currently listed as the second-string slot back behind
Marcus Curry
, who started most of last season.
Curry
made headlines this offseason
for failing a drug test administered by the Naval Academy. However, it was determined that Curry didn't knowingly ingest marijuana and was allowed to stay with the team. No punishment was assessed and Curry is expected to participate in spring football.
The other major depth chart move for the Midshipmen is
Mario Washington
, the team's third-leading receiver last season, listed a co-starter at cornerback with Kwesi Mitchell. Washington, a senior, had nine catches for 165 yards in 2009.
The move to corner is a spring experiment and Washington can move back to receiver if he can't become a starter at cornerback. However, receiver is one of the deepest positions on the depth chart and Washington is athletic enough to make the move to defense work.
Navy will begin spring practice on March 29.