April, 30, 2014
Apr 30
11:30
AM ET
Answers rarely come in abundance in the spring. Football answers anyway.
In the SEC, spring practice has come and gone again this year. And as usual, there are things we think we know and really don't. There are things we're sweating and probably shouldn't be. And then there are those things that sort of have a way of burying themselves until the real lights come on in the fall.
"I don't know of many championships that have been won in the spring," said Steve Spurrier, who won six SEC titles at Florida and is still pushing to win one at South Carolina. "You find out some things about your team, but there's a lot you don't know."
What is known, at least in the realm of SEC football, is that this is the first time since 2006 that the league has exited a spring without one of its schools being the defending national champion.
Florida went on to win it all during the 2006 season, igniting a streak of seven straight national championships for the SEC -- a streak that was broken in January when Florida State rallied to beat Auburn in the final seconds at the Rose Bowl.
[+] Enlarge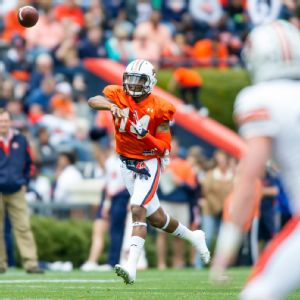 Michael Chang/Getty ImagesNick Marshall wasn't even on Auburn's campus last spring. Now he might be the best quarterback in the SEC.
Auburn is as good a pick as any from the SEC to rejoin the national championship equation this fall, and a big reason why is a quarterback nobody knew much about this time a year ago on the Plains.
Nick Marshall
wasn't even on campus for spring practice last year; he was finishing up junior college. But he was easily one of the most improved players in college football last season with his exceptional athletic ability and knack for making the big play.
Now, with a spring practice under his belt and an entire season in Gus Malzahn's offense, Marshall figures to be much more in 2014 than simply a dynamic athlete and adequate passer.
He might be the best quarterback in this league.
"I think the big thing is just being more comfortable," Malzahn said. "You can see him in the pocket. He's just more under control. His balance is good. His eyes and his progression are good, so you can tell he's really improved."
So whereas there are zero questions surrounding who will play quarterback at Auburn, the Tigers' Iron Bowl rival, Alabama, went the entire first half of its spring game without scoring a touchdown.
Granted, sometimes the real mission in a spring game is not to show too much or get anybody hurt. But there was no hiding the Alabama quarterbacks' struggles in that game, nor the fact that the guy who's probably the favorite to win the job -- Florida State transfer
Jacob Coker
-- was a spectator at the game. Coker will be on campus next month.
The quarterback position, period, was loaded in the SEC last season, and several coaches agree that some of the defensive numbers that skyrocketed a year ago may come back down to normalcy next season.
At least six schools -- Alabama, Kentucky, LSU, Tennessee, Texas A&M and Vanderbilt -- head into the summer with their quarterback situations not completely settled.
And at five of those schools, there's a decent chance a true freshman or redshirt freshman could end up winning the job or at least sharing the duties in the fall.
At Kentucky, true freshman
Drew Barker
is making a bid for the job. True freshman
Brandon Harris
had a big spring at LSU, while redshirt freshman
Riley Ferguson
is right in the mix at Tennessee, as is redshirt freshman
Johnny McCrary
at Vanderbilt.
At Texas A&M, true freshman
Kyle Allen
is competing with sophomore
Kenny Hill
for the starting job, although Hill ended the spring indefinitely suspended per athletic department policy after being arrested and charged with public intoxication.
So talk about the great unknown.
Then again, wasn't it just two springs ago that some guy named
Johnny Manziel
was coming off an arrest of his own and was nothing more than one of the four candidates to replace Ryan Tannehill as the Aggies' starter?
Things can obviously change pretty dramatically come fall.
[+] Enlarge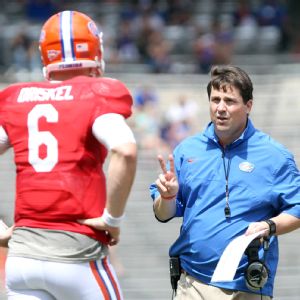 Kim Klement/USA TODAY SportsQuarterback Jeff Driskel and coach Will Muschamp have a lot of pressure to prove Florida's 2013 season was not a sign of things to come.
For Florida and Will Muschamp, they need to change. The Gators, coming off their worst season since 1979, are determined to show that last season's 4-8 finish was nothing more than an embarrassing hiccup and not a sign that the program is spiraling downward.
Muschamp, with the pressure squarely on, feels much better about his offense coming out of the spring. He hired Kurt Roper away from Duke to run the offense, and quarterback
Jeff Driskel
is healthy again and back to his comfort zone under Roper.
Driskel's supporting cast, including the offensive line, needs to be better, but there's no question Roper will play to Driskel's strengths next season.
"We're going to bounce back," Driskel said. "Sometimes, you need things like [the 2013 season] just to realize where you need to be. You can tell that everybody's humble, everybody's ready, everybody's a team guy, everybody's a team player.
"I'm really looking forward to it. It should be fun."
Unpredictable, too.
Sort of like how everybody had Missouri winning the East and Auburn winning the West leaving the spring a year ago -- a pair of teams that won two league games between them the season before.
"The more you're around this league, the more you realize how small that margin is between being a team that's pretty good and a team that wins a championship," said
Dylan Thompson
, South Carolina's fifth-year senior quarterback.
"You have to approach every game with the same amount of focus, which is easier said than done. It's a constant battle, but you have to stay focused the whole ride."
April, 4, 2014
Apr 4
10:00
AM ET
Brandon Allen
.
Nick Marshall
.
Bo Wallace
.
That's it. That's the list.
Only three quarterbacks who started double-digit games last season return to the SEC this fall, and one of them isn't even guaranteed to be a starter.
[+] Enlarge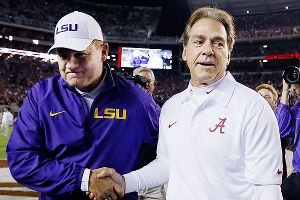 Kevin C. Cox/Getty ImagesLes Miles and Nick Saban are in no hurry to name their starting QBs for the fall.
Everywhere you turn in this league, there's a quarterback competition underway, from Alabama to Georgia, Arkansas to Kentucky, LSU to Texas A&M.
Maty Mauk
is surely the presumptive starter at Missouri, but even he's not a sure thing. Gary Pinkel says he wants competition, never mind that there were times when Mauk looked better than former starter
James Franklin
.
But not every coach in the SEC approaches the quarterback position the same way. A quick glance across the league shows a variety of opinions about how to pick a starter.
Mark Stoops is the most urgent-minded coach of the bunch, and given the inconsistency Kentucky had at quarterback last season, it's easy to understand why. Entering his second season, Stoops said: "I'd love to come out of spring with a clear-cut starter." That means everyone is in the mix.
Maxwell Smith
can't practice while he recovers from shoulder surgery, but
Jalen Whitlow
,
Reese Phillips
,
Patrick Towles
and even true freshman
Drew Barker
are in the hunt.
Barker, a four-star prospect according to ESPN, "has a very good opportunity to take control of it," Stoops said, praising his maturity for such a young quarterback.
"He's a guy [who] has high expectations [for] himself, and he's OK with the pressure that comes along with playing that position," Stoops said. "He's excited about the opportunity, and I'm excited to see what he can do."
Bret Bielema isn't outwardly putting a timetable on anything at Arkansas, but he's encouraging everyone to compete. Allen started 11 games last season but was up and down, with 13 touchdowns and 10 interceptions.
Bielema was about as no-nonsense as any coach gets about the situation.
"In theory, the first time we yell out for the [first string, Allen is] going to step out there," Bielema said before the start of spring practice. "But really, in our program, the competition brings the best out of people.
"So B.A. is going to be the first guy in with the ones, but there will be other guys who get opportunity," he continued. "Who is able to produce and run the offense effectively and who gives us the best chance to win next year's opener against Auburn will be at that position."
Similar to the case at Kentucky, Bielema isn't counting out his true freshman.
Rafe Peavey
, another highly-regarded four-star prospect, is going to be allowed to sink or swim. Bielema loves his talent and praised him as a "football junkie." But he's not pampering the rookie.
"It's no different between the right tackle or the quarterback or the safety," Bielema said. "It's all about what a freshman can handle, how they adjust to adversity and how they enjoy success.
"The quarterback gets a lot of attention. They're usually really pretty, really smart, and everybody likes them. But in reality, they're like everybody else. Those that play well will play and those that don't will sit."
While Bielema and Stoops are anxious for a battle, other coaches around the league are more inclined to sit back and wait.
[+] Enlarge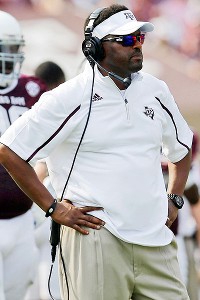 AP Photo/David J. PhillipWho will replace Johnny Manziel as Texas A&M's QB? Kevin Sumlin isn't saying anything right now.
LSU coach Les Miles said he has a good sense of the competition between
Anthony Jennings
and
Brandon Harris
. "But it always plays out," he said, harkening back to when Matt Flynn and JaMarcus Russell duked it out eight years ago. It looked like Flynn had the job in hand after winning a bowl game and watching Russell come into camp out of shape in 2006. But Flynn's body faltered down the stretch and Russell kept going, eventually winning the job.
"I want all the quarterbacks to know that it's going to be given to no one," Miles said. "[It's] earned by the one that plays."
Texas A&M and Alabama are taking similar approaches to replacing
Johnny Manziel
and
AJ McCarron
. In fact, both Kevin Sumlin and Nick Saban are somewhat defiant about holding the cards close to the vest.
Sumlin has gloated before that when people assumed
Jameill Showers
would beat out Manziel in 2013, "I didn't name a starter [after spring]; y'all did."
So while we watch
Matt Joeckel
,
Kenny Hill
and
Kyle Allen
jockey for position, don't expect a starter to be named until close to the season.
Saban, for his part, doesn't want to hear anything about it. His quarterback competition is essentially on hold until the fall, when Florida State transfer
Jacob Coker
arrives. Before the start of spring practice, Saban laid out his plan, saying, "Let me be very clear about this: We're not going to be in a hurry to decide who the quarterback is."
"You guys are going to ask me at least 1,000 times between now and the first game who's the first-team quarterback," he added, "and I'm telling you right now you're probably going to get a 1,000 'We're going to wait and see.' "
The only place in the SEC that doesn't have to be patient in the matter is South Carolina. Coach Steve Spurrier named
Dylan Thompson
the starter well before spring practice ever began.
Replacing
Connor Shaw
won't be easy, but Spurrier said that Thompson was the guy for the job, no question. A fifth-year senior with plenty of in-game experience, Spurrier didn't have a doubt in his mind.
"I didn't know there was any question about it," he said. "Someone said, 'You're just naming him the starting quarterback?' Well, I just said, 'Of course I am. Why wouldn't we?' "
Spurrier did it his way. Saban and Sumlin are doing it theirs. Stoops is anxious, and Bielema and Pinkel are only interested in the competition.
Recruiting a quarterback is the furthest thing from an exact science. Finding out who's ready to start is even more inexact.
This might be the season of new quarterbacks in the SEC, but everywhere there's a different sense of which way the wind blows.
March, 28, 2014
Mar 28
7:48
PM ET
Texas A&M
got an unwelcome distraction on Friday when the news of
Kenny Hill
's arrest broke.
Hill, a sophomore quarterback who is part of a three-way competition for the starting job,
is suspended indefinitely
, per Texas A&M athletic department policy after he was taken into custody on a public intoxication charge.
[+] Enlarge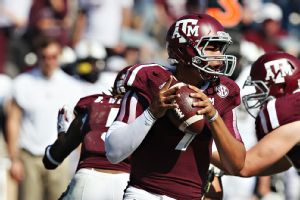 Bob Levey/Getty ImagesKenny Hill's suspension leaves him unable to participate in the rest of Texas A&M's spring practices.
This is the third arrest and Hill is the fourth A&M player involved in an off-field incident since mid-February -- not an ideal situation for coach Kevin Sumlin and his staff.
The news broke just hours before the Aggies were scheduled to hit the field for their annual "Friday Night Lights" practice, an energized scrimmage/recruiting event that Sumlin has hosted since his first year as the Aggies' head coach.
Hill's suspension likely means the other two contenders for the starting quarterback job, senior
Matt Joeckel
and true freshman
Kyle Allen
, will see increased repetitions in his absence. The Aggies have four spring football practices remaining after Friday's scrimmage.
Many observers might be quick to point out that Texas A&M's recently departed quarterback, Heisman Trophy winner and potential first-round NFL draft pick
Johnny Manziel
, survived an offseason arrest in 2012 and won the starting job before going on to his historic freshman season. However, Manziel's arrest came in the middle of the summer, not during the spring, thus Manziel did not miss valuable practice time or scrimmage opportunities.
By all accounts, the quarterback battle has been a tight one. One factor that could work in Hill's favor is Sumlin's patience in quarterback competitions: He typically does not name a starter until two weeks before the season opener, and that is likely to be the case again this season. So there is a long way to go until anything happens, giving Hill time to recover from his legal incident.
Hill came into this spring with an edge over newcomer Allen because of his game experience (he appeared in five games last season) and because he's a dual threat with plenty of experience dating back to high school with no-huddle spread offenses like the one the Aggies run. But by enrolling early, Allen -- the No. 1 pocket passer in the 2014 recruiting class -- is doing everything he can to put himself in position to succeed. And Joeckel, the veteran of the group, has the most experience and has long been waiting for his opportunity.
If this proves to be an isolated incident for Hill, it will likely become a footnote if he bounces back and wins the starting job. This doesn't help his case for the time being, though.
This is the latest off-field incident for the Aggies, as starting defensive teammates
Isaiah Golden
and
Darian Claiborne
were arrested last month, and safety
Kameron Miles
was dismissed from the team earlier this month. Claiborne and Golden have both sat out all spring (Golden actually withdrew from school recently, though Sumlin said he expects the defensive tackle to return) and Miles is headed to Butler Community College in Kansas.
Sumlin has been swift in dealing with off-field issues this offseason, but the last thing he wanted was to have to deal with another.
March, 4, 2014
Mar 4
9:05
AM ET
Setting up the spring in the SEC West:

ALABAMA
Spring start:
March 15
Spring game:
April 19
What to watch:
Succeeding McCarron: The Crimson Tide must find the person who will step into AJ McCarron's shoes. There are several quarterbacks on campus: Blake Sims, Alec Morris, Parker McLeod and Cooper Bateman. The person most have pegged as the favorite, however, won't be on campus until the summer: Jacob Coker. A transfer from Florida State, Coker is finishing his degree before enrolling at Alabama. But new offensive coordinator Lane Kiffin will get a chance for a long look at the others this spring.
What's next for Henry?: Running back Derrick Henry has the fans excited after his Allstate Sugar Bowl performance (eight carries, 100 yards), and he brings great size to the position (6-foot-3, 238 pounds). T.J. Yeldon is a returning starter who is more experienced and battle-tested, and there are still other talented backs on the roster, such as Kenyan Drake. But plenty of eyes will be on the sophomore-to-be Henry.
Replacing Mosley: Linebacker C.J. Mosley was a decorated star and leader, so his presence will be missed. Alabama has plenty of talent in the pipeline; it's just not tremendously experienced. Watch for Reuben Foster and Reggie Ragland.

ARKANSAS
Spring start:
March 16
Spring game:
April 26
What to watch:
Keeping it positive: It's been rough around Fayetteville, Ark. The Razorbacks closed their season with nine losses in a row; coach Bret Bielema is a focal point in the unpopular NCAA proposal designed to slow down hurry-up offenses; and leading running back Alex Collins served a weeklong suspension last month for unspecified reasons. The Hogs could use some positivity.
A new DC: The Razorbacks will be working in a new defensive coordinator, Robb Smith. He came over from the NFL's Tampa Bay Buccaneers, where he was the linebackers coach. Smith made a significant impact at his last college stop, Rutgers, where he led the Scarlet Knights' defense to a No. 10 ranking in total defense in 2012.
Year 2 progress: Making a drastic change in scheme isn't easy to do, which is what the Razorbacks tried to accomplish in Bielema's debut season. In the second spring in Fayetteville for Bielema, things should come a little more easily as the Razorbacks continue to institute Bielema's brand of power football.

AUBURN
Spring start:
March 18
Spring game:
April 19
What to watch:
Picking up where they left off: The Tigers put together a memorable, magical 2013, and with eight starters returning on offense, keeping that momentum going is key. Replacing running back Tre Mason and O-lineman Greg Robinson won't be easy, but there is still plenty of talent on offense to aid quarterback Nick Marshall.
Marshall's progress: Marshall's ascent last year was impressive, but can he continue it? He's great with his feet and made some big-time throws last year. As he continues to progress as a passer, it should add another facet to the Tigers' explosive, up-tempo, multifaceted attack.
Improving the defense: The Tigers lost five starters from a group that was suspect at times last season. But defensive coordinator Ellis Johnson has a history of improving defenses from Year 1 to Year 2, and it should be interesting to see if he can do that at Auburn.

LSU
Spring start:
March 7
Spring game:
April 5
What to watch:
Jennings next at QB?: Anthony Jennings engineered a memorable, game-winning drive in the regular-season finale against Arkansas, leading the Tigers 99 yards downfield, capped by a 49-yard touchdown pass. His performance in the Outback Bowl was far from impressive, though, as he went 7-for-19 passing for 82 yards and an interception in the Tigers' win over Iowa. Still, he is considered the favorite to replace Zach Mettenberger. Competing with Jennings is Penn State transfer Rob Bolden and freshmen Hayden Rettig and Brandon Harris.
Starting over at WR: LSU loses two 1,000-yard receivers in Jarvis Landry and Odell Beckham, plus a senior (Kadron Boone). That's a lot of production to replace. Travin Dural, who made the game-winning catch against Arkansas, is back, as is Quantavius Leslie and Armand Williams. The Tigers have a host of redshirt freshmen joining the mix (John Diarse, Avery Peterson and Kevin Spears) and bring in several freshmen (Malachi Dupre, Trey Quinn, D.J. Chark) to compete for playing time. But replacing 72 percent of the 2013 receiving yardage will be challenging.
Finding safeties: Craig Loston has moved on, and the Tigers don't have a returning starter at safety. But they do have Jalen Mills, who slid from his cornerback spot to safety to start in the Outback Bowl. Corey Thompson, Ronald Martin and Rickey Jefferson all return, and ESPN 300 recruit Edward Paris Jr. is already on campus and will participate in spring practice.

MISSISSIPPI STATE
Spring start:
March 18
Spring game:
April 12
What to watch:
All eyes on Prescott: With some strong performances to close out the season in the Egg Bowl and in the AutoZone Liberty Bowl, quarterback Dak Prescott certainly played the part of an elite SEC quarterback. He'll enter the season with more national attention after putting together some gutsy performances while pushing through some personal adversity last season after the death of his mother.
Malone stepping in: Justin Malone was on pace to start at right guard last season, but was lost for the year with a Lisfranc injury in his foot in the season opener against Oklahoma State. With Gabe Jackson gone, the Bulldogs need another solid interior lineman to step up, and a healthy 6-foot-7, 320-pound Malone could be that guy.
Offensive staff shuffle: The Bulldogs added some new blood on the offensive coaching staff, bringing in young quarterbacks coach Brian Johnson, a former Utah quarterback. Billy Gonzales and John Hevesy were promoted to co-offensive coordinators, though head coach Dan Mullen will continue as the playcaller in games.

OLE MISS
Spring start:
March 5
Spring game:
April 5
What to watch:
Wallace's development: Coach Hugh Freeze believes quarterback Bo Wallace will be helped by having more practice this time around; last year, January shoulder surgery had Wallace rehabilitating most of the offseason, and Freeze believes it affected Wallace's arm strength later in the season. A fresh Wallace going into the spring can only help, and as he's heading into his senior season, the coaching staff will look for more consistency.
Status of Nkemdiche and Bryant: Linebackers Denzel Nkemdiche and Serderius Bryant were arrested last month and suspended. Ole Miss is investigating the situation, but their status remains undecided.
A healthy Aaron Morris: During the season opener against Vanderbilt, Morris tore his ACL and missed the rest of the season. The offensive guard was recently granted a medical hardship waiver to restore that season of eligibility. Getting Morris back healthy for 2014 is important for the Rebels as he is a key piece to their offensive line.

TEXAS A&M
Spring start:
Feb. 28
Spring game:
None (final practice is April 5)
What to watch:
Life after Johnny Manziel: Texas A&M says goodbye to one of the best quarterbacks in college football history and must find his successor. Spring (and fall) practice will be the stage for a three-way battle between senior Matt Joeckel, sophomore Kenny Hill and freshman Kyle Allen. Only one of those three has started a college game (Joeckel), and he played in just one half last August. Whoever wins the competition will be green, but all three have the ability to run the Aggies' offense.
Retooling the defense: The Aggies were pretty awful on defense last season, ranking among the bottom 25 nationally in most defensive statistical categories. They have to get much better on that side of the football if they want to be a real factor in the SEC West race, and that starts in the spring by developing the young front seven and trying to find some answers in the secondary, particularly at the safety positions.
New left tackle: This spring, the Aggies will have their third different left tackle in as many seasons. Luke Joeckel rode a stellar 2012 season to the No. 2 overall pick in the NFL draft. Senior Jake Matthews made himself a projected top-10 pick for this year's draft while protecting Manziel last season. This season, Cedric Ogbuehi gets his turn. Ogbuehi has excelled throughout his Texas A&M career on the right side of the offensive line (first at right guard, then at right tackle last season) and is looking to follow in the footsteps of Joeckel and Matthews.
February, 24, 2014
Feb 24
9:00
AM ET
Over the span of their careers they threw for 48,824 passing yards. There were a total 403 touchdown passes among them, and they won 184 games in which they appeared, including 11 bowls and two national championships. They were, arguably, the most talented and productive class of quarterbacks ever to play in the SEC at one time. And now they're all gone.
[+] Enlarge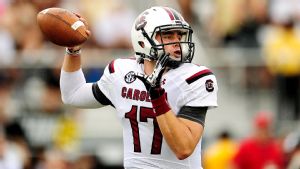 Stacy Revere/Getty ImagesDylan Thompson saw a lot of playing time last season when Connor Shaw went out.
The SEC had to say goodbye to
James Franklin
,
Johnny Manziel
,
AJ McCarron
,
Zach Mettenberger
,
Aaron Murray
and
Connor Shaw
in January. The void they leave behind is enormous, and while some programs already have an idea of who will take their place next season, not all are so lucky.
We're counting down the five most pressing questions facing the SEC this spring, in no particular order of importance. First, how do you replace all the veteran quarterbacks the league enjoyed in 2013?
When spring camps open over the next few weeks -- the first being Texas A&M on Friday -- that question will begin to be answered. With each snap and each team meeting, leaders will emerge. Some staffs will look for a winner heading into the summer so they can avoid a quarterback controversy come fall, while others will have to sweat it out through the offseason.
Texas A&M:
Surprises will undoubtedly occur, as we saw only a few years ago when a scrappy freshman from Kerrville, Texas, beat out the presumptive favorite to land the starting job at Texas A&M. The Aggies stumbled upon Manziel, and
Jameill Showers
was quickly forgotten.
Kenny Hill
and
Matt Joeckel
are this year's frontrunners, but they'll have competition in another freshman nipping at their heels in
Kyle Allen
. The Arizona native is more of a pure passer than a running quarterback, but he has the tools to sling the ball around in Kevin Sumlin's offense.
South Carolina:
Steve Spurrier didn't mince words when he said
Dylan Thompson
is "without question going to be our quarterback." He even asked, "Why open it up when he's the only one who's played?" Thompson, a rising senior, doesn't have the athleticism to break containment quite like Shaw, but Thompson can still move the chains with his feet when necessary. The 6-foot-3, 218-pound South Carolina native doesn't lack for arm strength and might even have more pure throwing ability than Shaw. But where Thompson must match Shaw is intangibles. There wasn't a more dynamic leader in the SEC than Shaw last year, and the Gamecocks will miss that kind of will power under center in 2014. While the starting job is Thompson's to lose, don't sleep on redshirt freshman
Connor Mitch
. The former four-star recruit could push Thompson this spring.
Missouri:
The race to replace Franklin comes down to one quarterback and one quarterback alone:
Maty Mauk
. The rising redshirt sophomore showed last season that he can control the offense, starting four games in which he averaged 227.5 yards, 2.5 touchdowns and 0.5 interceptions per game. More importantly, he won three of the four games with the only loss coming in double overtime against South Carolina. He'll learn from that experience and take over a team that will be moving on from the loss of big-time playmakers
Henry Josey
,
L'Damian Washington
and
Marcus Lucas
. Having the ultra-talented
Dorial Green-Beckham
back will help, but an arrest on drug charges in January has clouded his future.
[+] Enlarge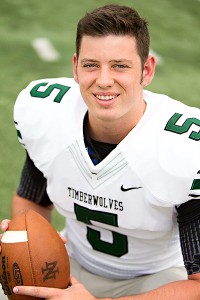 Courtesy of Cornwell familyEarly enrollee and former four-star recruit David Cornwell will get his shot at Alabama's starting QB job this spring.
LSU:
The Tigers faithful got a sneak peek at their next quarterback,
Anthony Jennings
, after Mettenberger tore his ACL and was forced to miss LSU's bowl game. The rising sophomore didn't drop anyone's jaw against Iowa, but he did just enough, throwing for 82 yards on 7 of 19 passing, while letting his supporting cast do the heavy lifting. At 6-2 and 205 pounds, Jennings has the look of a starting quarterback in the SEC. The former four-star recruit played sparingly in 2013, though, attempting just 10 passes prior to the Outback Bowl. He'll have to contend with
Brandon Harris
, ESPN's No. 37 overall prospect and No. 2 dual-threat passer in the 2014 class, along with rising senior
Rob Bolden
and rising sophomore
Hayden Rettig
.
Georgia:
Despite what wasn't a great performance to end last season -- 21-of-39 for 320 yards, a touchdown and an interception against Nebraska --
Hutson Mason
is still the overwhelming favorite to replace Murray. Why? Because Mark Richt and the coaching staff have essentially been grooming Mason to take over for years now, redshirting him in 2012 so he would have a year left to play in 2014. Mason was once a three-star quarterback who put up huge numbers running the spread at Lassiter High School in nearby Marietta, and with
Todd Gurley
behind him, he won't be asked to do too much his first year starting. While he might be a year away, don't write off
Faton Bauta
just yet. The 6-3, 216-pound redshirt sophomore has impressed the staff with his work ethic and could find his way into some playing time.
Alabama:
Oddly enough, the quarterback many presume will take over for McCarron won't actually arrive until the summer.
Jacob Coker
, the heralded transfer from Florida State, will be a little late finishing his degree in Tallahassee, which leaves a big opportunity for the rest of Alabama's quarterbacks to make a first impression. New offensive coordinator Lane Kiffin will instead have his focus on
Blake Sims
,
Alec Morris
,
Parker McLeod
and
Cooper Bateman
this spring. Sims, who best fits the mold of a run-first quarterback, has a lot of work ahead of him to prove he can play from the pocket. Morris, meanwhile, didn't get much time as a redshirt freshman last season and needs to improve his decision-making from the last time we saw him at A-Day. Bateman and McLeod are relative unknowns after redshirting last season, but Bateman, a four-star recruit, does come with a lofty pedigree. The wild card is
David Cornwell
, the four-star recruit who enrolled in January and will benefit from the fresh start all of the quarterbacks will get under Kiffin.
November, 25, 2013
11/25/13
3:00
PM ET
Many parts of Texas A&M's first two seasons in its new conference home, the SEC, have been dreamlike.
It has included top-10 rankings, a Heisman Trophy, historic wins, huge crowds, big television ratings and, at times, the eyes of the college football world.
But on Saturday in Baton Rouge, La., the Aggies were dealt a dose of cold, harsh reality during a 34-10 loss to LSU in what were, well, cold and harsh conditions. Life in the SEC is tough. For everyone.
Texas A&M's success in the nation's premier conference came much more quickly than people outside College Station anticipated and even faster than some wearing maroon-colored glasses could have pictured. Coming off a 7-6 season in its final Big 12 Conference campaign, it was widely thought the Aggies would, as Kevin Sumlin has said before, "get their brains kicked in."
[+] Enlarge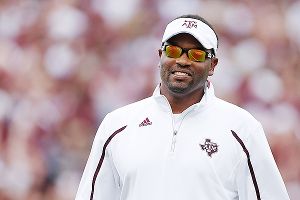 Scott Halleran/Getty ImagesKevin Sumlin has fashioned winning records in Texas A&M's first two seasons in the SEC, but will he stick around for the long haul?
That didn't happen. The Aggies went 11-2 in their first season in the league, beat No. 1 Alabama and took home sports' most prestigious individual award, the Heisman Trophy, which went to quarterback
Johnny Manziel
.
And even though there remained a window of hope this season for attaining a berth to a BCS bowl for the first time since 1998 and potentially a second Heisman for Manziel, LSU ended those hopes emphatically on Saturday.
It helped illustrate two points: (1) The Aggies still have a ways to go to reach the level of the league's very best programs, and (2) once you get to the top, it's hard to stay there.
Take LSU as an example. The Tigers have been consistently among the SEC elite for the last decade-plus. They've won four SEC championships since the turn of the century (2001, 2003, 2007, 2011) and two BCS national championships (2003 and 2007). But the Tigers currently have the same 2013 record as the Aggies (8-3), the team they just beat.
Two weeks prior to Saturday, LSU was beaten and battered at the hands of No. 1 Alabama. The second half of the Crimson Tide's 38-17 win, and in particular the fourth quarter, was intriguing to watch as the Tide asserted its will on both sides of the football.
That was done to a program that's 92-24 in the Les Miles era.
Florida (4-7), is by all accounts, a mess right now. Florida was in the Sugar Bowl last season and was ranked No. 3 before taking a beating from Louisville. It's also a program with two BCS national titles in the last decade (2006 and 2008).
Building a program that succeeds at the level of Alabama and LSU takes time. It takes talent and years of strong recruiting classes. It takes stability in the coaching staff.
Early in their SEC membership, the Aggies are taking steps in that direction. The work on a $450 million renovation of Kyle Field, to turn it into a 102,500-seat palace, is under way and scheduled for completion in time for the 2015 season. The Aggies had the country's eighth-ranked recruiting class in the 2013 cycle, and they currently have the sixth-ranked class in 2014.
After a strong debut season in Aggieland, Texas A&M took care of head coach Kevin Sumlin with a raise to take his annually salary to $3.1 million, so that commitment is in place. Whether Sumlin, whose name is thrown around for other jobs almost annually, chooses to stay or make another move is another matter, but if he chooses to remain at A&M the potential for a power program under his watch appears to be there.
As for the current squad, Saturday's result and the Aggies' losses to Alabama and Auburn earlier this season have made a few things evident. The depth and experience needed on defense for consistent SEC success is not present yet. The Aggies are recruiting heavily on the defensive line, but it will take time for those players to be ready to contribute. The way Alabama, Auburn and LSU were able to run the ball (not to mention several other teams) when they had to shows the need for growth there.
The offense, while usually productive in its first two SEC seasons and even in the losses to the Tide and Auburn, can still improve. Even with a one-of-a-kind player like Manziel, who can mask deficiencies with his playmaking ability, the Aggies weren't able to fool LSU, a team with speed at all three levels on defense and a well-respected defensive coordinator, John Chavis. And Manziel likely won't be around next year, so the Aggies will have to progress with another quarterback, whether it's one of the current backups,
Matt Joeckel
or
Kenny Hill
, or incoming ESPN 300 recruit Kyle Allen.
It's not a given that all of those things will work out. Fortunes can change fast in this league, as Auburn and Florida have shown us this year. But regardless of how the Aggies end this season, they've had two winning campaigns to start their membership in the SEC. Dreams of BCS bowls, SEC championships and national championships apparently have to wait. In this league, it takes time.
September, 3, 2013
9/03/13
10:00
AM ET
COLLEGE STATION, Texas -- While many eyes were on Texas A&M quarterback
Johnny Manziel
on Saturday, the Aggies showed they have more than one reliable option on the roster to call the signals.
Junior quarterback
Matt Joeckel
, who got the start in place of the suspended Manziel, quietly put together a solid half in his first career start, a 52-31 win over Rice. Joeckel went 14-of-19 for 190 yards and a touchdown and -- most importantly -- no interceptions while helping the Aggies to 28 first-half points.
Head coach Kevin Sumlin had come into the game planning to play both reserve quarterbacks, Joeckel and true freshman
Kenny Hill
, but he stuck with Joeckel because of his performance.
[+] Enlarge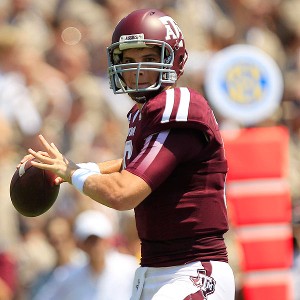 Thomas Campbell/USA TODAY SportsMatt Joeckel will be among the Texas A&M QBs battling to replace Johnny Manziel.
"I thought he was in a rhythm, and I thought he was playing well," Sumlin said. "How he was playing, I think he deserved to keep playing."
The 6-foot-4, 234-pound product of Arlington, Texas, displayed accuracy and the ability to run the Aggies' up-tempo attack at a solid pace throughout the first half.
"I think Matt Joeckel did a really good job of doing exactly what was asked of him to do," senior running back
Ben Malena
said. "I think the series of plays and playcalling was fit for him. He didn't turn the ball over, which was good. He made all the right reads. I think he did a pretty good job."
The biggest play for Joeckel came late in the second quarter on third-and-1, when Joeckel faked a handoff and found freshman receiver
Ricky Seals-Jones
, who ran by a Rice defender and found open space. Joeckel hit Seals-Jones right in the chest, and the freshman turned it into a 71-yard touchdown play.
While Joeckel is a more traditional pocket-passer and won't make the highlight reels with his feet like Manziel, he did what he was asked.
"Matt did good," offensive tackle
Cedric Ogbuehi
said. "He was comfortable, he looked like he had been starting for a while. He's the ultimate game manager. He's not going to do anything outstanding, but he's not going to lose the game for us. I think that he did a really good job."
Sumlin debated putting Hill in late in the game but decided against it. The coaching staff is confident in the true freshman, and with ESPN 300 quarterback
Kyle Allen
(Scottsdale, Ariz./Desert Mountain) already committed and on the way to Aggieland in the 2014 recruiting class, it appears the future of the quarterback position is in capable hands.
"The big decision at the end of the game was to play Kenny or not, because Kenny's going to play this year," Sumlin said. "I just didn't want to put him in there with two minutes to go and handing off. I want him to be able to run the offense. Matt, I thought, executed our offense. We had a great tempo, he didn't give the ball to the other team and operated and let the people around him execute. He was a distributor.
"I think he gained a lot of confidence out of today, and I think our team gained a lot of confidence out of him today, and that's the way both of those guys have been during camp. We've got confidence in all three of the quarterbacks, and I think today you see why."
June, 4, 2013
6/04/13
12:00
PM ET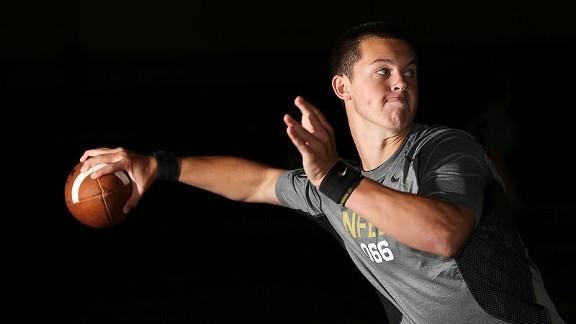 Quarterback
Kyle Allen
(Scottsdale, Ariz./Desert Mountain) has picked Texas A&M over UCLA, Notre Dame, Ohio State and Oklahoma State,
and his reasons why
won't make any Pac-12 coaches or fans happy.
Allen wanted to play in the SEC.
"That played a big part," Allen said. "If you want to be the best, you have to compete against the best. A lot of quarterbacks come out of the Pac-12 and Big 12, where they throw the ball around, but they don't play against as good of defenses. A&M does the same thing those programs do on offense but they do it against the best defenses in the country. My dream is to someday become an NFL quarterback, and I want the best training and the best preparation for that. That's in the SEC."
Allen obviously views himself as stepping in for quarterback
Johnny Manziel
.
Allen, the No. 2 quarterback in the West behind
Keller Chryst
of Palo Alto, Calif., is the seventh of the West's top-30 players to commit, and just three of those committed players are staying in the Pac-12.
So far. As we know, oral commitments are non-binding and guys can change their minds.
What we might be seeing, however, is seven consecutive national titles cementing in young athletes' minds the supremacy of the SEC. Understand that the average 18-year-old probably doesn't remember the epic USC-Texas national title game following the 2005 season. For this year's crew of young prospects, the SEC has been atop college football since they stopped watching "Yo Gabba Gabba!" on television.
Five or so years ago, there also was constant chatter about SEC supremacy, but it was mostly just fan talk. Pete Carroll and Mack Brown would smirk at it. Now it's a concrete aspect of the recruiting scene that other conferences must specifically address.
A good way to do that would be for a team from a conference outside the SEC to win the title this fall.
Paging Stanford and Oregon. Heck, even Ohio State.
June, 4, 2013
6/04/13
9:00
AM ET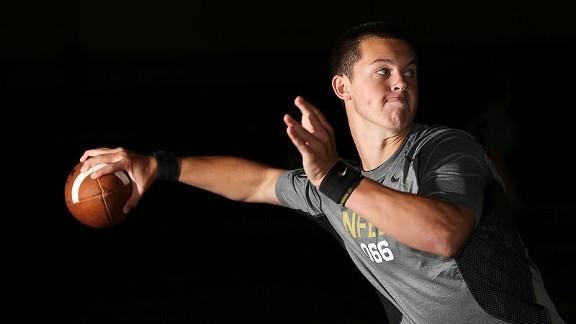 If
Johnny Manziel
leaves early for the NFL after the 2013 season, it looks like the Aggies won't have to look too far to find a viable candidate for being the quarterback of the future.
On Monday, Texas A&M added to its 2014 recruiting class when ESPN 150 member
Kyle Allen
(Scottsdale, Ariz./Desert Mountain)
verbally committed to the Aggies' staff
.
Here's what Allen, who is ESPN's No. 128 overall player and No. 5 pocket passer, tweeted:
I will be playing my college football for Coach Sumlin at TEXAS A&M UNIVERSITY!! GIG EM!!
Kevin Sumlin must be thrilled about having Allen. While Manziel has been quiet about his future, many think the reigning Heisman Trophy winner will leave early for the NFL. Obviously, Allen still has to sign his letter of intent next February, but keeping him will give the Aggies a big-time player to compete for the starting quarterback spot down the road.
The Aggies lost
Jameill Showers
to transfer, but still have redshirt freshman
Matt Davis
, who enrolled early last spring, and junior
Matt Joeckel
on the roster. They'll also add three star quarterback
Kenny Hill
this summer. ESPN 150 member
Kohl Stewart
might not make it on campus because he could go pretty high in this week's amateur baseball draft. That makes Allen's commitment that much more important.
One thing that has to be encouraging for Sumlin, is the fact that Allen wanted to play in the SEC because he wants the challenge of playing the country's top defenses.
"If you want to be the best, you have to compete against the best. A lot of quarterbacks come out of the Pac-12 and Big 12, where they throw the ball around, but they don't play against as good of defenses. A&M does the same thing those programs do on offense but they do it against the best defenses in the country. My dream is to someday become an NFL quarterback, and I want the best training and the best preparation for that. That's in the SEC."
That move to the SEC just keeps working out for A&M.