May, 22, 2012
5/22/12
10:30
AM ET
Every good conference boasts some coaching villains, and the Big Ten has several men who fill the role. No one will confuse the Big Ten with the SEC, where all 12 coaches have voodoo dolls of one other and dart boards with their opponents' heads as the bull's-eyes. But let's not forget the Big Ten produced Woody and Bo, two men who certainly played the villain when they set foot on opposing soil. The Big Ten may never see Woody versus Bo, Part II, but you get 12 Type A personalities competing for championships in a high-stakes sport, and it's going to get heated.
Last month, we asked you to weigh in on the
most disliked Big Ten coach
. Not surprisingly, the three highest vote-getters also earned our nod for their villainous traits. Remember, this is all in fun, and it's important to note that it's hard to be a coaching villain if you don't win a lot of games or tick off multiple fan bases.
Let's take a look.
Bret Bielema, Wisconsin (six seasons, 60-19 overall and at Wisconsin)

Any coach who plays college ball, has his team's logo tattooed on his leg, and then ends up coaching a major rival is predisposed to be a villain. Bielema, a former Iowa defensive lineman, still sports the Tigerhawk stamp on his leg, but he's very much a Badger these days. While Bielema might not be a favorite son in Iowa, he has ticked off others around the league a little more.
In 2010, Bielema ignited a flap with Minnesota when he called for a 2-point conversion attempt with Wisconsin ahead by 25 points in the fourth quarter. Minnesota coach Tim Brewster confronted Bielema after the game and later said Bielema made "a poor decision for a head football coach." Bielema claimed he was following the coaches' card of when to go for two or not, but given tension with Brewster and the Wisconsin-Minnesota rivalry, few bought his explanation. The Wisconsin coach didn't help his rep a few weeks later when the Badgers' record-setting offense put up 83 points against Indiana, although the sportsmanship complaints seemed hollow as Indiana totally packed it in that day.
Then came national signing day in February, when Bielema at a news conference referred to "illegal" recruiting tactics by new Ohio State coach Urban Meyer. Many incorrectly interpreted Bielema's comments as sour grapes about losing a recruit (Kyle Dodson) to Meyer, but Bielema didn't publicly specify what he meant or why he contacted Meyer to discuss the situation. The allegations didn't sit well with Meyer or Ohio State athletic director Gene Smith, although the situation put to rest the ridiculous belief about a "gentleman's agreement" among Big Ten coaches.
Bielema is relatively young, highly successful and never short on confidence. He's very media savvy and knows how to get his message across. He may fill the villain role for several fan bases, but he's the one going to Pasadena every year.
Urban Meyer, Ohio State (first season, 104-23 overall in 10 seasons)

Meyer hasn't coached a single game as Ohio State's head man, but he still received the most votes as the league's most disliked coach. Unlike the others in the Big Ten villain mix, Meyer sparks ire in other parts of the country, particularly in a little place they call Gator Country.
He left Florida after the 2010 season -- after nearly stepping away the previous year -- citing health concerns and a desire to spend more time with his family. Some saw him taking the Ohio State job, undoubtedly another pressure cooker, just a year after leaving Florida, as disingenuous. More Florida fallout arrived this spring in a
Sporting News story
that showed Meyer as the overseer and enabler of a mess in Gainesville.
Meyer's Big Ten villainy stems mostly from his immediate success on the recruiting trail after being hired in late November. In two months he put together the Big Ten's top-rated recruiting class, which included several players who had flipped from other programs to the Buckeyes. His surge drew comments from Bielema and Michigan State defensive coordinator Pat Narduzzi, and the perception that Meyer has rocked the boat in the Big Ten remains very much alive.
Although Meyer and Michigan coach Brady Hoke have been cordial to this point -- they have the same agent, Trace Armstrong -- it's only a matter of time before things get spicy. Ohio State set off a mini blaze by displaying a
sign in the football complex
comparing its players' academic majors with those of Michigan's.
Buckle up.
Mark Dantonio, Michigan State (five seasons, 44-22 at MSU, 62-39 in eight seasons overall)

The seemingly permanent scowl. The deep, borderline monotone voice. The willingness to stick up for players who make mistakes and fuel rivalries. In many ways, Dantonio looks and sounds more like a villain than any of his Big Ten coaching brethren. Warm and fuzzy he is not, and while he has a unique sense of humor and can be charming, he comes off serious, intense and, some would say, confrontational.
Dantonio has made some notable statements about archrival Michigan in his five seasons in East Lansing. Who can forget his "pride comes before the fall" response to Mike Hart after the 2007 Michigan State-Michigan game? After last season's personal-foul fest against Michigan, a game Michigan State won 28-14, Dantonio drew criticism for not suspending defensive end
William Gholston
, who had punched a Wolverines player and twisted the helmet of another (the Big Ten later suspended Gholston for a game). In January, he
interrupted Michigan assistant Jeff Hecklinski
during a presentation to state high school coaches. And this spring, he set off some fireworks by
telling Brian Bennett
, "We're laying in the weeds. We've beat Michigan the last four years. So where's the threat?"
Some Michigan fans still dismiss Michigan State as not a real rival, but Dantonio has certainly gotten under the skin of Wolverines backers, especially because he keeps beating the Maize and Blue.
Dantonio also was looped into the Meyer/Bielema flap in February, although his general comments about recruiting were misinterpreted by a reporter.
The hyper intense Dantonio has some villain in him. And if he keeps winning at Michigan State, the image will continue to grow.
May, 18, 2012
5/18/12
11:04
AM ET
Secondary NCAA violations happen with every FBS program on a semi-regular basis, but at Ohio State, after the past year,
every error is magnified
.

The [Cleveland] Plain Dealer
recently obtained a list of all Ohio State's NCAA violations since May 30, 2011, the day Jim Tressel resigned as football coach in the wake of the tattoo/memorabilia scandal. According to the Plain Dealer, Ohio State reported 46 violations in 21 sports during the span, including secondary NCAA violations committed by new football coach Urban Meyer and athletic director Gene Smith.
Meyer admits to saying "good luck" to defensive line recruit Noah Spence during a Dec. 16 game, which violates NCAA rules prohibiting direct contact with a prospect during a competition. Spence, who originally was leaning toward Penn State before the child sex abuse scandal broke, ended up
committing to Ohio State days after the game
while on an official visit, and he signed with the Buckeyes in February. He's the nation's No. 4 recruit according to ESPN Recruiting and the highest-rated recruit in the Big Ten this year.
From the Plain Dealer:
Ohio State learned of the matter after seeing a newspaper photo that appeared to show Meyer saying something to Spence. Meyer also told Ohio State about the incident two days after the game.
"I went to say hello and good luck to his coach and as I was walking off the field Noah said, 'Hello,' and I said 'Good luck,' before the game," Meyer wrote in a text message to The Plain Dealer on Thursday. "Nothing more. Nothing to hide. All good."
The violations included nothing about Meyer and recruit Kyle Dodson, who signed with Ohio State in February.
The Sporting News
reported that Wisconsin had accused Meyer of impermissible contact with Dodson, who originally committed to Wisconsin before switching.
Smith and Archie Griffin, the former Ohio State star running back and current CEO of the school's alumni association, admitted to recording a personalized video for recruit Ezekiel Elliott before his official visit to campus March 31. Such videos are prohibited. Elliott committed to Ohio State during his visit.
Other football secondary violations range from the truly ridiculous -- assistant coach Mike Vrabel used smokeless tobacco on the sidelines during games, which violates NCAA rules prohibiting tobacco use during games or practices -- to the extremely common (assistant Stan Drayton accidentally sending a recruit a text message rather than an email last summer).
The only major violations included are the ones involving players being overpaid for work by former booster Bobby DiGeronimo. Those violations, combined with the violations from the tattoo/merchandise scandal, resulted in Ohio State losing scholarships and receiving a one-year postseason ban from the NCAA for the 2012 season.
There are a few ways to view the report, none of which are off base.
The NCAA rulebook is pretty silly.
Meyer and Smith have to be more careful, especially after what happened. Smith's violation is a bit puzzling. You would think he would have some hesitation about recording a personalized video for a recruit.
Ohio State's compliance department, panned during the tattoo/merchandise scandal, is improving in monitoring and reporting issues.
"So many lessons learned throughout that entire challenge," Smith told ESPN.com last month. "You have to constantly look at, 'OK, what could we have done better?' What procedures do we put in place as we move forward? Be as transparent as we can. The biggest thing for us is identify, report and move on. That's what we've always done. There's some things we changed to make sure we don't end up in that situation again."
April, 10, 2012
4/10/12
10:40
PM ET
An article
published Monday by the Sporting News
gave some clarity to Wisconsin coach Bret Bielema's concerns over the recruiting tactics of Ohio State counterpart Urban Meyer.

Bielema complained about Meyer around signing day, though he never specified publicly what upset him. The two later talked at a Big Ten coaches' meeting in Chicago and declared the matter settled.
The Sporting News story said Ohio State had NFL players call recruits and that Meyer had "bumped" into Wisconsin commit
Kyle Dodson
during a dead period. Dodson later flipped his pledge to the Buckeyes.
Bielema
talked to reporters about the story
after practice on Tuesday. While Bielema didn't come out and confirm the details contained in the story, he said "that's getting closer to it."
"When that whole thing came out … it was obviously a lot to be written," said Bielema. "Not to slight [the media] but a lot of time what's being written isn't exactly what's reality.
"I just know this. We handle ourselves in a certain way. In the Big Ten conference, we've been able to do that. When I called Coach Meyer and expressed a certain thing, he addressed it and handled it very quickly."
Some had speculated that Bielema's complaints had to do with a "gentleman's agreement" in the Big Ten not to recruit committed players, but Bielema has said that was not the case. I wrote at the time that Bielema should have been more specific with his issue if he was going to say anything at all publicly.
"Obviously when you come into competition with other schools and you become aware of anything that concerns you, you have an obligation to say something," he said. "The only regret is that I probably didn't address it [publicly] cleaner and quicker. Any time you see something out there floating around that's not really reality, it's better to just cease it and stop it. Obviously it got a life of its own."
Bielema also said the NCAA had addressed his complaints. Meyer told the Sporting News that he did not have any outstanding issues with the NCAA.
In totally unrelated news, Ohio State plays at Wisconsin on Nov. 17.
February, 14, 2012
2/14/12
10:15
AM ET
The
haters had their fun
on Monday, but it's time to feel the love again in the Big Ten. Sure, this might not seem like the league of love lately, especially after the last recruiting cycle, but Valentine's Day will make it all better (riiight).
Fortunately for you, we intercepted a few of the Valentine's missives being sent around the Big Ten.
Check 'em out ...
To:
Bret Bielema
From:
Urban Meyer
Bret, we got off to a bad start, but you'll grow to love me. Maybe even my recruiting methods, too. Remember what Ohio State fans thought of me in January 2007? Now, I'm king of Columbus! I've already forgiven you for your poor choice of words (this card, by the way, was sent legally through U.S. mail). I'll be sure to send you weekly updates on Kyle Dodson. Only 277 days until we meet in Madison. Save me a brat! ... Toodles
To:
Urban Meyer
From:
Bret Bielema
When leading by 27 ... go for two! When leading by 36 ... go for two!
To:
Urban Meyer
From:
Bret Bielema
Urban, sorry about the last card. Meant to send it to Tim Brewster. My bad.
To:
Brady Hoke
From:
Michigan fans
Gotta admit, we were a little concerned about your losing record. And the fact you weren't named Jim Harbaugh. But you were a Michigan man, dammit, unlike that last schlub. Plus, you actually cared about defense (Mattison rules!). Thanks for making us proud again. Now beat Ohio State every year.
To:
College football fans
From:
Jim Delany and Big Ten athletic directors
We're giving you your stinking playoff -- and this card. Happy?
To:
Sugar Bowl CEO Paul Hoolahan
From:
Jim Delany
I know you guys took some heat for selecting Virginia Tech, but it was a great call. People rag on the Big Ten, but think how bad it'd be if there weren't these ACC teams completely incapable of winning BCS bowls. You da man! Any time you want to pair us against the ACC, don't hesitate!
To:
Pat Narduzzi
From:
Mark Dantonio
Thanks for staying. Don't worry, there's a check included. Let's give 'em 840 minutes of unnecessary roughness this year!
To:
Notre Dame Fighting Irish
From:
Denard Robinson
Who knew one team could make one player look so awesome? I love you guys! See ya in September!
To:
Nebraska fans
From:
Bo Pelini
I know you're not happy about the meltdowns against Wisconsin, Michigan and South Carolina. Or the reports linking me to other jobs. Or some of the assistant coach hires. Or the fact we had more walk-ons than scholarship players in the last recruiting class. But we can take the next step and make you proud. I've matured as a coach. I'm a little calmer and a little more self-aware. I might put some Gandhi quotes around the complex. Let's get off the roller coaster and start riding the wave of enlightenment. GBR! Om.

To:
The end zone
From:
Montee Ball
Had so much fun visiting this past season, I'll be back for more!
To:
Matthew McGloin
From:
Curtis Drake
The past is the past, Matty. Let's go knock out the other teams in 2012!
To:
Iowa's running backs
From:
Kirk Ferentz
Thanks for sticking around, guys. Some of the others must have gotten a bit confused. Told them to run to the end zone, not the nearest Greyhound station.
To:
Denard Robinson and
Taylor Lewan
From:
William Gholston
Can't wait to throw my arms around you guys again this season. Really, really looking forward to Oct. 20.
To:
Floyd of Rosedale
From:
Minnesota fans
We love makin' bacon with you. Please stay with us forever.
To:
NCAA infractions committee
From:
Gene Smith
I thought love meant never having to say you're sorry. I guess you didn't think my attempt of asking for your forgiveness was enough. But it's OK. I've moved on and ended up in a much healthier relationship. Let's never fight again.

To:
Indiana Hoosiers
From:
Ron Zook
When up by seven, go for two! C'mon, you know you'll miss me.
February, 3, 2012
2/03/12
12:45
PM ET
Wisconsin athletic director Barry Alvarez spent most of his life in coaching, and he knows recruiting can be a messy process.
But Alvarez also knows the difference between questionable recruiting practices and illegal ones. And to his knowledge, Ohio State coach Urban Meyer didn't do anything illegal in compiling the Buckeyes' latest recruiting class.
Wisconsin coach Bret Bielema accused Meyer of "illegal" recruiting practices Wednesday and
told the Sporting News
on Thursday that Alvarez soon would be discussing Meyer's recruiting with Big Ten commissioner Jim Delany. Bielema said Alvarez would bring it up at an athletic directors' meeting Friday, but the Big Ten confirmed to ESPN.com that there is no such meeting.
Colleague
Joe Schad caught up Friday with Alvarez
, who said he has no issue with coaches "flipping" recruits who had committed to another school. Meyer flipped several for Ohio State's class, including offensive lineman Kyle Dodson, a Wisconsin commit.
"Recruiting is recruiting until they sign," Alvarez told Schad. "If we had somebody who changed their mind and came to us, that's OK. Urban [Meyer] was very aggressive but there is no pact within the conference not to continue to recruit. It's open season until they sign."
Alvarez also said he's unaware of any "illegal" tactics by Meyer and hasn't spoken with Delany.
"It's dangerous to point fingers and make accusations," Alvarez said. "I actually think recruiting is tamer now that it was at one point in time."
Sounds like Bielema and his boss need to have a talk. It's dangerous to throw out the word "illegal" without some strong evidence to back it up.
Again, I don't think Bielema is talking about flipping recruits or the Big Ten's "gentleman's agreement" not to do so. The "agreement" is a joke and gets violated every year by several schools. Wisconsin has violated it in the past. As Bielema told me Wednesday, "As coaches, we're all vultures. They smell something and they want to try and see if there's an interest."
There's a difference between unethical and illegal.
If Meyer violated NCAA rules in his recruiting, someone needs to come forward and talk about it. Vague accusations don't help. But whether or not it's true, there has to be a bigger issue here than flipping recruits.
Is there some larger issue here? If so, Bielema needs to clue in someone. Like Alvarez.
February, 2, 2012
2/02/12
2:12
PM ET
Urban Meyer hasn't coached a game yet at Ohio State, but his impact on the Big Ten has already been massive.
Though he was only hired in late November, Meyer managed to put together an impressive first recruiting class that ESPN ranked as the
sixth-best in the country
. Several players in the class were at one time committed to other league schools. The Buckeyes put together one of the best groups of defensive linemen in the country as well.
[+] Enlarge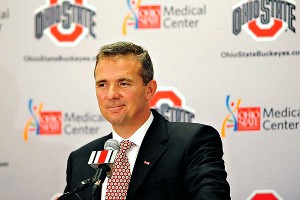 Andrew Weber/US PresswireNew Ohio State coach Urban Meyer made an immediate impact on the recruiting trail.
I caught up with Meyer on Thursday morning to talk about the class, whether there's such a thing as a "gentleman's agreement" in recruiting, and how he expects his recruits to see the field right away.
Did you expect to sign a class this highly rated, given how little time you had to put it all together?

Urban Meyer:
I think it exceeded expectations a little, especially on the D-line. If you had told me in December that we would get those four defensive linemen in this class and the two offensive tackles ... that's what separated this class I think, from being pretty good to being really good.
The class is heavy on the defensive and offensive lines. How much of that was need-based and how much of was just that's what you need to build a foundation?
UM:
I think anytime you get a premiere guy like
Noah Spence
, he knows that we need him. That's the way it is nowadays. Kids want to go somewhere where there's a need. The same with the two offensive tackles,
Taylor Decker
and
Kyle Dodson
. We just don't have those body types right now in our program, and they know that. We made that real clear. Their opportunity to play is going to be real quick here.
How did you go about evaluating what you needed in recruiting when you hadn't seen the players on the current roster much in person?

UM:
Well, that's where Luke Fickell and Mike Vrabel and Stan Drayton and when Taver Johnson was here, they were the ones [who helped]. Then when I went out to watch practice, I just walked out on the practice field and just kind of watched for a second, and I could tell our offensive line didn't look the way we needed them to look. I could tell we were short on pass-rushers off the edge. And then linebackers. So those are the three areas that we had to get just to be functional. So we attacked it as hard as we could and it all came together.
What do you like about the three big defensive linemen in this class -- Noah Spence, Adolphus Washington and Se'Vonn Pittman?

UM:
Well, number one is they're competitors. They're very high-character guys. To have three guys like that with high character who are very good people, I hate to say that's hard to come across, but it is. And they're all different body types. You've got Noah Spence, who's the pure speed guy coming off the edge, relentless effort. Then you've got Adolphus Washington, who's very thick, lower body and more power. And then you've got
Se'Von Pittman
, who's a little bit of both. So they all complement each other.
In your experience, and understanding every player is different, how long does it take players with that talent level to make an impact on the field?

UM:
We're going to rotate them right away. We don't redshirt here at Ohio State. We're changing that up. We're going to have the culture out here that there's no redshirting. If you don't play here, it's because you're not good enough. It's not because we're holding you back. We're going to recruit the kind of player where we want them on the field right now. That's the approach we took at Florida, and it's the approach we're going to take here.
Is the same thing true with offensive linemen? People say that's the position where it takes guys longer to develop.

UM:
Well, Maurkice Pouncey jumped right into it [at Florida], started every game, and in three years he went to the NFL. So if you're recruiting, you lay it out there for them. Usually, linemen take a little longer, but we've played with some young players before.
You mentioned Wednesday that you're not happy with the speed at the offensive skill positions. You're not necessarily done with this class, but was that just not out there for you this year, or is it more of a priority going forward?

UM:
Yeah, we're not happy where we're at with our speed and skill on offense. I don't know what we have. I saw on film and looked at the stats, and you would say from statistical analysis and just evaluation that we're not very good at all. But I'm going to give them the benefit of the doubt and see what happens in spring practice and evaluate them in the offseason, which starts Monday. But we're not where we need to be, by a long shot.
When you learned about the bowl ban, was there a time when you thought this class wouldn't come together nearly as well as it did?

UM:
Oh yeah. Devastated. I would say, panic button in December. Absolutely.
What does it tell you about the players who decided to sign with you anyway?

UM:
It tells you about the power of this program, too. I mean, Ohio State is Ohio State. It's the most powerful alumni base in the country. It's one of the great stadiums in the history of college football. A great tradition and a great city. So there are so many strengths about it that obviously overcame the negative hit we took.
Is recruiting in the Midwest and primarily vs. Big Ten schools different than recruiting in the SEC? The SEC has a reputation of being more ruthless.

UM:
A little bit, but it's hard for me to articulate that. It was a little bit different, but there is still a lot of intense recruiting that goes on up north, as well.
There were a couple of coaches who criticized you for recruiting players who had committed to their schools. I liked the way you answered that question on Wednesday. Is there ever such a thing as a gentleman's agreement in recruiting, or is that a phony thing?

UM:
Actually, Will Muschamp and I talked about that, about if a guy is previously committed. Up here, I was hired, and we covered our state and said to players, "Would you be interested?" We had one or two that said they would be interested, and others recruited us. Se'Von Pittman and Taylor Decker came after us.
Coming in as a new head coach at a program, would you even be doing your job if you didn't check in on those recruits?

UM:
You've got a responsibility to your home state. Absolutely. There's not a coach in America who's not going to do that, not going to check his own state. You take a job, you're going to check your in-state players to see if they're interested. And if they are, then come on now, let's talk about it. And if they're not ... The young man up at St. Edward [offensive lineman
Kyle Kalis
, who signed with Michigan] we asked. He said, "I'm solid, I'm good." We said, "Good luck," and we moved on. I didn't call him again.
Could you get a sense of how much just having a coach in place and some stability at Ohio State, as well as your background, helped recruits change their mind?

UM:
I think any time there's instability, that causes anxiety for a recruit. So I know with Se'Von Pittman, his comment to me was, "I always wanted to be a Buckeye. I just wanted it to be stable."
There are going to be lingering questions about your health, energy level, etc. Recruiting takes a lot of energy and time. How did you feel out there recruiting again, with all the time and travel it required?

UM:
Oh, it was great. Great. No issue at all.
Jamal Marcus was a signing-day addition for you, and you talked about how he blew you away on tape. You really didn't know anything about him before that?
UM:
That was one of those Christmas presents I unwrapped when they showed me the highlight video. I mean, he's as good as I've seen on a highlight video. Then you meet the kid and he's a beautiful kid, great family. Everett Withers identified him and brought him up. It's almost a shame to say this, but the first time I shook his hand and even talked to him was when he got on campus. And he blew us away.
He's been listed some places as a linebacker, others as a defensive end ...

UM:
Oh, he's a linebacker. Linebacker all the way.
What are the priorities now for you over the next month or so before spring practice begins?

UM:
We have a bunch of new coaches, a completely new offensive scheme. So the next month, the priority is to get around our players, get to know them with the new coaches. And No. 2 is to install an offense and defense, and make sure everybody is on the same page, so when we hit March we're up and running.
I talked with offensive coordinator Tom Herman recently, and he said he'd be blending the offense with your philosophies. How is that going on right now?

UM:
That's all we're doing. I've hired some very good coaches, very successful coaches. We have a system I have great belief in, but I use the term enhance. If we can enhance our system, we will. And so far we have. It's going very well.
What kind of reports have you gotten from strength coach Mickey Marotti on how offseason workouts are going?

UM:
Good. But we haven't really hit it hard yet. We've been kind of introduced to our offseason program. I meet with Mickey nonstop. Constant evaluation. But so far, it's mostly just been indoctrination. On Monday, it starts for real.
How much help has Luke Fickell been in this entire transition process?

UM:
Well, there's no agenda with him. He has a true passion and love for Ohio State, and he's a very quality football coach and family man. It's a perfect fit, and his stability and relationships really helped us.
How much are you working on the 2013 class right now?

UM:
Oh, we're killing it. We're all over it.
February, 1, 2012
2/01/12
1:20
PM ET
Score yet another recruiting victory for Ohio State and Urban Meyer.
The first-year Buckeyes coach has had the magic touch on the recruiting trail ever since he was hired in November, and he added another jewel to a sparkling class when
offensive lineman Kyle Dodson
picked Ohio State.
Dodson, a 6-foot-5, 315-pounder from Cleveland, is rated a three-star prospect by ESPN.com. He had committed to Wisconsin last year but was widely expected to change his mind. Michigan State had also been in the mix for Dodson's services. It was another tough break for the Badgers, who also lost blue-chip lineman J.J. Denman who switched his commitment to Rutgers.
Dodson is the 10th offensive or defensive lineman in this year's Buckeyes class, as Meyer is clearly building the foundation of his program in the trenches.