April, 15, 2014
Apr 15
9:30
AM ET
FORT WORTH, Texas -- For years,
TCU
stuck to an offensive philosophy built around trying to out-physical foes and trick them with play action. That style won the Horned Frogs five conference titles while in the Mountain West and Conference USA. They have not won many Big 12 games.
After two years in his new league and a 6-12 record in Big 12 play, TCU coach Gary Patterson knew it was time for a new approach.
[+] Enlarge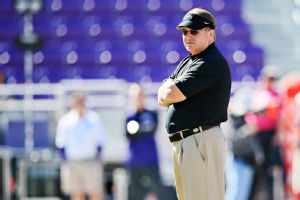 Kevin Jairaj/USA TODAY SportsTCU coach Gary Patterson brought in new coordinators Doug Meacham and Sonny Cumbie to change the team's offense.
"We're going to a style of offense that I thought evened the playing field," Patterson said.
He went out and landed a pair of offensive coordinators who know Big 12 ball to design a hybrid Oklahoma State-Texas Tech scheme that Patterson says will still have "some of the old TCU" in the run game.
But this is the new TCU. No playbook, no huddle, no looking back.
The struggles of 2013 weren't the lone motivator for Patterson's change of plans, but the evidence was hard to ignore. Last season, TCU's offense hit 10-year lows in points per game (25.1) and yards per play (5.03) and 10-year highs in turnovers (30) and three-and-outs (49).
The Horned Frogs had an offense that averaged 8.8 points in the first half of games, behind an offensive line that Patterson admits got "pushed around" at times due to injuries and departures. You can't keep up with high-speed Big 12 offenses that way.
Another motivator? Patterson's belief that a seemingly unexciting Horned Frogs offense wasn't helping his cause in recruiting.
"I had watched too many skill players leave the city. Right now, they don't know what this offense is about," Patterson said. "Right now, they think TCU has a defensive coach. But to be honest with you, I have no problem winning 45-31."
He's putting his full trust in Doug Meacham and Sonny Cumbie to build up the new-look offense, so much so that Patterson says he's taken a hands-off approach to the transition. He just tried to defend it in spring practice, and that wasn't fun.
Meacham spent eight years learning and teaching one of the nation's finest spread offenses at Oklahoma State, then left to run his own at Houston in 2013. TCU's new playcaller has already served as an OC at five other schools in his career.
He'll collaborate with Cumbie, a Mike Leach disciple who coached the past four years at Texas Tech and will oversee the TCU quarterbacks.
As Tech's quarterback in 2004, Cumbie put up 70 points on the Frogs -- two touchdowns more than a Patterson-led TCU team has ever given up. And yes, that came up in the job interview.
Both are respected offensive minds and recruiters in the Dallas-Fort Worth Metroplex, and previous coordinators Rusty Burns and Jarrett Anderson are still on staff and have a say in game plans.
"Their relationship is awesome," Patterson said. "I think the whole group has meshed real well. They've brought a lot of energy and new ideas."
[+] Enlarge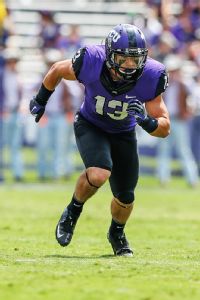 Kevin Jairaj/USA TODAY SportsHorned Frogs receiver Ty Slanina caught 19 passes for 184 yards and a touchdown as a freshman last season.
Installing the new attack meant coming up with new terminology, since at least three other Big 12 programs run similar sets, and new answers to how to outsmart opponents.
"It's not so much you don't know what's coming, but can you out-execute it?" Patterson said. "It'll be very important for us to be able to run the football, because I think going in that's where our strengths are -- our offensive line and our running backs and our quarterback can run, especially
Trevone [Boykin]
."
The offensive line should be better and much, much bigger. Six of TCU's best exiting spring ball --
Halapoulivaati Vaitai
,
Tayo Fabuluje
,
Frank Kee
,
Matt Pryor
,
Joseph Noteboom
and
Aviante Collins
-- average 6-foot-5 and 315 pounds.
TCU's top running backs all got hurt in spring ball -- literally -- but there are options there with
B.J. Catalon
,
Aaron Green
,
Kyle Hicks
, incoming freshman
Shaun Nixon
and a few others.
At receiver, Patterson says TCU has the guys needed to stretch a defense. Whether or not
Brandon Carter
returns, the staff is excited about speedsters like
Deante' Gray
and
Kolby Listenbee
and incoming freshmen
Emanuel Porter
and
Corey McBride
to go along with
David Porter
,
Josh Doctson
,
Cameron Echols-Luper
,
Ty Slanina
and
Jordan Moore
.
"I think we'll have enough weapons to be able to move the football," Patterson said.
Quarterback is still the question mark, especially if the versatile Boykin isn't the choice. No matter who runs the show, the initial goal will be simple: first downs, points and a tempo that causes trouble.
"They've been awfully fast this spring," Patterson said. "The biggest thing is to go fast enough to make people uncomfortable."
That, after all, is the goal here: An offense that can prove as challenging as Patterson's stingy defenses. The Horned Frogs' mission for transformation isn't guided by some sort of "if you can't beat 'em, join 'em" sentiment.
No, this is adaptation, and it's necessary. After its first two Big 12 seasons ended in frustration, TCU is working on a new way to beat 'em.
April, 9, 2013
4/09/13
9:00
AM ET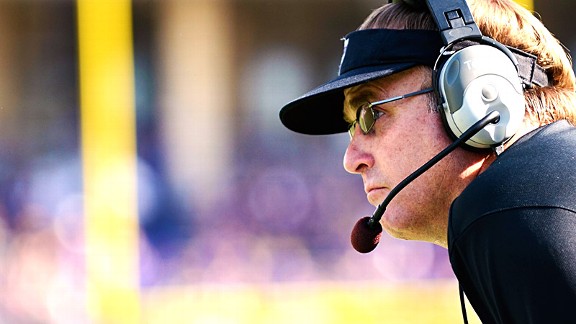 Sarah Glenn/Getty ImagesFor Gary Patterson, landing a top recruit isn't as important as signing the right kind of player.
FORT WORTH, Texas -- Thirteen years ago, Gary Patterson heard all kinds of criticism about his program while on recruiting trail in the thick of Big 12 country. It was his first year as head coach of TCU and the Horned Frogs' first season in Conference USA.
But with the Frogs now in the Big 12 and poised for a promising 2013 season, recruits in the Dallas-Fort Worth metroplex are running out of reasons not to sign close to home at TCU. The program turned heads in December when it swiped longtime Texas recruit
Kyle Hicks
, who had been committed to the Longhorns since February of 2012.
The Arlington, Texas native is the nation's No. 18 running back and the nation's No. 220 overall recruit. Does flipping a Longhorn commit -- something almost no one did with Mack Brown in charge before the 2013 class -- carry special significance?
"Only if he's a good player," Patterson told ESPN.com in a recent interview. "The key is to go out and find the guy that everybody says what they said about TCU before, is they come in and everybody thinks they're a 'C' player, and they turn out to be 'A' players. The key is they come in as 'A' players and they're 'A+' players."
That's what Patterson hopes will be the case with Hicks, whose services shouldn't be needed much in his first season on campus. Running back
Waymon James
returns alongside
B.J. Catalon
and blue-chip recruit turned Nebraska transfer
Aaron Green
, and the trio should be ready to shoulder the load in the backfield in 2013.
Devonte Fields
came to TCU from nearby Arlington as a highly-touted recruit. All Petterson did was help turn him into the Big 12 Defensive Player of the Year as a true freshman.
"That's the same thing with Devonte and guys you have down the road. Can you make them live up to their hype? That's what programs are supposed to do, and if we can do that, then more of them will come," Patterson said. "If you can prove that guy can come here and he can go to the NFL and he can be a great college player and get his degree just like you told him he could then I think what will happen is kids will stay close to home."
The Frogs are trying to turn their location in the thick of a college football talent hotbed into an advantage. Doing so will require more than winning just seven games like they did in 2012 -- their first season back in major conference football as a Big 12 member. Patterson could form a championship-caliber team from DFW high schoolers alone, in theory, but he's going to make sure they answer "yes" to two big questions before any offers are handed out.
"Do they have two things in mind: Do they want to get a degree and do they want to win a national championship?" Patterson said. "Both of them are hard work. There's no inbetween on either one of them, that's what our program is built upon: hard work and accountability. That's how you stay somewhere long enough to do something."
Hicks' answer was "yes," and his legacy is only beginning at TCU. Patterson knows not a soul will remember or care that the Frogs swiped him from Texas if he doesn't take the next step as a player.
"In Kyle's case, great young man, great player," Patterson said. "Now let's make him from a great high school player to a great college player, and let's also get him his college degree."
Ironically, Kansas State saw its program flounder late in Bill Snyder's tenure and throughout Ron Prince's time, despite major recruiting success and beating out national powers for big-time players like future NFL quarterback
Josh Freeman
. TCU has a chance to see its own recruiting rankings soar annually. But Patterson is focused on making sure his team is full of players with the intangibles that the Frogs have used to build their program over the past decade. Under Patterson, the school has routinely won at least 11 games in a season and their success has led them to membership in a major conference.
"The whole key is to make sure we're still recruiting the TCU type of guy that is a guy that can come in and he becomes the player that everybody says he was supposed to be," Patterson said. "That's what my job is, to develop them and not only make them that, but make them better."
February, 8, 2013
2/08/13
2:30
PM ET
Texas didn't have to worry about players decommitting in recent years. That's changed, and especially so this year, when five different players committed to Texas before reneging and eventually signing with other schools like Texas A&M, Alabama and Notre Dame.
Texas coach Mack Brown stopped short of saying he's going to pull scholarships for players who continue to look around after committing to Texas, but if recruits do so, Texas may do the same.
[+] Enlarge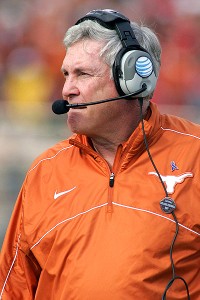 Michael C. Johnson/US Presswire"If you're committed to us and you're looking, that's a simple message, we're going to look, too," said Mack Brown.
"What we'll tell guys, 'Don't commit to us unless it's over and you want to come.' Then the message we get, if you're committed to us and you're looking, that's a simple message, we're going to look, too," Brown told reporters. "If we find somebody as good as you that wants to come, you're looking around, we'll take them. I think that's fair."
Running back
Kyle Hicks
decommitted and signed with TCU. Receiver
Ricky Seals-Jones
decommitted and signed with the Aggies, who also nabbed defensive end
Daeshon Hall
, who had been committed to Washington after leaving the Longhorns' class. Defensive tackle
A'Shawn Robinson
decommitted days before signing day and signed with Alabama and tight end
Durham Smythe
decommitted before signing with Notre Dame.
Brown's absolutely right in that his approach is fair, and while he's not explicitly saying it's a reaction to the 2013 decommitments, it's hard to believe they didn't at least influence his recent comments. He says he's done it before, but don't be surprised if it happens a little more now. Texas won't have trouble getting other players to listen if its current commitments begin to waver.
"My job is to do what's best for the University of Texas and get the guys that want to be here. Guys can change their minds," Brown said. "If you start looking, to me you're looking for something different than you've got. I'm going to look for something different than I've got."
Still, Brown's also clear that if a player's not wavering, Texas won't be wavering on him.
"I like to go to the school, see the coach. The other thing is that if you get a commitment, you'd like for the high school coach to help you keep it. We're going to make sure the high school coach buys into the commitment as well," Brown said. "I need to see those guys, shake their hand, tell them we're not backing out on kids. If we're not, if your young man and his parents want to commit to us, we want you to commit, too, that he's going to stay with us."
February, 6, 2013
2/06/13
7:00
AM ET
ESPN RecruitingNation
has signing day covered. Follow ESPNU's coverage, chat with analysts and get breaking news on our
Signing Day Live
page beginning at 7:30 a.m. ET through 7 p.m. ET. For more on what to expect on signing day, check out the
Big 12 conference breakdown

.
Bold Prediction for the Big 12:
Kliff Kingsbury saw a lot of success as offensive coordinator at Texas A&M. He'll see similar success as head coach at Texas Tech.
Baylor
Biggest Need:
Offensive linemen to protect the talented skill-position players.
Biggest Recruit:
ESPN 150 receiver
Robbie Rhodes
(Fort Worth, Texas/Southwest) has the tools to be not only a starter but also an all-conference player as a freshman.
Iowa State
Biggest Need:
With only one commit at the position, the Cyclones need linebackers.
Biggest Recruit:
Four-star offensive tackle
Shawn Curtis
(Orlando, Fla./Olympia), at 6-foot-6 and 270 pounds, should be a future leader for the Cyclones' offensive line.
Kansas
Biggest Need:
The Jayhawks need a running back or two.
Biggest Recruit:
Juco defensive tackle
Marquel Combs
(Memphis, Tenn./Pierce College) is the No. 3 junior college prospect in the country for a reason. He's a run-stopper.
Kansas State
Biggest Need:
Running back, just like its Sunflower State counterpart.
Biggest Recruit:
Linebacker
Nick Ramirez
(Lee's Summit, Mo./Lee's Summit West) is the only four-star commit, but three-star junior college quarterback
Jake Waters
(Council Bluffs, Iowa/Iowa Western Community College) might be the sleeper of the class.
Oklahoma
Biggest Need:
Linebacker is a huge necessity.
Biggest Recruit:
If ESPN 150 running back
Keith Ford
(Cypress, Texas/Cypress Ranch) stays healthy, he could have a promising college career -- which could lead to an NFL opportunity.
Oklahoma State
Biggest Need:
The Cowboys need help at quarterback and linebacker.
Biggest Recruit:
ESPN 300 receivers
Ra'Shaad Samples
(Dallas/Skyline) and
Marcell Ateman
(Wylie, Texas/Wylie East) bring different dynamics but similar results to the football field.
TCU
Biggest Need:
Playmaking wide receivers.
Biggest Recruit:
ESPN 300 running back
Kyle Hicks
(Arlington, Texas/Martin) has the potential to be outstanding, but three-star athlete
Ty Slanina
(East Bernard, Texas/East Bernard) could be stellar at several spots.
Texas
Biggest Need:
While Texas is strong on the offensive line, it needs defensive linemen.
Biggest Recruit:
ESPN 150 center
Darius James
(Killeen, Texas/Harker Heights) leads a very talented class of Longhorns offensive linemen.
Texas Tech
Biggest Need:
The Red Raiders could use more defensive tackles.
Biggest Recruit:
Quarterback
Davis Webb
(Prosper, Texas/Prosper), an Elite 11 finalist last summer, could be special under the wing of Kliff Kingsbury.
West Virginia
Biggest Need:
Players in the secondary.
Biggest Recruit:
ESPN 300 inside linebacker
Darrien Howard
(Dayton, Ohio/Chaminade-Julienne) has the tools to shut down a lot of plays before they even get started.